Doesn't that look delicious? Well, I'm here to tell you that this whipped strawberry honey butter is DIVINE!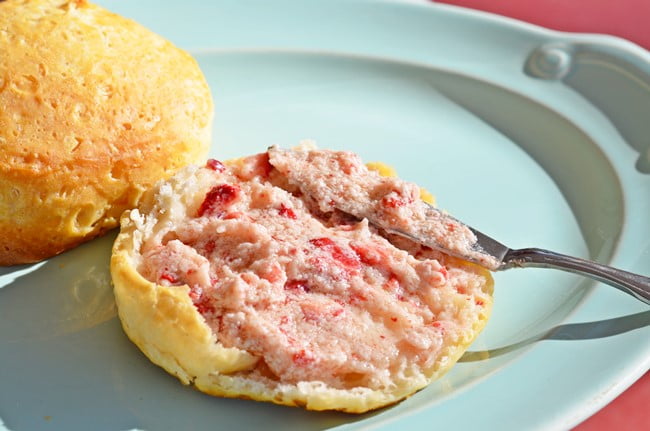 I could hardly get the biscuits out of the oven quick enough just so I could slather some on! And I have a secret to tell you about the strawberries. I didn't use fresh ones to make this. It's still a little early for some good strawberries to come out of Florida yet so I used some freeze-dried ones!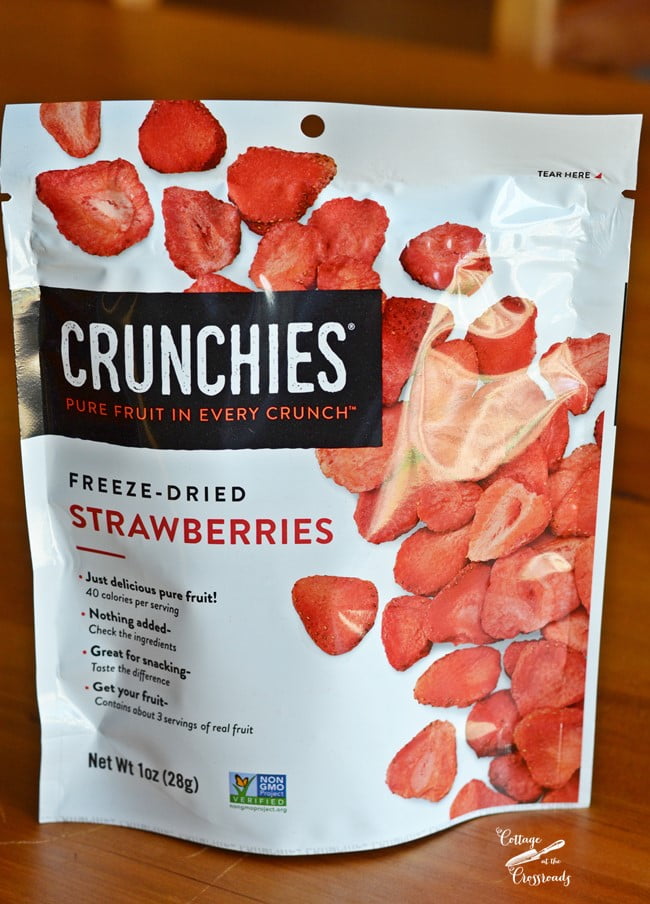 They came out of this bag! As a blogger, I get a lot of offers to try new products, and I was sent a sample box of these Crunchies in assorted flavors recently along with a recipe for the Whipped Strawberry Honey Butter. Of course, you could use some fresh or frozen strawberries in making the butter, but these Crunchies are so convenient to have on hand for snacking or using in recipes. They are all natural with just one ingredient-FRUIT. This California company harvests and immediately freeze dries the fruit which ensures that most of the nutrients are maintained while at the same time increasing shelf life. They have a large variety of freeze-dried fruits available, and you can find more information on the Crunchies Food website. This product can be found in stores nationwide so just be on the lookout for this pure fruit product when you're shopping.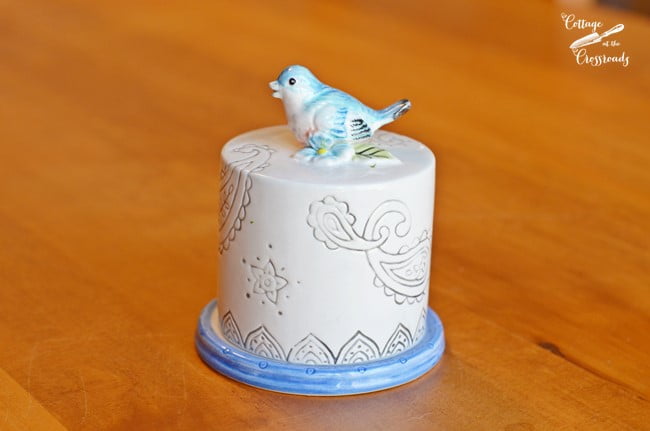 Now, I don't know which I'm more excited about-the strawberry honey butter or this cute as a button Fitz and Floyd butter crock(affiliate link) that I found on Amazon! I'm not familiar with the Paisley Park pattern. All I know is that it will look so pretty on my spring table.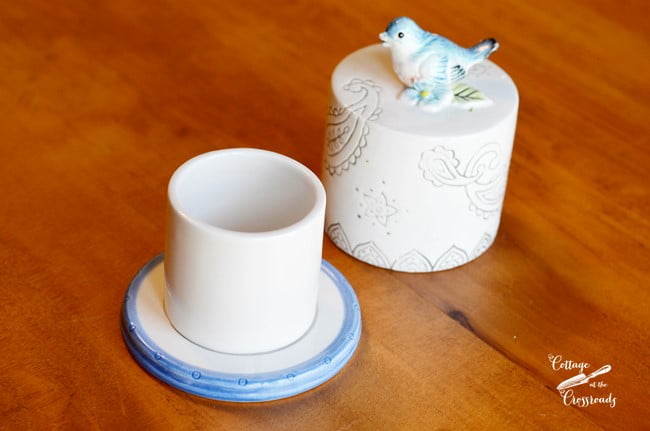 The top lifts off and the butter is stored in the round container. It is rather small so if you are using it to serve flavored butters to a large crowd, you may want two of them. I think the little bluebird on top is just adorable!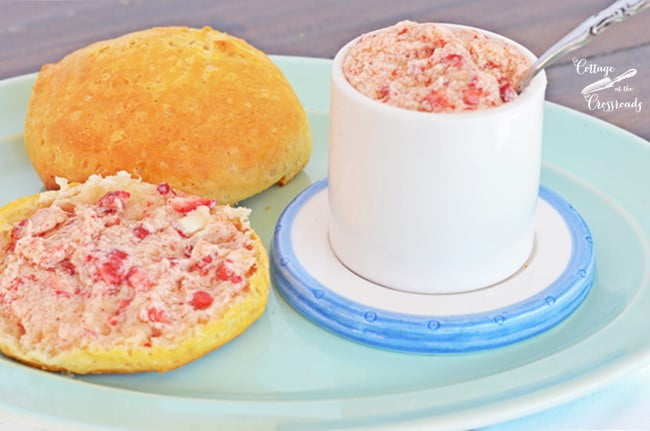 Well, once I whipped up this strawberry honey butter and put some in my new butter crock, I popped some canned biscuits in the oven just so I could try it. Oh, lawd! I think I was in heaven! It was so delicious and you really wouldn't have known that I made the butter with the freeze-dried strawberries.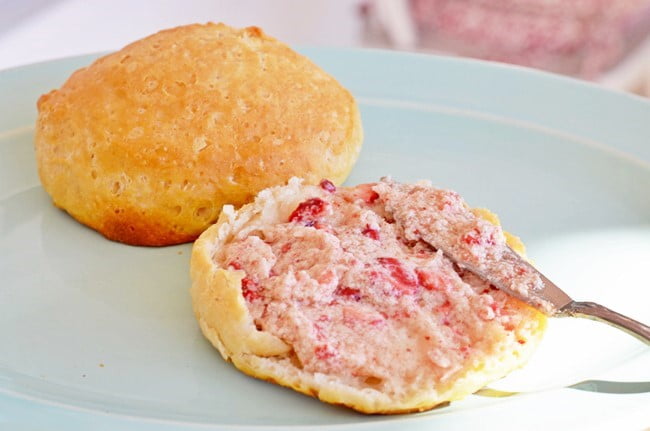 So I'm passing along this recipe to you from the folks at Crunchies. You can make it with fresh or frozen strawberries but if you see some Crunchies at your grocery, grab them so that you can have strawberries on hand to make this butter any time you wish.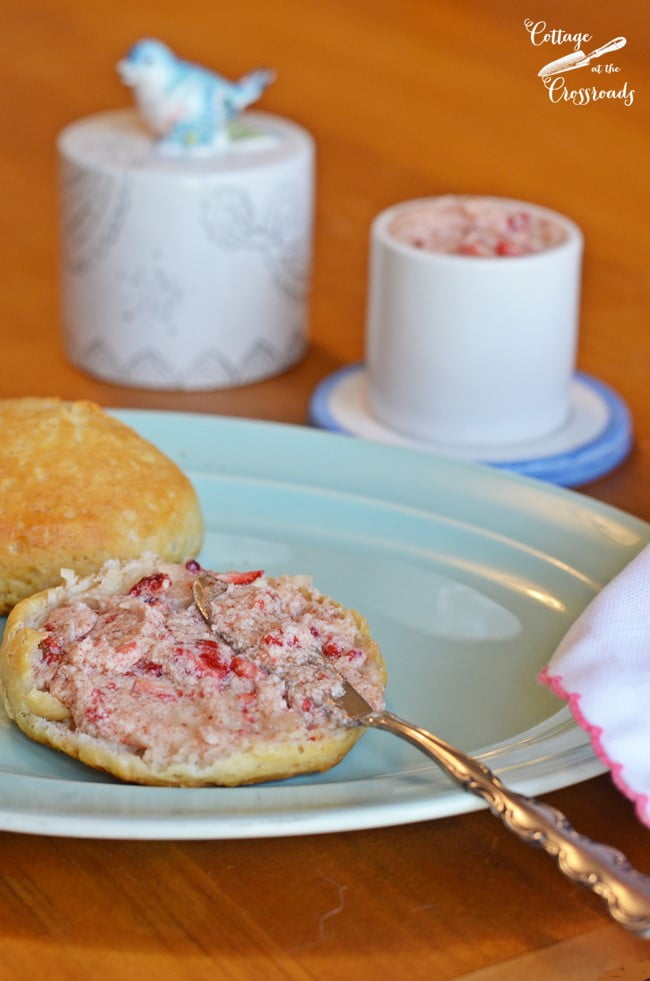 📋 Recipe
Whipped Strawberry Honey Butter
A delicious flavored butter made with freeze-dried strawberries
Instructions
Whip softened butter in a mixer until smooth. Be sure no lumps remain.

Add honey and vanilla; mix until well combined.

Add Crunchies strawberries ⅓ cup at a time.

Mix until butter is fluffy and pink.

Refrigerate butter until firm.

Spread the butter on your favorite bread and enjoy!
This weekend I even tried some of the strawberry honey butter in a bowl of oatmeal, and it was delicious! I just want to thank the generous folks at Crunchies for sending me a sample box of their different freeze-dried fruits and I can't wait to experiment with different ways that I can use the fruit. And you're in luck because they are also providing one of our readers with a sample box of their own. Just follow the directions in the Rafflecopter form below to enter.