Peas are small pods that are the perfect addition as healthy veg to any type of appetizer, side dish, main plate, or snack! Plus, canned peas stay good for months on end, so you can always keep these in your pantry.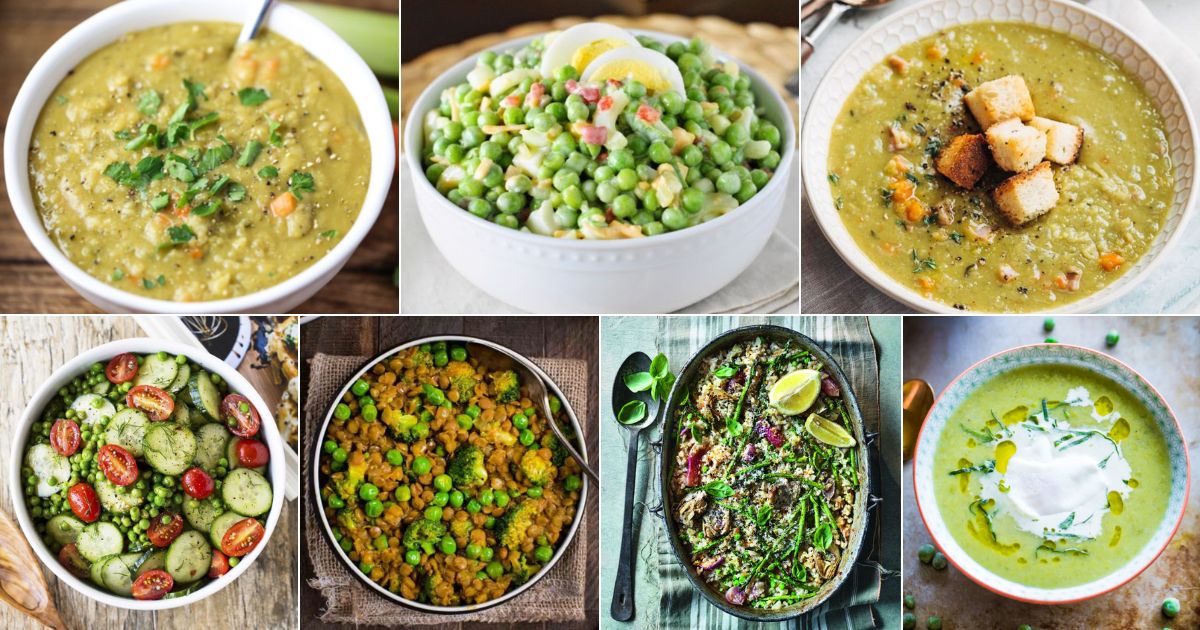 Let's see a few of the best-canned pea recipes that are fast, easy, and simple for new chefs.
Contents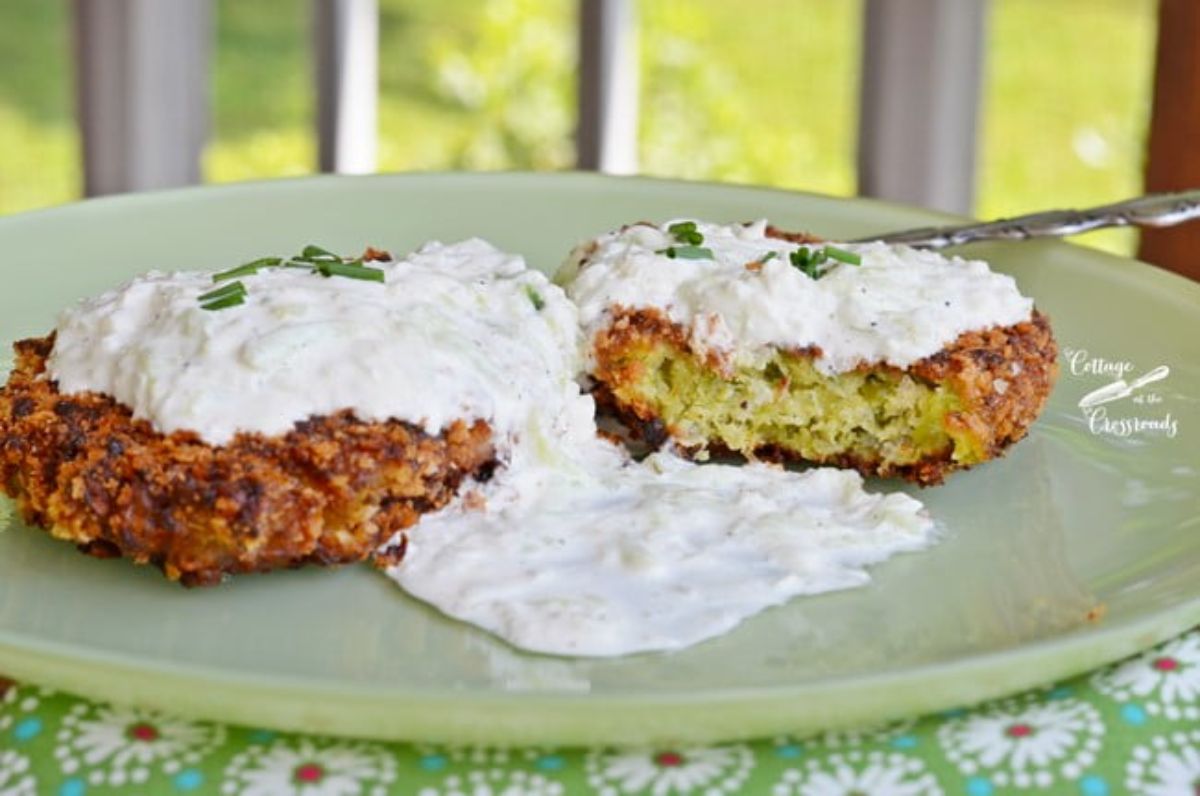 Using canned peas is an easy way to add a bit of green and health to these fritters! We love making fritters using fresh or canned vegetables you can't find any other recipe for. These fritters add the right amount of crunch to a snack or breakfast dish.
We love adding savory sauce on top for an ideal brunch plate on a hot summer day!
For this recipe, you will need garden peas, mint leaves, onion, heavy cream, eggs, and flour to make the fritters and the bread.
For the sauce, we love using fresh cucumbers from a local market to make the mayo-filled topping that is the perfect complement to the smoky and crunchy fritter. The best part about this recipe is it takes just a few minutes to make!
Then, leave the mixture in the fridge for 30 minutes before cooking the final product.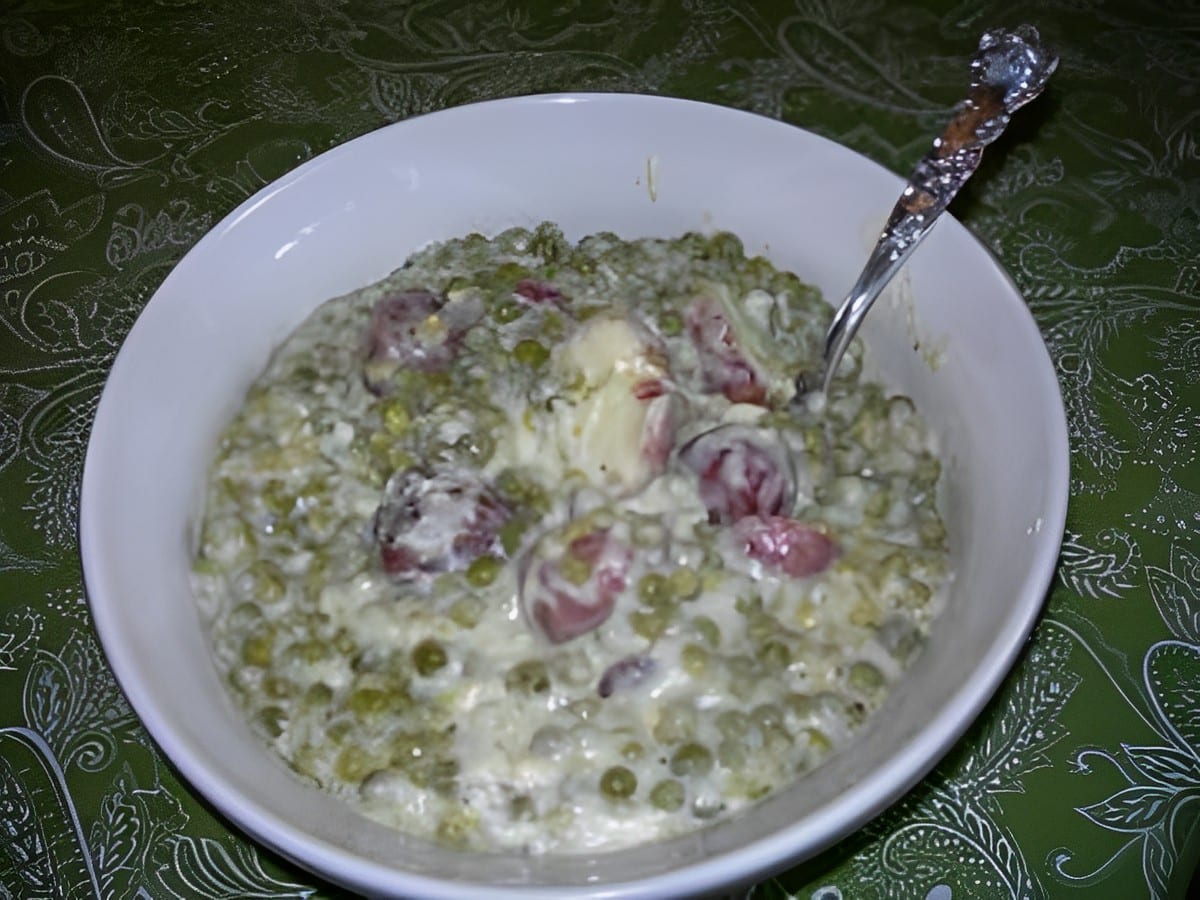 You can use canned peas and new potatoes to make this creamy and filling recipe. We love garden peas in a cream sauce for a heartier dish that is going to keep you full all day long.
Plus, if you add bacon or your choice of meat, then you can make the perfect comfort food for a cold winter day.
We recommend using butter, all-purpose flour, and seasoning to taste to make the cream sauce. You can then serve the dish hot for a cold winter day or cold for a springtime side dish for a party. This dish is very versatile to serve all year round!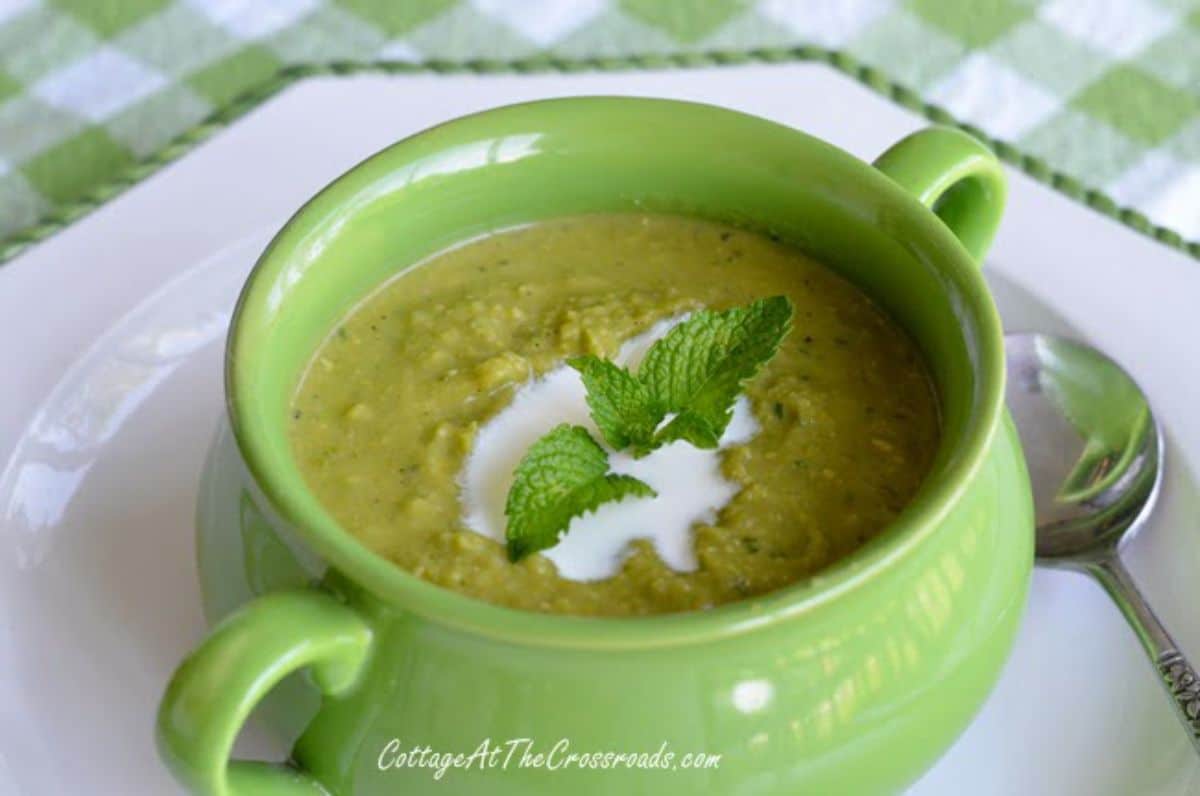 Sometimes during the hotter seasons, you want to actually have a chilled soup to cool down and still enjoy a light and healthy lunch!
Soup doesn't have to be boiling hot, which makes you hotter during June and July — we love making chilled soups that are great for using fresh flavors and vegetables from local markets or your very own garden.
You can even use canned peas to make this chilled soup. We recommend using canned peas with chicken or vegetable stock, onions, whipping cream, and seasoning to taste. Garnish the top with a dollop of sour cream and some coriander for a flavor explosion!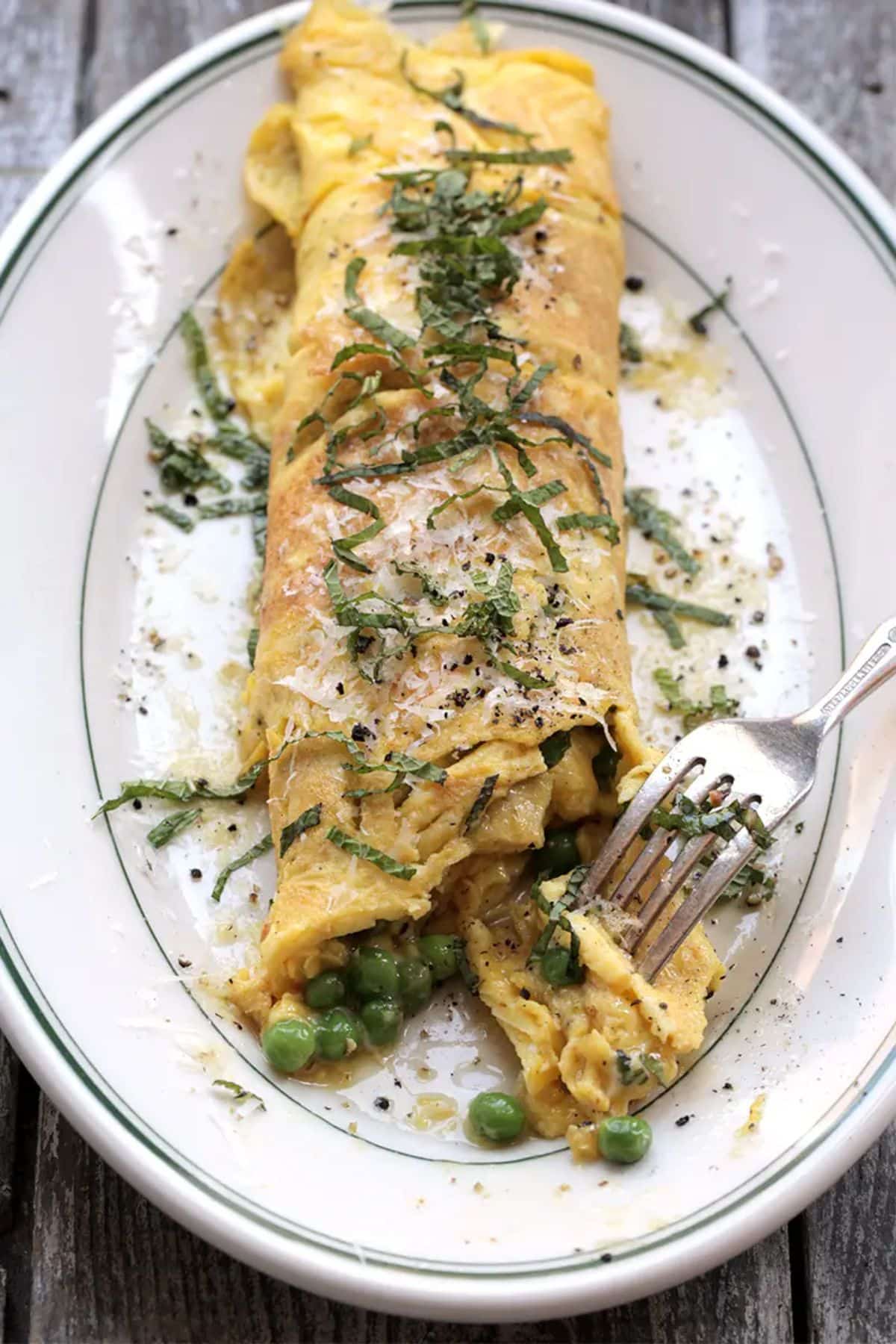 You might never think of adding peas to an omelet, but the green vegetable adds the right amount of crunch to this staple egg dish! We love using brown butter for a unique sweet taste that you won't find with typical butter.
This recipe takes no time to make, which is why it is a great option for a last-minute family brunch.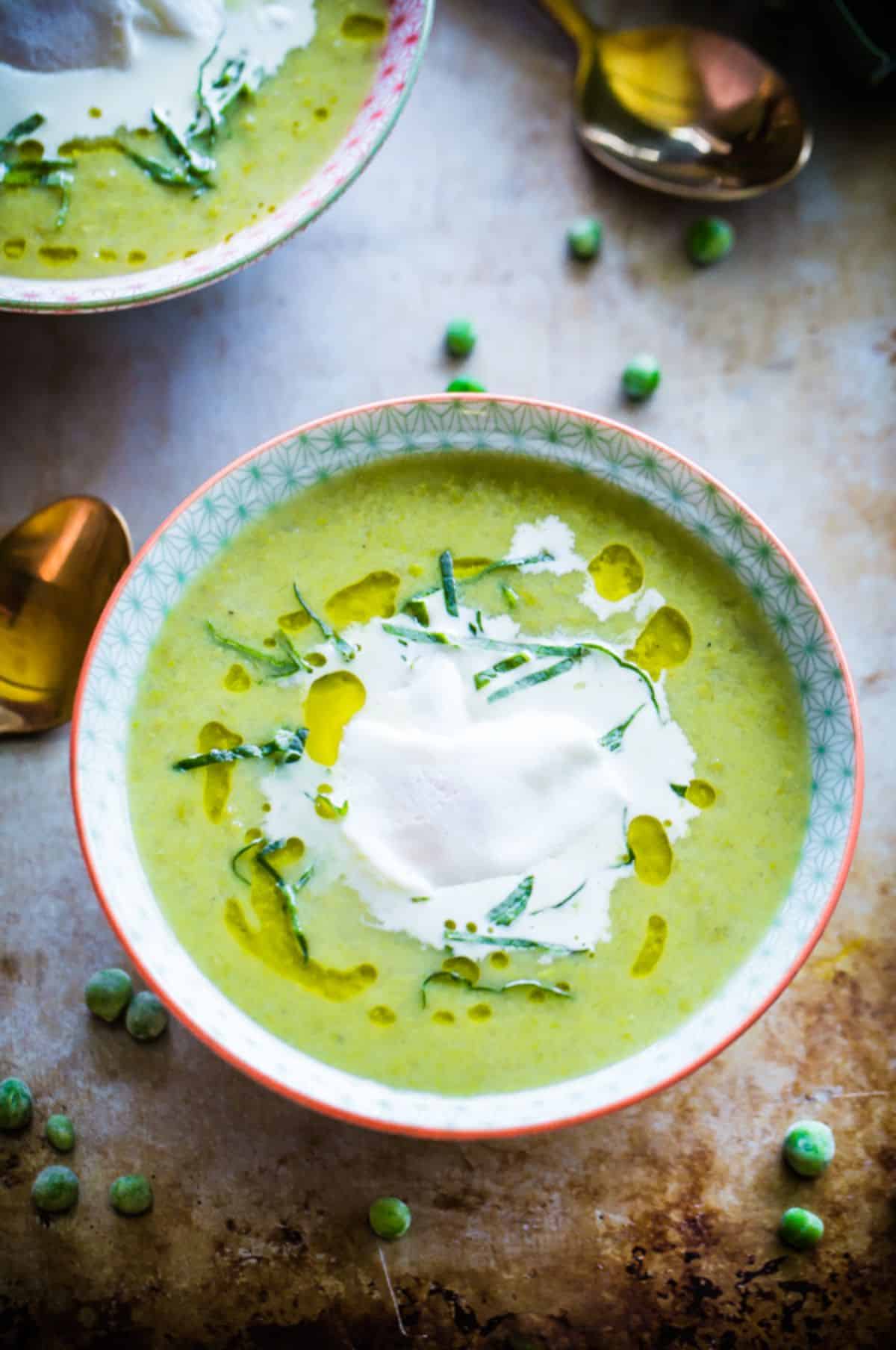 Add a poached egg to the top of this hearty soup to make it the ideal breakfast dish for a cold winter day. We love using chunky canned peas and leeks for veg-forward and healthy soup that you can put together in less than 30 minutes. Talk about easy!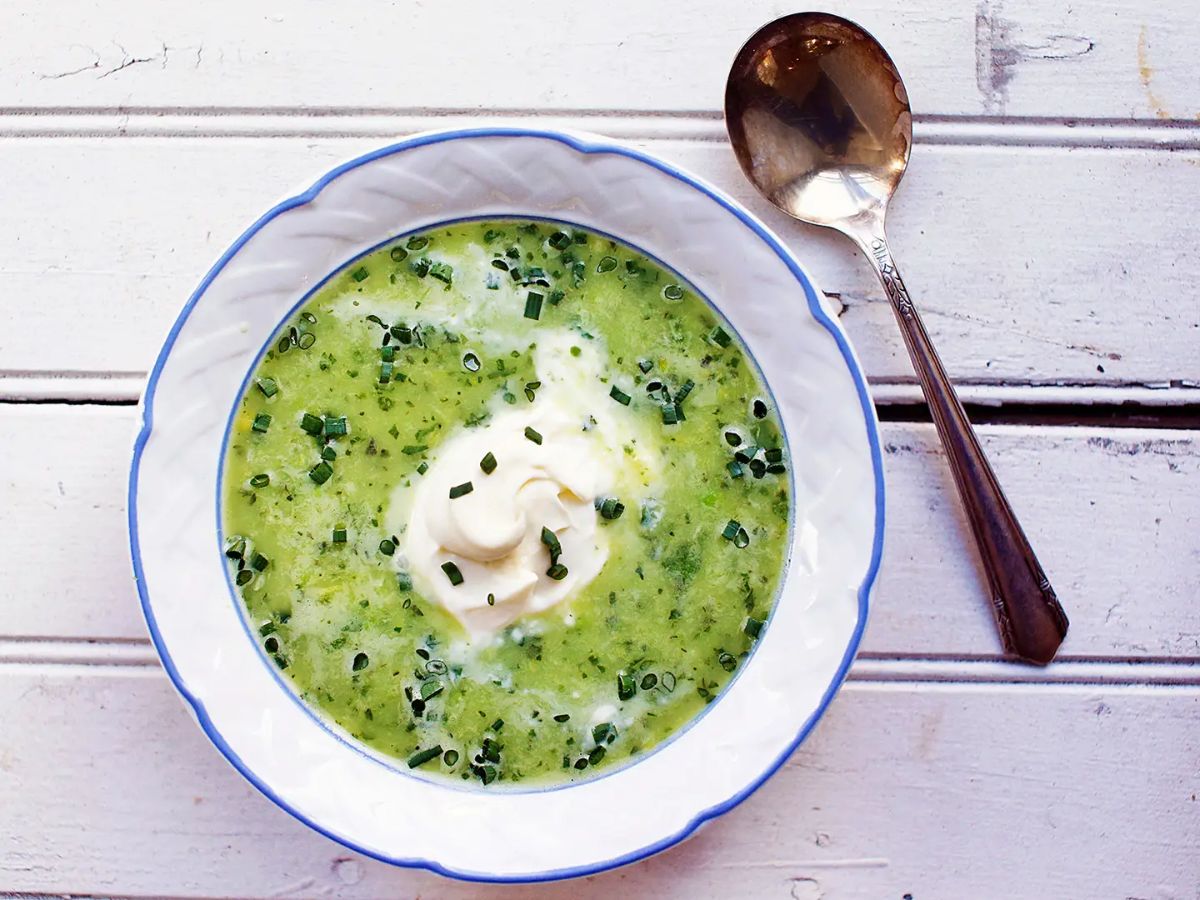 Leeks and peas go so well together! This recipe provides four to six servings and takes two hours to make, which is why it is the ideal dish for a last-minute family party or dinner with friends.
Your guests will love the canned peas, Italian parsley seasoning, and fresh mint leaves that add some refreshing taste to this healthy dish.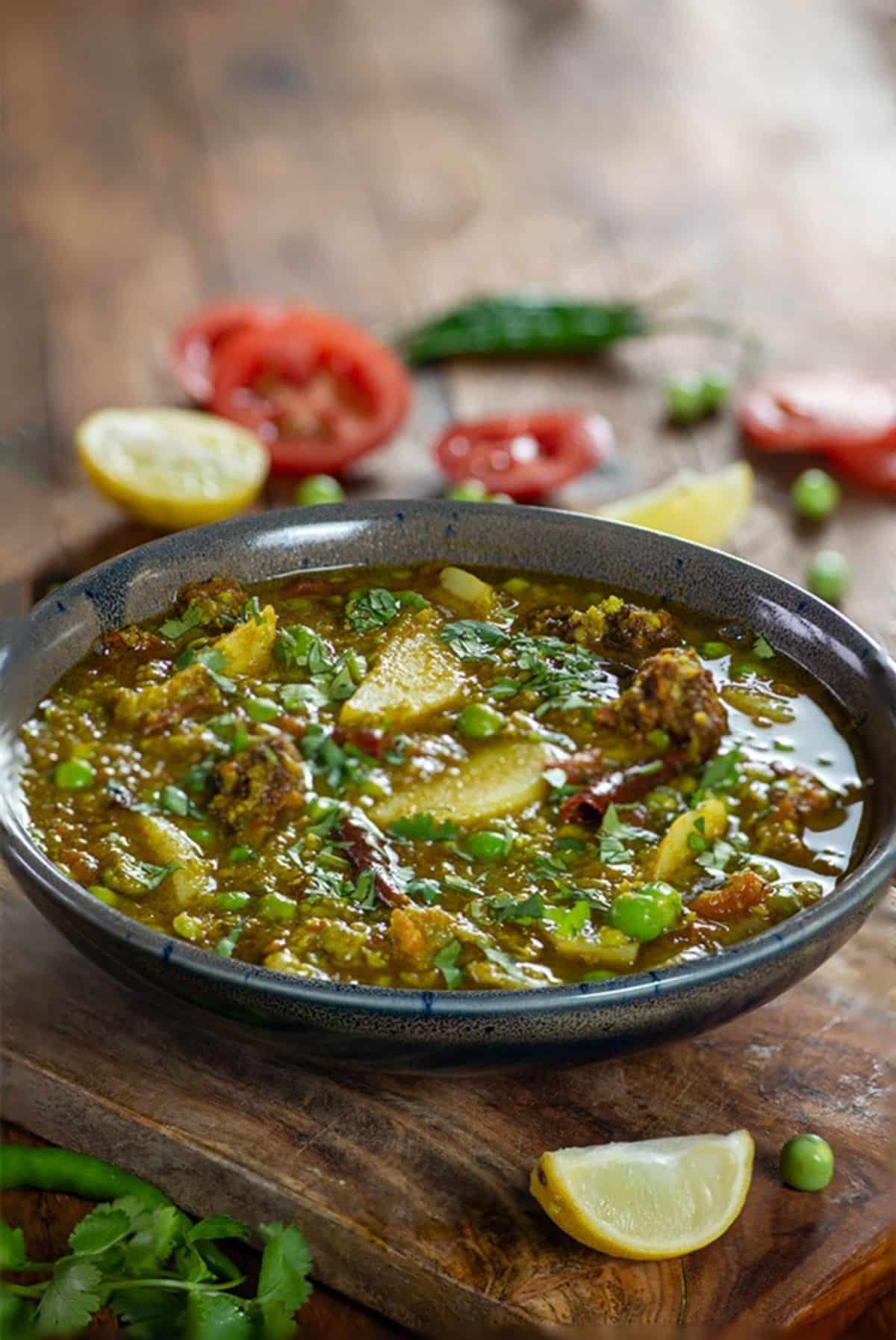 Use canned peas and Indian-influenced spices to make this slightly-spicy curry that is going to really warm you up on a cold day! This recipe takes just 5 minutes to prep and 25 minutes to make, so it is ideal for a snow day.
We recommend using ginger, chilis, wadi, cumin seeds, turmeric, and masala powder to really get that Indian and Middle Eastern vibe.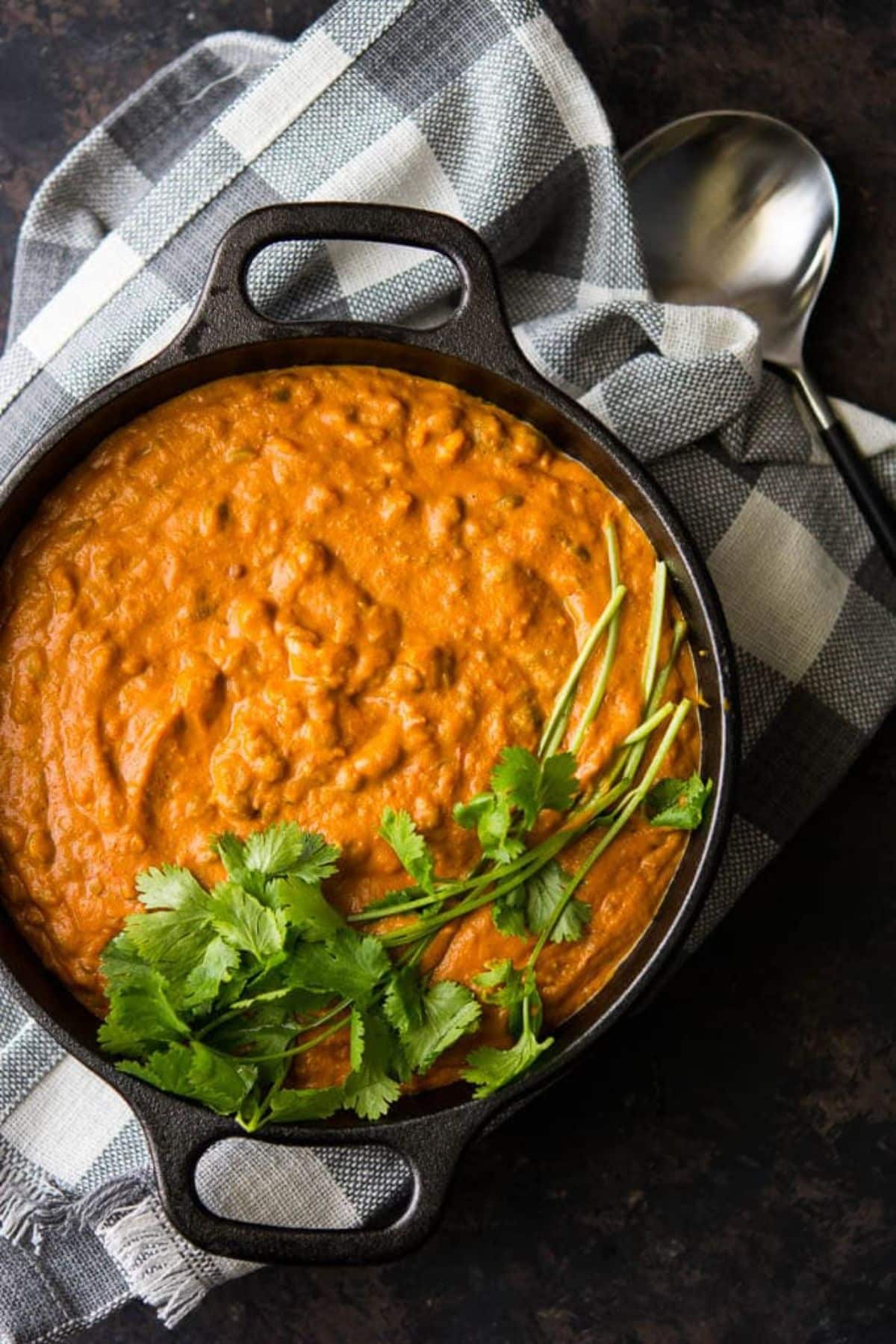 Another type of curry to make is a split pea curry with coconut milk, garlic, green curry paste, and ground ginger for a hearty Indian dish. This recipe takes just a few minutes to perfect!
You will love making this simple and fast recipe, even if you are not a fan of cooking.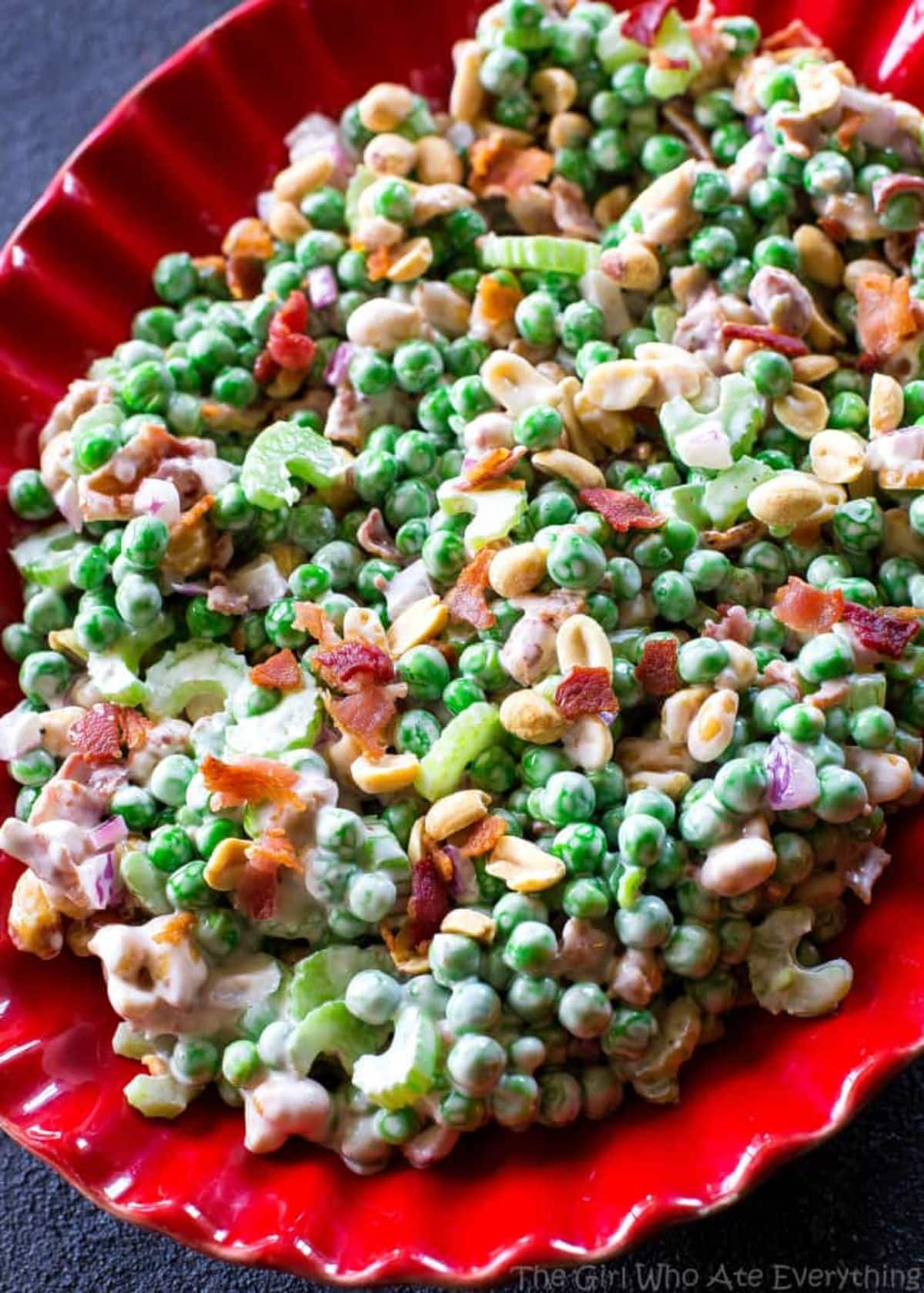 Using canned peas is a great way to add crunch to your salad. This typical pea salad uses savory and salty ingredients to make the perfect springtime side dish featuring crispy bacon, crunchy celery, and sweet peanuts.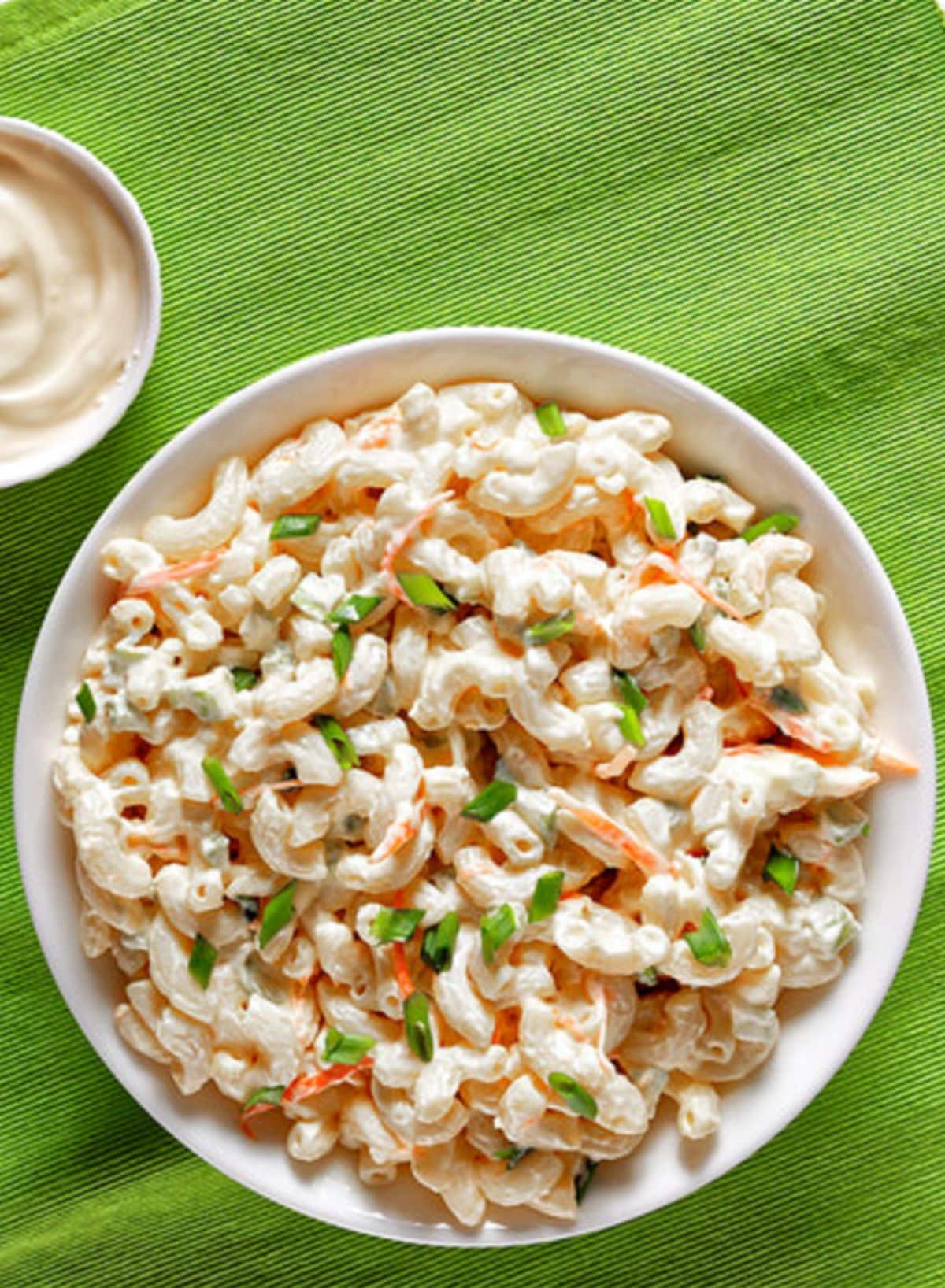 Macaroni salad offers a hearty texture that is great for carb lovers who want to enjoy a chilled side dish! This macaroni salad has green peas, chopped parsley for a light seasoning, bacon for our meta lovers, and scallions for a bit of a kick.
This easy recipe takes under 30 minutes from start to finish.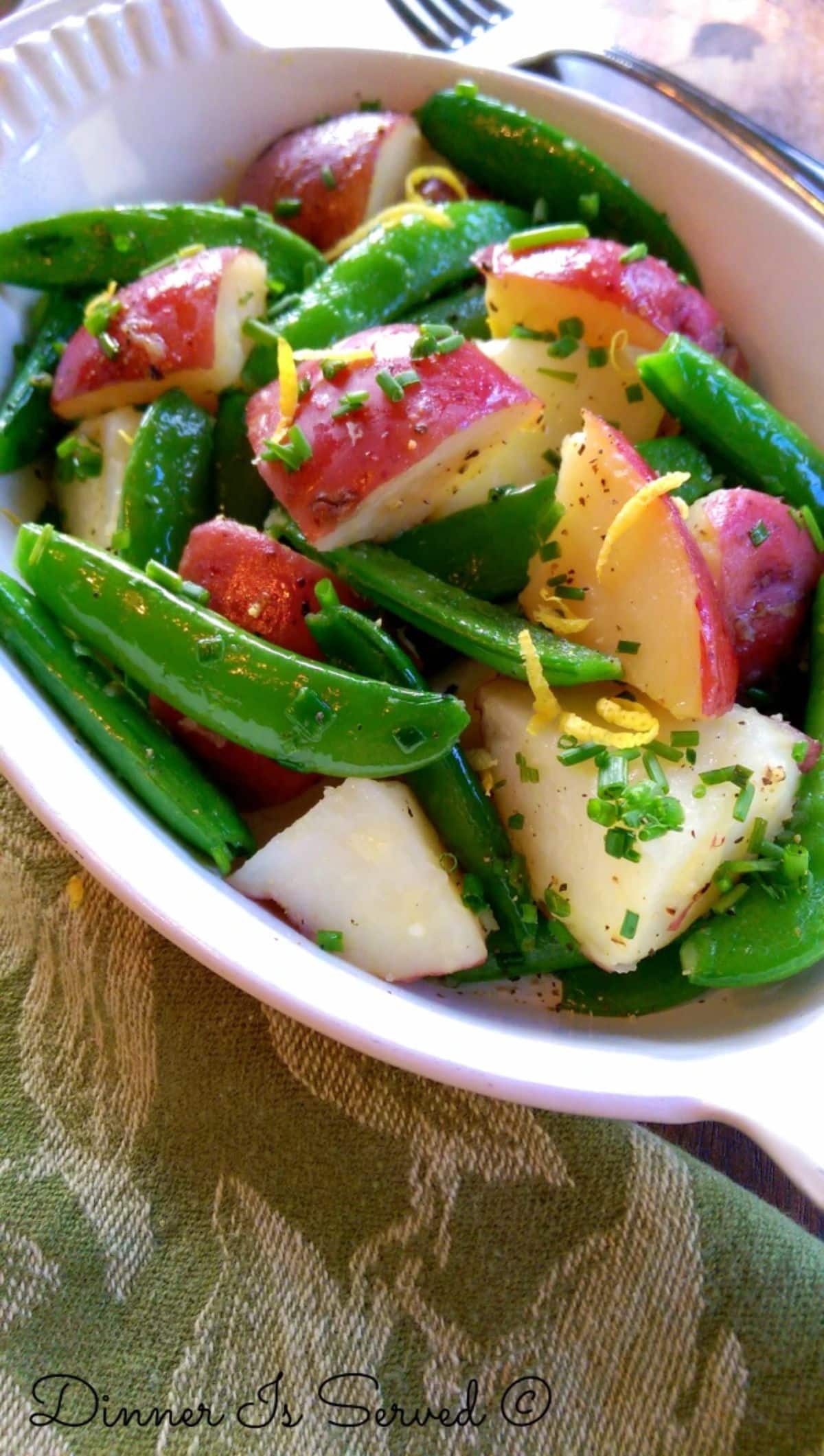 You can use canned snap peas with chives and new potatoes to make this light and refreshing side salad that can either be served hot or cold. We love including chopped chives and lemon zest for a light and easy seasoning!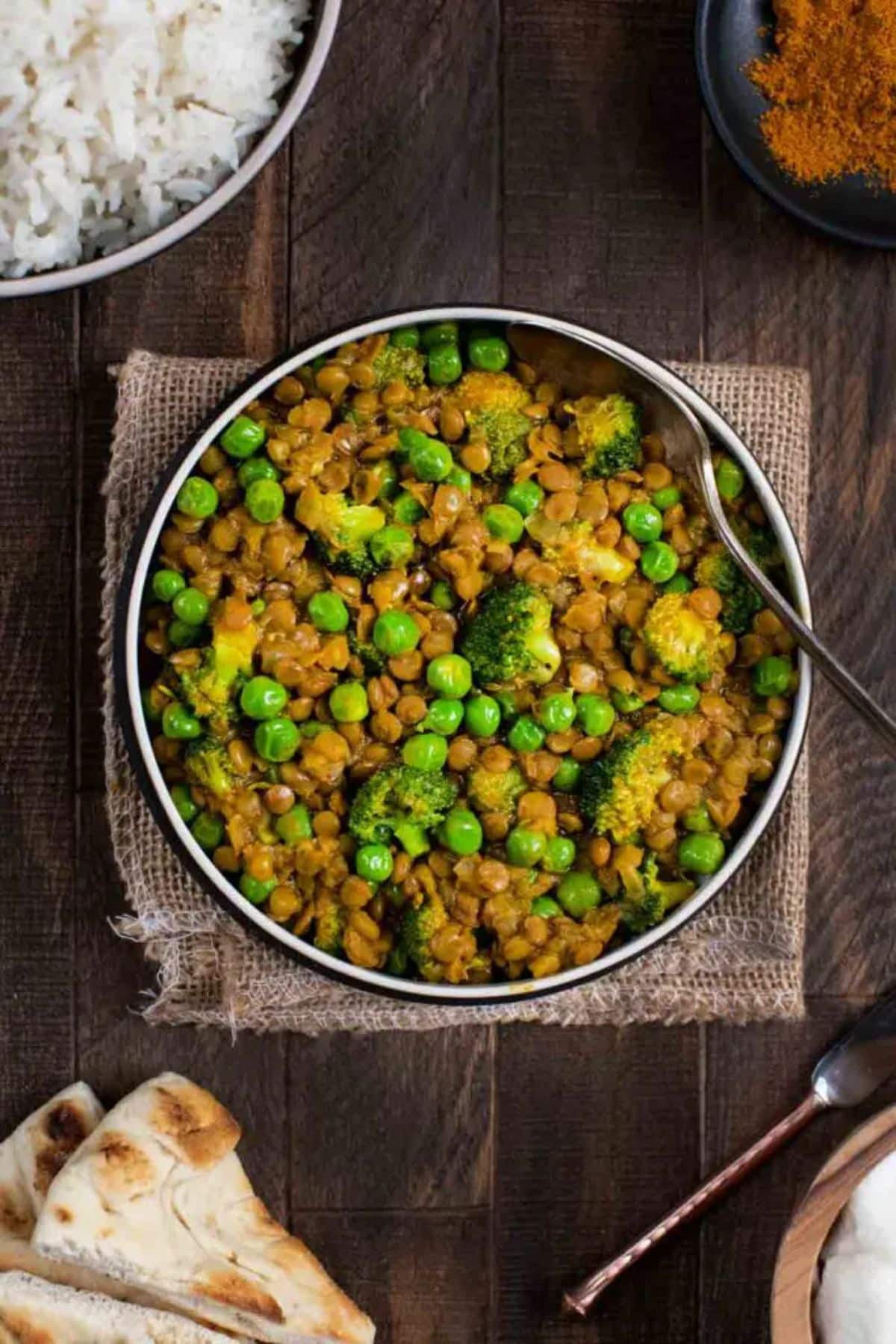 We love this recipe for those who want to make an Instant Pot or one-pot option for a quick dinner or lunch for one person! This Indian-inspired dish is healthy, quick, and simple.
Use vegetable broth, garlic, coconut milk, lentils, curry powder, and canned peas to make this vegetarian dish.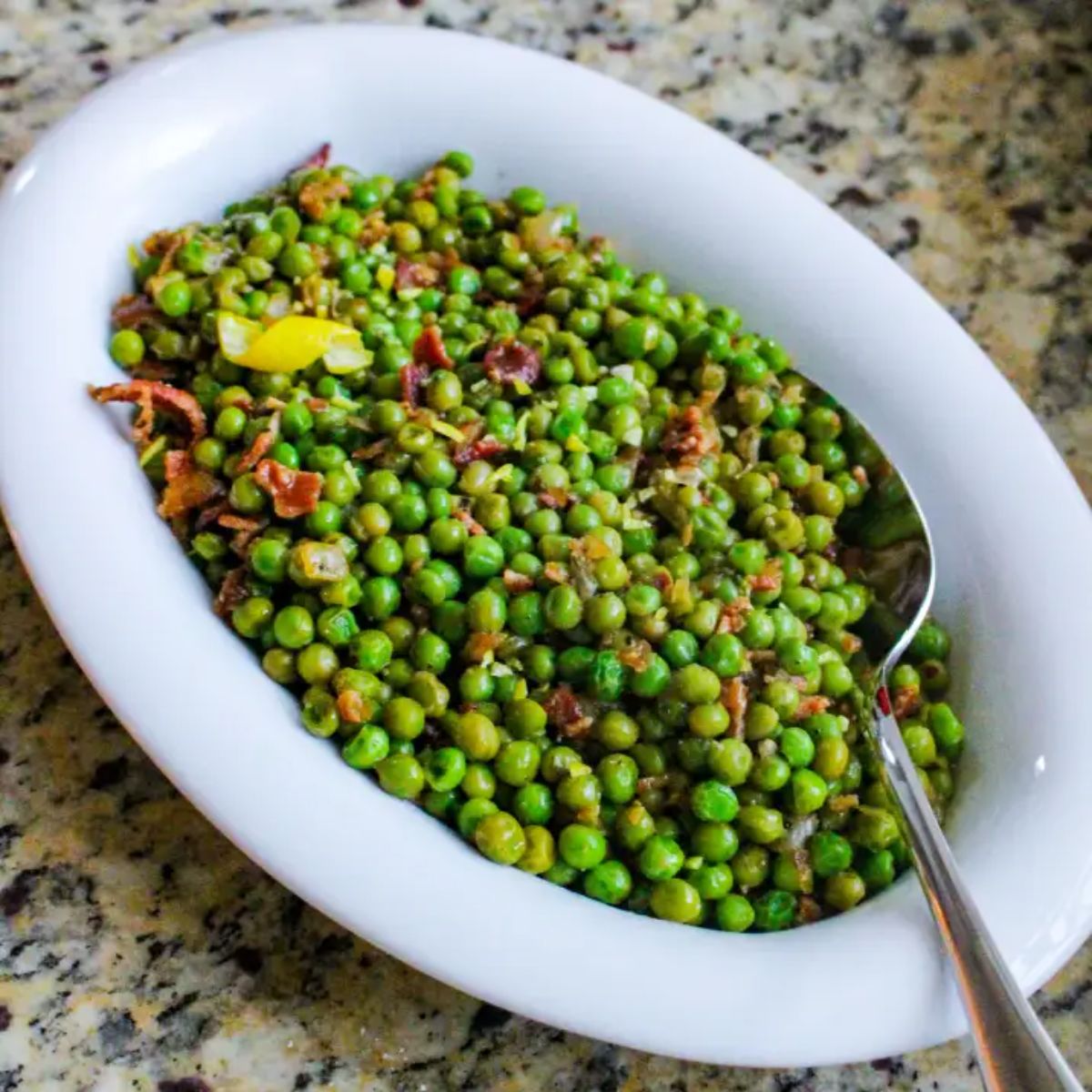 Adding lemon to the savory texture of bacon makes this dish feel lighter than it already is! This recipe is gluten-free, dairy-free, and healthier than other side dishes you may have for holiday parties.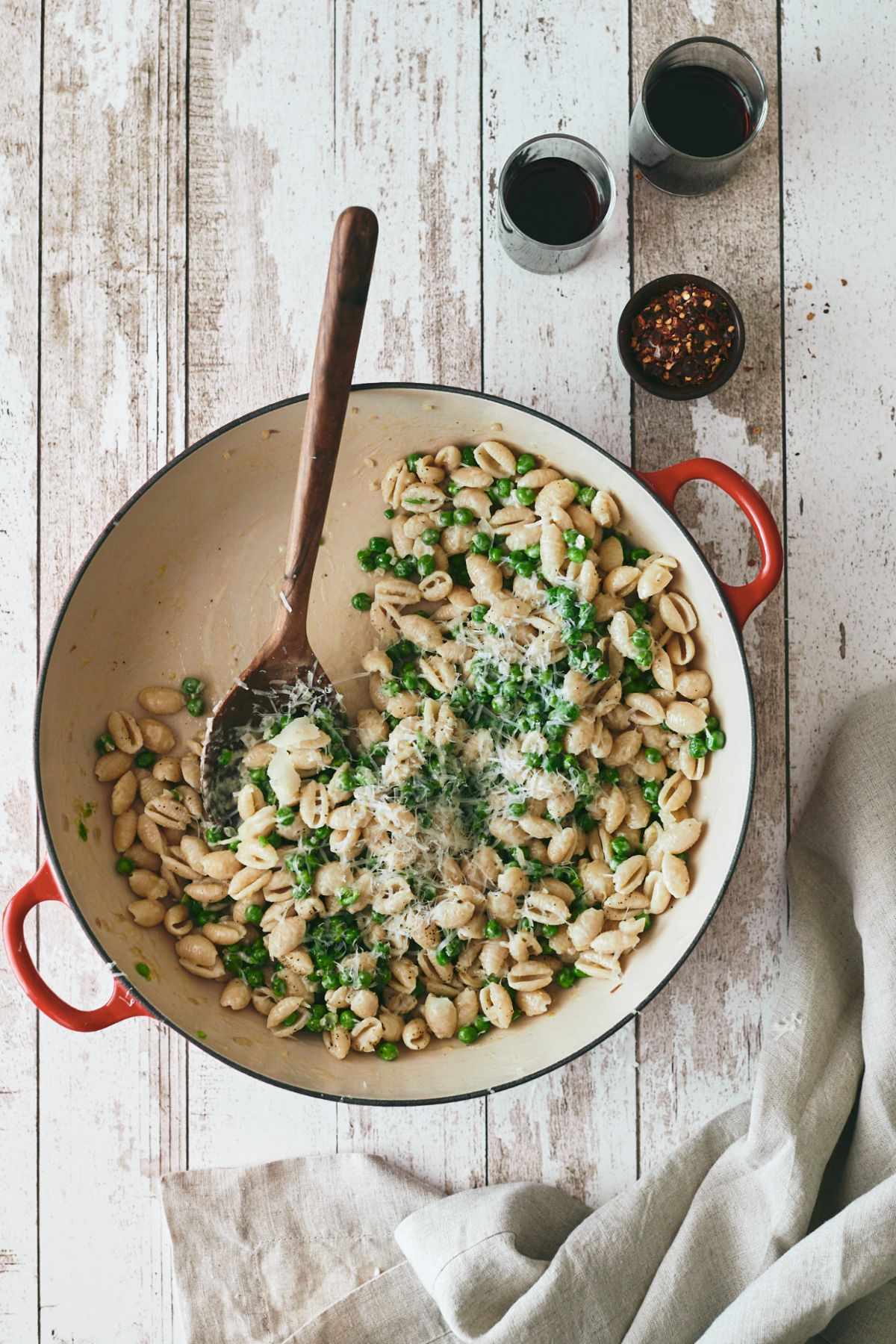 Use shallot cream sauce to make this pea pasta seem like Alfredo spaghetti — but without being super unhealthy! We love using canned peas on top of the pasta, along with Parmesan and salt to taste, for a filling pasta dish.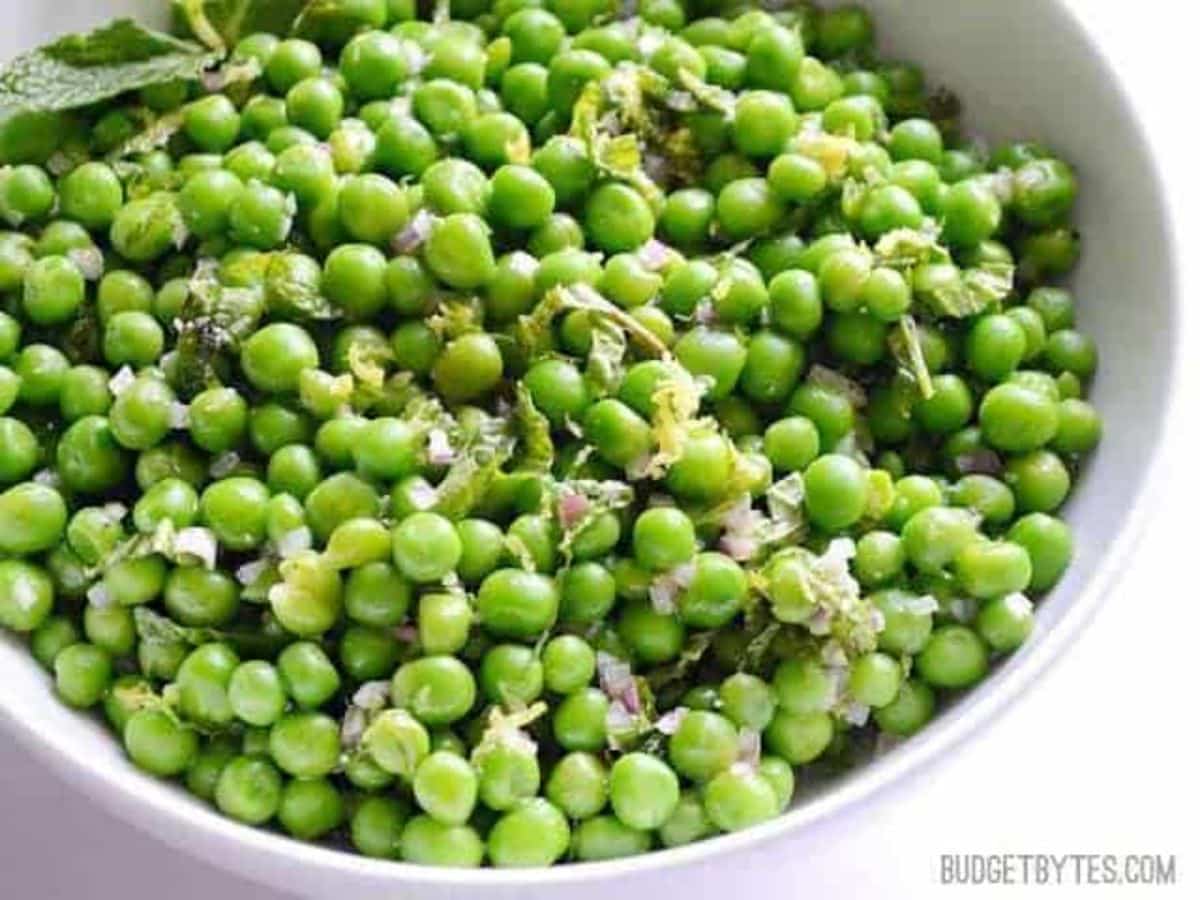 Adding mint to your typical canned peas makes them feel even lighter and more refreshing than they already are. We love using shallot vinaigrette, fresh lemon, fresh pepper, and mint sprigs for this healthy side dish.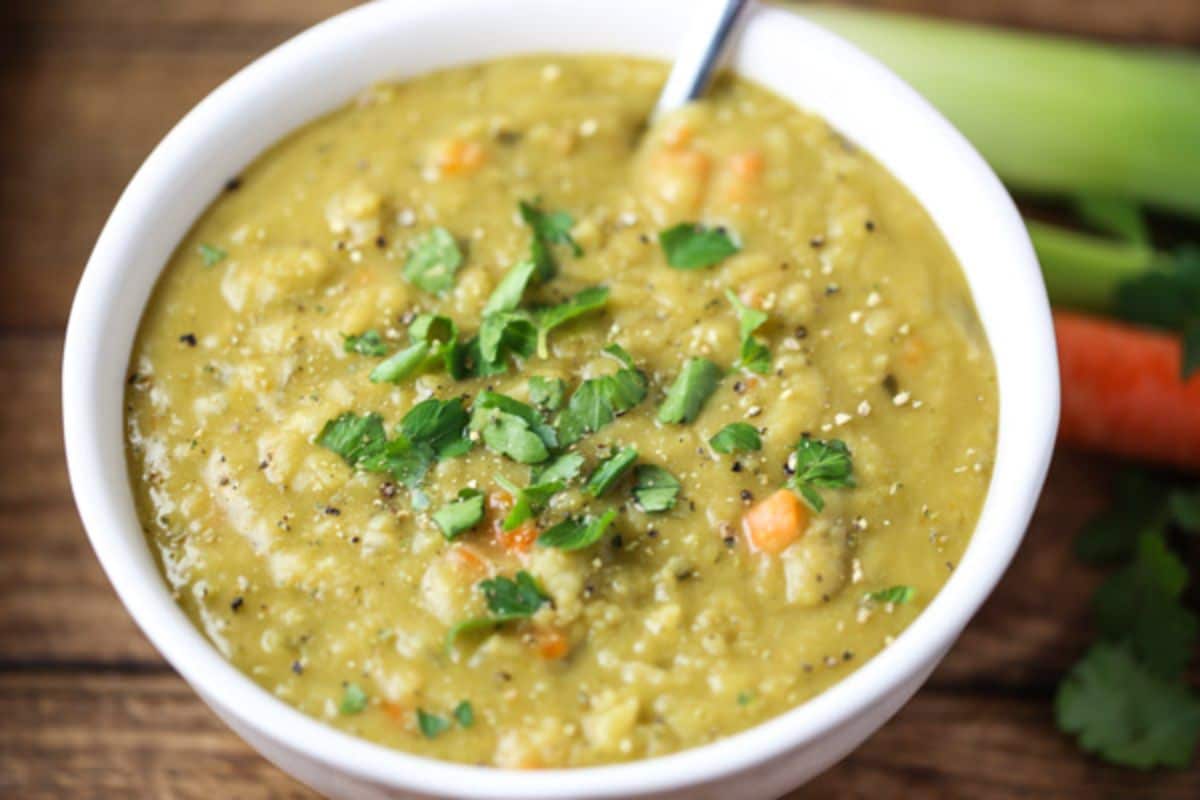 Use a slow cooker to make this super-easy slow cooker split pea soup for a last-minute winter dish that will warm you up. Plus, it is vegan and vegetarian!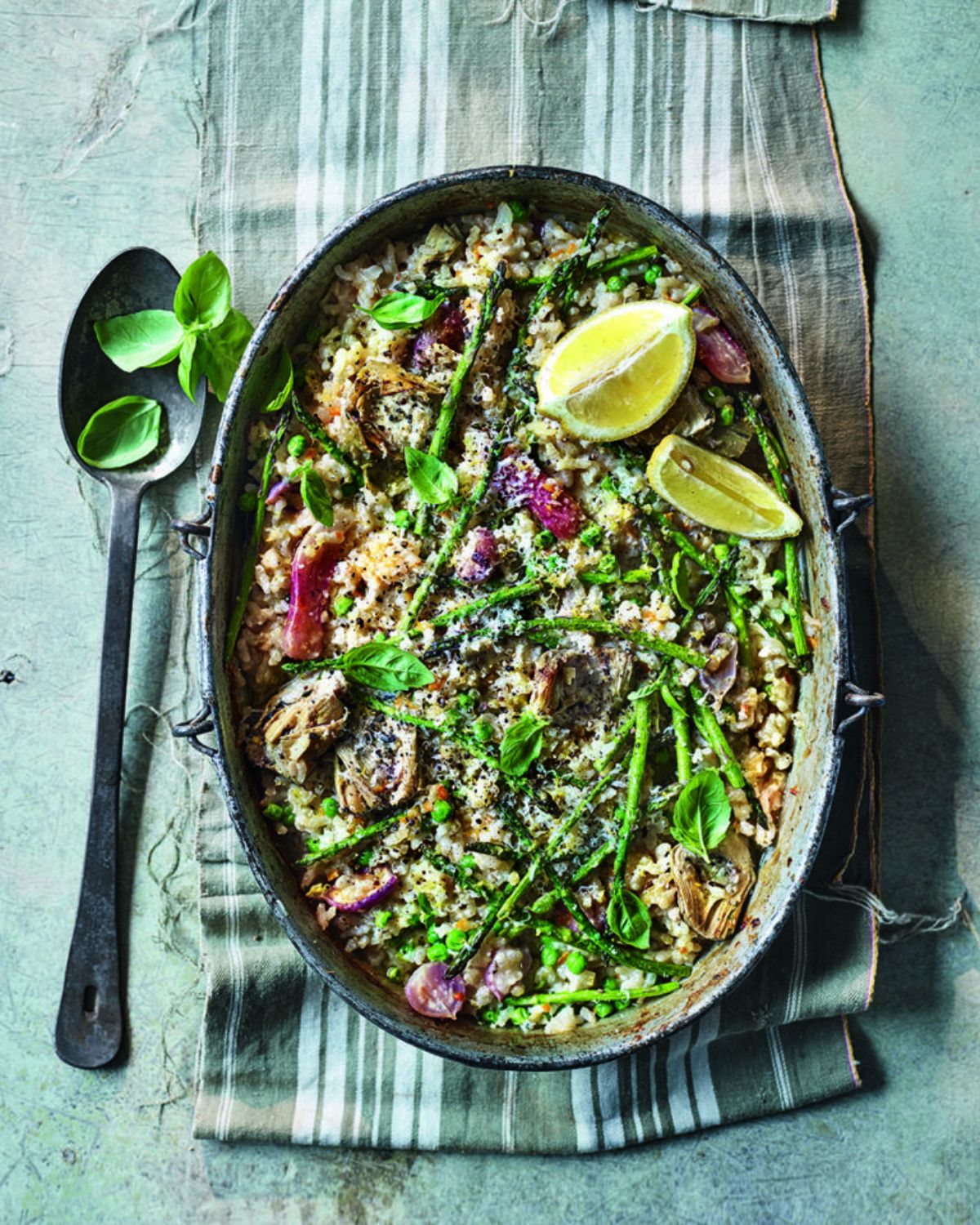 Pea, artichoke, and asparagus risotto adds all of your greens while still keeping the creamy flavor of risotto! You can even add radishes to this no-stir risotto to include even more spring vegetables.
We love this recipe for a summer or springtime dish. Add dry white wine and fresh vegetable stock for seasoning on top of this grain side dish.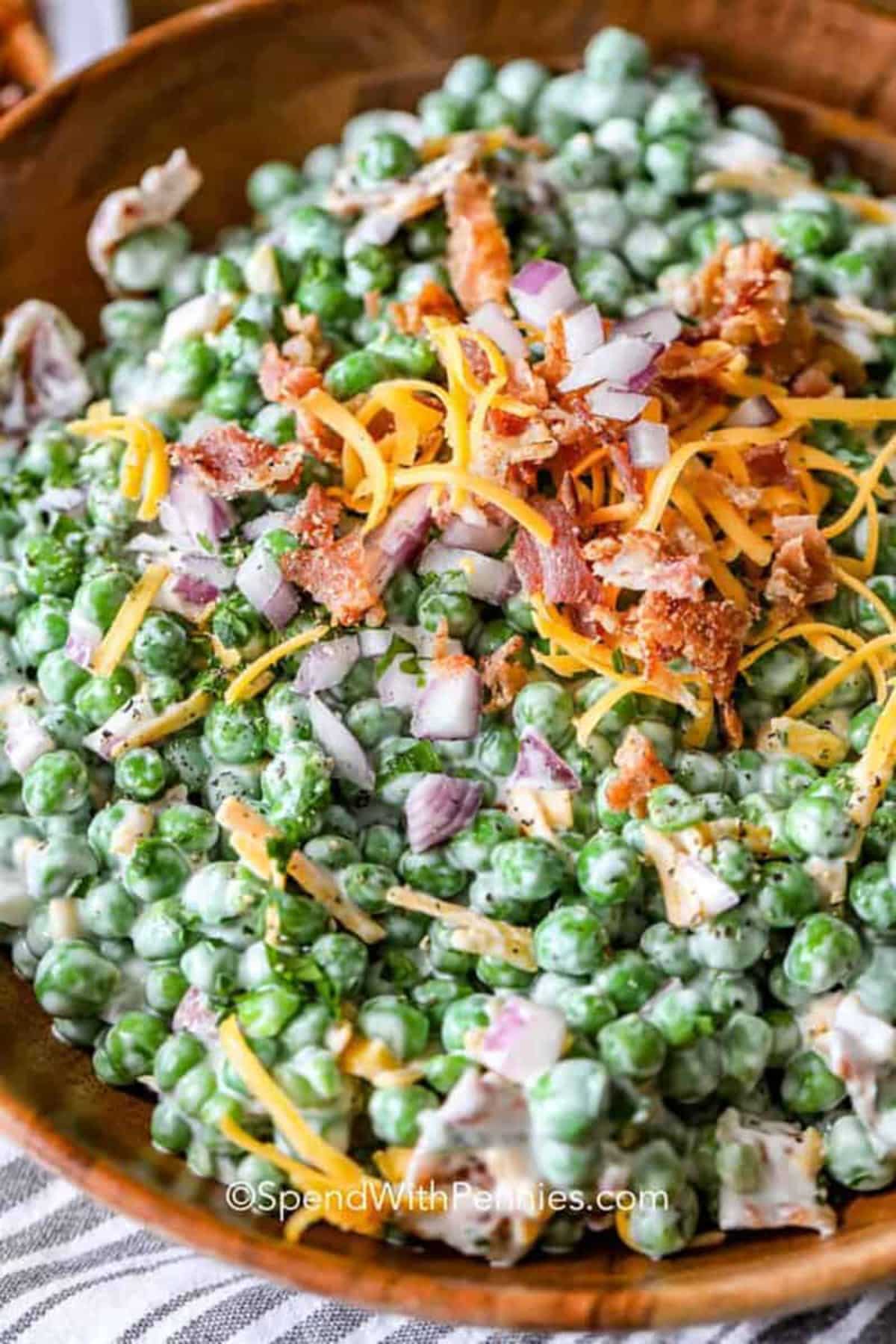 Adding bacon to peas can give you just the right amount of saltiness and fattiness you want! Include shredded cheddar cheese and onion for even more flavor.
The best part about this dish is you can make it ahead of time, topped with a creamy dressing, to save time. We recommend using green onion or sweet white onion if you don't like the taste of bitter red onion.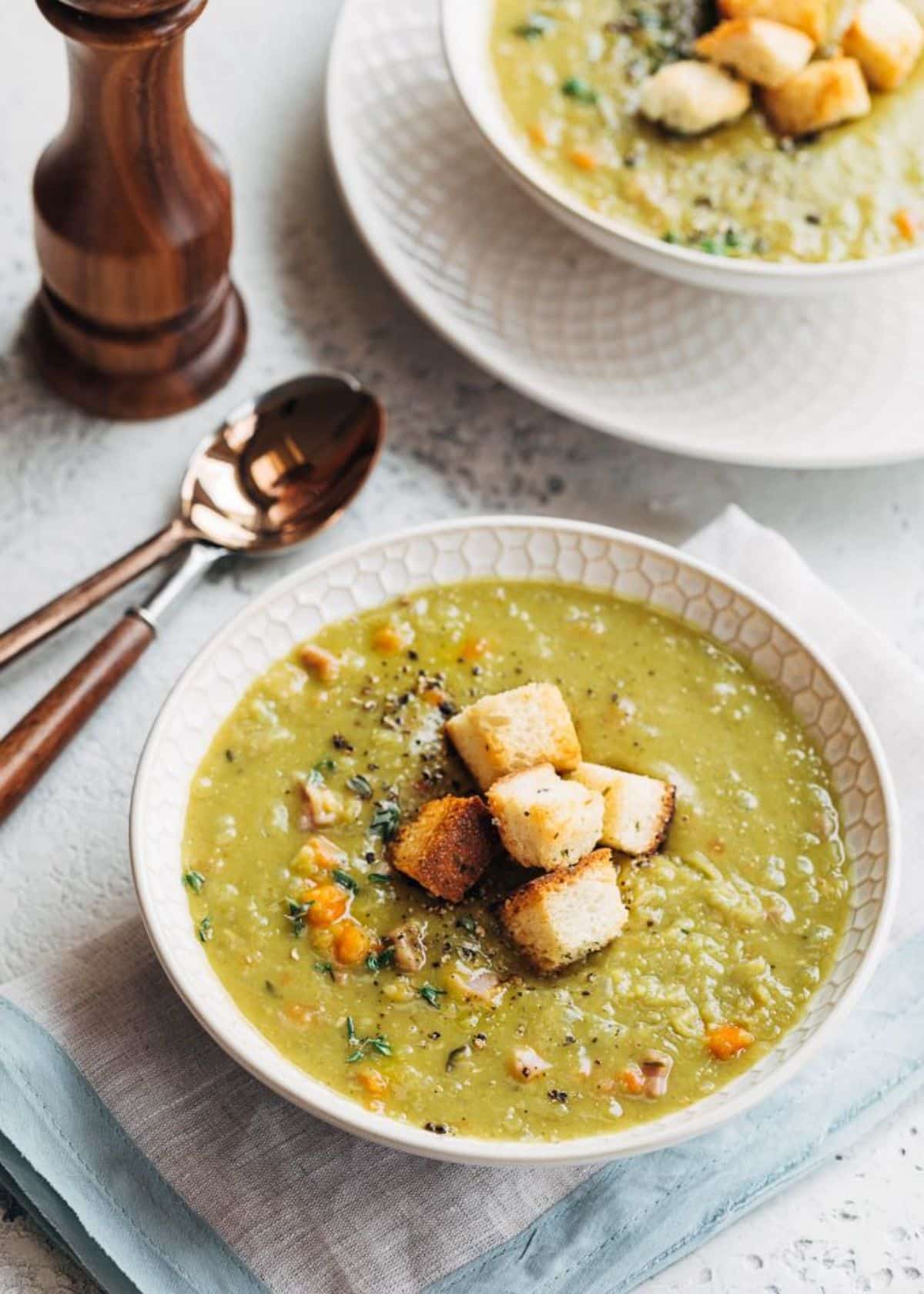 Use canned peas and ham to make a salty and hearty soup that makes use of leftover ham in your fridge! We recommend using diced carrots and celery to add more vegetables to this dish. Plus, using garlic and a bay leaf adds just enough seasoning.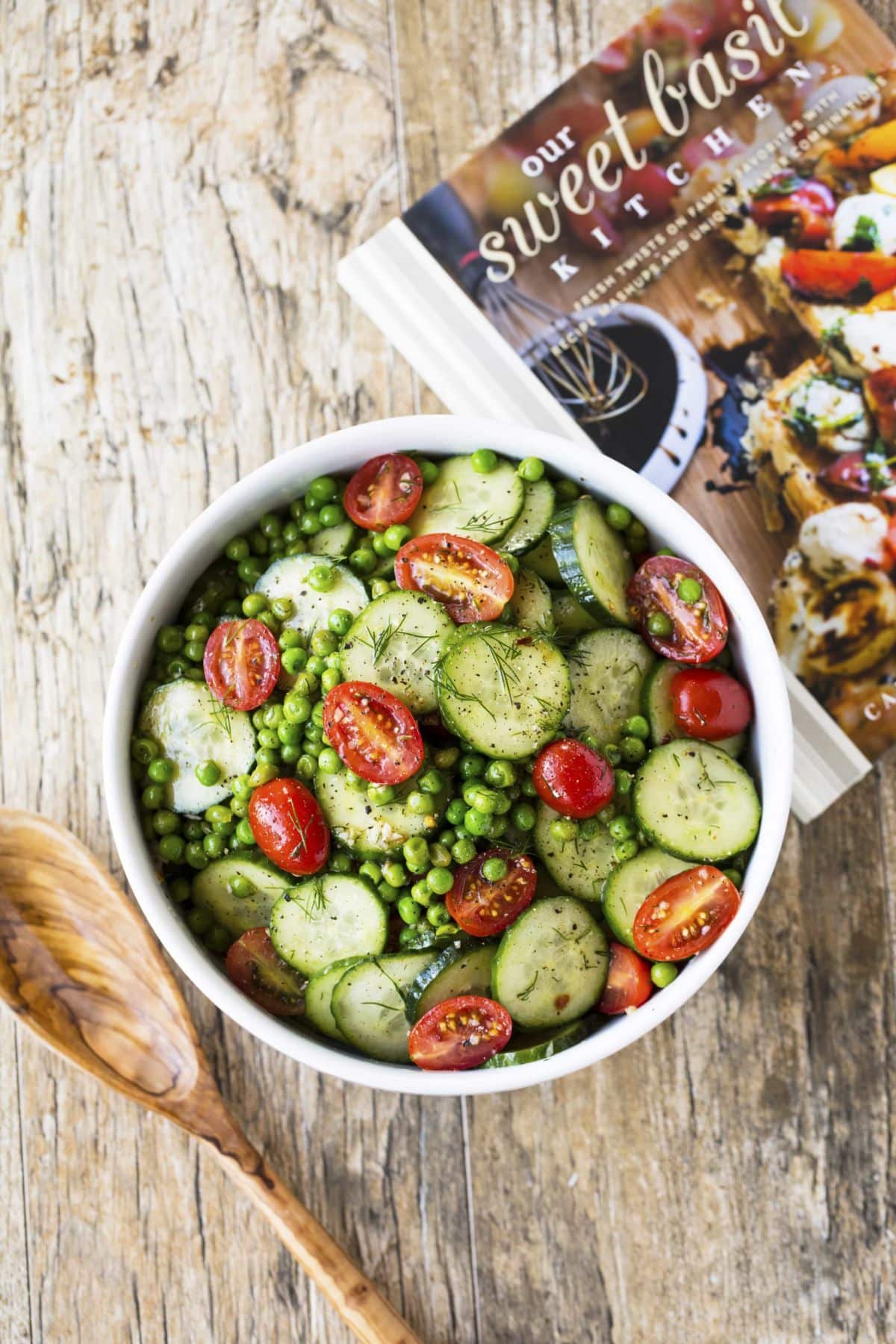 Use dill and fresh basil to make this dill pea and cucumber salad that is perfect for a summer main salad or side dish. We like making this in bulk for picnics and weeknight parties.
Use apple cider vinegar, garlic, dill, and red pepper flakes to add a bit of spice and seasoning to this side dish.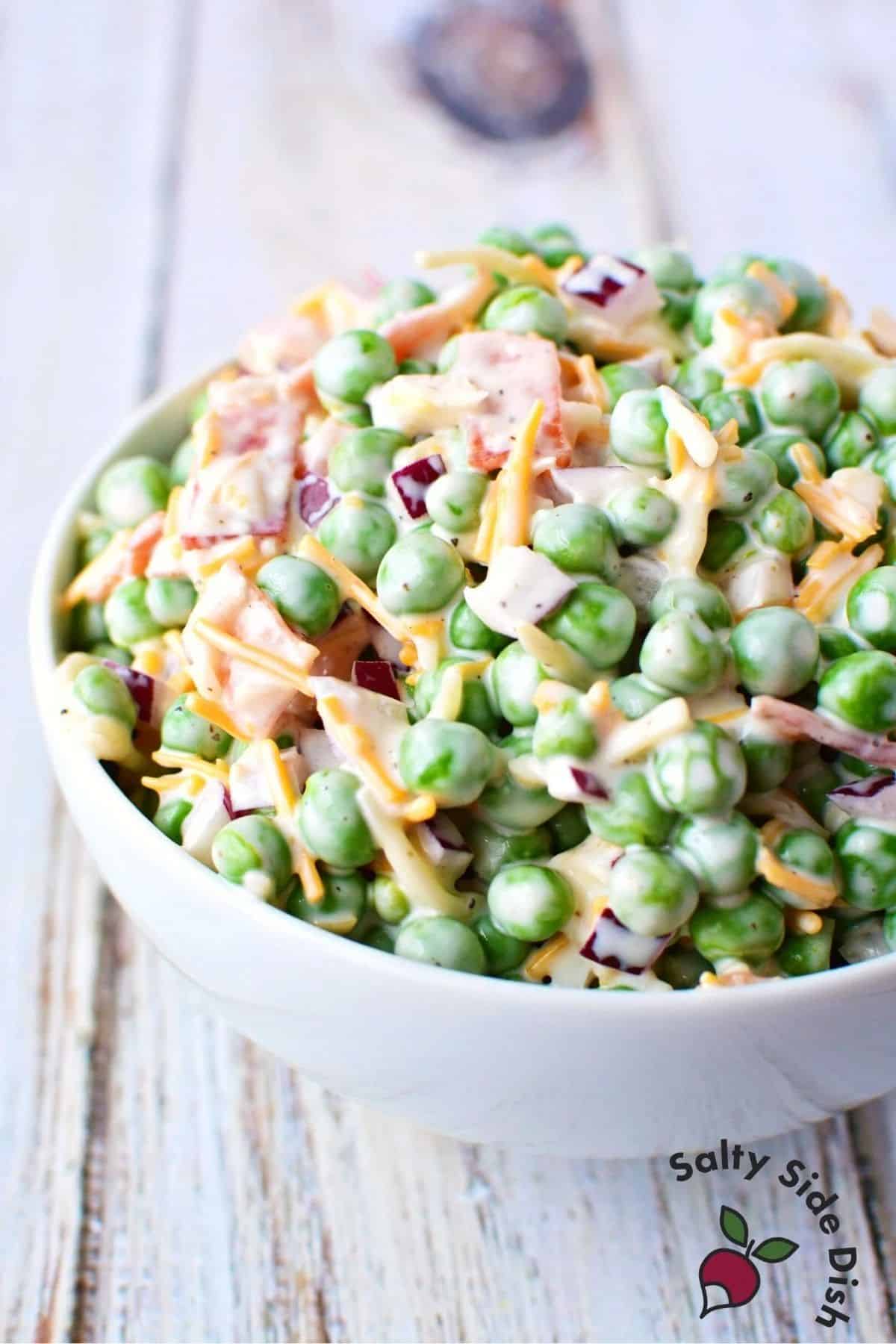 Use red onions and cheese to add more bite to this healthy pea salad! Of course, adding the onions and cheese won't make it healthy, but it makes it SO good! This classic recipe can be made in just minutes for the perfect hamburger side dish.
We recommend using canned peas, salty bacon bits, shredded cheddar or mozzarella cheese, diced red onion, and additional bacon bits for even more salt.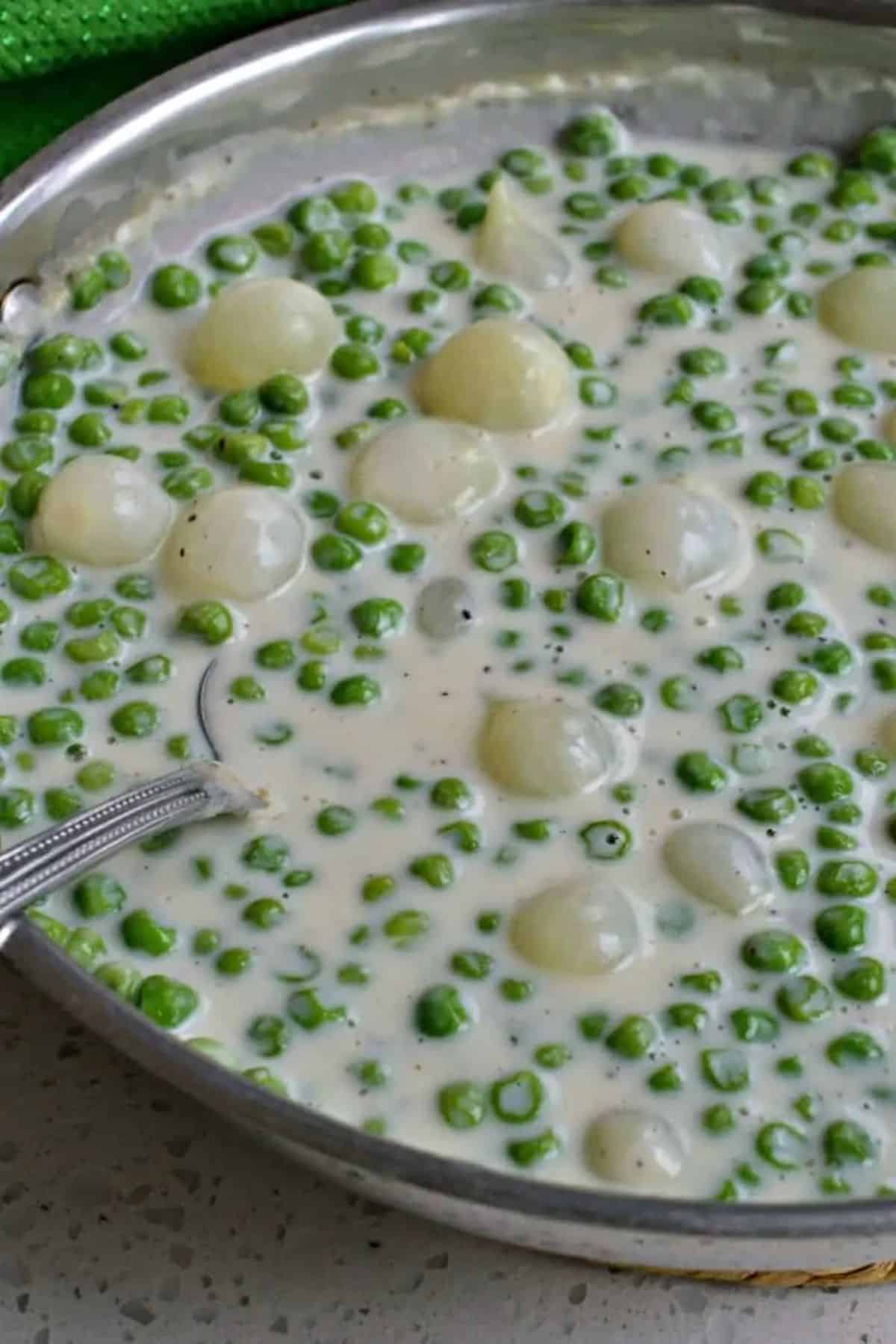 Use pearl onions and cream to add more texture and flavor to canned peas. This recipe has just seven ingredients and takes a few minutes to make, which is why it is the ideal side dish for any type of party.
We recommend using whole milk and unsalted butter for the best results. This easy recipe takes just 10 minutes to prepare, and 10 minutes to cook, so you never have to worry about being prepared for a party.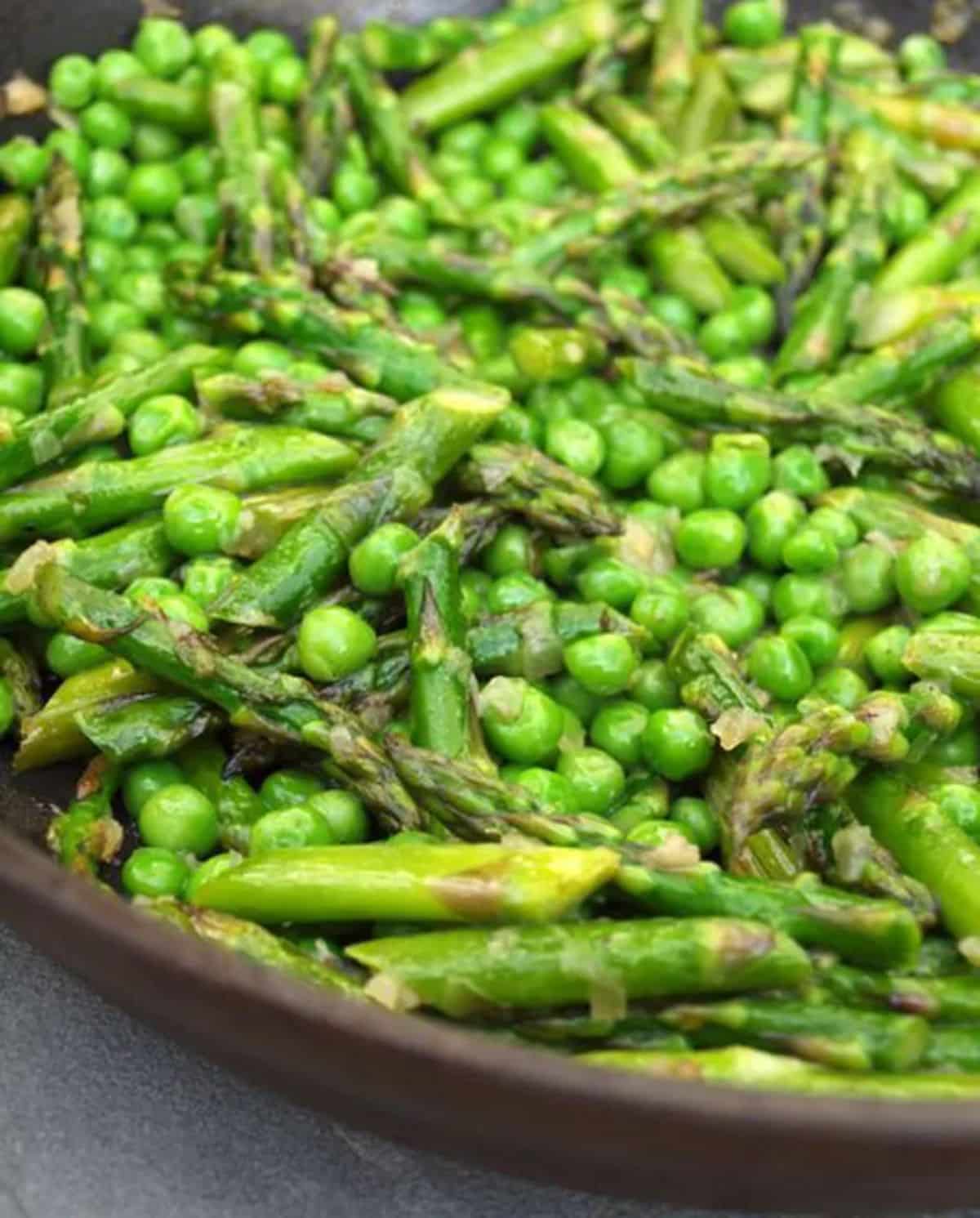 Sauteed fresh vegetables and canned peas for the perfect side dish that is going to give you all of your nutrients and more! We love combining asparagus and peas due to their complementing flavor profiles.
Use shallots, salt, honey, and freshly ground black pepper to add just enough seasoning to this healthy dish. This entire recipe takes just 15 minutes to make!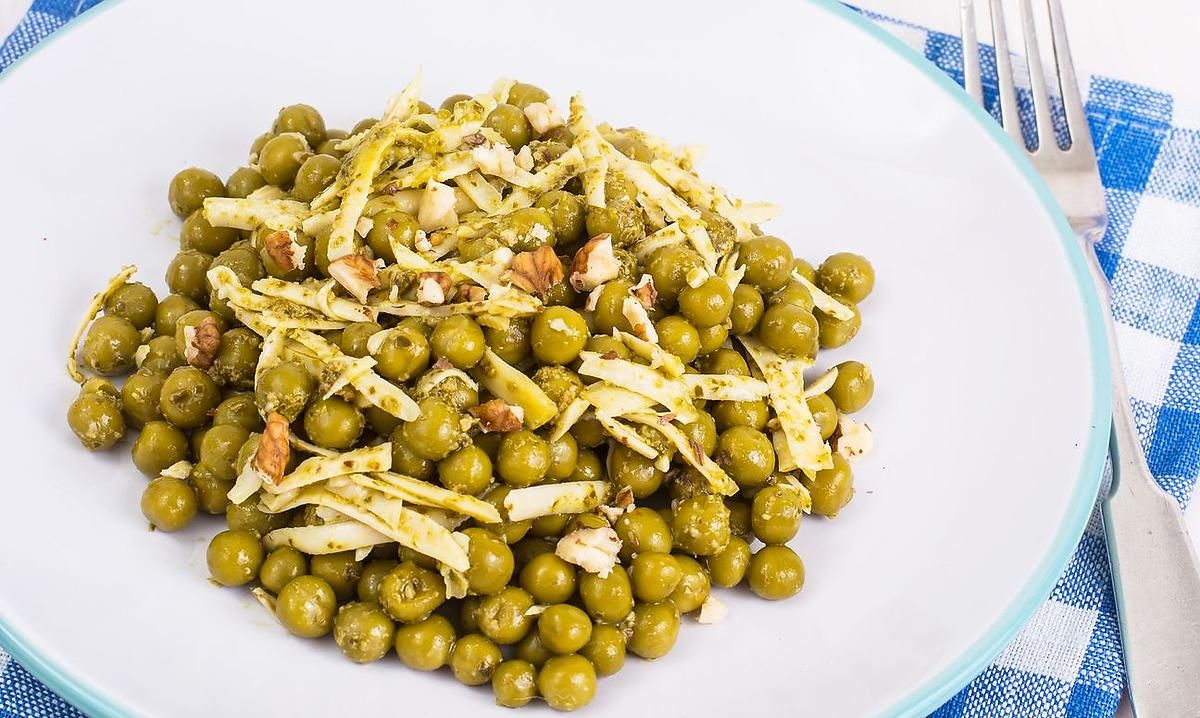 Green peas go SO well in pasta! It doesn't matter what type of pasta you use or what type of cheese you use — we love the texture of canned peas in a carb-heavy pasta dish with melted cheese.
One of our favorites is the green peas with pesto and parmesan recipe that you can make in just a few minutes.
Gather pesto, peas, Parmesan cheese, and chopped walnuts — that's it! You are now ready to make a tasty dinner. Heat the canned peas, stir in the pesto, and top with grated Parmesan. Add this mixture on top of your choice of pasta, and enjoy!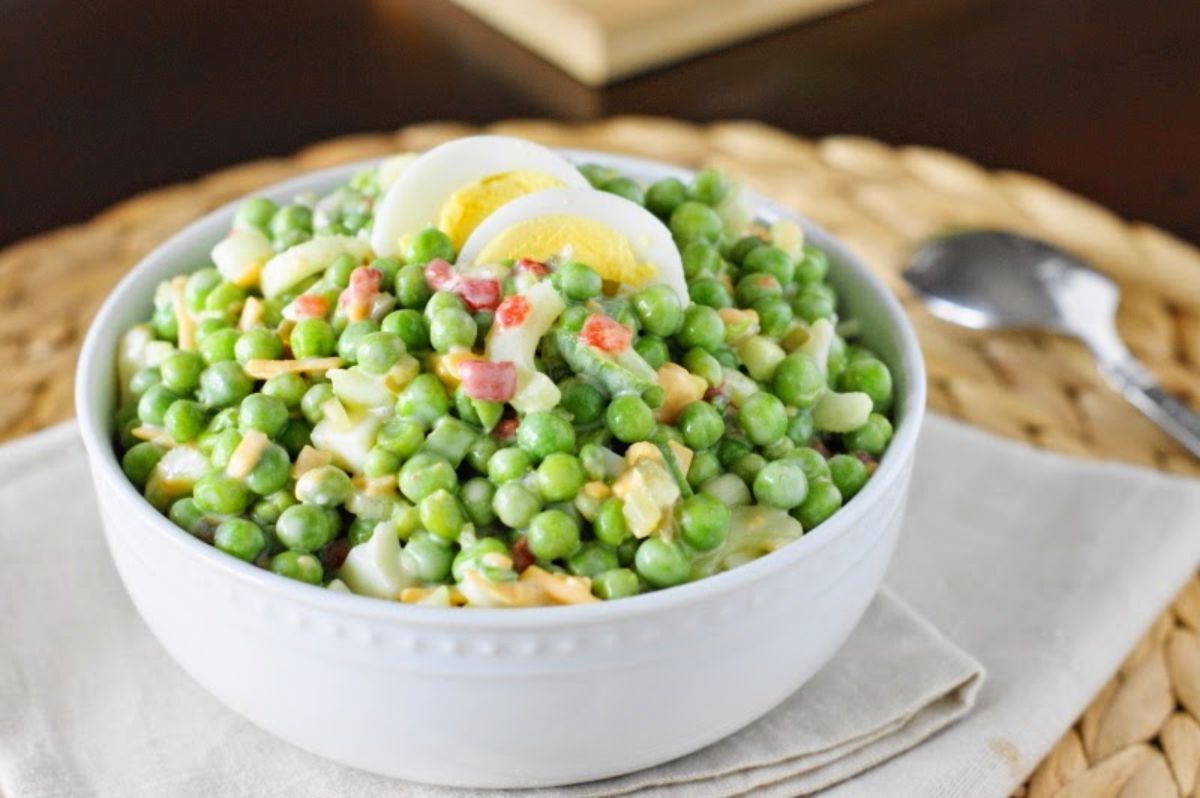 Last but not least, we have a healthy pea salad that you can easily whip together in just 5 minutes for a family party or get-together! We love using canned peas and adding other sources of protein for a complete side dish.
Gather a hard-cooked egg, shredded cheddar (or your choice of cheese), and pimentos to add a bit of kick to this veg-heavy dish. This recipe takes just 15 minutes to prepare and 5 minutes to make, so you can make this at the very last minute without any issues.
Adding green chopped onions adds just the right amount of seasoning to this fresh recipe.