Oh, my goodness! Do I ever have the best recipe for you today! I'm sharing my recipe for garden pea fritters that I've been working on for the past week! They are so good that Leo willingly ate these fritters several nights without complaining.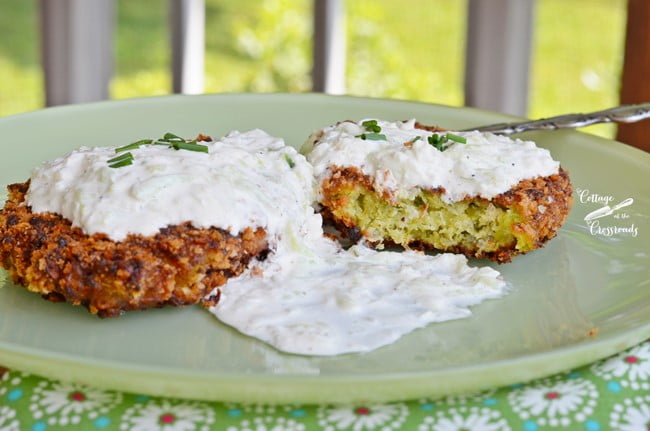 Garden Pea Fritters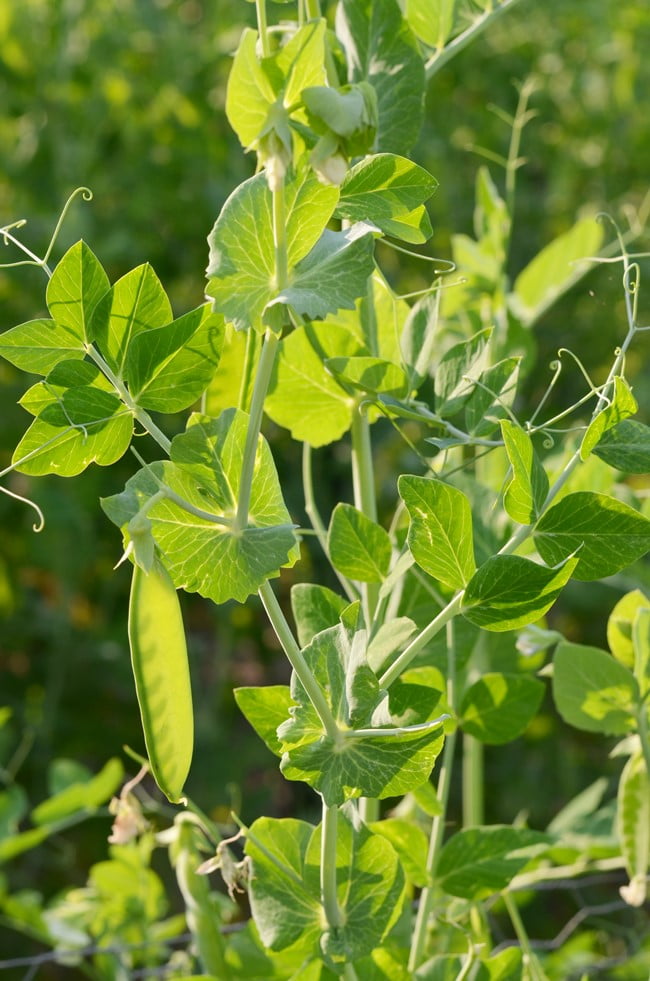 We have been blessed with an abundance of garden peas this spring. The peas were planted way back in February, and the plants grew amazingly well.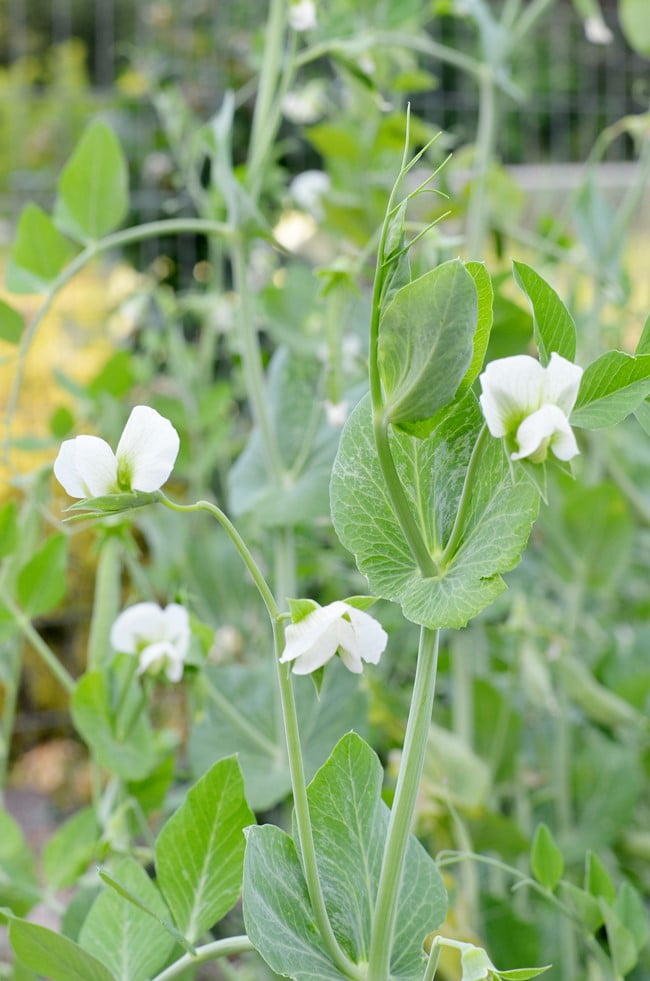 They grew and they flowered and they produced a ton of pea pods this spring. We've been picking and eating peas for the past several weeks. So I was searching for a new way that I could use the peas, and I ran across a recipe online for pea fritters. PEA FRITTERS! I had no idea that you could make a fritter out of peas, did you? So I adapted the recipe and tried several different versions this past week until it is just perfect. And oh, my goodness! They are so surprisingly good!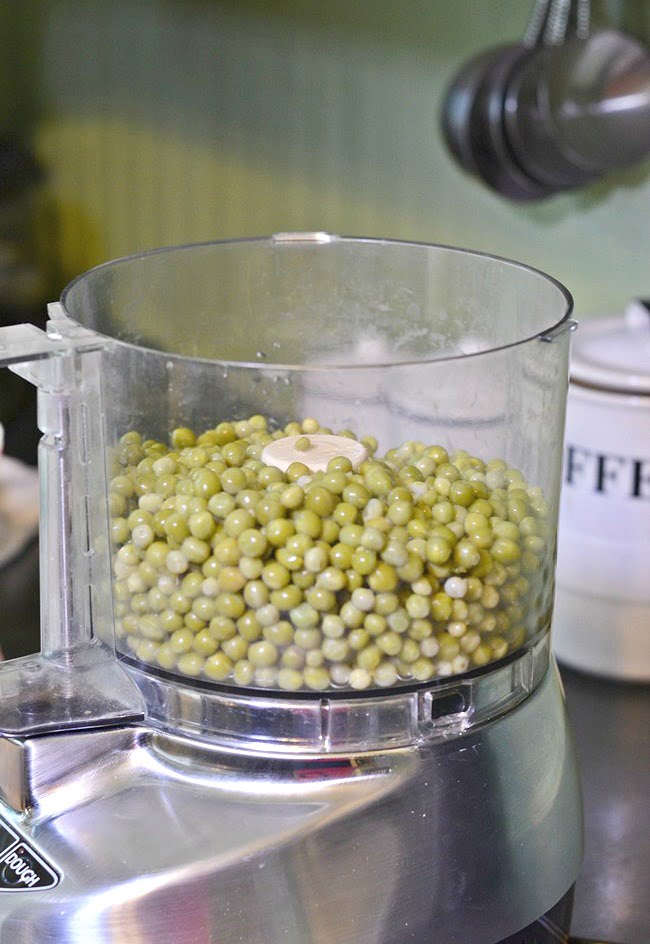 The first thing you will have to do is get your hands on some fresh garden peas. Hopefully, you can find some at a local farmer's market. After shelling 3 cups of peas, cook them in boiling water with just a tad of bacon grease for about 10 minutes and then cool and drain. Add the peas to a food processor along with 6-7 chopped fresh mint leaves.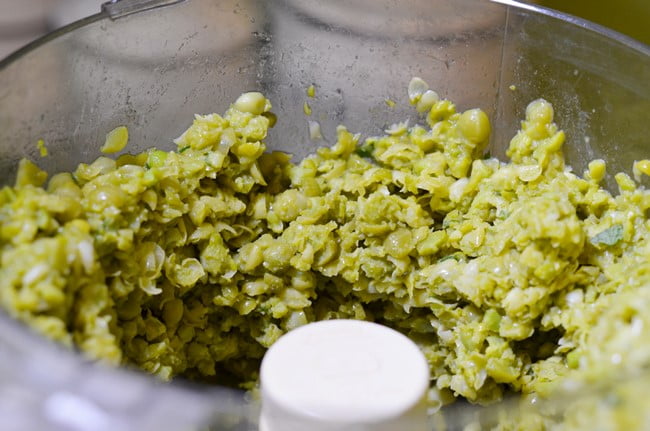 Pulse the peas and mint enough times for some of the peas to be broken down but not turned into mush. You still want them to have some texture.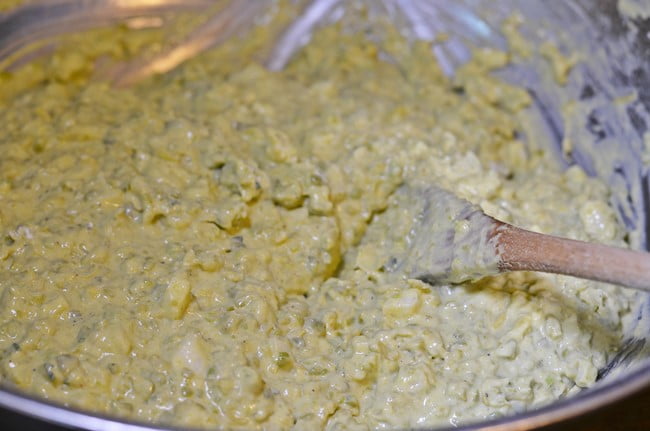 Transfer the pea mixture to a large mixing bowl and add the following: 2 beaten eggs, 1 small onion finely chopped, ½ cup heavy cream, ¾ cup self-rising flour, salt and pepper to taste, 1 tablespoon Lawry's seasoned salt. Mix it all together until you have something that looks like pancake batter. Check to see if your mixture is the right consistency to hold together by making a patty with your hands. If it seems too moist and loose, add a little more flour.
Place a generous amount of Panko crumbs onto a plate and cover the front and back of each patty with the crumbs.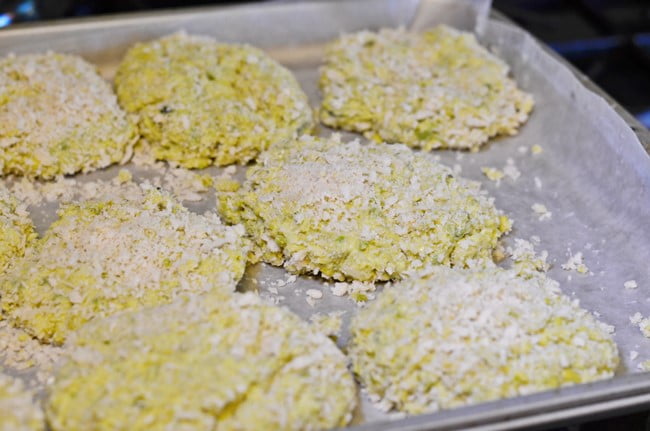 Place each patty on a baking sheet lined with wax paper and refrigerate for at least 30 minutes. (I've even done all of this the day before and cooked the fritters the next day. Just remember to cover the fritters with wax paper so that they don't dry out in the fridge.)
When ready to cook, add about ¼ cup vegetable oil into a frying pan and cook on each side (about 2-3 minutes each) until they are golden.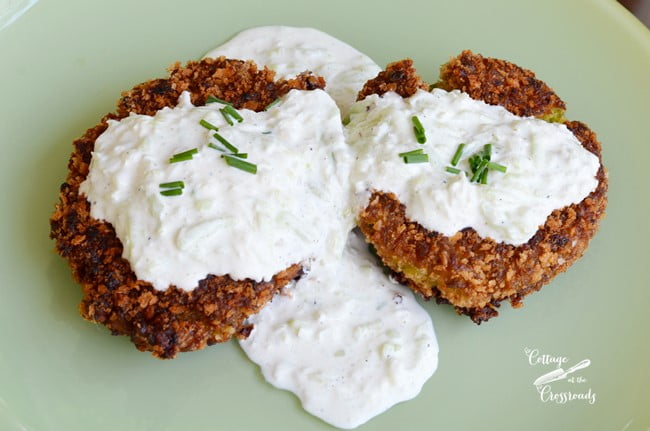 The fritters are great without anything added to them, but the last time I cooked them I got to thinking that they would be really yummy with a fresh cucumber sauce on them. It just so happened that we got our first few cucumbers from the garden this week.So I grated 2 small cucumbers along with 2 small onions from the garden and added about 2 tablespoons each of mayonnaise and sour cream to the mixture along with a little fresh squeeze lemon juice. Oh, yum! The essence of spring!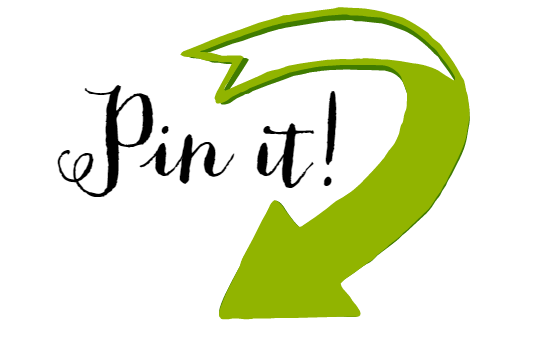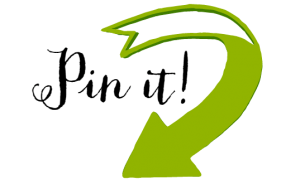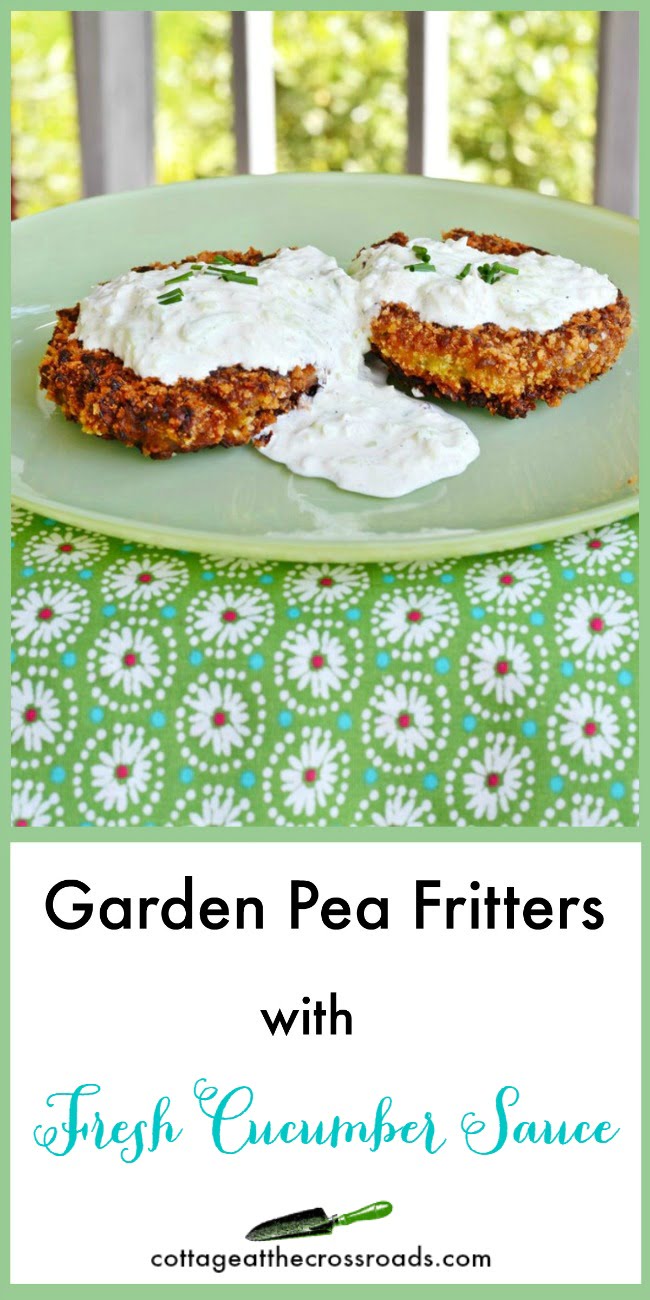 📋 Recipe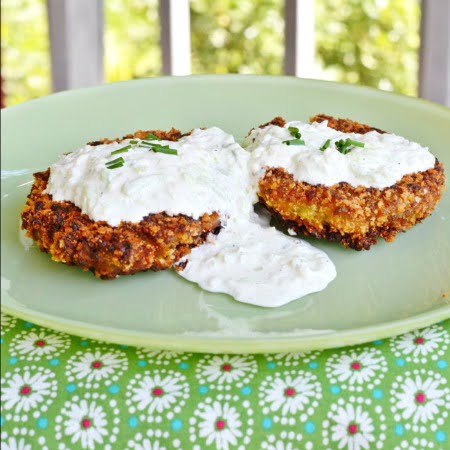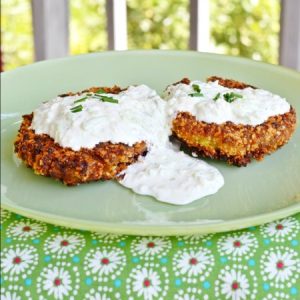 Garden Pea Fritters
A delicious way to use fresh garden peas!
Instructions
Pulse the cooked garden peas and the fresh mint leaves in a food processor about 8-10 times.

Transfer the mixture to a large mixing bowl.

Add the chopped onion, beaten eggs, self-rising flour, cream, salt, pepper, and seasoning salt.

Mix thoroughly until it resembles pancake batter.

Test to see if the batter will hold together to make a patty. If not, add a little more flour until it does.

Coat both sides of each patty with a generous amount of panko crumbs.

Transfer each patty to a baking pan lined with waxed paper.

Cover with an additional sheet of waxed paper and refrigerate at least 30 minutes.

When ready to cook, heat the vegetable oil in a frying pan over medium-high heat.

Cook the fritters about 2-5 minutes on each side until golden brown.

Remove and drain on paper towels.
For the cucumber sauce
Mix together the grated cucumber and grated onion with 2 tablespoons each of mayonnaise and sour cream.

Add 1 tablespoon fresh squeezed lemon juice and stir again.

Top each fritter with a generous amount of the cucumber sauce and garnish with fresh, chopped chives.
Notes
The patties can be refrigerated overnight and cooked the next day. The fritters are even good served cold.
Even picky eaters who hate vegetables will love these!