I have a recipe for you today that is the very essence of spring. When you taste my chilled minty spring soup, it can best be described as having a burst of springtime in your mouth!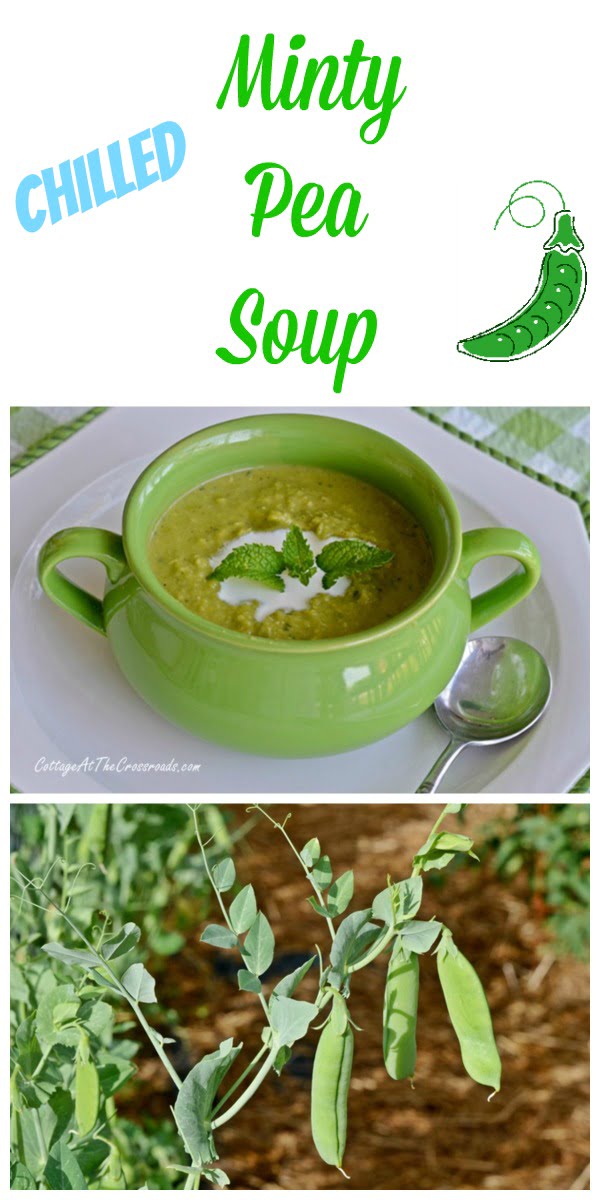 And it's not hard to make either. You just have to get your hands on some fresh spring peas, also known as English peas or garden peas.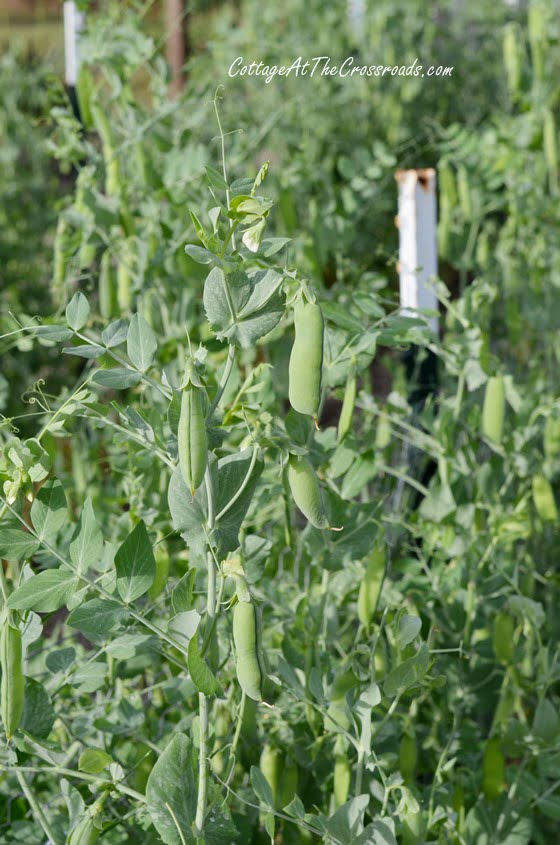 Our peas that we have growing in our garden are winding down now due to the heat. We planted them directly in the soil around Valentine's Day because peas need cool weather to grow.( There's a reason why they're called spring peas!) We've been blessed with a terrific crop of them for about three weeks now, but the weather has warmed up quickly and slowed down their production. If you purchase fresh spring peas, you must use them almost immediately. They can only be refrigerated just a few days. If I'm unable to cook all of ours, I freeze them by blanching them for 2 minutes, draining them and then plunging them in ice water. After they cool down, I put them into pint size bags to freeze.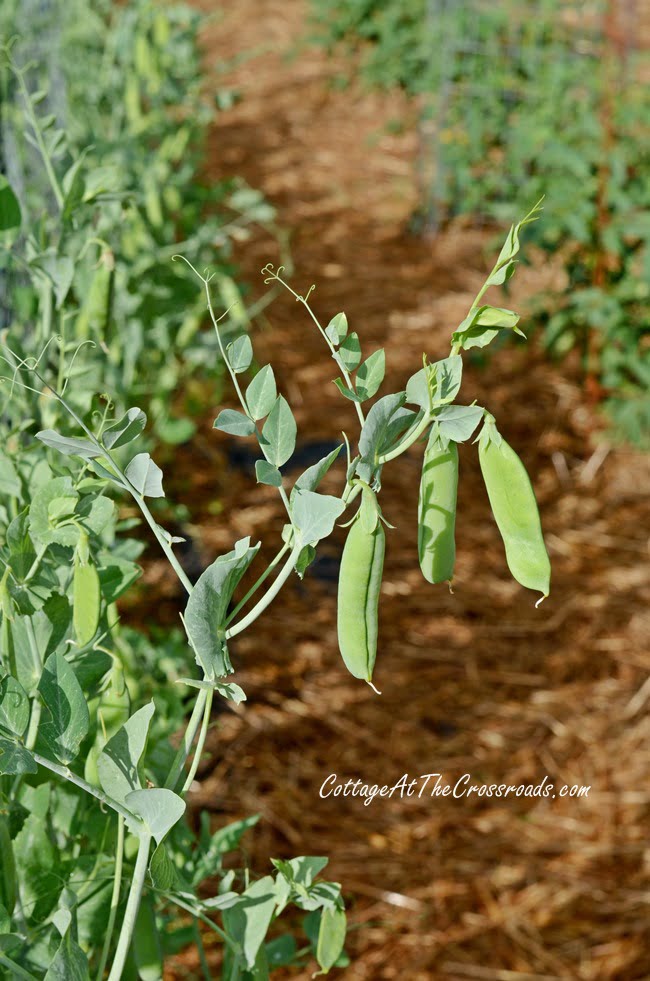 Did you know that peas are one of the oldest cultivated vegetables in the world? They were really popular with ancient Greeks and Romans, and the words we use to name them are derivatives of prominent Roman families such as Cicero for the chickpea, Lentulus for the lentil, and Piso for the pea. Interesting, huh? Well, all I can say is that peas are still popular around our house, too!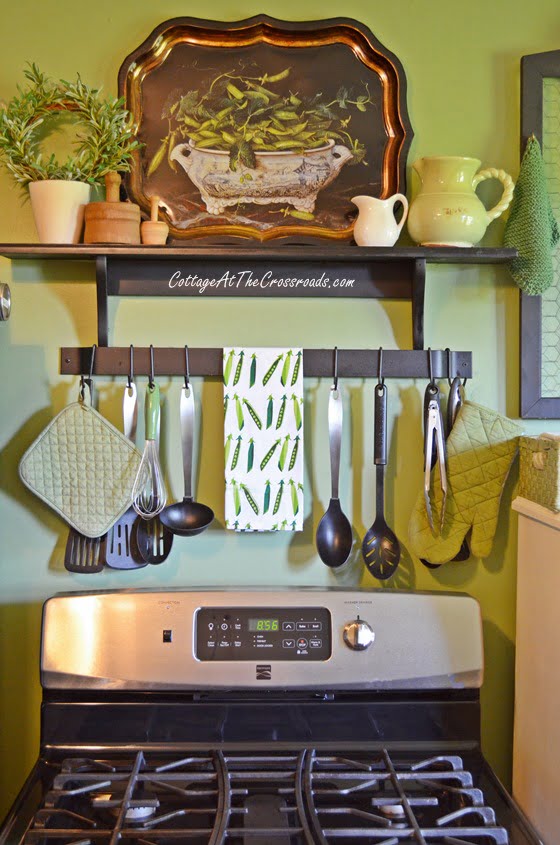 Right now I kinda have an "Ode to the Spring Pea" decor going on in the kitchen. Above the range is a tray with a bowl of peas on it, and a dish towel with pea pods on it. I also have a matching pot holder that you can't see.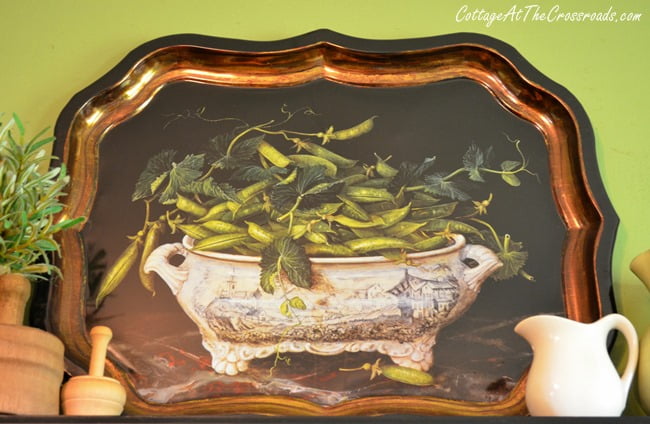 Here you can see the tray a little better.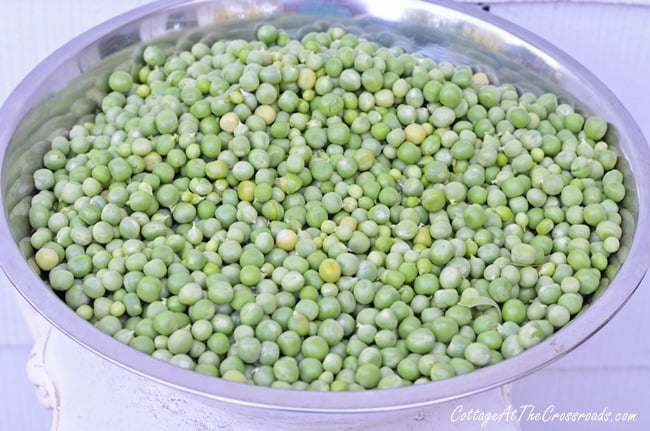 Now, let's get back to the directions on how to make this pea soup. First, you will need about 4 cups of fresh shelled peas. (If you use frozen peas, you will need two 10 ounce boxes.) Add 3 cups chicken or vegetable stock to a pot and bring it to a boil. Reduce the heat, add the peas and simmer the fresh peas for 10 minutes (frozen-5 minutes.) Remove from the heat and allow to cool for about 15 minutes.)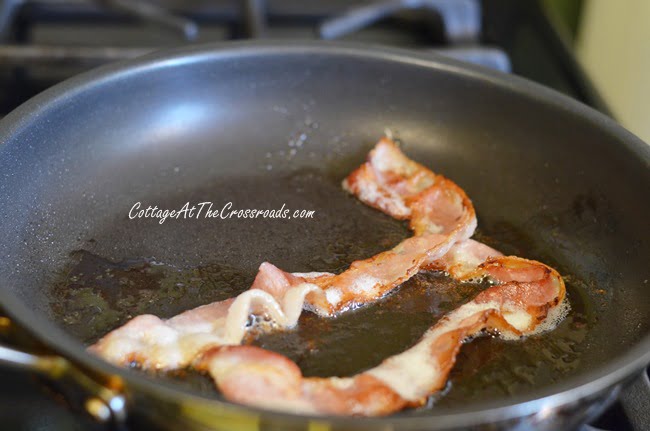 Meanwhile, cook 2 slices of bacon in a pan and then remove the bacon when it is done. Go ahead and snack on the bacon but reserve the drippings.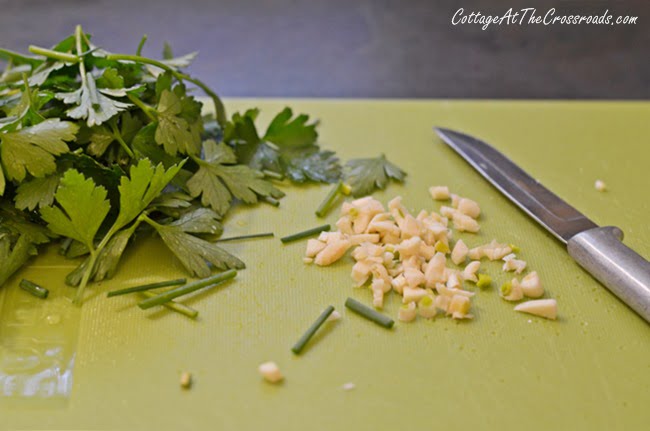 Mince one clove of garlic, cut up a few stems of fresh chives, cut the leaves from fresh parsley (you'll need about ¼ cup of parsley) and have about the same amount of fresh mint (spearmint) handy. Also, chop one sweet onion or several spring onions if you have them. Saute the garlic and onions in the bacon drippings on medium low heat until the onions are tender and transparent. Add the sauteed onions and garlic to the cooled pot of peas as well as the parsley and the mint.
Working in batches, add the soup to the bowl of a food processor or blender and puree the mixture. Transfer to a large bowl, season with salt and pepper, cover and refrigerate for several hours. (It's also nice to chill the bowls that you'll use to serve the soup.)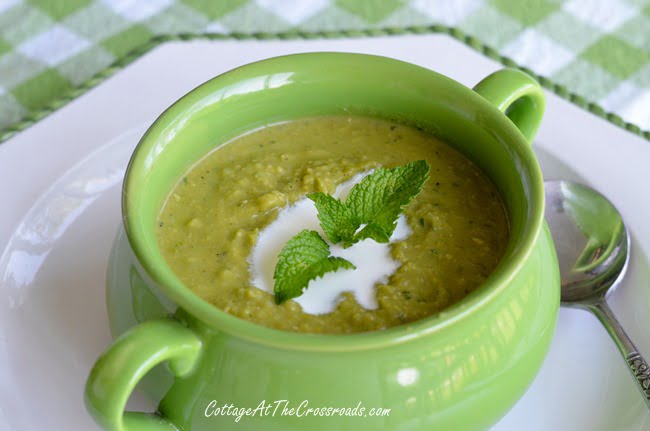 Before serving, whisk in ¾ cup heavy whipping cream. If the soup seems too thick, you can thin it with some broth or water. Ladle the soup into individual bowls and drizzle a little additional cream on top of the soup (I found it easier to make a little "well" with a spoon before I drizzled the cream.) Garnish with mint leaves.
When you taste it, you will think springtime has burst in your mouth!
If you'd like a printable version of this recipe, click HERE.