The delicate and subtle taste of asparagus has captivated the palate of food enthusiasts globally. And this compilation of 27 frozen asparagus dishes will open doors to innovative ways of utilizing this healthful green in your meals.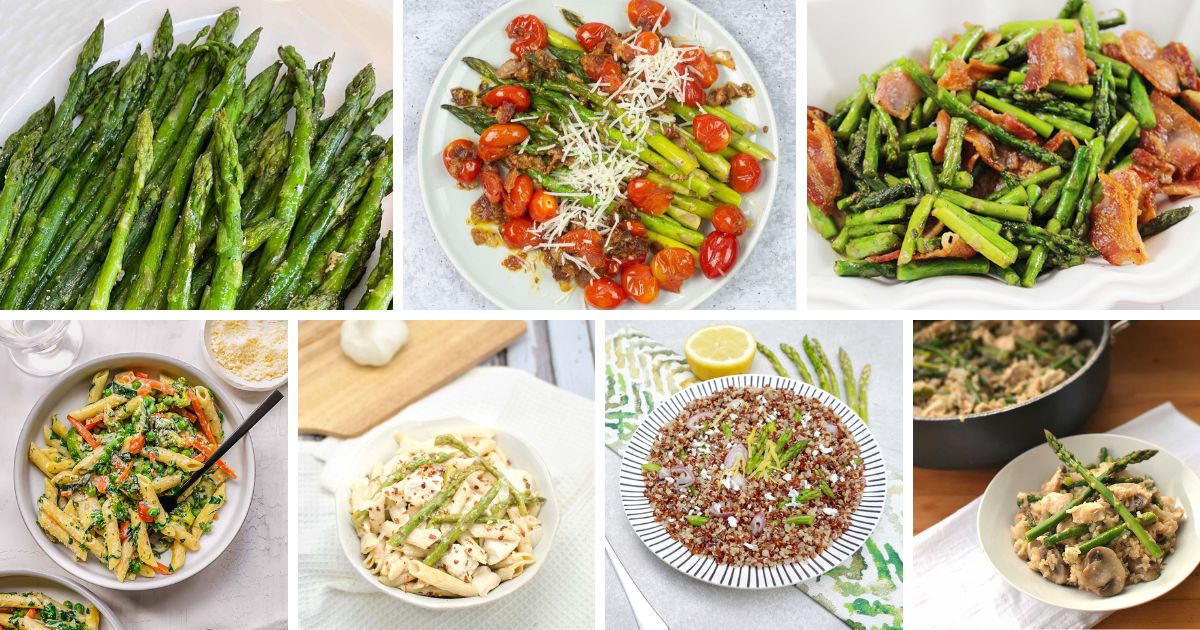 We'll showcase the adaptability of frozen asparagus across appetizers, stir-frys, pasta, and main courses. For example, you can enjoy the crispy delight of air-fried asparagus to the smooth and indulgent asparagus soup and much more!
Whether you're a plant-based diet follower seeking creative green dishes or a carnivore seeking wholesome meals, this collection caters to all. These dishes make asparagus the highlight of your meals, promising a fulfilling and healthful dining experience, regardless of the occasion.
Contents
Simple and swift, this dish morphs frozen asparagus into a flavorful side, seasoned with a dash of garlic, salt, pepper, and a drizzle of olive oil. It's a versatile companion to your weeknight dinner main course.
Craving a fulfilling meal that's both quick and delicious? This one-pot marvel amalgamates an array of vegetables, penne pasta, and a tasty broth, making it ideal for a family dinner or a laid-back gathering with friends.
Imagine the traditional lasagna, but with a unique twist. Garlic, parmesan, asparagus, and ham nestled in lasagna noodles turn this dish into a creative and pleasing alternative for your regular pasta evening.
Compact and flavor-rich, these roll-ups provide a unique way to relish chicken breasts, asparagus, Dijon mustard, and tarragon. They make a perfect appetizer or a playful addition to your regular meal plan.
This starter stimulates your senses with a captivating mix of salty prosciutto, crunchy asparagus, and velvety cheese - a stunning precursor to any feast. The contrast of textures and tastes is sure to impress your guests.
Bring home a piece of Italy with this risotto dish. The comforting creaminess of rice blends beautifully with the freshness of asparagus, creating a hearty meal ideal for cozy nights in.
Satisfying and nourishing, this skillet dish brings together proteins, veggies, and grains for a complete meal. It's a comforting food experience that's packed with a nutritional punch.
This dish is for the lovers of simplicity. The fusion of savory mushrooms, asparagus, and a hint of parmesan forms a simple yet tasty side, enhancing any main course.
This pasta dish is comfort food reimagined with a wholesome twist. Creamy pasta mingled with fresh asparagus and smoky bacon offers a decadent experience, perfect for unwinding post a busy day.
Turn your brunches into a hit with this egg bake. It weaves together the savory delight of eggs, crispy potatoes, and fresh asparagus into a dish that wins over crowds. Plus, it makes a delightful breakfast when warmed up the next day.
Discover the joy of a dynamic dish that marries succulent chicken strips with crisp asparagus, all enveloped in a zesty orange sauce. Served with rice, it's not only an appetizing meal but a feast for the eyes as well.
Transport the ocean's flavors to your dinner table with this marvelous blend of roasted salmon, asparagus, and a lush pistachio gremolata. Each bite offers a burst of fresh flavors, taking your taste journey to a whole new level.
A perfect trifecta of taste, texture, and nutrition, this dish pairs fresh asparagus, juicy tomatoes, and savory bacon in a beautiful harmony. A sprinkling of parmesan adds the final touch to this delicious ensemble.
Looking for a simple yet satisfying side dish? With just a drizzle of olive oil and a pinch of sea salt, this roasted frozen asparagus is a minimal effort dish that delivers a maximum flavor punch.
This pasta dish exudes freshness with a zing, featuring lemony chicken pieces and crunchy asparagus, mixed in garlic and parmesan. It's a delightful assortment of tastes that will surely gratify your pasta cravings.
Experience the comfort embodied in this baked pasta dish. It features a hearty ensemble of chicken, asparagus, and penne, adorned with gooey mozzarella and sprinkled with Italian seasoning.
Save your time with this effortless dish, merging succulent shrimp, crispy asparagus, and a hint of buttery indulgence. It delivers a swift yet flavorful feast without compromising taste.
This is comfort in a bowl, given the silky fusion of asparagus, onion, leek, and a hint of lemon juice. It's perfect for cold evenings or when you crave some internal warmth.
This dish combines the classic tastes of garlic, red pepper flakes, and fresh parsley with tender asparagus and angel hair pasta. A sprinkling of parmesan seals the deal on this delightful meal.
If you're seeking something light yet nutritious, this dish is a must-try. The refreshing citrus punch of lemon beautifully complements the crunch of asparagus, all brought together by the wholesome quinoa.
Bring your pasta night to a new level with this exquisite combination of asparagus and linguine. A hint of chili pepper flakes adds a subtle heat, while the poached eggs on top bring a comforting creaminess.
Savor this stir-fry, integrating the savory juices of ground beef, fresh asparagus's crunchiness, and the aromatic ensemble of garlic and onions. It's a fast, nutrient-filled meal satisfying your hunger and palate.
This dish stars tender chicken pieces and asparagus tossed in a delightful mix of lemon juice, teriyaki sauce, and soy sauce. It's a stir-fry that promises a vibrant taste with every bite.
A simple yet flavor-packed dish, this combines crispy bacon and tender asparagus sautéed to perfection. A squeeze of lemon juice adds a bright finish to this delightful pairing.
Recreate the magic of takeout food at home with this scrumptious dish. It features succulent chicken and fresh asparagus enveloped in a tangy-sweet teriyaki sauce that is sure to impress.
Step away from the ordinary with these delightful chicken breasts filled with asparagus and Dijon mustard. The recipe is crowned with a luscious Hollandaise sauce and toasted almonds for an elevated dining experience.
Perfect for a hearty dinner, this baked dish combines tender chicken, fresh asparagus, and a tangy blend of Italian dressing and lemon juice. It's topped with melted cheddar and crunchy almonds for an extra layer of yumminess.
Red wine vinegar, chives, shallots, and dijon mustard are a strong-flavored team that come together to bring out the best in asparagus. It's hard to resist this tasty dinnertime side dish.
Complete with peas, shallots, and garlic, the asparagus flavor comes to life in this dreamy soup. Serve it chilled for a refreshing appetizer, or serve it warm as an appetizer or tasty side dish.
All you need for this super delicious dish is frozen asparagus, eggs, lean ground turkey, dried oregano, and some water! It's simple, gorgeous, and perfect for beginners.