Frozen corn is a versatile and beloved ingredient cherished by chefs and home cooks alike. With its natural sweetness and vibrant yellow kernels, frozen corn brings a burst of flavor to countless dishes, elevating them to new heights.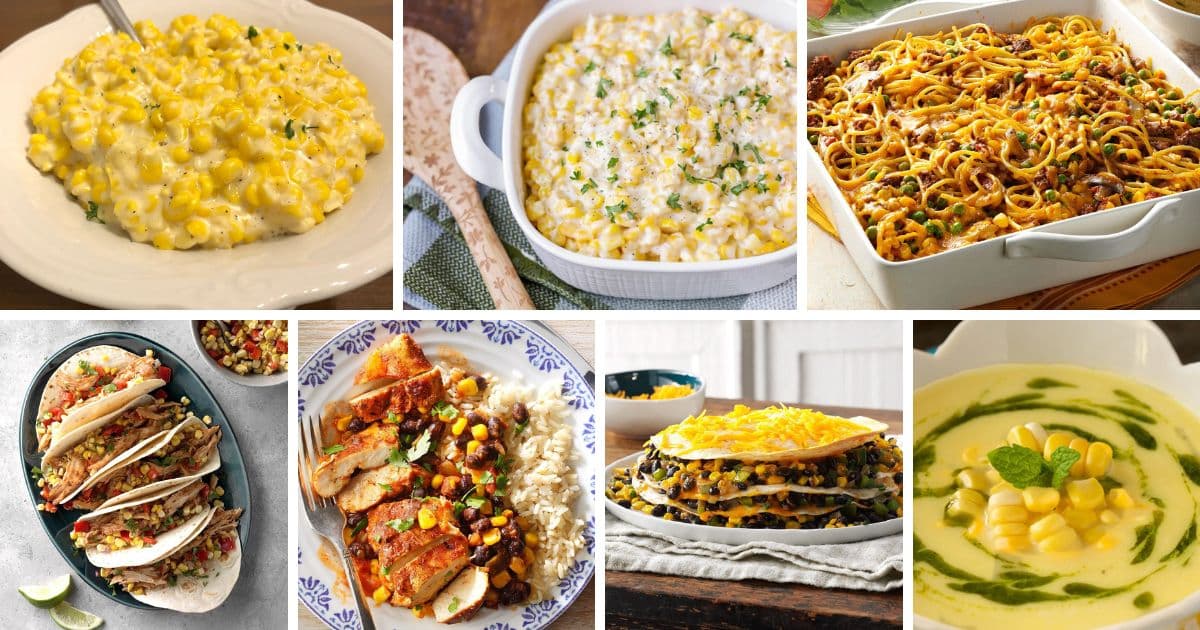 In this collection, let's celebrate the versatility of frozen corn. From stir-fries to chowders, salads to casseroles, these easy recipes will make you appreciate this humble ingredient's natural sweetness and satisfying crunch.
Whether you're a culinary enthusiast seeking new inspirations or a busy home cook searching for quick and delightful meals, this compilation has something special for you.
Contents
This dish boasts a delightful combination of garlic and butter, enveloping the sweet kernels of fresh or frozen corn. You can pair it with grilled meats for a tasty summer side.
This delectable dish can be made with either fresh or frozen corn, offering a burst of flavor as the sweetness of corn meets the rich indulgence of garlic butter. A delightful side for any meal!
You can achieve the perfect snack with this roasted corn recipe, using frozen corn to create tender and flavorful kernels. This is a side dish that's perfect for any barbecue gathering.
Nothing beats the unparalleled creaminess of this corn dish, elevating the flavors of frozen corn with a special touch. This dish is a comforting side for cozy dinners.
The sweetness of honey and the richness of butter make this skillet corn a delightful treat. You can serve it alongside grilled seafood for a mouthwatering combination.
You can transform frozen corn into a delectable side dish with this easy roasting method. This dish is perfect to complement your favorite grilled dishes.
This creamed corn recipe is a true crowd-pleaser with its velvety smoothness and a burst of flavors. This creamy and delicious dish is a must-have for holiday feasts.
This recipe that's made of just four ingredients is simply delicious. The smoky flavor as buttery frozen corn kernels char and roast to perfection in the oven is the best part of this dish.
If you're craving Mexican street food, try this flavorful Esquites recipe featuring the authentic taste of frozen corn. It is quick and easy to make and really satisfying.
The simplicity and heartiness of these quesadillas, stuffed with beef, beans, and corn, are good for a satisfying meal any time of the day. You can prepare this dish in less than 25 minutes!
This casserole combines zucchini, corn, and eggs in a harmonious blend. This dish is an excellent choice for a wholesome brunch or dinner.
The fusion of flavors as clam chowder meets broccoli stems and corn creates this unique and hearty soup. Try this quick recipe if you have frozen corn and canned clams on hand.
If you want a fun and delicious twist on taco night, combine seasoned beef, cheese, and corn in this portable and unique dish. Put it inside a chip bag for extra fun!
This pizza recipe's bold prosciutto, corn, and arugula flavors are perfect for summer dinner. This dish is undoubtedly a gourmet delight for pizza enthusiasts.
This refreshing panzanella salad incorporates the smoky goodness of grilled corn, perfect for summer gatherings and picnics. This dish makes the best of basil, tomatoes, and corn.
These flavorful chicken tacos are a treat for your taste buds, with a unique twist of bourbon-infused barbecue sauce. Serve them with fresh salsa for a delightful weeknight dinner.
This refreshing coleslaw stands out with the natural sweetness of corn. It pairs perfectly with grilled meats or as a side for summer picnics and barbecues.
This heartwarming soup marries tender meatballs with the goodness of sweet corn, bringing the flavors of the Southwest to your table.
This salad is a burst of freshness, combining sweet corn, tangy feta cheese, and aromatic herbs. You can enjoy it as a light lunch or a side for a balanced meal.
You can try this dish to spice up your mealtime! With the moist and flavorful cornbread, the subtle heat of jalapeno meets the comforting taste of buttermilk.
Start your day with this tasty frittata featuring the delightful combination of bacon and sweet corn. This dish is perfect for a satisfying breakfast or brunch.
This hearty turkey chili, enriched with sweet corn, is a comforting meal for chilly days. Let it simmer in the slow cooker for a hassle-free dinner.
You can change your pasta game with this vibrant dish, where campanelle pasta harmonizes with the sweetness of corn, juicy tomatoes, and aromatic basil.
Try to add a burst of flavor to your meal with this zesty cilantro lime rice. This rice is a perfect accompaniment to grilled chicken or seafood.
This hearty casserole captures the essence of the Wild West, combining beef, beans, and corn for a wholesome and satisfying family dinner.
This church supper spaghetti is a comfort food at its finest. The spaghetti features a tomato-based sauce with the added goodness of sweet corn, making it a hit at any gathering.
This salad celebrates the essence of fresh sweet corn, bringing brightness to your plate with a medley of vibrant colors and flavors.
Try to spice up your appetizer game with this creamy and spicy dip, pairing the sweetness of corn with the kick of jalapeño.
This crowd-pleasing casserole combines the flavors of Mexico, featuring corn, rice, and a medley of tasty spices. This dish is fantastic for a fun vegetarian weekend lunch.
This delightful chicken and rice dish includes the goodness of black beans and sweet corn for a well-rounded meal. It's simple and easy to stir up in your skillet on a weeknight.
This classic succotash showcases the timeless combination of corn and lima beans in a buttery glaze. This dish complements any meal with its wholesome goodness.
This stew captures the essence of the Smoky Mountains, with a smoky flavor and the heartiness of corn, making it a perfect winter warmer.
This vibrant casserole combines the goodness of corn and squash, delivering a fiesta of flavors. You can serve it with a dollop of sour cream for a delightful family dinner.
This savory tortilla pie layers black beans, corn, and spices for a delightful Tex-Mex experience. You can serve it with guacamole and salsa for a party-worthy dish.
This enticing fusion of sweet corn and crunchy pine nuts takes your taste buds on a journey. This is a quick and flavorful stir-fry to savor as a delightful side or standalone dish.
You can enjoy the authentic taste of Mexico with this zesty corn salad. This dish is ideal as a refreshing snack or a side for your next Mexican feast.
This pasta salad boasts the smoky goodness of grilled corn and the vibrant colors of broccoli. This dish is perfect for picnics and potlucks.
This salad celebrates the essence of summer with sweet corn and juicy tomatoes. You can pair it with grilled proteins for a light and fresh dinner.
The frozen corn and veggies join savory sausage in this hearty skillet dish. This is undoubtedly a satisfying weeknight dinner that pleases all.
This galette combines fresh corn, zucchini, and creamy goat cheese for a rustic and savory treat. This dish is perfect for brunch or a light lunch.
A burst of freshness awaits in this corn salad, with the tanginess of feta and the aromatic touch of herbs. You can enjoy it as a nutritious side or solo meal.
This breakfast delight offers the perfect marriage of scrambled eggs, sweet corn, creamy goat cheese, and juicy tomatoes. This dish is a breakfast worth waking up for.
Packed with fresh produce, including corn, this frittata captures the essence of the farmer's market. This is a versatile dish suitable for any time of day, but especially works well as a quick lunch.
You can savor the taste of summer in this creamy corn bisque, a comforting meal to enjoy on warm days or as a starter for a special occasion.
Creamy and smoky – this slow-cooker creamed corn with bacon is a crowd-pleaser for holiday gatherings and potlucks.
This chowder delivers the goodness of corn with a light and fresh twist. This is perfect for a comforting family dinner during cooler months.
This classic succotash recipe is the best, combining corn's sweetness with lima beans' creaminess. This is a timeless side dish for any meal.
This recipe unlocks the secret to perfect crispy corn fritters, a delightful appetizer or snack that will impress your guests.
You can enjoy the natural flavors of corn and zucchini in this simple yet satisfying sauté. Serve it alongside grilled meats for a delightful meal!