Once a month, we have Family Night at our church. Committees rotate turns preparing food for church members, and a nominal amount is charged for dinner. There is always some seriously good food on those evenings, not to mention the good fellowship.
This past Wednesday was our turn to help prepare the food, and I made a dessert. I had been waiting for an opportunity to make this ever since I saw it on Pinterest.
If you've been on Pinterest, you've seen this, too. Betcha put it on one of your boards, didn't ya? Well, I pinned it, and I went to the Taste of Home site to get the recipe. And yes, this recipe does make a colossal amount of dessert. Perfect to feed our church family.
So to make this dessert, you'll need: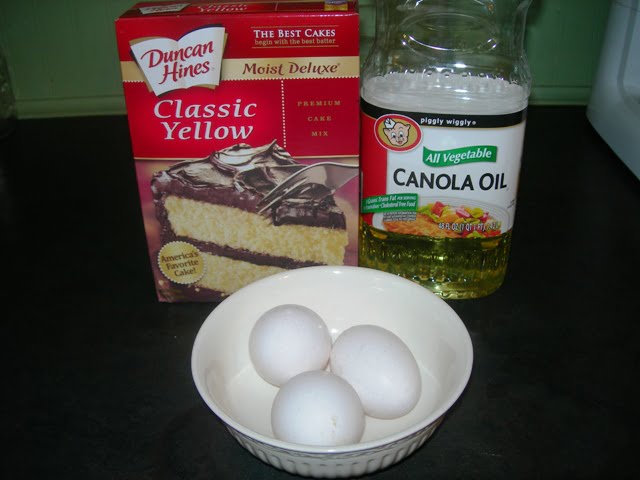 1 package (18 1/4 ounces) yellow cake mix, 3 eggs, and whatever amount of oil the package says that you need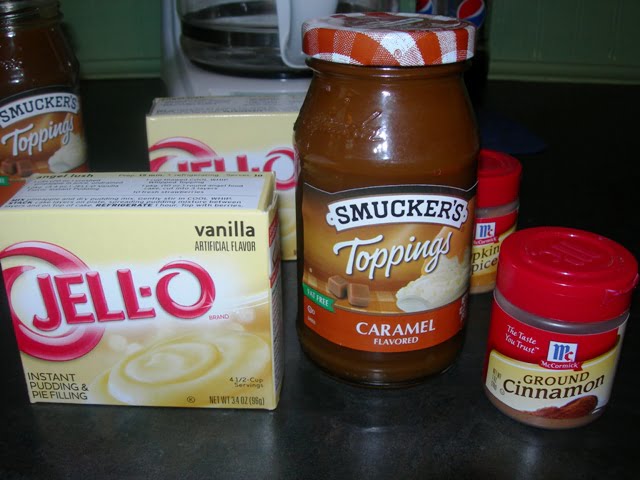 3 packages (3.4 ounces each) instant vanilla pudding mix, 6 cups cold milk, 1 teaspoon apple pie spice ( I mixed up my own), 1 jar caramel ice cream topping, 1 1/2 cups chopped pecans, toasted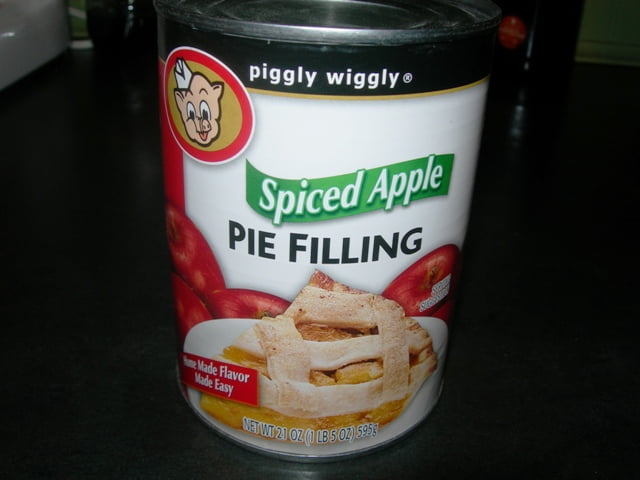 2 cans (21 ounces each) apple pie filling, and 2 cartons (16 oz) frozen whipped topping, thawed
To make the trifle:
Prepare and bake cake according to package directions, using two greased 9 inch round baking pans. Cool for 10 minutes before removing to wire racks to cool completely.
In a large bowl, whisk milk, pudding mixes, and apple pie spice for 2 minutes. Let stand for 2 minutes or until soft-set.
Cut one layer cake if necessary to fit evenly in an 8 quart punch bowl. Poke holes in cake with a long wooden skewer; gradually pour a third of the caramel topping over cake.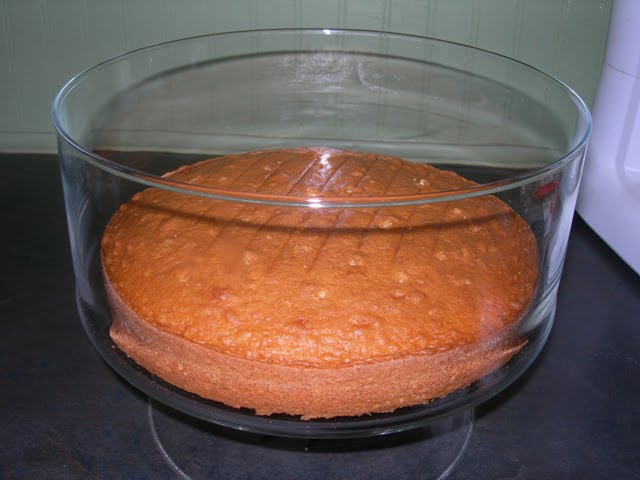 See my holes? This is not a punch bowl. This is a trifle dish that I borrowed from my sister-in-law. The cake fit perfectly into the bottom. I did make another one that I put into my punch bowl, and I did have to cut a smaller circle in order for the cake to fit into the bottom.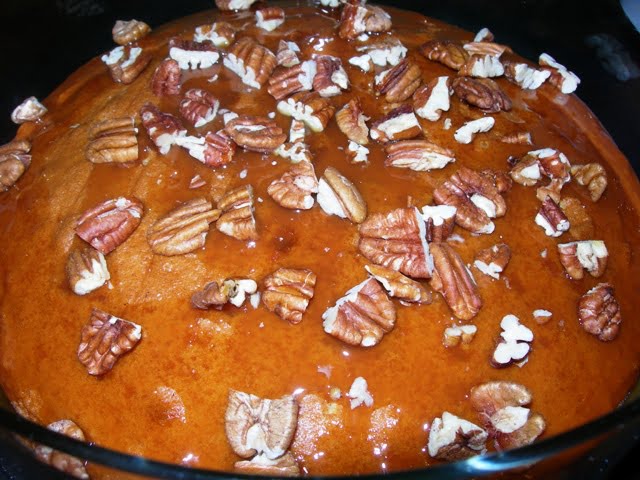 Sprinkle with 1/2 cup pecans and spread with half of the pudding mixture.
Spoon one can of pie filling over pudding; spread with one carton of whipped topping.
Top with remaining cake and repeat layers. Drizzle with remaining caramel topping and sprinkle with remaining pecans. Refrigerate until serving.
The recipe says this makes 42 servings. I made 2 of the trifles, and we had some left over.
And I got lots of compliments on the dessert. Perfect on a fall evening to feed a bunch of hungry people.
I'm going to try to make a sugar-free version of this trifle, and I'm going to cut the recipe in half. When making it again, I would make thinner layers of the cake by using 4 cake pans rather than 2. That would give you more beautiful layers. I'll let you know if the sugar-free version turns out ok.
Click here for a printable version of this recipe.
If you haven't entered our giveaway, click here.
I'm joining: