Many people work Monday through Friday and find cooking hard after a long day. After a long day, your home life begins, and who has the energy to create a delicious and healthy meal night after night? Instead, many families pick up fast food on the way home or order delivery.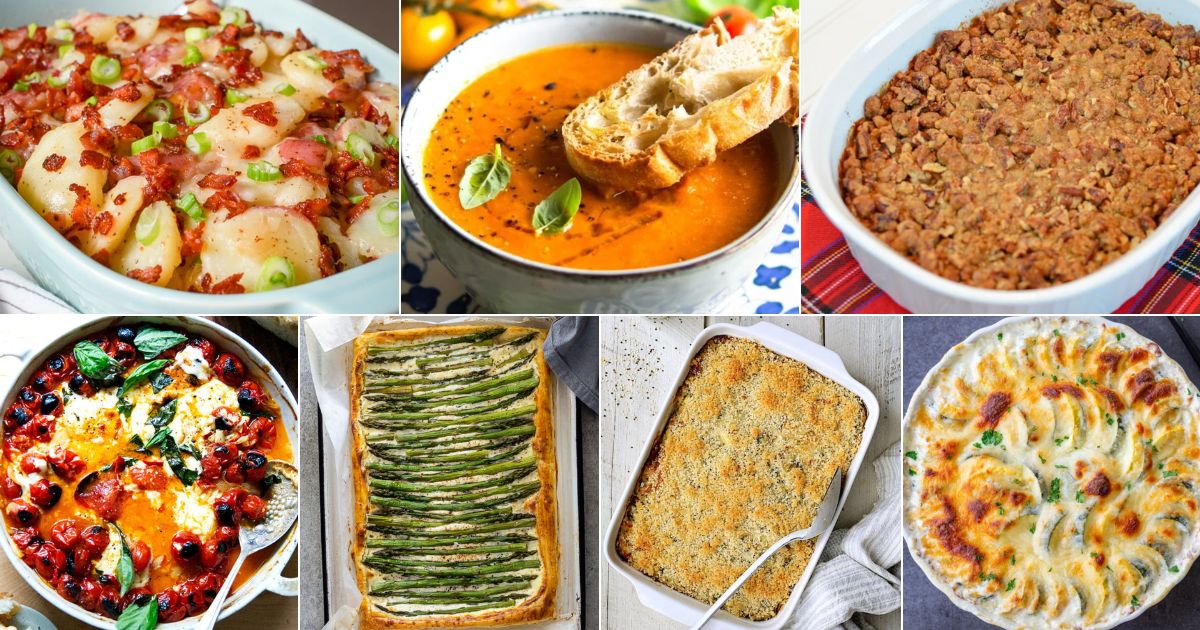 Now you don't have to! We have prepared a list of many recipes that can be prepared on Sunday that will feed the family the entire week. Of course, you can modify them to accommodate larger families too!
Contents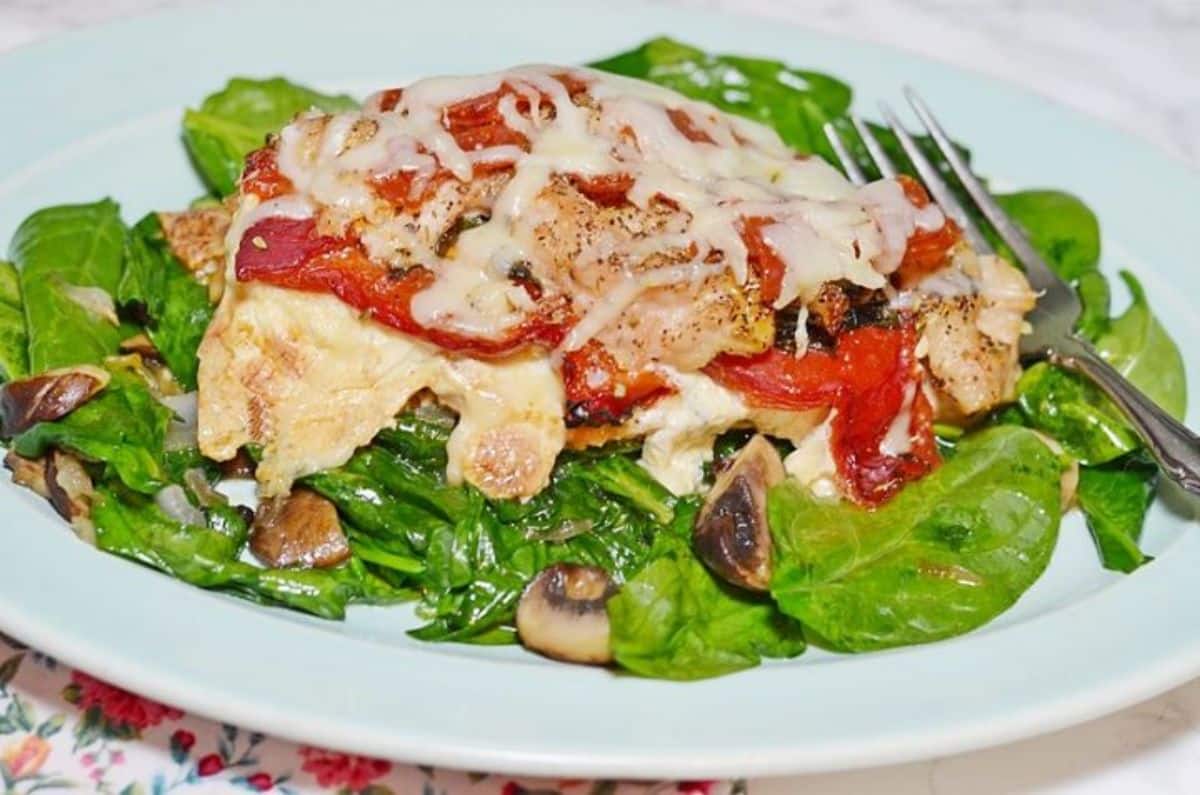 Chicken is the easiest thing to make ahead for an entire week's worth of dinner! You can prepare this meat ahead of time and enjoy a healthy meal every day after work.
That's why we think this stuffed chicken breast is not only tasty and great for seven days of dinners, but it is a nice meal for those who want to have friends over after work.
To make this Italian dish, you will need large boneless chicken breasts, Italian seasoning, mozzarella cheese, red peppers, and seasoning.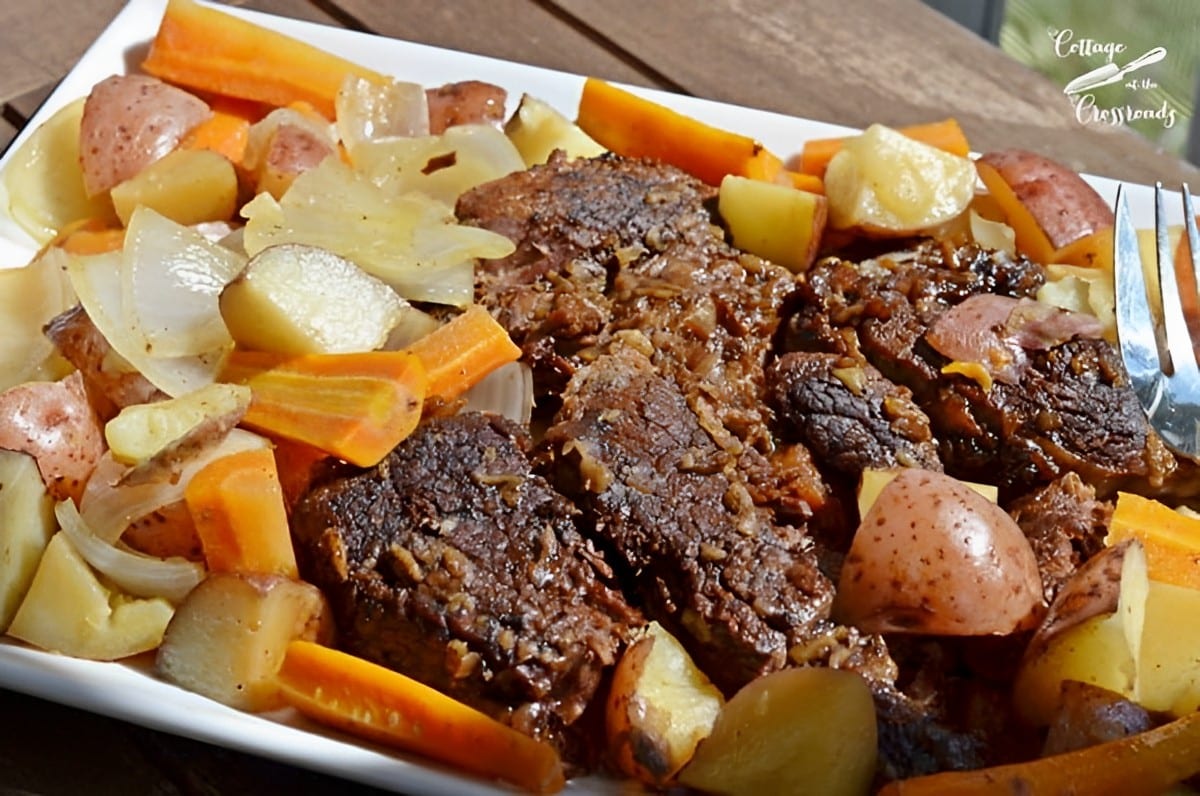 Nothing screams 'Sunday' more so than a typical pot roast! We love this comfort food for a Sunday dinner and leftovers all week.
The roast is easy and can be made and put in the oven quickly. Gather a beef chuck roast, dry onion soup mix, onions, carrots, potatoes, and seasonings to taste to make this fast and quick pot roast.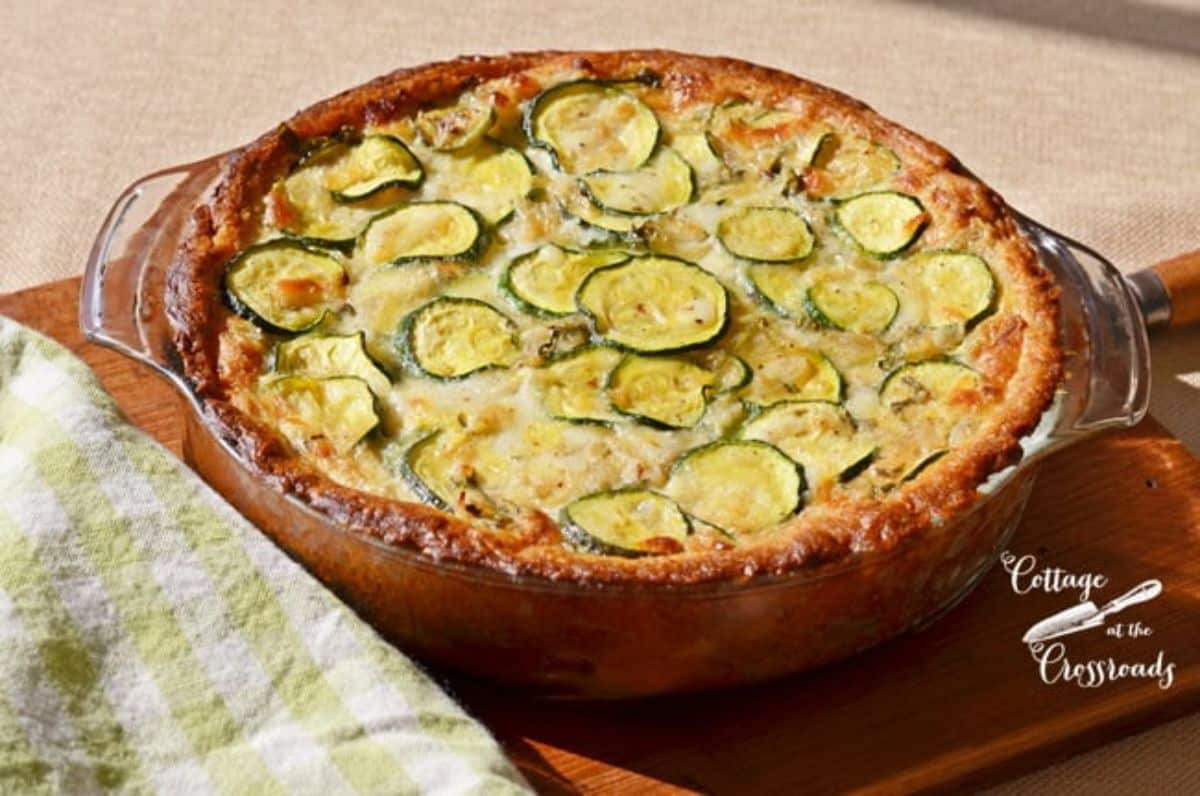 Zucchini is one of those healthy vegetables you can incorporate into any recipe! We love this Italian zucchini pie. It is easy to make and great for a week of dinners or lunches.
Gather fresh produce at your local market and prepare to make it. Chill the final product in the fridge for a week and reheat it for dinner.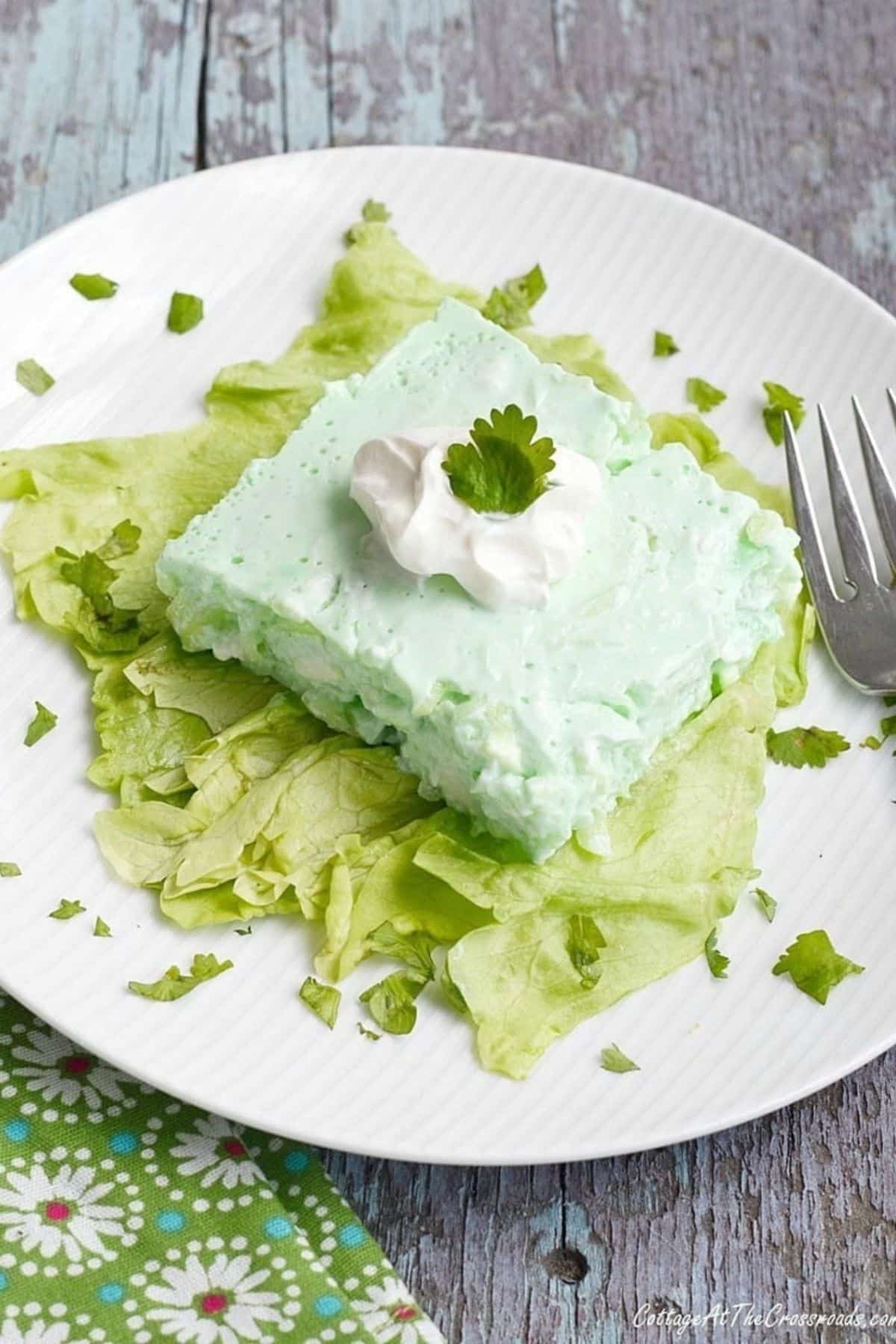 This veg-heavy dish is ideal for a dinner side dish to eat all week. This light and refreshing salad is suitable for lunch on a bed of lettuce. Gather sour cream, cottage cheese, fresh cucumbers, onions, and lime jello to hold the mixture together!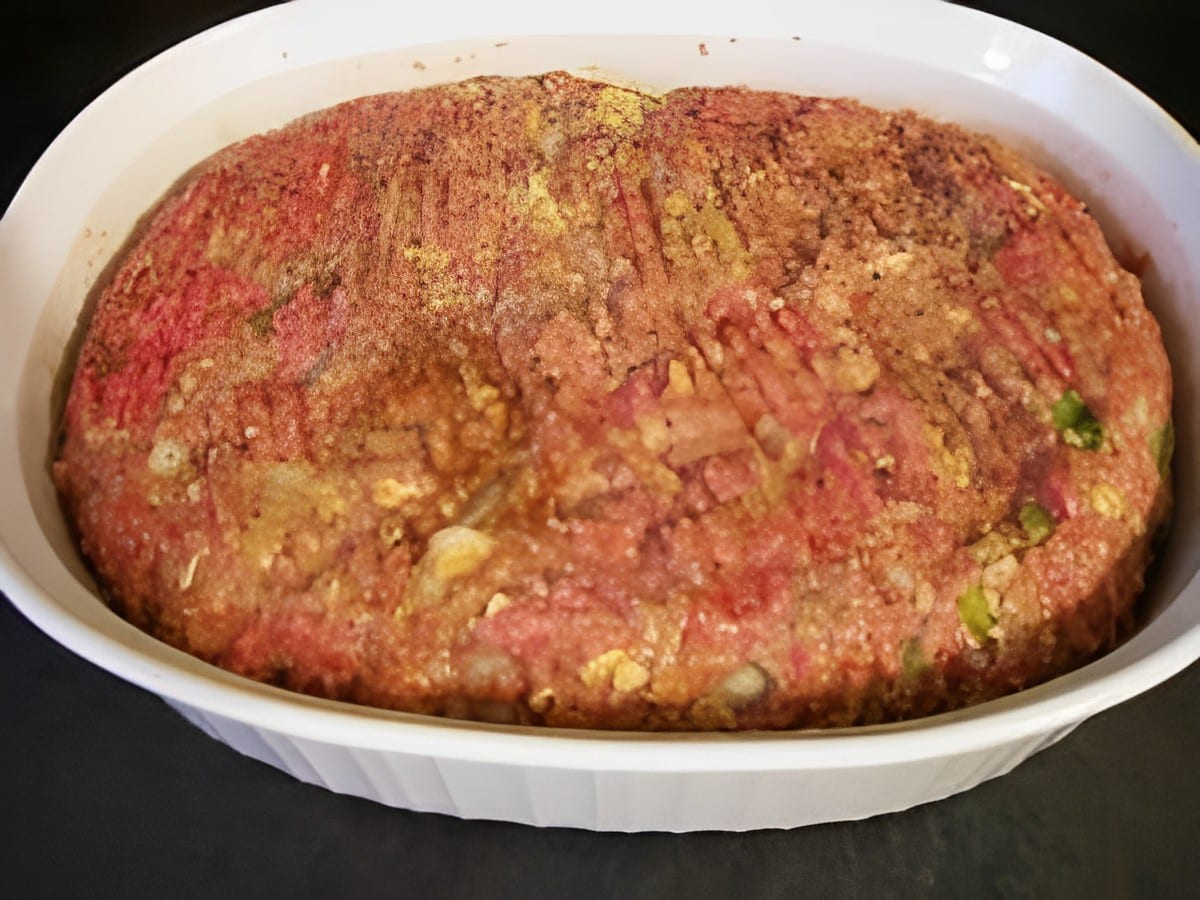 Meatloaf is a hearty and heavy dinner dish ideal for winter when you want comfort food that is easy to make AND delicious!
This meatloaf uses hamburger meat, old-fashioned oats, onion soup, eggs, green peppers, and seasonings to taste. All you have to do is combine the ingredients and bake the meatloaf at 350 degrees in the oven for one hour.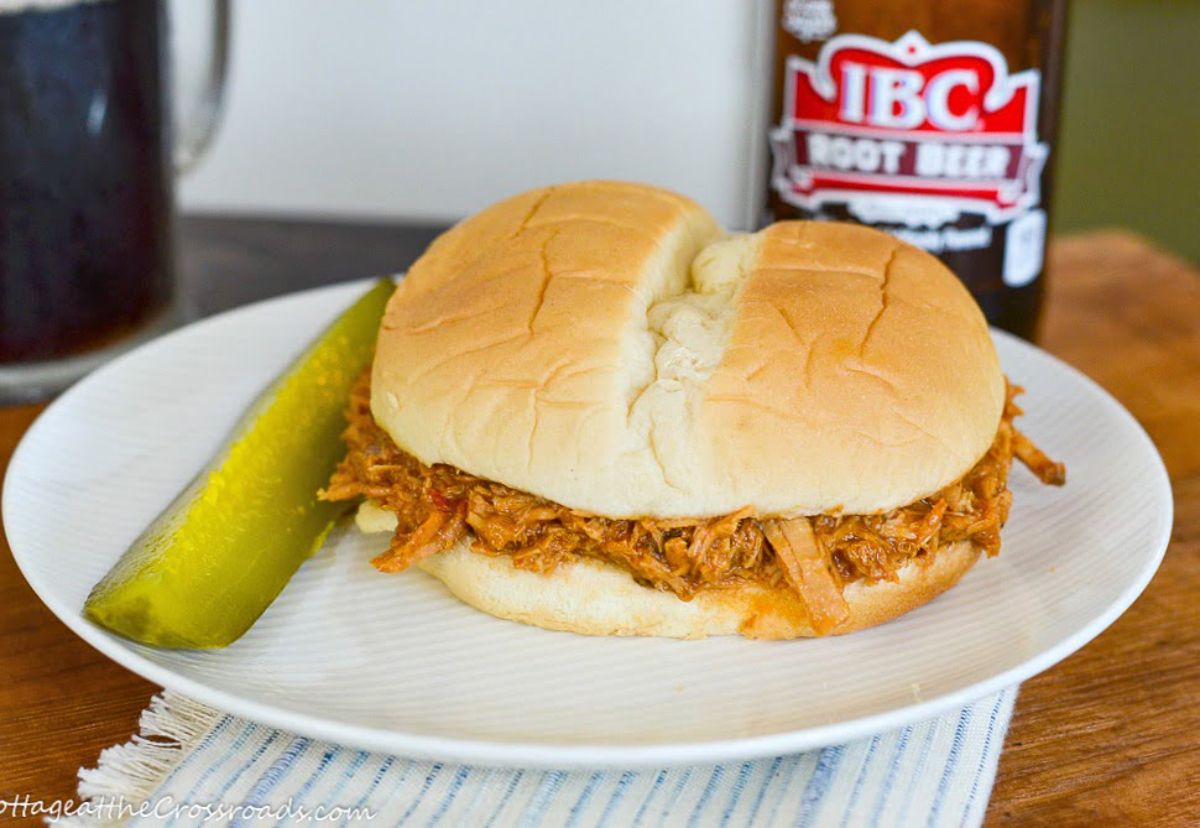 Adding root beer tanginess to the typical BBQ creamy sauce is a great way to include a new dimension to the regular pulled pork sandwich!
Make this pulled pork on Sunday and have it for the rest of the week for sliders or as a stand-alone dish. You can even freeze this pulled pork to use later on.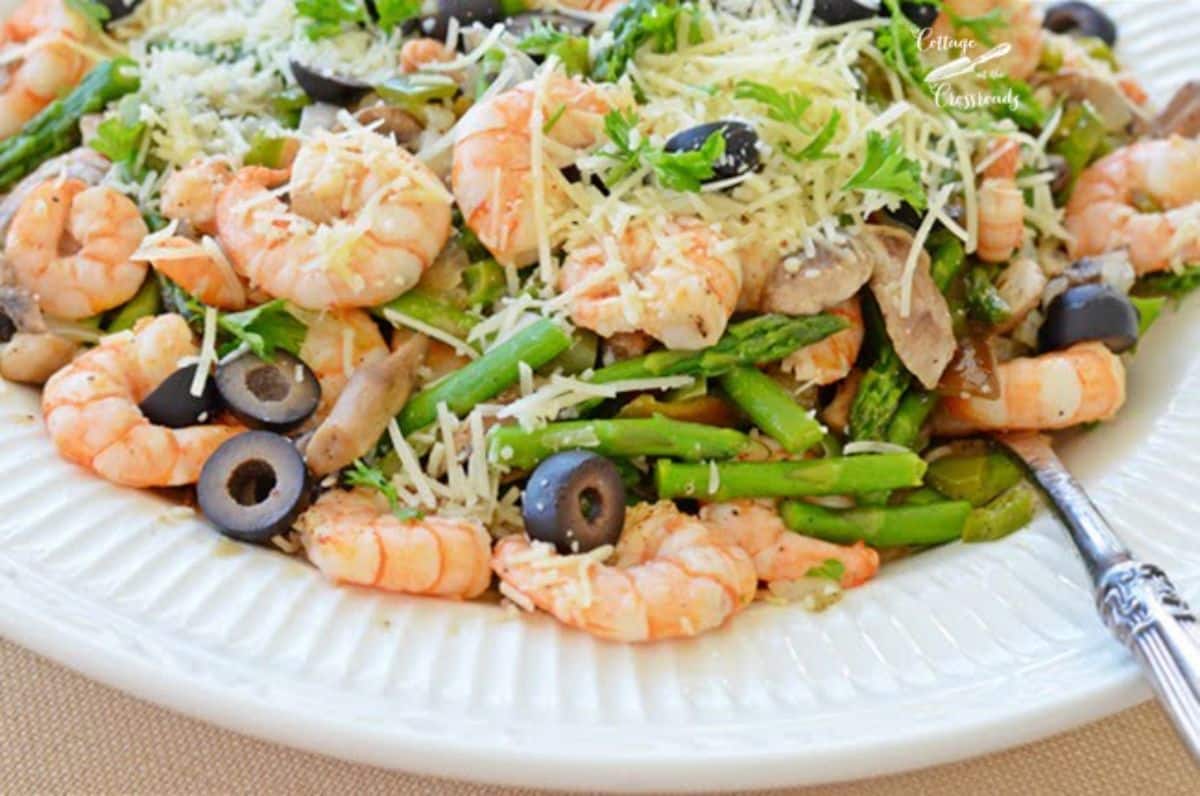 Shrimp Pasta is the ideal way to use fresh seafood and create a hearty and filling pasta dish without spending much time in the kitchen! We love this shrimp pasta for dinner all week long when you want a carb-heavy dinner that isn't going to make you feel too full.
Use two pounds of shelled shrimp, fresh vegetables, and your choice of pasta to make this meal-prepped dinner. You can leave the shrimp until the last minute every evening to ensure it is fresh and tasty.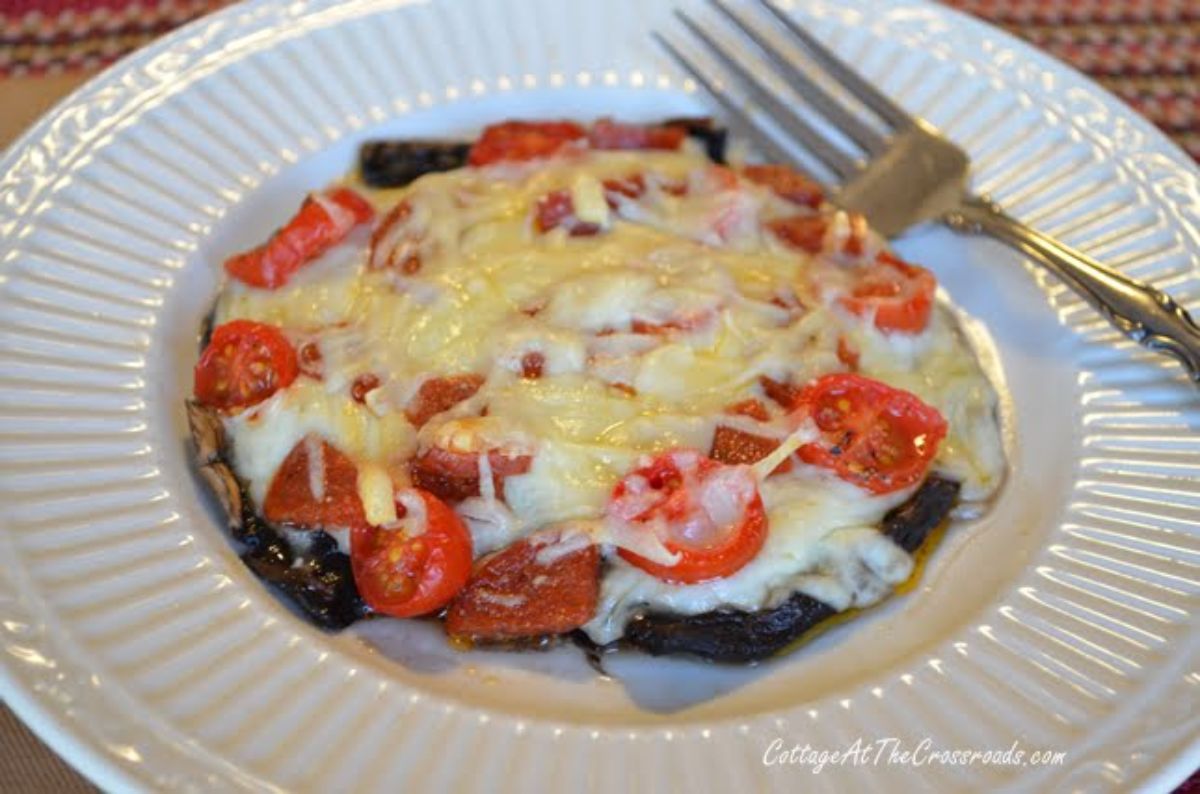 Instead of ordering pizza from the local pizzeria on a Sunday night, we recommend making low-carb portobello pizzas that last a week. You stuff these mushrooms with cheese and tomato for a healthier alternative.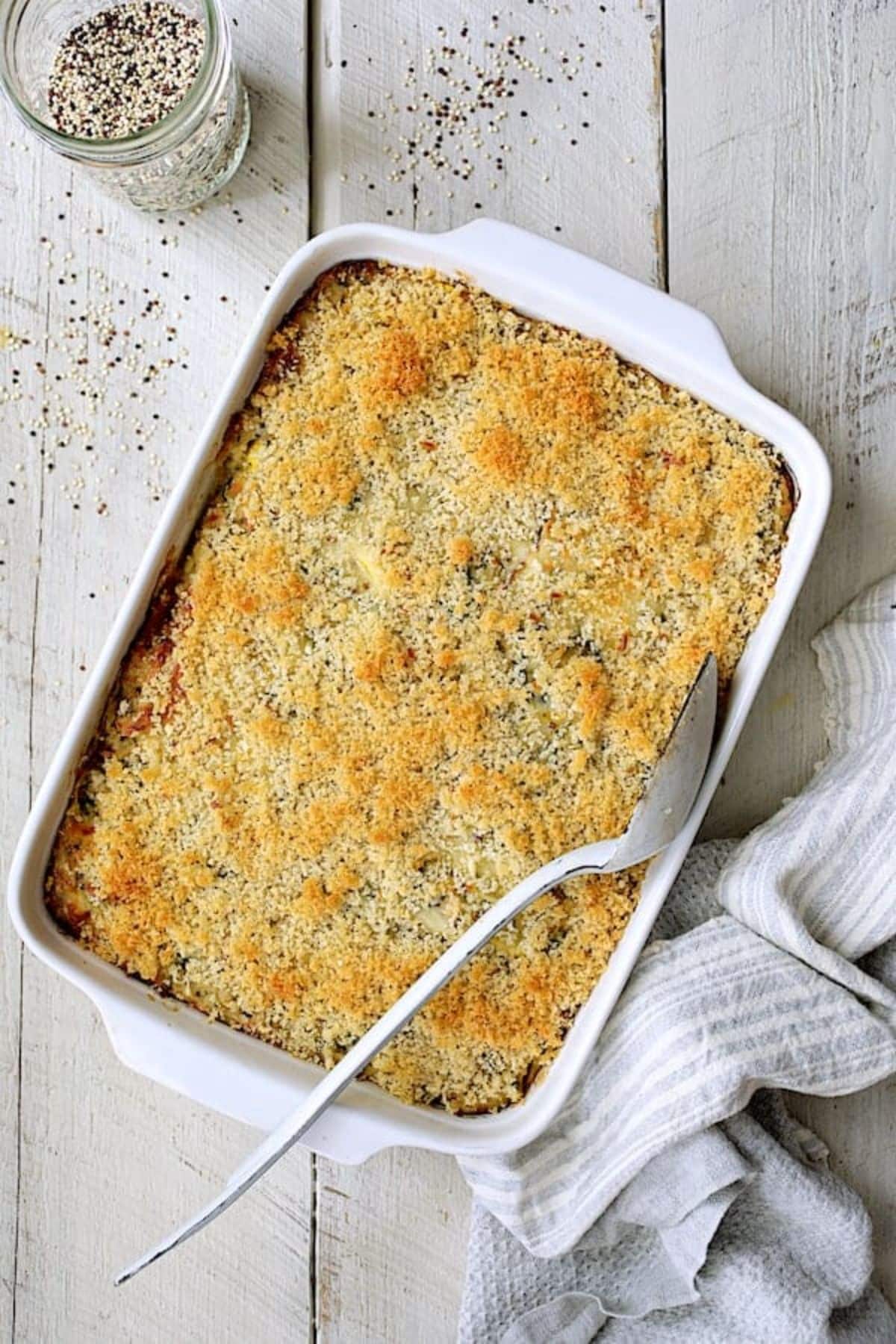 Casseroles are always a good choice for meal prep on Sundays. And this casserole is no exception. It is hearty, tasty, and made with healthy grain quinoa!
Its veggie base is zucchini and squash, but you could easily add others. Use it as a main dish or a side dish with chicken.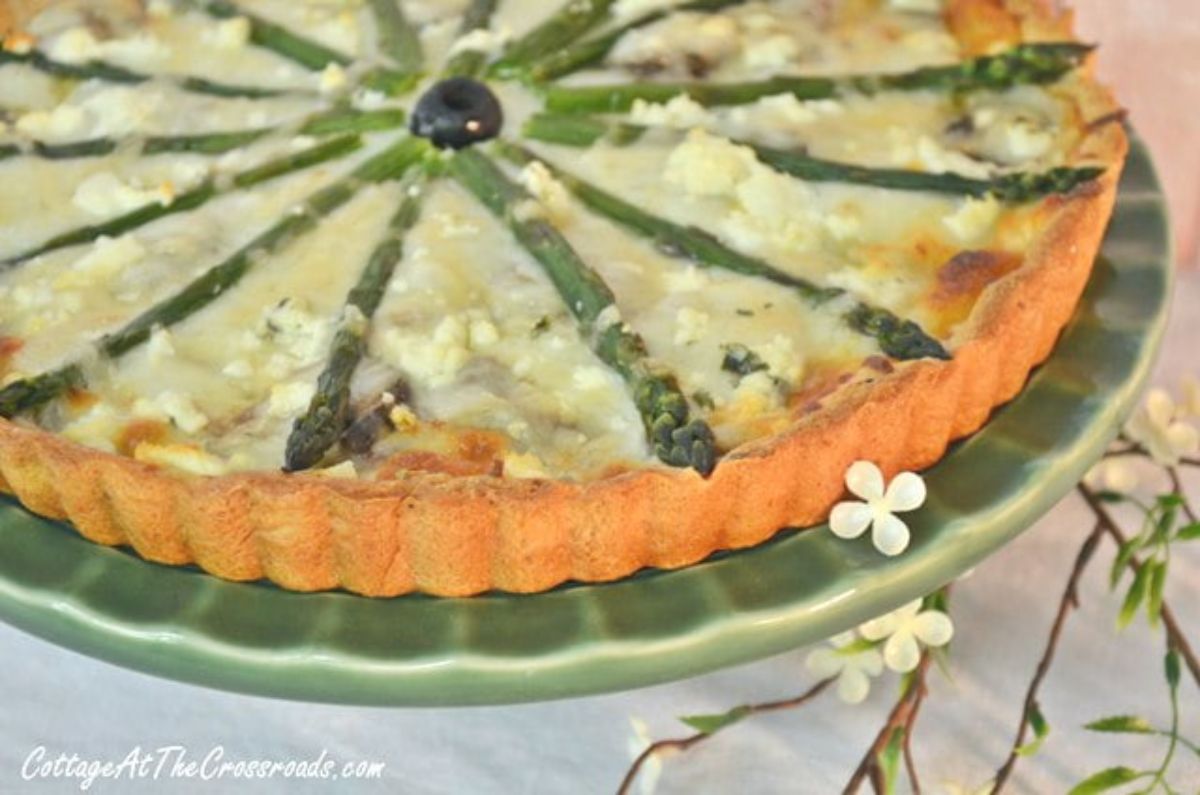 Do you have even more asparagus leftover from a paste recipe? Make this asparagus tart with freshly-picked asparagus and a can of crescent roll dough to make the crunchy crust. This savory tart can be a starter, canape, or dinner!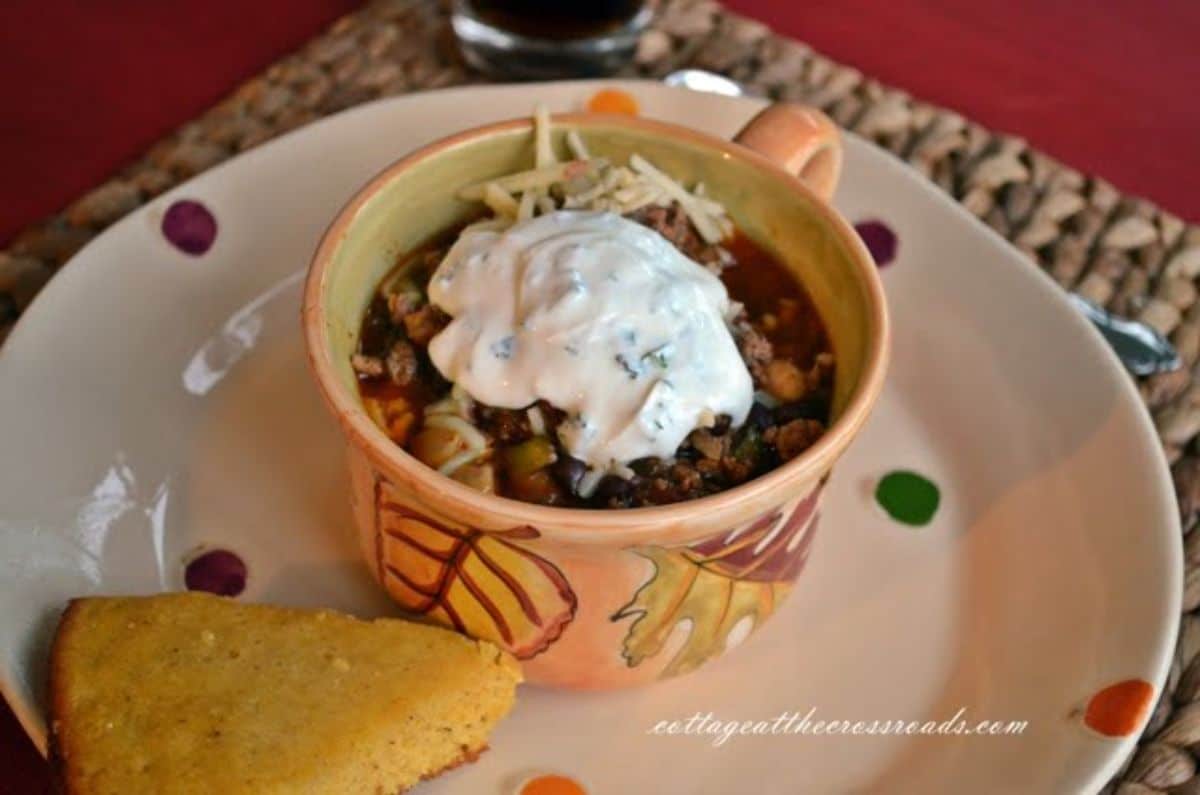 Chili is THE perfect dish for leftovers.s not only does chili stay good for days, or weeks, after being made, but this is a fantastic dish to eat for a cool and brisk fall or winter day.
Plus, with the added bourbon to this recipe, you will love the extra 'wow' factor!
Use fresh shrimp and hearty gris for a Southern-inspired dish you can have for dinner all week. We love this 'low country' dish you can put together last minute.
On Sunday, make the grits and sauce ahead of time. Then all you have to do during the week is warm up the sauce and add the shrimp.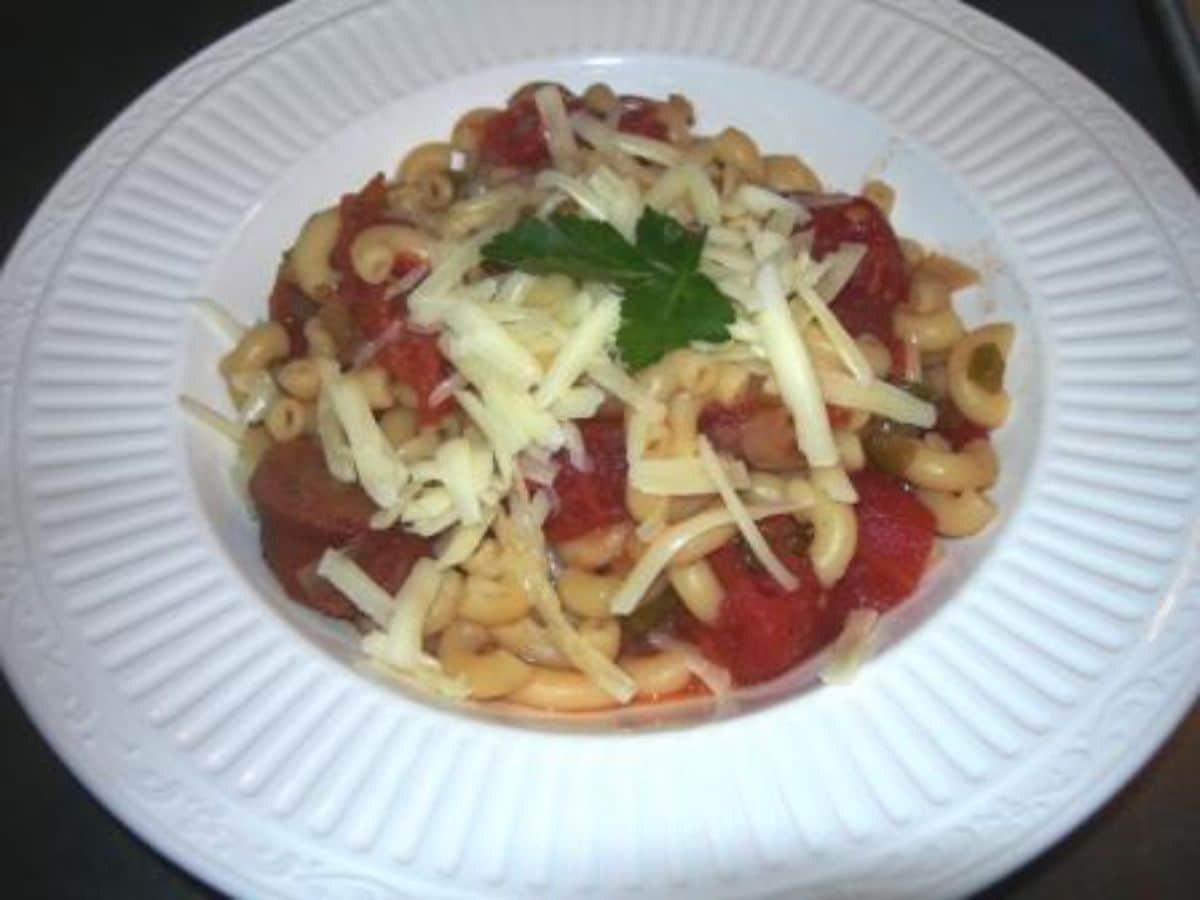 Do you want to save money on dinner this week? We don't blame you! You can substitute different meat or keep a vegetarian version for even more cost savings and health benefits!
We recommend making macaroni and stewed tomatoes with macaroni, stewed tomatoes, pepper, smoked sausage, and seasonings of your choice.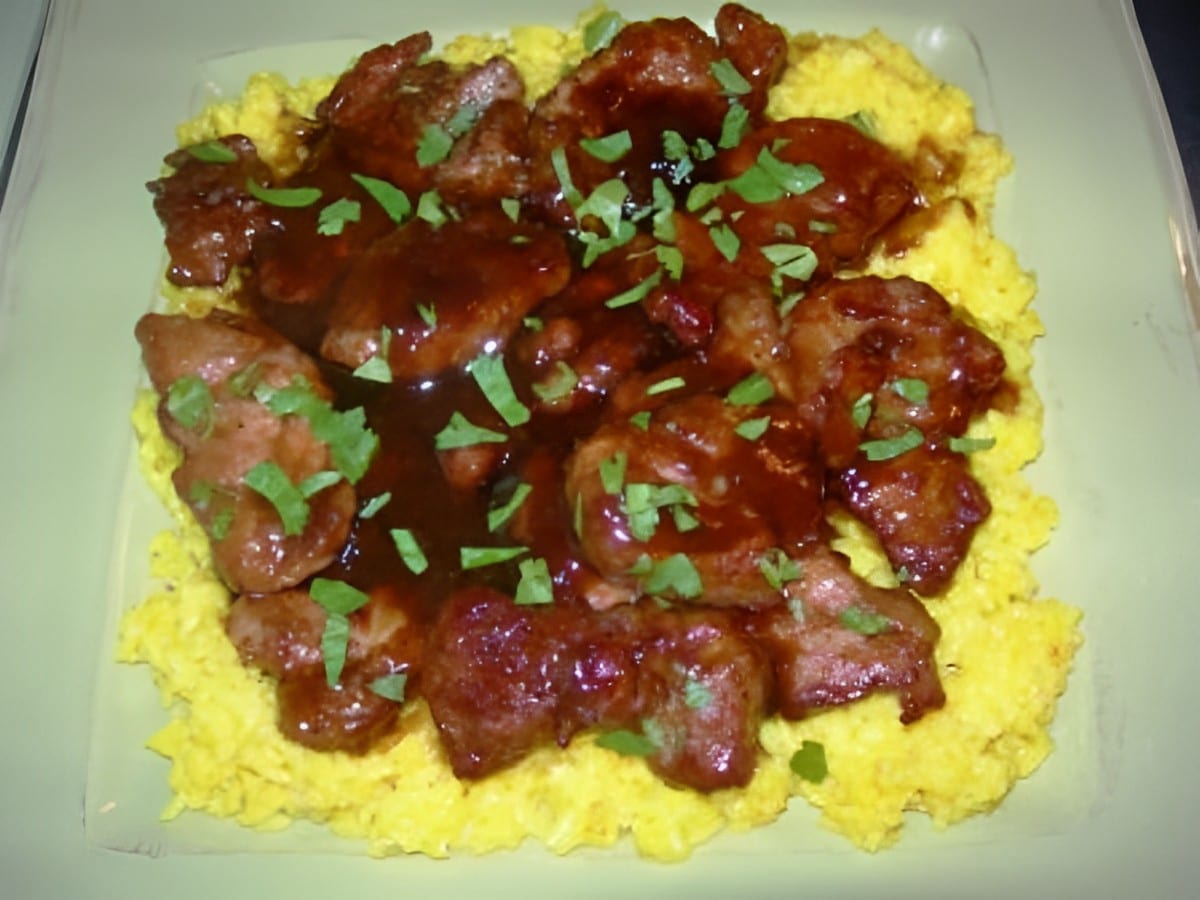 Make this simple and easy recipe with pork and yellow rice for a yummy dinner that can be prepared in 30 minutes and kept for the entire week. Pork medallions with any sauce, like mushroom gravy or soy sauce, can add a bit of flair to your weekly dinner.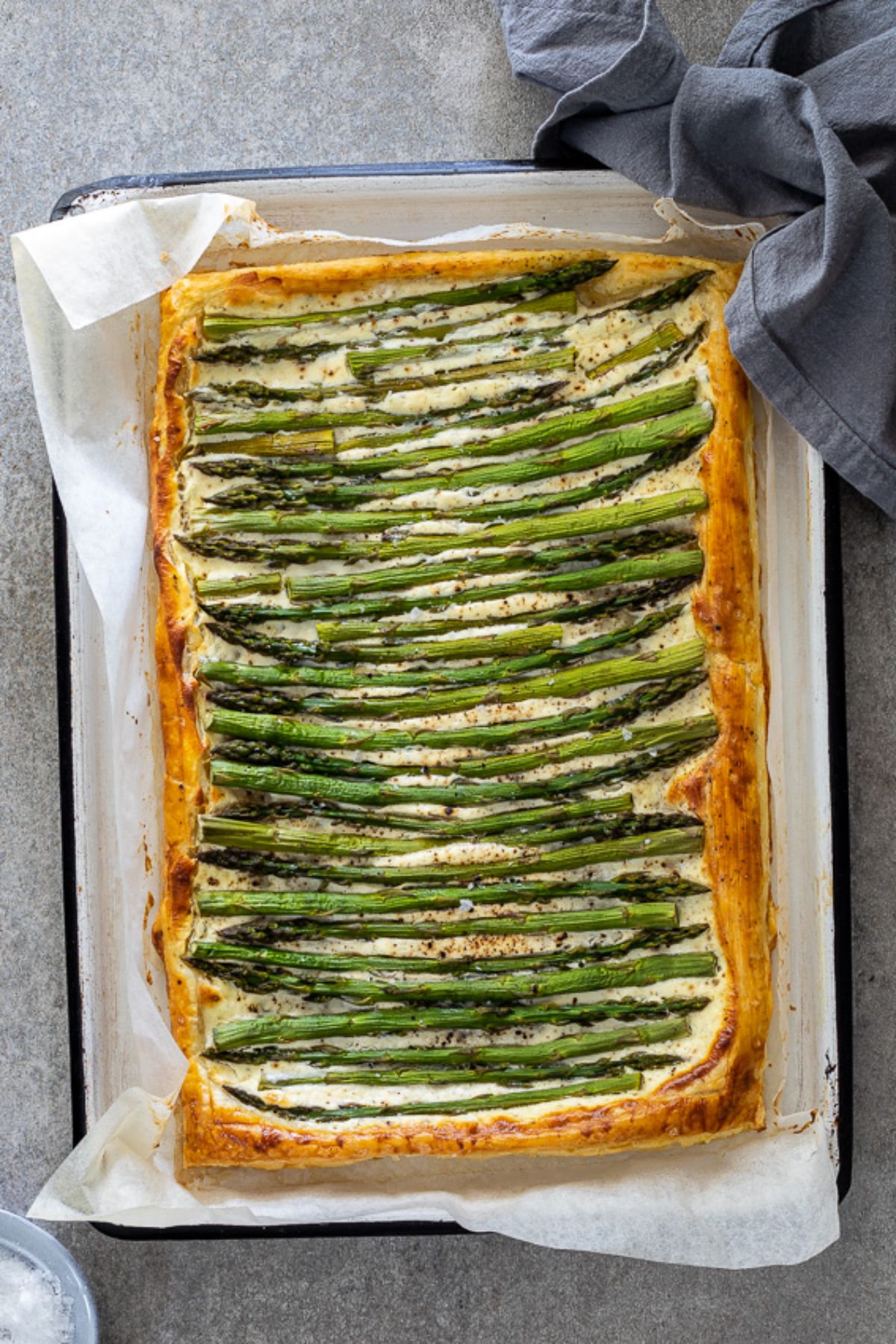 As you can see, asparagus is excellent to use all week long! We love this cheesy puff pastry asparagus tart for an easy and fast veg-heavy recipe with a crusty outer layer and a savory inner layer with asparagus and creamy cheese.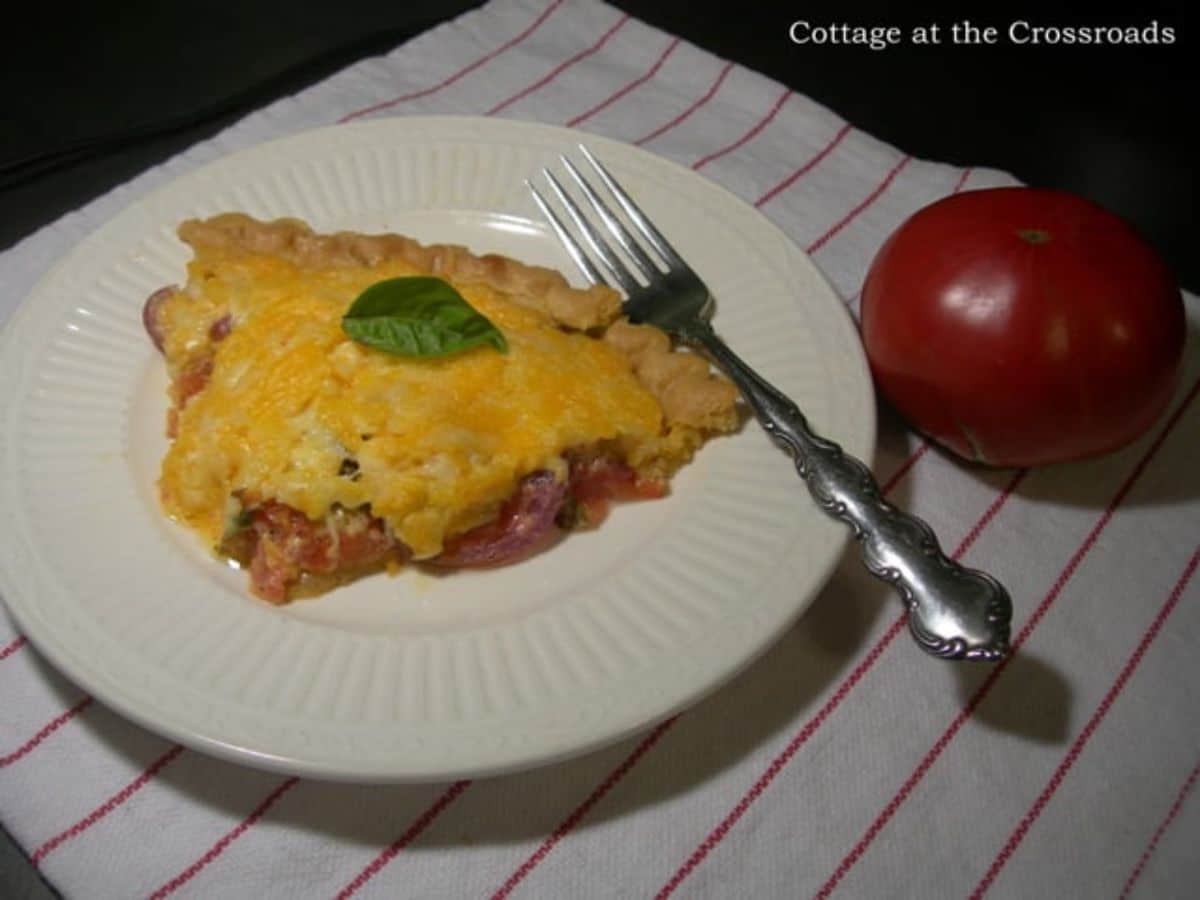 Tomato pie is SO easy to make and is a healthier version of bruschetta or pizza! You can make this with fresh tomatoes on Sunday for dinner with soup all week.
Gather deep dish pie crust, two pounds of fresh tomatoes, and seasonings for this recipe.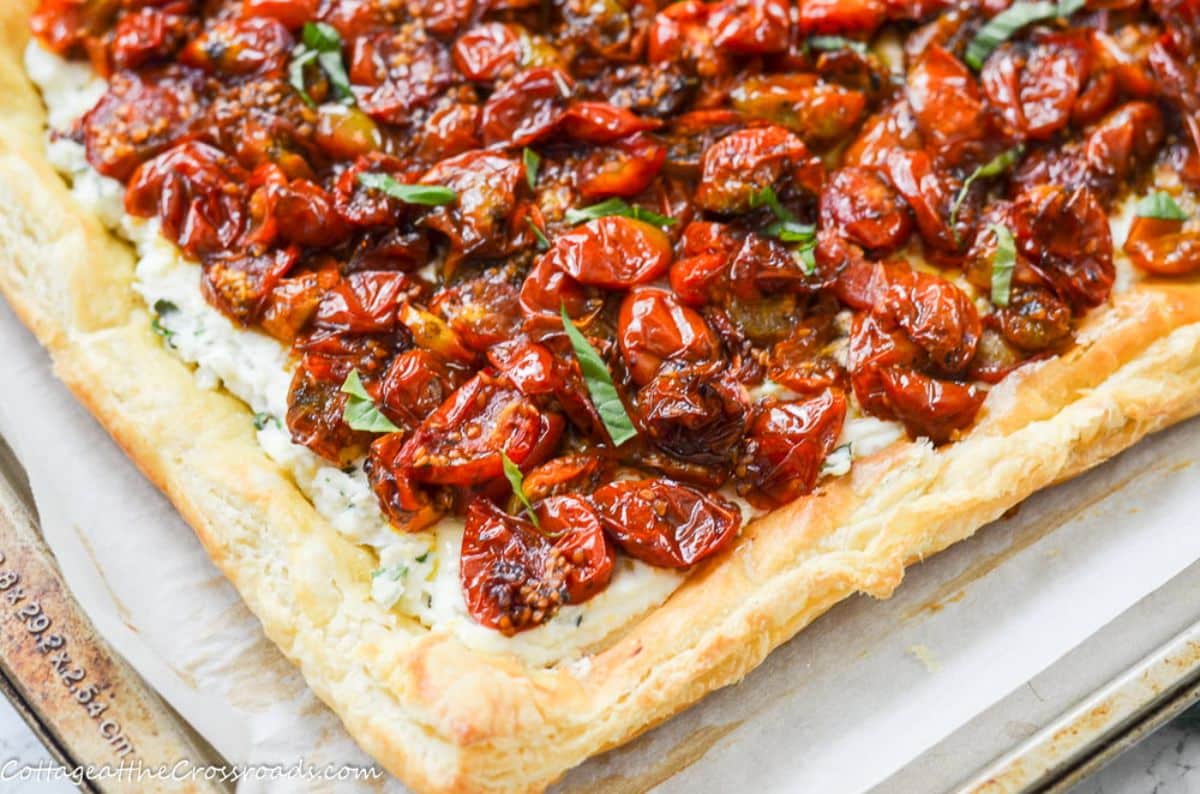 Use some more fresh tomatoes to make this delicious cherry tomato tart! We love this tart with herbed goat cheese and roasted tomatoes for a creamy and fresh dinner dish. With pre-made puff pastry, it is easy to prep this on Sunday and enjoy it every day.
Serve with a simple side salad or any kind of salad!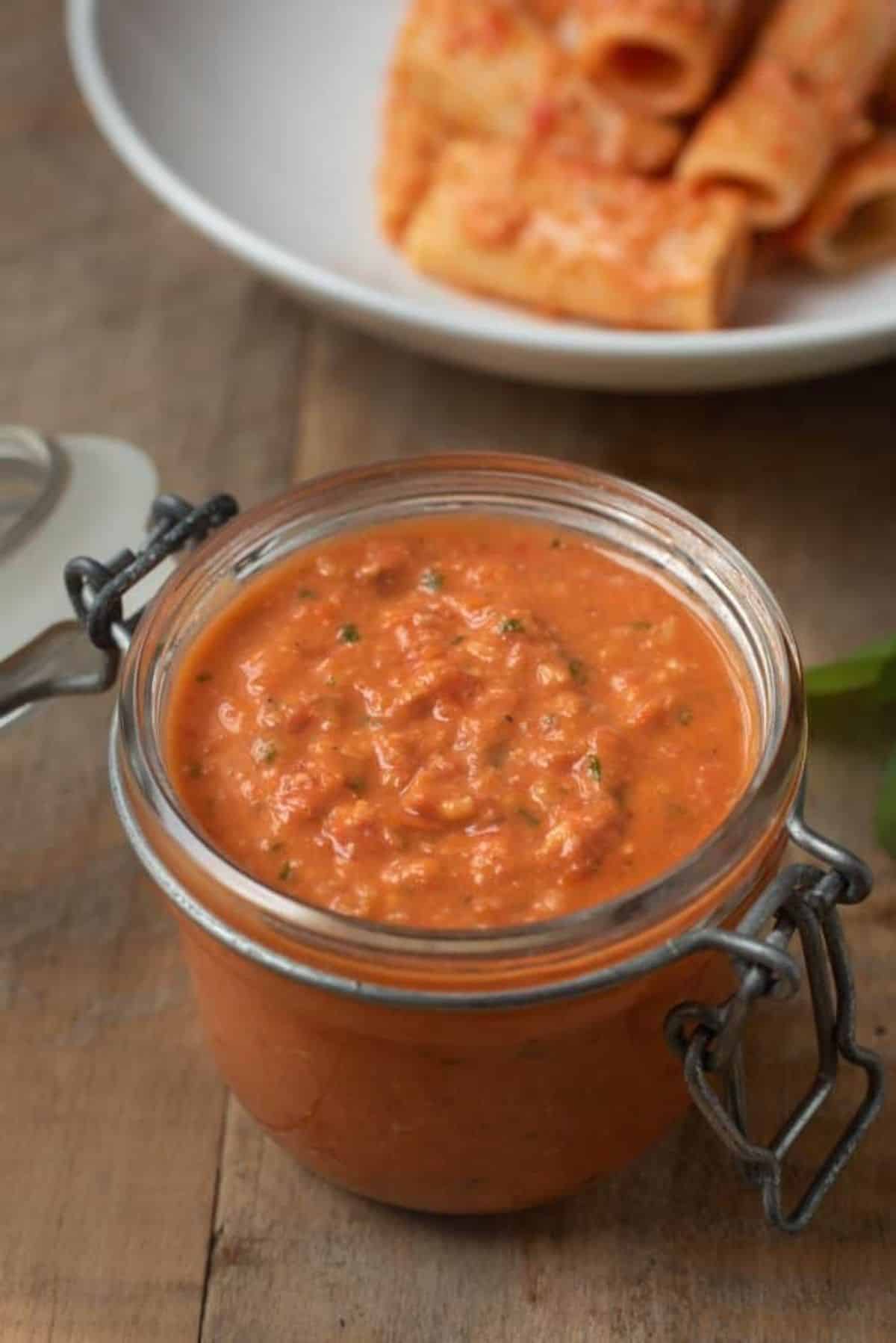 Make pasta sauce ahead of time so all you have to do on the night of dinner is boil some water for your pasta! Make this simple, no-cook sauce, the Sicilian version, in under 10 minutes using a blender for Italian-style pasta.
It isn't just for pasta, either! You can add chicken or veggies to switch it up during the week.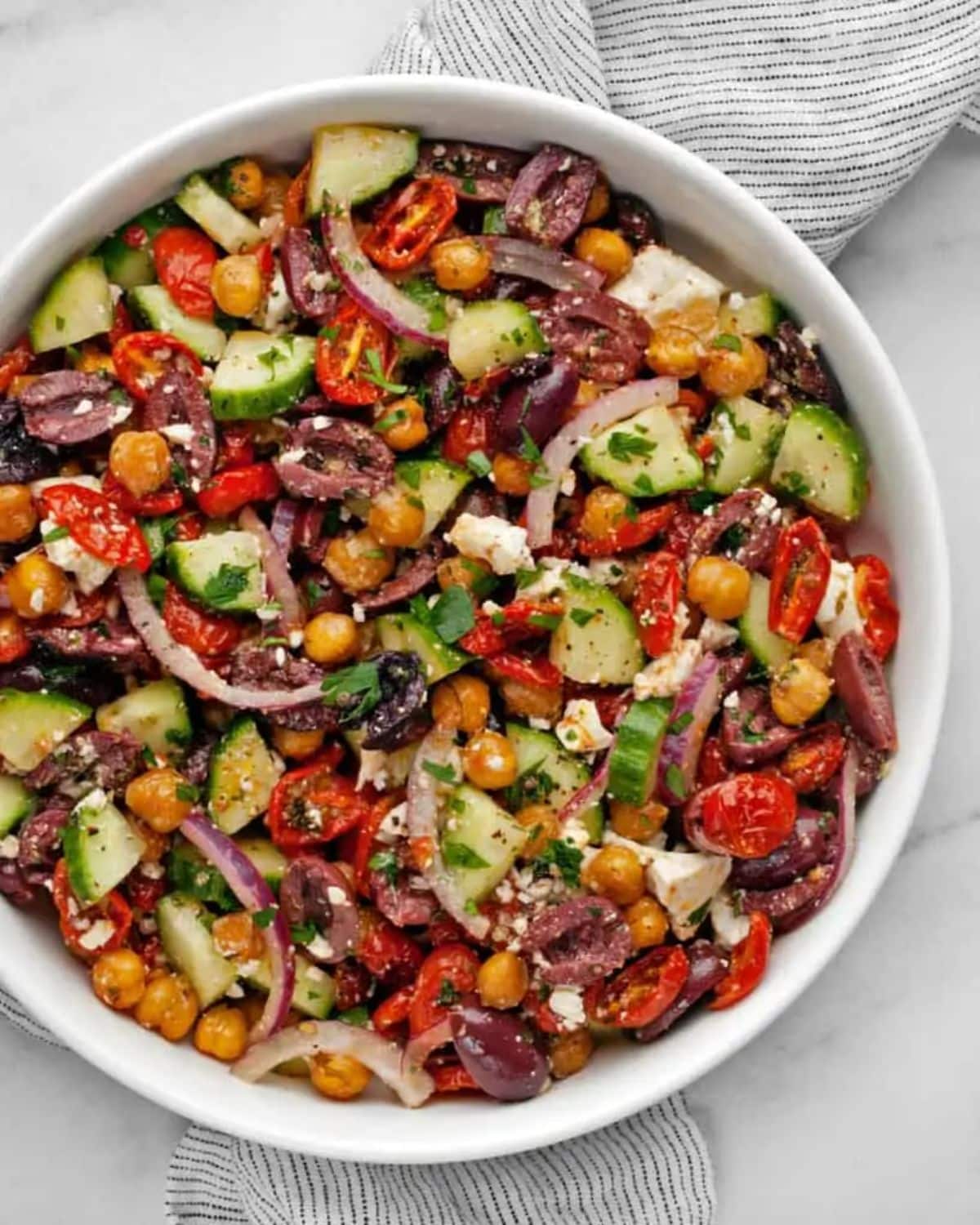 Are you meal-prepping on a hot summer day? Use this chickpea Greek salad with grape tomatoes, crispy chickpeas, vegetables, and red wine vinaigrette.
It's a twist on the traditional Greek salad you will love every day!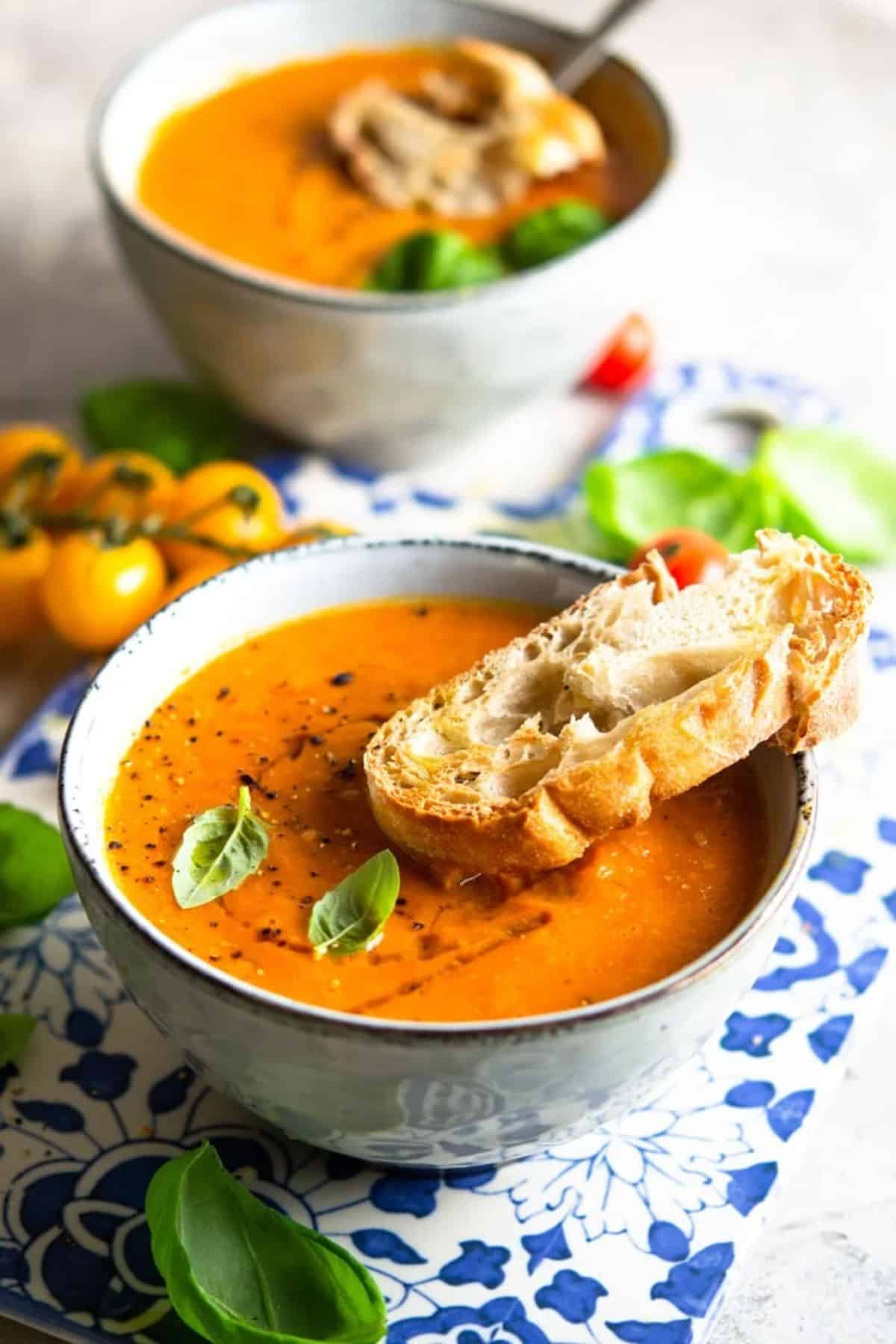 Soup is easiest to make in bulk; you can eat it all week. However, this rich and comforting soup is great for colder days. Pair this soup with bread or a grilled cheese sandwich for comfort meals.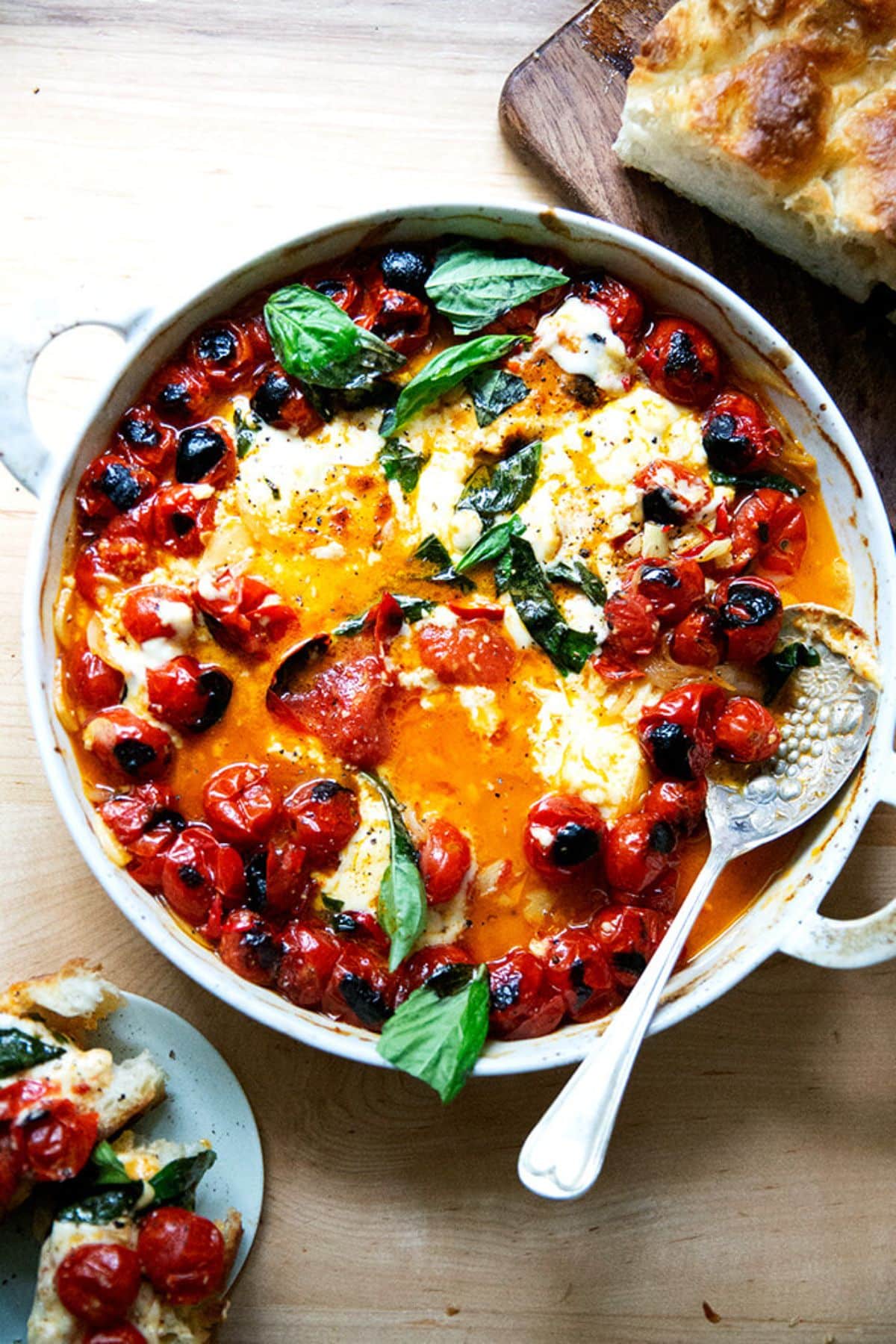 Use foccacia (or another thick, hearty bread or French bread!) to make this baked feta with cherry tomato bread. Eat the bread by itself or pair it with soup or salad for a healthy dinner.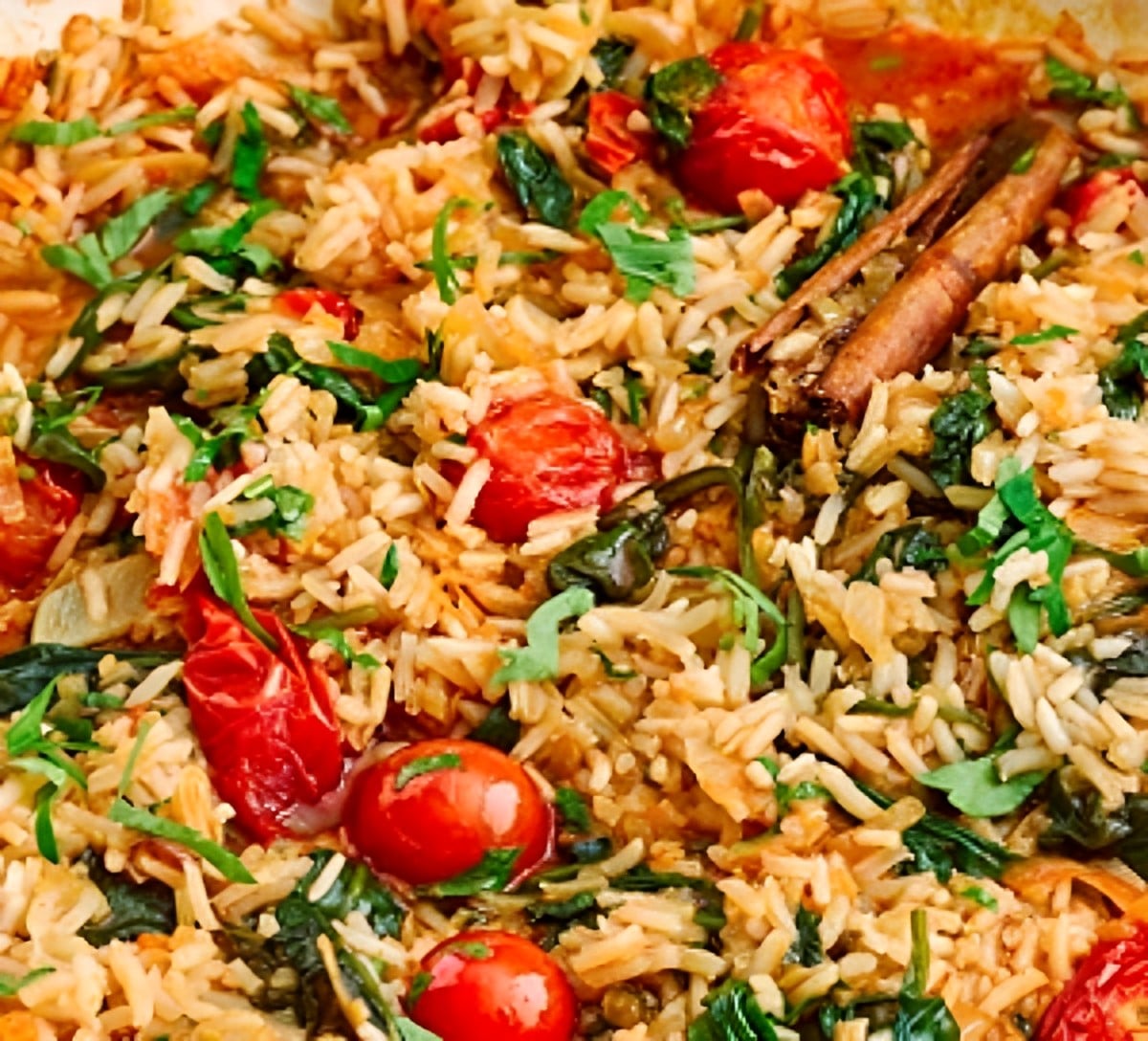 Use cinnamon, garlic, ginger, lemons, and paprika to season this one-pot dinner meal for a week. We love the cherry tomatoes and spinach combo to make this healthy recipe.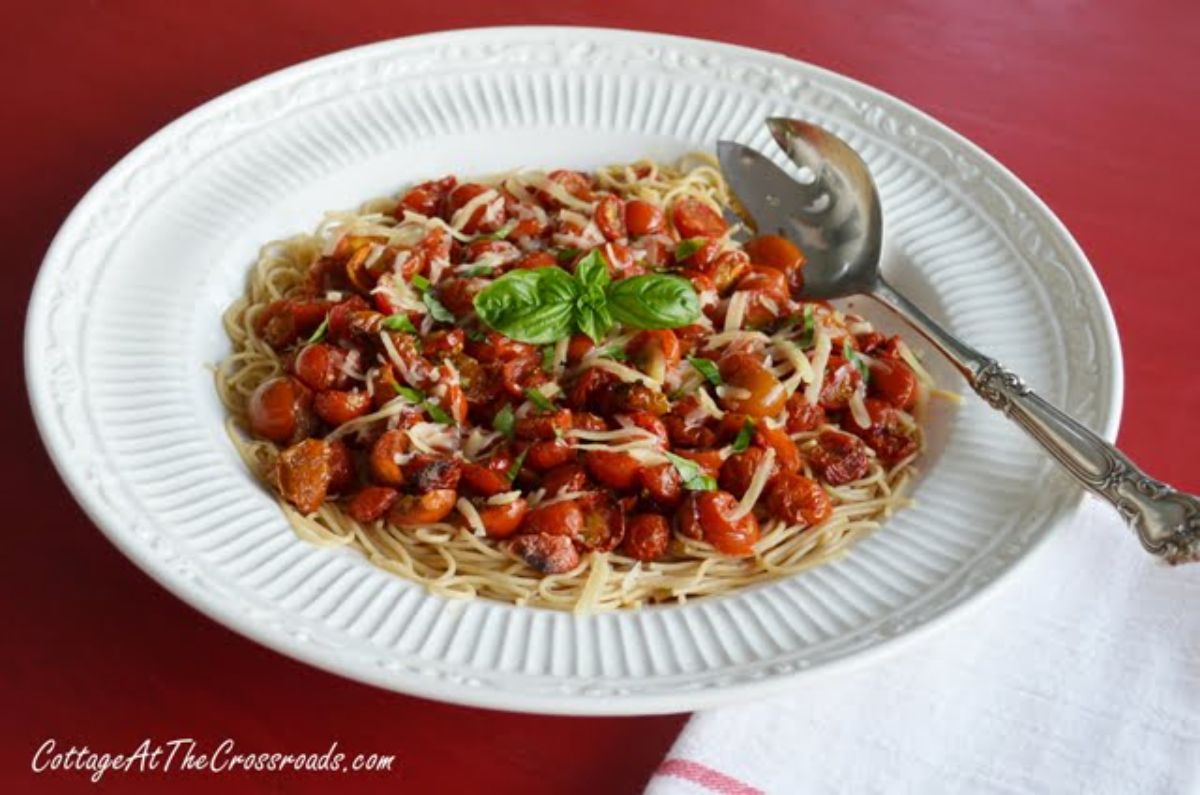 Using roasted cherry tomatoes adds another element to typical pasta you won't find otherwise. We love using fresh tomatoes from a local market that combine well with the cheese's heaviness and the pasta's carbs.
We recommend grating over one cup of Parmesan cheese and adding fresh basil leaves to the final product.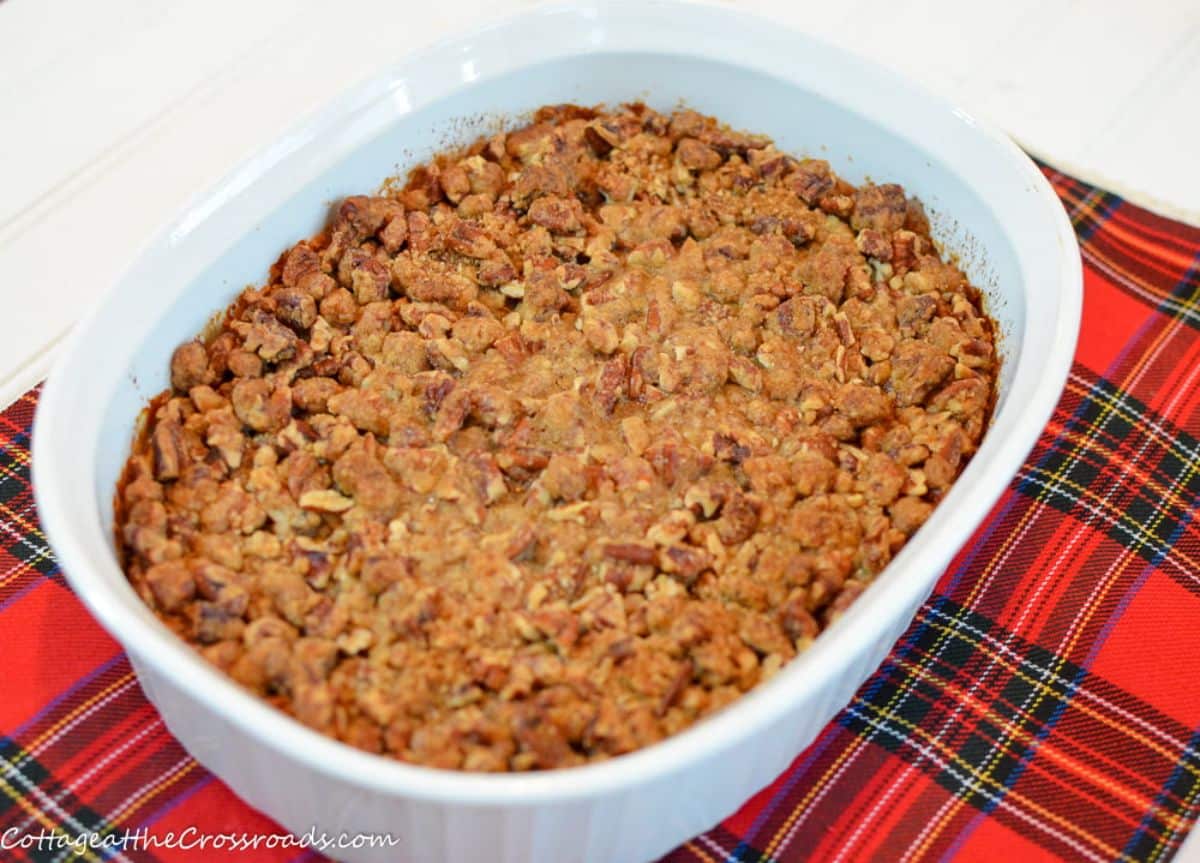 We love making grated sweet potato pudding for holiday parties or pairing it with a meat dish. Sweet potatoes are a healthier alternative to white potatoes, with complex carbs and a different flavor profile!
Try this pudding with roasted turkey or cooked beef with roasted vegetables for the ideal weeknight dinner.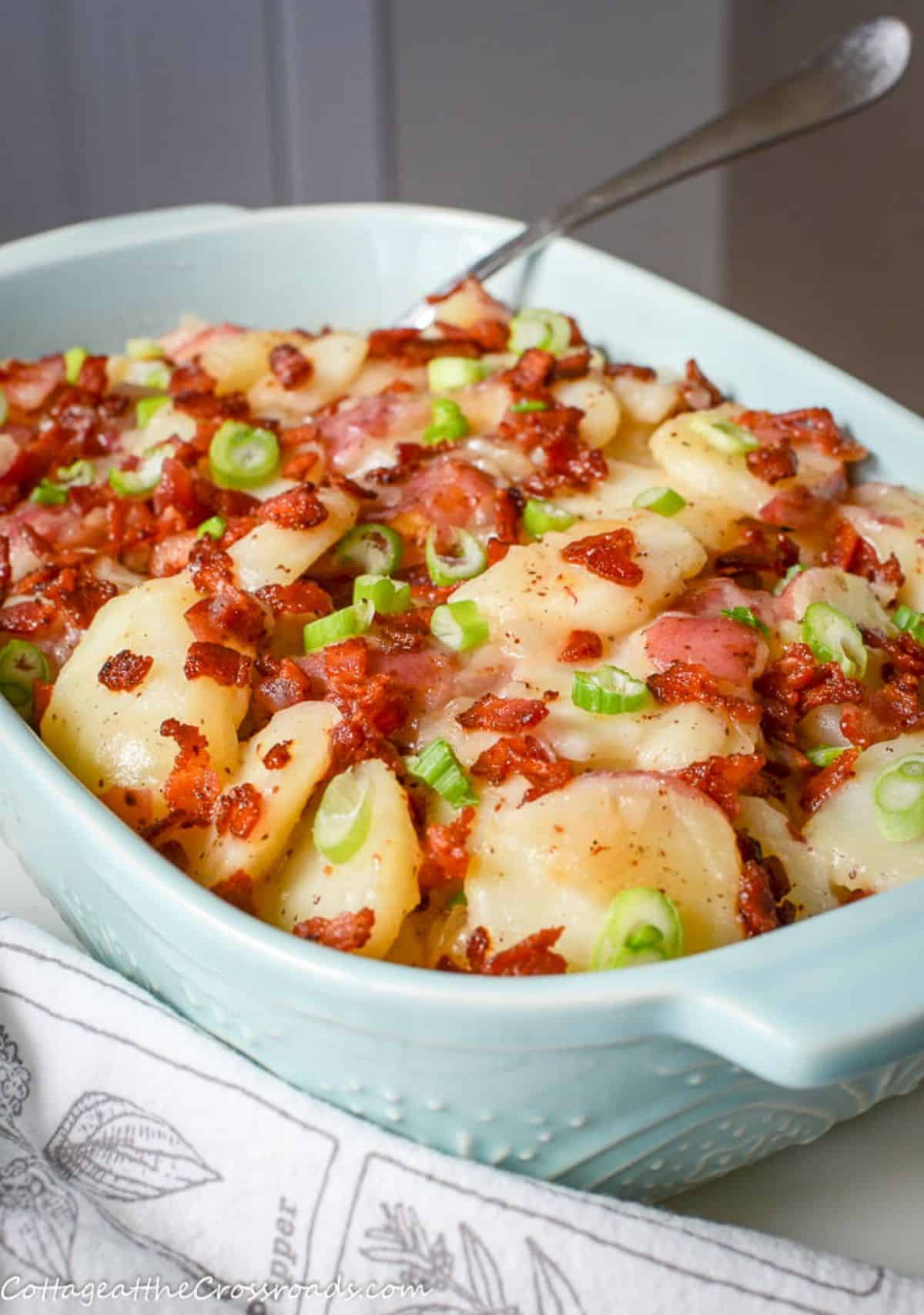 You can keep this German potato salad vegetarian by removing the bacon from this popular recipe. We love this as a summer side dish or as a main dinner dish during a busy week.
This potato salad differs from the 'American' version, as it does not use the same-old mayonnaise that you find in the unhealthy dish! Instead, this recipe uses unpeeled red potatoes and bacon. Use garlic salt, apple cider vinegar, and celery seed for the unique spices.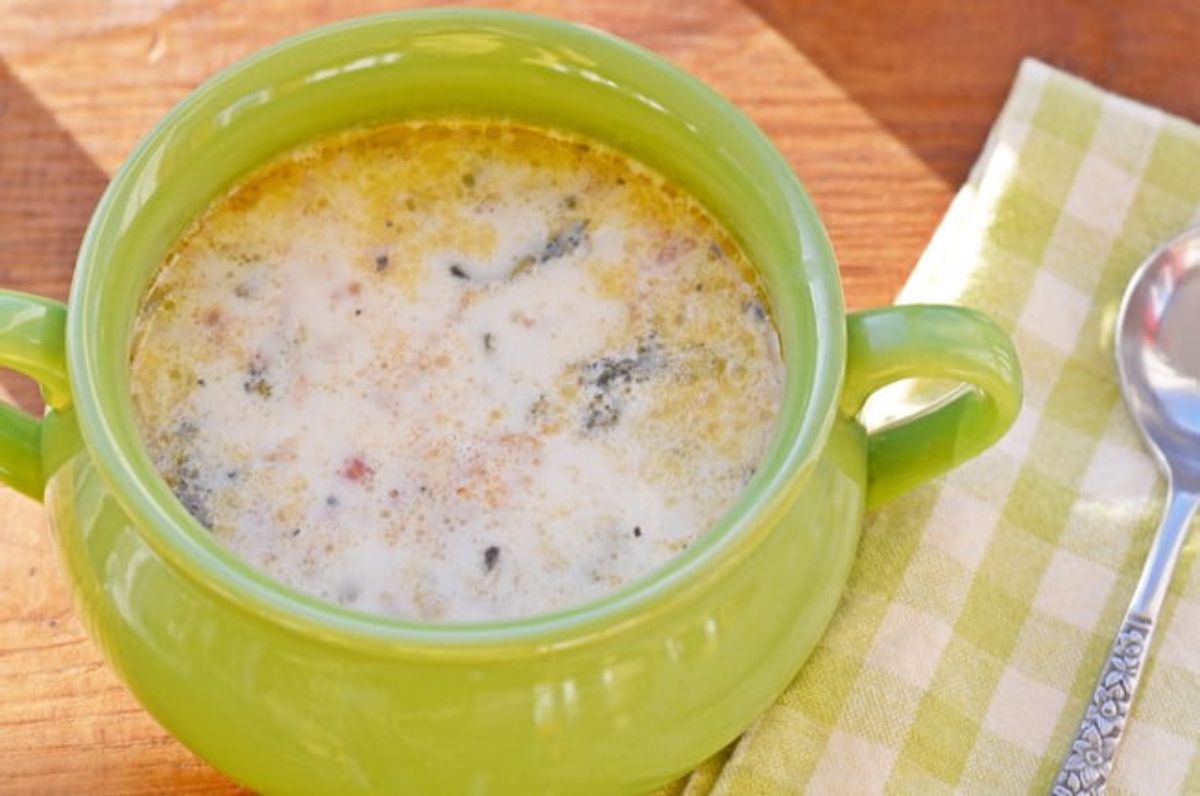 Just because you have no time during the week to make dinner, it doesn't mean you can't meal prep ahead of time with potatoes, sausage, and greens. Not only is it easy, but it is super tasty! Use kale and garlic salt for the best flavor.
We recommend using Sweet Italian sausage instead of spicy to get the best flavor. Then, add seasonings to taste. But you can choose spicy too!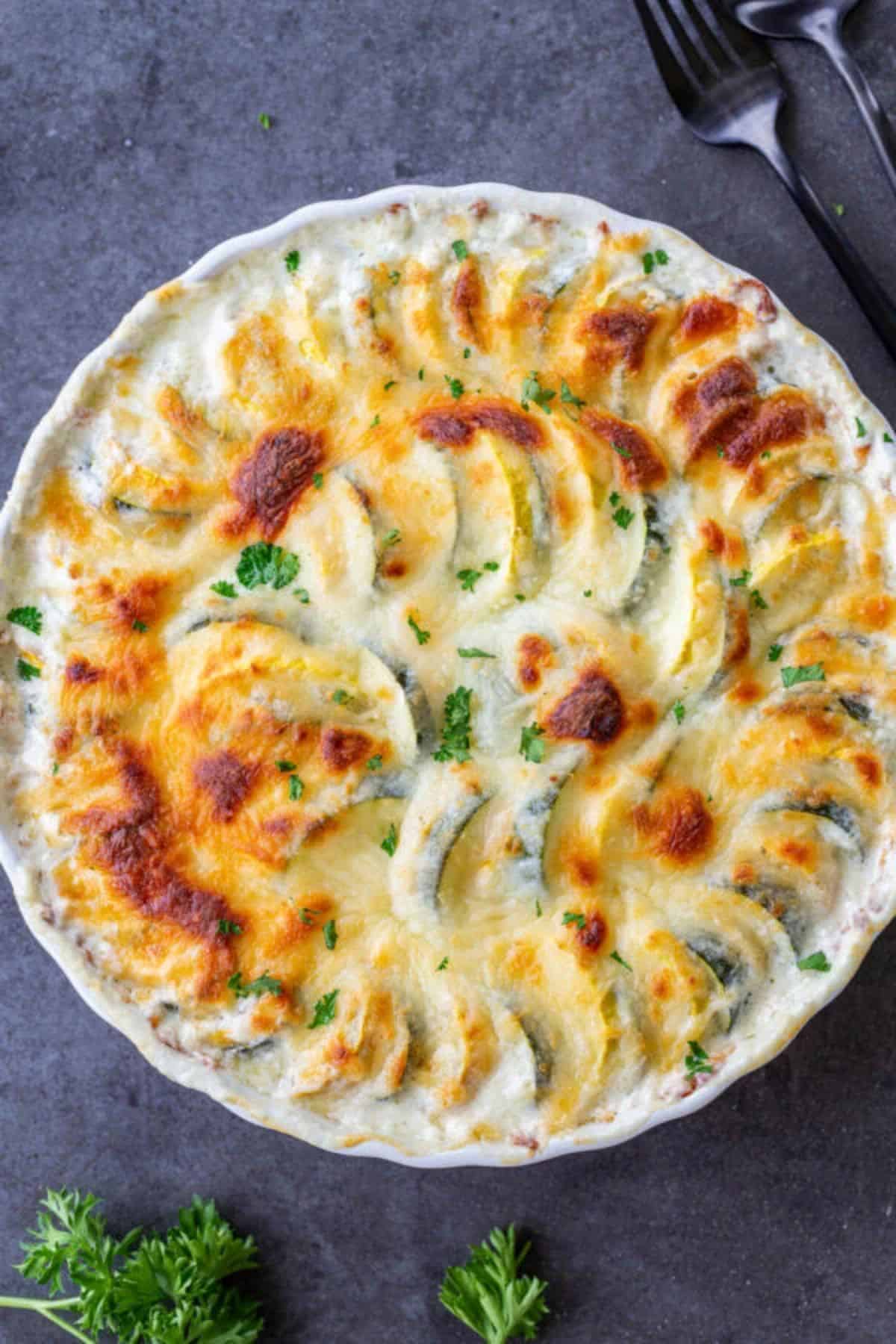 What is the best way to get kids to eat more veggies? Cover them in cheese! This casserole is an easy meal to prep. Cut the veggies and cover them in cheese and bake! Enough for the whole week to enjoy.
You can serve it with chicken or a simple tomato salad on the side.