Today I'm sharing a very tasty pulled pork with root beer bbq sauce recipe that came from a blogger friends' new cookbook. Plus, I'm giving away one copy of the cookbook to a lucky reader!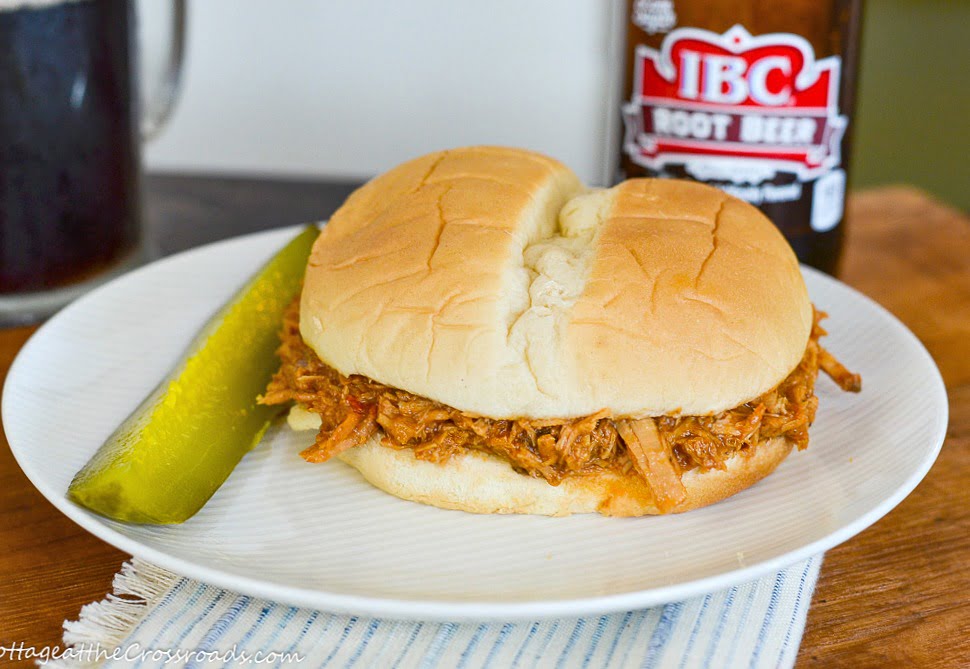 Y'all! I have found the tastiest recipe for pulled pork sandwiches! It is so darn good that I made this on Monday and Leo and I have been eating it all week! He didn't mind eating the pulled pork sandwiches for several days because they are that good!
This recipe made enough that I even froze some!
This recipe came from my blogging friend Valerie's new cookbook shown below.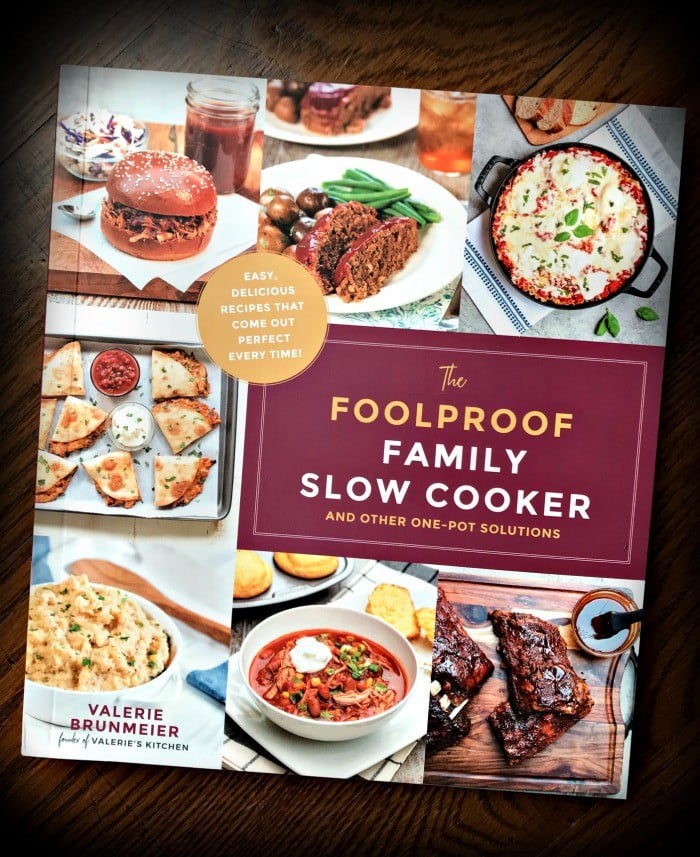 Valerie blogs at Valerie's Kitchen. If you are looking for some awesome new recipes to try, you should hop over there and subscribe to her blog!
Last year she published a cookbook which I recently ordered from Amazon. It is filled so many recipes that I want to try.
I was having a conversation with Julie from the blog Redhead Can Decorate and she suggested that each of us try a recipe from Valerie's cookbook and post about it. And Valerie generously agreed that we could each giveaway a copy of the cookbook.
The cookbook contains so many recipes that I'd like to try but I was intrigued when I saw a recipe for pulled pork that you could make in the slow cooker.
And it contained what I thought was a unique ingredient.
Yes! ROOT BEER! Not only is the pork cooked in root beer but you also add it in the sauce! And let me tell you, that root beer makes the pulled pork so delicious!!!
What you need
Ingredients
1 3-3 ½ pound whole pork loin boneless
1 tablespoon chili powder
1 teaspoon salt
½ teaspoon ground black pepper
¾ cup root beer
For the Root Beer Barbeque Sauce
1 ½ cups root beer
1 ½ cups ketchup
⅓ cup orange juice
⅓ cup Worcestershire sauce
2 tablespoons molasses
1 tablespoon brown sugar
1 tablespoon yellow mustard
1 teaspoon minced garlic
1 teaspoon liquid smoke
1 teaspoon onion powder
½ teaspoon freshly ground black pepper or to taste
salt to taste
Buns
6-8 hamburger buns toasted
How to make
I must confess that I made a few minor modifications to the recipe because here in SC, we favor a vinegar based bbq sauce. You can find what I changed in the notes in the recipe card below.
Intructions
First, to make this recipe, you need a whole boneless pork loin. Normally, pulled pork is made from a more fatty cut such as a pork shoulder or butt roast.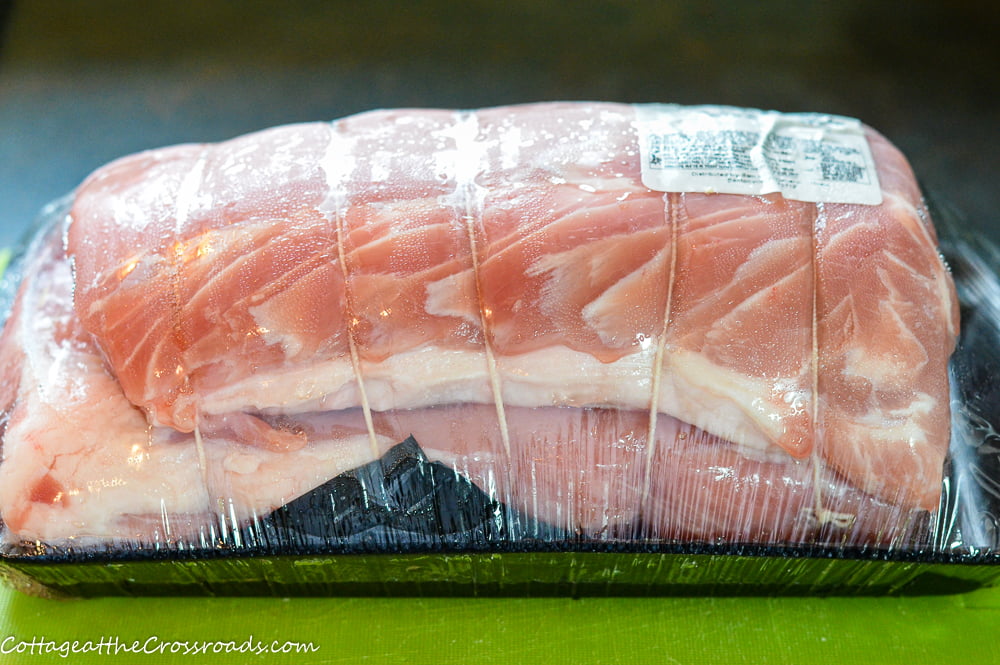 The recipe calls for a 3-3 ½ pound pork loin but mine was slightly larger and came from Sams.
You simply cut the loin into smaller pieces, season the pork loin with salt, pepper, chili powder and put it in the slow cooker along with some root beer. Let it cook on low for 6-7 hours until it's tender and falling apart.
Meanwhile make the barbeque sauce (which takes about 10 minutes) and refrigerate it until you're ready to use it.
When the meat is done, take it out of the slow cooker and shred it with two forks. Mix some of the bbq sauce into the shredded pork.
OH, MY!
Leo and I are declaring it the BEST pulled pork that we've ever eaten! That's quite a statement because we are located here in the heart of BBQ land and we've eaten our share of pulled pork sandwiches.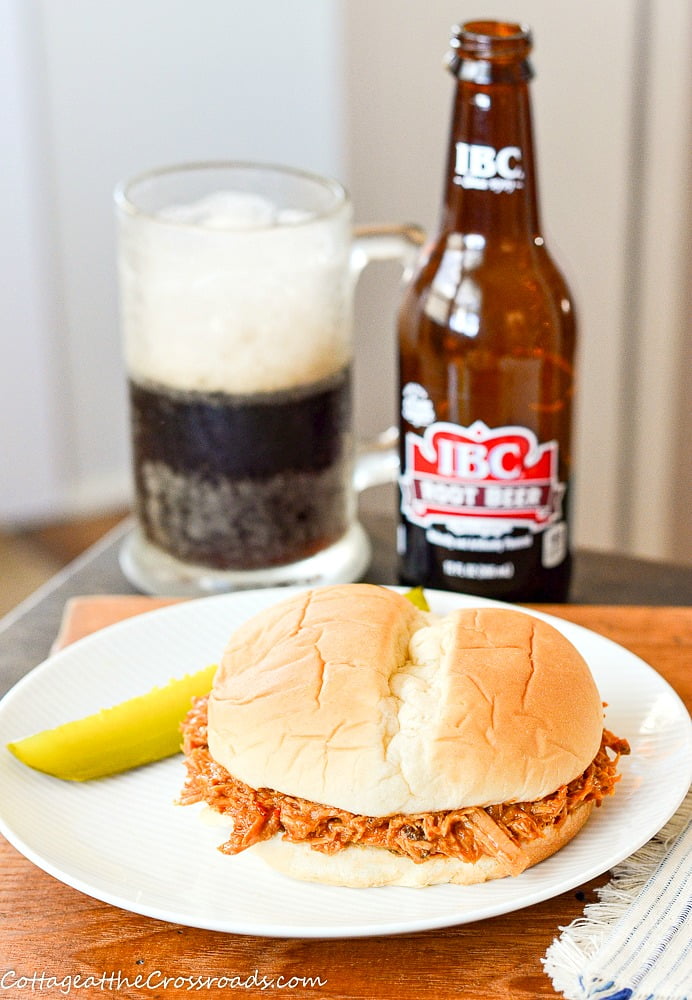 A great accompaniment is, of course, a cold mug of root beer!
📋 Recipe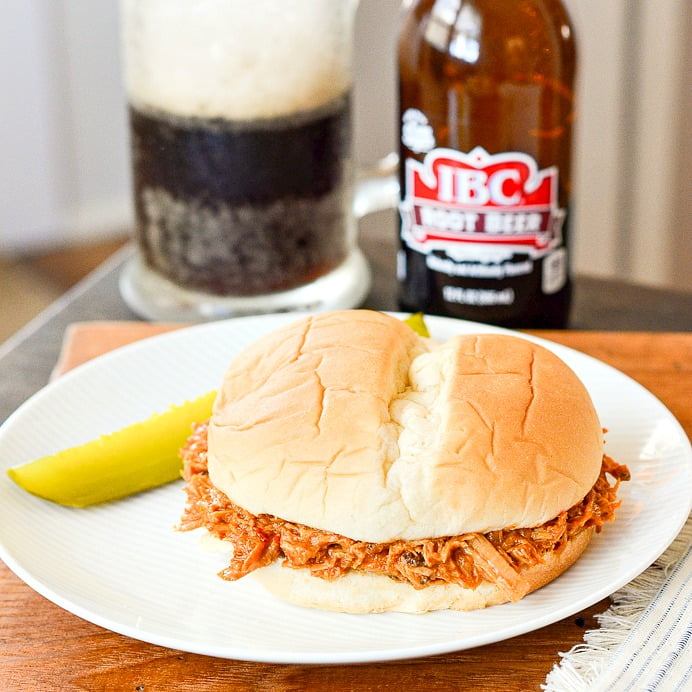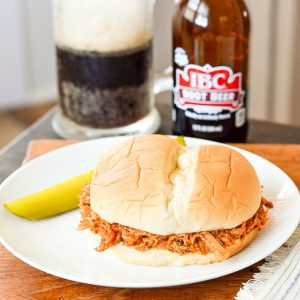 Pulled Pork with Root Beer Barbeque Sauce
A delicious pulled pork recipe that uses a leaner cut of meat cooked in root beer.
Ingredients
For the Root Beer Barbeque Sauce
Instructions
Cut the pork loin into four pieces and place them in a 6 quart slow cooker. Sprinkle them with the chili powder, salt, and pepper, then pour the root beer into the slow cooker around the pork. Cover and cook for 6 to 8 hours on low, until the pork is very tender and easy to shred.
For the Sauce
Meanwhile, make the sauce by combining the root beer, ketchup, orange juice, Worcestershire sauce, molasses, brown sugar, mustard, garlic, liquid smoke, onion powder and pepper in a large, heavy saucepan and whisking until smooth. Bring the mixture to a boil over medium heat, stirring occasionally. Reduce the heat to medium-low and simmer for 8-10 minutes to blend the flavors and reduce the sauce slightly. Season to taste with salt, if you feel it needs it, and additional black pepper. Remove the pan from the heat. Allow the sauce to cool slightly then transfer it to a bowl or other container with a tight-fitting lid and refrigerate it until you're ready to use it. The sauce can be made in advance and stored in an airtight container int he refrigerator for up to 1 week.

When the cooking time is up, remove the pork to a large cutting board and discard all but about ½ cup of the cooking liquid. Use two forks to shred the pork then return it to the slow cooker with the reserved cooking liquid. Add as much of the Root Beer Barbeque Sauce as desired and toss with the shredded pork to combine. I usually add about ½ cup to 1 cup of the sauce and reserve the rest to serve on the side so people can make their sandwiches as saucy as they'd like.

Cover and cook on low for an additional 30 minutes, until warmed through. Serve on toasted hamburger buns with additional Root Beer Barbecue Sauce on the side.
Notes
Additional notes by Jane: I added about 2 tablespoons garlic powder to the pork loin as I was seasoning it.
I omitted the liquid smoke and onion powder (simply because I didn't have either) from the bbq sauce.
I added ½ cup apple cider vinegar and 4 tablespoons sweet chili sauce to the bbq sauce.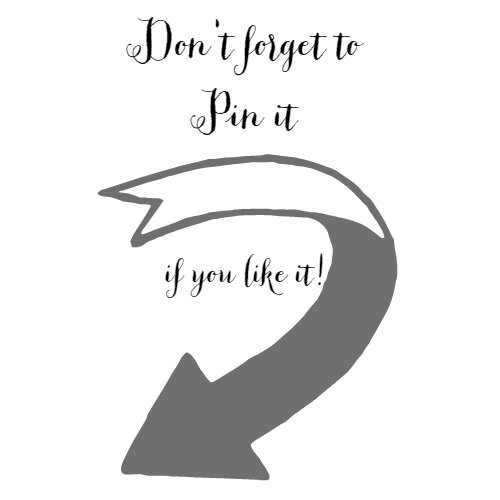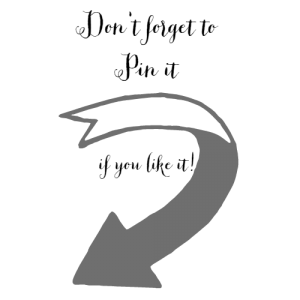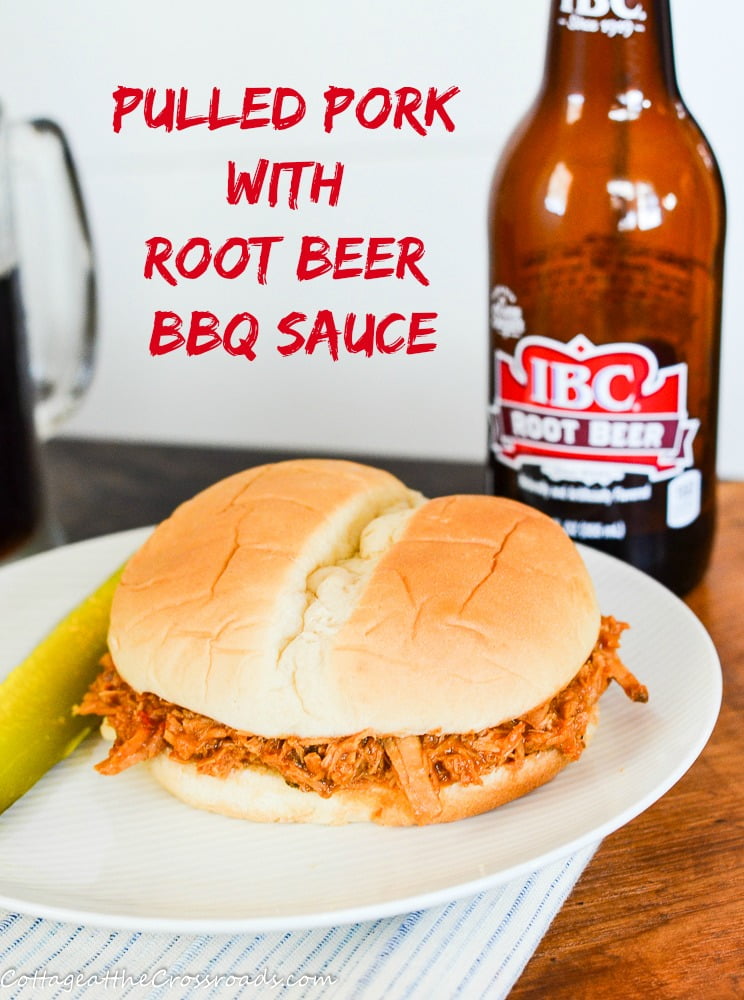 *Some links from this post are affiliate links. That means that I will earn a small commission if you purchase something after clicking the link. See more of our disclosure policy HERE.
The Foolproof Family Slow Cooker and other One-Pot Solutions cookbook is worth it just for this recipe alone.