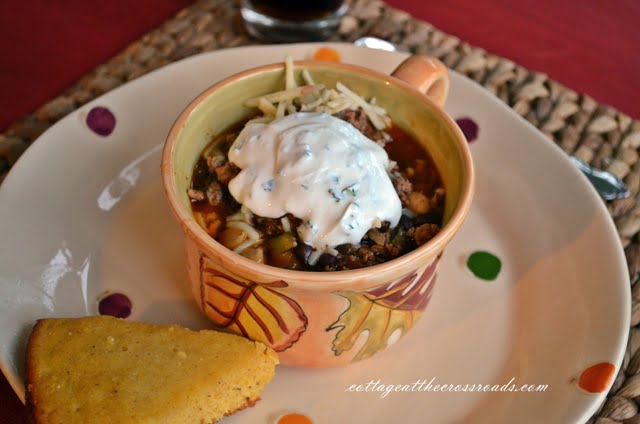 There's nothing like a bowl of warm chili on a crisp, cool fall day, and I decided to add a little kick to my chili by spiking it up with some bourbon. And let me tell you, it is so very good!
This post may contain Amazon or other affiliate links. As an Amazon associate, I earn from qualifying purchases. If you purchase anything through any affiliate link, I may earn a small commission at no extra charge to you. All opinions are my own.
I found this recipe in the October 2012 issue of Country Living magazine. Brian Miske, a reader, had submitted his recipe for Bourbon Chili to the magazine, and the resulting 3 page spread really got my attention. So yesterday I decided to try his recipe. And all I can say is thank you, Brian. Your recipe is amazingly good!
Now I'll have to tell you that I have never had bourbon chili (to my knowledge) in my life. I've tasted chili with all sorts of unusual ingredients, including chocolate. Leo and his partner on the radio participated in Chili Cook-offs for several years, almost always winning Best Presentation. But if they had just added some bourbon to their chili, they would have won 1st place!
The bourbon in this recipe gives the chili complexity and enhances the flavors of all the other ingredients. And this recipe is also a little different from most chili recipes; it has black beans and garbanzo beans rather than the ubiquitous kidney beans.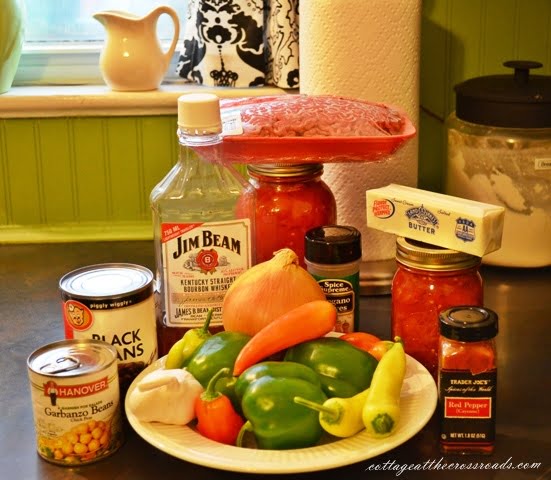 Along with a cup of bourbon, you will need 1 1/4 pound of ground beef,4 garlic cloves, minced, a yellow onion, 3 bell peppers,1/2 jalapeno pepper, 3 tablespoons olive oil, 1/2 stick of butter, 1 (28 ounce) can of crushed tomatoes, a (15 ounce) can of black beans and a (15 ounce) can of garbanzo beans, dried oregano, dried sage, chili powder, ground chipotle pepper, cayenne pepper, salt, and 1/4 cup orange juice (I substituted lemon juice.)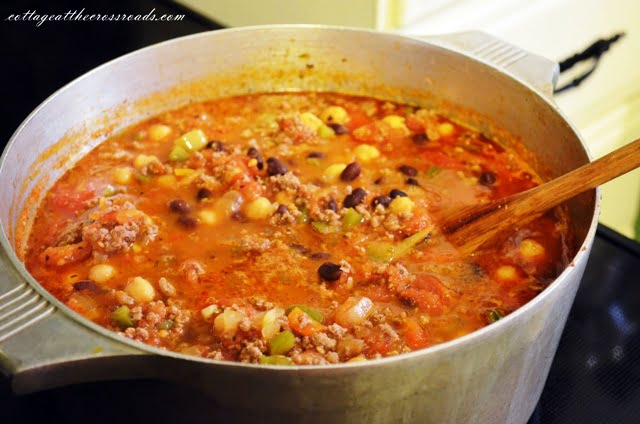 To make the chili:
In a large pot over medium heat add beef, 1/4 cup bourbon, half the garlic, 1 teaspoon dried oregano, and 1/2 teaspoon dried sage. Cook until the meat is browned. Transfer the meat to a bowl and set aside. Discard remaining juices.

In the same pot over high heat, heat the olive oil. Add onion, bell peppers, jalapeno, orange juice, butter, and remaining garlic. Cook, stirring occasionally, until vegetables begin to soften. Add 1 tablespoon chili powder, 1/2 teaspoon chipotle, 1/4 teaspoon cayenne, and3/4 teaspoon salt. Cook, stirring frequently for 1 minute. Add remaining bourbon reduce heat to medium, and cook until liquid is reduced by half.

Add tomatoes and bring mixture to a boil over medium-high heat. Add beans and reserved beef. (If mixture is dry, add up to 1 cup of water.) Reduce heat and simmer, partially covered, for 1 hour.
Now this really is the best part (other than the bourbon!) Chop 3 leaves of fresh mint and add it to a 1/4 cup of sour cream. I just happen to have some fresh mint growing, and I have never added mint to sour cream. But I will NEVER go back to putting plain sour cream on chili now.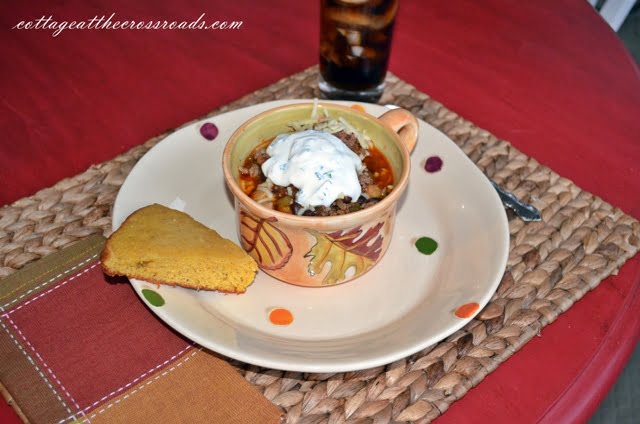 To serve: Divide the chili among bowls and garnish with about a tablespoon of shredded Cheddar or Monterrey Jack cheese. Add a generous dollop of the minted sour cream.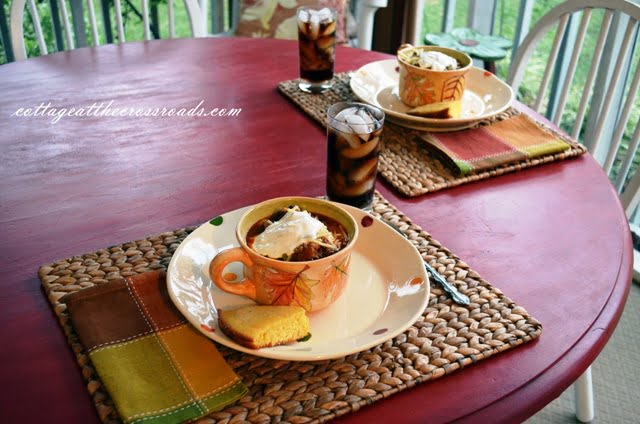 Since it was nice and cool yesterday evening, Leo and I had our chili on the front porch. I served a little cornbread alongside the chili. Leo said there was a plethora of flavors in the chili. That was a real compliment, and that's what you'll get if you use this recipe the next time you make chili.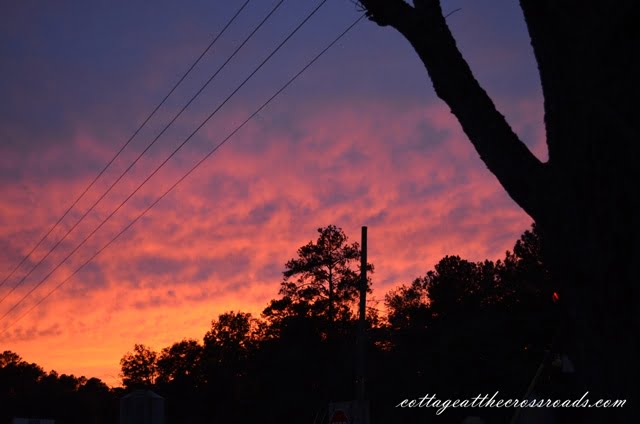 And this was our after dinner treat!
If you'd like a printable version of this recipe, click
HERE
.
Come join me at these parties: