Leo and I made a quick trip to the Low Country this week and brought back some fresh shrimp. I used to make this shrimp pasta all the time when we lived near the coast, but since we live inland now, I just haven't made it in a while.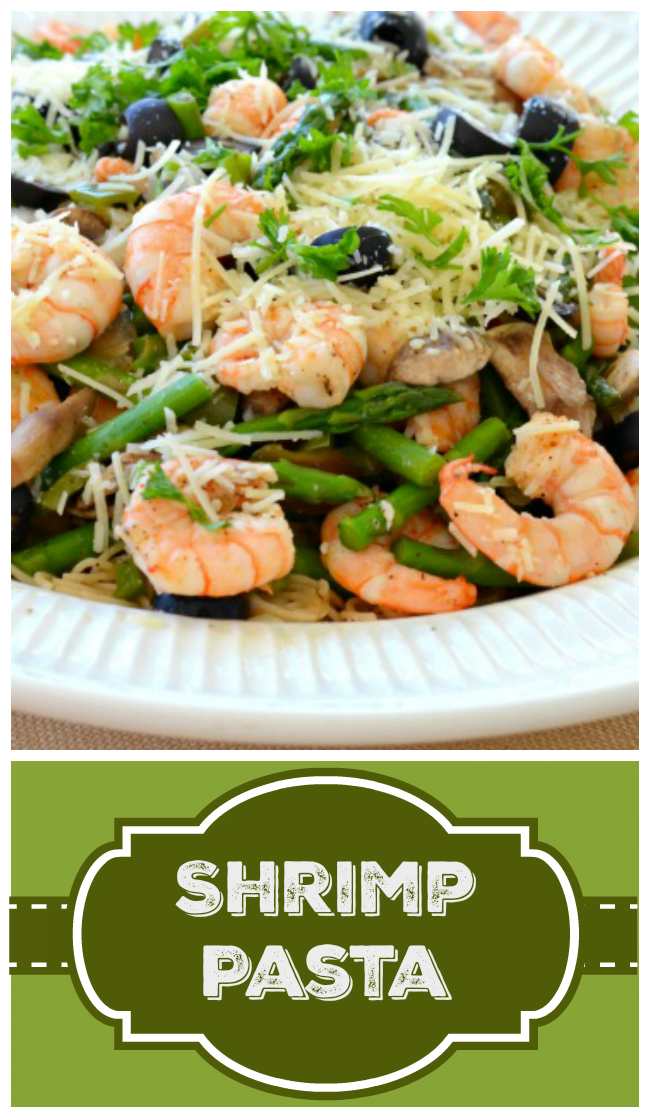 But Leo requested that I make it so that's what we had for dinner last night. And it was so scrumptious! That is the best word that I can think of to describe it. So if you are a shrimp lover, you must try this easy dish. It will feed a crowd and it's great heated up again as leftovers.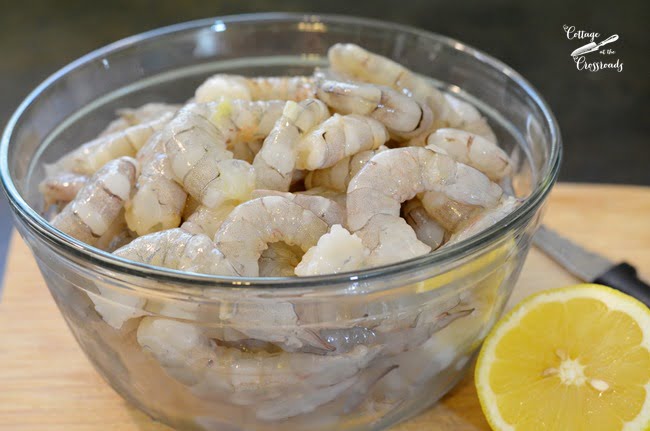 To make this dish, you will need 2 pounds of shelled, deveined shrimp. I like to do this step early in the morning that I'm making this dish. To keep it nice and fresh, I squeeze the juice of half of a lemon over the top, give it a stir, and put Saran wrap over the top. You can certainly use frozen shrimp in making this, but for God's sake, don't use that precooked stuff that comes in a bag and is imported!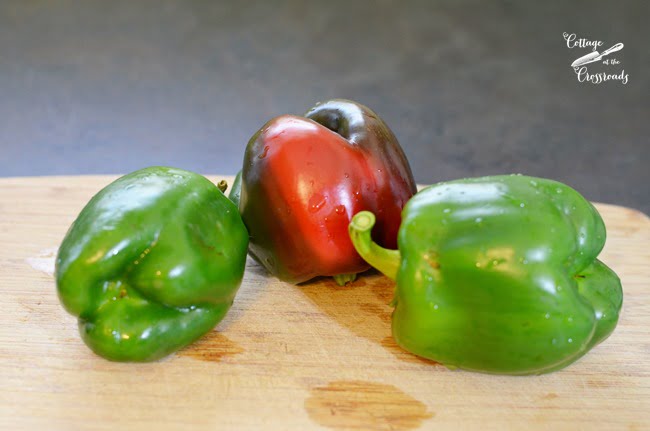 You are also going to need some veggies to add to your shrimp pasta. We are still getting some peppers from our garden so I used 3 of them. They are on the small side so you will just need 1 red pepper and 1 green pepper. Wash and chop them into small pieces and do the same with 1 onion. This is also something else that I do in advance, as well.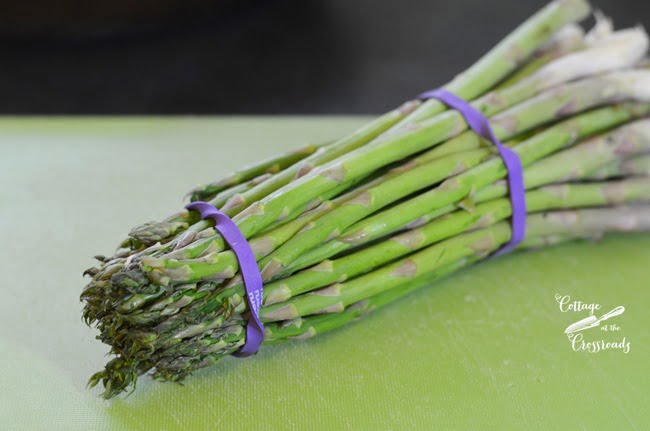 Another veggie that I love in this pasta dish is fresh asparagus. Wash and cut it into pieces about 1 inch long (you know to stop cutting when your knife gives you a little resistance, don't ya?) Anyway, I go ahead and cook the asparagus in a small bit of water for about 1 minute and then immediately submerge the pieces in an ice bath to stop the cooking process and helps to keep the asparagus a nice, green color. And go ahead and wash and slice some fresh mushrooms. Two more things that you can do ahead.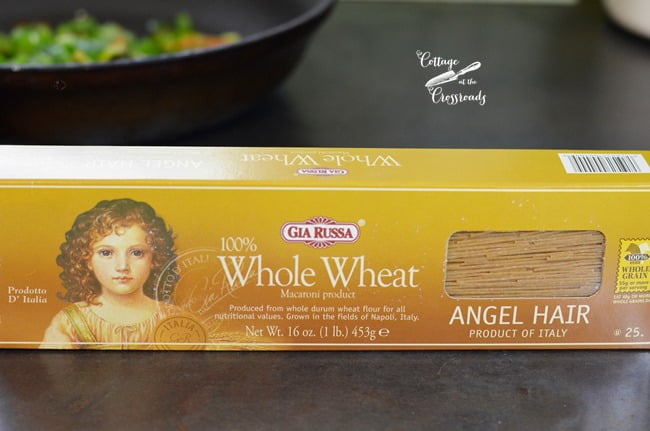 When you get ready to assemble your shrimp pasta, put a large pot of boiling water on to cook your pasta. I prefer to use whole wheat angel hair pasta because it's a little healthier. Just follow the directions for cooking and draining it that are on the box.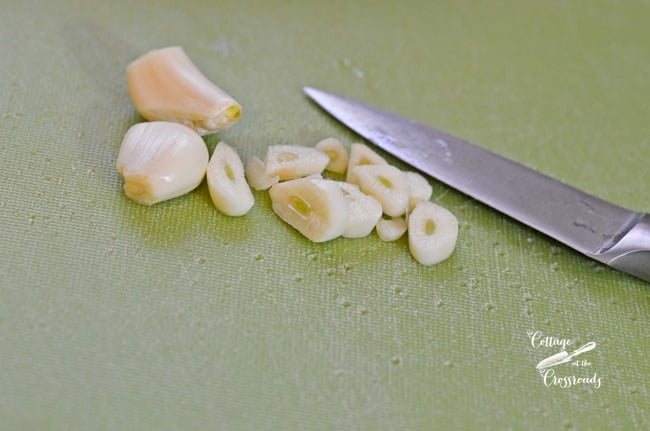 Mince at least 3 cloves of garlic. If you really love garlic, do 4 and set aside.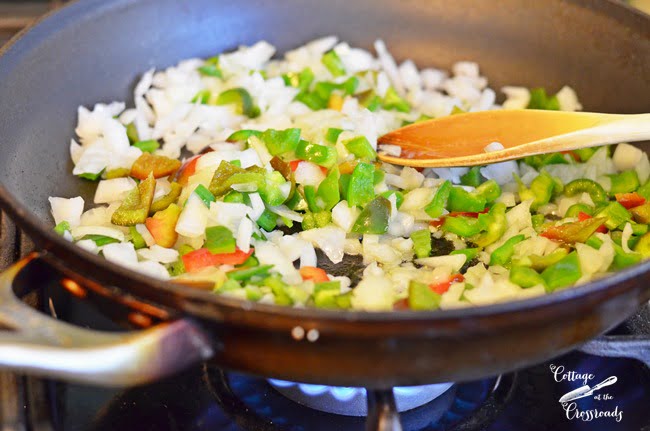 Put 2 tablespoons of olive oil in a large frying pan and saute over medium heat for about 5 minutes. Add the mushrooms and cook an additional 2 to 3 minutes. Remove from the pan and set aside.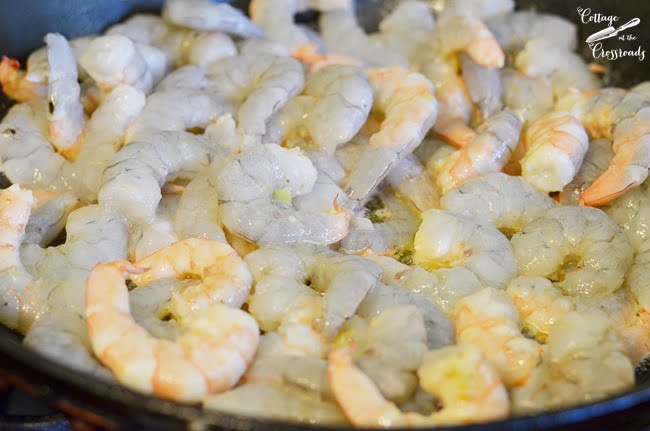 In the same large frying pan, add an additional 2 tablespoons of olive oil and 4 tablespoons of butter. Add the minced garlic and cook over medium-low heat for 2 minutes. Be careful that you do not let your butter and garlic burn! Add the shrimp into the same pan and cook over medium heat until all the shrimp have turned pink. This will only take about 5 minutes so be careful not to overcook the shrimp. Stir the shrimp while it's cooking.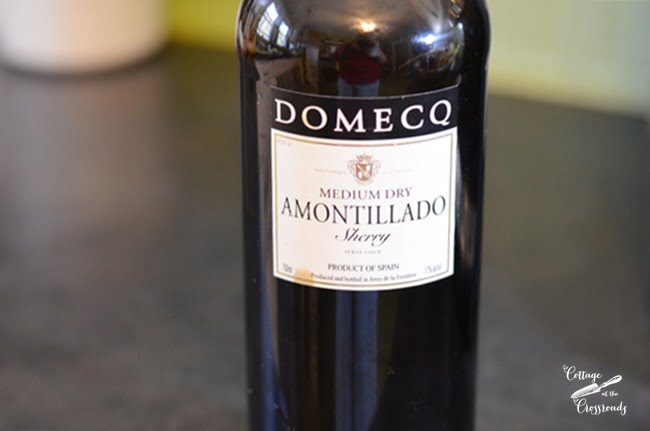 While the shrimp is cooking, add ½ cup of dry white wine and the juice of half a lemon to the mixture. I didn't have any white wine in the house, but I did have some sherry. It works just as well but don't ever use cooking sherry! That stuff is just awful!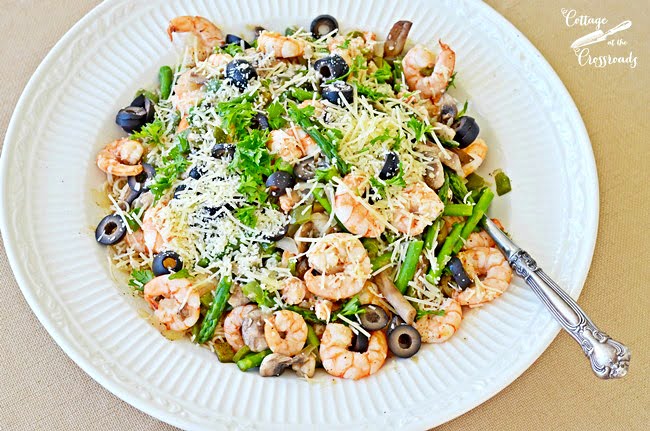 To finish up, add the other cooked veggies to the pan, including the asparagus and give it all a stir. Put your drained pasta into the bottom of a large serving bowl and top with the cooked shrimp and veggies. Add 1 small can of drained, sliced black olives and some fresh grated Parmesan cheese. Garnish the dish with some chopped fresh parsley, if desired.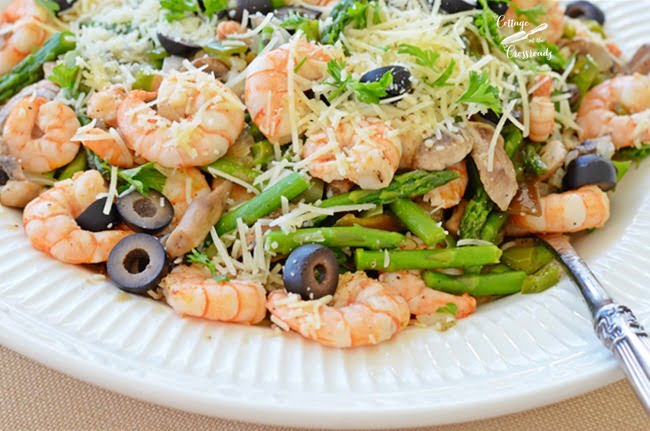 For us, this was a meal in itself, but if you're having guests, a simple salad and some bread would round out everything nicely.
Did I mention that this is absolutely scrumptious?
Shrimp Pasta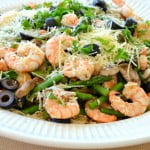 An absolutely scrumptious one dish dinner that's easy to put together
2 pounds fresh shrimp (peeled and deveined (frozen may be substituted))
juice from ½ lemon
1 onion (chopped)
1 red pepper (chopped)
1 green pepper (chopped)
small carton of fresh mushrooms (sliced)
1 bunch fresh asparagus (cut into 1 inch pieces)
3-4 cloves garlic (minced)
small can of black olives (sliced)
4 tablespoons olive oil (divided)
4 tablespoons butter
½ cup dry white wine
½ cup freshly grated Parmesan cheese
small bunch of fresh parsley (chopped)
salt (pepper, and seasoning salt (as desired))
1 box angel hair pasta
For the pasta
Put a large pot of salted, boiling water on the stove. Follow the instructions on the box for the cooking time. Drain in a colander and return to the pot. Keep warm.
For the asparagus
Add the asparagus pieces to a small amount of water and boil for 1 minute. Immediately drain and submerge into an ice bath to stop the cooking process. Set aside.
For the shrimp mixture
In a large frying pan, add 2 tablespoons of olive oil, onion, and peppers. Saute over medium high heat for 5 minutes.
Add the sliced mushrooms to the pan with the onions and peppers and cook for an additional 2-3 minutes.
Remove the onions, peppers, and mushrooms from the pan and set aside.
In the same large frying pan, add 2 tablespoons olive oil and 4 tablespoons butter, and the minced garlic. Cook over medium low heat for 2 minutes.
Add the shrimp, white wine, and the juice of ½ lemon. Cook and stir over medium heat until all the shrimp have turned pink (about 5 minutes.)
Add all the cooked vegetables to the pan, mix together and season with salt, pepper, and seasoning salt, as desired.
Place the cooked pasta in the bottom of a large serving bowl and add the shrimp mixture, including all the pan juices.
Top with black olives, freshly grated Parmesan cheese, and chopped parsley.
Serve immediately.
Place additional freshly, grated Parmesan cheese on the table, if desired.
Makes great, warmed up leftovers!