These stuffed chicken breasts Italian style makes a quick fresh and flavorful weeknight meal but is special enough for company.
Hello friends! Today I'm sharing a new recipe with you that I think you'll love as much as we did. Recently I made stuffed chicken breasts Italian style that are so yummy! And if you love Italian food, you're in for a treat since the The Cooking Housewives are sharing their favorite Italian recipes today which you'll find at the end of this post.
I know I haven't posted since Hurricane Florence blew through but I'm happy to report that we only had small limbs down and did not get the huge amount of rain that was expected. We were spared, but so many in our county and state were not so lucky.
This post may contain Amazon or other affiliate links. As an Amazon associate, I earn from qualifying purchases. If you purchase anything through any affiliate link, I may earn a small commission at no extra charge to you. All opinions are my own.
I just have not felt like blogging about home decor projects when so many people lost everything. But my blogging mojo is back and I'm here today sharing a new recipe that I think you're going to love as much as we did.
First, though, I have to tell you something. This is the very first chicken recipe that I've put on the blog in 8 1/2 years! Leo has been allergic to chicken (and all fowl) for most of his adult life. But about a month ago, he tried eating chicken and he didn't get sick!
So we have been eating lots of chicken lately! Lots and lots of chicken prepared all sorts of ways.
But one of the best things we've had lately are these stuffed Italian chicken breasts!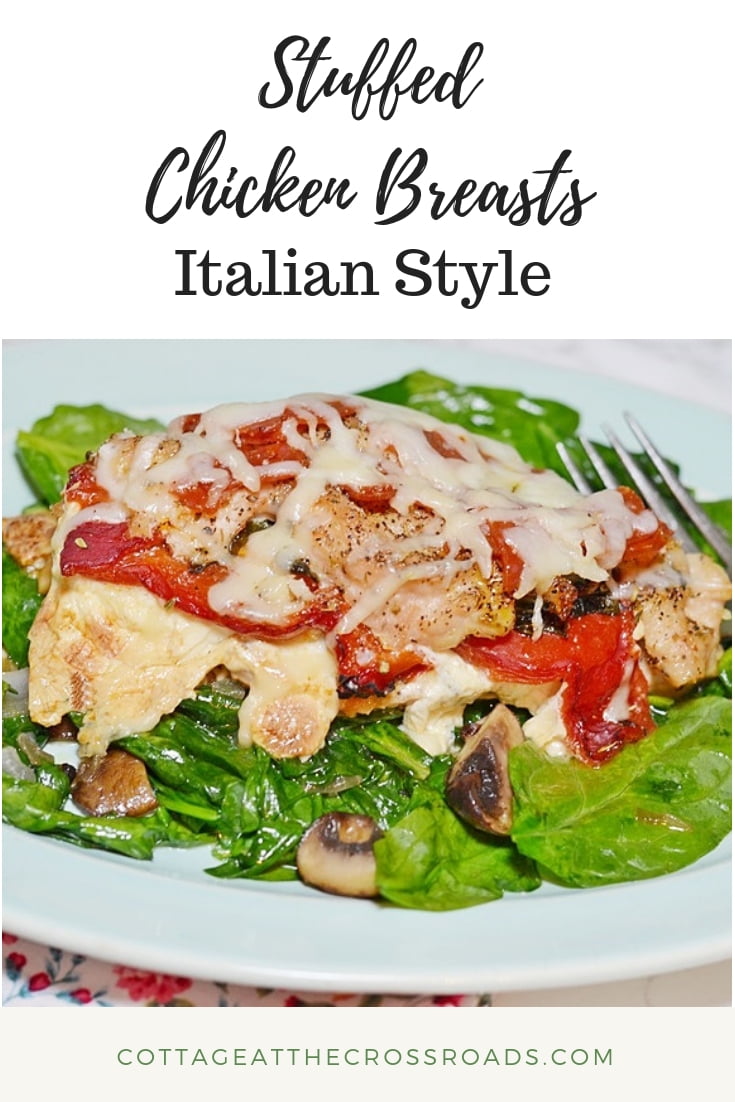 I love Italian food and I love pasta, but what does one do when you're watching your carbs?
My answer: Make this recipe!
It has all the yummy flavors of pizza without all the carbs!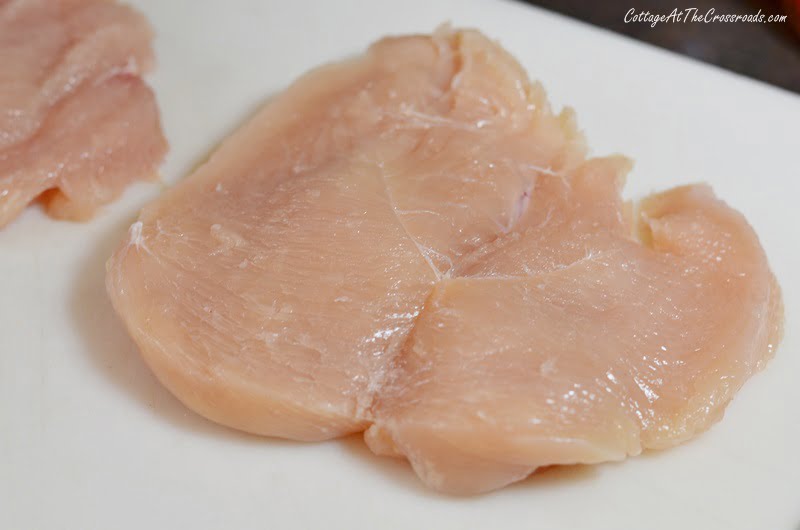 To make this recipe, you're going to need some boneless chicken breasts. Slice through each one horizontally almost all the way but leave a small amount to create a hinge.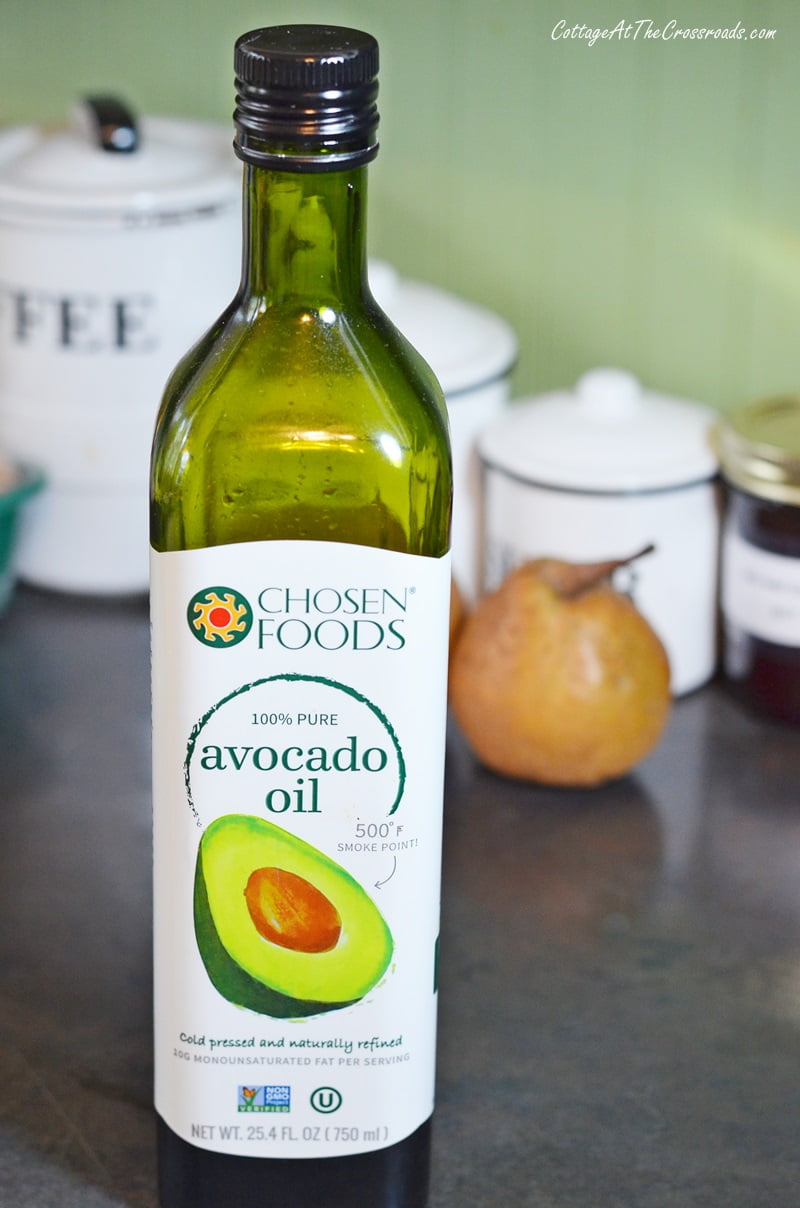 Pour about 1 teaspoon of oil into the bottom of a baking dish and smear it around to lightly grease the dish. This is my preferred oil but you could use olive oil as well.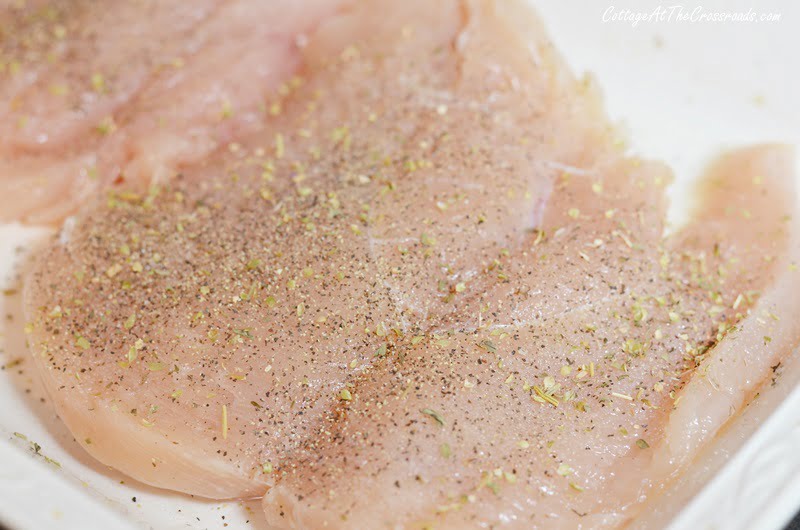 Place the butterflied chicken breasts in the bottom of the dish and season with salt, paper, and Italian seasoning.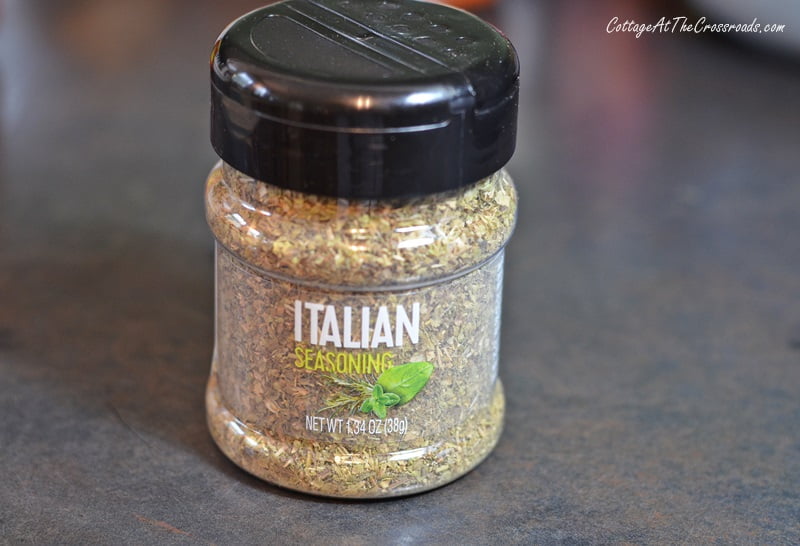 You can purchase Italian seasoning in the spice section of your grocery, or you can use a mix of dried basil, rosemary, oregano, and thyme.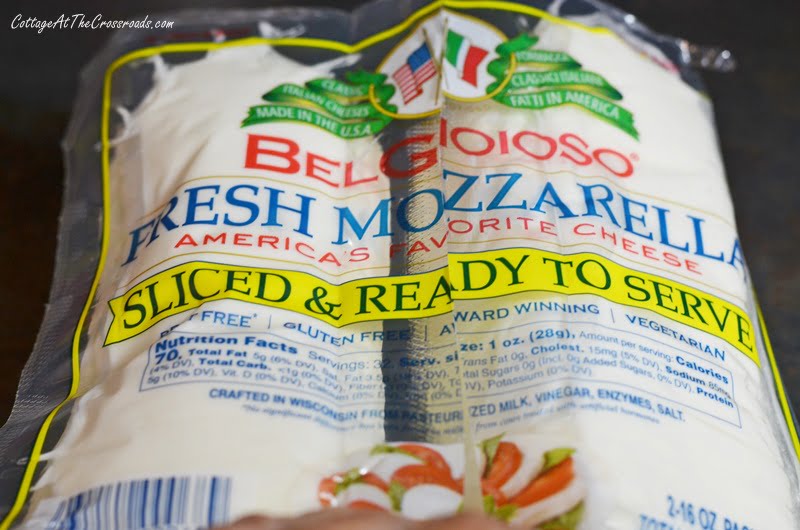 Next, add a couple slices of fresh mozzarella on one side of each breast. I buy my mozzarella cheese from Sams and it is already sliced.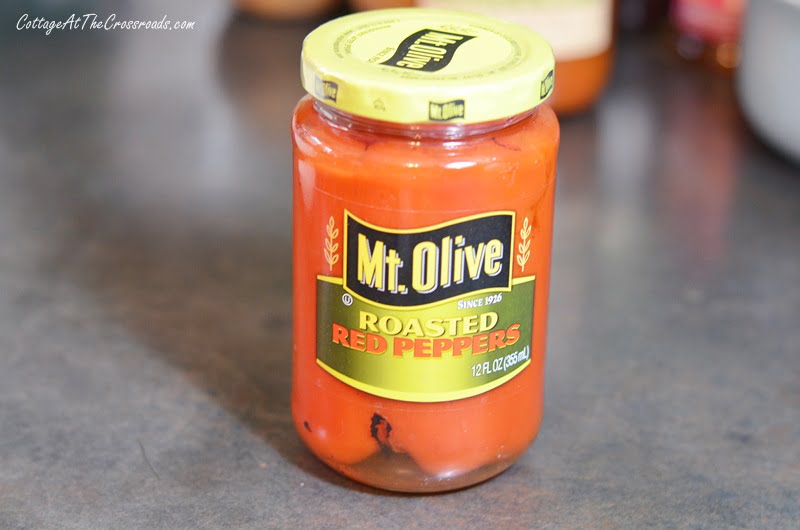 On top of the fresh mozzarella slices, add some slices of roasted red peppers. You could roast some red peppers and use those in this recipe, but the jarred ones work great.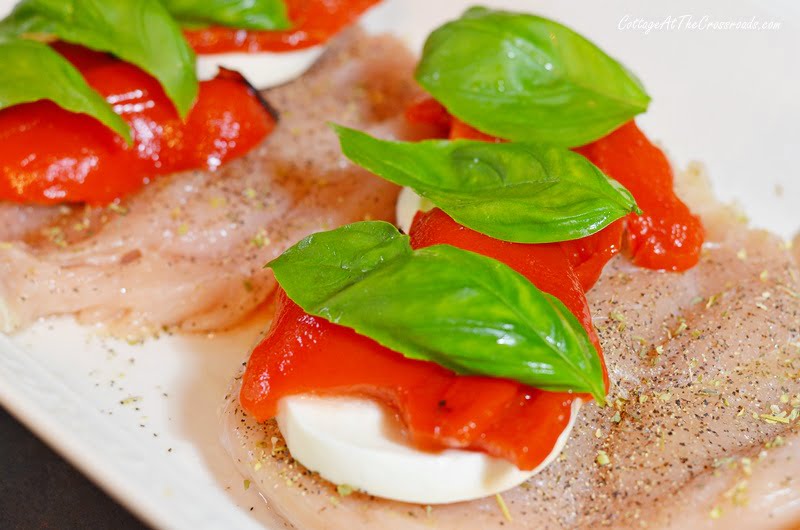 Now what really gives this recipe great flavor are these fresh basil leaves. If you don't have any growing in your garden, splurge and get some fresh basil from the grocery store.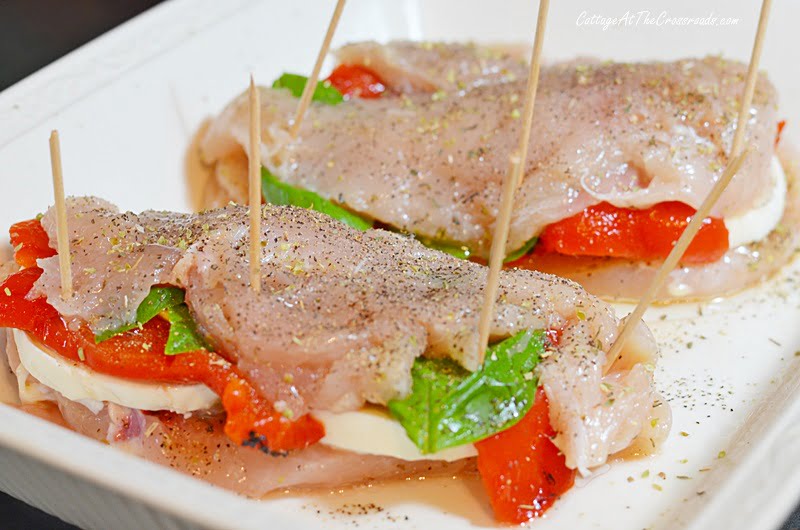 Fold the other side of the chicken breasts over on top of the other ingredients and secure with toothpicks. I actually used wooden skewers that I shortened by breaking!
Add more salt, pepper, and Italian seasoning to the top of each breast.
Place in a pre-heated 400 degree oven and bake uncovered for 30-40 minutes.
Meanwhile, grate some fresh Parmesan cheese and place in a bowl. Mix in some shredded packaged Mozzarella cheese and about 10-12 slices of pepperoni, cut into small pieces.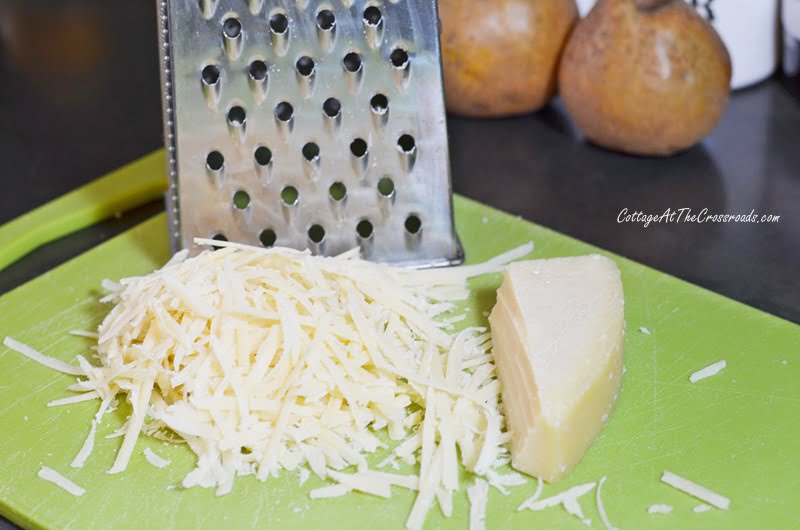 Remove the chicken breasts from the oven and turn oven to broil. Top the chicken with the cheese and pepperoni mixture and broil until bubbly and browned (about 5 minutes.)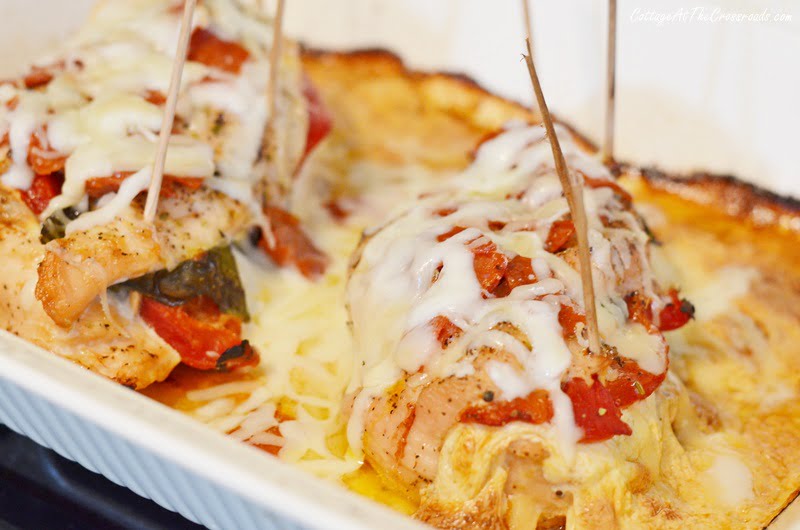 Just look at that oozing cheese! Oh, lawd! All the flavors of a pizza without the crust!
If you are not watching your carb intake, you could certainly serve the stuffed chicken breasts over some pasta. Other options would be to serve them with baked spaghetti squash or cooked zucchini zoodles.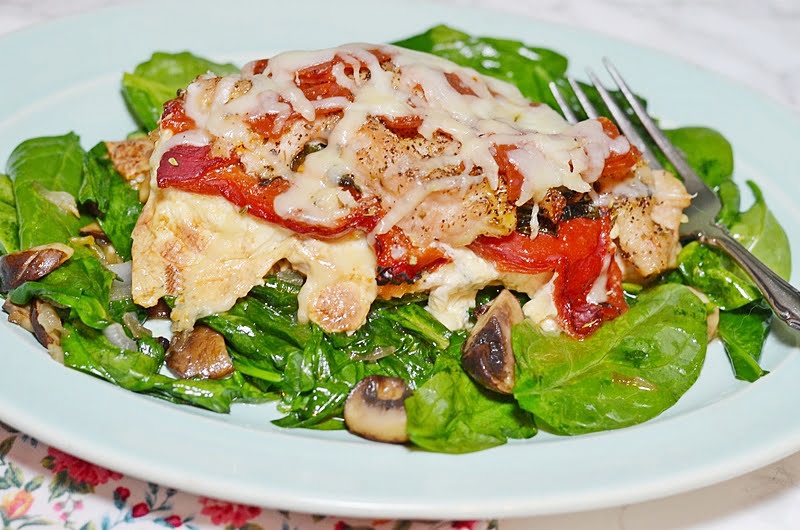 But I chose to serve these on a bed of lightly sauteed spinach, onions, and mushrooms.
Leo loved these stuffed chicken breasts Italian style. They will be a regular at our house until the chicken curse returns. (That's what we call his chicken allergy!)
If you give them a try, please come back and rate the recipe by using the little stars near the comment section. Thanks so much for taking the time to do that!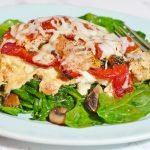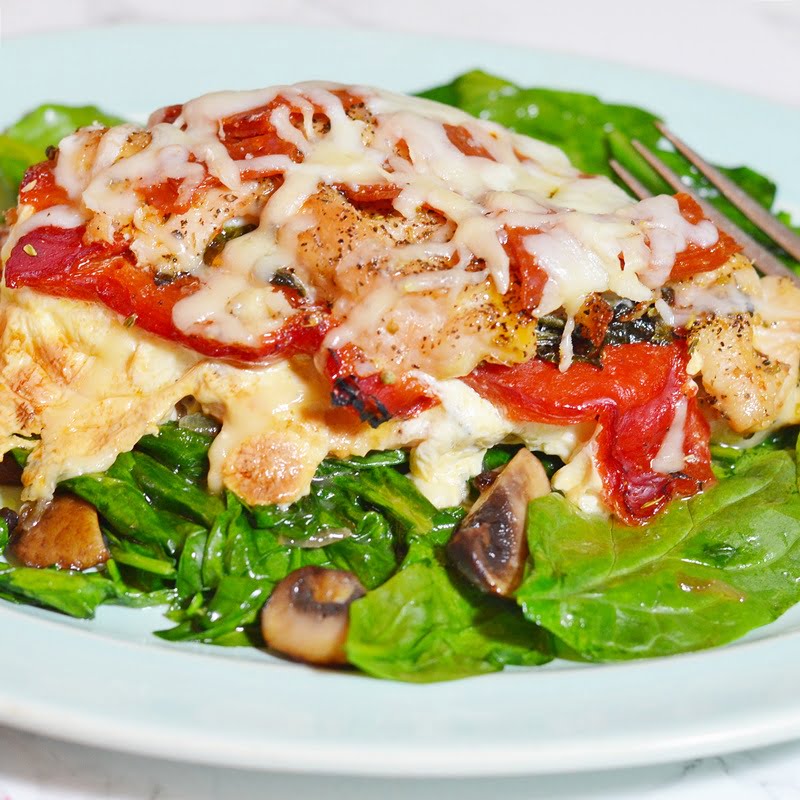 Stuffed Chicken Breasts Italian Style
These stuffed chicken breasts have all the full flavors of a pizza without all the carbs.
Ingredients
1

tsp

avocado or olive oil

2

large

boneless chicken breasts

butterflied

1

tablespoon

salt

divided

1

tablespoon

pepper

divided

1

tablespoon

dried Italian seasoning

divided

4

slices

fresh mozzarella cheese

6

slices

roasted red peppers

6

leaves

fresh basil

1/4

cup

fresh Parmesan cheese

grated

1/4

cup

packaged mozzarella cheese

shredded

12

slices

pepperoni

cut into small pieces
Instructions
Preheat over 400 degrees.




Pour 1 teaspoon avocado or olive oil in a baking dish and spread around in the bottom to grease the dish.

Butterfly each chicken breast by cutting them almost in half horizontally but leaving a small hinge. Open up each breast.

Season each opened breast with salt, pepper, and dried Italian seasoning.

Add 2 slices of fresh mozzarella cheese on one side of each breast.

Layer 2-3 slices of roasted red peppers on top of the cheese.

Add 3 fresh basil leaves on top of the peppers.

Fold over the other side of each breast and secure the sides together with several wooden toothpicks.

Place in a 400 degree oven and bake for 30-40 minutes (depending on the size of the breasts.)

Remove from the oven and turn the oven to broil (high.)

Mix together the grated fresh Parmesan cheese, the shredded packaged Mozzarella cheese, and the chopped pepperoni.

Top each breast with the cheese and pepperoni mixture and broil until bubbly and browned (about 5 minutes.)

Serve over cooked pasta, spaghetti sauce, zucchini zoodles or sauteed spinach.
Recipe Notes
To make the sauteed spinach, place 1 tablespoon of olive oil in a skillet and add 2 minced garlic cloves, 1 small diced onion, and 6 small sliced fresh mushrooms. Cook over medium heat until the onions become translucent. Stir in fresh spinach and cook for about 1 minute. Remove from heat.
Nutrition Facts
Stuffed Chicken Breasts Italian Style
Amount Per Serving (1 breast)
Calories 634
Calories from Fat 324
% Daily Value*
Fat 36g55%
Cholesterol 195mg65%
Sodium 1276mg55%
Carbohydrates 8.9g3%
Protein 66.9g134%
* Percent Daily Values are based on a 2000 calorie diet.
Now, let's see what other Italian recipes the Cooking Housewives have for you today. You know they all have to be good!