Hello everyone! I'm back with another recipe from my files, and spring is the perfect time to make this delicious and easy asparagus tart.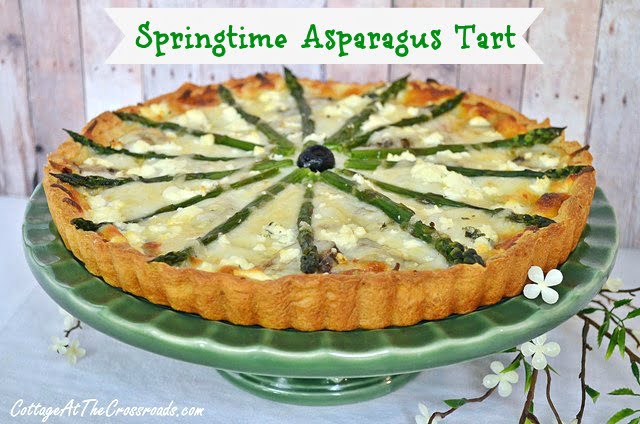 I know, you think that this is too pretty to be easy, but it really is! And since asparagus is at its freshest right now, that makes it even better.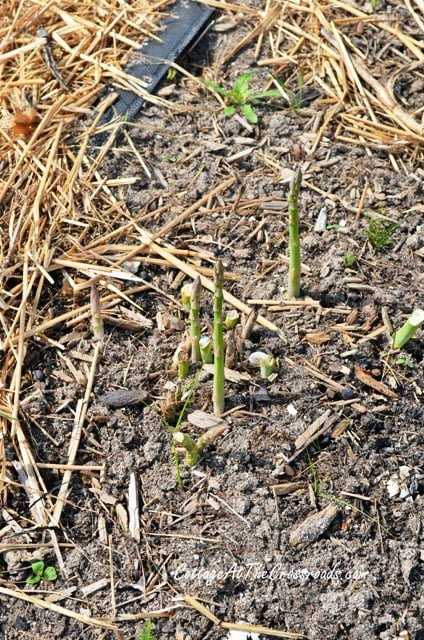 We have asparagus growing in our garden, and this is the third year that it's been growing. Growing asparagus is a lesson in planning and patience. Because this perennial grows and produces for 20 years, you must plan where you are going to place it. We made a designated area for our bed. And you must be patient because you cannot harvest many of the spears until the third year, and even then, you can only harvest over a period of 3-4 weeks.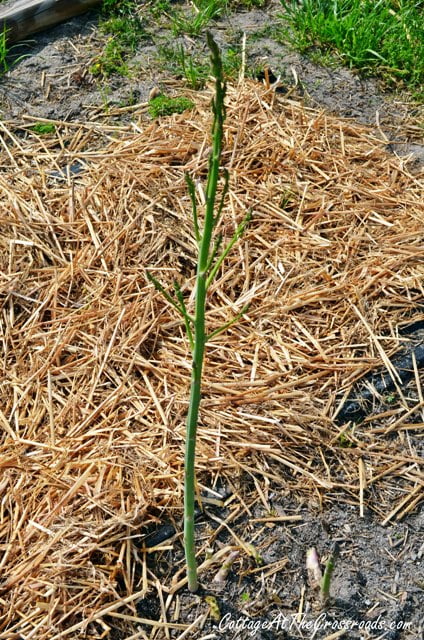 The asparagus plants will tell you when to stop harvesting because the spears will begin to get tall and spindly. That's when you just let them continue to grow to create fronds.
Fresh picked asparagus is far more tasty and tender than what you buy in a store. Well, the same goes for just about anything that you grow yourself. Try to get your hands on some home grown asparagus to make this tart, but if you have to use store-bought, that's ok too because I've made it with both.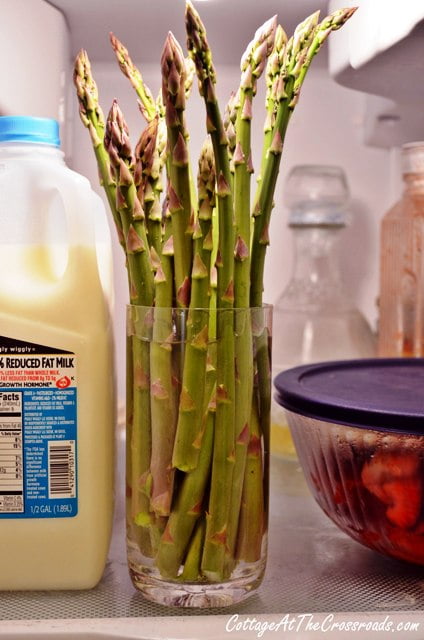 Either way, store your asparagus in a container of water in the refrigerator until you are ready to use it.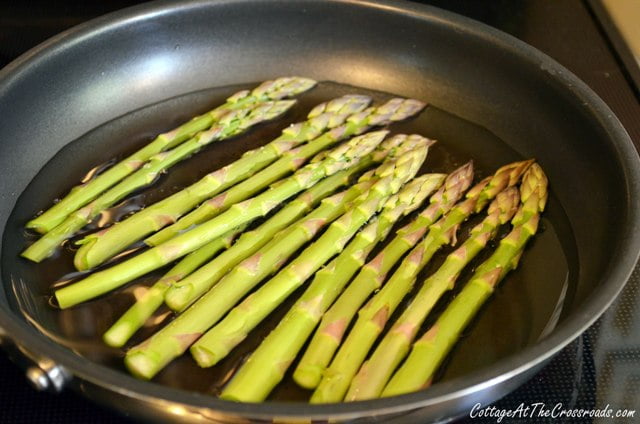 The first step in making this tart is to cook your asparagus. Snap off the tough ends and then cover the spears with water. Cook them on medium high for about 2-3 minutes. Immediately pour off the water and run cold water over them to stop the cooking process. Then drain the spears on paper towels.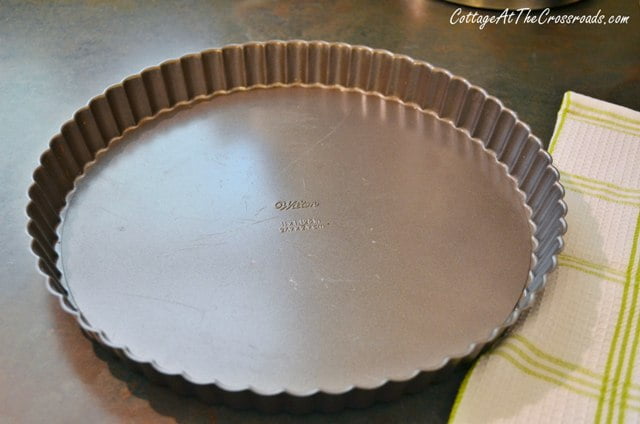 To make this recipe, you will need a special tart pan with a removable bottom. This one is 11 inches in diameter and by Wilton.  If you remember, I've used this pan before to make a recipe from the book Tart Love by Holly Herrick, which is a whole book dedicated to making all sorts of wonderful tarts.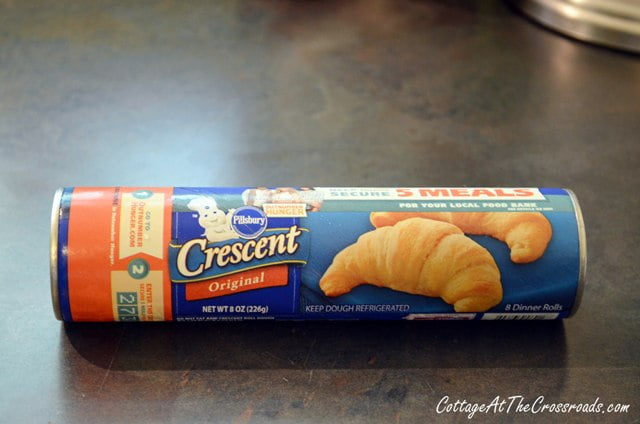 To make the crust for this tart, just use a can of crescent roll dough. Separate the perforated triangles and press them into the tart pan. I start by placing the first triangle with the point in the center of the pan and the widest edge against the rim of the pan.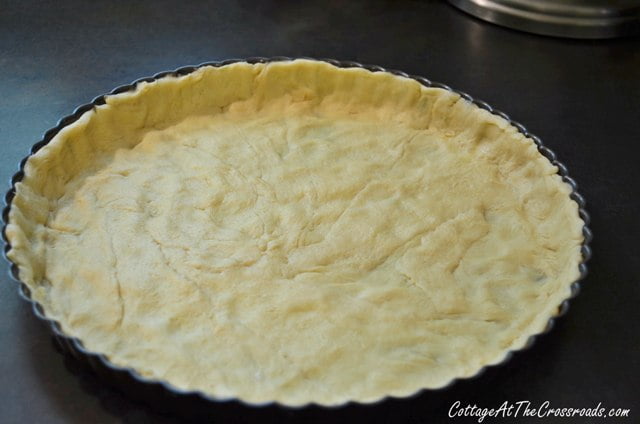 Then I keep pressing the triangles together and spreading the dough until it covers the whole pan. Speaking of tarts and dough, my roasted tomato cherry tarts are fantastic.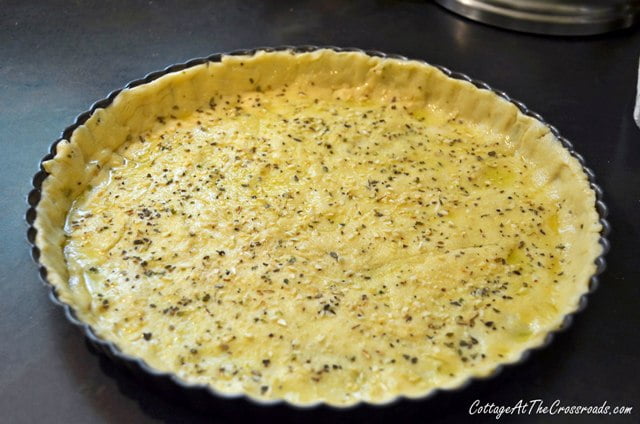 Brush the dough with a tablespoon of olive oil and evenly sprinkle it with a teaspoon each of dried minced onion and dried crushed oregano and a little salt. Bake the crust in a preheated 400 degree oven for 5 minutes.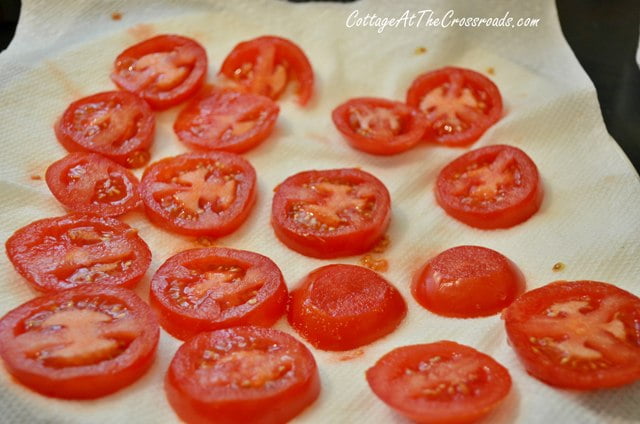 Meanwhile, slice your tomatoes and let them drain on a paper towel. If they are particularly juicy, pat them with another paper towel.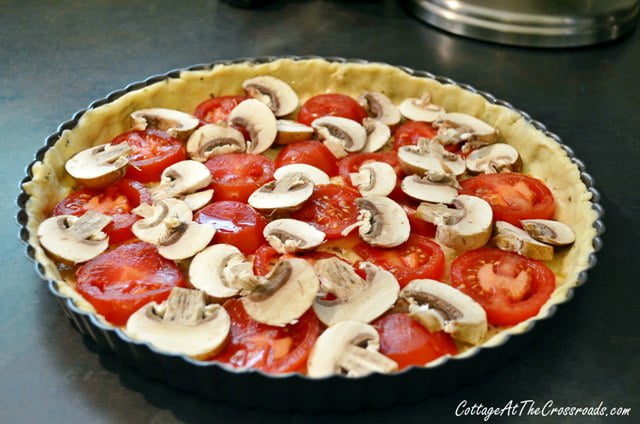 After you take the crust from the oven, spread the sliced tomatoes and mushrooms over the bottom. Add 8 ounces of shredded mozzarella cheese.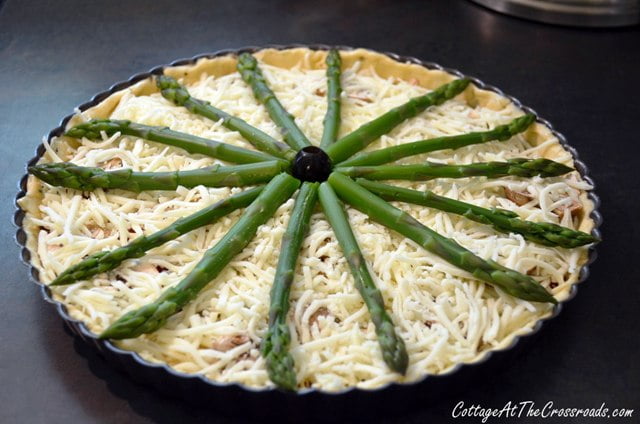 Arrange your cooked asparagus like spokes on a wheel. You may have to trim the ends of each spear to make them fit into the pan. I added a black olive in the center just for looks!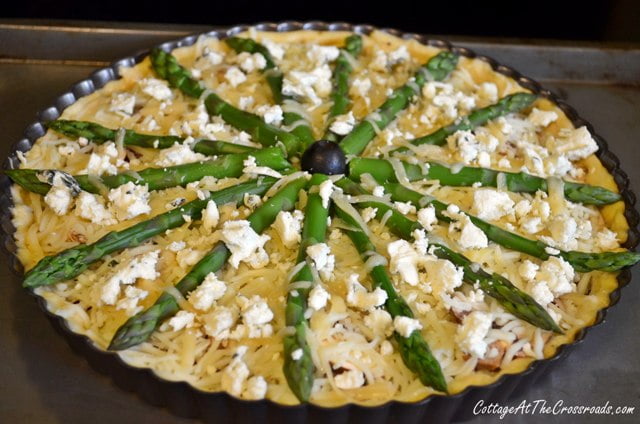 Add about 4 ounces of fresh grated Parmesan and about 2 ounces of crumbled goat cheese on top of the asparagus. Bake in a 400 degree oven for 15 minutes.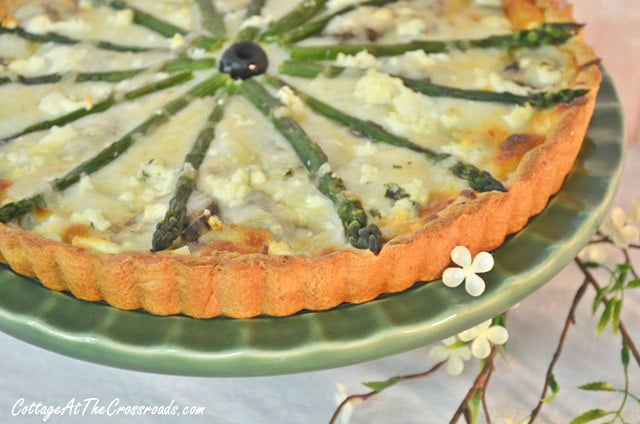 It looks especially pretty on a cake stand and makes a great addition to any luncheon menu.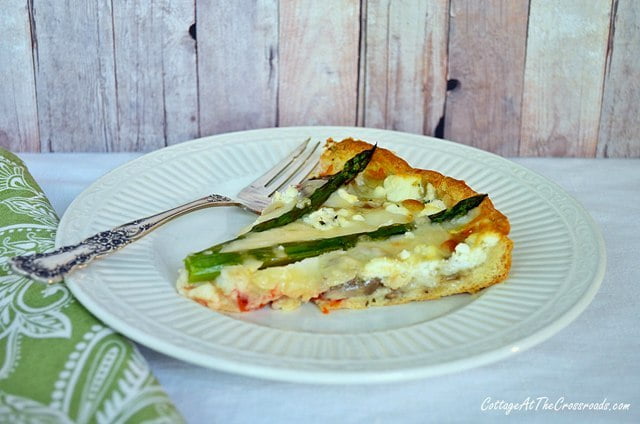 Serve warm and cut into wedges. If you happen to have any leftovers, it is equally delicious warmed up in the microwave the next day.
See, I told you this was an easy taste of springtime!
If you'd like a printable version of this recipe, click HERE.