Yesterday I made shrimp and grits for dinner. Leo and I used to live near Charleston, South Carolina. Shrimp and grits is the quintessential Low Country dish.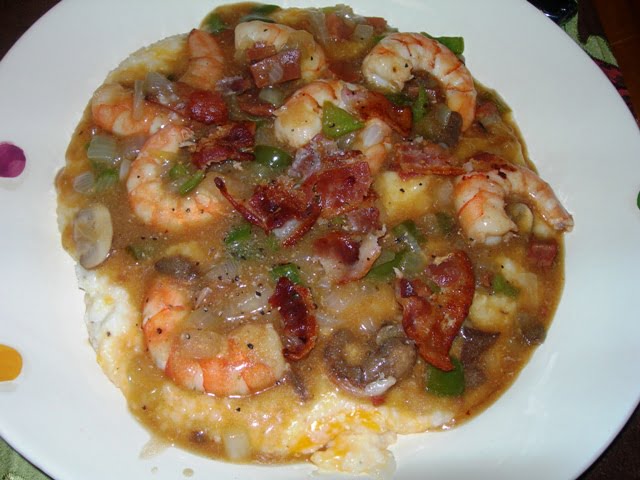 It's on just about every menu in the restaurants, and you will find as many recipes for this dish as there are restaurants in Charleston. In fact, grits are the official state food of South Carolina. And in case you don't know, grits are coarse ground corn that has sustained the Native Americans and the Southerners for centuries.
This dish probably started as a breakfast item, but now it's served as a main dish for dinner (or supper as it's called in the South.) It makes a perfect one dish meal. And since you can do a lot of the prep for this dish earlier, you can quickly put it together at the last minute.
When we lived in the Low Country, we always made this dish with fresh shrimp. But now that we live inland, I use a bag of frozen shrimp that I buy at Sams.
Now, to make this dish, you need some good grits. Stone ground, long cooking, white grits are worth the extra time and expense.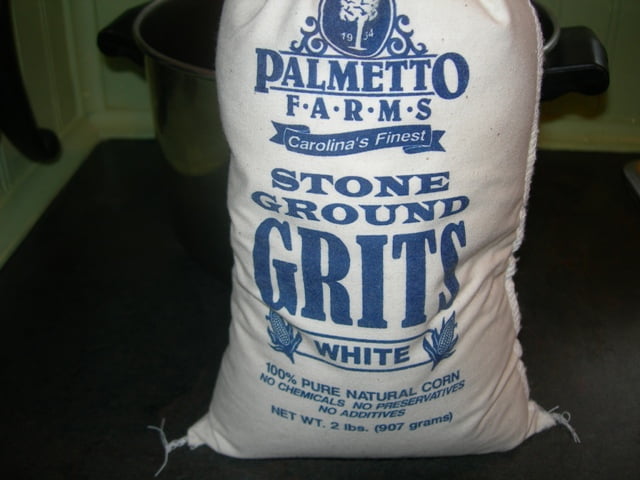 But, if you can't find stone ground grits, then you can use quick cooking grits. But don't even think about using any instant grits!
You're going to need something to flavor those grits. Most people add chicken broth to the water used to cook the grits in, but Leo is allergic to all fowl, so I substitute ham broth. And I add some diced, cooked ham to my shrimp mixture for additional flavor.
Early on the day that I'm going to make this dish, I start by cooking a small (about 2 ½ lbs) precooked, sliced hickory smoked ham in the oven with a small amount of water for about 30 minutes at 350 degrees. Be sure to cover the ham to keep it moist and juicy. Set it aside to cool. When cool, remove the ham from the broth. Chop about 4 slices of the ham into small pieces. Reserve the broth for use later. You will have plenty of left-over ham to use for another meal. (I used mine to make ham salad.)
Also, early in the day, thaw and peel your frozen shrimp. I sprinkle mine with 3 tablespoons lemon juice if I am going to keep it in the refrigerator a few hours before I cook it. (If using fresh shrimp, add the lemon juice as you are cooking the shrimp.)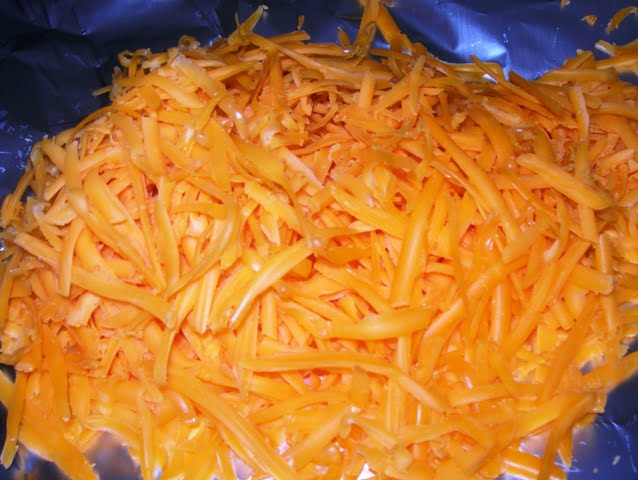 I also grate 2 cups of cheddar cheese and chop an onion, a large green pepper, a clove of garlic, and fresh mushrooms in advance.
About an hour before you will be serving, make your grits. To a large pan add 7 cups water, ½ cup ham broth, and 1 cup of milk( or heavy cream.) Bring to a boil. Add 1 tablespoon salt.Now this is very important. Very slowly add 2 cups of grits to the liquid while stirring so that your grits will not clump. Some people use a whisk, but I just use a spoon. Continue to stir until you've added all your grits.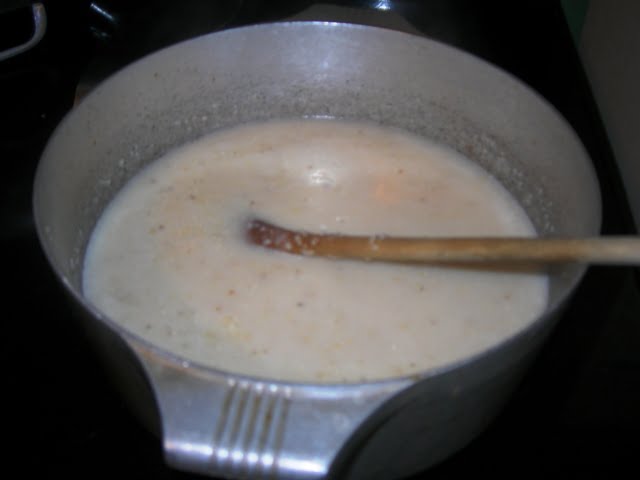 Sorry for this picture. It's hard to stir and take a picture at the same time!
Reduce the heat to low, cover with a lid, and cook the grits for 30 minutes. Stir occasionally. Add ½ stick of butter to the grits when they have finished cooking. If they seem too thick, add additional milk or cream. Turn off the heat and keep the lid on so that they will stay warm. Add 2 cups of grated cheddar cheese immediately before serving.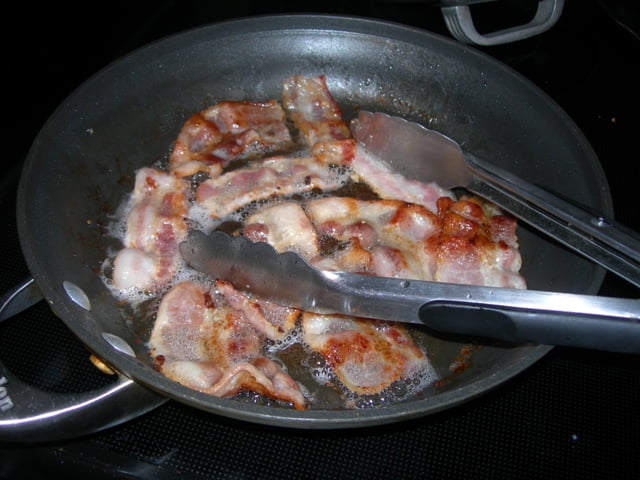 In a frying pan, cook 5 slices of bacon until crisp. Remove the bacon and drain on a paper towel. Put aside to cool.
In the bacon grease add 1 chopped onion, 1 chopped green pepper, and 1 chopped clove of garlic. Cook about 10 minutes or until the onions are transparent. Set aside.
In another frying pan, add 2 tablespoons olive oil and ½ stick butter. When the butter has melted, add sliced fresh mushrooms and a pound to a pound and a half of peeled shrimp to the pan and saute until the shrimp are pink and thoroughly cooked. Add 2 tablespoons sherry or white wine to the mixture as you are cooking. And if you didn't add any lemon juice earlier to the shrimp, add it now. Cook for 2-3 additional minutes.
Now at this point, you can add a flour paste to thicken the liquid in the pan, but I take a shortcut here and use bottled gravy.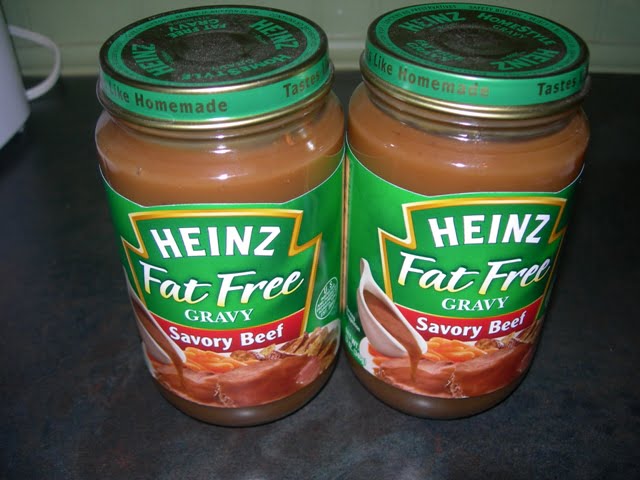 I use 1 jar of Heinz mushroom gravy. Yes, I know. That's beef gravy in the photo. That's because I sent Leo to the store and that's what he brought home. Doesn't really matter.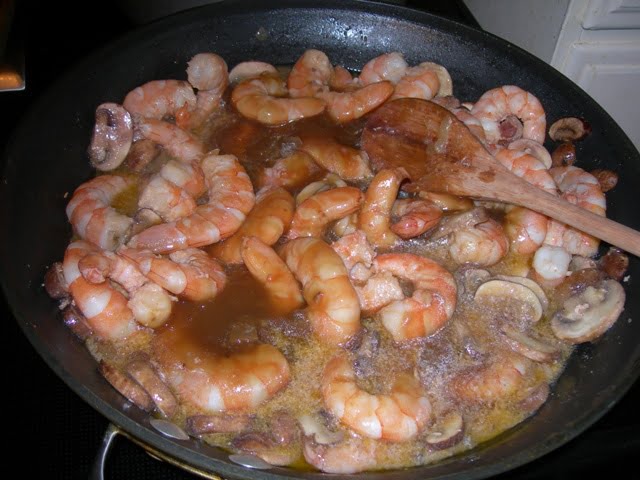 Add the gravy and the chopped ham and stir. Add the onion mixture to this pan and season with salt and pepper. Mix everything together and remove from the heat.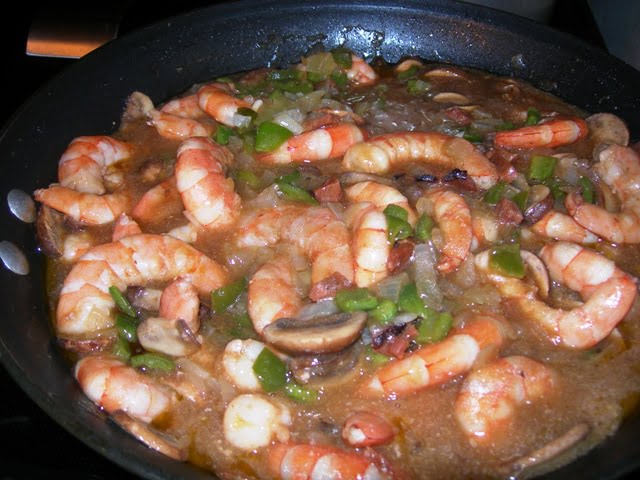 To serve: Spoon the grits onto individual plates or large bowls. Top with the shrimp mixture and crumble some bacon on top.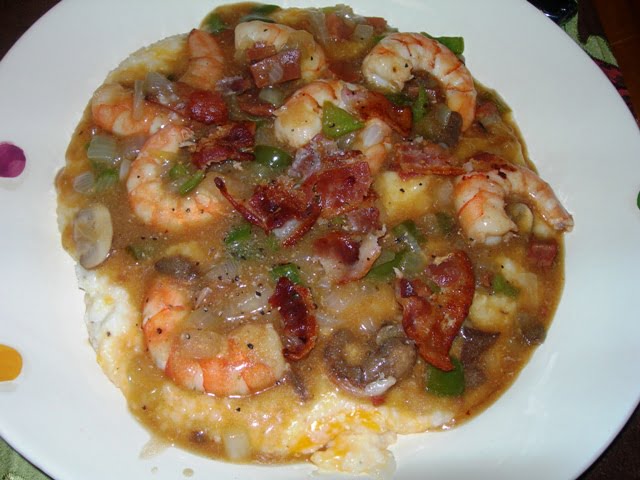 Oh my gosh, it's so good! You would think you'd died and gone to heaven!
Click here if you'd like a printable version of this recipe.