Desserts don't have to be complex or time-consuming to be enjoyable. From no-bake bites to homemade ice cream, there are countless lazy dessert ideas to explore.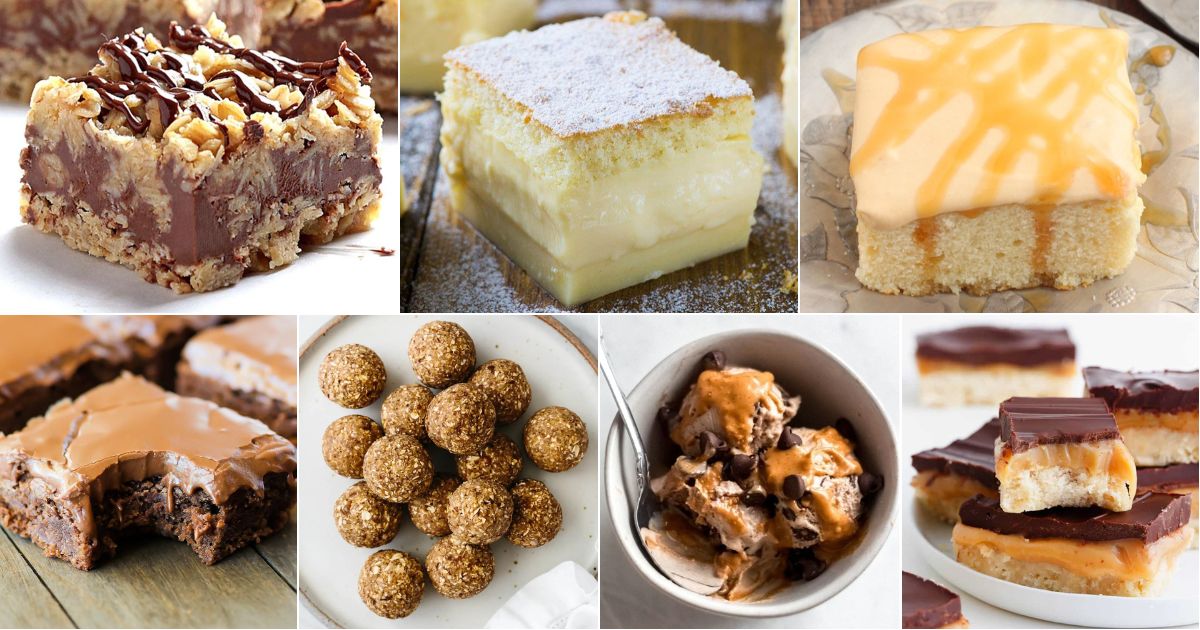 Read on for some simple and delicious recipes to finish dinner on a sweet note or treat your guests to the perfect sugary snack.
Contents
1. Sarah's Pound Cake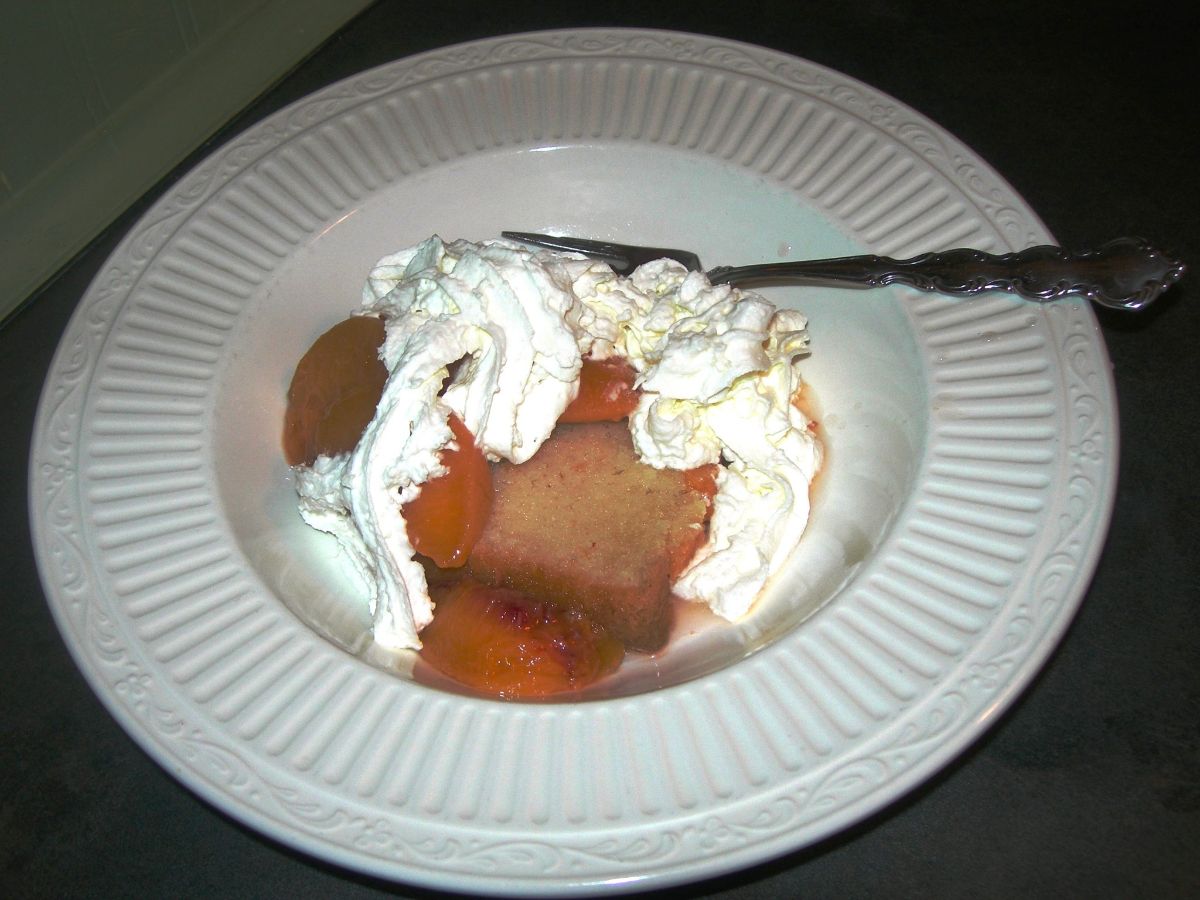 You can't go wrong with a pound cake. This timeless dessert is sure to be a crowd pleasure with its soft texture and delicious buttery taste.
Plus, it's easy to make and requires simple ingredients you probably have on hand. This pound cake recipe uses a cup of sour cream and some vanilla flavoring to sweeten the taste and enhance the texture of the cake.
Serve this simple pound cake with some fresh fruits, nuts, chocolate syrup, and other favorite toppings!
2. Lemon Silk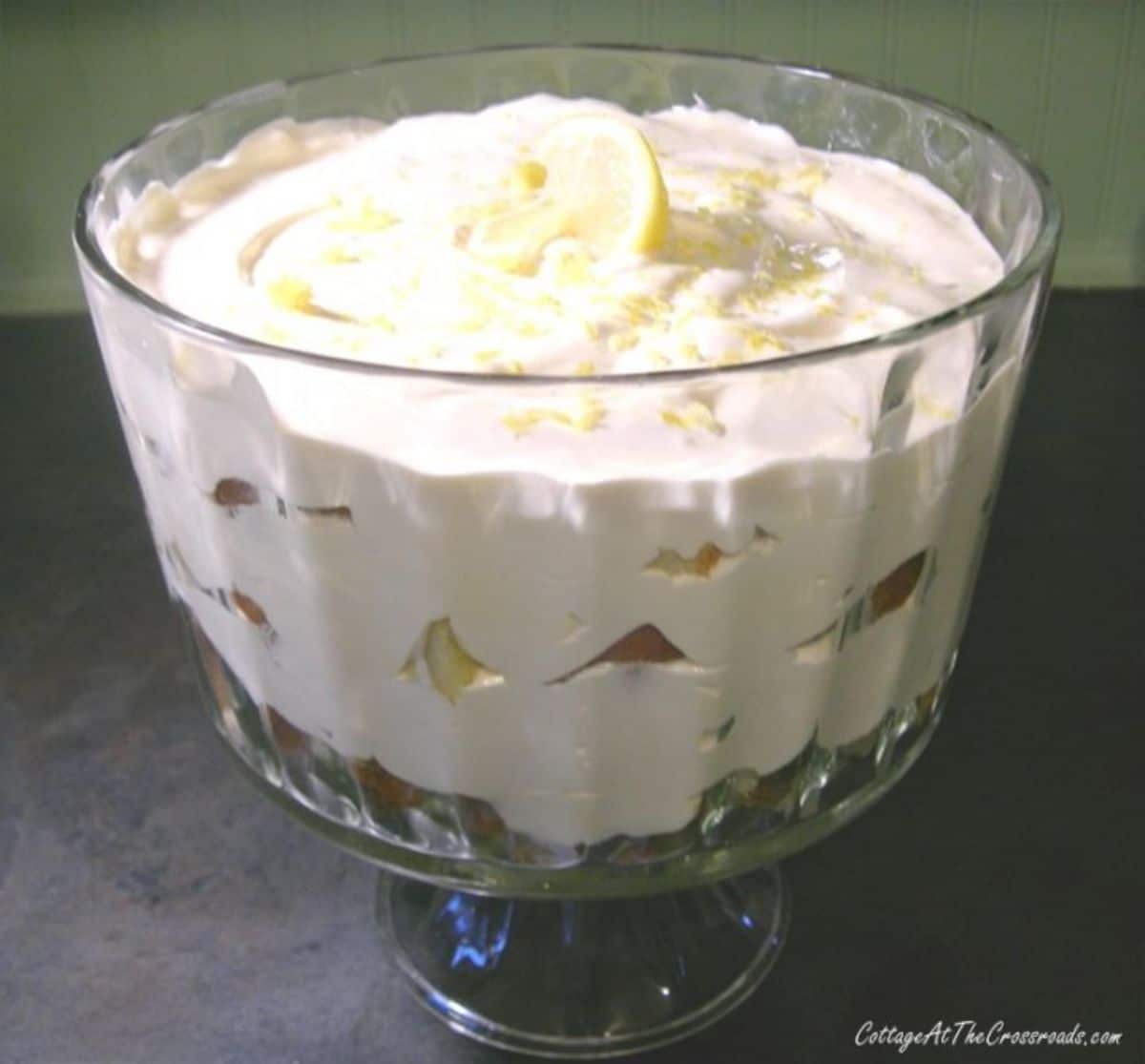 This lemon silk recipe is the perfect mix of sweet and tart. You'll get a cool and creamy topping you can use to decorate a simple pound cake or dip store-bought shortbread cookies for the ultimate summertime treat.
This recipe doesn't require any baking, and the lemon silk comes together within minutes as long as you have a mixer. It's easy to adjust the quantities to prepare lemon silk for a large group of people, and leftovers keep well in the fridge.
3. Patriotic Dessert in a Jar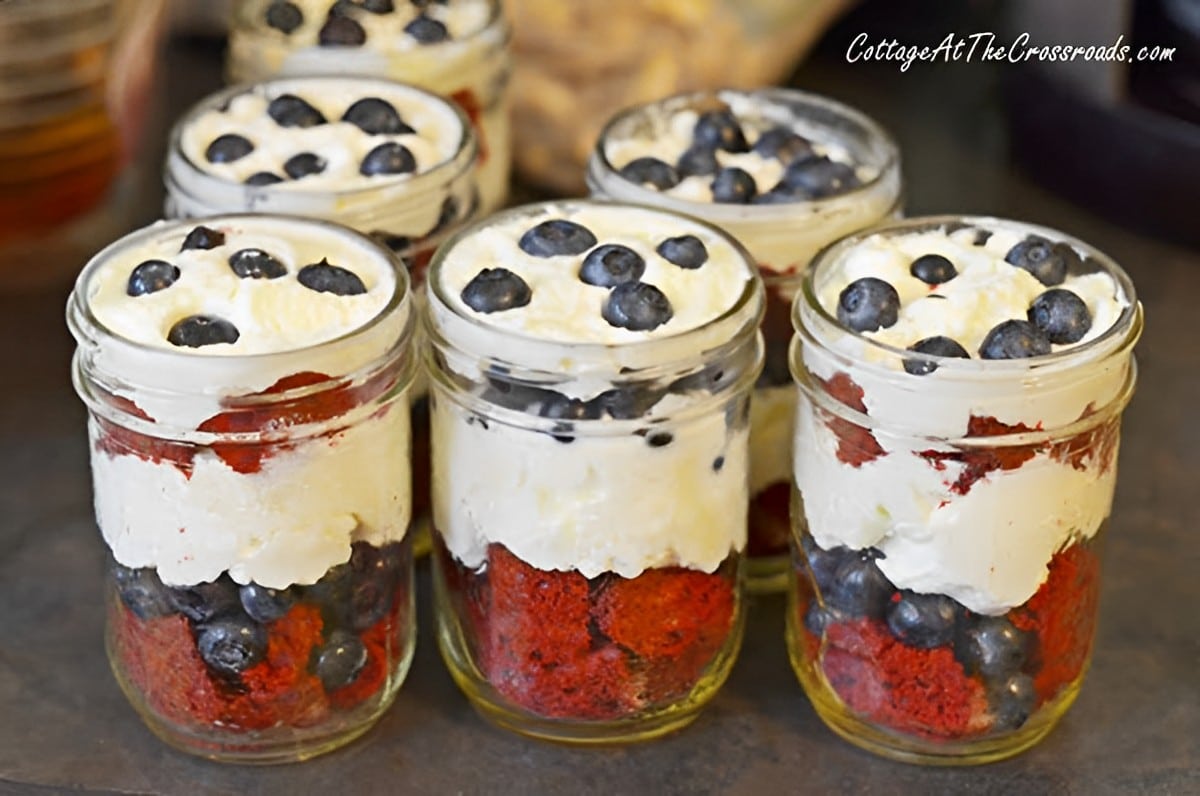 If you're looking for lazy dessert ideas, desserts in jars are a fun way to prepare visually aesthetic treats with little work required.
These patriotic desserts in a jar create elegant red, white, and blue layers with red velvet cake, whipped cream, and blueberries. They're the perfect way to elevate a store-bought cake mix, and serving desserts in a jar is convenient if you're hosting a get-together outdoors or want to send guests home with a sweet treat.
4. Jean's Fruitcake Cookies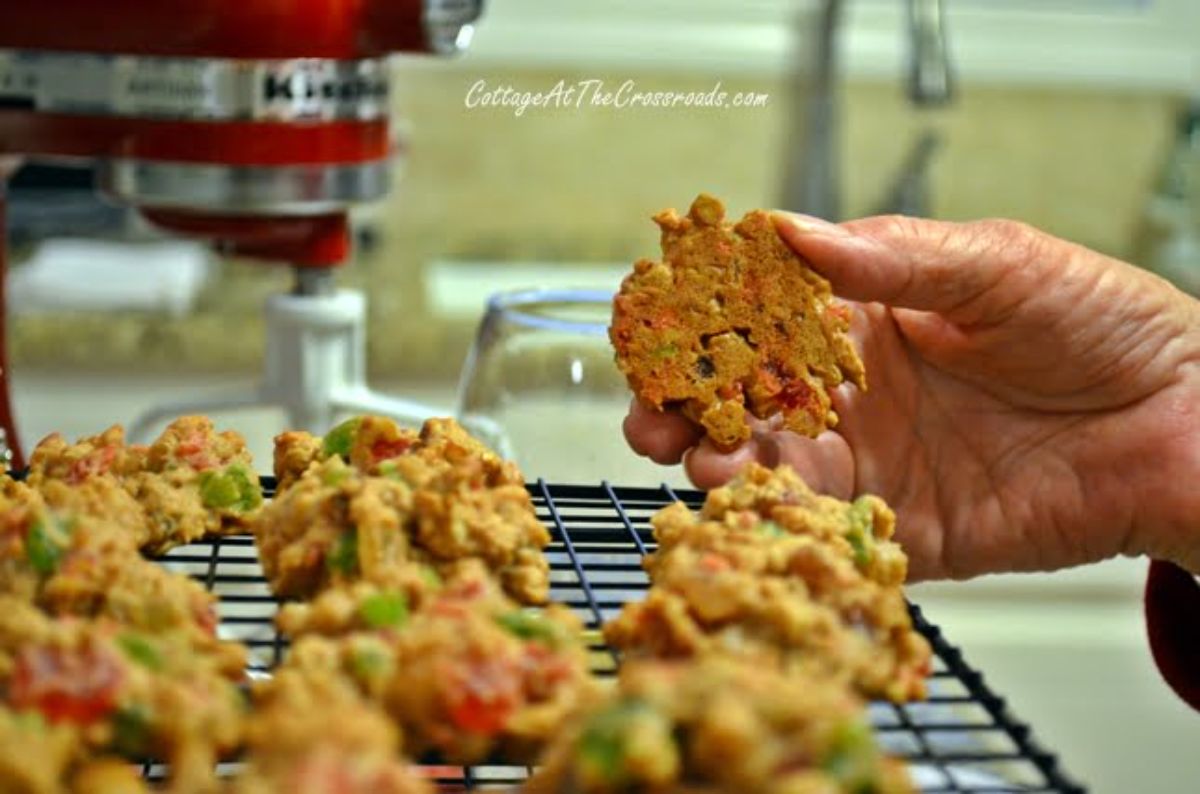 Lazy desserts are perfect during the holidays. You can snack on these tasty fruitcakes cookies while preparing a holiday feast or get together as a family and make follow this simple recipe with your kids.
This recipe will walk you through making your own cookie dough, but you can replace it with store-bought dough to save time. You can also customize these festive cookies with different dried fruits and other toppings.
5. Easy Lemon Cheesecake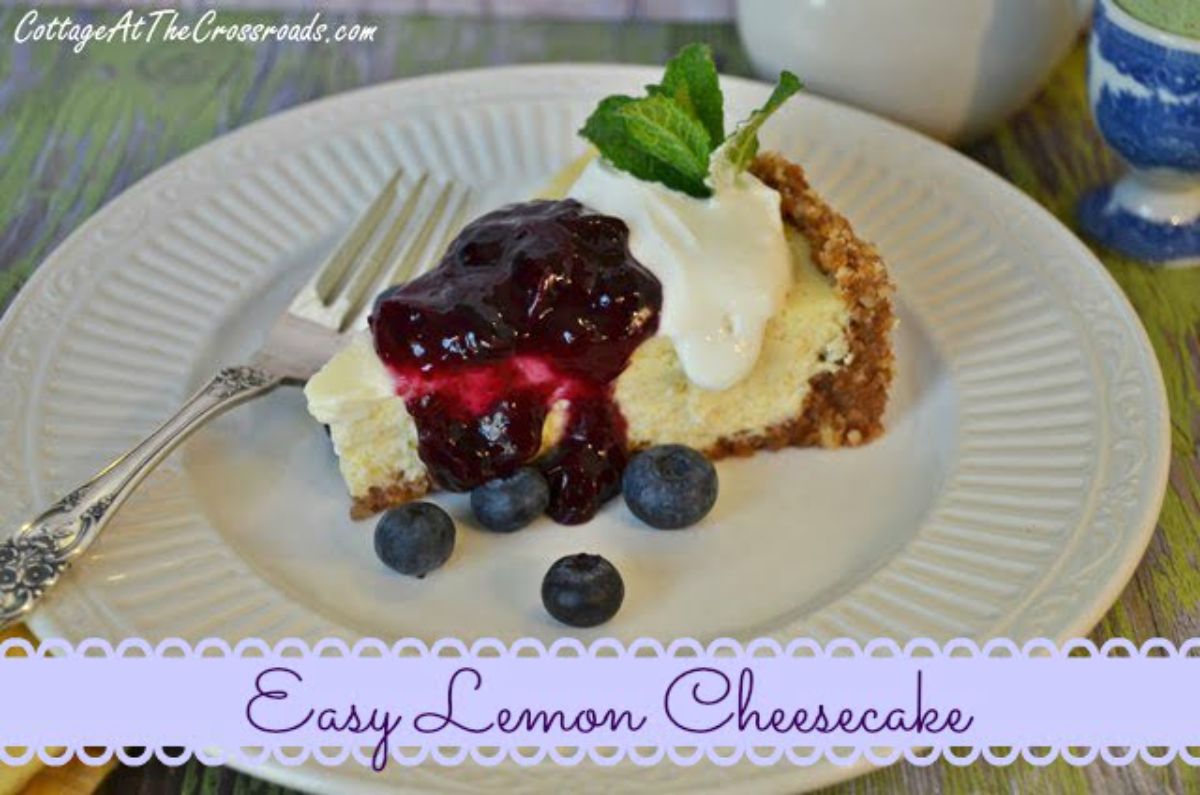 Did you know Americans spend over $200 million on refrigerated cheesecake every year? While the store-bought option is convenient, homemade cheesecake is a quick and easy dessert that doesn't require any baking.
This delicious lemon cheesecake recipe uses a sweet blueberry topping to balance the acidity of the lemon while the ginger snaps crust introduces a taste everyone knows and loves.
6. Low-Carb Strawberry Fluff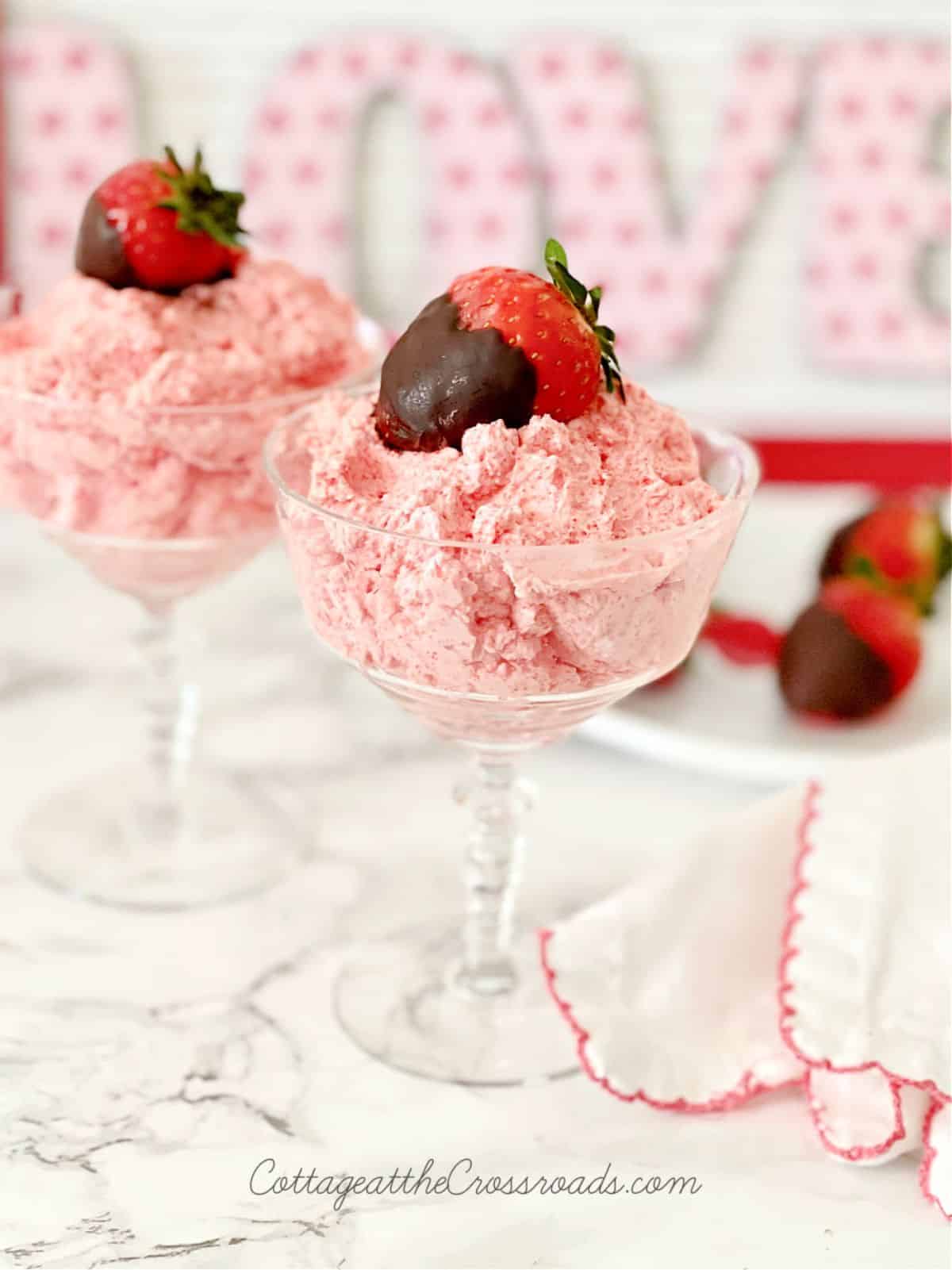 Desserts don't have to be rich in carbs and sugar to taste great! This low-carb strawberry fluff comes together effortlessly and will help you cut back on carbs and sugar.
All you have to do is mix sugar-free whipping cream, cream cheese, and Jello. The texture is light, creamy, and incredibly inviting. It's a fun topping you can serve with fresh fruits or a pound cake, and you can also experiment with different Jello flavors!
7. Blackberry Peach Buckle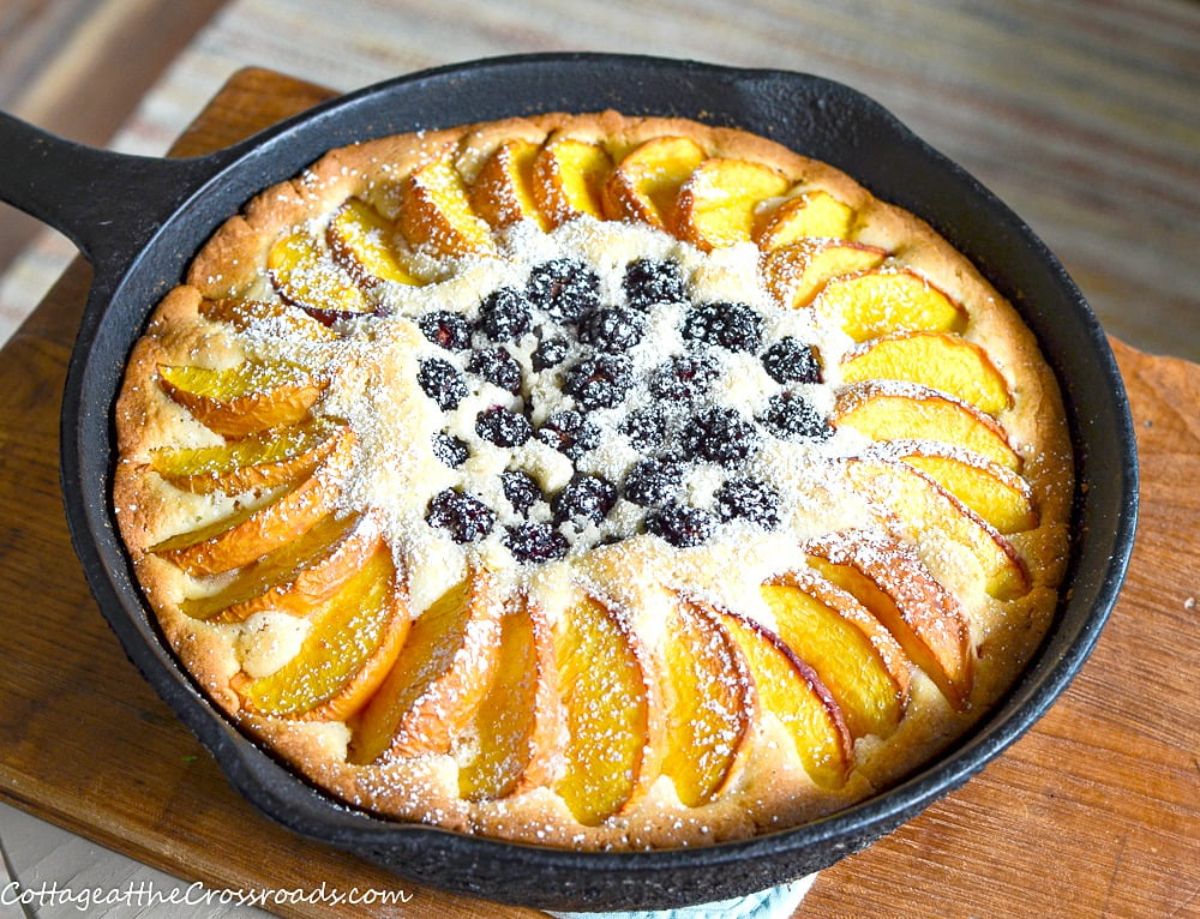 This homemade buckle is a delicious dessert that enhances the rich flavor of fresh fruits with a soft and crumbly cake. It's easy to make, and it looks sophisticated enough to serve at a get-together.
The recipe calls for using peaches and blackberries, but you can make this buckle with any fruits you have. Serve it with a few scoops of vanilla ice cream for the ultimate summer cookout dessert!
8. Mom's Rum Balls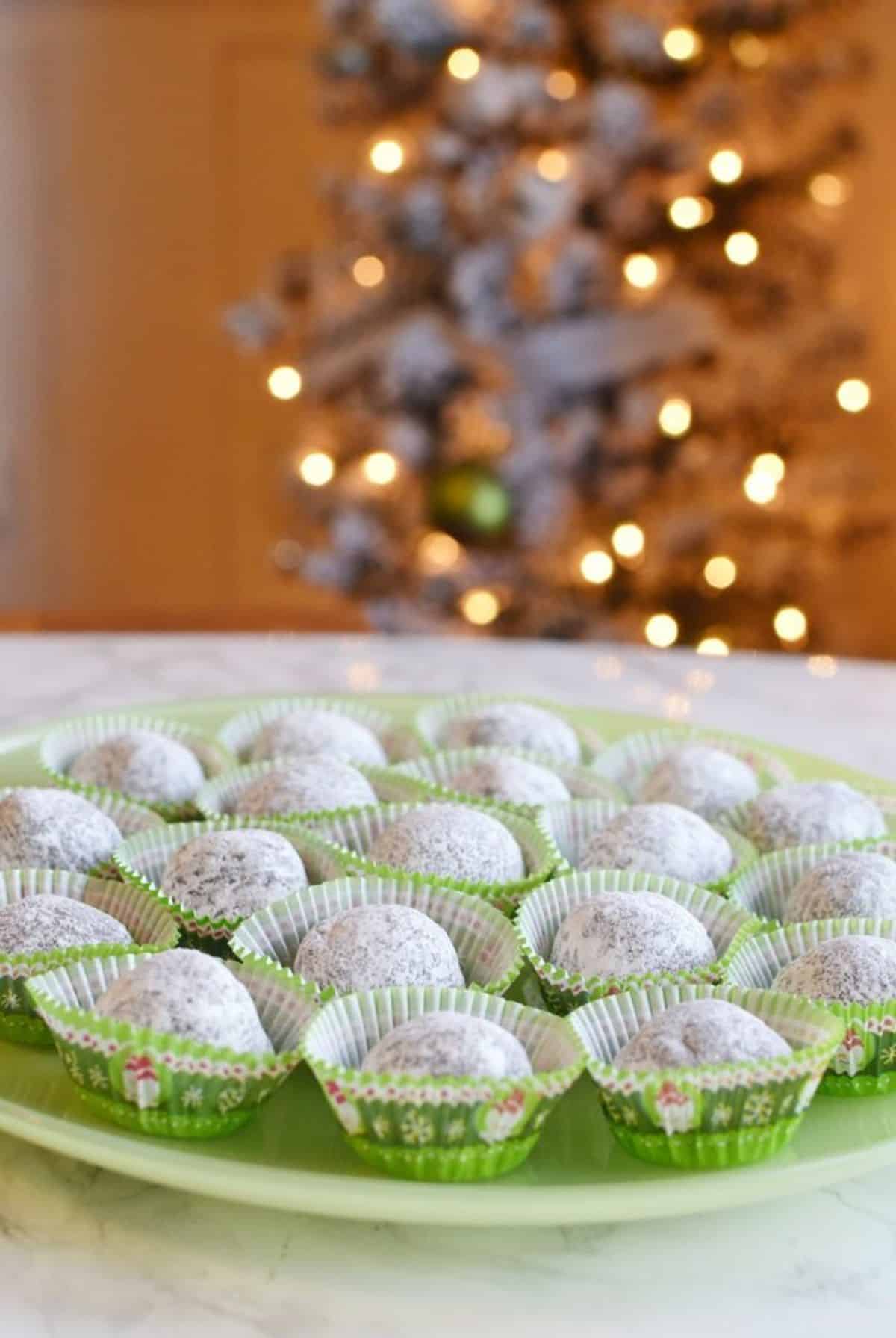 These rum balls are a fun snack that adults can enjoy. It's a traditional treat for the holidays, but you can serve these delicious rum balls year-round.
The secret is to use crushed Vanilla wafers as your base. Using store-bought cookies saves time and gives the rum balls a delicious vanilla flavor. There is no baking required, and you can add or remove ingredients to customize the recipe.
9. Autumn Pumpkin Pound Cake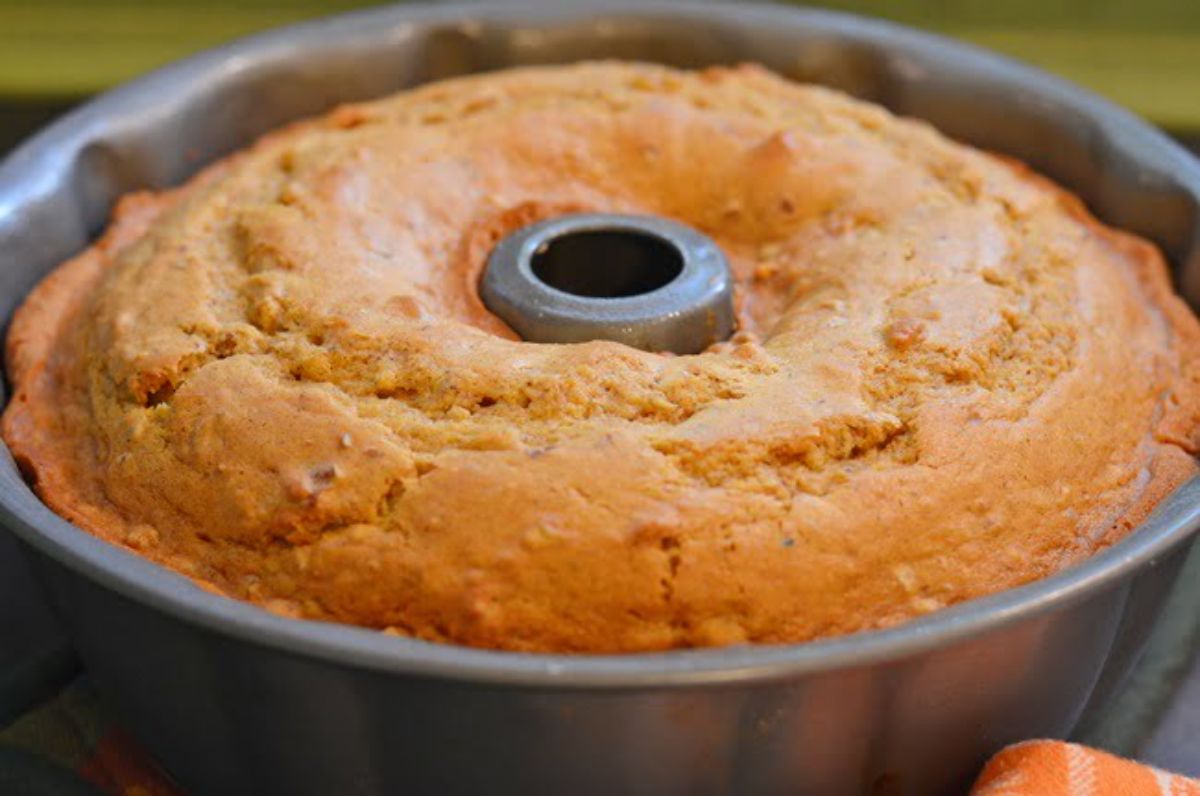 With over 200% of the daily recommended Vitamin A intake in a cup, pumpkin is a healthy and delicious vegetable.
A fun way to add pumpkin to your diet is to explore lazy dessert ideas that incorporate this vegetable. This pumpkin pound cake is easy to make and uses half a can of pumpkin for a rich fall-inspired flavor that you can enhance with cinnamon, nutmeg, cloves, and ginger.
10. Strawberry Honey Butter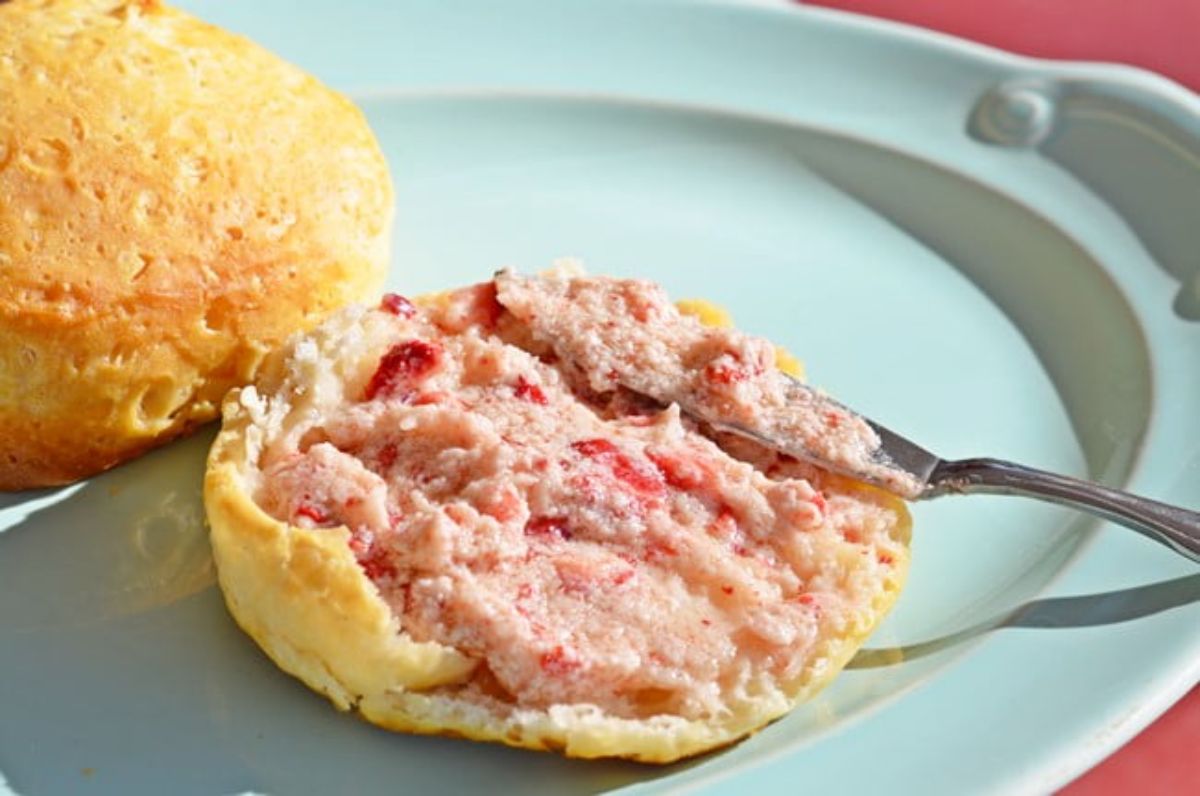 You'll only need four simple ingredients to make this mouthwatering strawberry honey butter, including fresh or frozen strawberries, butter, honey, and vanilla extract.
The result is a delicious spread with the tart flavors of strawberries and the sweet taste of honey. If you're looking for a unique dessert idea, serve this delicious strawberry butter with some freshly baked biscuits or bread!
11. No Bake Blueberry Cheesecake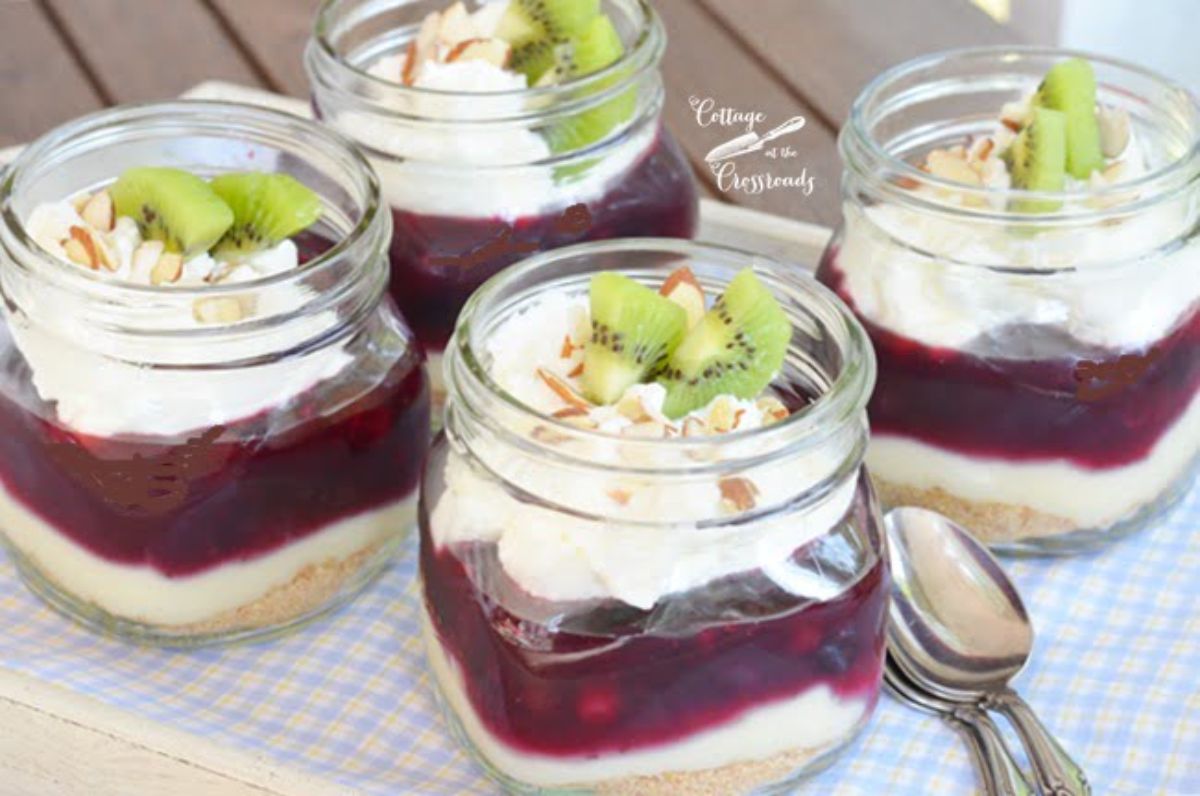 If you find yourself pressed for time, a cheesecake is an excellent dessert idea since it doesn't require any baking. The trick is to prepare the cheesecake at least 24 hours ahead of time so the texture can solidify in the fridge.
This cheesecake recipe will teach you how to make a delicious homemade crust with butter and Graham crackers. It also uses cheesecake-flavored pudding instead of cream cheese to save time and money.
12. Banana Heath Bar Pie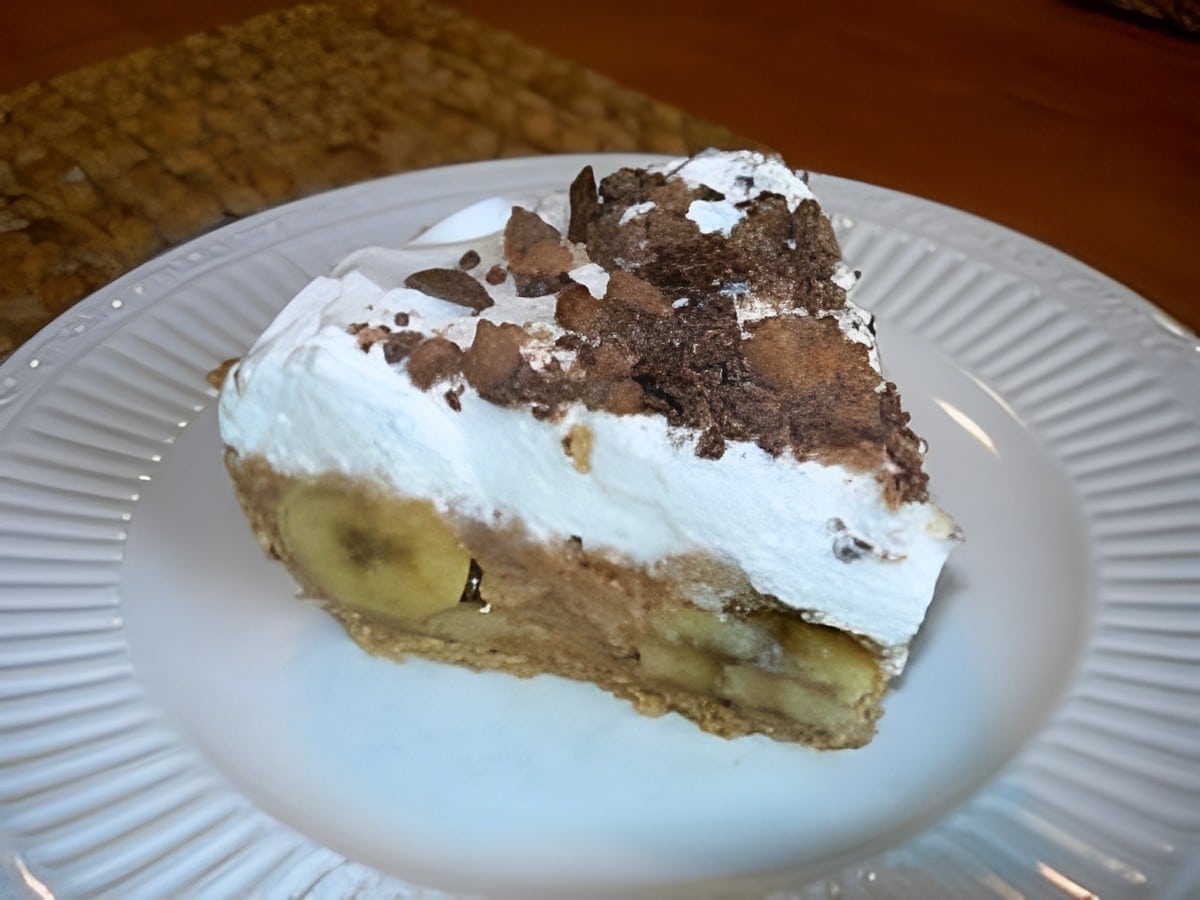 This banana pie recipe comes together effortlessly because you're using a store-bought pie crust and Heath candy bars. It's a fun recipe you can make with children since the steps are easy to follow!
It's the perfect lazy dessert that you can whip up at the last minute. The Heath bars bring a rich toffee taste that goes well with the bananas, but you can experiment and make this pie with different candy bars.
13. Banana Bread Energy Balls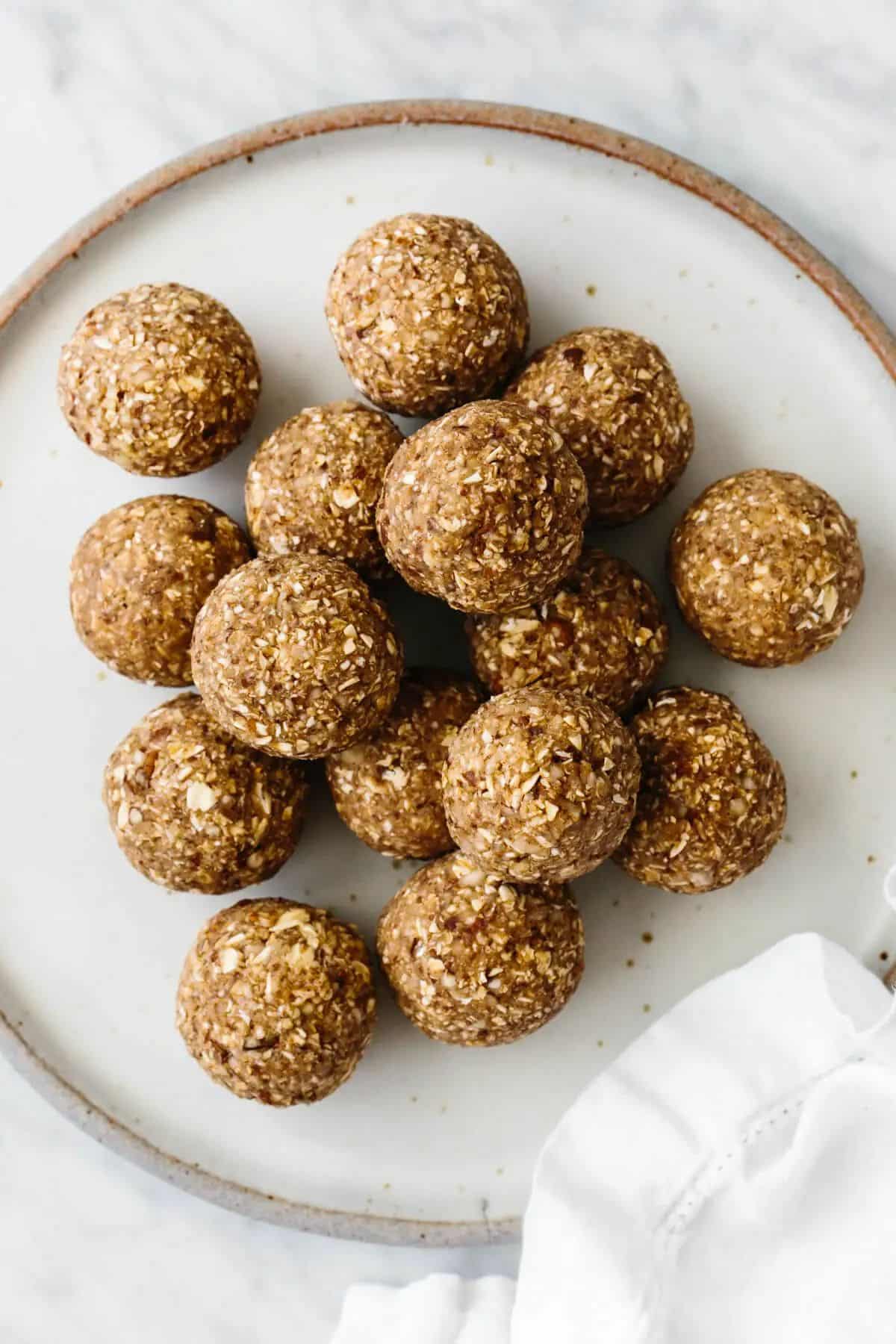 Who doesn't love banana bread? These no-bake energy balls taste just like banana bread but don't require any baking.
Plus, they're a healthy dessert option with fruits, oatmeal, and nuts. They're a fun snack you can enjoy throughout the day, and it's easy to make a large batch if you need to keep energy levels high for your annual family football game!
14. Banana Ice Cream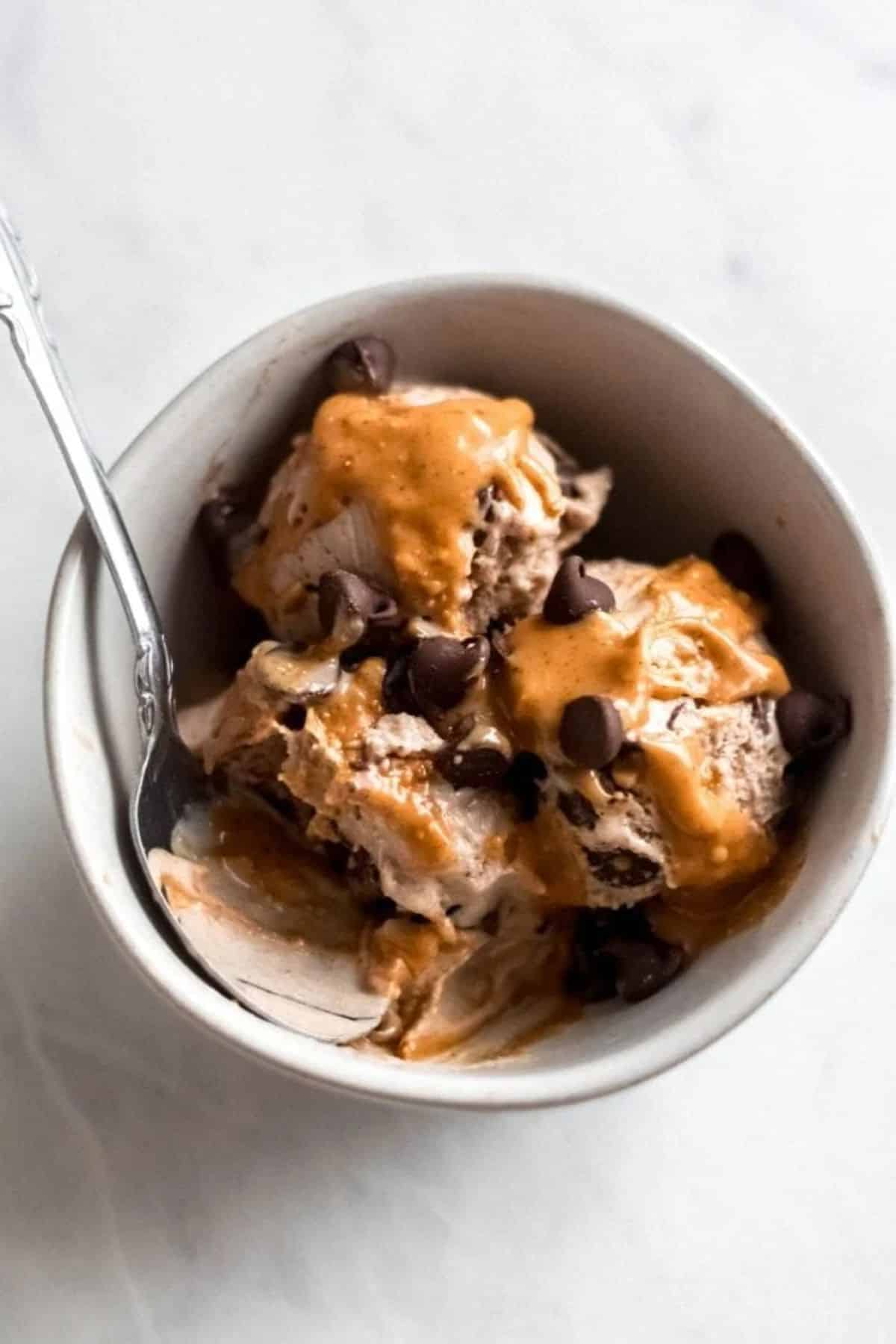 Making homemade ice cream is easier than you think. This recipe uses frozen bananas to create a creamy consistency that feels just like soft-serve ice cream.
Once you've blended the bananas, you can add peanut butter, cocoa powder, vanilla extract, or other fruits to create different flavors. You can also have a small sundae bar and let your guests choose their own toppings.
15. Vanilla Magic Custard Cake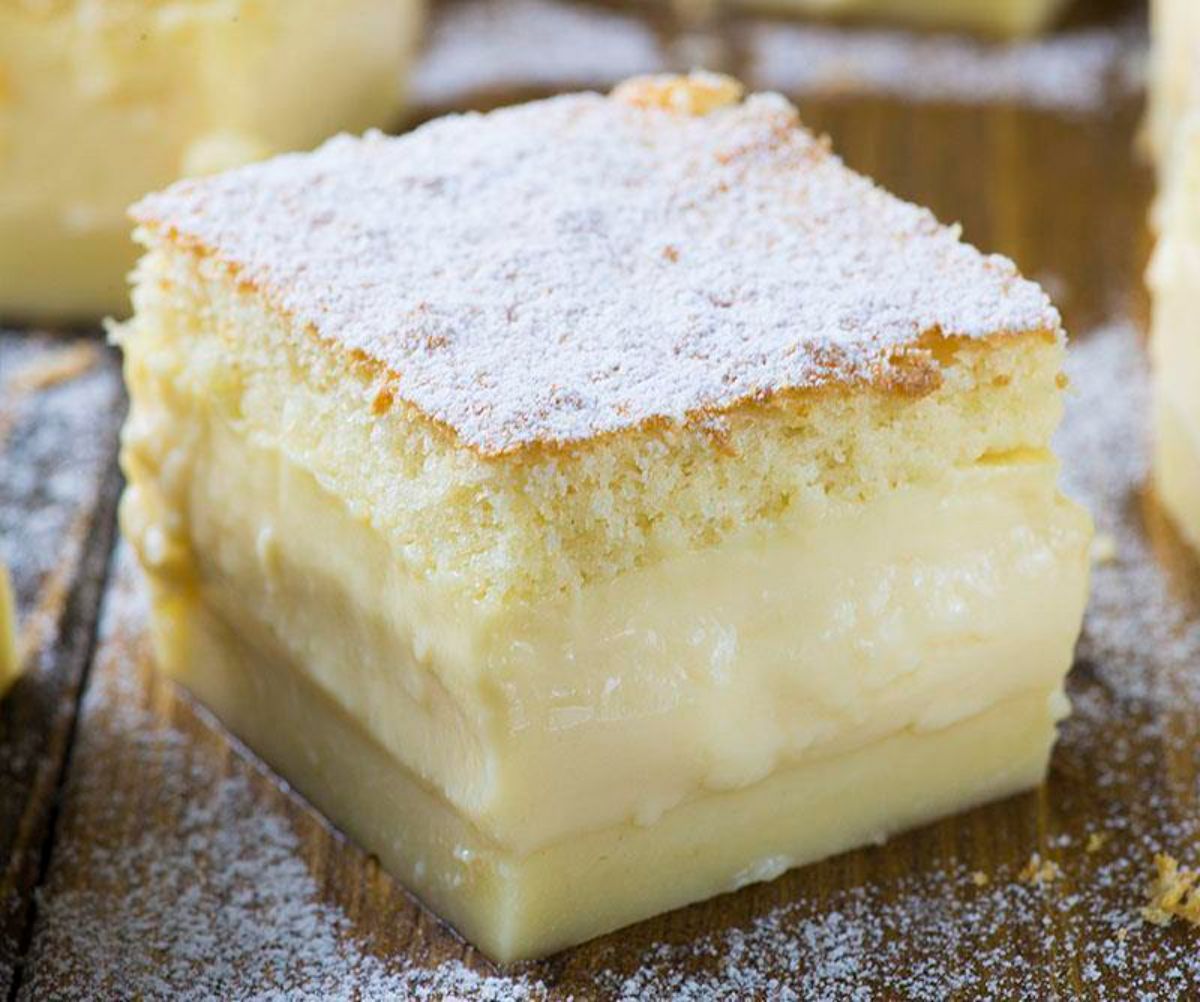 This cake is the ideal sweet and creamy treat with its delicious layer of vanilla custard. The best part is that you only have to prepare one batch of cake batter. The vanilla cake will naturally get three layers during the baking process.
Since the vanilla comes from vanilla extract, you can introduce other flavors to customize this magic cake.
16. Lunch Lady Brownies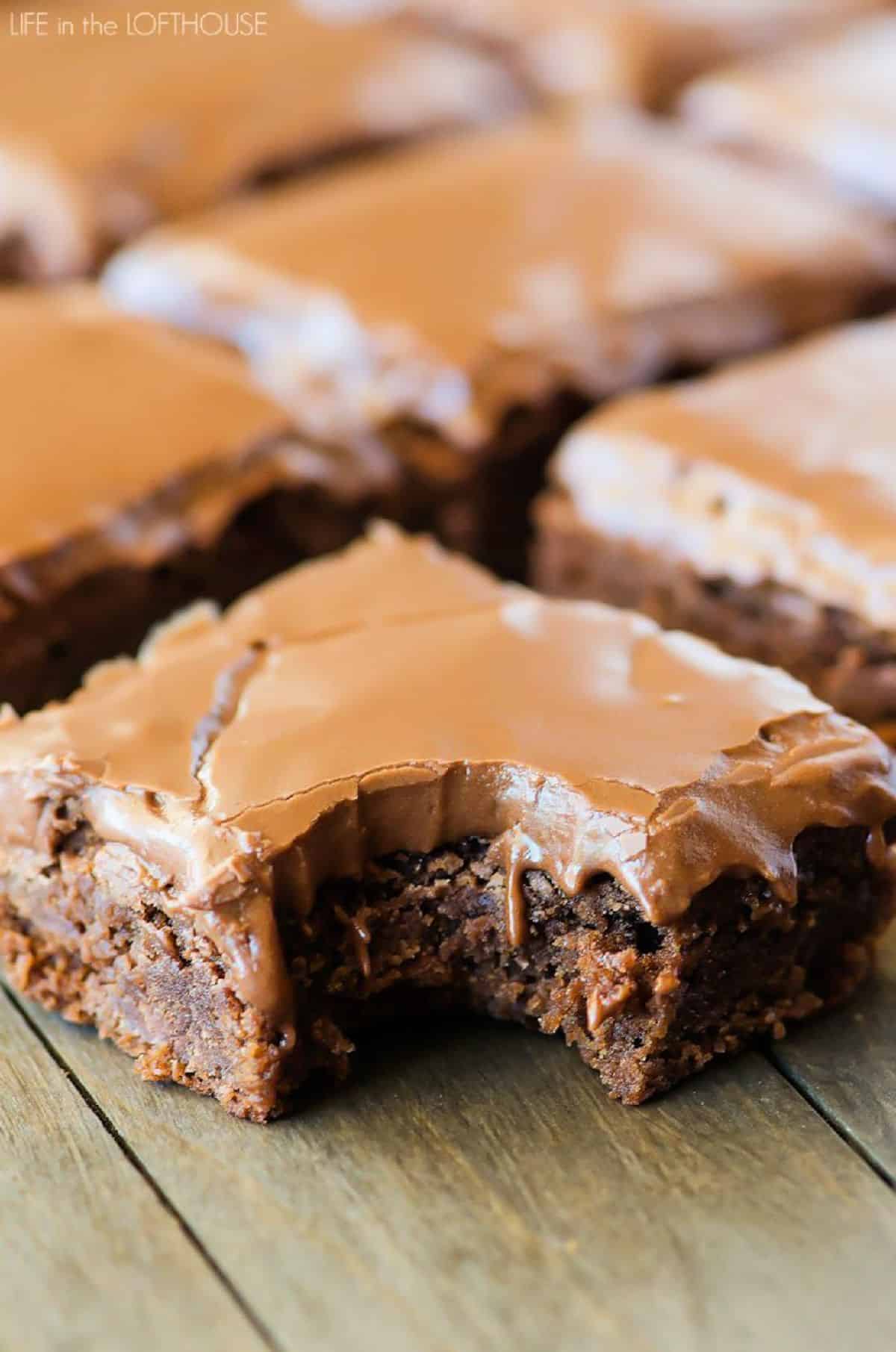 This brownie recipe uses six simple ingredients to prepare a delicious brownie mix. You'll also make a memorable chocolate frosting that takes the brownies to the next level with salted butter, milk, cocoa powder, and sugar.
Making these brownies takes 45 minutes or less, and you can save time by using store-bought brownie mix.
17. No-Bake Chocolate Oatmeal Bars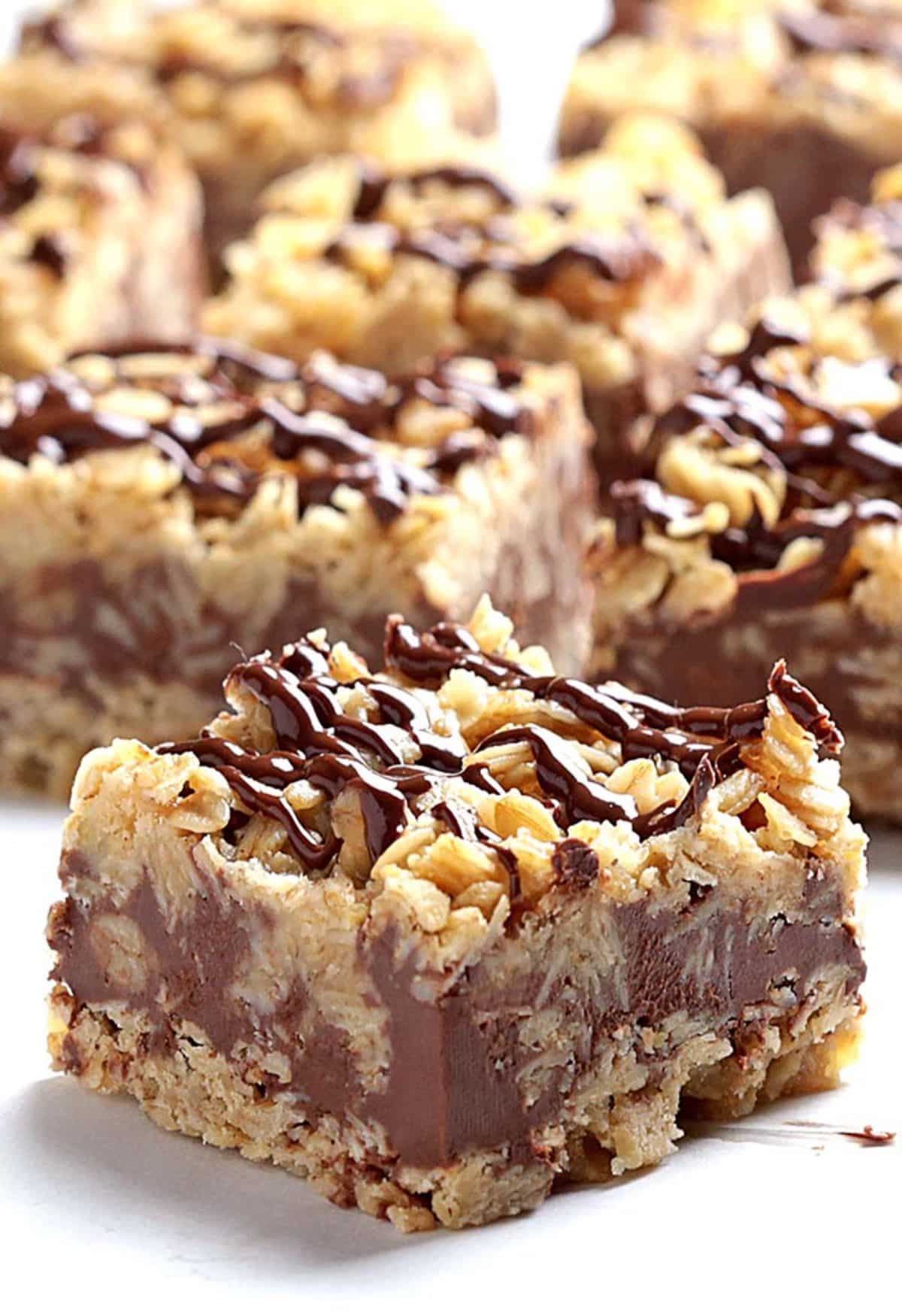 These no-bake oatmeal bars are a simple and healthy treat you can serve as dessert or breakfast. All you have to do is melt some butter and add the ingredients until you get a dough-like consistency. You can then let the bars cool off in the fridge.
The result is soft and gooey oatmeal bars with a delicious chocolate and peanut butter filling!
18. Two-Ingredient Lemon Bars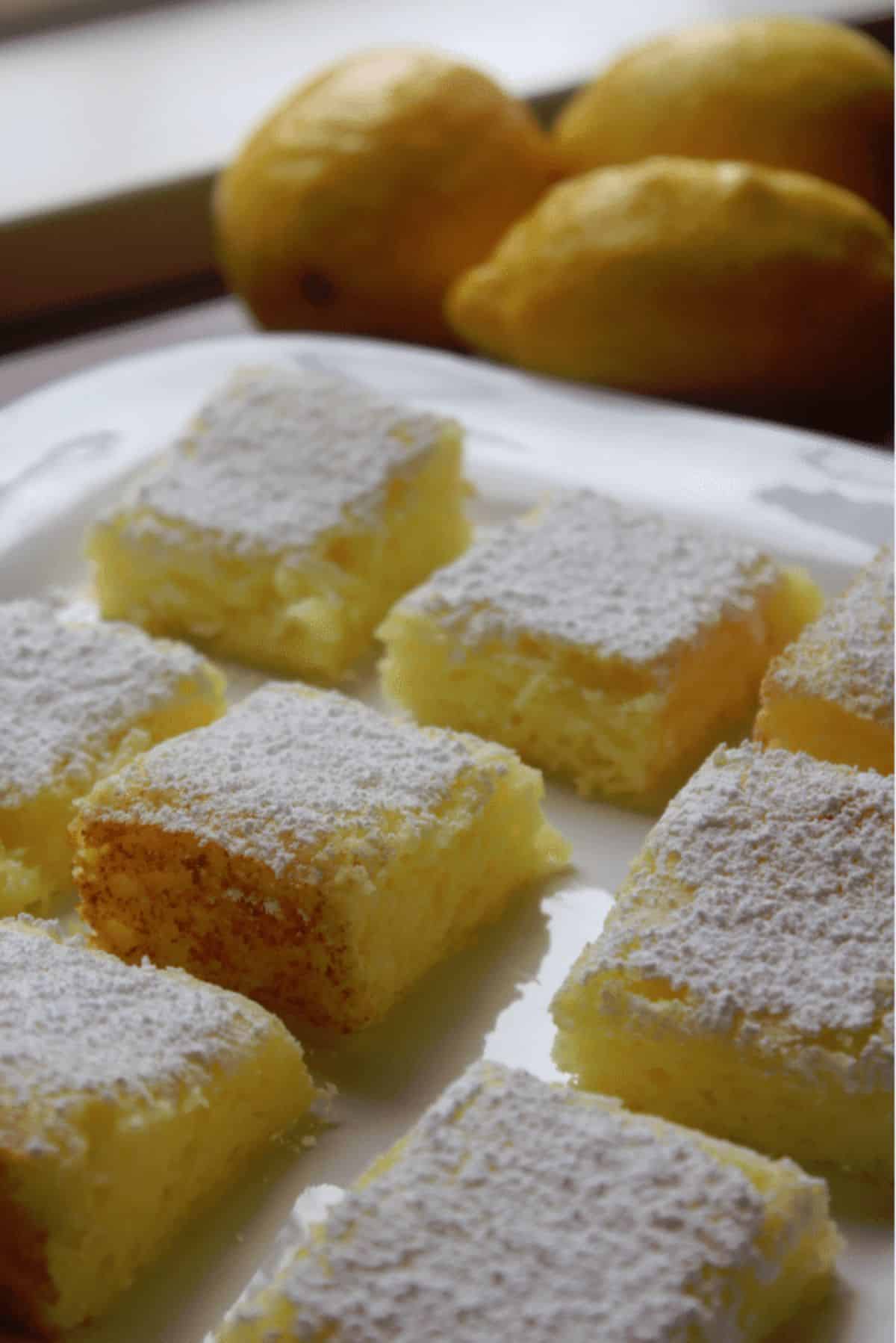 If you're looking for lazy dessert ideas, nothing can beat this lemon bar recipe that only uses two ingredients. These ingredients are store-bought Angel food cake mix and lemon pie filling.
Mixing these two ingredients results in lemon bars with a soft and creamy texture.
19. Caramelized Yogurt Cake With Caramel Frosting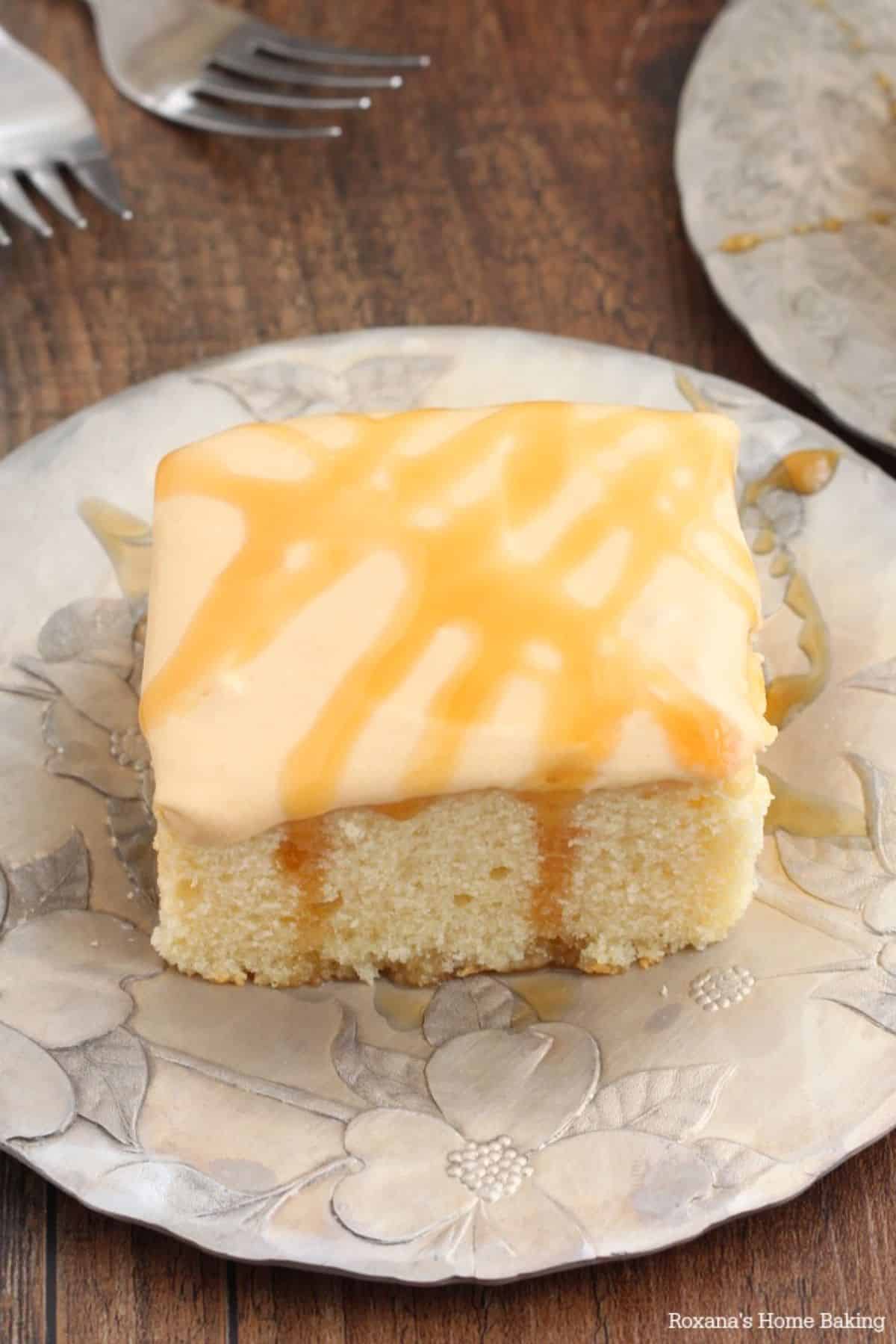 This yogurt cake is an original take on a classic. It mixes yogurt with eggs and flour to create a texture that is close to cheesecake. Baking this mixture will cause a delicious caramelized layer to form on top of the cake.
You can serve the cake as is or add fruits or a chocolate drizzle.
20. Homemade Twix Cookie Bars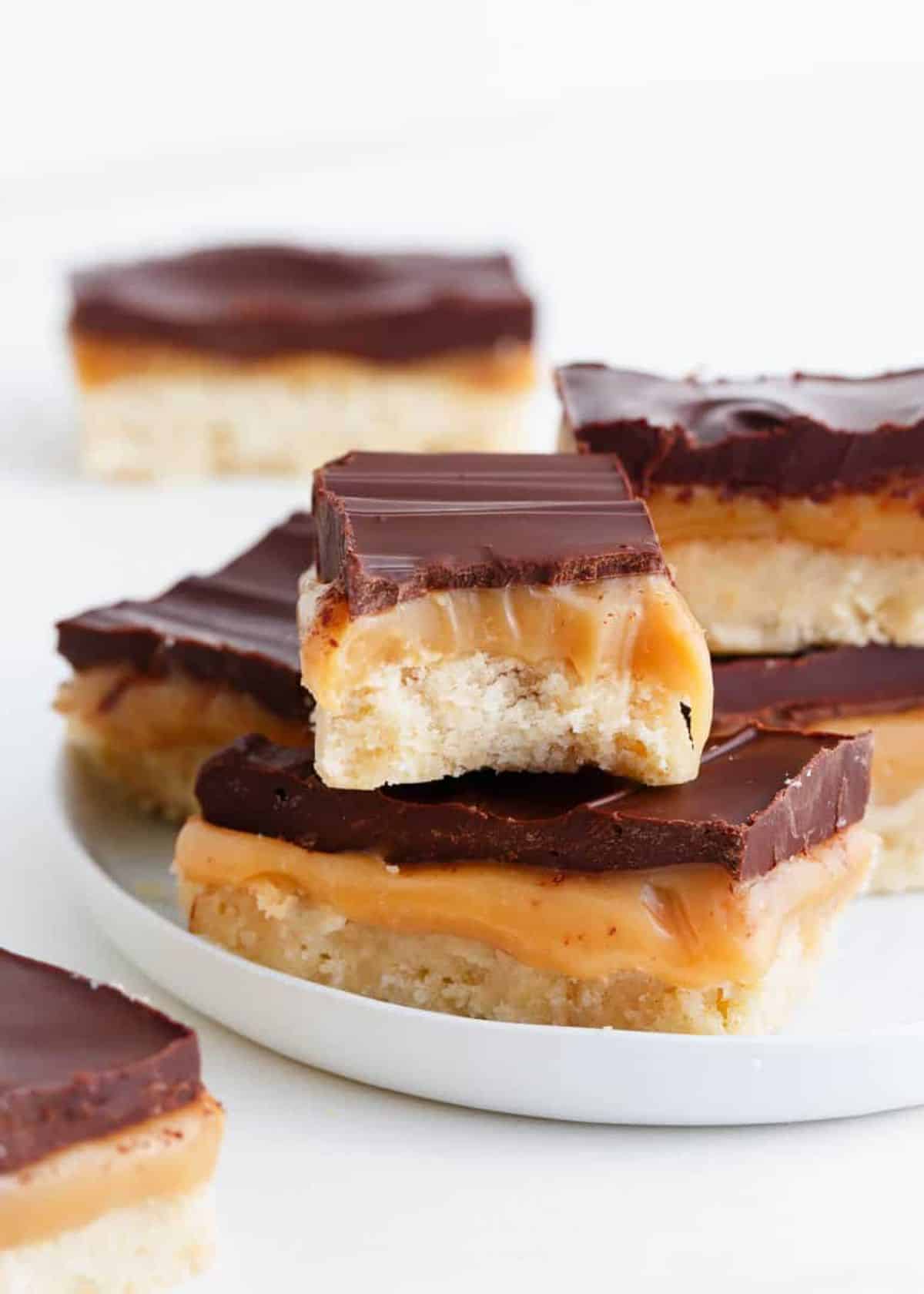 This copycat recipe tastes just like the classic candy bars. It's incredibly easy to make, and it comes together in an hour or less, including baking.
You'll have to mix flour, sugar, and butter to create a soft shortbread layer, caramelize some sugar, and melt some chocolate for the top layer.
21. Two-Ingredient Apple Cake
If you're in the mood for something sweet but don't have the time or energy to bake an apple pie, this two-ingredient apple cake is the next best thing.
All you need is some classic yellow cake mix and apple pie filling. Combine them to create an apple dump cake that will wow your guests with its sweet taste and crumbly texture.
Wrap Up
These lazy dessert ideas are proof that it doesn't take a lot of work or a long list of ingredients to prepare a sweet treat everyone can enjoy. We hope you'll find something tasty for your next family event or decide to treat yourself to one of these simple but delicious confections to make a night-in feel more special!