This Lemon Cheesecake with blueberry topping is very easy to make. It tastes delicious lemon cheesecake and would make a great dessert for any holiday meal.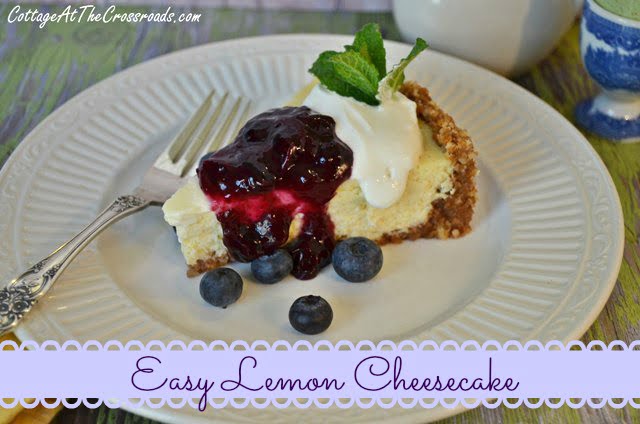 The great thing about cheesecake is that you can make it a day or so before you need it, freeing up your time for other things. The taste of this cheesecake is bright and lemony and is good with just a dollop of sour cream on top, but it is even better with a blueberry topping that can be made very quickly before serving.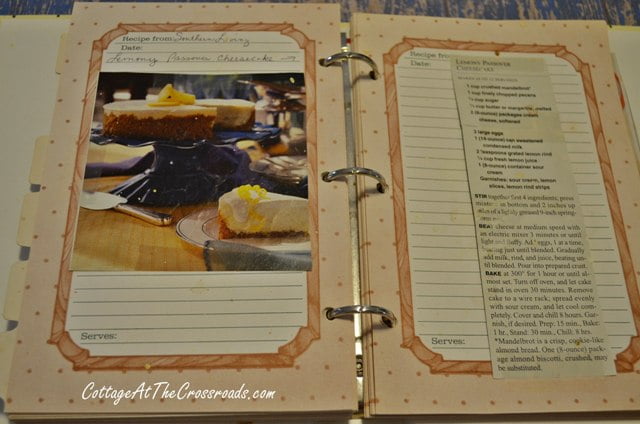 My recipe is an adaption of a recipe that appeared in Southern Living magazine about 10 years ago. I have made this cheesecake several times, and everyone who has tasted it has loved it.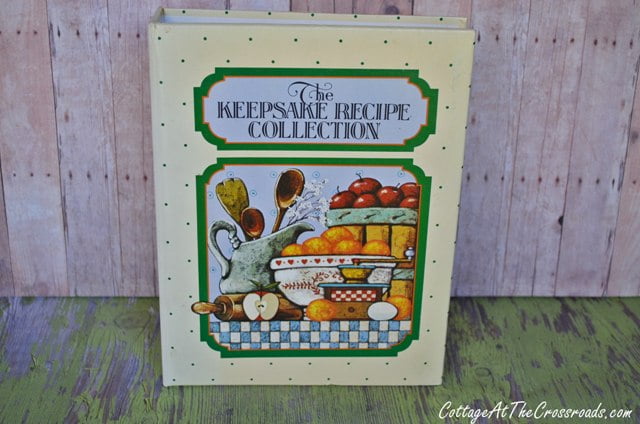 Even though I haven't made this cheesecake in several years, I knew exactly where the recipe was. I have lots of cookbooks and binders of recipes, but I can usually put my hand on a recipe. Years ago, I started neatly copying favorite recipes into this book, but somewhere along the line, I just started taping recipes into it. This was all before so many recipes were available digitally.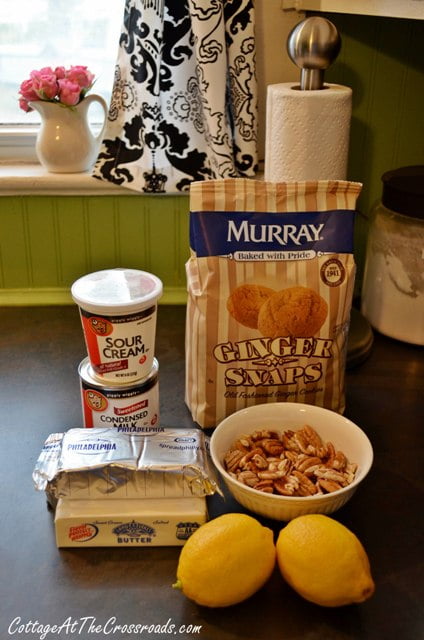 So once I found my recipe, I gathered my ingredients. To make this recipe, you will need a 9 inch springform pan, 1 cup crushed gingersnap cookies, 1 cup finely chopped pecans, ⅓ cup butter, ¼ cup sugar, 2 (8 ounce) packages cream cheese, 3 large eggs, 1 (14 ounce) can sweetened condensed milk, 2 teaspoons lemon rind, ¼ cup fresh lemon juice, 1 (8 ounce) container sour cream. Don't worry! There is a printable version of this recipe below including the directions for making the blueberry topping.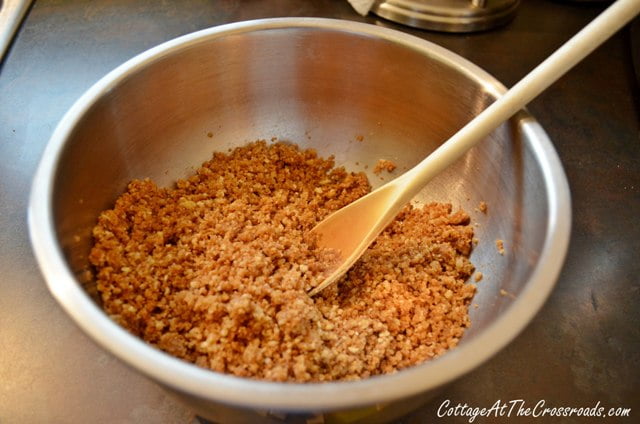 First, you will need to mix 1 cup crushed gingersnap cookies and 1 cup pecans together. I used my food processor to crush them at the same time. Add ¼ cup sugar and ⅓ cup melted butter to the crumbs and mix it all together. I used salted butter because I like the sweet/salty combination.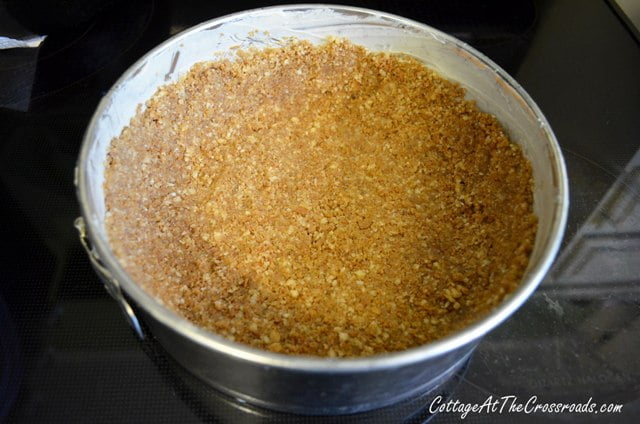 Press the crumb mixture into the bottom and up the sides about 2 inches of a greased springform pan. I greased my pan with butter and plenty of it!
To make your filling, beat the cream cheese with an electric mixer or stand mixer until light and fluffy, about 3 minutes. Add eggs one at a time, beating until just blended. Gradually add the sweetened condensed milk, rind, and lemon juice, beating until blended. Pour the filling into the prepared crust.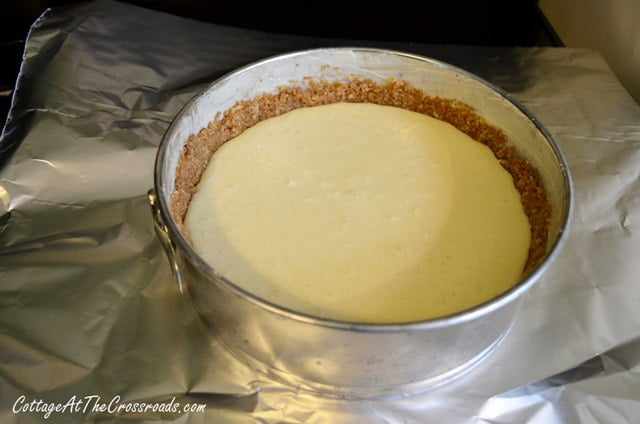 After pouring the filling into the crust, tear off a piece of aluminum foil and place it on top of a metal baking pan.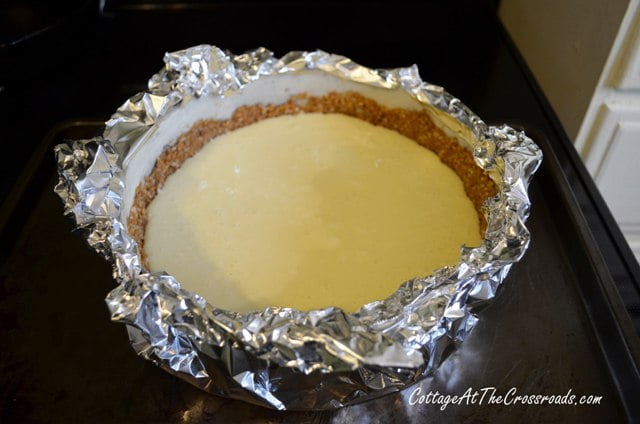 Bring the foil up the sides of the springform pan. Now, at this point, most people pour hot water into the baking pan, but you don't need to bake this cheesecake using a water bath! The purpose of enclosing the pan with foil is to prevent any butter from seeping out of your pan and making a nasty mess in your oven. Trust me, I know about this-the hard way!
Now you are ready to bake your cheesecake at 300 degrees for one hour. Baking it at a low temperature helps to prevent cracks from forming. When it is done, turn off the oven and let the cake sit in the oven for 30 minutes. Remove cake to a wire rack and spread evenly with sour cream. (I actually skip this step because I prefer to put a dollop of sour cream on my slices when I serve it.)
Place a clean dish towel over the pan and place it in the refrigerator for at least 8 hours. The towel will prevent any moisture from forming on the top.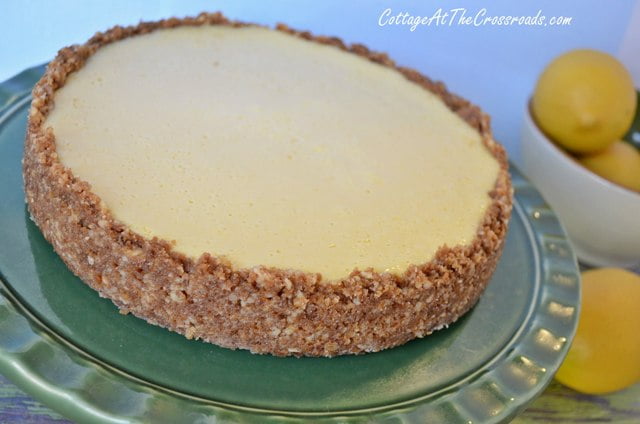 See! No cracks!
When you are ready to serve, remove the outer ring of the pan. To remove the metal bottom of the pan, run a spatula between the cheesecake and the bottom and slide your cheesecake onto a serving dish.
To dress it up, I added some sprigs of lavender around my dish. (I bought the lavender 2 weeks ago, but it's been too cold to plant it!)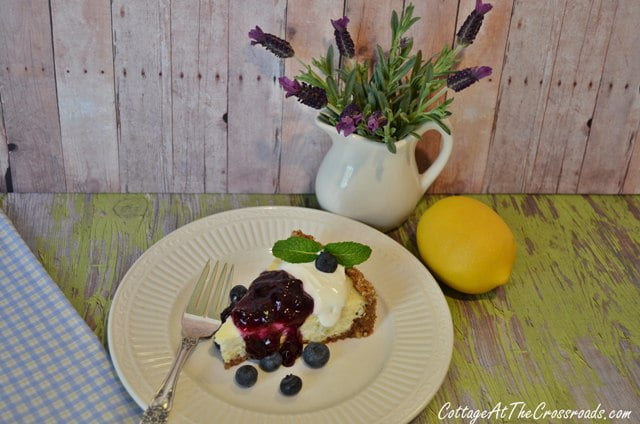 The easiest way to slice your cheesecake is to dip your knife into warm water and then wipe it with a dish towel. Do this each time between slicing. Garnish each slice with fresh blueberries, blueberry topping, and a dollop of sour cream! Delish!
📋 Recipe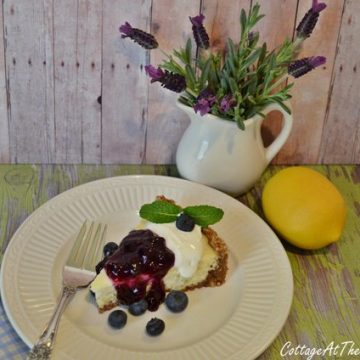 Lemon Cheesecake with Blueberry Topping
This Lemon Cheesecake with blueberry topping is very easy to make. It tastes delicious lemon cheesecake and would make a great dessert for any holiday meal.
Ingredients
For the Crust
For the Blueberry Topping
Instructions
To make the Crust:
Stir together the crushed gingersnap cookies, pecans, sugar, and melted butter.

Press the mixture in the bottom and 2 inches up the sides of a  9 inch springform pan greased with butter.

Place aluminum foil on a baking pan and pull the foil up around the side of the springform pan.

 (The foil will catch any butter that leaks from the pan during baking.) Set aside.
To make the Filling
Combine blueberries, ¼ cup water, orange juice, and sugar.

Stir gently and bring to a boil. In a small bowl, mix the cornstarch and the ¼ cup water. 

Gently stir the cornstarch mixture into the blueberries so as to not mash them.

 Simmer gently until thick enough to coat the back of a spoon, about 3-4 minutes.

Add almond flavoring and cinnamon. If the topping is too thick, thin with a little water. 
To serve
To serve, remove the outer ring of the springform pan. 

Very gently, run a spatula under the cake to pry off the metal base before placing on a serving stand.

To easily cut slices, dip a  knife into warm water, wipe on a clean dish towel, and cut.

Repeat after each slice.   Garnish with blueberry topping.