Are you tired of the same old boring meals? Are you looking to add a vibrant and unique touch to your dining experience? Look no further than blue food!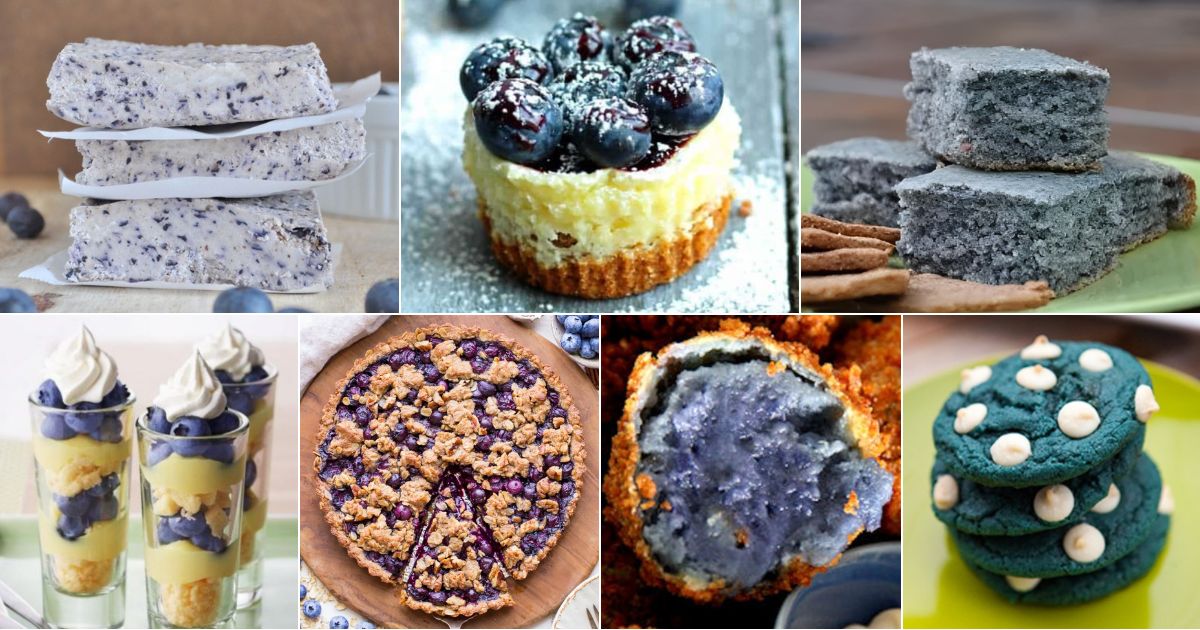 Yes, you read that right - blue food can be a fun and exciting way to make your meals more colorful and visually appealing. If you're ready to get creative in the kitchen, here are 17 blue food ideas for a colorful meal
Contents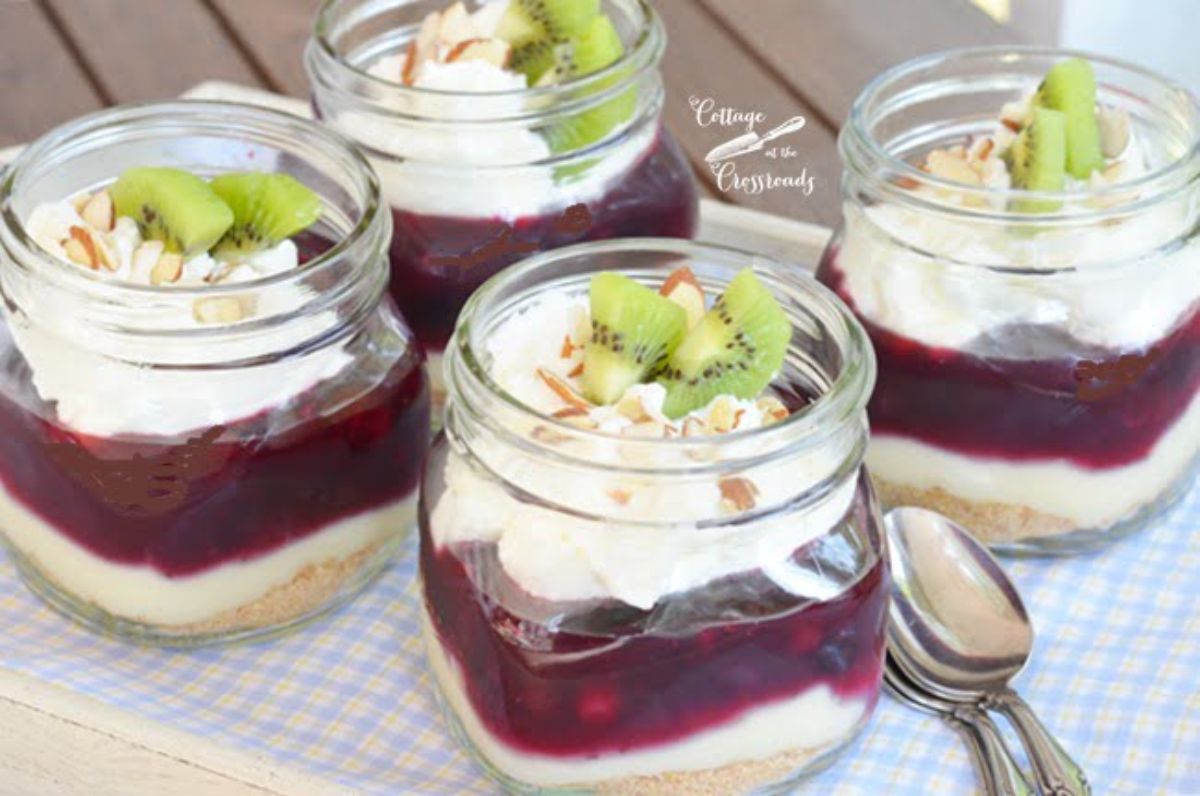 There is nothing easier to make for dessert than a no-bake cheesecake! Not only is this dessert easy and simple for those not well-versed in baking cakes, pies, or tarts, but the combination of fresh blueberry fruit and cheese filling makes this a summertime hit.
We recommend using fresh blueberries from the market or from your very own garden for this yummy dessert! We recommend using almonds, blueberries, and kiwi for garnish for an extra colorful treat! You will need graham crackers, cinnamon, instant pudding, blueberries, heavy cream, and other cheesecake baking ingredients.
This recipe takes just 10-15 minutes to prep before chilling and serving. We love using this dessert as a Fourth of July treat, birthday party, or family get-together during a hot, mid-afternoon party!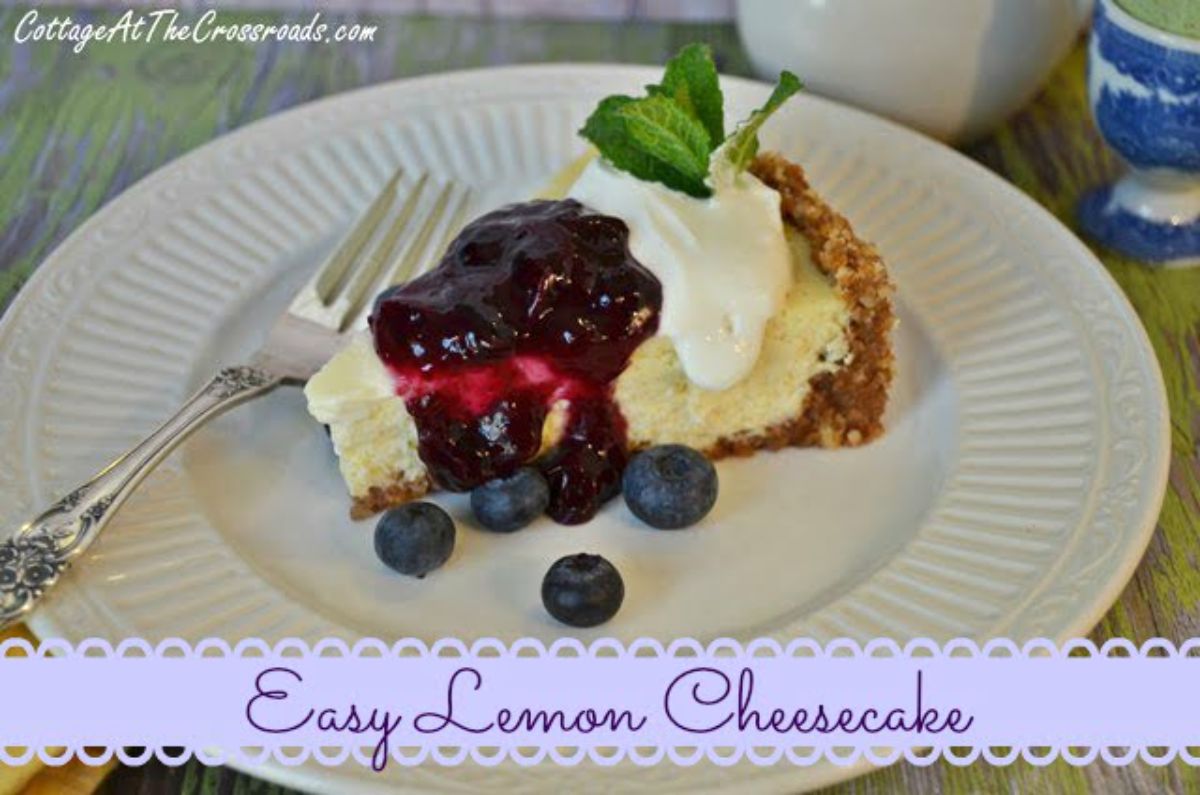 Cheesecake and blueberries go SO well together! Make this other blueberry cheesecake recipe with a hint of lemon for a light and easy dessert that won't make you feel full after. The touch of fresh blueberries on top as a garnish and the sweet sauce add a pop of color to your dessert.
All you need is gingersnap cookies, pecans, sugar, and butter to make the crunchy crust. For the filling, gather cream cheese, eggs, condensed milk, and lemon. And last but not least, to make the colorful blueberry topping, we recommend using fresh blueberries!
This recipe takes just 10-15 minutes to make. You only need to simmer the filling for about 3-4 minutes in a saucepan to create a sweet and brightly-colored topping.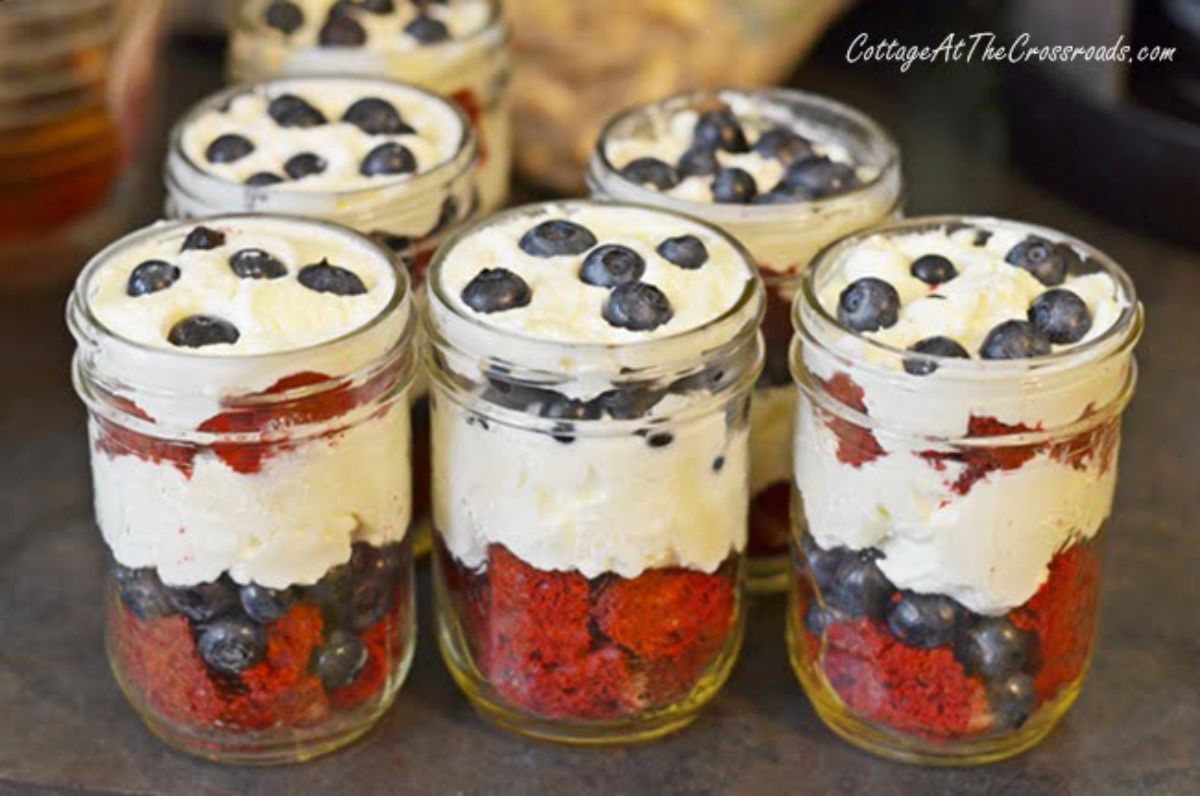 Are you looking for a snack or dessert for the Fourth of July or Memorial Day? If so, look no further! This colorful Patriotic dessert is ideal for bringing to a family party or serving guests at your own house. We love using mason jars to make this unique and artistic dessert.
The combination of Red Velvet cake mix, white heavy whipping cream, and bright blue blueberries make this a USA-inspired, colorful dessert!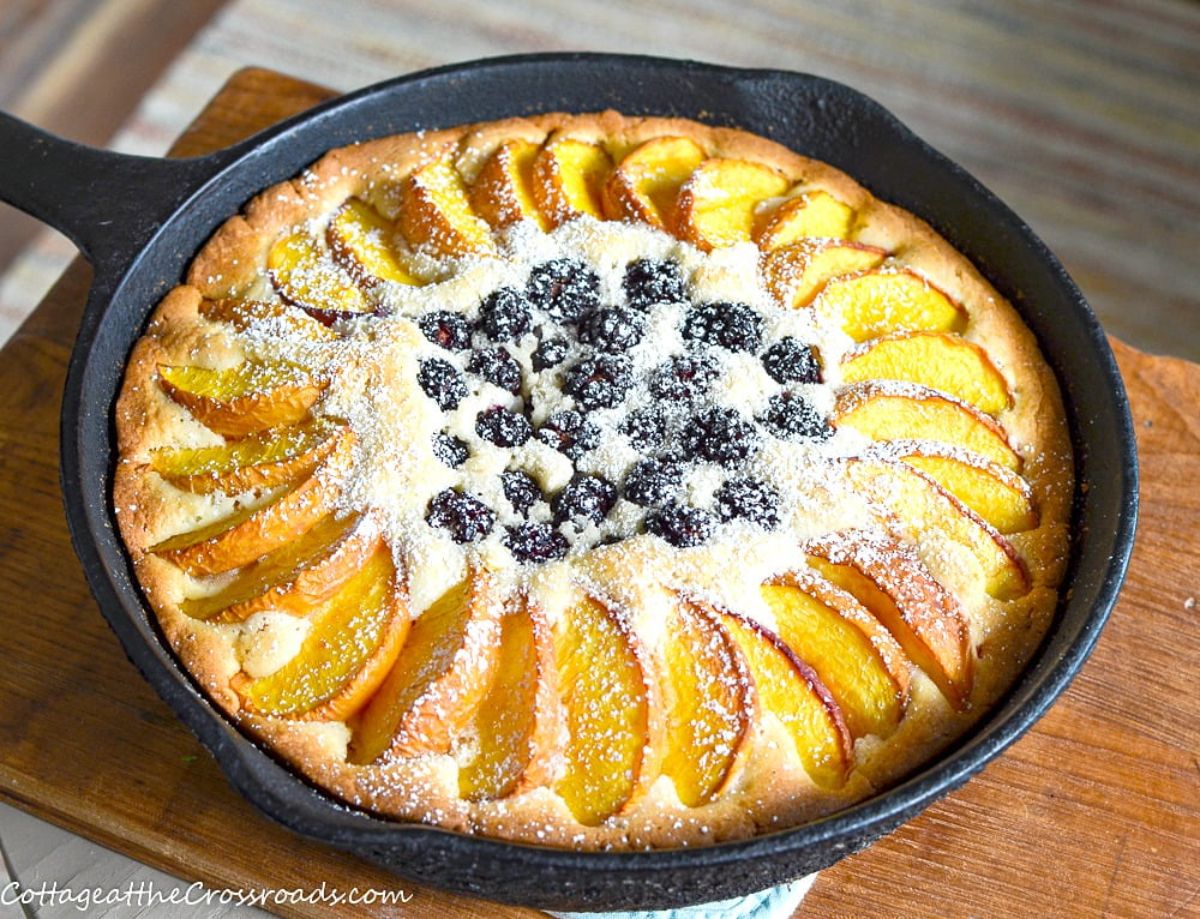 We love adding blackberries and blueberries to this peach buckle. Using fresh fruit is the easiest way to create brightly-colored and sweet-tasting desserts for any party!
You will need the typical baking ingredients: blackberries, peaches, and blueberries for the topping. The 'buckle' shape comes from the bundt shape of the cake, complete with the unique fresh fruit topping and confectioners sugar on top.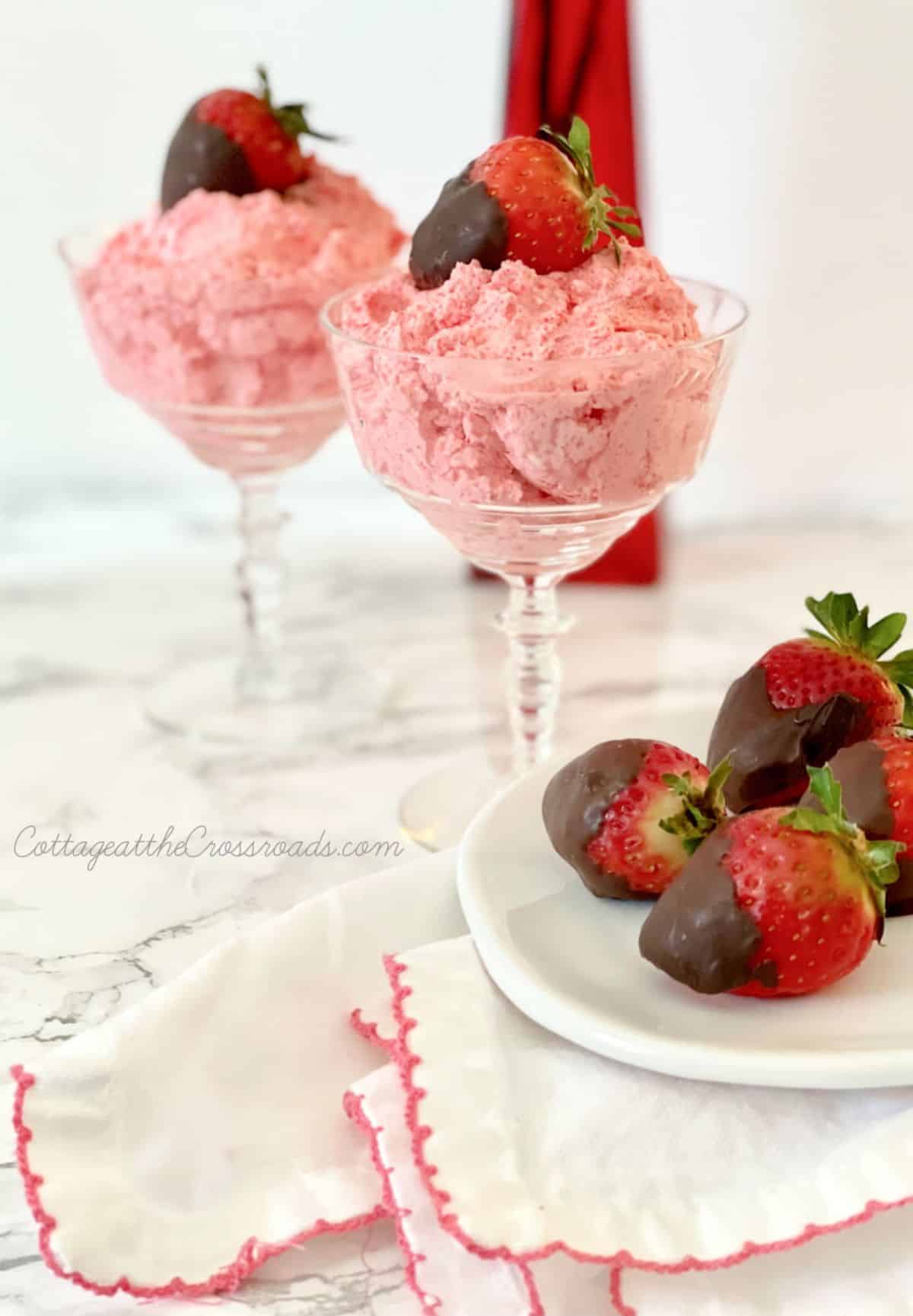 For those who have a sweet tooth but want to stay on their diet, making low-carb strawberry fluff is an easy way to brighten up their day without adding tons of calories. Use strawberries, blueberries, cream cheese, heavy cream, and sugar-free jello for this quick recipe.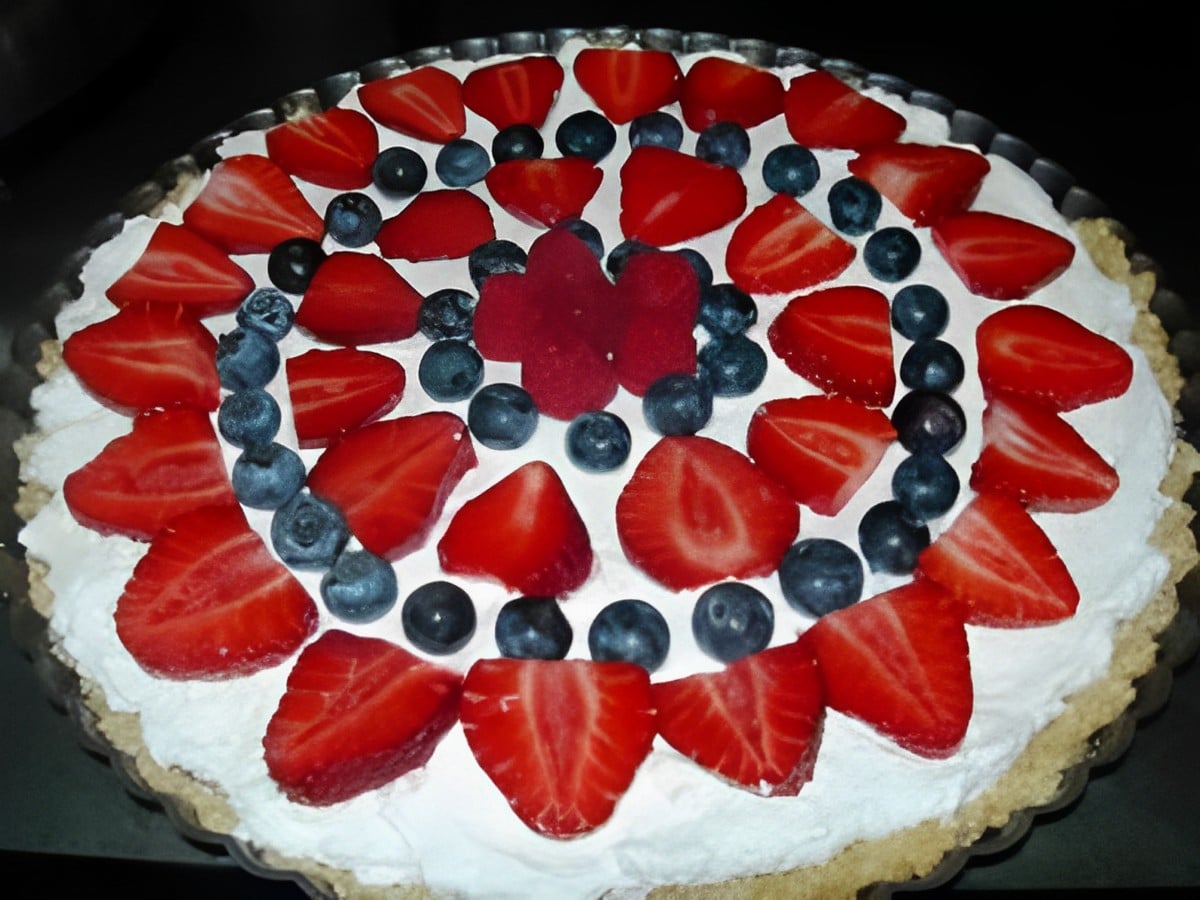 Using three types of berries makes this a bright and sweet dessert! We recommend using strawberries, blueberries, and raspberries for a touch of red and blue to this tangy cheesecake. The crunchy and golden-brown tart crust pairs well with the super-sweet and soft fruit.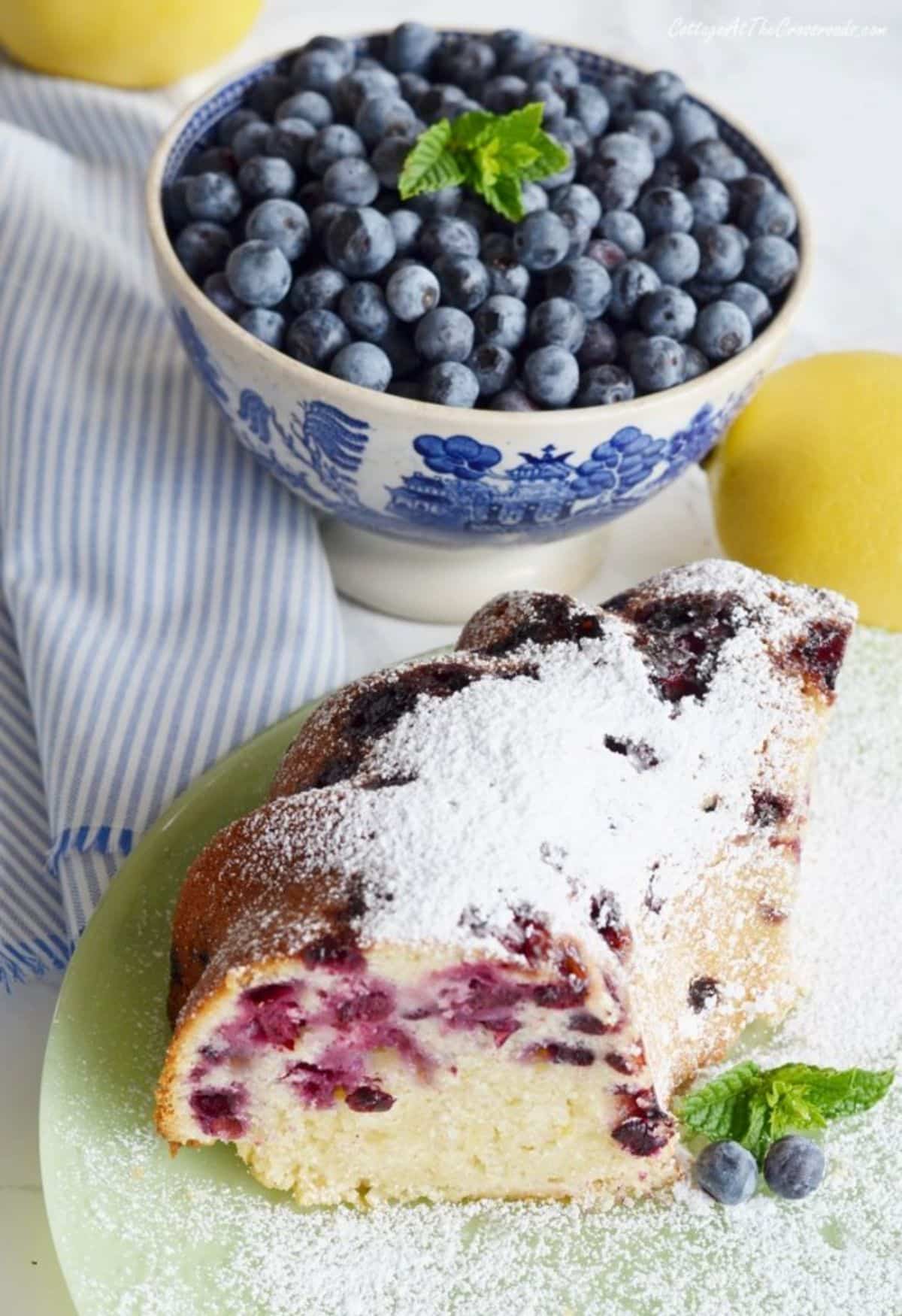 This blueberry lemon pound cake adds blue and purple color to your table! We love the combo of sweet blueberries and tart lemon for a refreshing and sweet dessert that uses fresh fruit in the best way possible.
Vegans rejoice! These dessert or snack bars are gluten-free, paleo, AND vegan, so you can indulge, too! All you need are four ingredients to put together these super-quick and easy bars for a lunchtime snack or nighttime dessert.
Gather creamed coconut, fresh blueberries, maple syrup, and ground vanilla beans to make these square treats in just 5 minutes of prep time.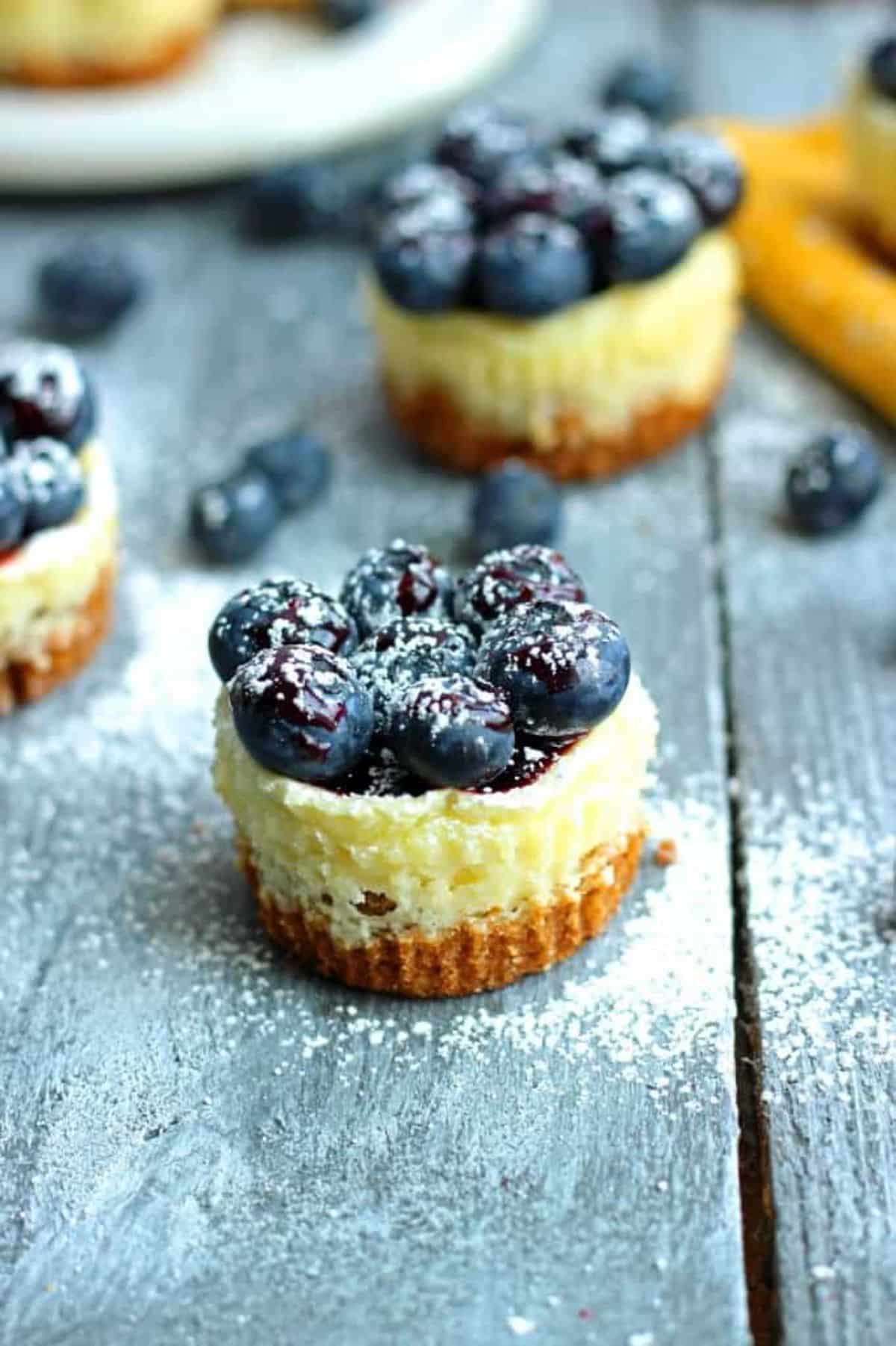 These miniature lemon blueberry cheesecake bites are ideal for bringing to a party or for portion control. Use blueberries on top as a garnish to add even more blue color to your dessert spread!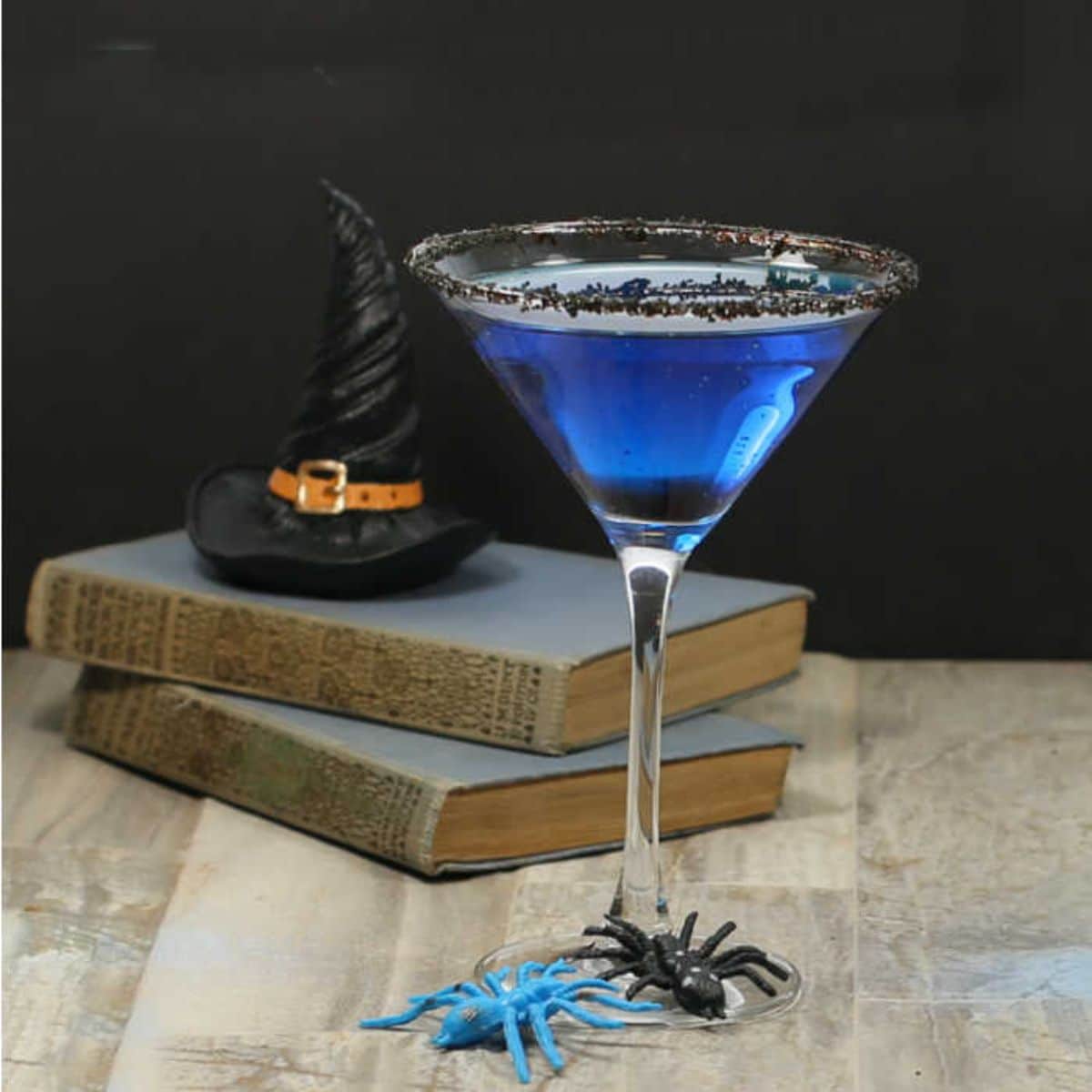 Are you in the mood for a tasty cocktail? Well, try this bright blue Halloween-inspired 'Witch's Brew" drink that is going to have you going all night long. All you need for this tasty Happy Hour beverage is Grey Goose Vodka, Triple Sec, lime, and Blue Curacao to give it that brightly-colored pop!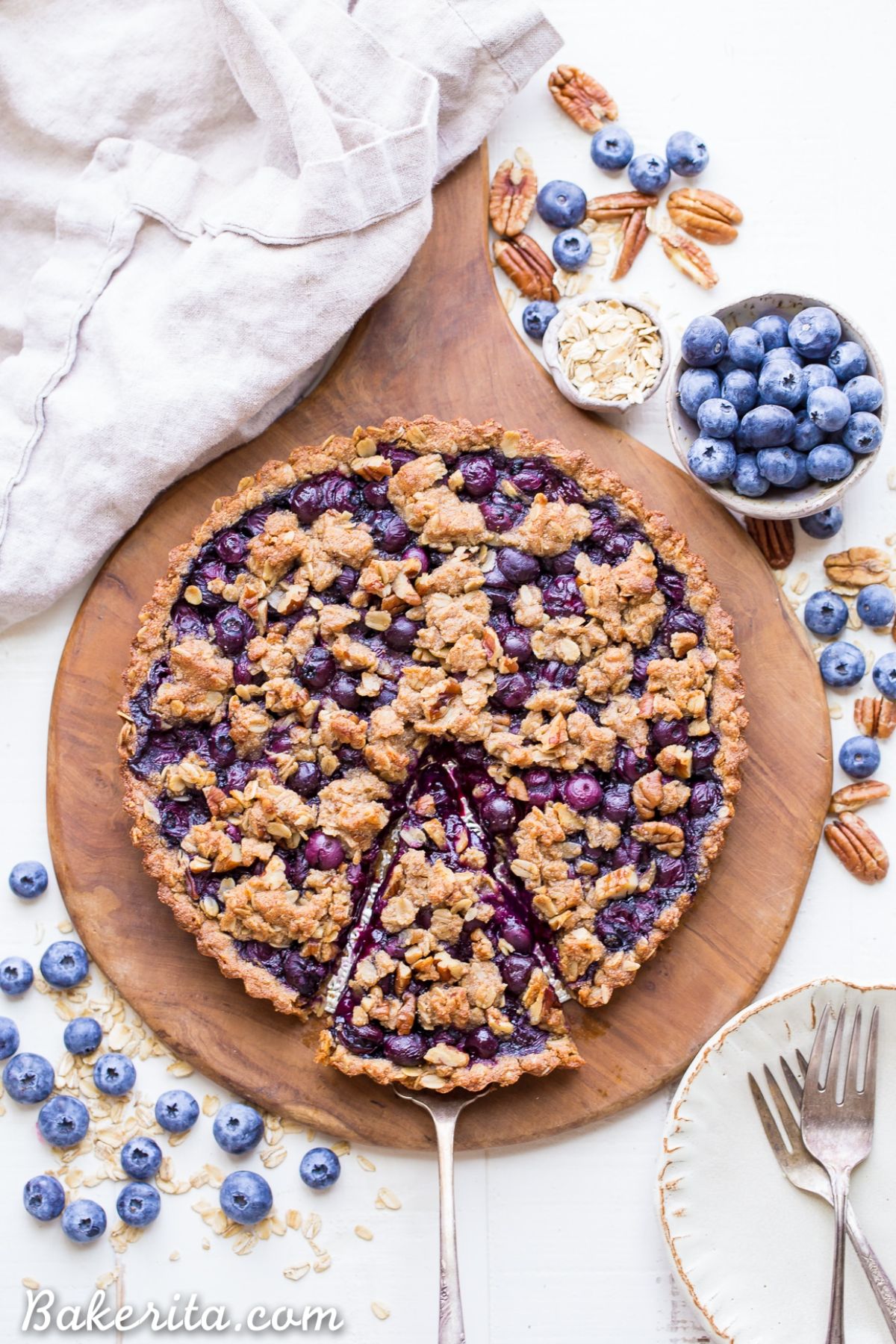 This gluten-free and vegan dessert is a healthy take on the typical tart dessert, but it uses an oatmeal crust, almond flour, and coconut oil instead of the unhealthy traditional ingredients! Use old-fashioned oats, maple syrup, chopped Evans, and fresh blueberries for this blue dessert.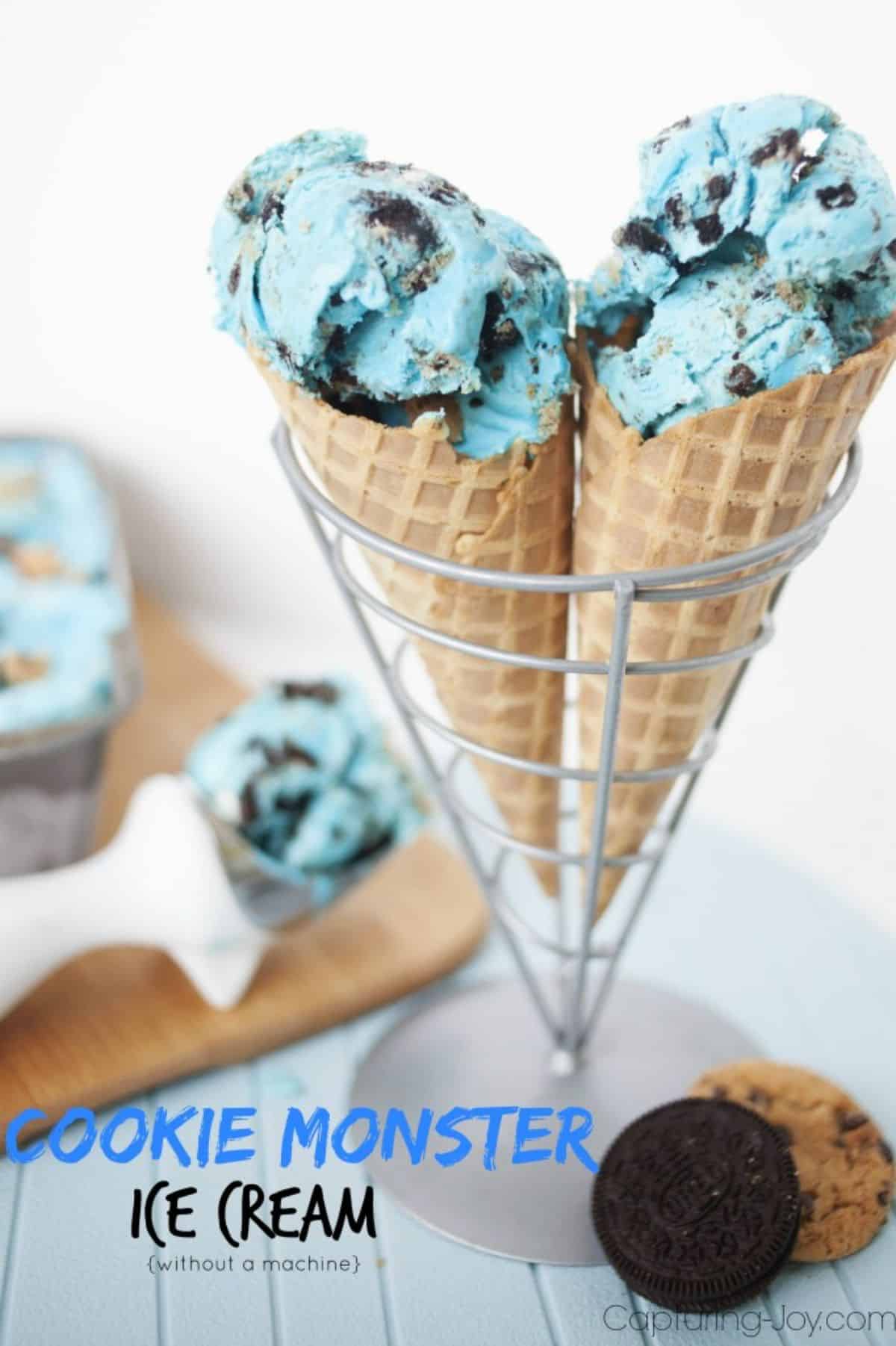 If you need a dessert for a children's birthday party, this is THE best idea! Not only is this Cookie Monster reminiscent of the infamous TV show, but the bright blue color, tasty flavors, and fun appearance make this ideal for a summertime kid's get-together.
Who knew making ice cream could be so easy? You can make this fast and fun recipe without using an ice cream machine, so you never have to worry about the machine breaking or buying one at the store.
Gather heavy whipping cream, cream cheese, condensed milk, Oreo cookies, Chips Ahoy cookies, and blue food coloring paste. This recipe takes 20 minutes of prep time and can be served after 4-6 hours of freezing.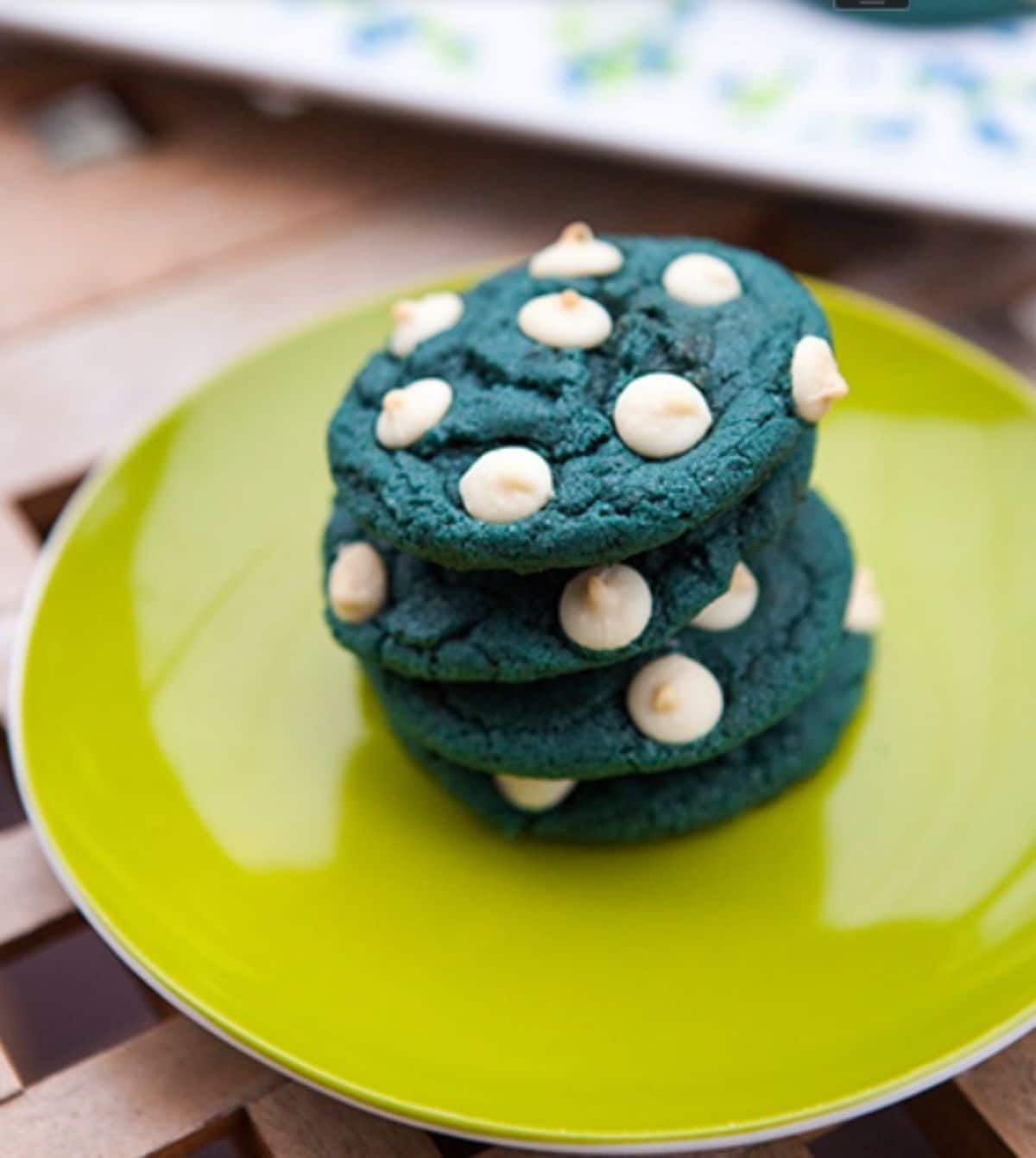 Sure, you have heard of Red Velvet White Chocolate before, but have you ever heard of Blue Velvet? We don't think so! These bright blue cookies look great with white chocolate chips. Of course, you can also use dark chocolate chips if you are more of a bitter-chocolate lover.
For this recipe, use the typical cooked baking ingredients, plus blue food coloring and white chocolate chips for the aesthetic final product. This recipe takes just 20 minutes of prep time and 8 minutes of bake time. Let the cookies cool on a baking sheet before placing them on a wire rack before serving.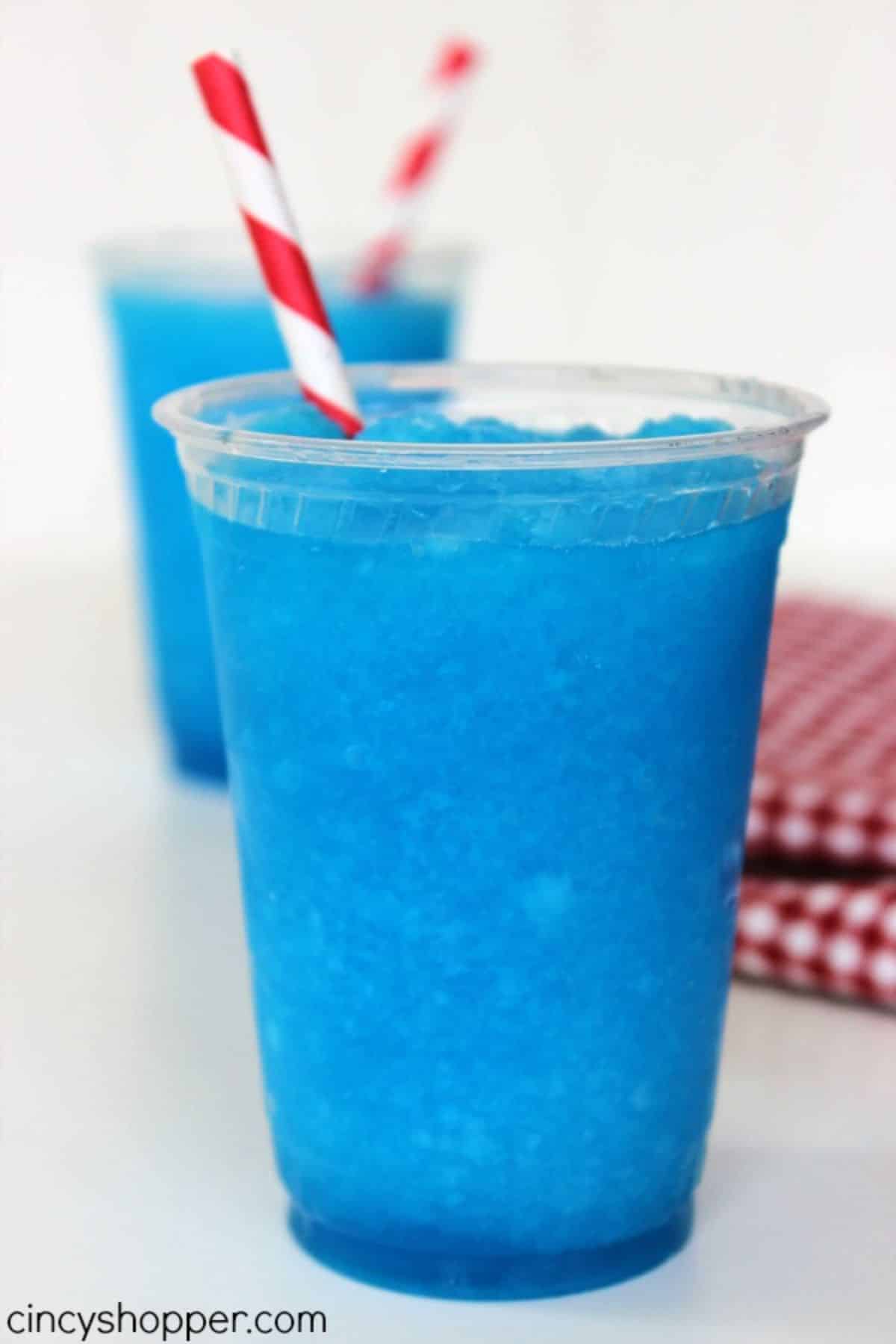 Is it a hot summer day, and you are out and about with your friends? If so, bringing along some slushies or Slurpees can be the best way to cool off without drinking unhealthy soda or boring ice-cold water. We love serving these blue Slurpees during days in the park or kid's parties.
All you need for this sweet drink is club soda, sugar, blue raspberry lemonade drink mix, crushed ice, and neon blue food coloring. You can use any type of drink mix you want, but we think that Kool-Aid has some of the best flavors out there!
This recipe takes just 20 minutes of prep and serves time for an easy and fast party drink. Adults can even add vodka or rum to this tasty blue drink!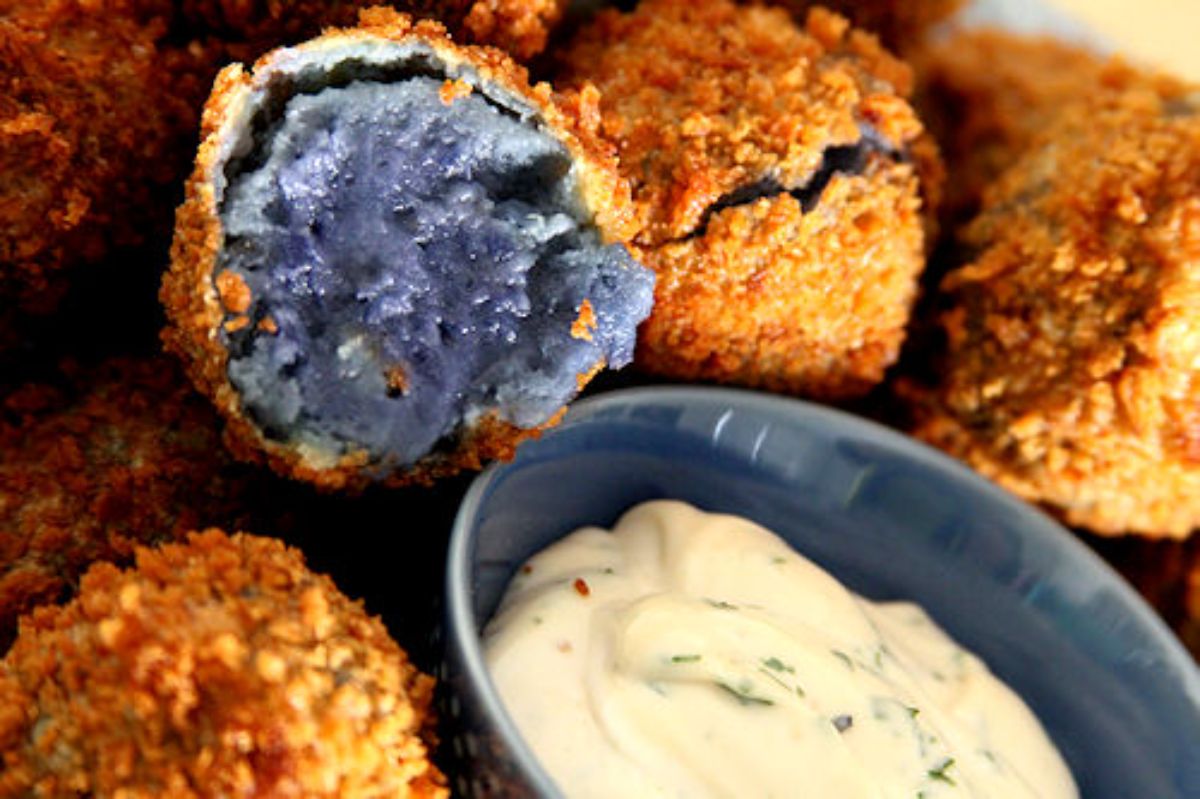 Who said that blue food had to be desserts only? Not us! You can make use of tons of blue foods for appetizers, lunch dishes, dinner platters, and breakfast buffets. One of our favorite blue dishes that are going to take your guests by pleasant surprise is blue potato croquettes with aioli dipping sauce.
For this recipe, you will need blue potatoes, eggs, green onion, milk, flour, and panko bread crumbs to make the croquettes. Bake the croquettes in an oven until they turn golden brown. Then, make the garlic aioli dip for a savory sauce for the crunchy and crispy croquettes.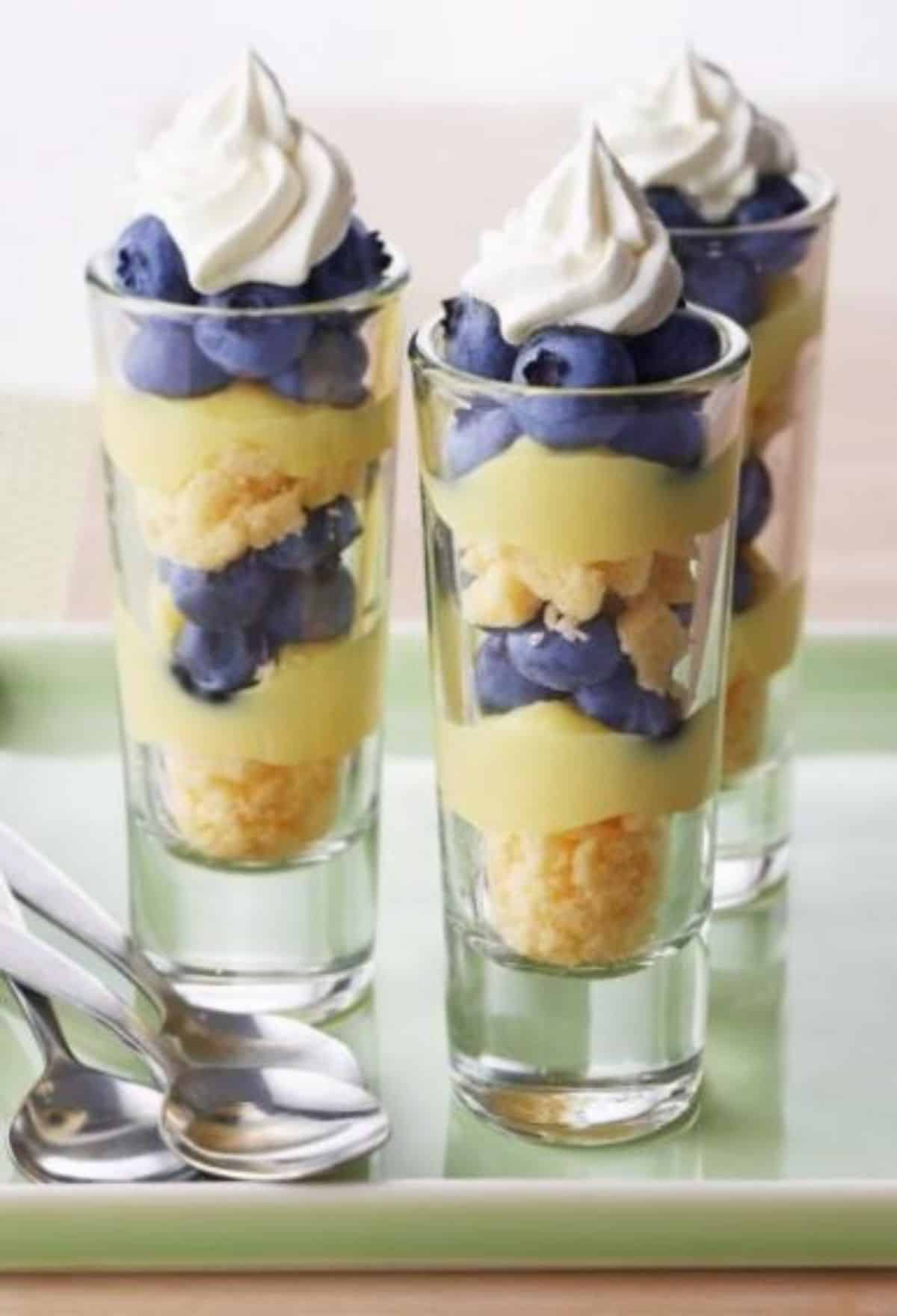 We already know that blueberry and lemon pair perfectly together. That is why this easy and fast dessert dish in a glass is great for a small, portion-controlled sweet treat that is going to have all of your guests raving for days on end.
The best part? This dessert is super easy to make! You only need pound cake crumbs, lemon curd, blueberries, and whipping cream. Layer the ingredients in a shot glass or cup of your choice, and then refrigerate until you serve.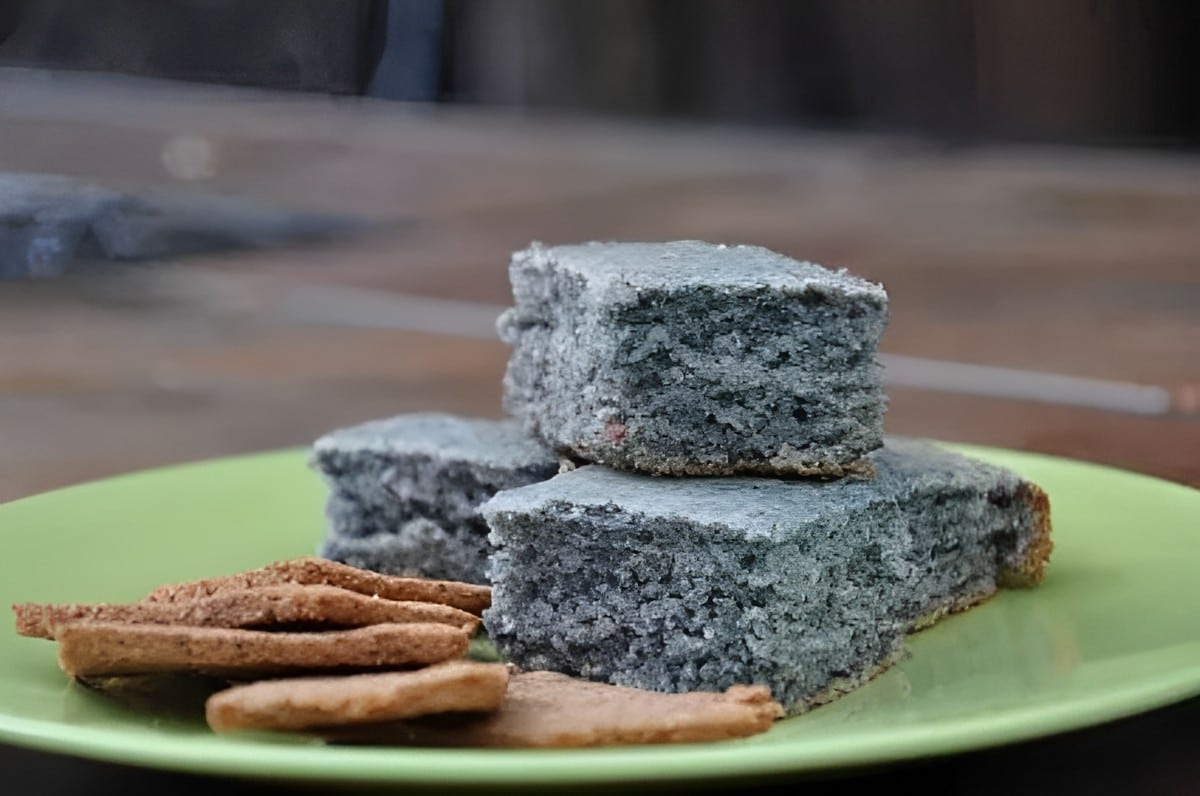 Cornbread pairs well with soup, Mexican-spiced dishes, and hearty stews during the wintertime. You can make blue cornbread to brighten up your table and make use of the different 'blue corn' texture when compared to typical white or yellow corn!
For this recipe, you can substitute healthy ingredients to make it gluten-free and health-conscious. We recommend using non-fat almond milk, Organic Blue Corn Meal, Gluten Free Pancake and Baking Mix, and your typical baking ingredients. Not only is this dish tasty and healthy, but it tastes great as a dipping bread with chili!