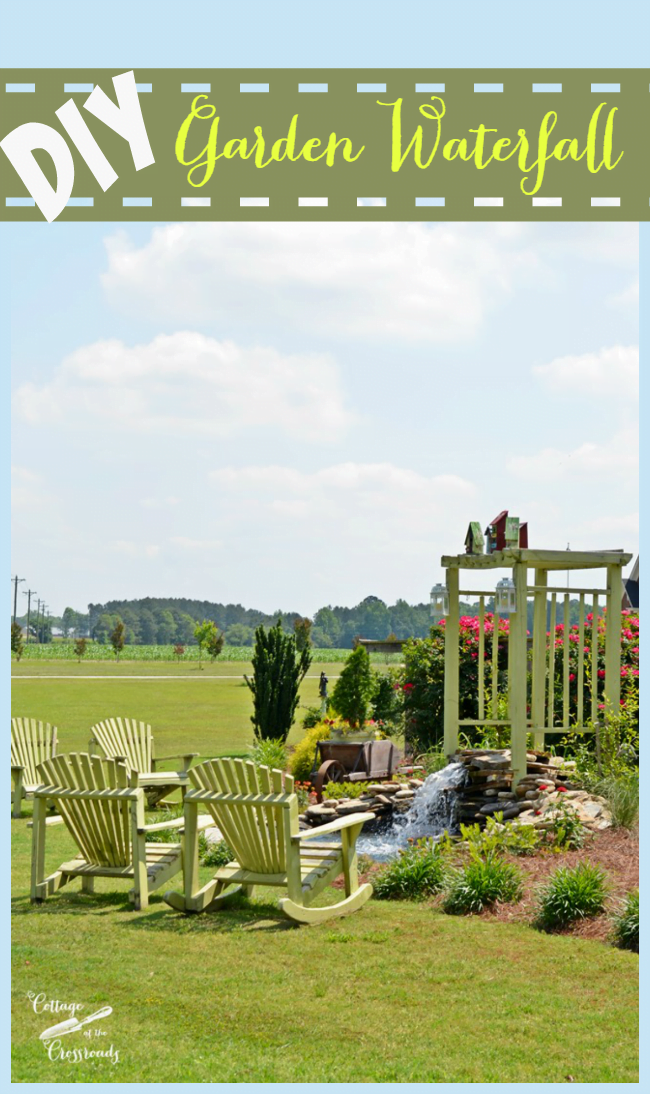 Here it is! The reveal of our DIY garden waterfall! This post is going to be a little heavy with photos, but that's what you've been waiting for, right?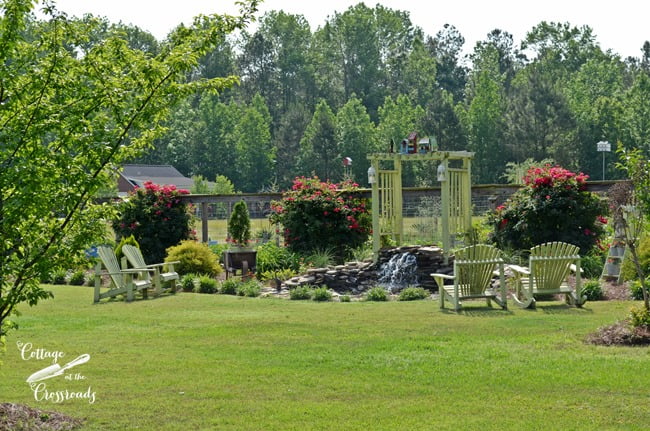 I just can't explain how delighted we are with this pond and waterfall that we recently built. Back during the winter when I was dreaming about sprucing up this area in front of our vegetable garden, it never entered my mind that we could create something like this! But thanks to the wonderful folks at Smartpond who contacted us and provided us with the supplies, we were able to create this dream water feature for our flower garden.
This post may contain Amazon or other affiliate links. As an Amazon associate, I earn from qualifying purchases. If you purchase anything through any affiliate link, I may earn a small commission at no extra charge to you. All opinions are my own.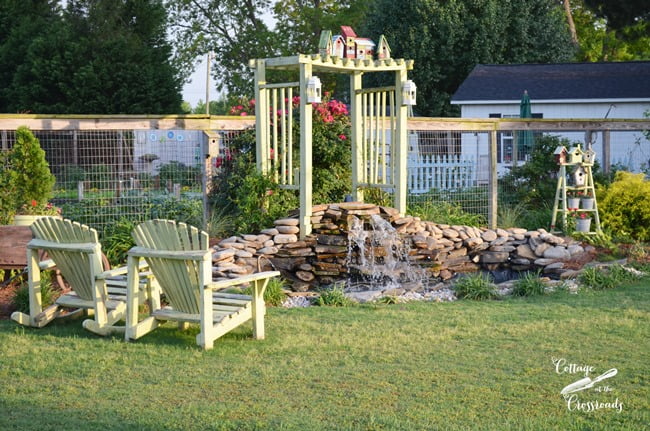 We started working on the waterfall during March, but we took our time constructing it. You see, we had several other large projects that we were working on such as building our Freestanding Deck in Our Garden. Along with making some changes, we were trying to plant our vegetables. At the same time, both Leo and I were involved in putting together a big golf tournament and reception. Some days it was just too cold and rainy during March to get much done, so we spent a little time researching how to build a water feature.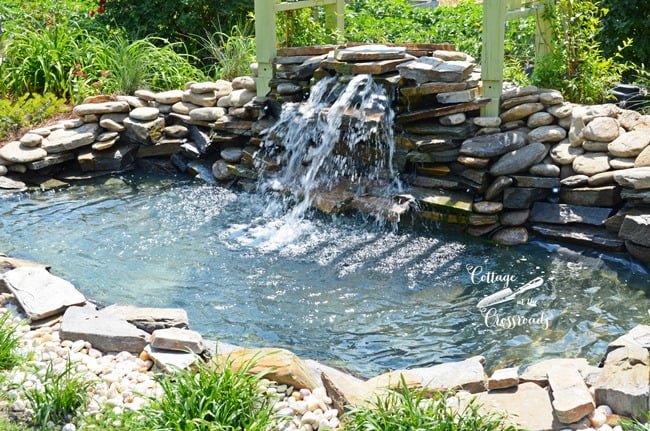 We actually got it constructed and the water running during April, and we have been enjoying it ever since. If you missed our previous posts, you can click on any of these links for the step-by-step process that we used.
Building a Garden Waterfall: Part 1
Building a Garden Waterfall: Part 2
Building a Garden Waterfall: Part 3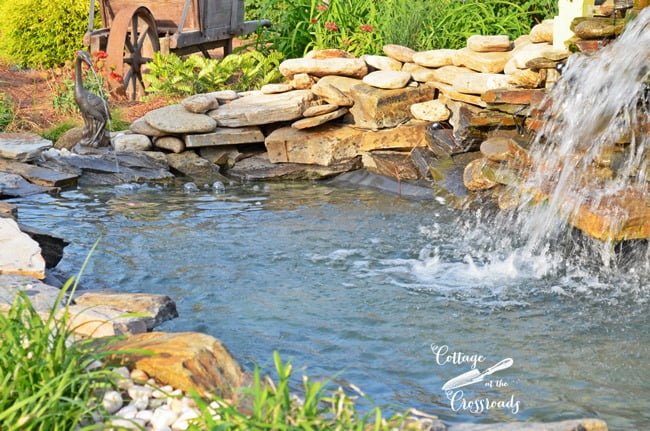 The sound of the waterfall is the most relaxing sound in the world! We feel like we're in the mountains when we sit beside it. My mother, who is 92 and lives in a little cottage in our yard, sits beside it early in the morning and meditates.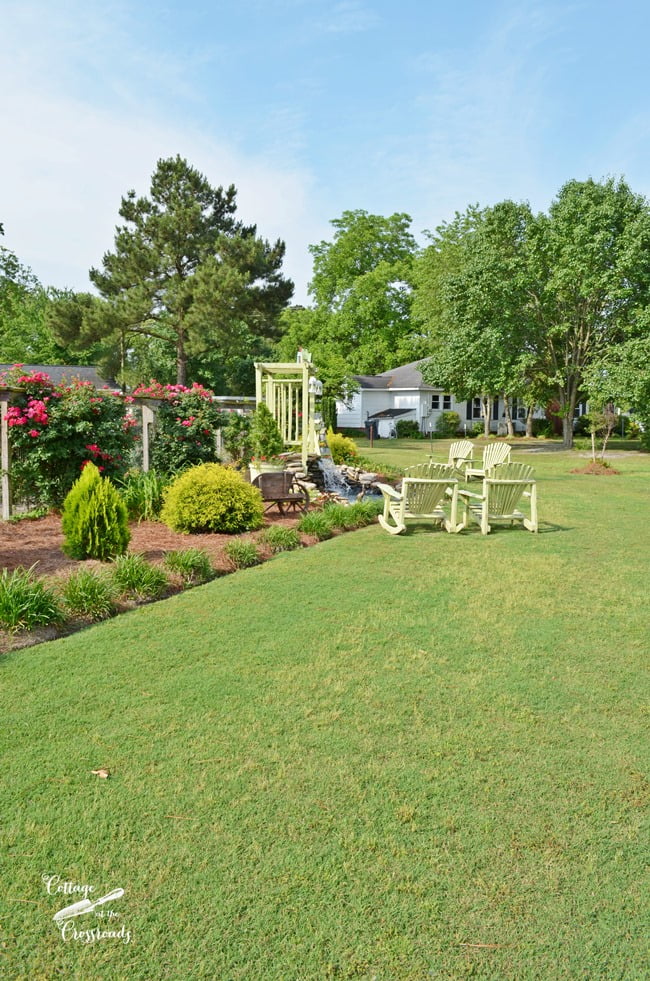 Whenever people pass by our house, the waterfall is the first thing that they see. We've even had people stopping by to ask how we built it.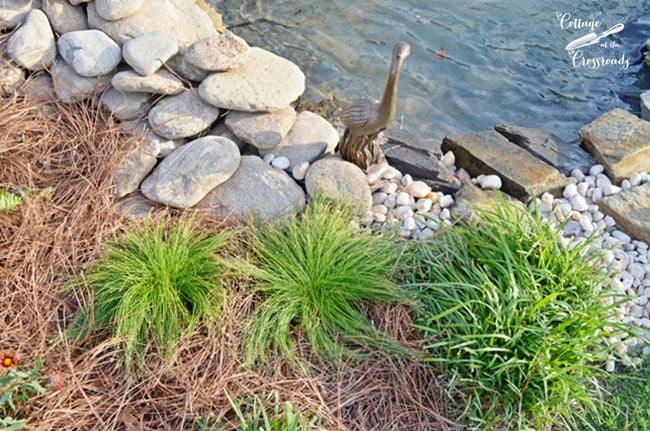 After getting the waterfall built and functioning, the next step was landscaping it.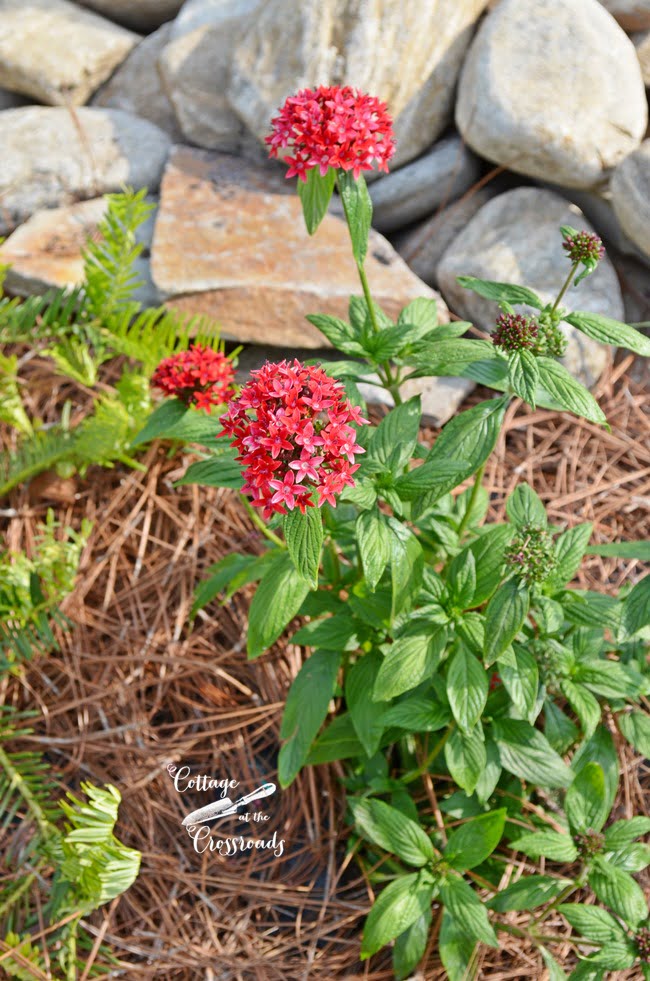 Since I had already been using hot colors of red, yellow, and orange in this flower bed, I continued with that theme.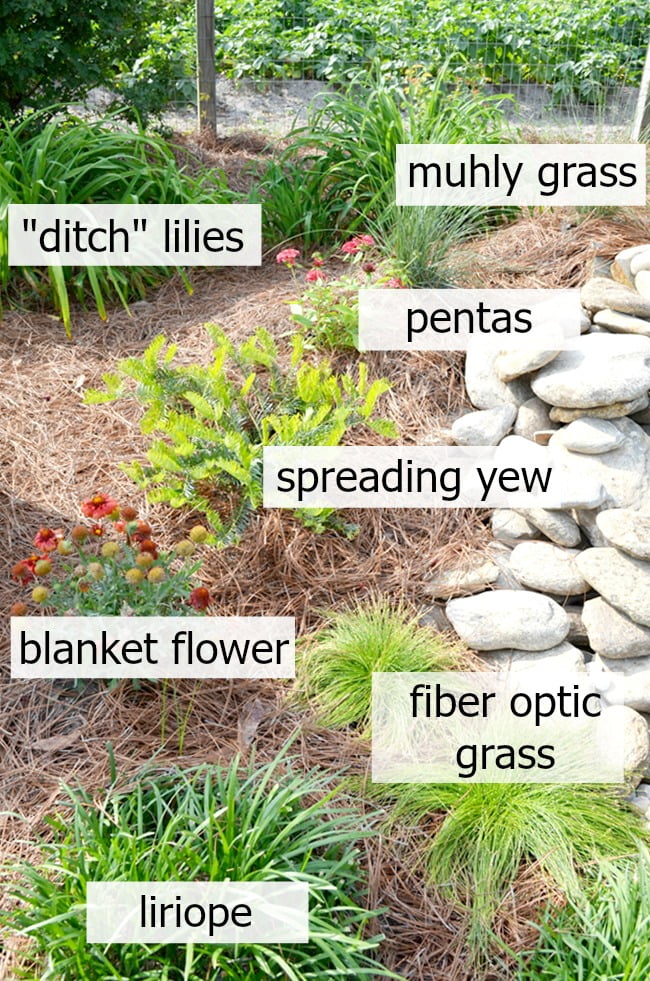 To select the plants, I took a photograph of the waterfall to my favorite local garden center Taylor Garden and Gift Shop. They helped me select some low maintenance plants. The liriope and the "ditch" lilies were already established in this area, but we added a mix of grasses, perennials, and annuals. I am in love with the fiber optic grass. The ends of the stems have little white flowers that give the effect of little lights at the end of the foliage. The blanket flower will bloom all spring to fall, the spreading yew is an evergreen that adds a lot of interest, the pentas are butterfly magnets, and the muhly grass will turn into a billowy mass of pink in the fall. It's very similar to sweetgrass from the Lowcountry.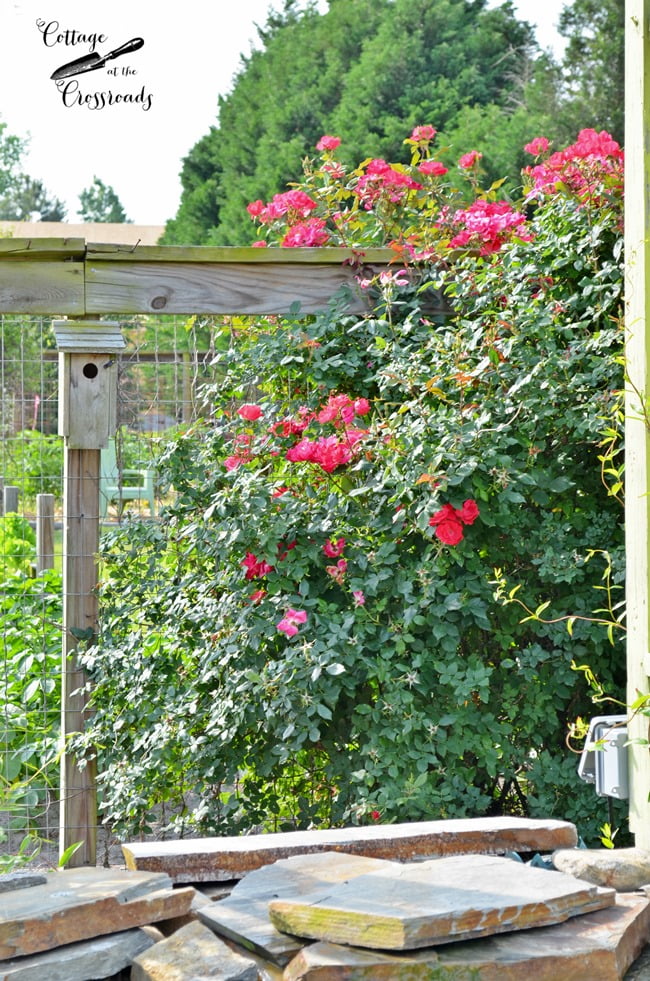 The Knock-Out roses that were planted along the fence 5 years ago are huge and have been beautiful this spring. We did replace a few climbing roses that we lost last year.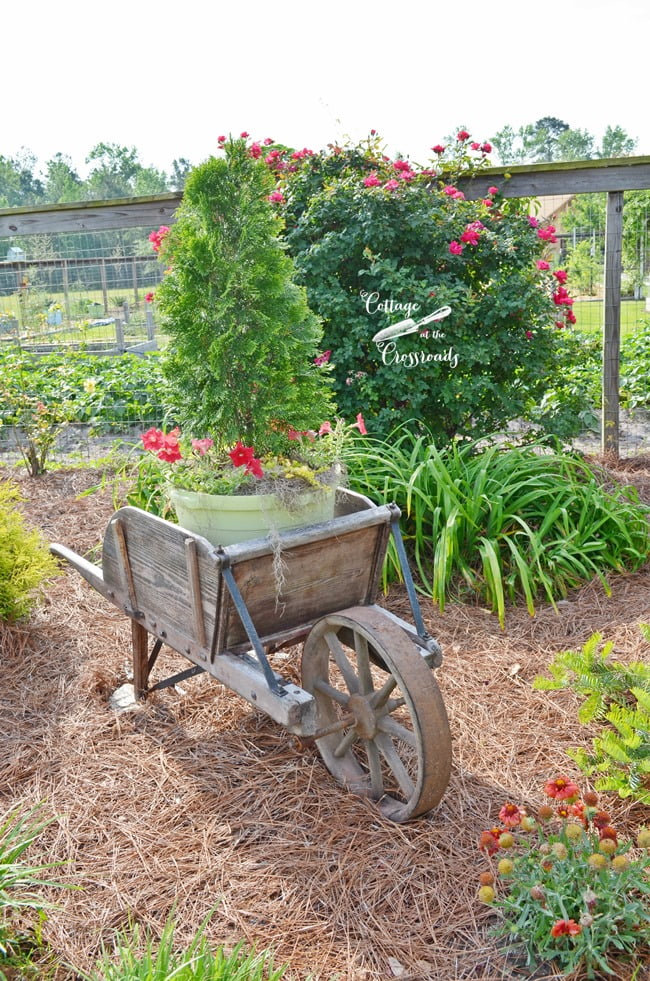 Another evergreen got replanted with some red Wave petunias and creeping jenny. In time, those should spill down the sides of the old wheelbarrow.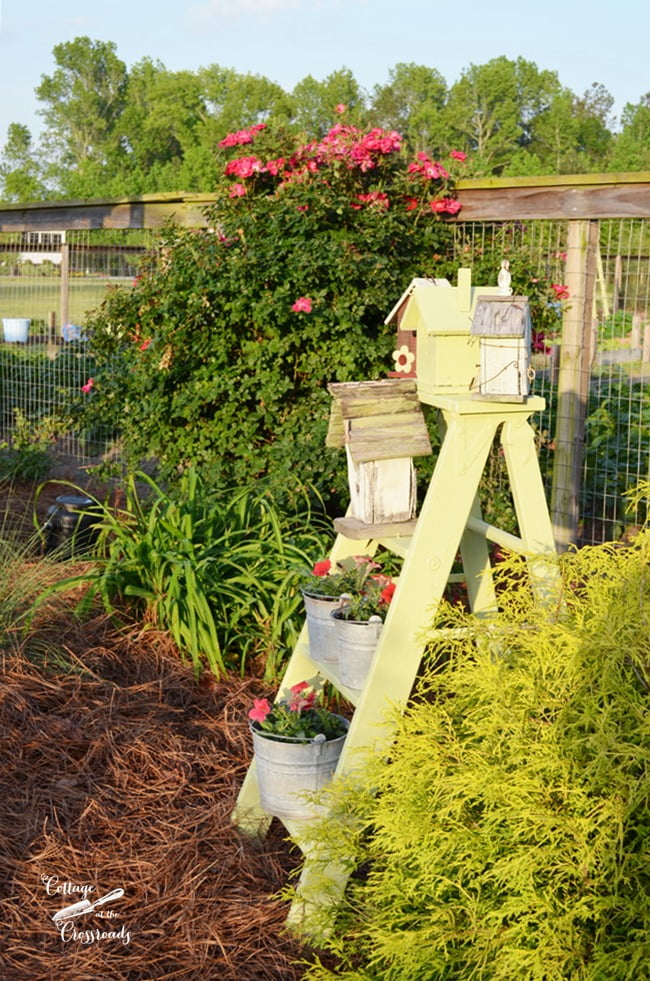 An old wooden ladder holds a mix of birdhouses and red petunias.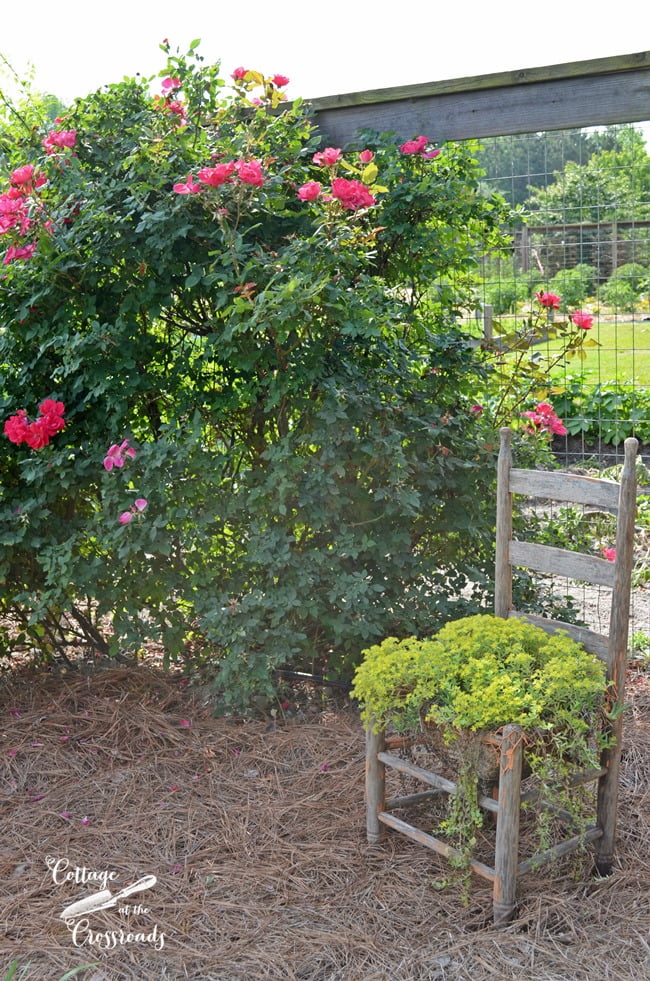 An old chair planter was pulled into this area to add a little cottage charm.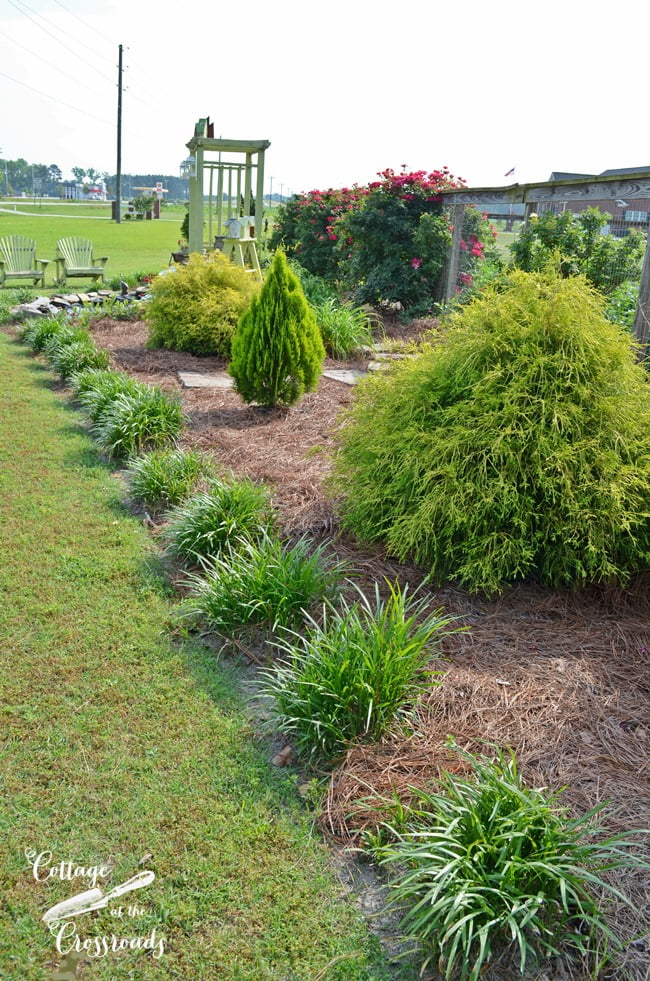 There are plenty of bare spots left yet that I can fill with perennials to complete this cottage garden.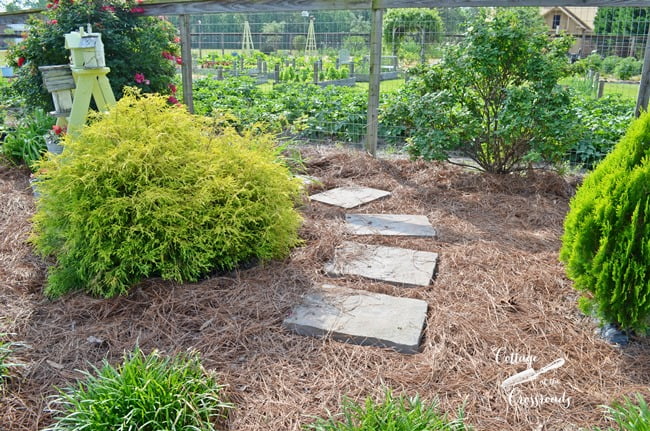 Leo created a little pathway to the back of the waterfall with some stepping stones that were previously in our vegetable garden. But we probably won't need to get back there too much since everything is running on a timer.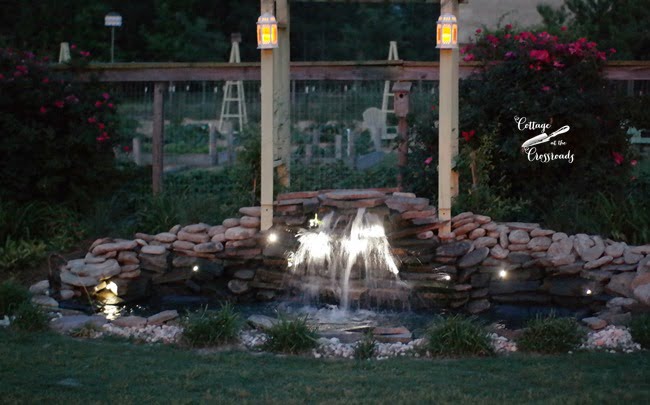 The mini-LED lights come on at dusk, but the lanterns are solar powered.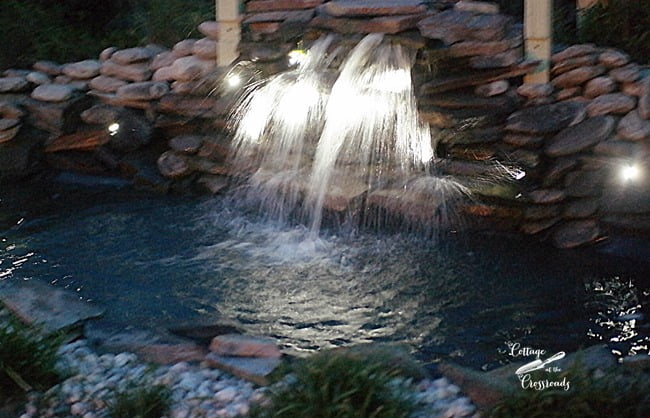 The waterfall looks just as spectacular at night with the lights!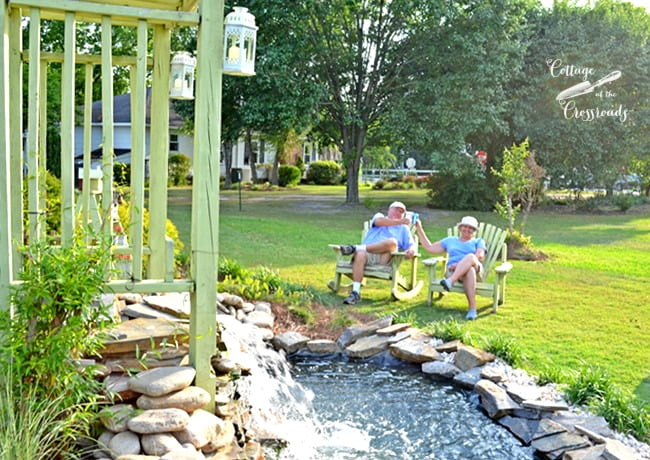 Would you like to build a water feature at your house? Oh, come on. If two retired old farts can do it, so can you!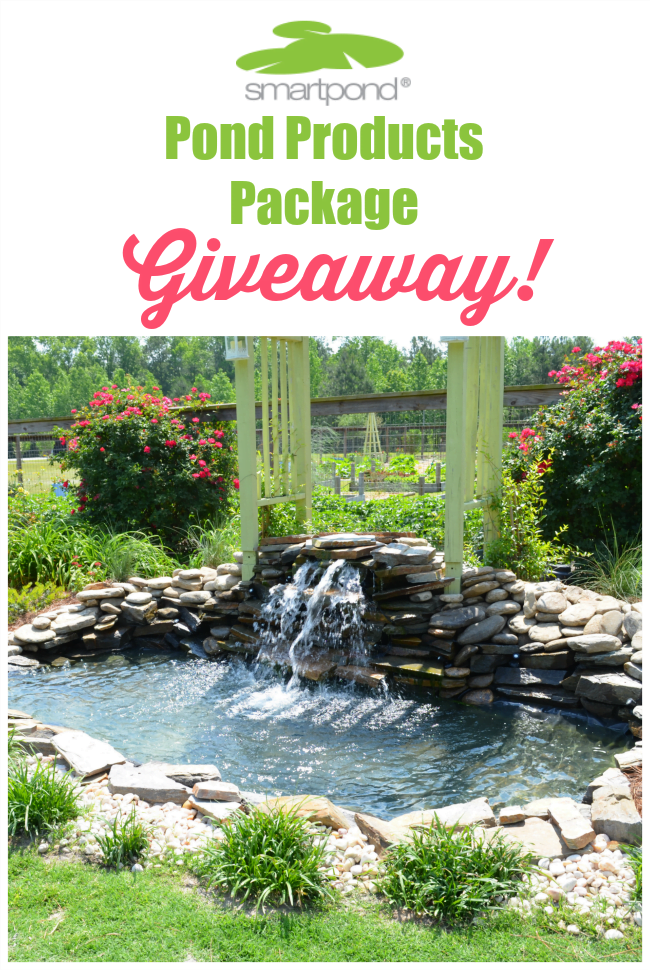 Thanks to the generosity of Smartpond, we are having a giveaway! Smartpond is offering to help one of our lucky readers with the basic equipment needed to create your own pond-from the liner to the pump, filtration, nozzles, and decorative sprays. (Products will be comparable to the ones we used for a pond this size or smaller, not including the stones and landscaping, of course!)
WOOHOO! All you have to do is to follow the directions in the Rafflecopter form below. Good luck everyone!

Sharing at: Wow Us [email protected]Savvy Southern Style