I'm giddy with excitement over our newest creation! We took an old chair and some pieces of vintage red and white enamelware and came up with this enamelware chair fountain!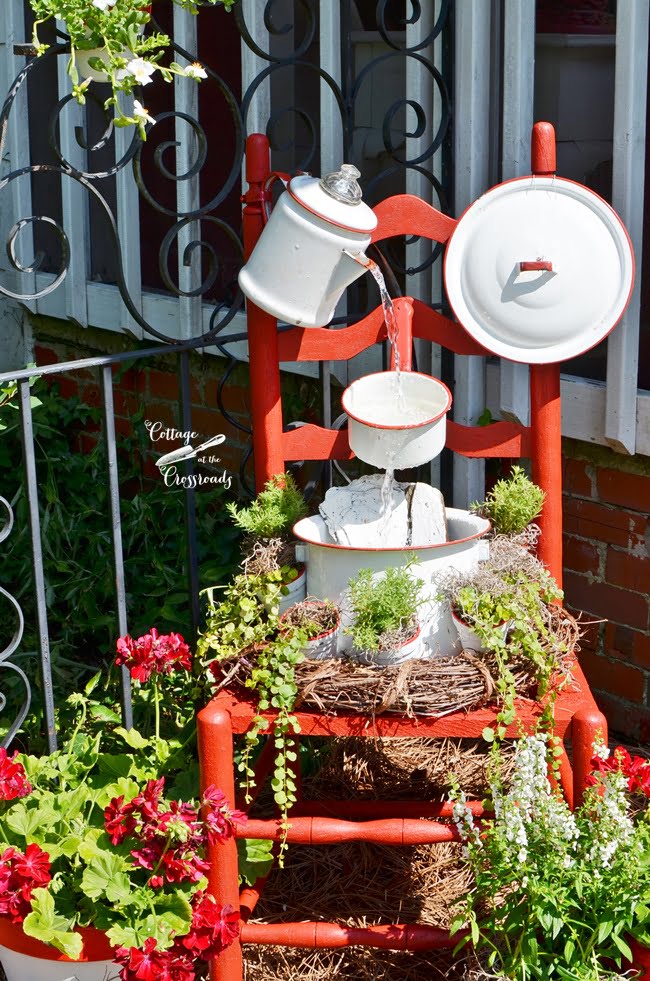 Once again, we have partnered with our friends at smartpond who issued us a challenge to creatively use their low-water auto shut-off pump. Their pond products that cater to DIY enthusiasts are sold exclusively at Lowes. (This is a sponsored post since we were provided with the pump and tubing and were compensated for our time and supplies.)
This post may contain Amazon or other affiliate links. As an Amazon associate, I earn from qualifying purchases. If you purchase anything through any affiliate link, I may earn a small commission at no extra charge to you. All opinions are my own.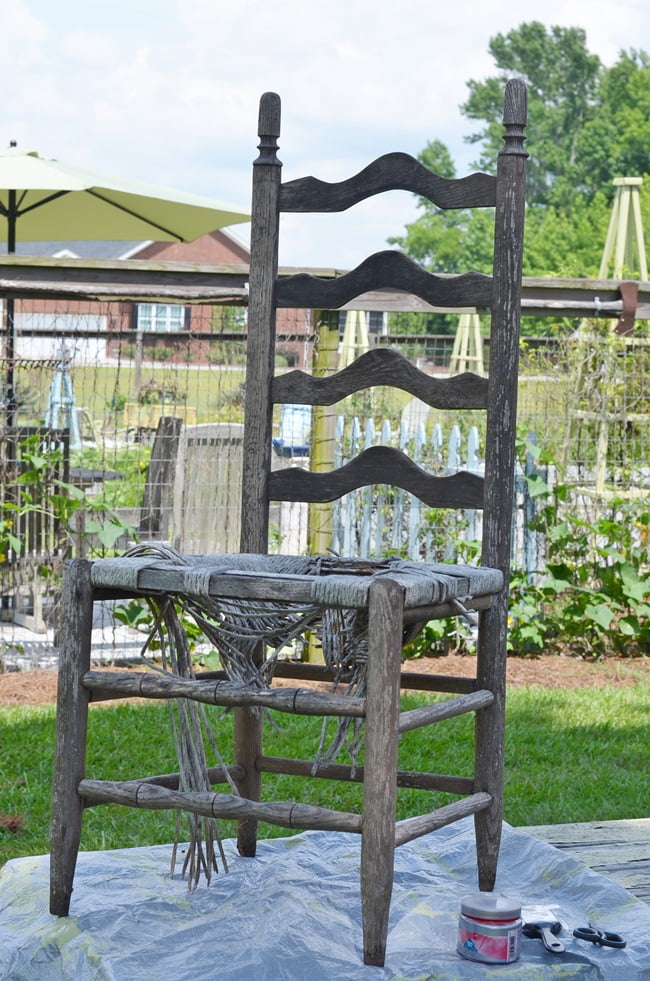 As soon as we were issued the challenge, I knew exactly what we could use to create our fountain. This old chair had been sitting outside my shop for at least 2 years along with an old red and white enamelware chamber pot tucked down into the seat. (You do know about chamber pots, right?)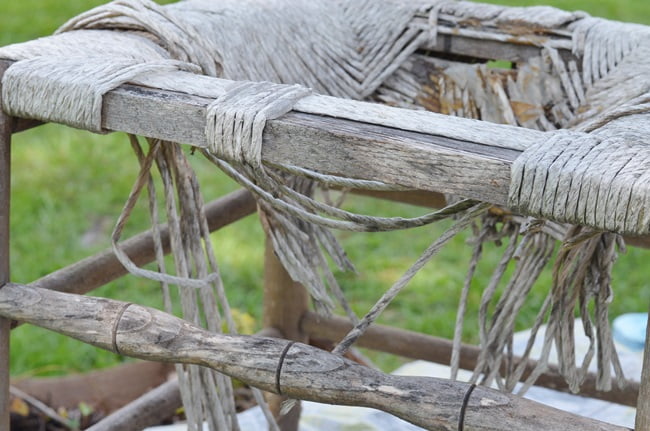 Well, time and weather had taken its toll on the old rush seat, and it did take a bit of time to cut all that off the chair bottom. After that, I was able to paint the chair with some red paint that matched the red on enamel chamber pot.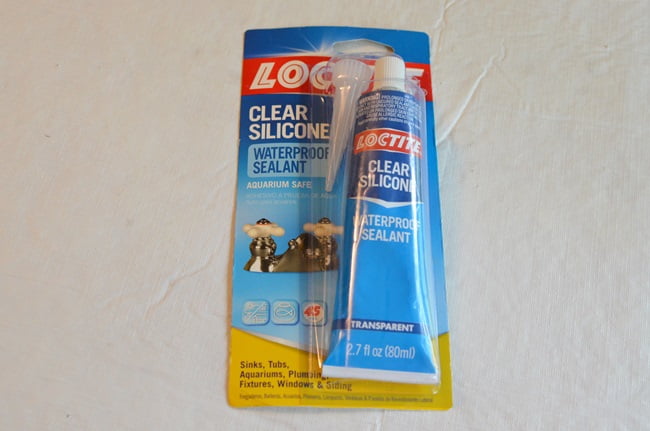 The chamber pot had a pinhole leak in the bottom so I fixed that with this waterproof sealant.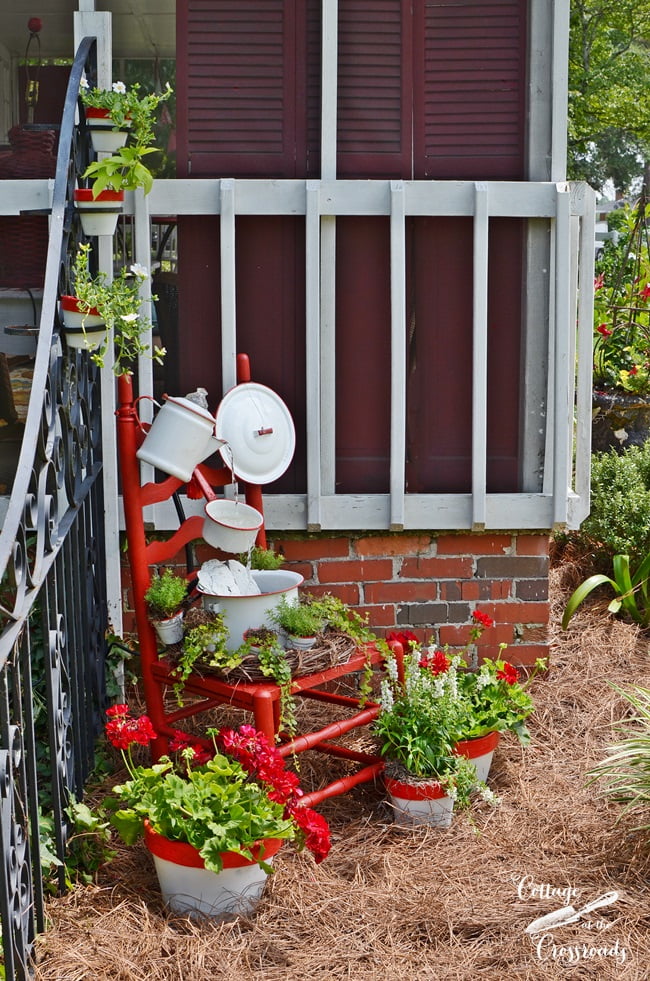 I need to explain to you why we placed the enamelware chair fountain into this corner. You see, Leo and I are BIG coffee drinkers, and the very first place we head to in the morning is our front porch where we enjoy several cups of coffee before we start our day. So I thought how wonderful it would be to enjoy the sound of babbling water as we have our coffee.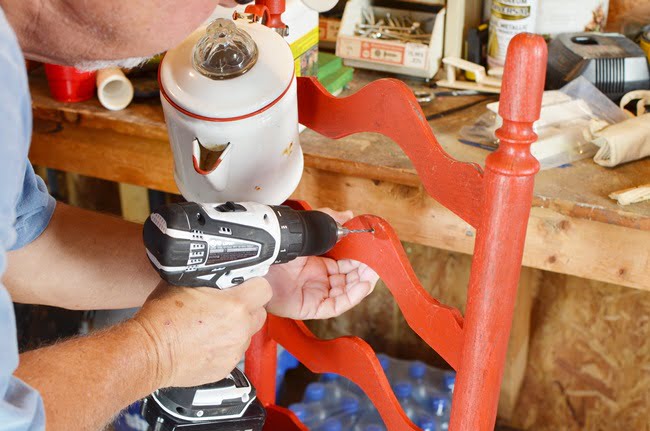 Since we're coffee drinkers, I found a vintage enamelware coffee pot on eBay, and here you can see Leo attaching it and another piece to the old chair. He did have to drill a hole into the back of the coffee pot in order to run the tubing into it. First he created a pilot hole with a nail and then used a metal bit to make a large enough hole to accommodate the 1/2 inch size tubing.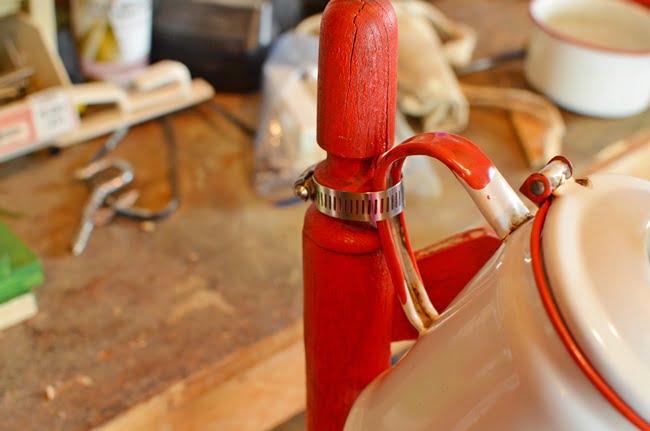 Be sure to rinse out the pot after creating the hole because we found that little bits of metal had dropped down inside when he was reaming out the hole for the tube. You can see that he used a hose clamp to attach the handle of the coffee pot to the chair.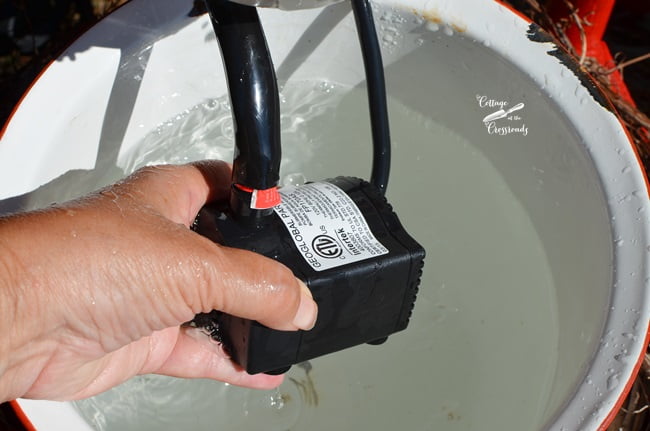 Now here is the heart of the whole fountain. This low-water auto shutoff pump (model #FP170AS) eliminates the worry of burning up a pump if the water level in your fountain gets too low. I'm so glad that smartpond came up with the technology for the pump to automatically shut off! One less thing to worry about, right?
To make it all work, all we had to do was to connect the tubing to the back of the pump (very simple) and pull the tubing from the pump up to the hole in the back of the coffee pot and let it hang down inside the pot about 4 inches. (We had to cut off the extra length of tubing that we didn't need.)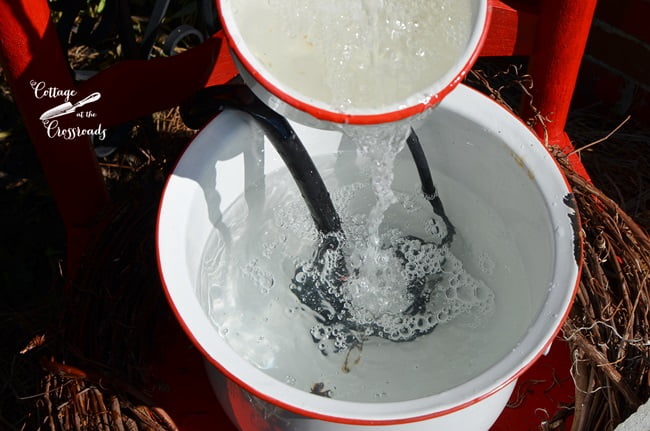 Then we filled the chamber pot with water, placed the pump in the bottom of the chamber pot and plugged in the electrical cord that's attached to the pump.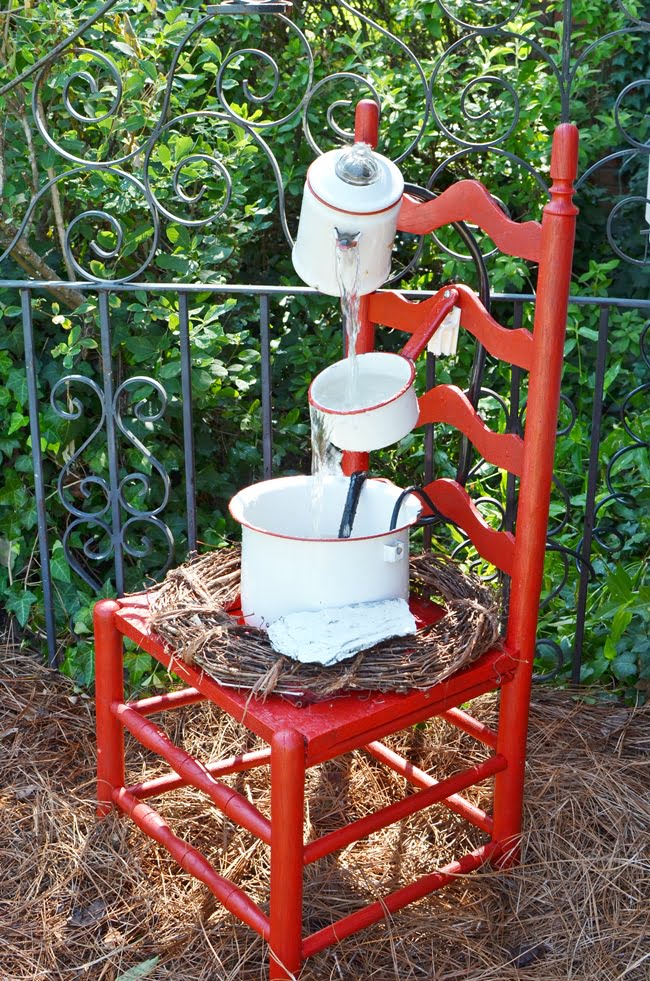 In the photo above, you can see how the tubing runs from the pump, out the chamber pot, and then up to the coffee pot at the top. I camouflaged some of the tubing and the piece of plastic used to get the right angle of the pot in the middle by painting them red.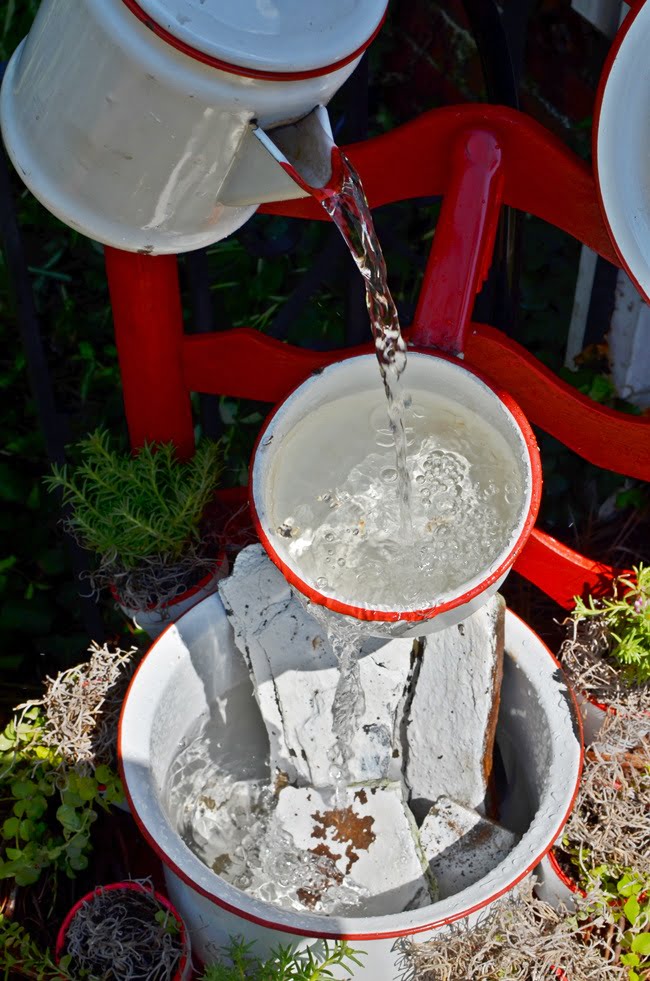 To hide the tubing in the chamber pot, I placed some painted rocks down inside. (No, I didn't paint the rocks just for this purpose! It's a long story as to how those rocks got painted!) You may notice a grapevine wreath surrounding the pot. It camouflages the wood that Leo screwed into the bottom of the chair after I took out the rush seat.
The grapevine wreath looked like it needed a little something so I painted some small terracotta pots to look like vintage red and white enamelware.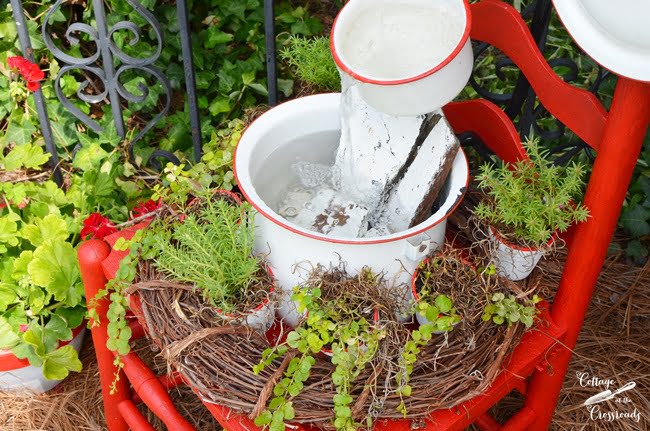 That did the trick so I just couldn't stop myself! I painted up some larger pots to place around the base of the chair.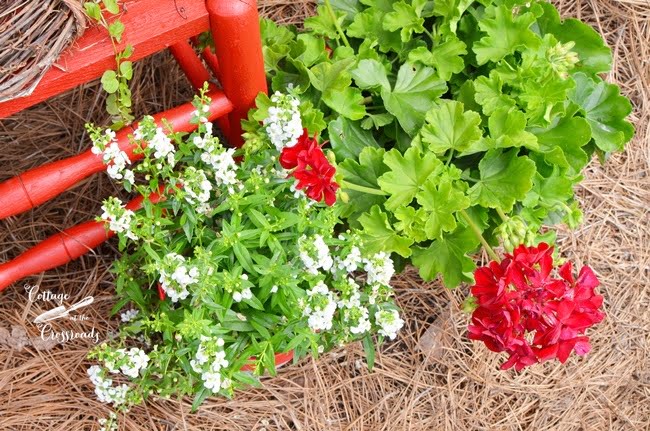 The white flower is angelonia which does very well in our heat here in South Carolina, and nothing says summer more than red geraniums.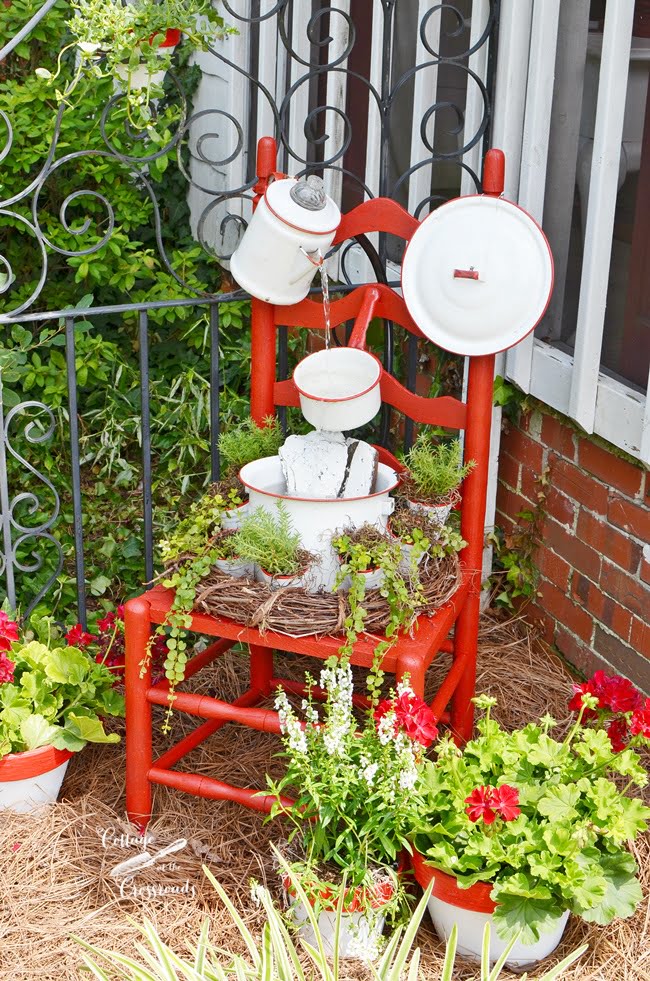 The enamelware chair fountain is tucked into this corner which has part of a wrought iron gate attached to the house. We bought this piece when we lived near Charleston, SC and brought it with us to the Crossroads.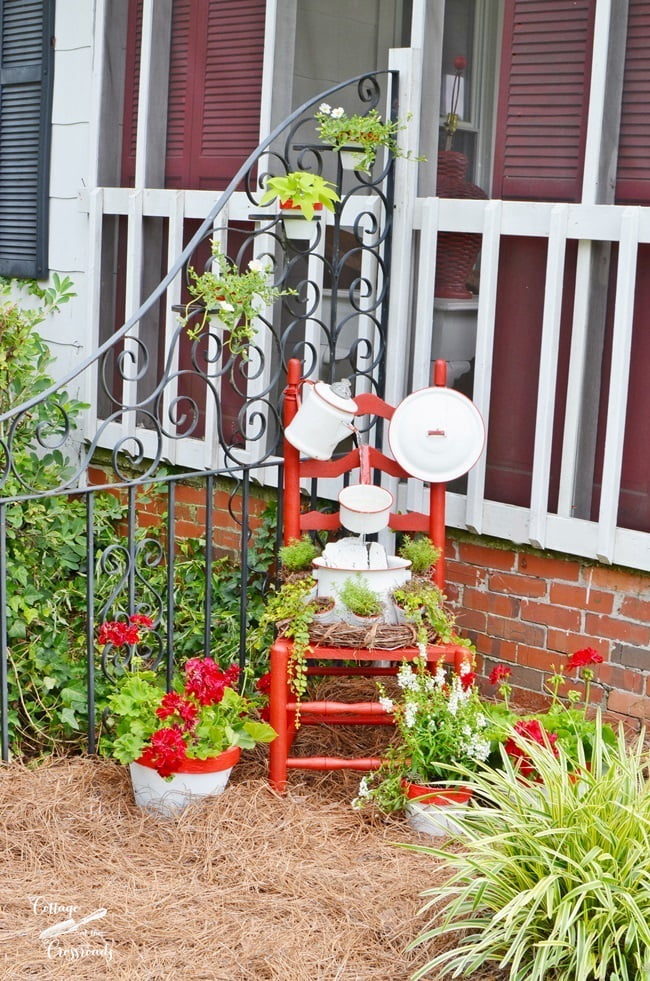 It is unique in that it had these round pot holders incorporated into its design. So I painted some pots to fit the holders. (I told you I just couldn't stop!)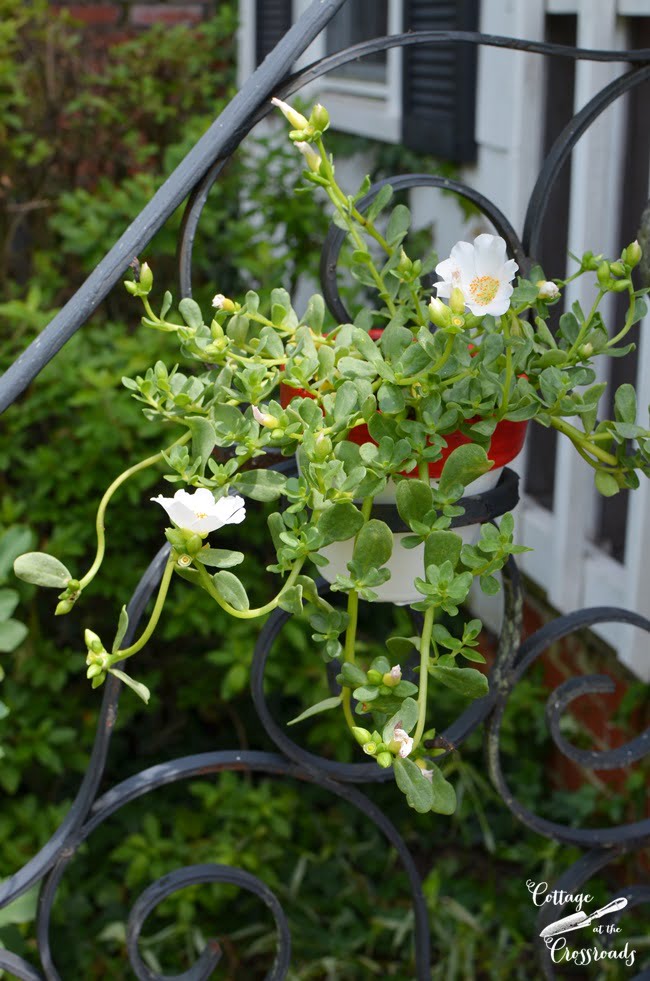 I planted some heat loving flowers and a sweet potato vine into those.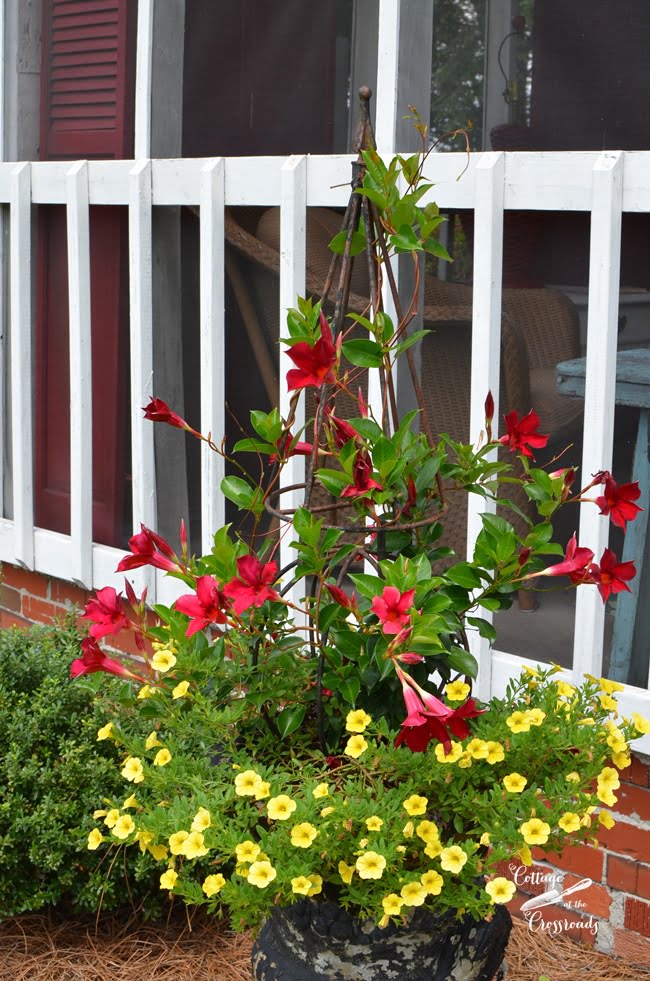 You may remember that I have a red and yellow flower scheme going on around the front of the house, too.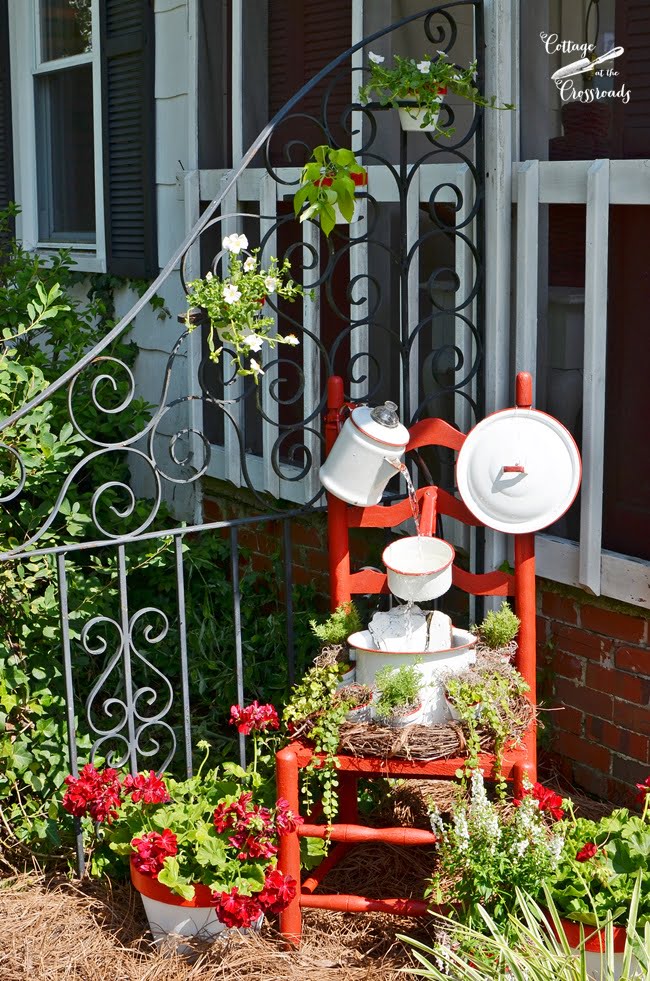 I just cannot tell you how delighted I am with how everything turned out. The enamelware chair fountain has increased our porch sitting pleasure, that's for sure.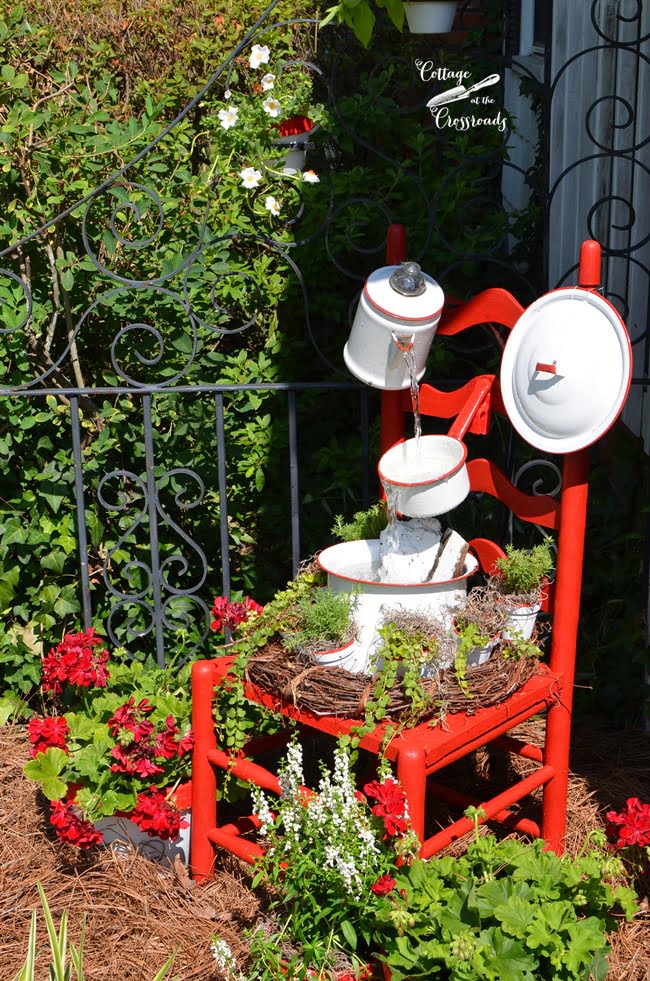 It really was so easy to create this fountain. Start looking around for an old chair and some pots and pans to create yourself one! I'm already thinking about creating a blue version to place outside my mom's apartment.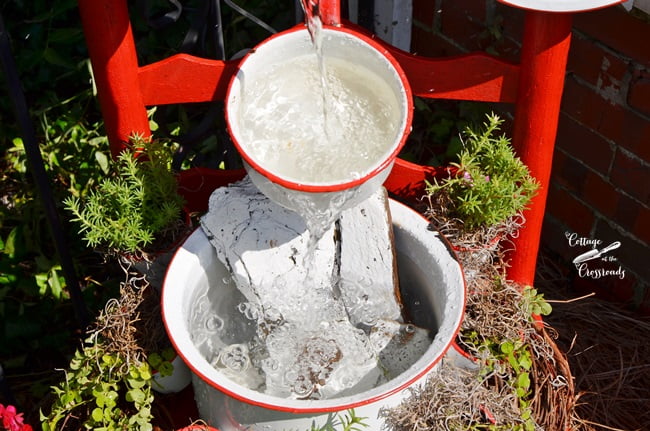 There really is nothing more soothing than the sound of trickling water, is there?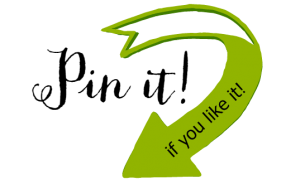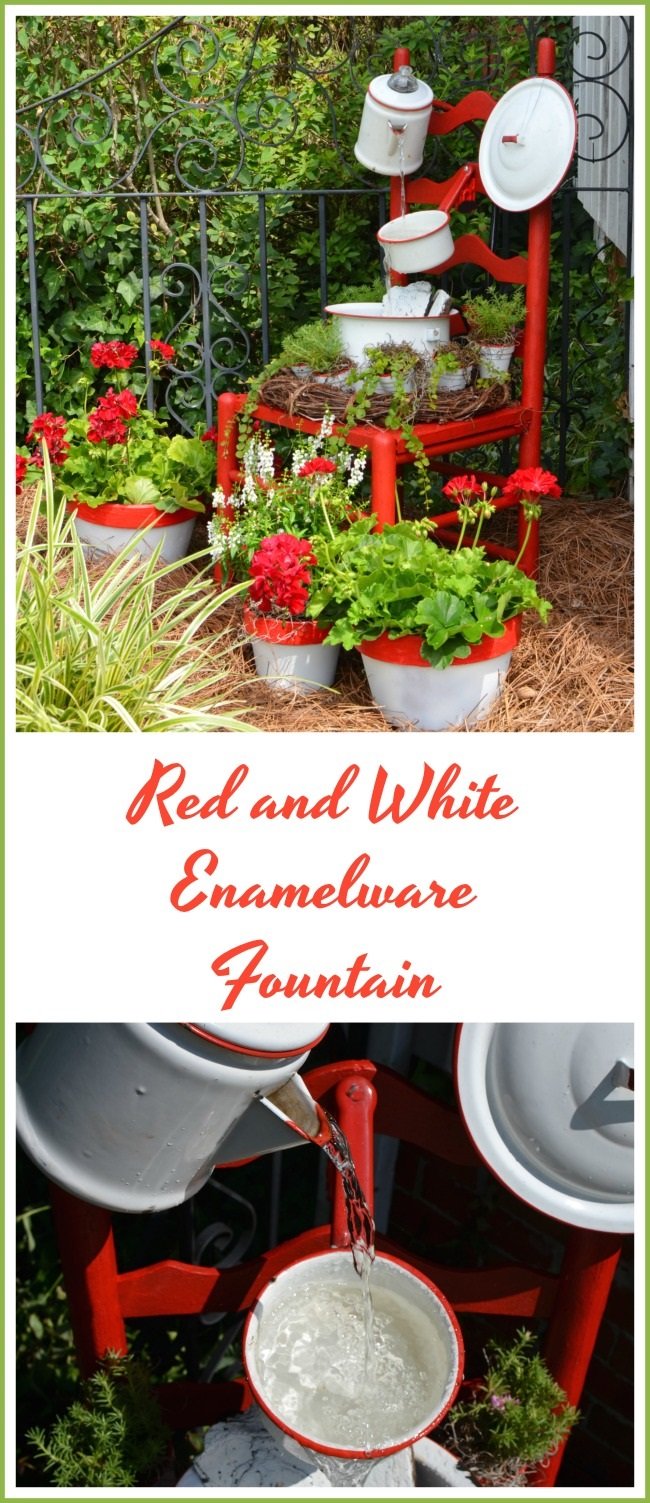 Thank you so much for pinning our enamelware chair fountain, and I hope it's inspired you to create your own. If so, you're in luck because the generous folks at smartpond are giving away several of the exact same pumps that we used to our readers. Just leave a comment below and we'll randomly choose some winners on Friday, July 7. (Only US residents are eligible to win.) If you cannot wait to hear if you've won, you can find the pump and the tubing at your local Lowes store.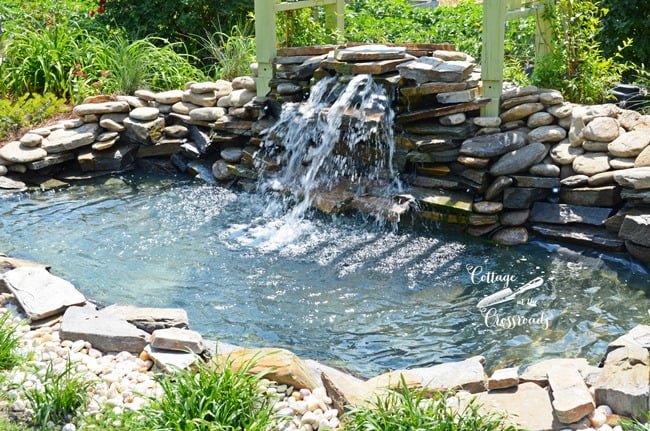 To see another smartpond project that we completed, click HERE.
Before you go, leave us a comment so that you'll be entered into the giveaway!
Sharing at: Wow Us [email protected]Savvy Southern Style