Lookie here! Lookie here! Our new Belgard outdoor fire pit has been installed, and we have already enjoyed its inaugural fire! And let me tell you, it is all that I have dreamed about and more! We placed the fire pit in front of our DIY Garden Waterfall so that we would have the combination of the natural elements of earth, air, water, and fire, and I must say that sitting beside a fire with the sound of splashing water in the background is absolutely heavenly, just like I thought it would be.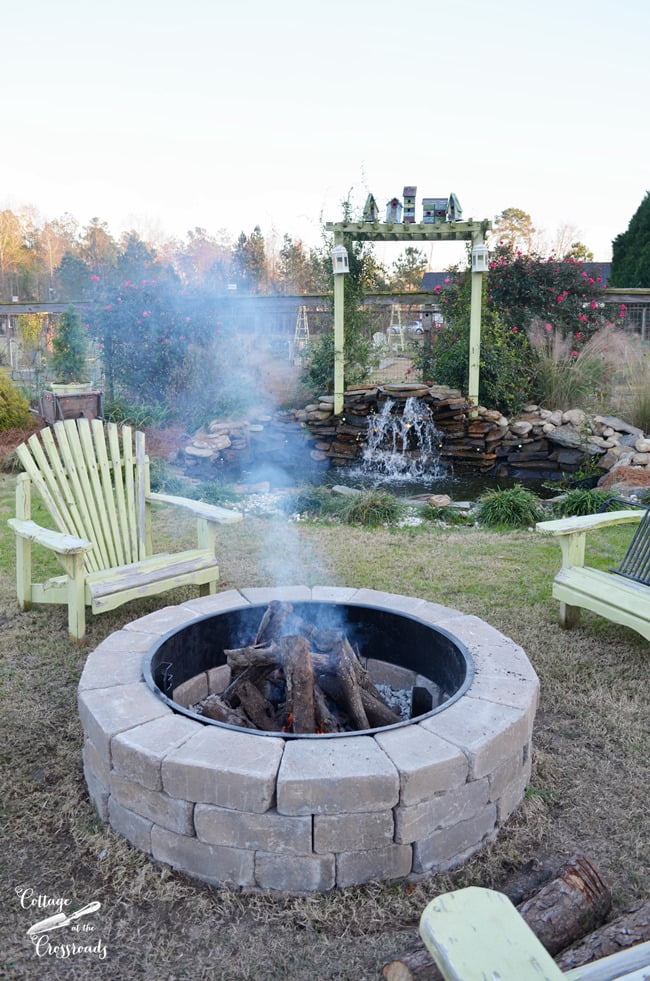 Just look at this gorgeous fire pit, definitely 2 thumbs up!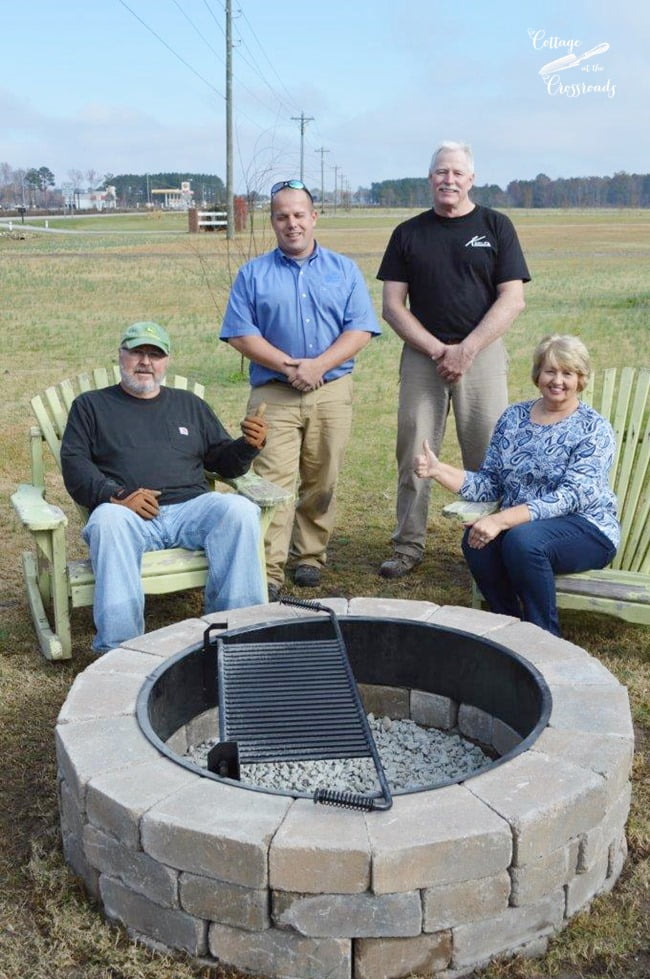 Just a few days ago, I announced our partnership with Belgard, Blue Max Materials, and Keeler Landscape, and Leo and I are most appreciative of all their combined efforts in getting this fire pit installed.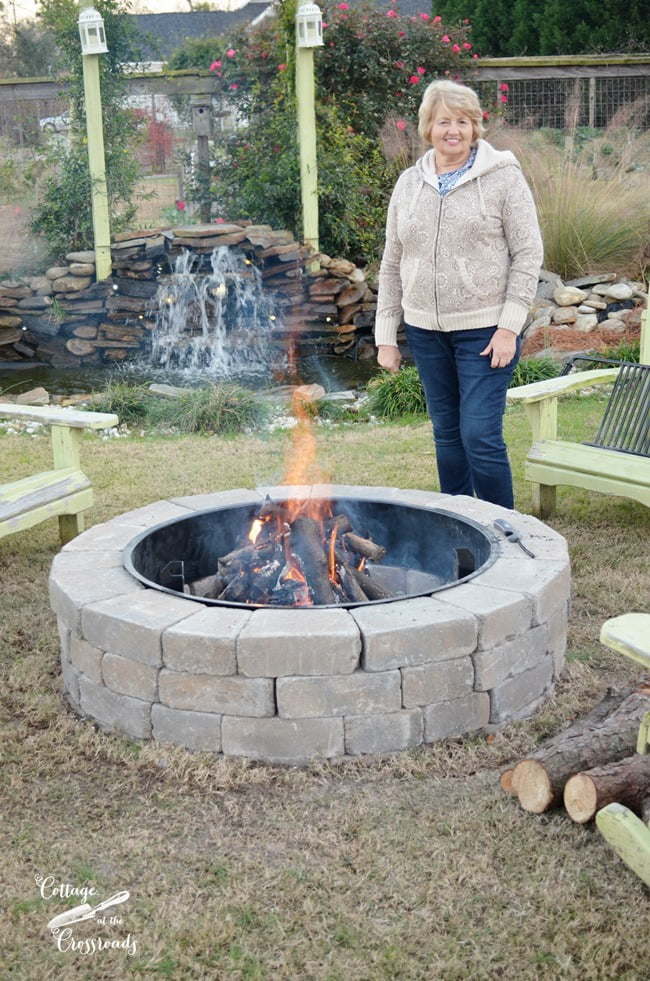 Since we have already had an opportunity to enjoy several hours of sitting around the fire with our family neighbors, catching up with each other, and telling funny family stories, I just wanted to let you know that it's not too late to give your family the gift of an outdoor fire feature. If you're from the Columbia area, both John from Keeler Landscape and Brian from Blue Max Materials offer gift certificates so that you could give your family THE PERFECT GIFT! Additionally, you can find Blue Max Materials in Charleston and Charlotte. And if you live elsewhere, you can visit the Belgard website to find an authorized contractor or dealer located near you.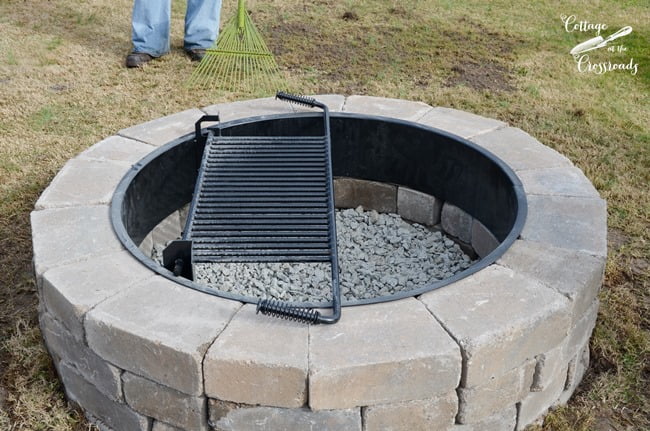 John and Brian used a Belgard Weston Fire Pit Kit that both of them have previously installed many times when creating outdoor living spaces for clients and customers. The professionals can install it for you in just a few hours or if you are a do-it-yourself homeowner, you can certainly install it yourself. See the grill grate on the pit? If you live in a neighborhood with a homeowner's association that opposes outdoor fires, this should be acceptable as an outdoor grill. Leo said he can't wait to slap a big, ole' juicy ribeye steak on there!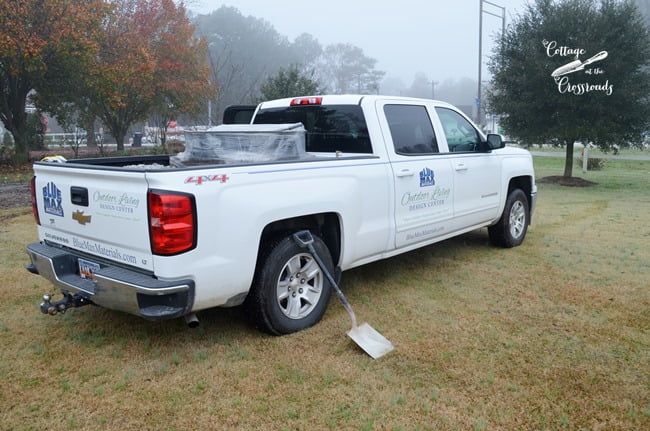 We were fortunate to have ours installed for us by John and Brian, and they arrived early Tuesday morning with the truck loaded with all the materials and tools necessary for installation.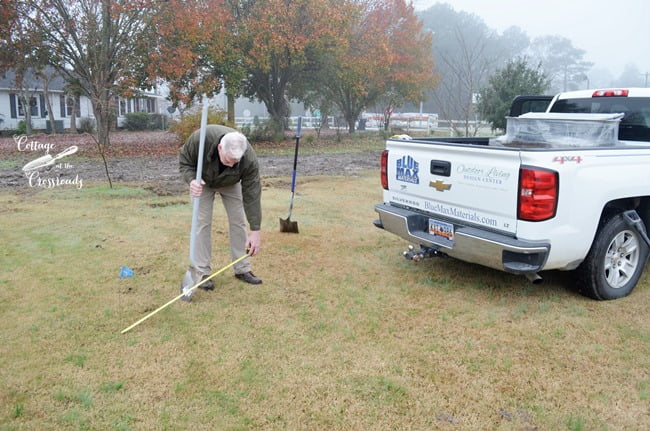 The very first thing was identifying the center of the location of where the fire pit was going which was marked with a blue flag.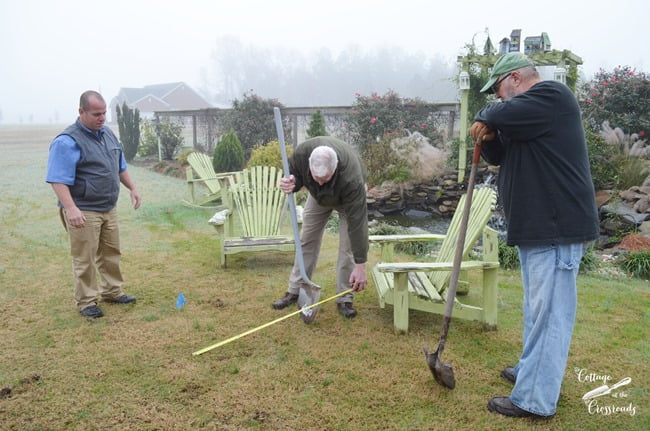 John used his measuring tape and a shovel to outline perfect circle.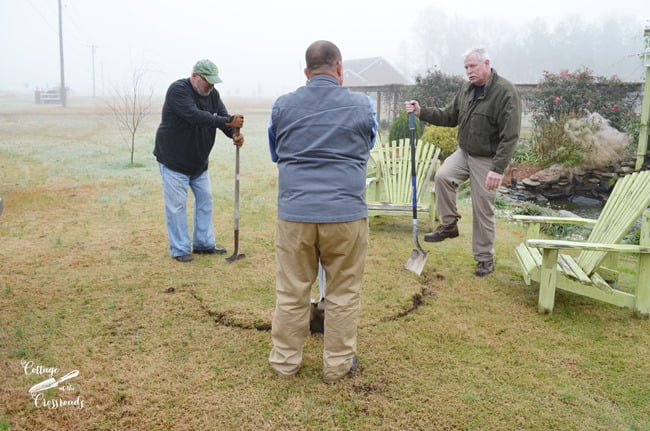 The 3 guys completed marking the circle with their shovels.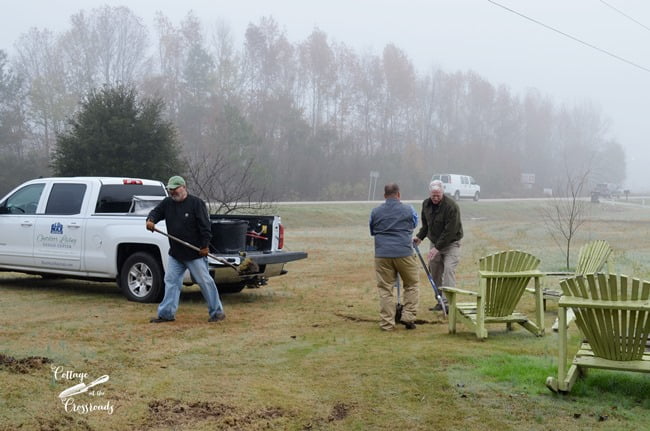 And then the digging and grass removal began.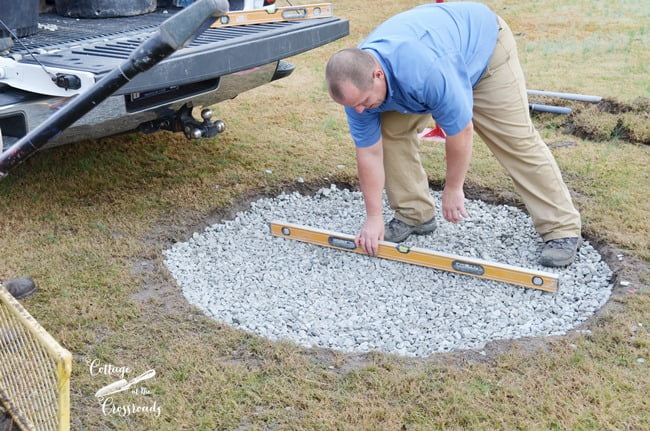 The guys dug out the circle about 8 inches deep and poured drainage pebbles into it. I would say that getting the pebbles level at this point would be crucial!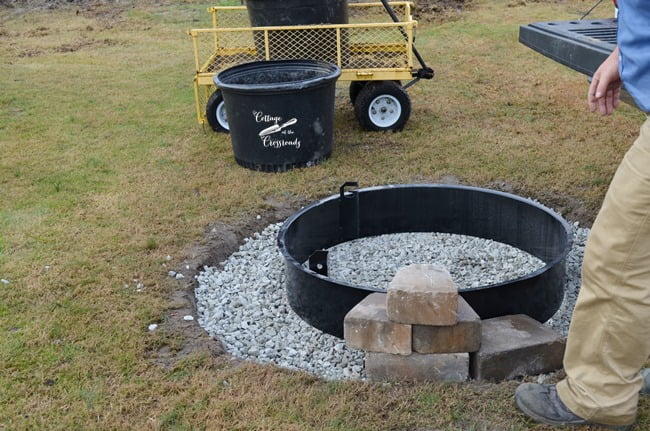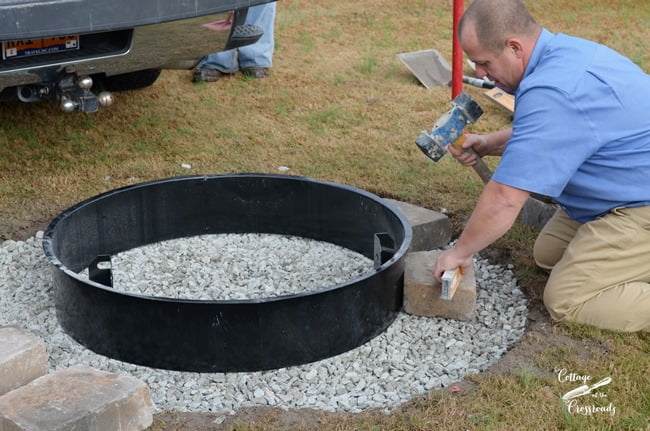 Before placing the stones, they got out the metal fire ring that fits down into the fire pit so that they would know where to begin placing the stones. And Brian, once again, checked to make sure the bottom layer of stones was level.
As they were placing the stones, they consulted the instruction sheet that came with the kit in regards to the pattern of the stones. Bryan said that he often marks the pattern on the bottom of the stones for his installers. The guys added some sort of glue in between each layer of stones, ensuring that the fire pit will be enjoyed for decades!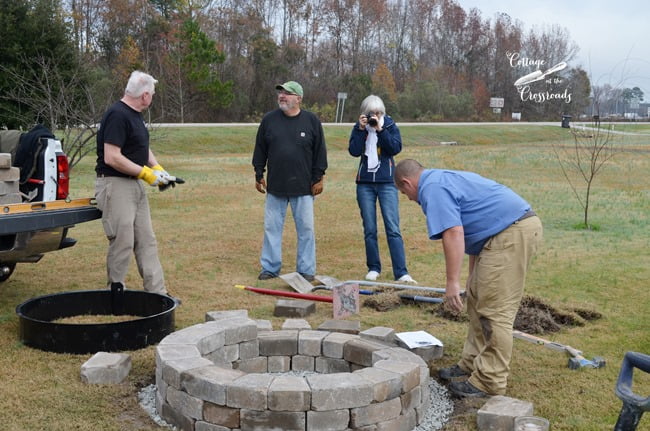 About this time, Barb, the marketing director from Blue Max Materials in Charlotte, arrived to take some photos as well.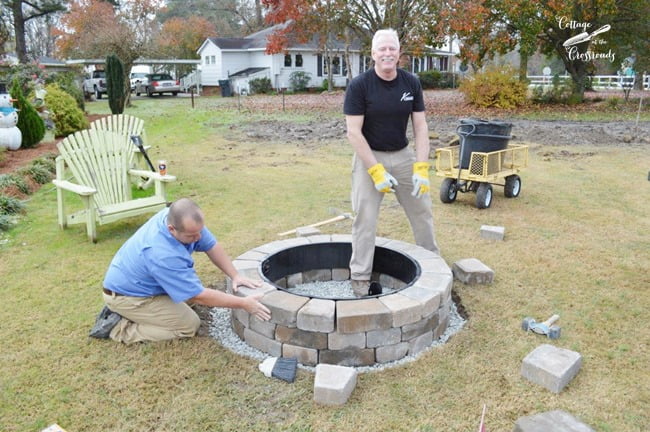 I think John was happy that they had reached the 3rd layer of stones at this point!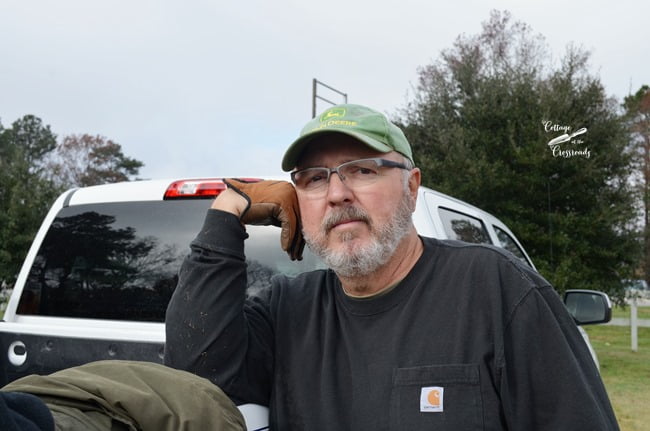 And Leo was happy to sit back and watch the pros, for once! What took them a matter of a few hours to complete would have taken us DAYS!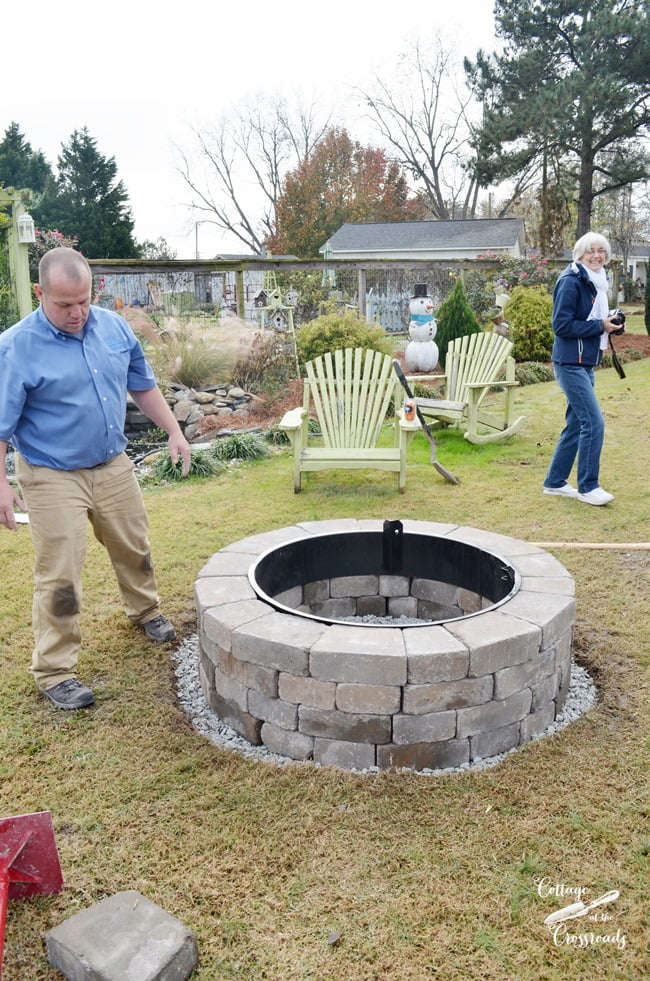 Here we are all happy to have the 4th layer of stones in place along with the metal fire ring.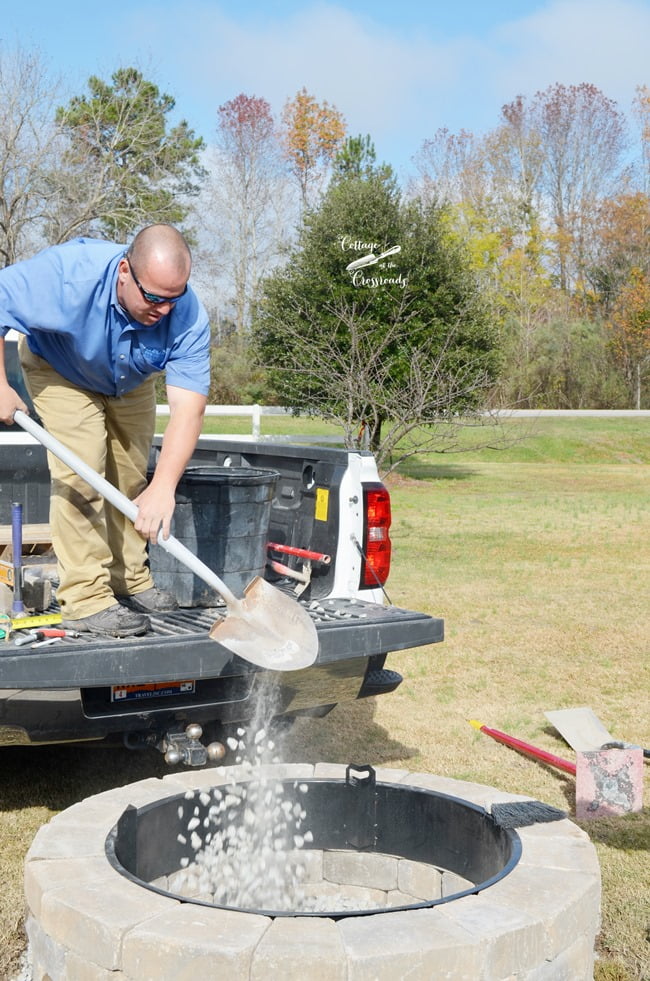 To ensure good drainage, the guys added additional pebbles to the bottom of the fire pit.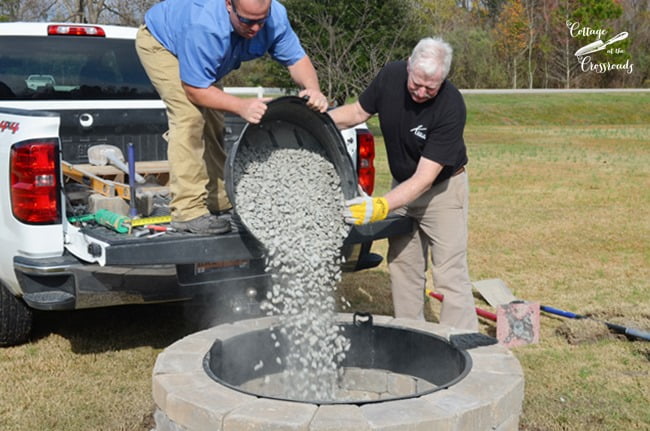 Lots and lots of pebbles were poured in! The installation was complete and we all went inside to enjoy a little lunch together.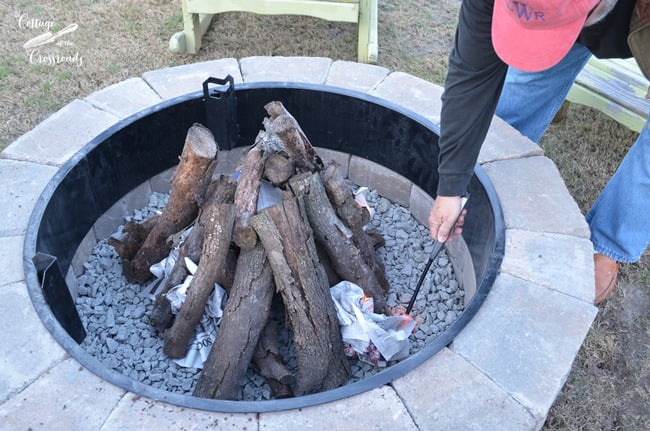 Later that afternoon, Leo stacked some firewood in the pit and invited his brothers Jim and Woody and their wives to come over.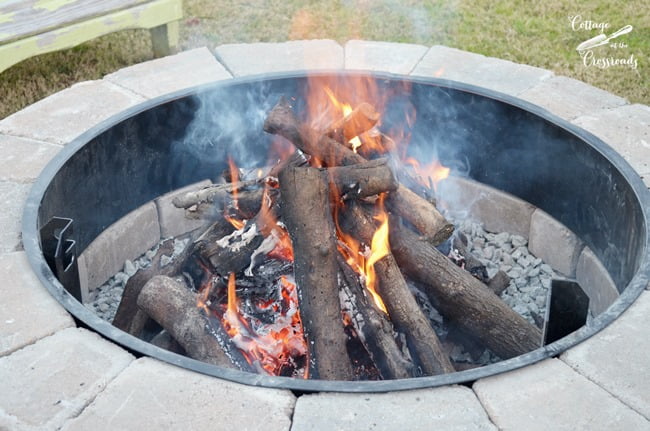 Before we knew it, Leo had us a nice, roaring fire.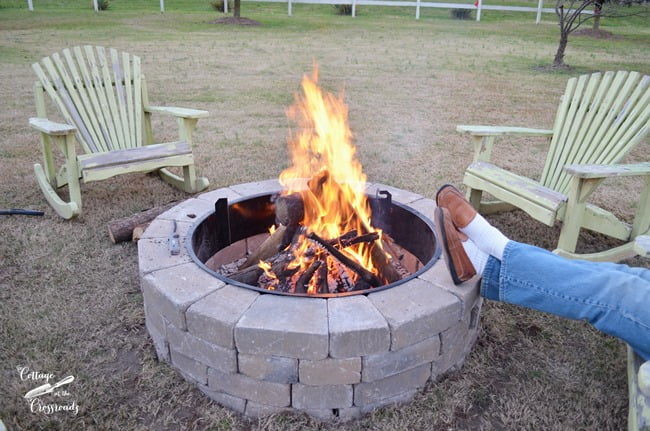 Sitting around a fire satisfies a deep, primal instinct. The mesmerizing affect of the flames is so relaxing, especially when combined with the sound of splashing water from our nearby waterfall. I cannot thank Belgard, Keeler Landscape, and Blue Max Materials enough!!!
Just remember! You can give your family the same experience by contacting John from Keeler Landscape or Brian from Blue Max Materials , Both of them are authorized dealers and contractors who can help you create your own outdoor oasis!
And for those who'd are out of the service area, or prefer other options. There are tons of really nice fire pits on Amazon. From fire pits, fire rings, and woodless propane options, I'm sure you can find one.