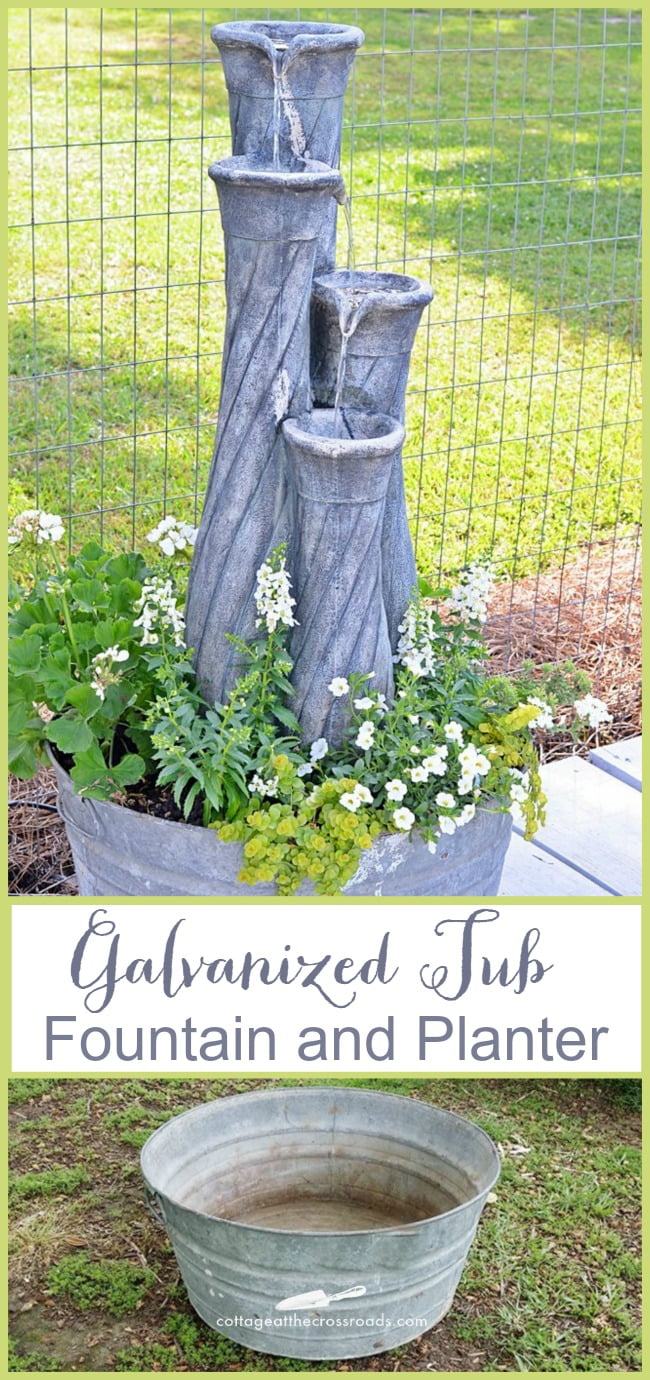 I love fountains, I love galvanized tubs, and I love flowers so I recently put the three together to create this galvanized tub fountain and planter! Now it's sitting on our deck in the garden and we've been enjoying the lovely sound of the water whenever we take some breaks from our gardening chores. Sometimes we sit out there in the late afternoon with a little adult drinky-poo and just relax with the sound of the bubbling fountain in the background.
This whole project started when Leo's brother Jim and his wife Jean asked us if we wanted an old fountain that they were no longer using. We remembered when they had it on their back porch but they said that it splashed too much water for them to use it on the porch so they put it outside. They didn't like having to remember to keep it filled with water so they wanted to know if we would like to have it. HECK YEAH! So they brought it over and we put it on our freestanding deck that we built last year in the garden.
This post may contain Amazon or other affiliate links. As an Amazon associate, I earn from qualifying purchases. If you purchase anything through any affiliate link, I may earn a small commission at no extra charge to you. All opinions are my own.
I don't have a photo but it looked a little forlorn sitting on the deck by itself because the deck is grey and so is the fountain. Shortly after, a local friend posted on Facebook that she had a galvanized tub for sale.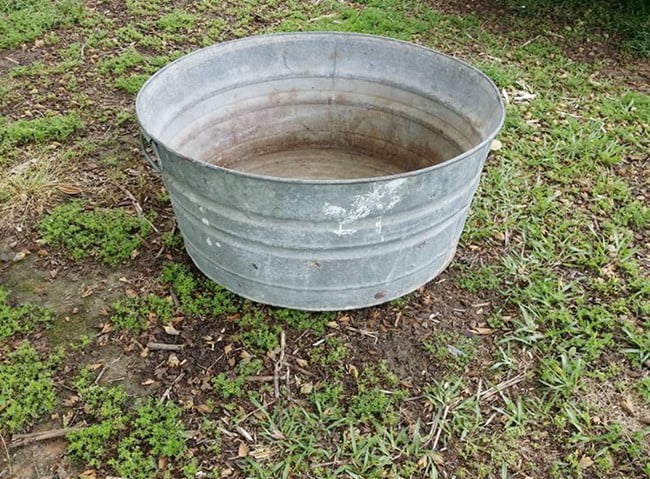 This is actually Aubrey's photo that I grabbed off Facebook. She said the tub had a small hole in the bottom but I said that it didn't matter to me.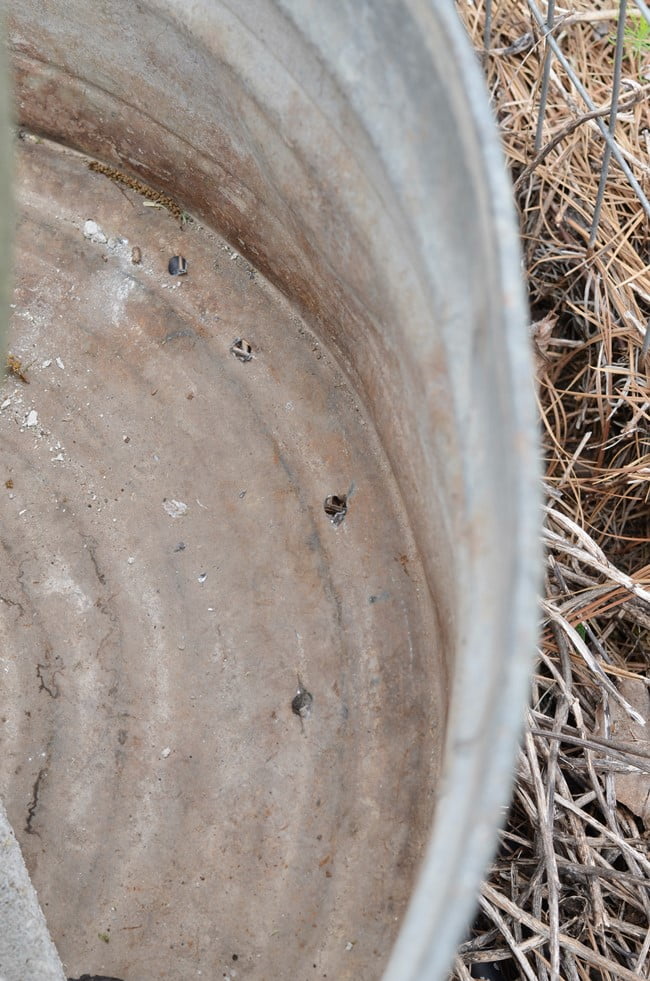 Nope, didn't matter to me because I was going to add some more holes in the bottom!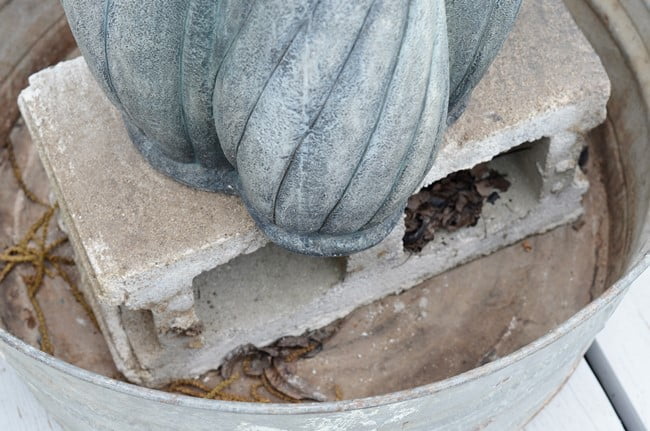 I asked Leo if he could find a concrete block to put down inside the wash tub and he rounded up one. The concrete block raised the height of the fountain so that it wouldn't be sitting so far down in the soil that I was planning to add in order to create a planter.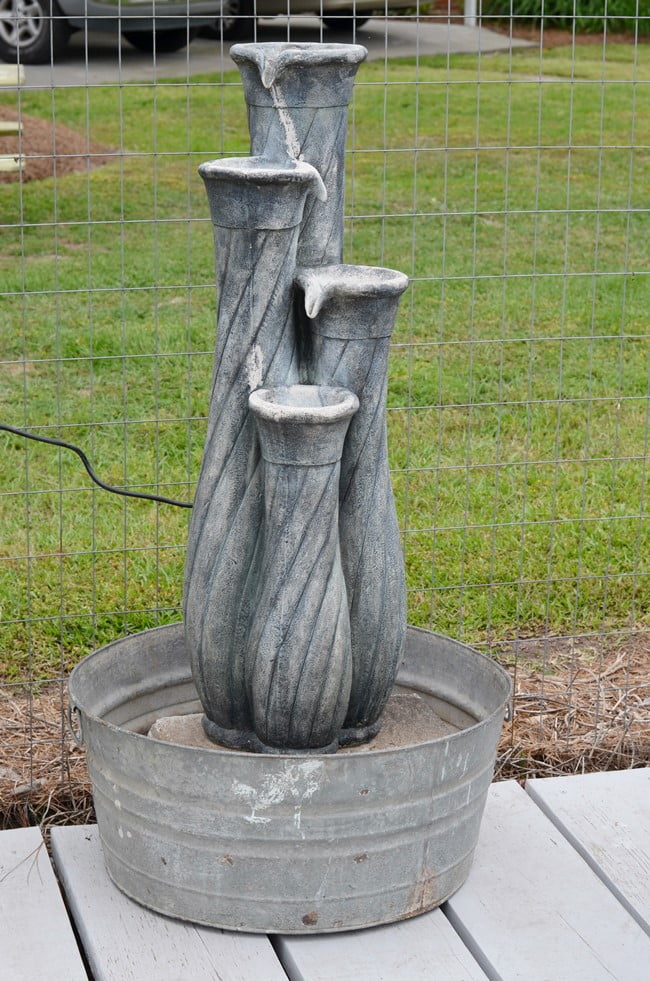 Ta-da! Just the right height and the object that looks like a snake in the grass behind it is the electrical cord. Luckily, we installed an electrical outlet behind the deck last year as we were building it.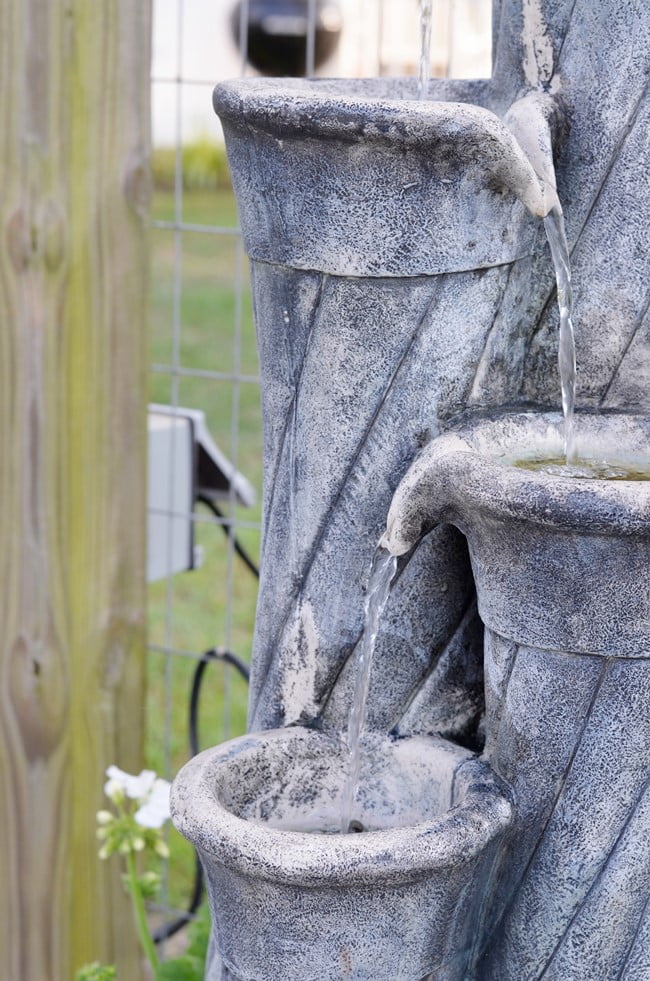 We got the water flowing and I added some potting soil to the tub and commenced to planting some flowers.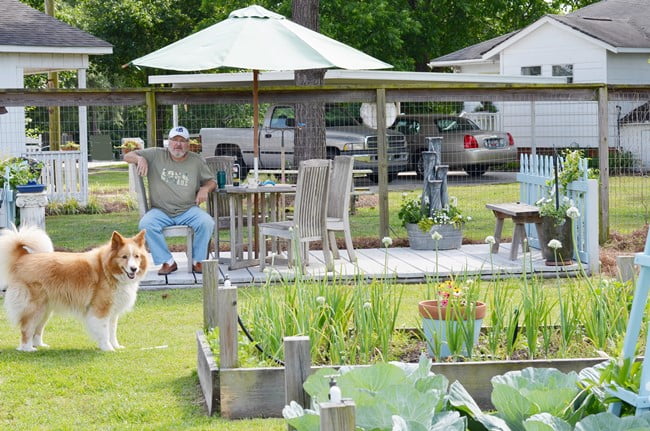 And here you can see on the deck where we are enjoying it immensely!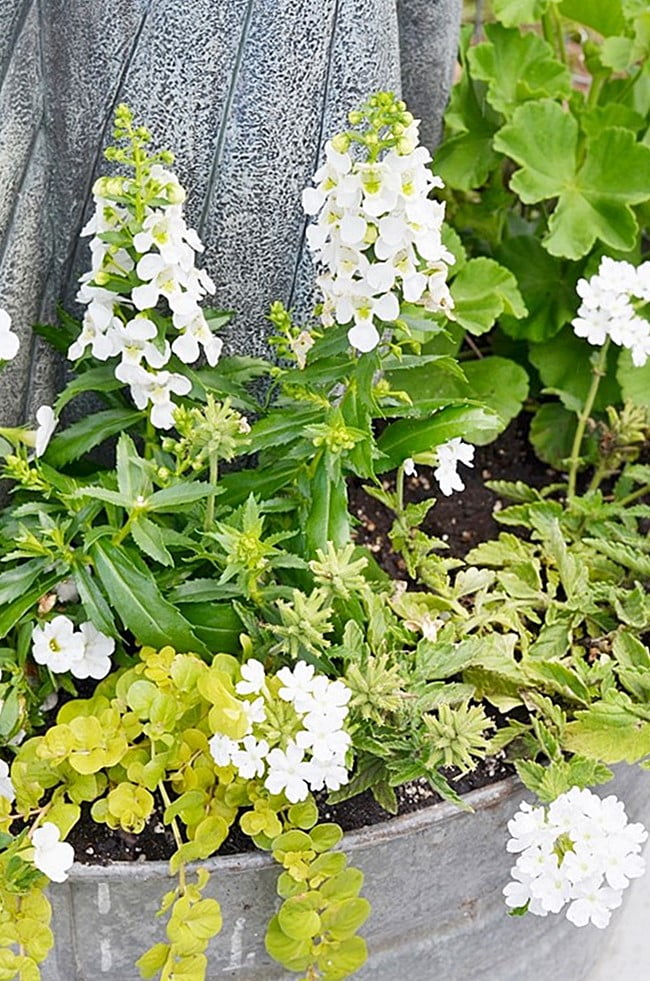 I decided to use an all white flower color scheme in the planter since we already have a lot of color in garden.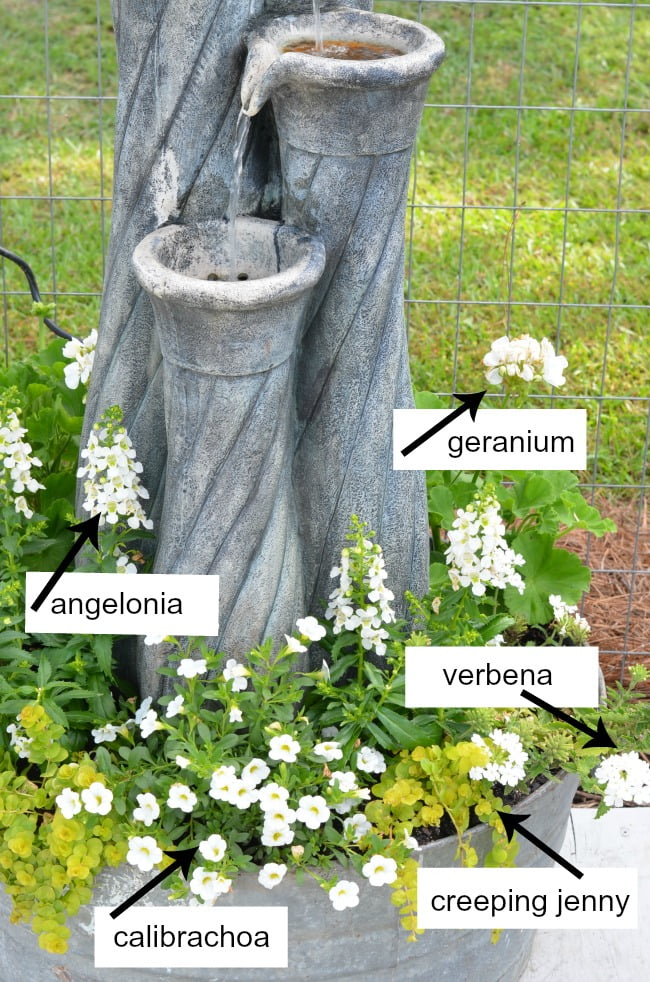 All of these plants should do well in the heat and the sun with the exception of the creeping jenny. It may tolerate the sun since it's not on the side facing the hot, afternoon sun. If it struggles, I'll just pull it out. I've included labels in the above photo in case you're looking for some sun-loving plants.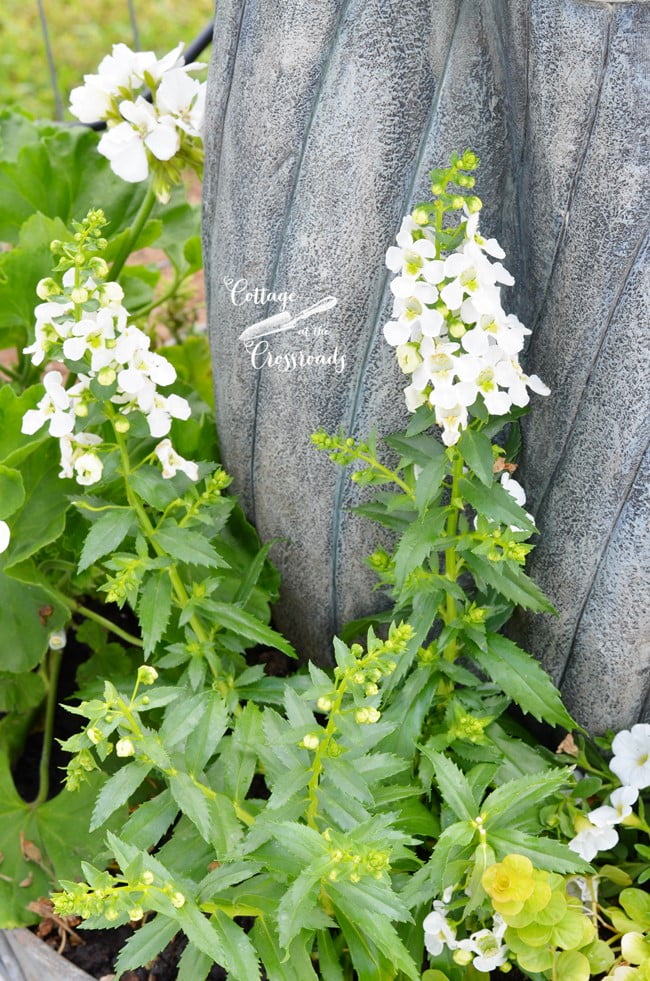 I just love how the angelonia looks like it's tucking itself into the swirls of the fountain!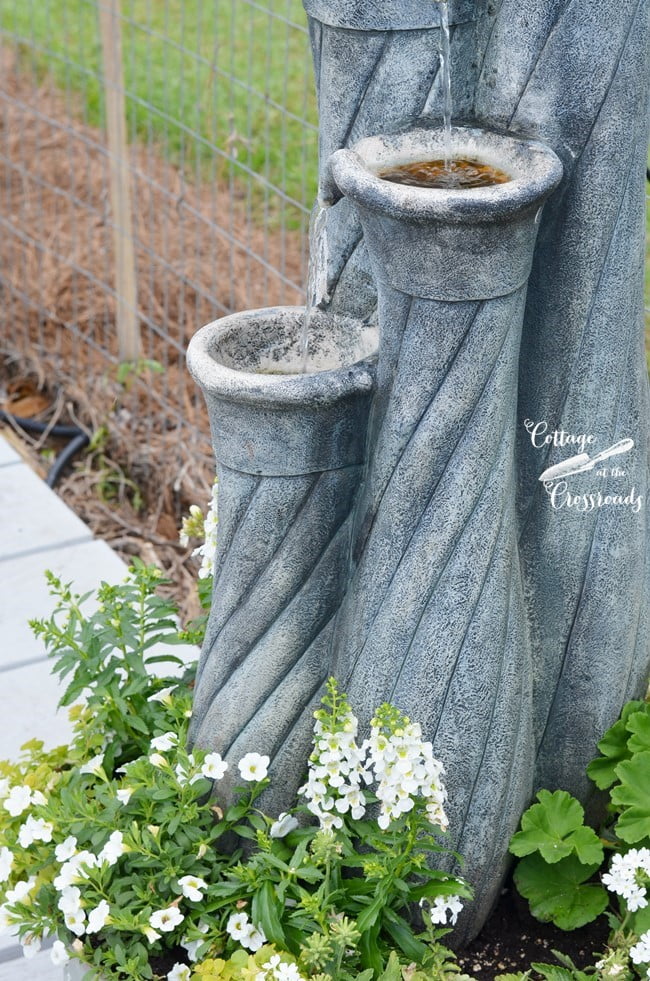 You may not be able to see this in the photo, but I've transplanted starts of black-eyed Susan vines that came up in another part of the garden in the space between the edge of the deck and the fence. By mid-summer, the whole fence should be covered with them and will make a colorful backdrop for the galvanized tub fountain. And I also planted some pastel colored nasturtium seed in between them. Can't wait till they all get growing!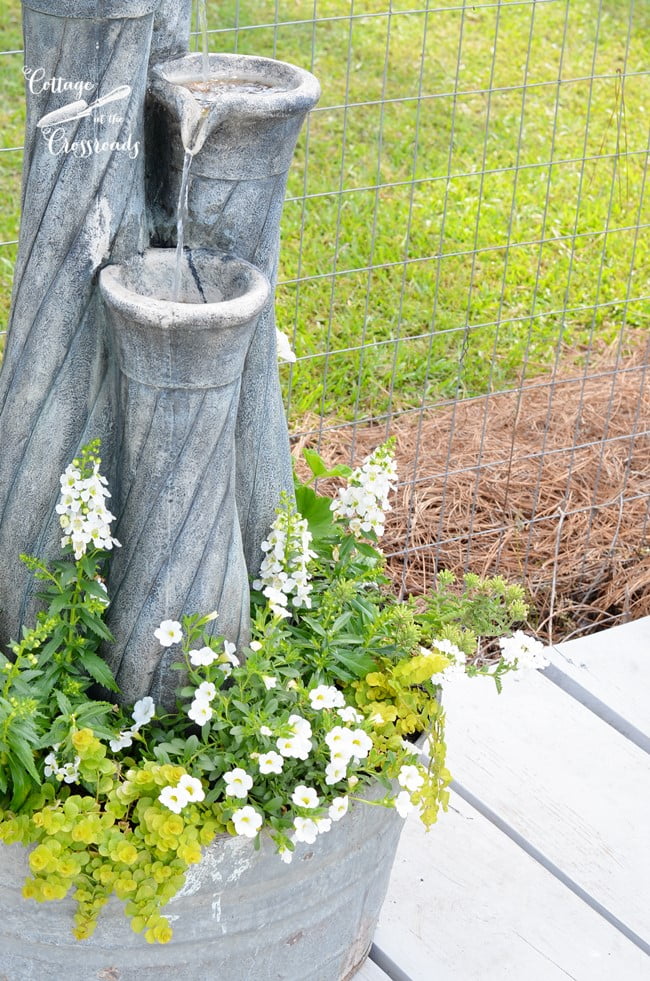 The galvanized tub fountain is so pretty that Jim and Jean may come back and get it!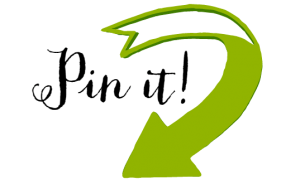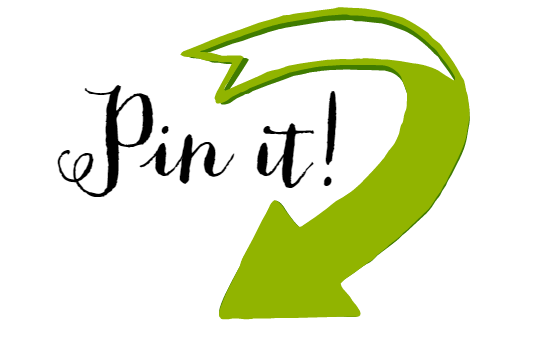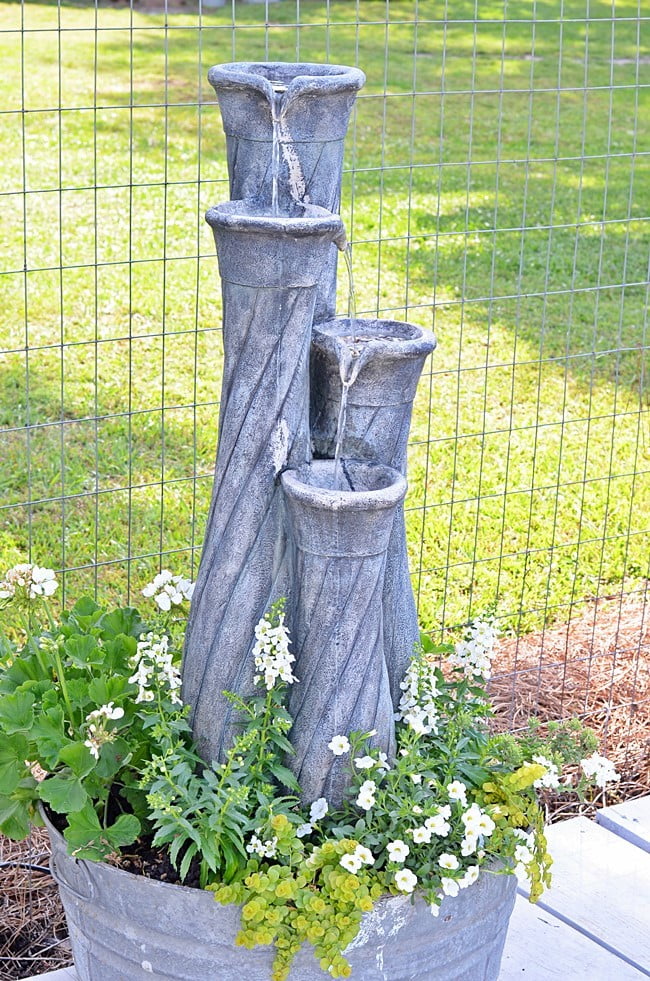 I pin lots of gardening related things on PINTEREST if you'd like to follow along there.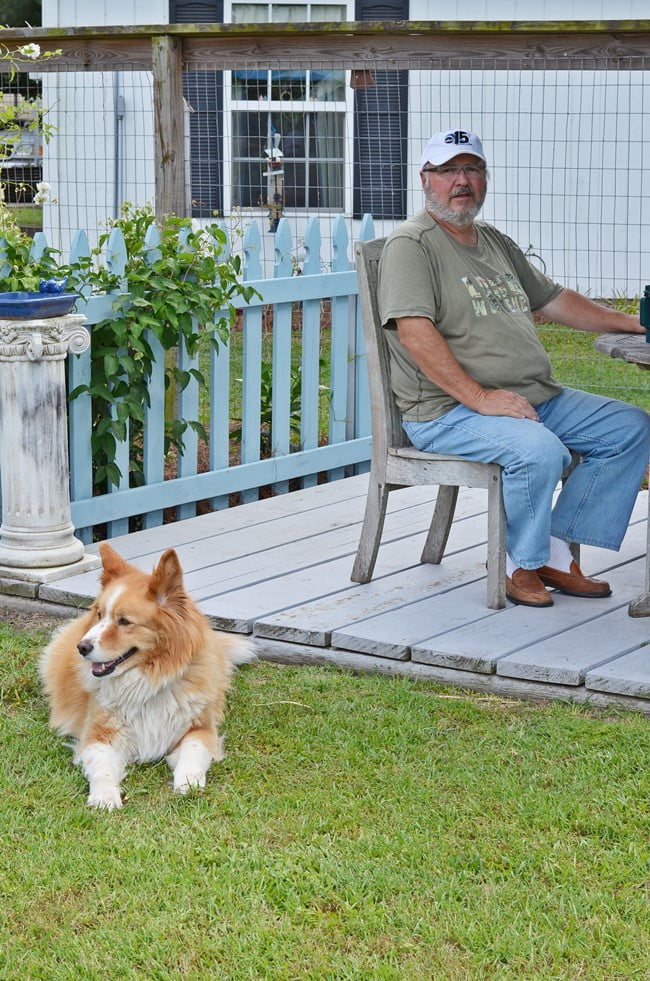 I hope not because our new favorite place to hang out is beside the galvanized tub fountain on the deck!
And if you're looking for more container planting ideas, click HERE.