I'm back with the last of the tables from our tablescape fundraiser that we had at our church recently. I'm so delighted that many of you have said that you are enjoying seeing all these beautifully decorated tables.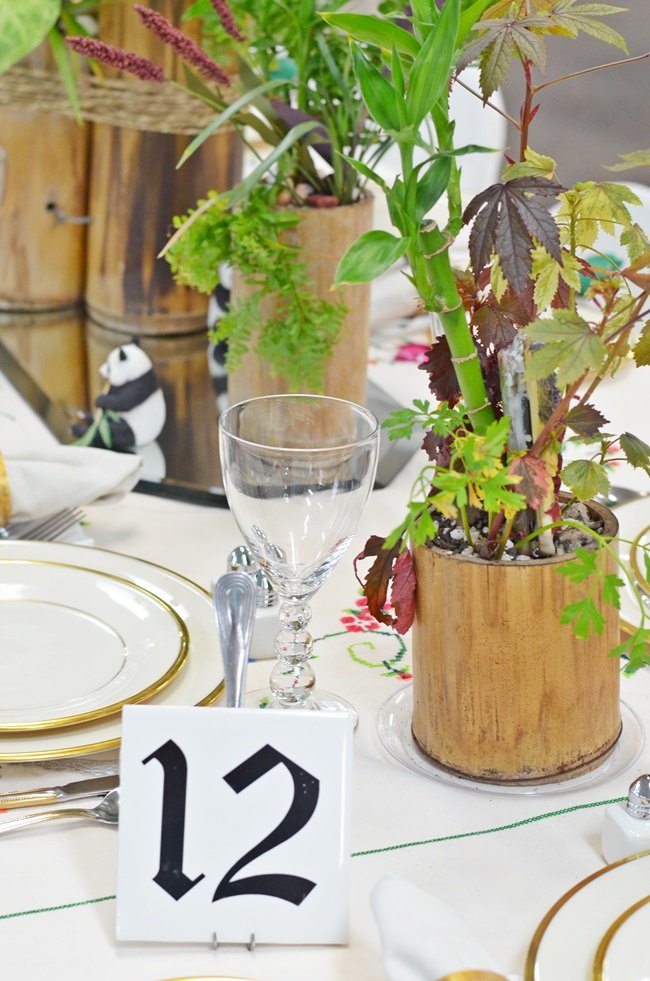 Table #12 had an interesting nature-inspired theme.The centerpieces were crafted from pieces of bamboo grown locally and contained beautiful live plants.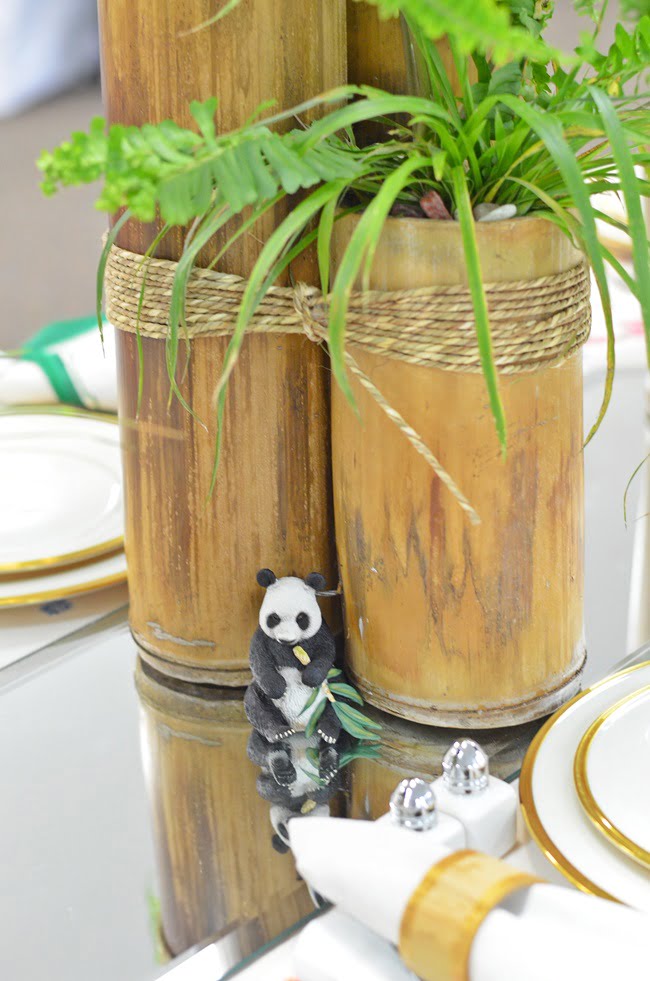 Here you can get a better view of how they were made along with that adorable panda bear!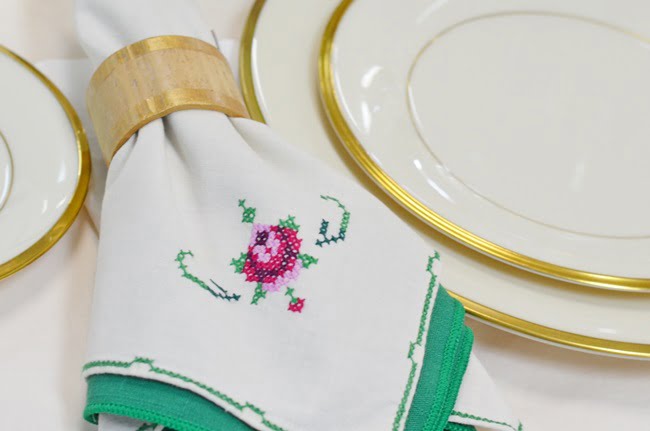 The tablecloth and the napkins were cross-stitched with a beautiful colorful pattern and the china used was the understated and elegant Eternal pattern by Lenox.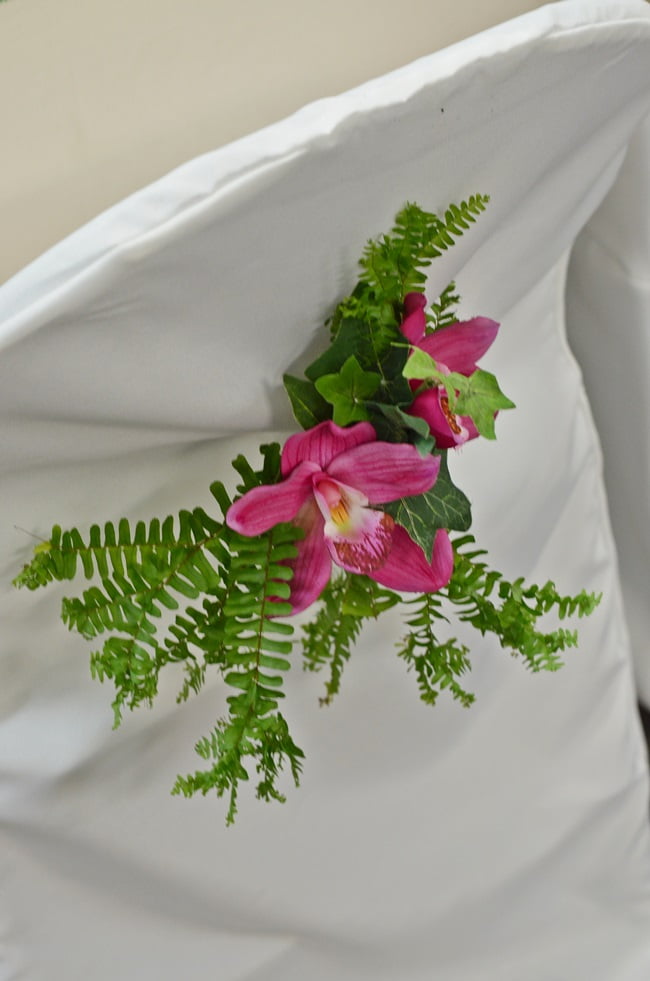 And the orchid and greenery on the chair covers mimicked the pattern and color on the tablecloth and napkins!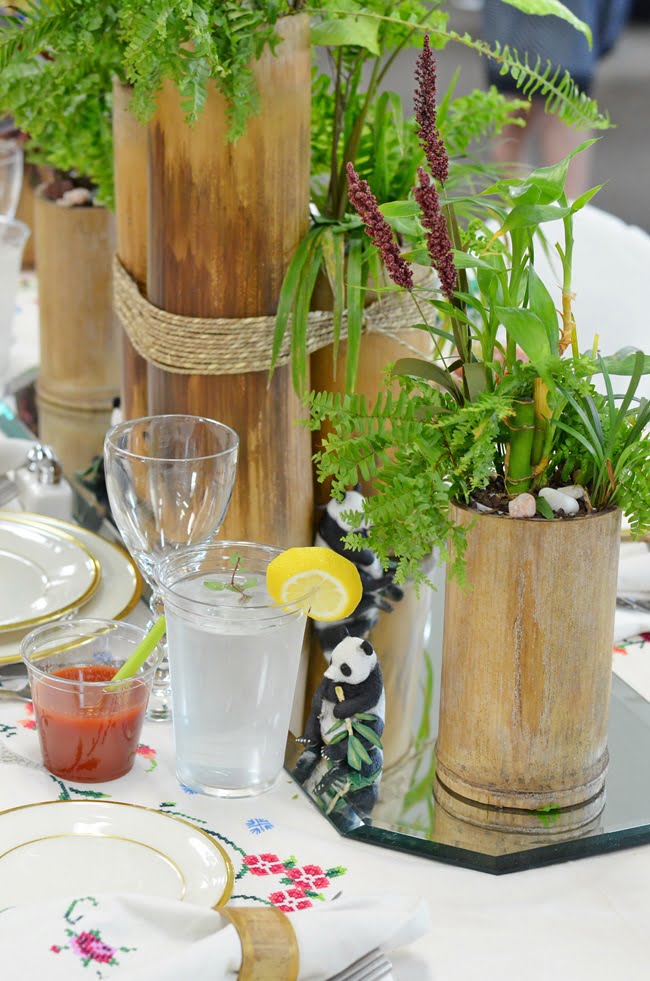 Such an interesting and inviting table, don't you think?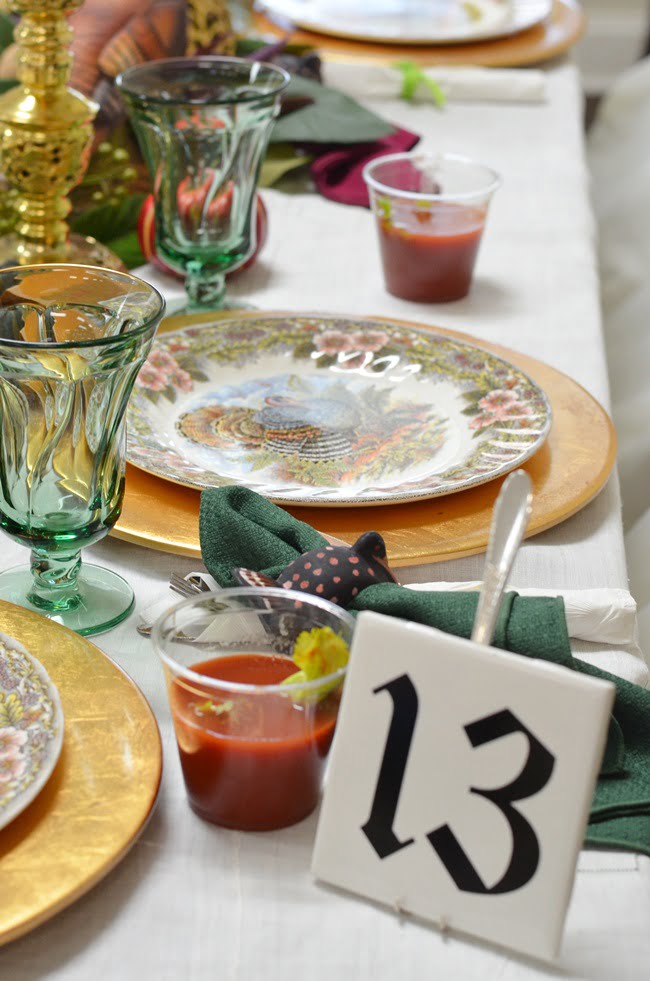 Next up is a beautiful Thanksgiving table set with gorgeous Queen's Myott by Churchill turkey plates! I know those plates because one of my sisters-in-law uses those same plates on her Thanksgiving table every year.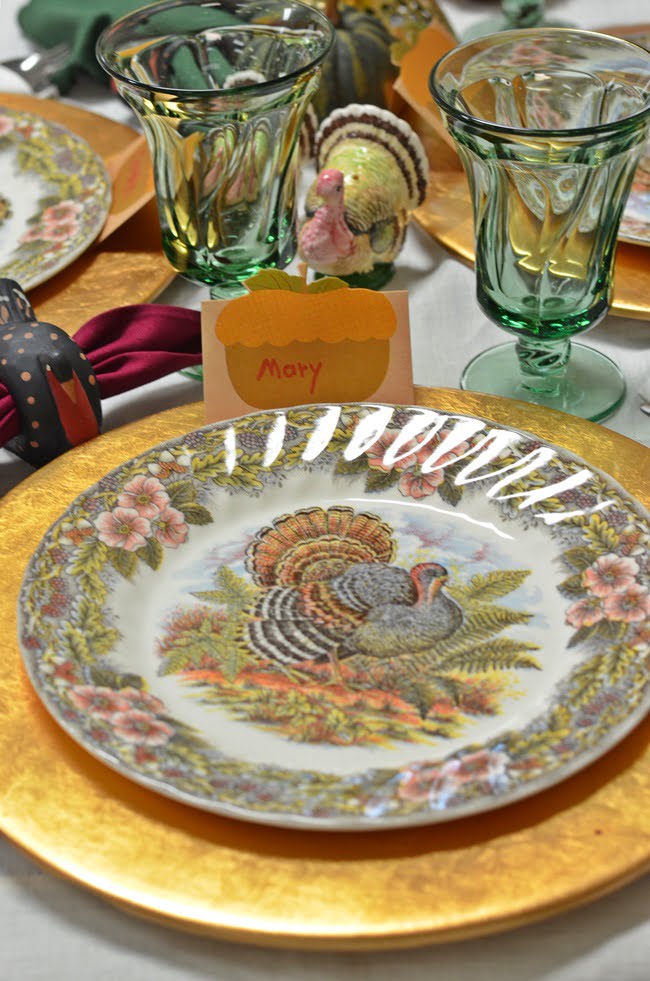 The plates are such a feast for the eyes and look so pretty on these gold chargers.
And the chair cover decoration had a turkey on it as well.
You can't have a Thanksgiving table without pumpkins, can you? These were beautifully elevated on these tall, ornate candlesticks. Such a pretty table perfect for the harvest season!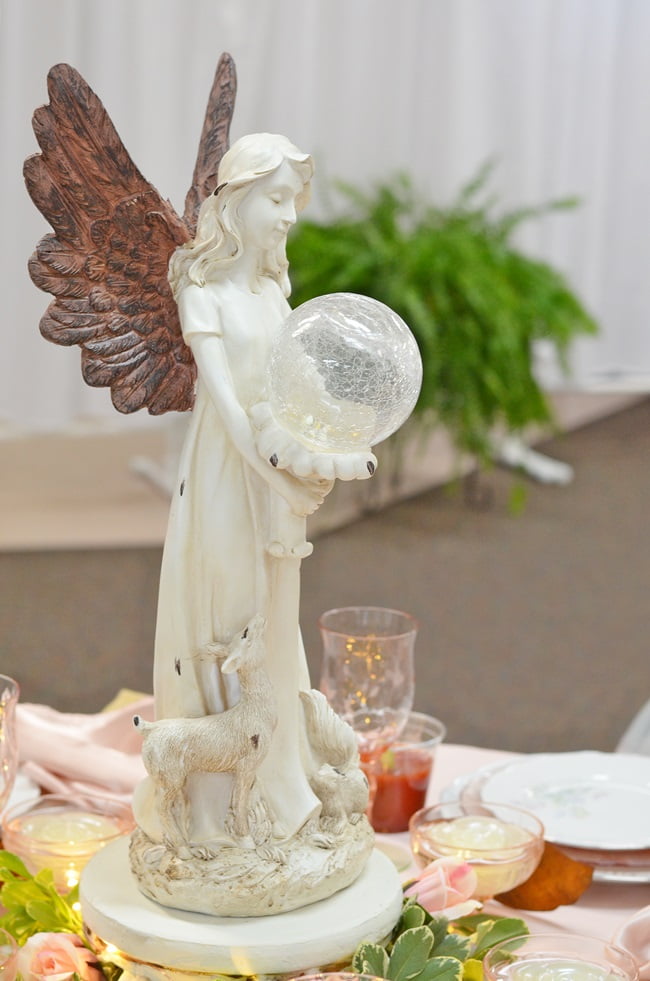 The next table was a round guest table where our speaker and other special guests were seated. My 2 sisters-in-law and I helped do this table along with our friend Gay who had to be out of town during the event. If you remember, the theme of our event was "Angels Among Us" so we decided to go with an angel theme for the table. The centerpiece was this angel figurine on a round pedestal.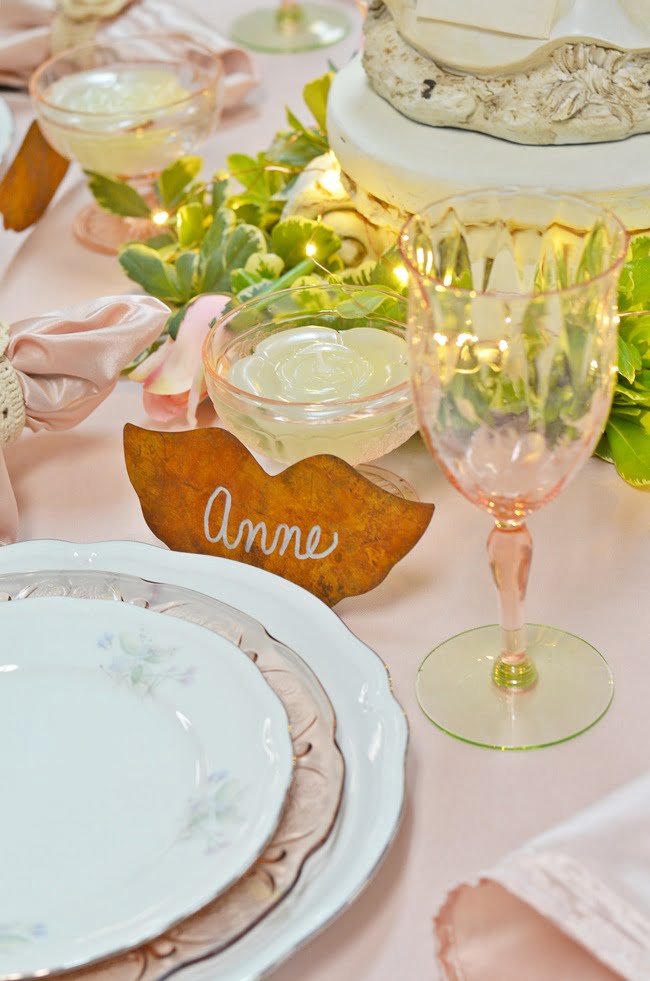 We decided to use one of my sister-in-laws' pink depression glass along with her mother's delicate china, and I found the blush tablecloth and napkins online. Oh my gosh! That was truly a match made in heaven!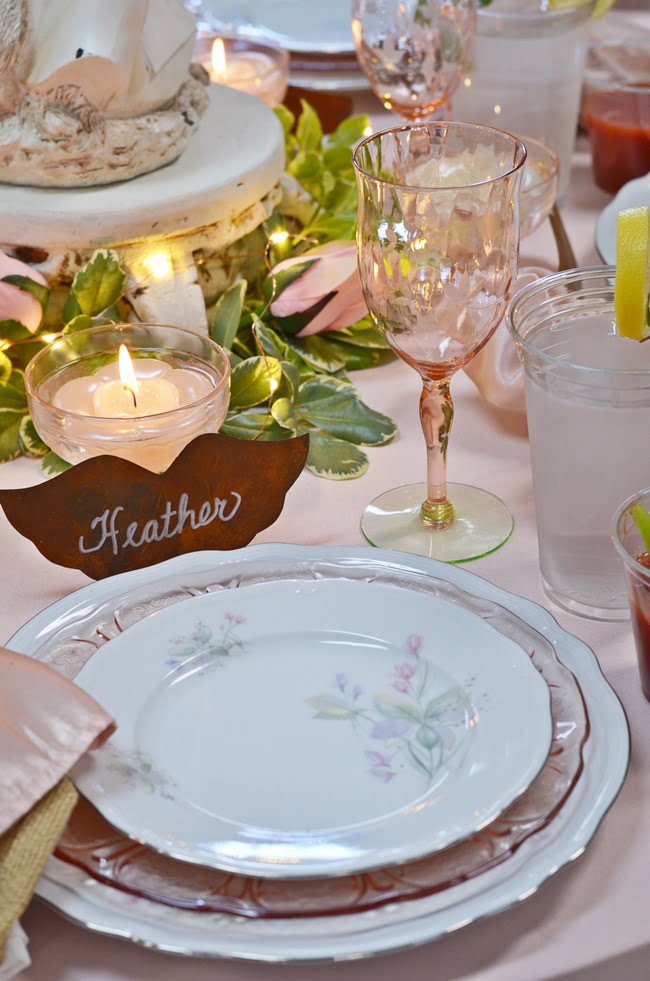 Rusty tin angel wings served as place cards and the floating candles in the sherbet glasses were a nice touch.We tucked fairy lights into the greenery as well.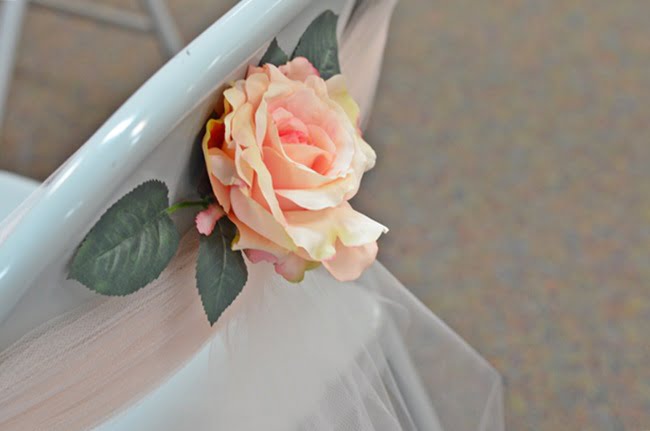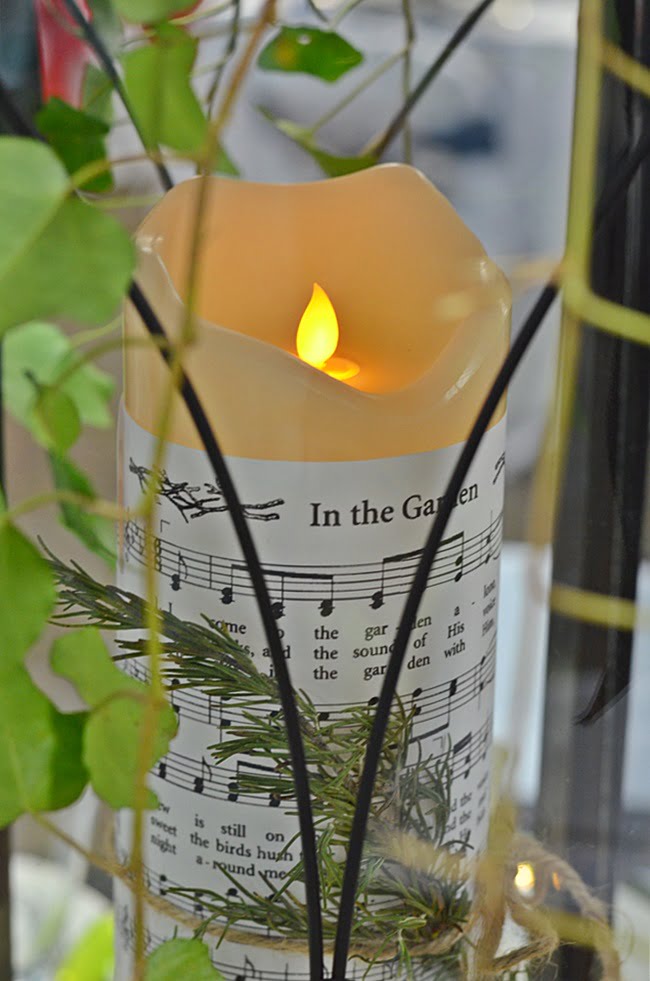 Matching pink tulle was tied around the chair backs and adorned with these gorgeous roses. Another guest table that we helped our friend Gay complete had an "In the Garden" theme with the sheet music for the hymn wrapped around a candle in a very tall black lantern.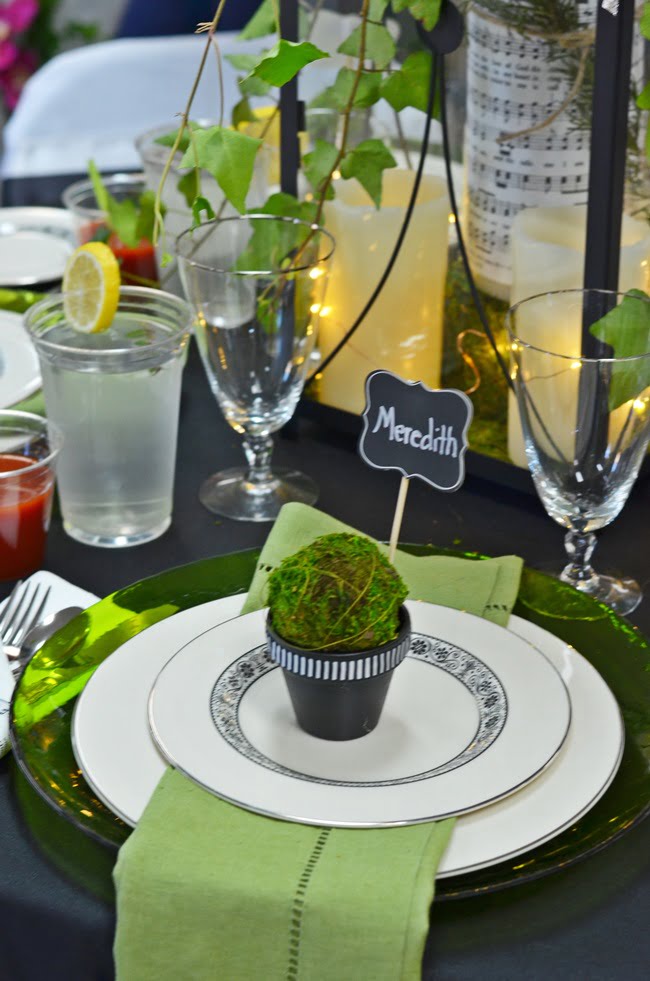 After deciding on a green and black theme for the table, I happened to luck upon these green glass charger plates at the Carolina Pottery in Columbia. We used Gay's wedding china by Pickard. I do not know the name of the pattern but she did mention that her husband picked it out. What a beautiful, timeless design! Since the table had a garden theme, we used little moss balls in painted terracotta pots as place cards.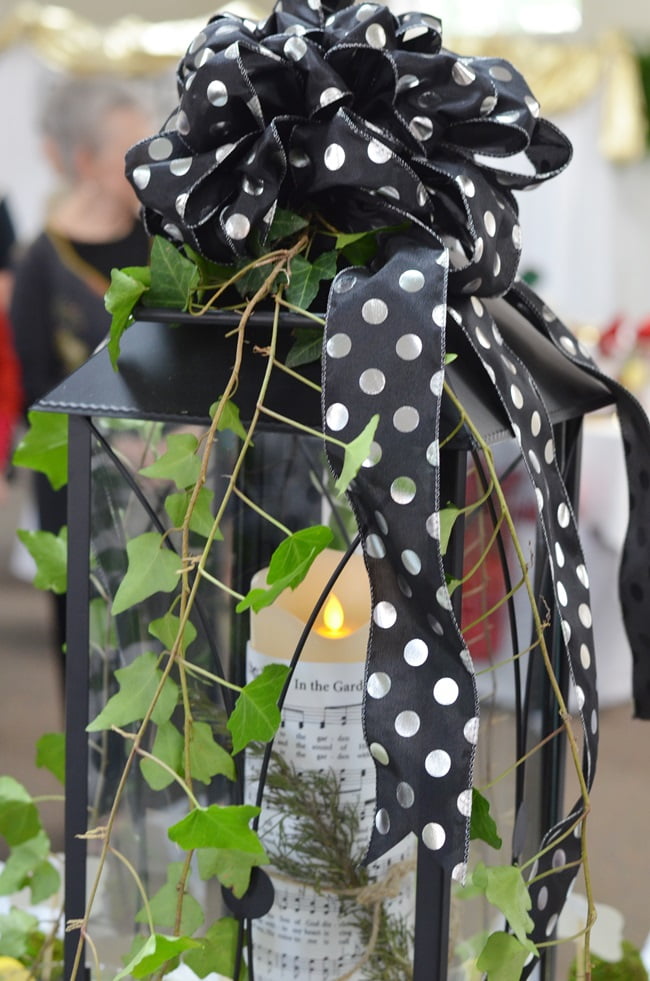 A bow and some ivy from the yard adorned the tall lantern.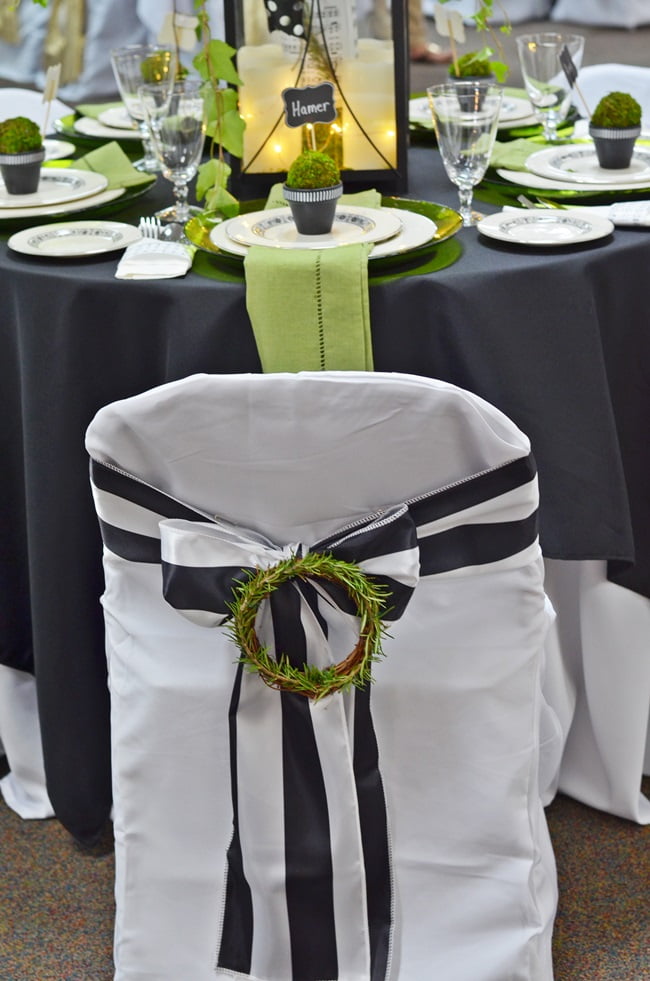 To further the garden theme, we added rosemary wreaths to the chair back sashes. Y'all know how much I love that green and black combo, don't ya!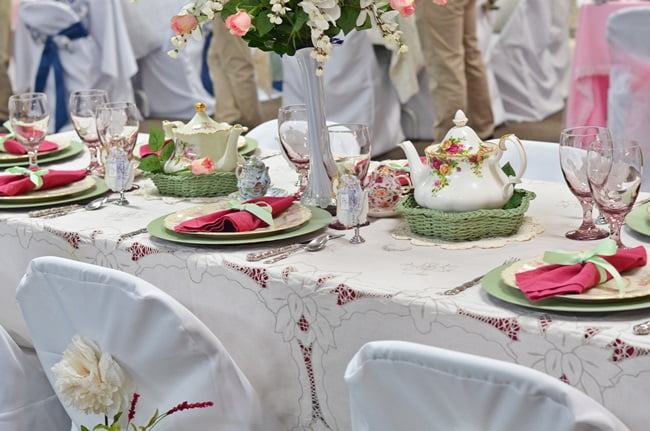 The last table was this green and pink themed table. Just look at those adorable teapots in those green baskets!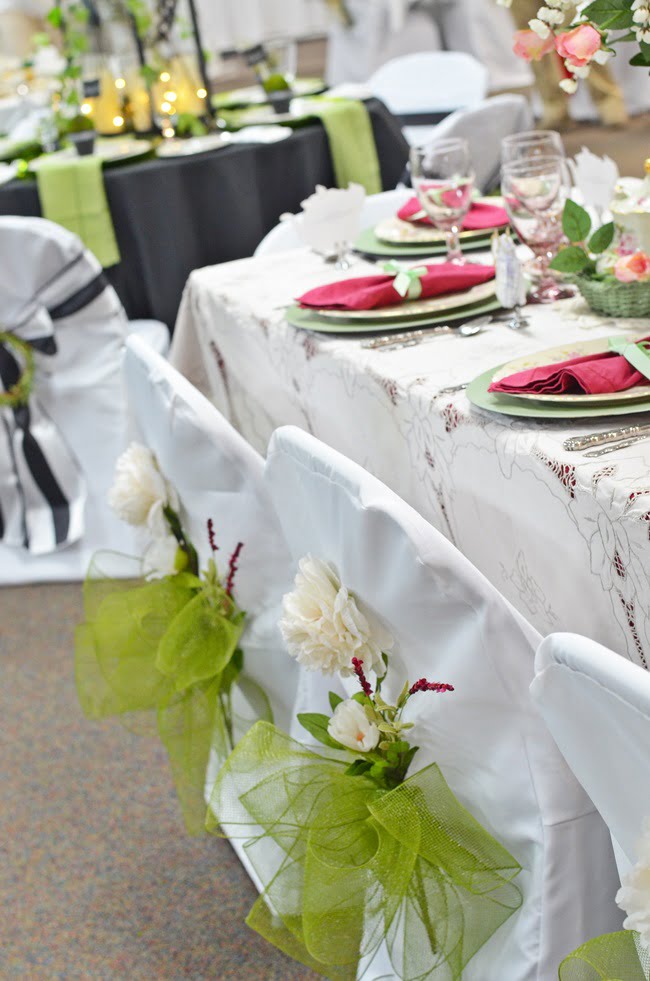 The chair covers were as interesting as the table with beautiful green bows and florals.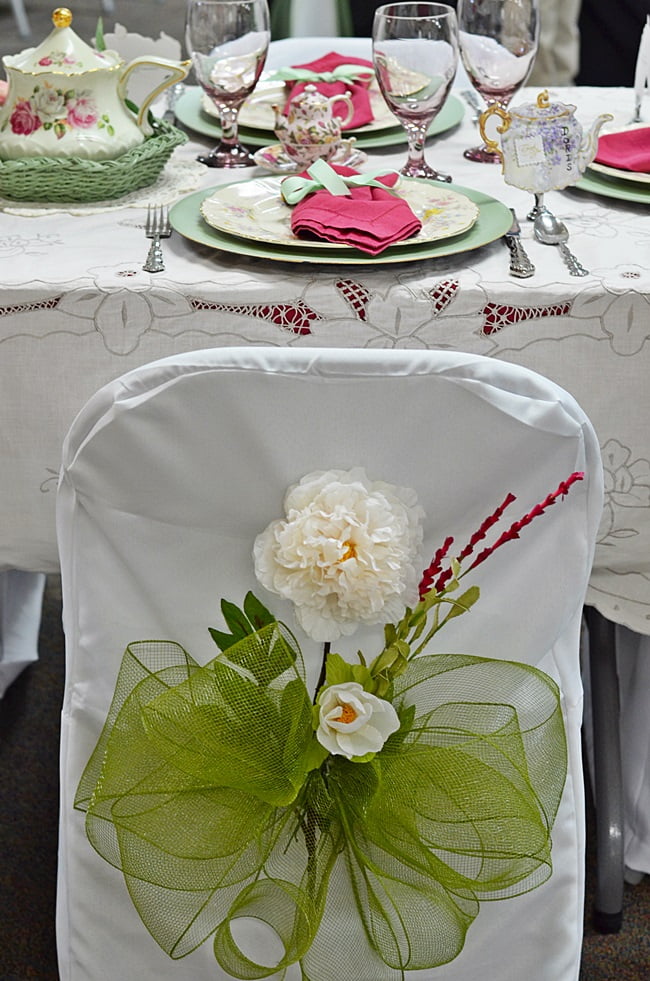 Here you can see one in greater detail! Isn't it gorgeous?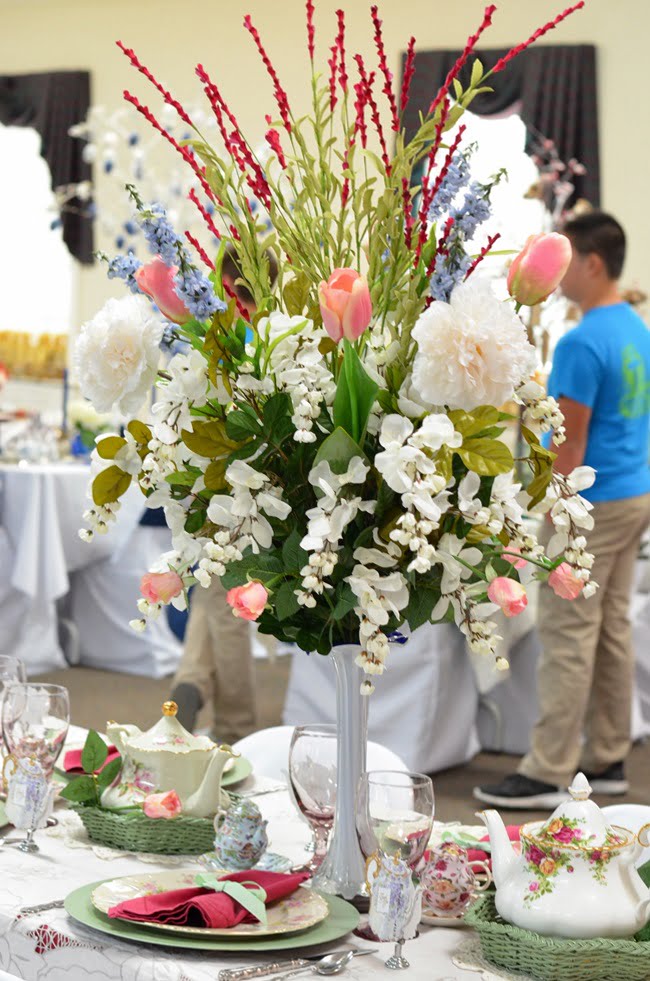 And the tall centerpiece carried out the theme perfectly.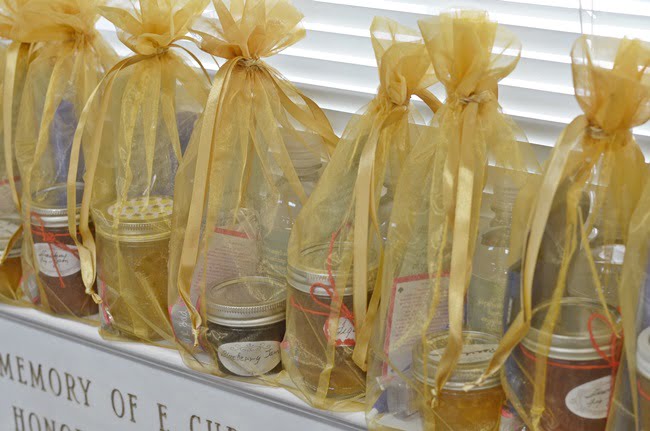 Each guest received one of these gift bags loaded with goodies. Do you guys remember when I said that I was making jars of Tomato Jam this past summer? Well, that's where those jars went! 
Some of you have asked about how we got this idea to do a tablescape fundraiser for our church. Well, basically, one of our members had attended a similar event and brought the idea back to us. A chairperson was appointed and a head committee was formed back in the spring with other members serving on sub-committees. The event was a huge success, and if you are seriously contemplating hosting a similar event, I can put you in touch with our chairperson.
If you missed seeing the previous posts, just click the links below to see the tables.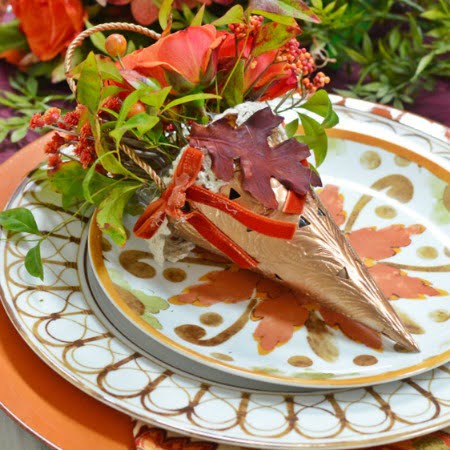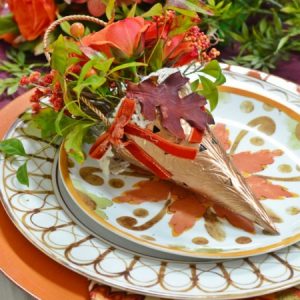 Tablescape Ideas for Every Season