Hello friends! I wanted to share with you some fantastic tablescape ideas from our church's most recent fundraiser event.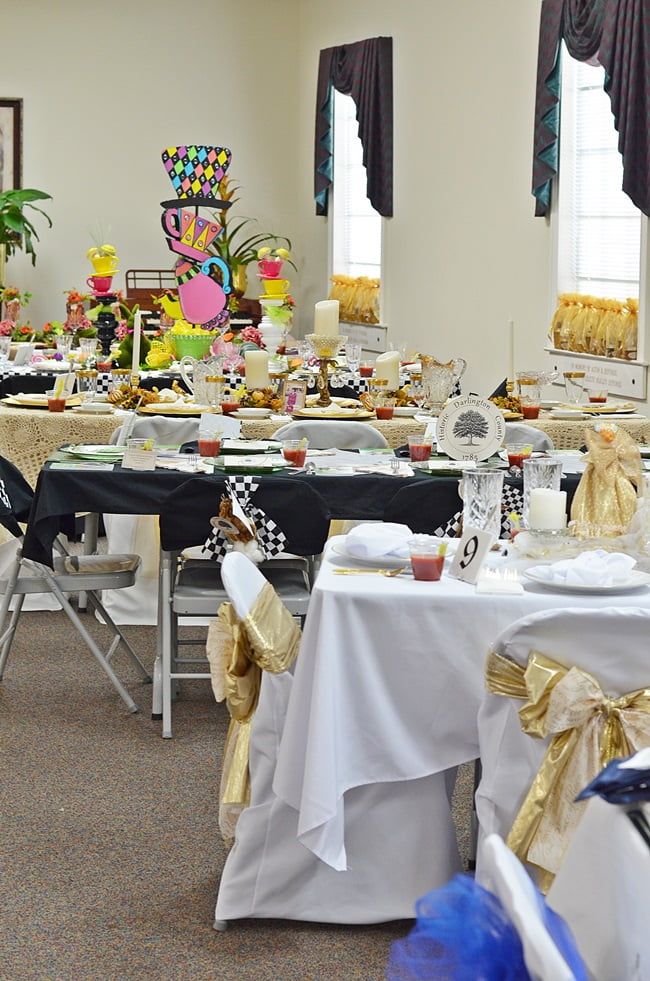 It's been a month since the event, and I'm just now getting around to posting about it. Funny how a thing like a hurricane can disrupt your life so much. The wind must have blown in a mighty fungus because I've had a monster of double ear infection that has lasted almost 2 weeks. Fortunately, we had absolutely beautiful weather for the luncheon which was held at Lamar United Methodist Church on October 1. The main attraction was all the tables decorated with various themes and/or seasons, and I knew you'd like to see all the tablescape ideas as well.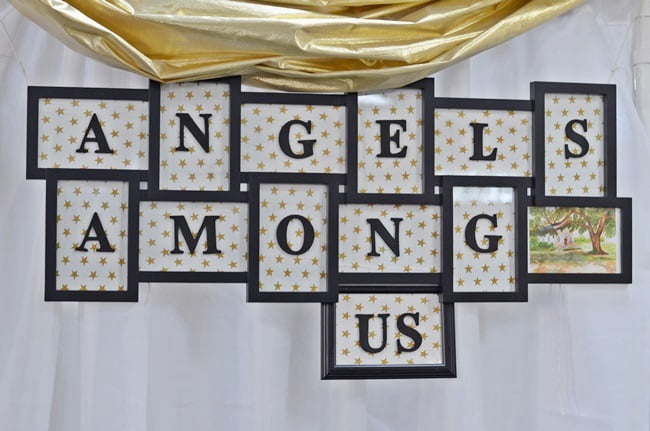 The theme of our luncheon was "Angels Among Us" and our guest speaker even dressed like an angel while delivering her amusing and inspirational speech. A local harpist provided beautiful background music and a soloist sang the most moving rendition of an acapella version of "The Lord's Prayer" that I've ever heard. I would say that if any of you are in charge of fundraisers of a church or group to consider a tablescape luncheon because it was so successful!
Now, let's take a look at some of those tablescapes!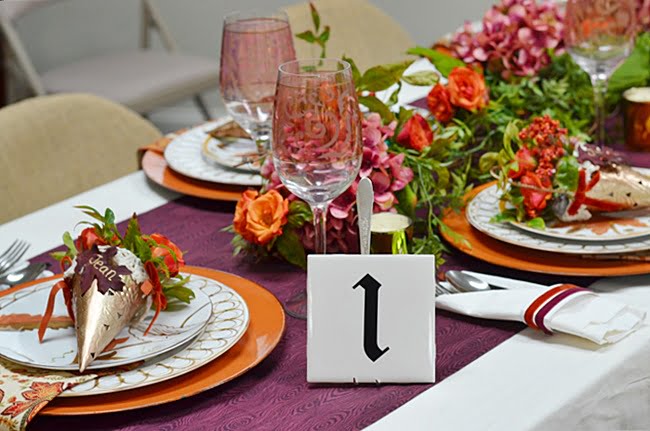 There were a total of 16 tables and 2 guest tables so I'm starting with Table #1. It just so happens that this is the table that my two sister-in-laws and myself decorated. We started planning our table during the summer and decided to go with an autumn theme. One of my SIL's spied this beautiful plum fabric in JoAnn's which we decided to use as a table runner.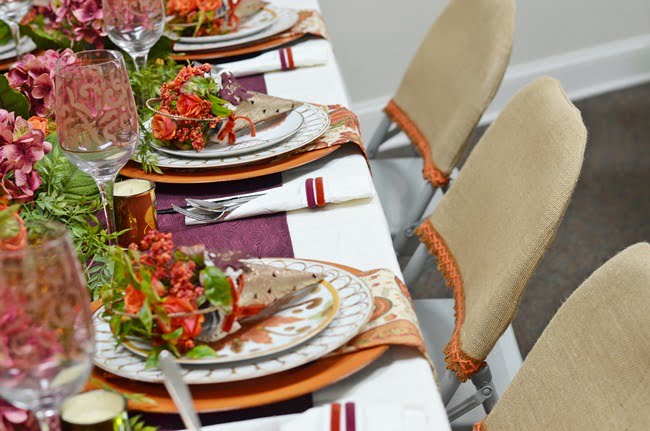 Since I have access to a sewing machine, I made the runner, the napkins, and the chair back covers. If you're interested in how to make those chair back covers, just let me know and I can do quick tutorial for ya! In each plate we had old-fashioned tussie mussies that served as place cards.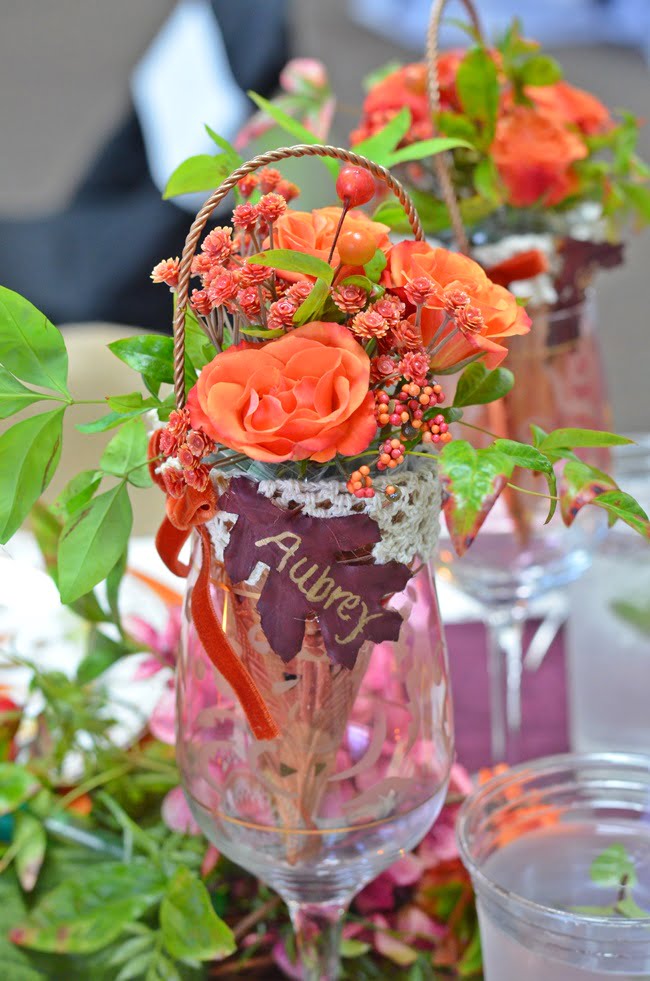 Since food was going to be served, we ended up putting the tussie mussies in my SIL Jean's beautiful vintage stemware that we used on the table.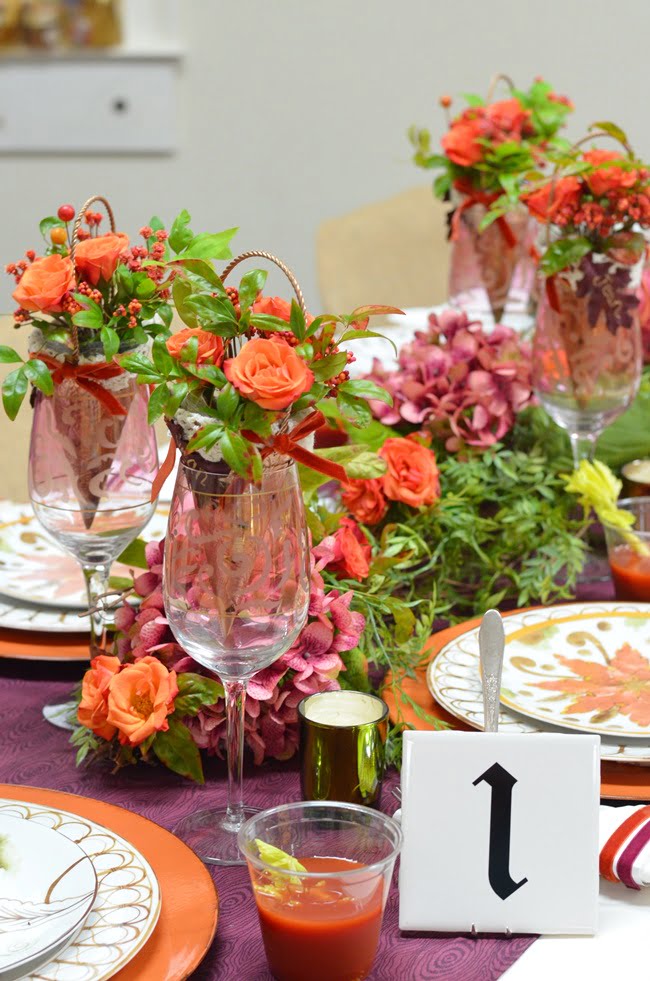 A grapevine garland served as a base for our centerpiece and we tucked a mix of faux and real flowers and greenery into it.
We had many people ask us if the hydrangea blossoms were real but nope, they came from Hobby Lobby!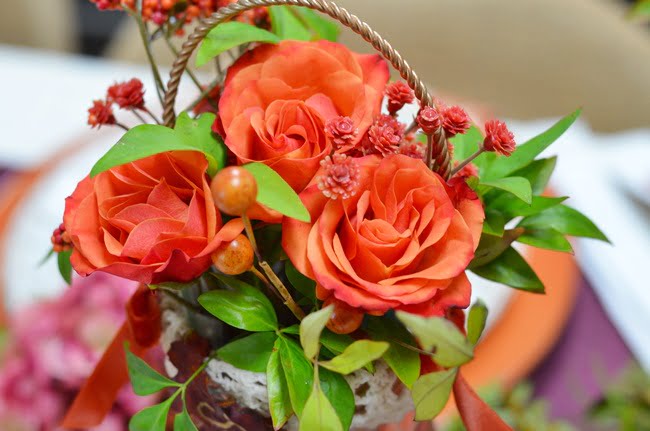 We ordered those beautiful orange roses from our new florist in town, Paula Johnson, but my 2 SILs created the arrangements in those tussie mussies using a combo of nandina leaves, faux berries, etc. We had such a fun time planning, shopping, and executing our autumn themed table!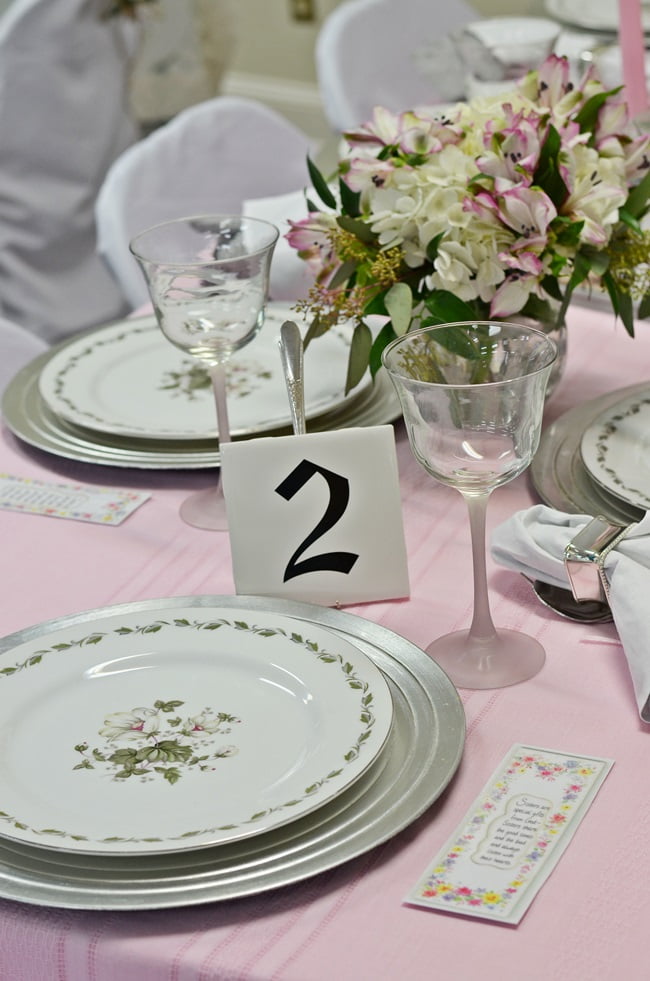 Next is Table #2 completed by two sisters who dubbed this the "Sisters" table.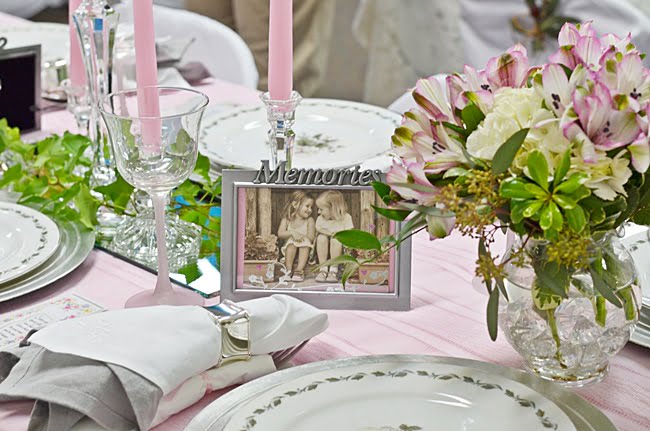 They used their mother's china to set this beautiful, feminine table. I bet that's a photo of the sisters in the frame!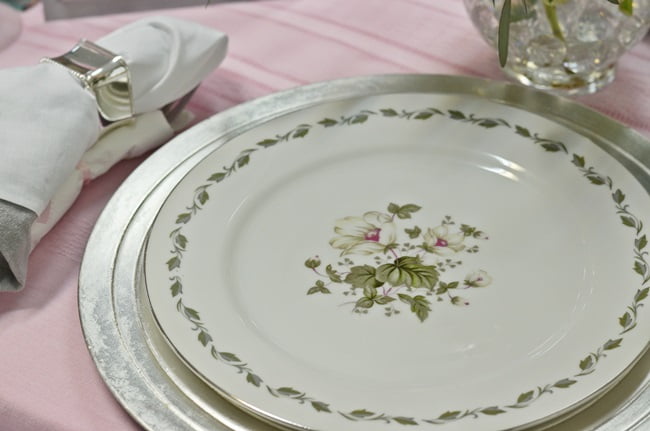 I wish I'd gotten the names of the china pattern so I could share that with you, but isn't it lovely?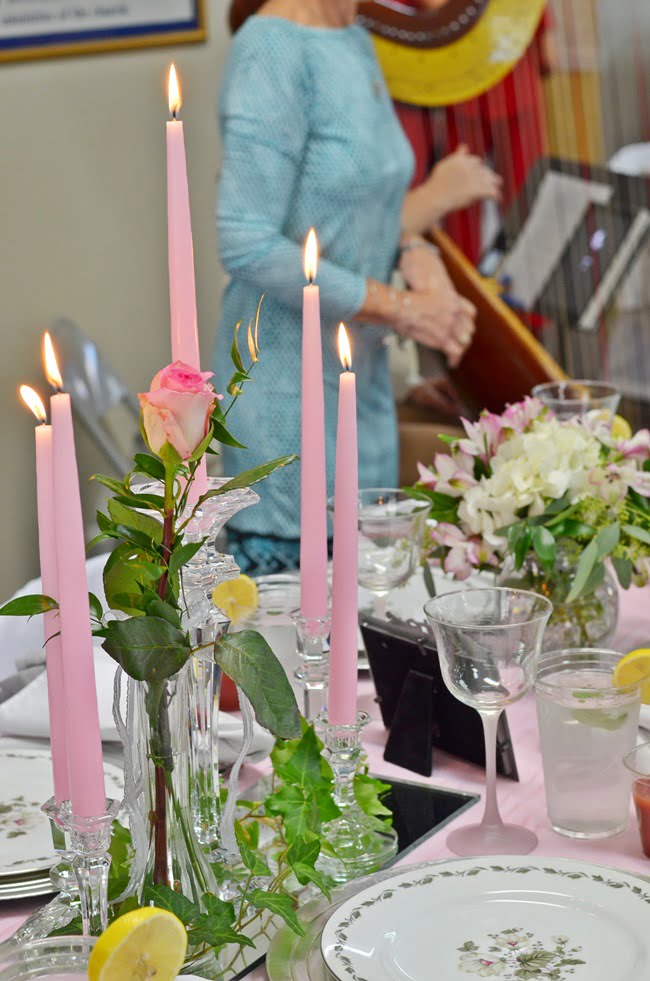 And the pink tapers and the pink roses were the perfect accents for this table.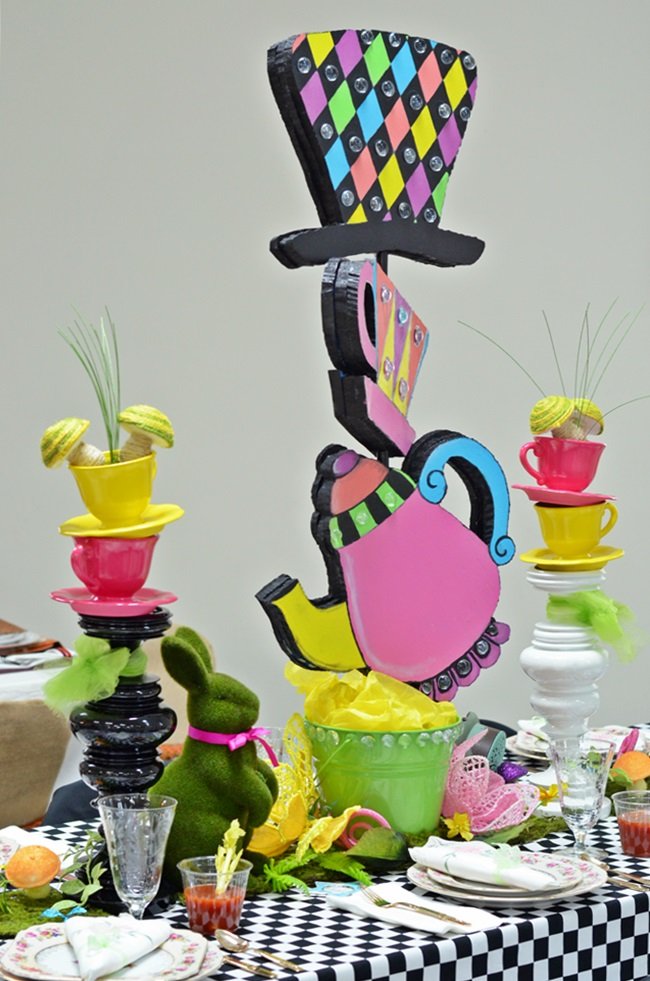 Next up is Table #3 with a delightful Mad Hatter's tea party theme!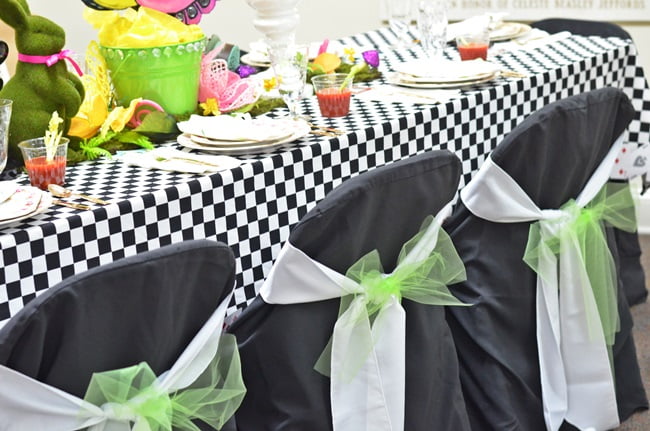 The black and white tablecloth and the black chair covers made quite a visual statement.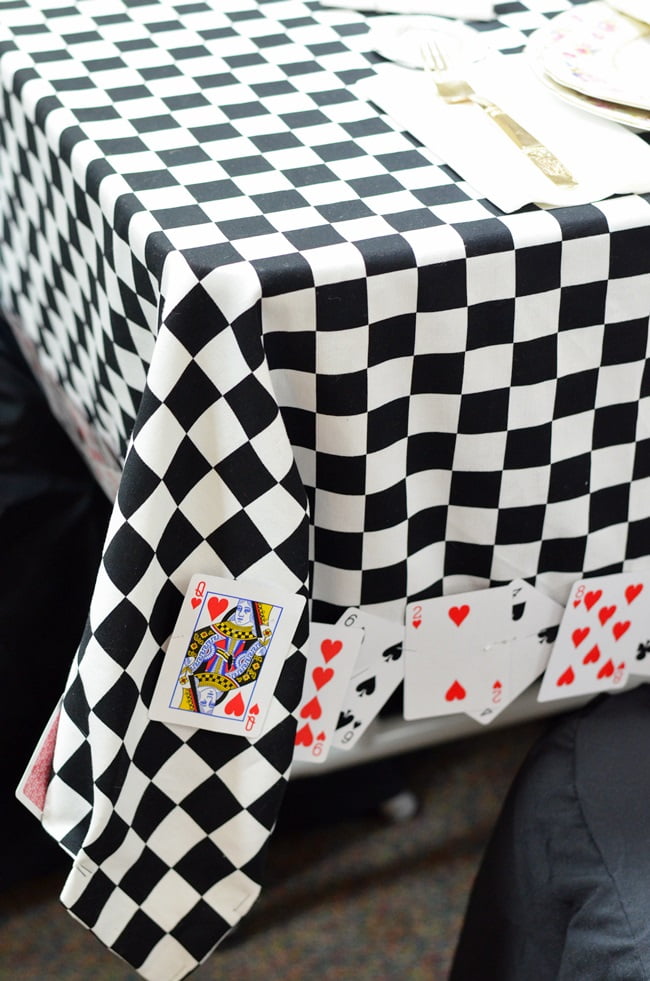 Just loved the detail of the cards added to the tablecloth!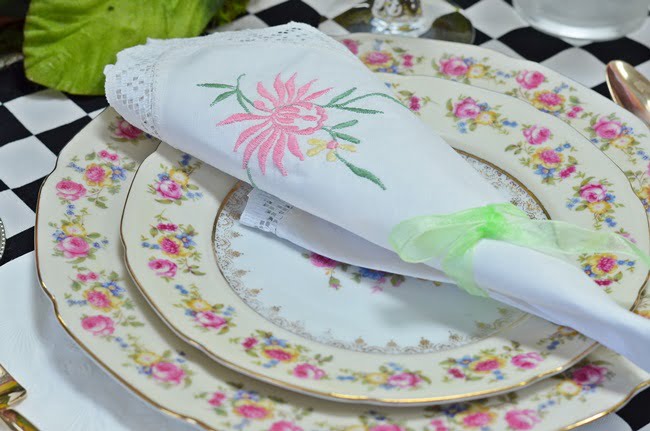 The pretty floral china belonged to the grandmother of one of the ladies who did the table which just goes to show that vintage china needs to come out of the cabinets and be used!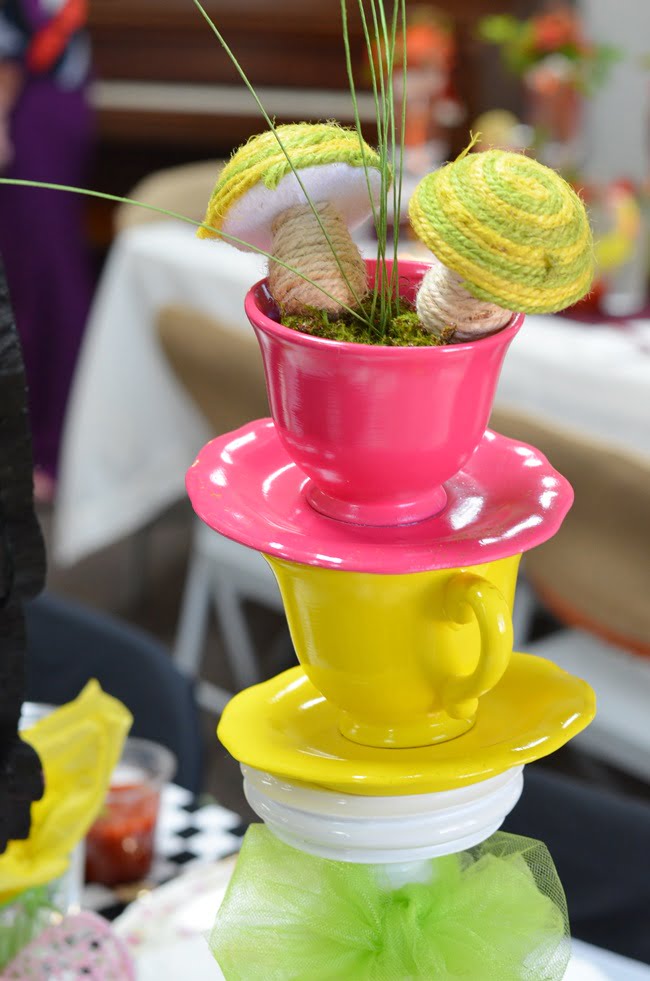 There were so many interesting details to be found on this fun table!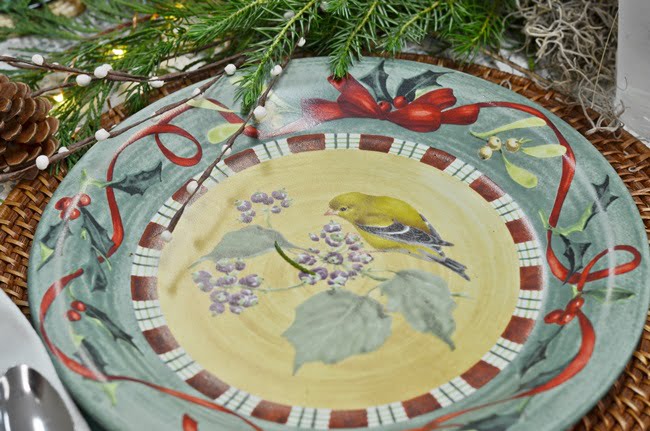 Now I do know the name of this beautiful china which is "Winter Greetings" by Lenox which served as the theme for Table #4.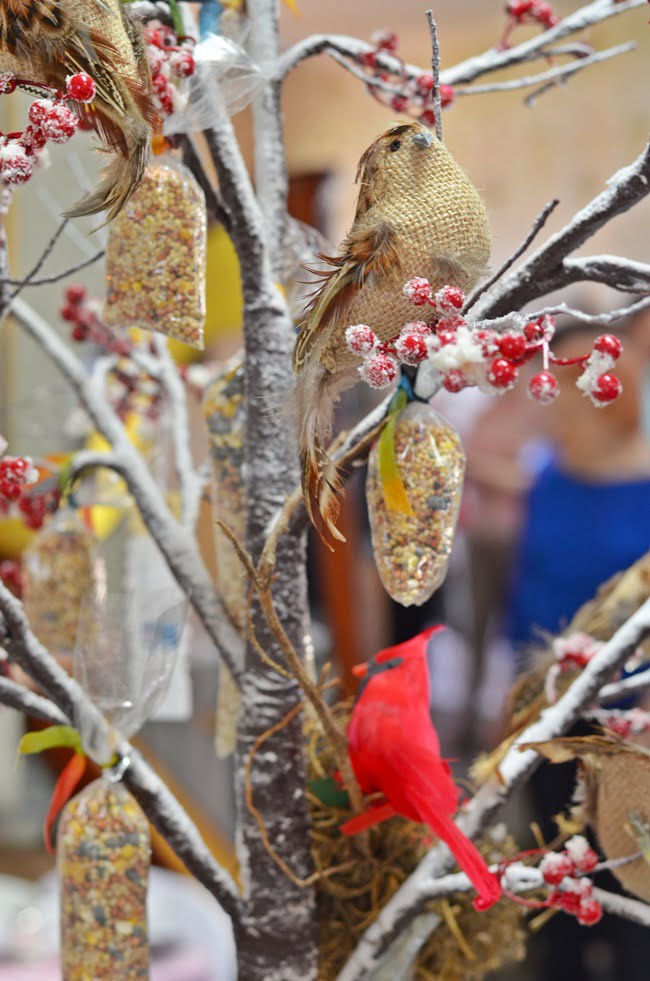 They used a tall tree as a centerpiece for the table.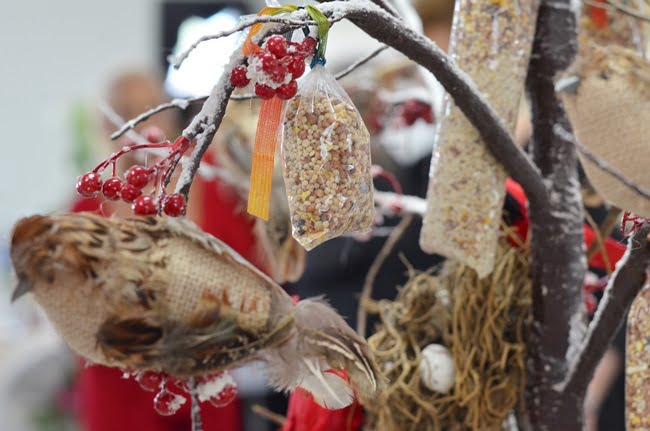 I just love how they attached little packets of bird seed to the tree as part of the decorations.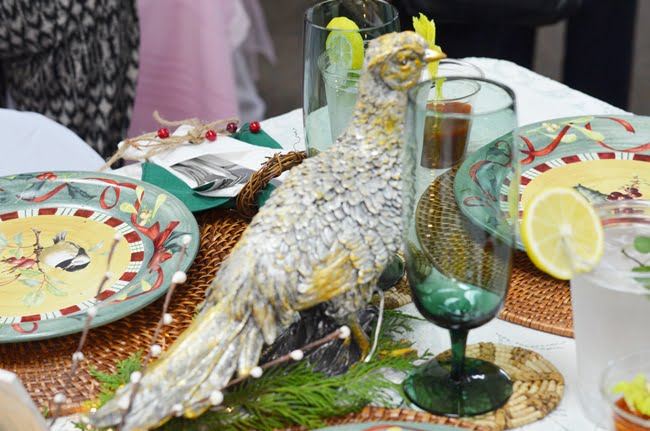 Beautiful peasants were part of the centerpiece as well along with some cedar greenery.
I thought the mix of textures and details on this table was just superb!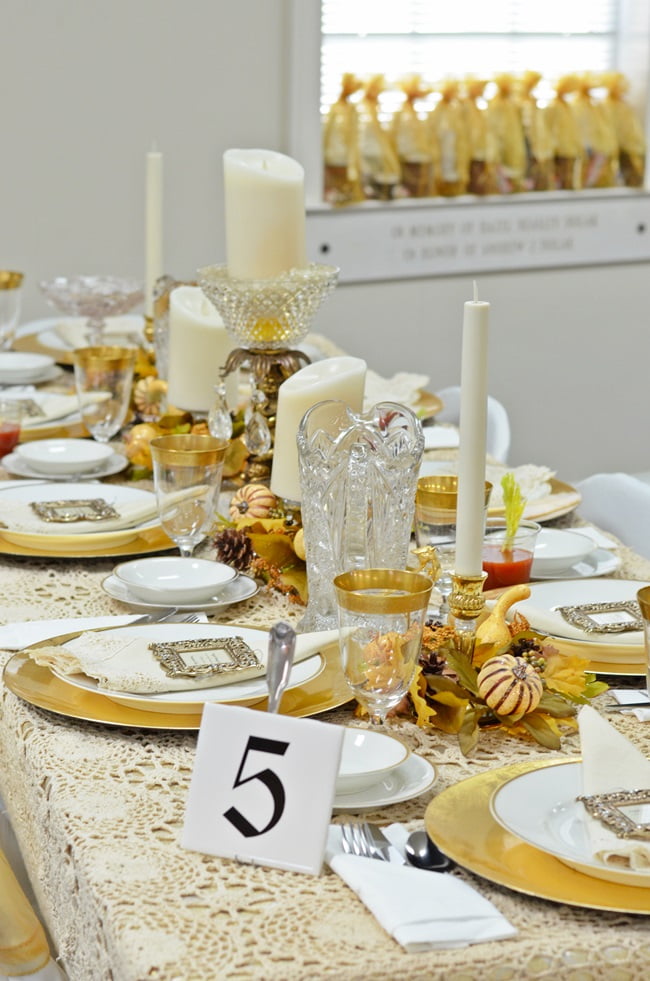 Up next is elegant autumn Table #5 done in beautiful neutral shades.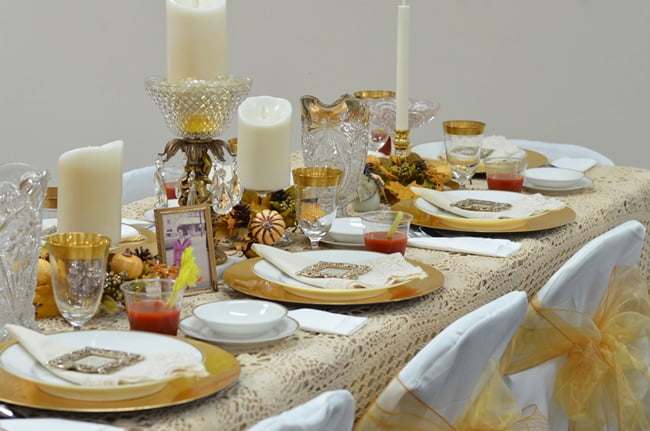 I didn't get the story on who crocheted this tablecloth, but isn't it magnificent? I don't think a woman passed by it who didn't reach out to touch it!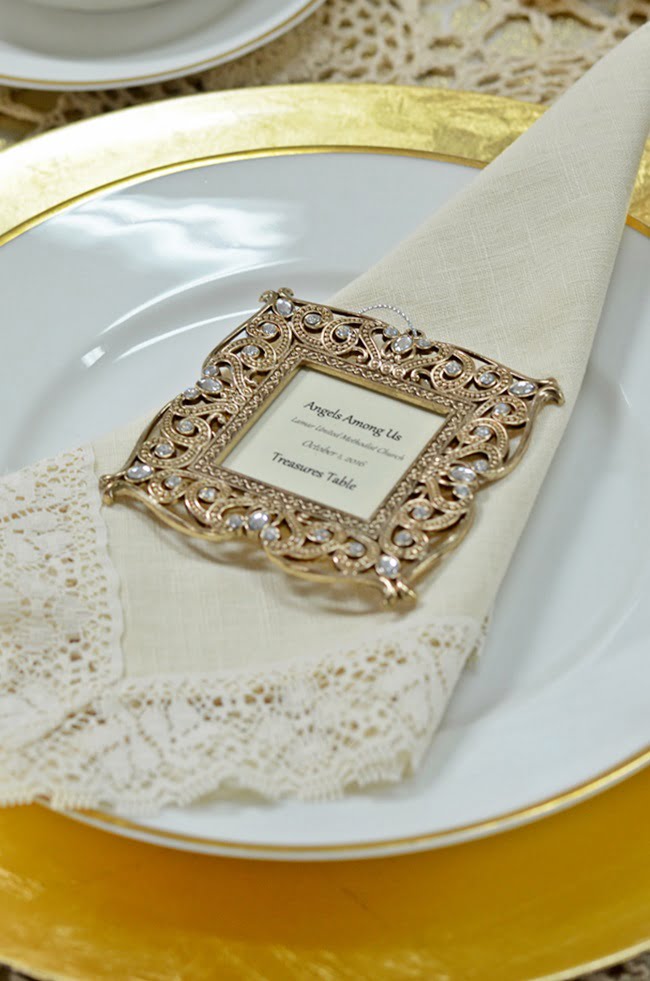 There was a beautiful ornate frame at each place setting noting the "Treasures" theme of the table.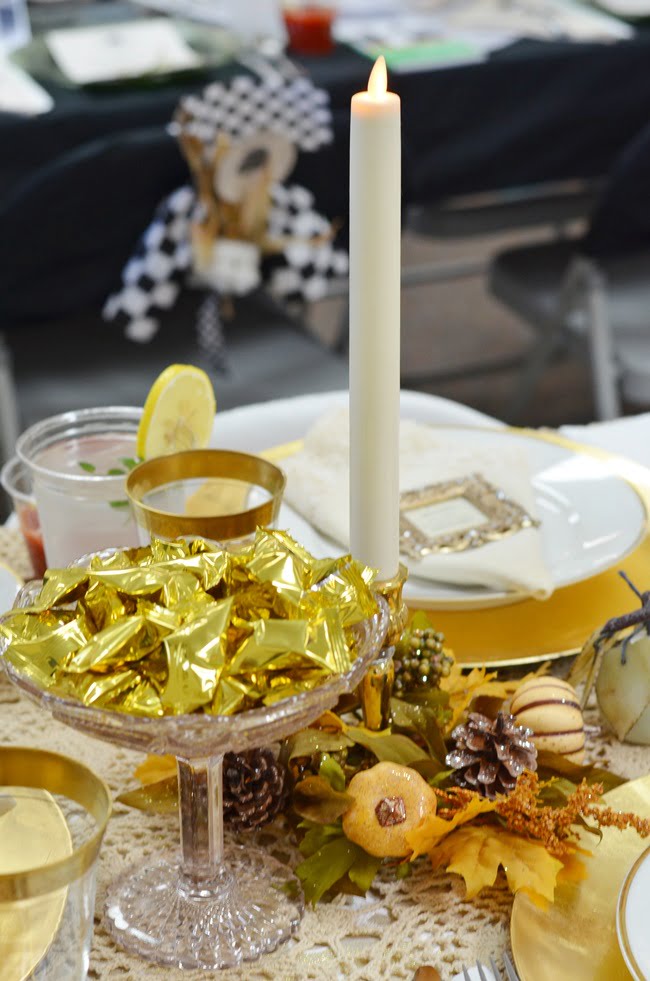 I just know that the tablecloth, glassware, and china used on this table are some family's treasures and I'm so happy that I got to see them!
I have a lot more tables to show you but this post is getting quite lengthy. Since it's that time of year that we're all looking for tablescape ideas for the upcoming holidays, I'll be back tomorrow with more beautifully decorated tables!