Santa has arrived in our dining room! Instead of a sleigh, he came in on a wheelbarrow! Today I'm sharing our Gardening Santa tablescape which is another part of our gardening themed Christmas decorations this year.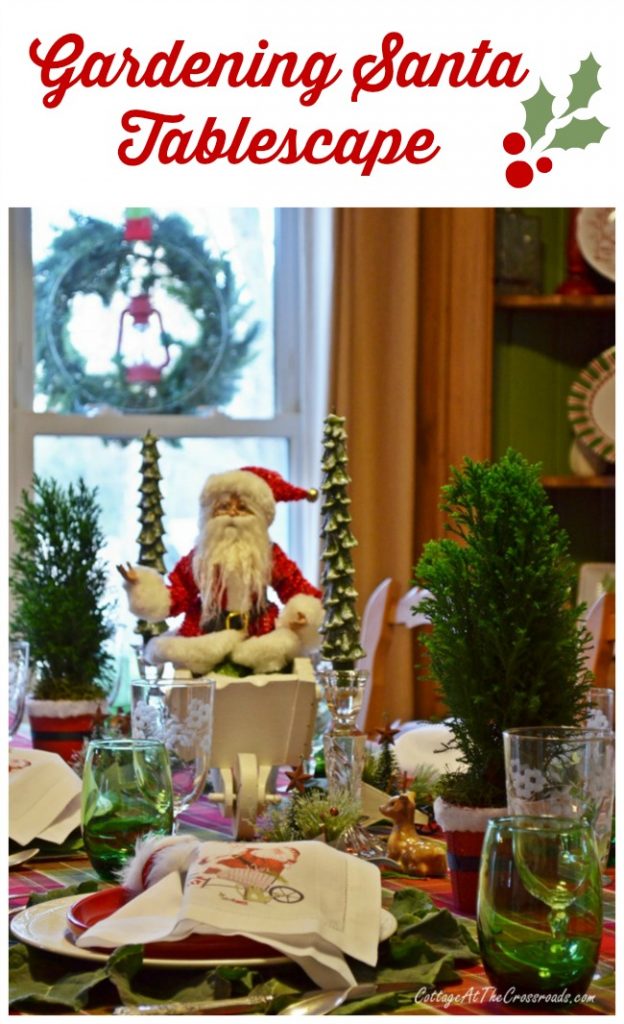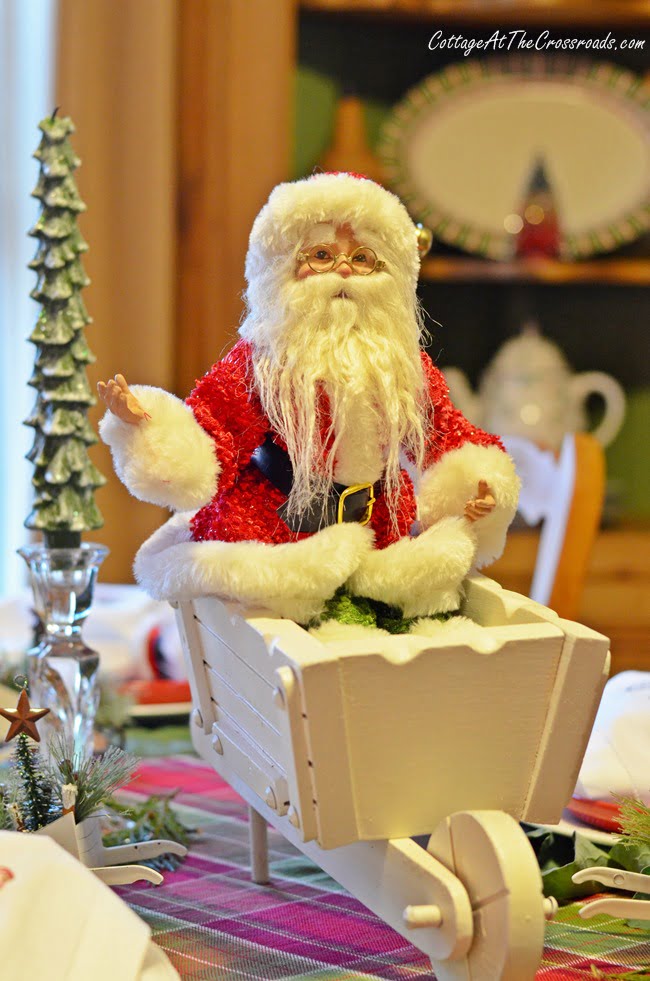 If you missed seeing our tree and mantel, you can see them in our post a gardener's Christmas.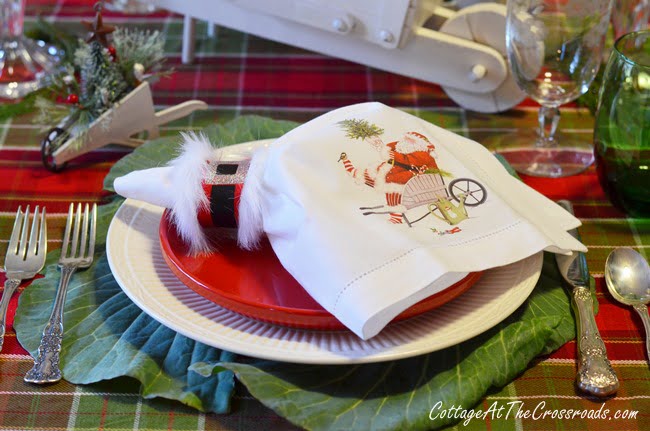 The inspiration for this tablescape and the whole garden theme Christmas decorations was these cute napkins that I found online months ago.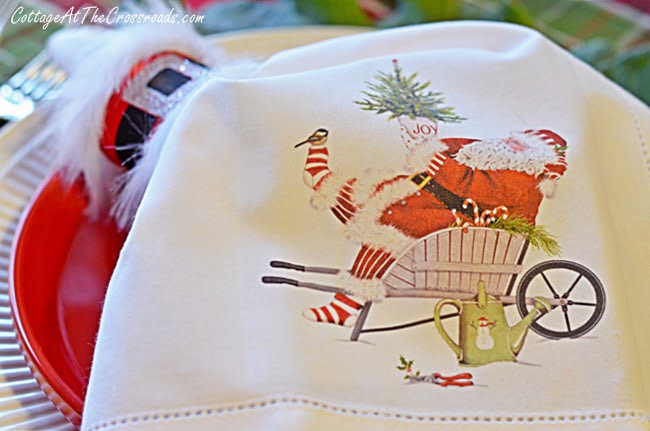 Here you can see this gardening Santa has plopped himself into his wheelbarrow! I ordered the napkins from Amazon (affiliate link) here: Garden Santa in Wheelbarrow Napkin Set
I have long been an admirer of Mary Lake Thompson's art work and the beautiful tea towels and napkins that have been created using her art. But when I saw these napkins with the gardening Santa on them, I just had to have them! If you are looking for some unique napkins for your Christmas table, you should check out all the adorable ones that she has available.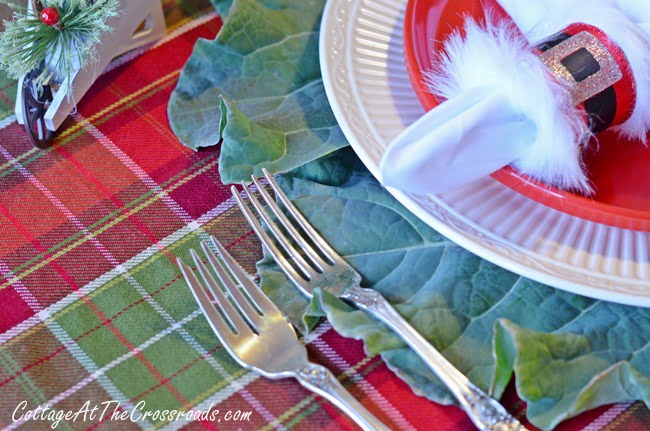 Once I had the napkins, I was then on the hunt for a plaid tablecloth and luckily I ran across one at TJ Maxx. Broccoli and cabbage leaves from Our Fall Vegetable Garden are serving as chargers today.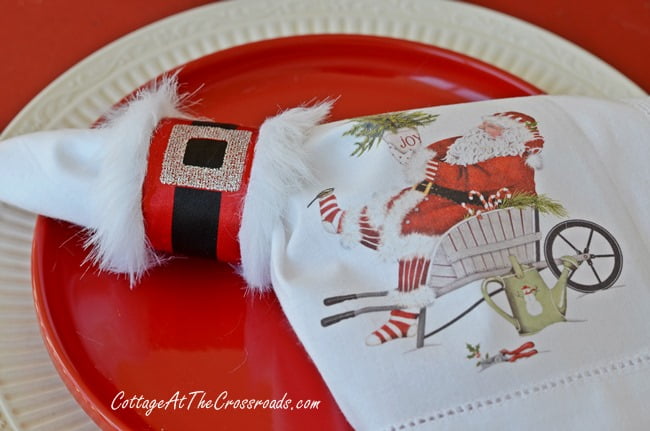 The white plates are our everyday Italian Countryside dishes by Mikasa, and the red salad plates are from Macy's. If you're looking for some inexpensive Christmas red dinnerware, this is it. My sister-in-law turned me onto them and they are on sale right now. I made the DIY santa napkin rings after having seen some real expensive ones!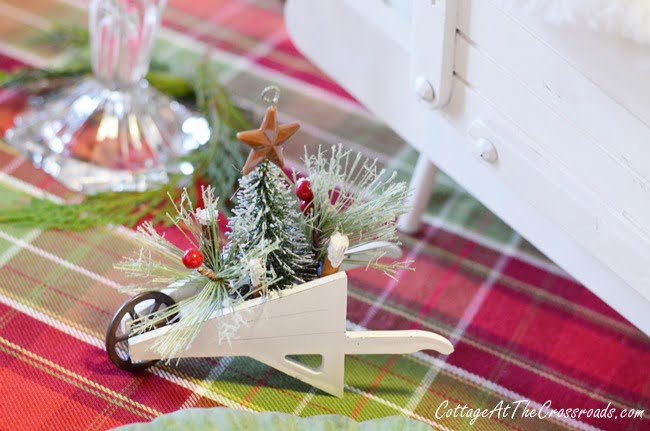 When I was planning this tablescape, my friend Susan from Between Naps On the Porch just happened to show some ornaments that she had found at Walmart on her blog. In the photo that she showed, I saw these little wheelbarrow ornaments hanging. They weren't in stock in our local store so I asked Susan if she would get them for me and she promptly sent them to me. Love my blog friends! I'm going to use them as place cards by printing names with my new label maker which we're going to giveaway soon!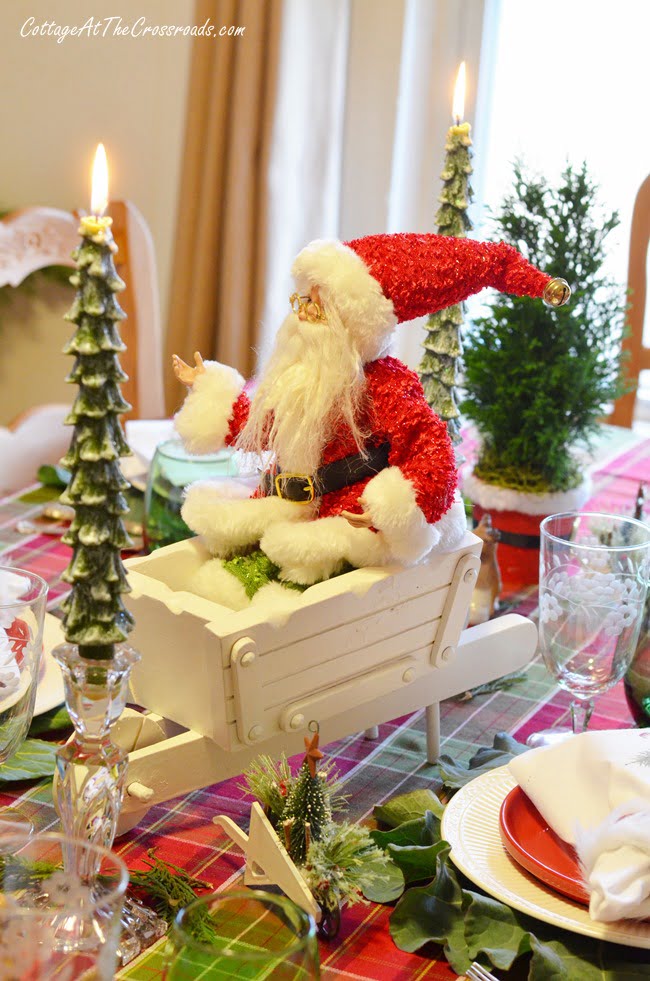 I already had the white wheelbarrow that Santa is sitting in. You may remember it from a garden tablescape that I did in early spring of this year. But I didn't have the Santa!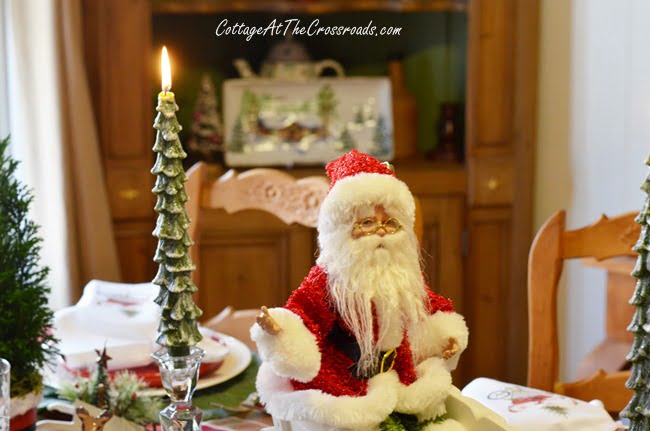 I needed a Santa whose legs would bend, and I finally found him locally at Taylor's Garden Shop.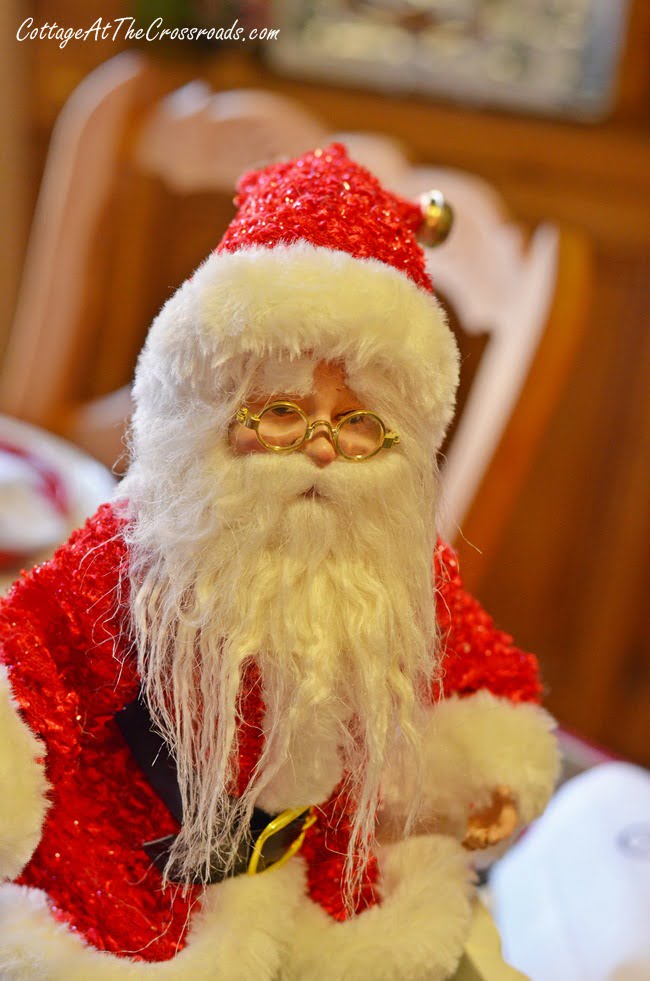 Isn't he adorable! I just love his realistic looking spectacles!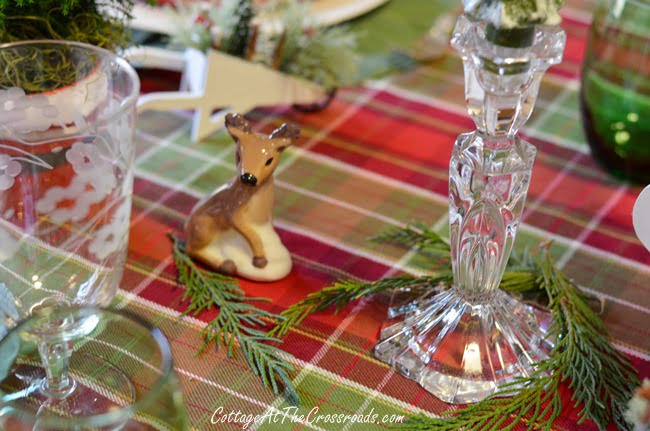 Santa's little woodland friends are on the table! I found those at Walmart this year.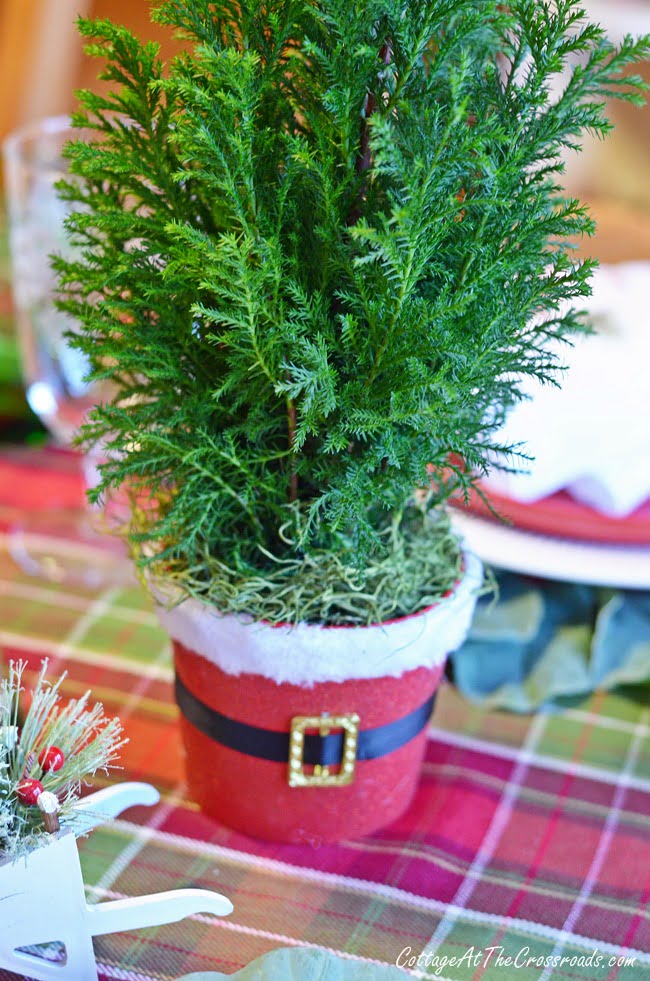 I also found these little Santa belt pots at Walmart, and the cypress trees came from Lowe's.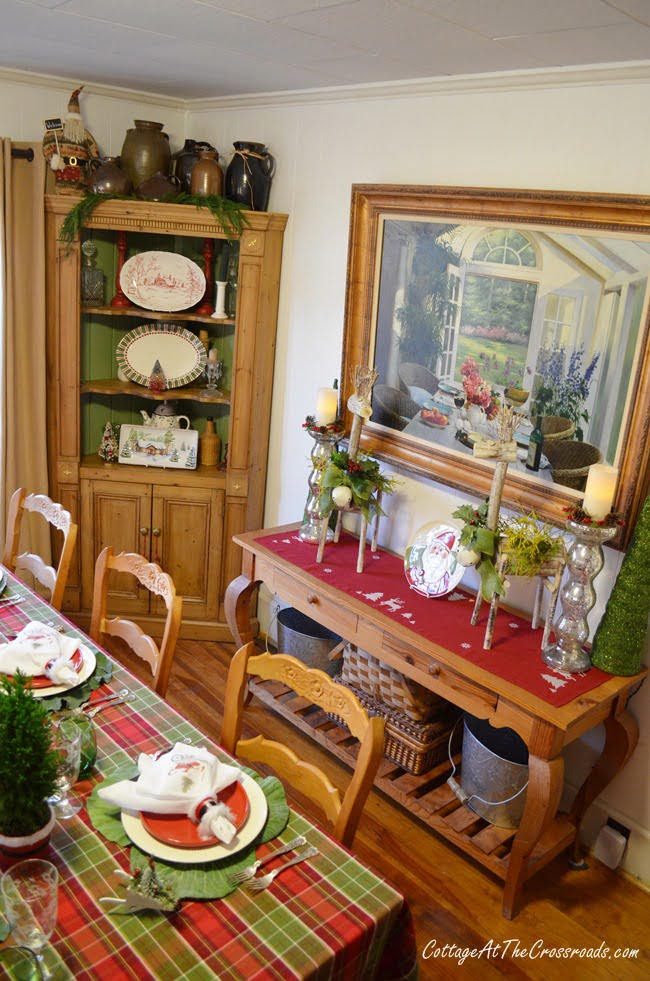 Of course, the corner cabinet and the server in the dining room have been decorated for Christmas along with the hutch. I'll show more of those in another post soon.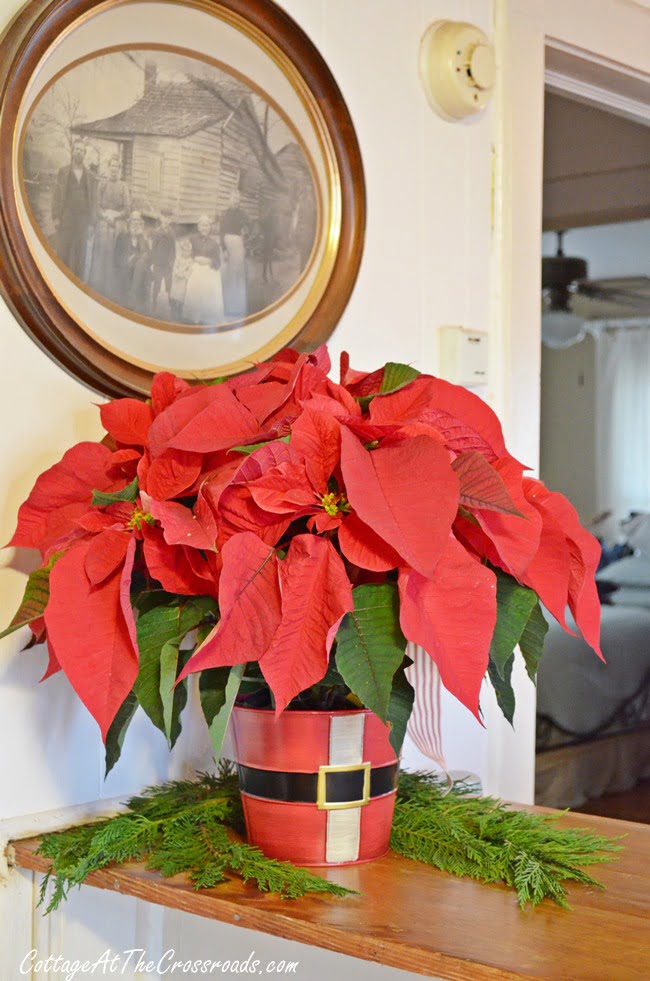 The dividers that separate the dining room from the living area have beautiful red poinsettias displayed on them, complete with Santa belt pots!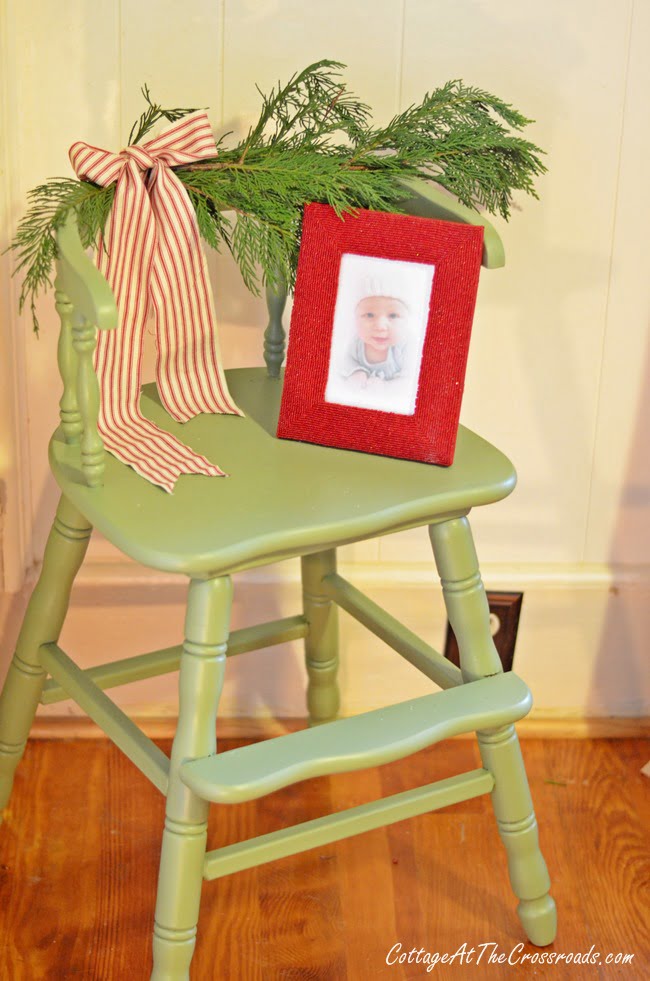 And here's the newest addition to the dining room. It has a long and special history in our family so I'll share that in a post soon, too. And someone new is going to get to sit in it Christmas Eve!
I may or may not have more Christmas decorating to show you before then. I've yet to finish the kitchen and the front porch but they're underway! I do want to slow down and savor all the season has to offer and hope you're doing the same.