I hope everyone had a wonderful Thanksgiving. We had a quiet, but good one with just Leo, my mom, and me. So after the big meal, I started decorating for Christmas. This year's theme is "A Gardener's Christmas."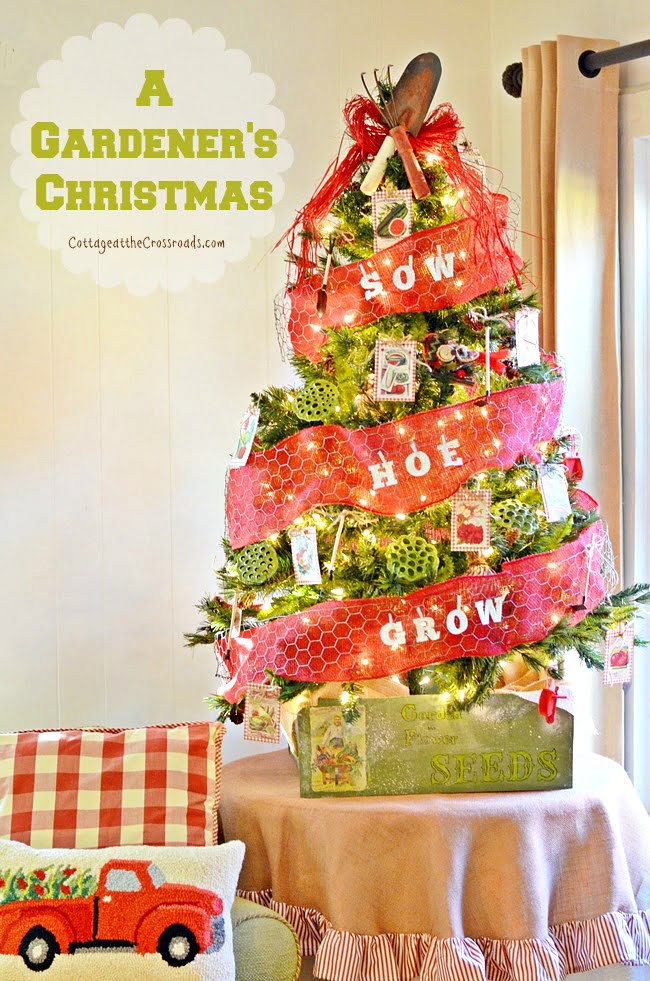 Our mantle on full display, with Christmas colors, ribbons, decorations all following our Christmas garden theme.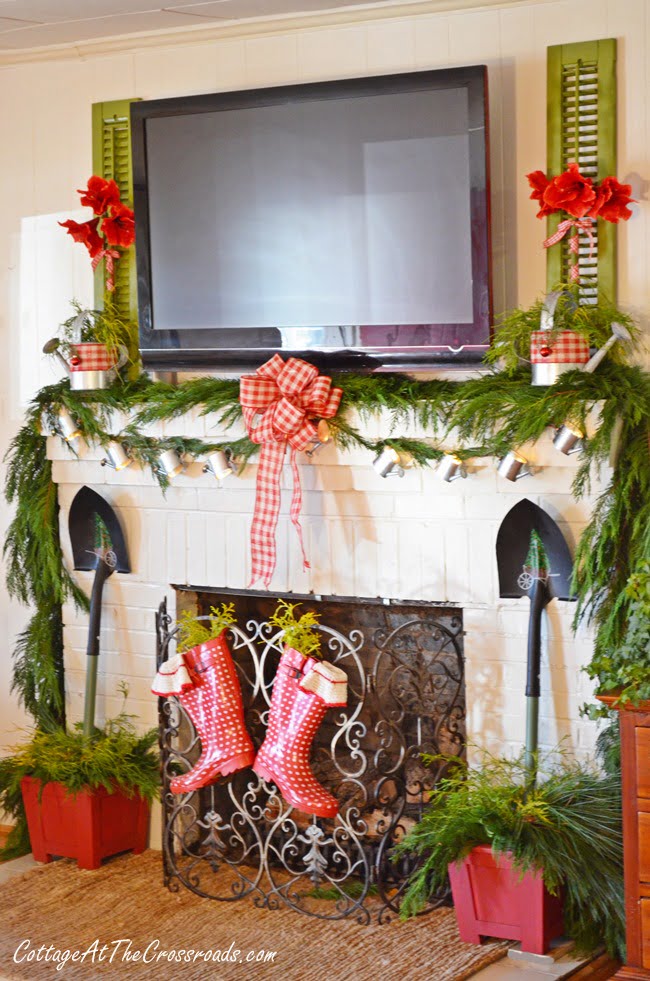 Ever since Leo and I started our garden five years ago, we've become known locally as "The People with the Garden." And I'll have to say that when we started it, that we never would have thought that it would give us so much satisfaction and pleasure. It is so much more that just growing most of our own food-it has become a way of life. So to celebrate the joy we get from gardening, I decided to decorate our living room with a gardening theme in the traditional colors of red and green.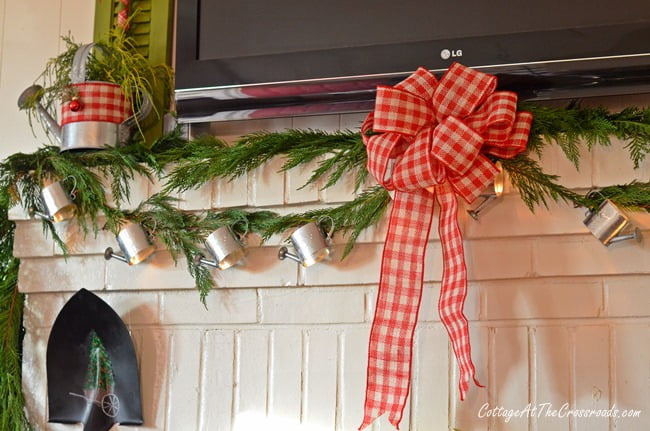 On top of the mantel, I've used a red and white checked bow along with a watering can garland with lots of Leyland and Mophead cypress from the yard.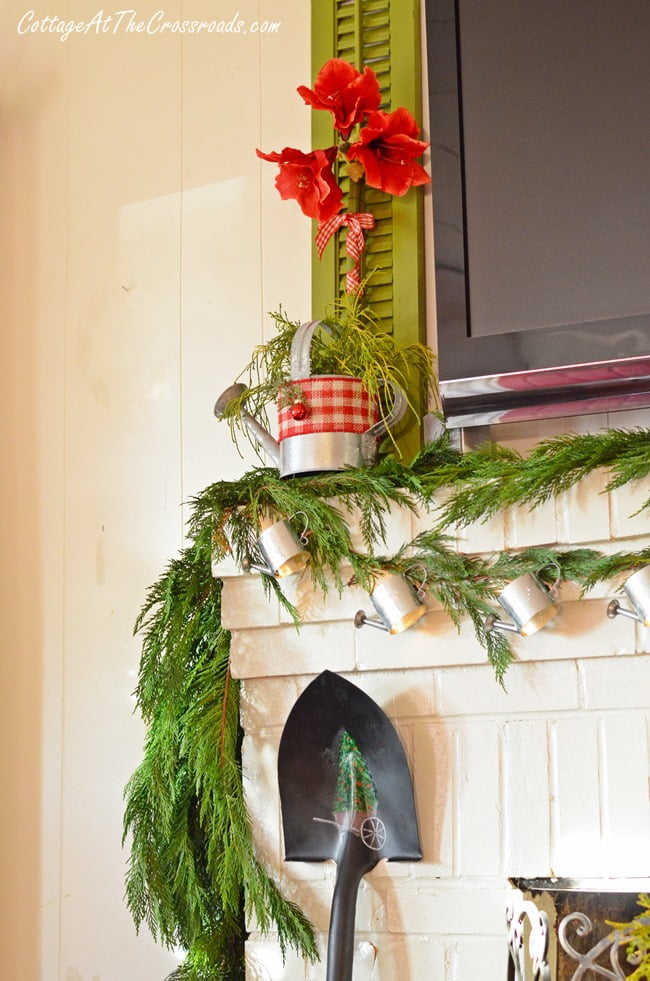 I left up the green shutters that I put on the mantel this summer and added 2 larger watering cans and some amaryllis flowers. And shovels! Who can garden without shovels?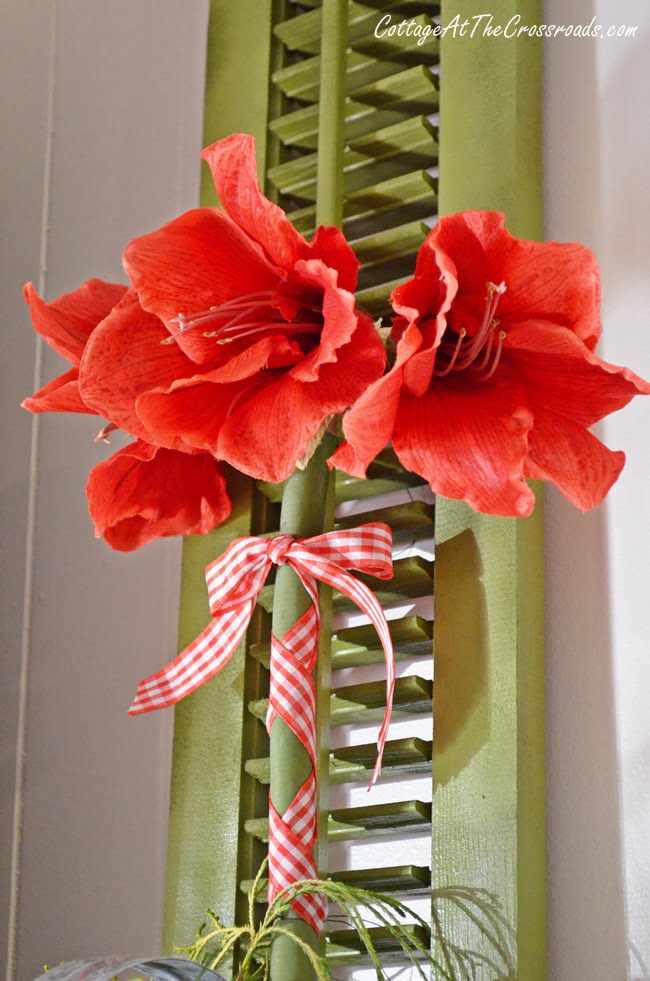 The amaryllis is a classic winter blossom that is associated with Christmas. This one is an artificial one since I knew a real one would never last through the holidays! The beautiful red color looks so festive especially when tied with a red gingham ribbon!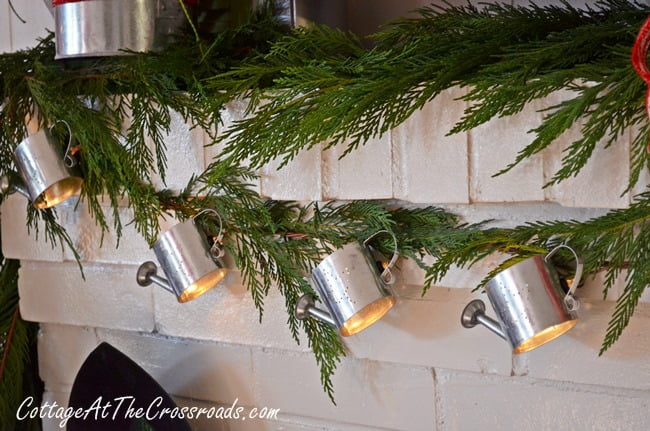 The watering can garland is made from patio lights that I found online.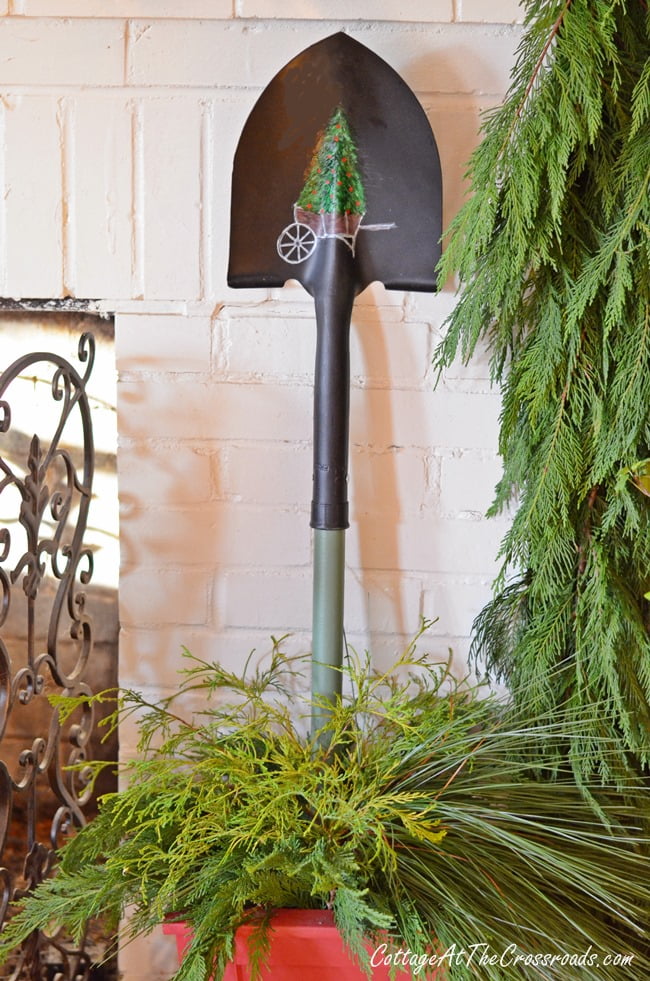 The shovels were handpainted by my friend Marti Dunn.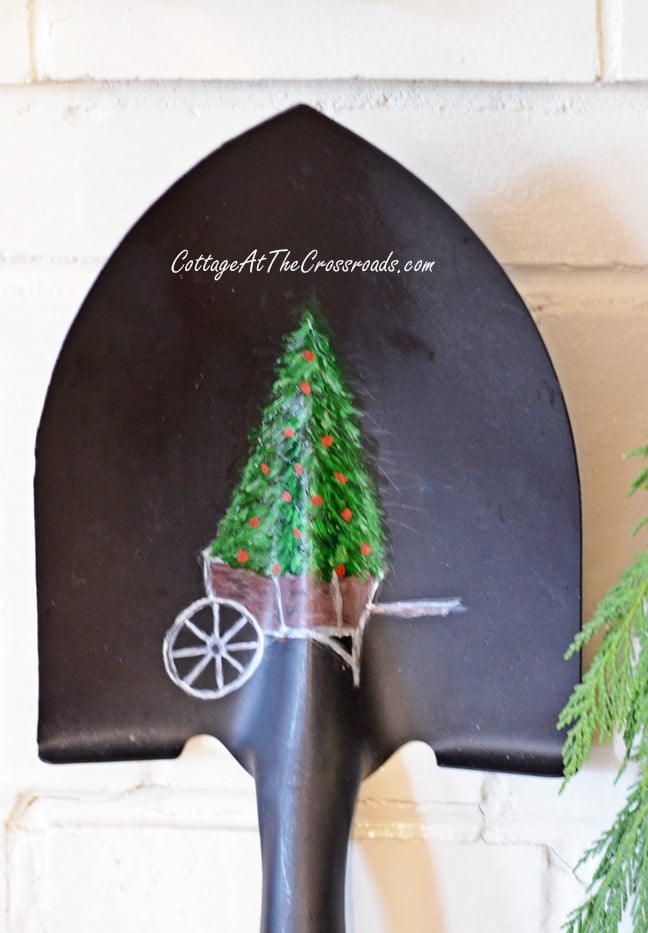 Here's a closeup of the wheelbarrows and trees that she painted. Didn't she do a great job?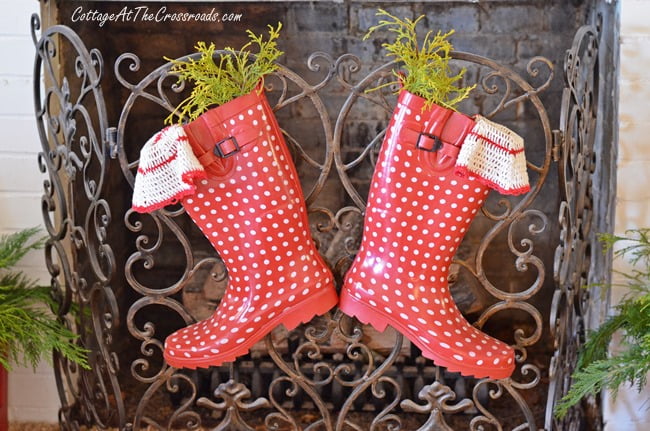 Instead of hanging stocking this year, we hung some gardening boots which I adorned with vintage doilies and greenery.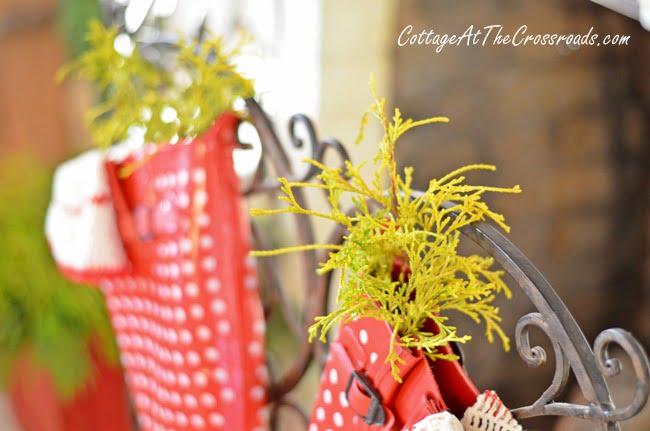 Hope Santa doesn't get mistaken and put these on when he's here!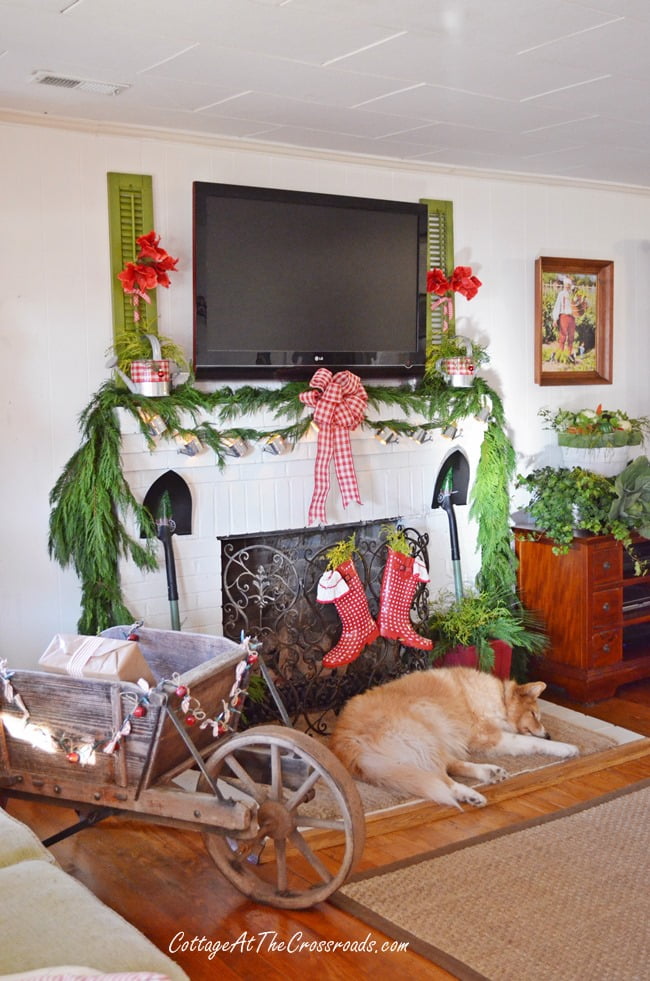 To the left of the fireplace is our vintage wheelbarrow that we found at the auction. I asked the man that we bought it from where he had obtained it and he said that he bought it at a farm auction in Lancaster, South Carolina. He said he was pretty sure it was made by the Amish. I'm in LOVE with the wheelbarrow! Lucy is in LOVE with her naptime!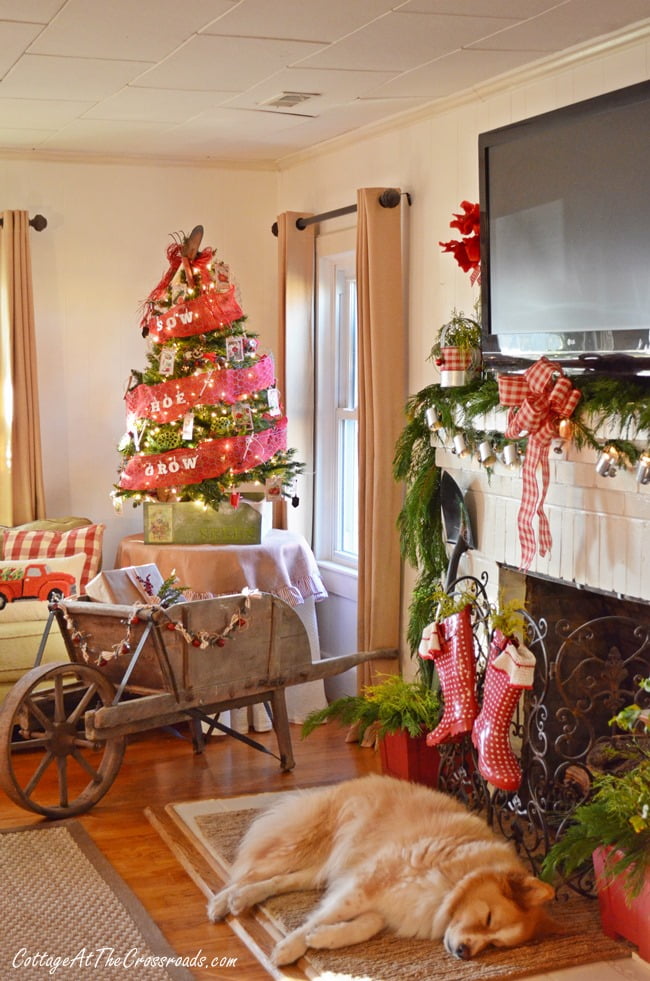 I'm pretty sure she's worn out from digging holes in the garden earlier today. It was such a pretty day today and Leo worked out in the garden taking up the landscaping fabric and straw. You know, there's no rest for the gardener since there's always something that needs to be done.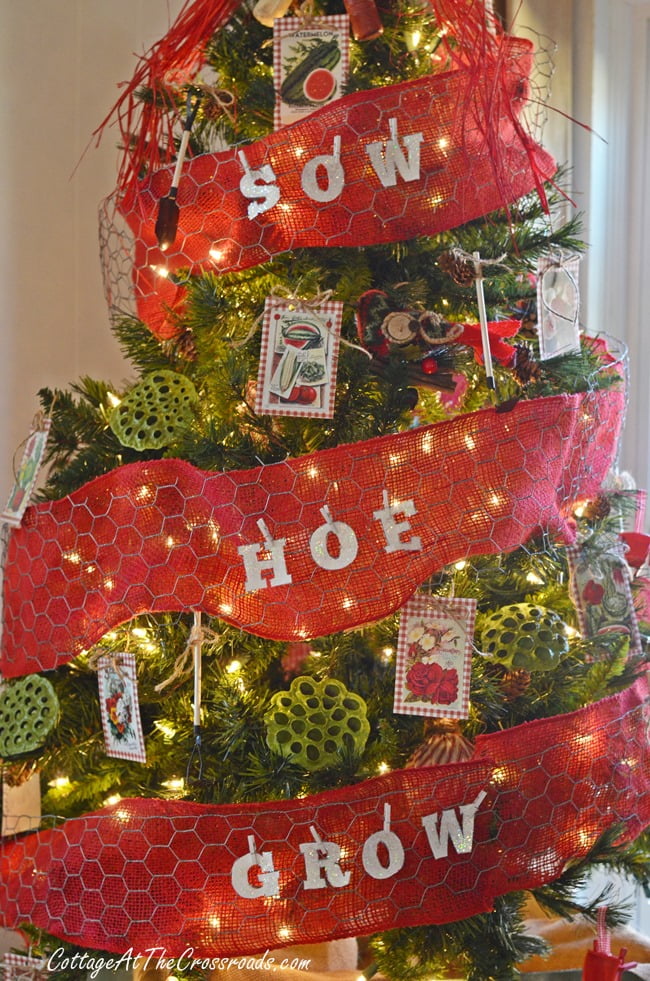 I'm calling our tree the "SOW-HOE-GROW" tree. It's a bit of a tongue twister. Go ahead and say it 3 times!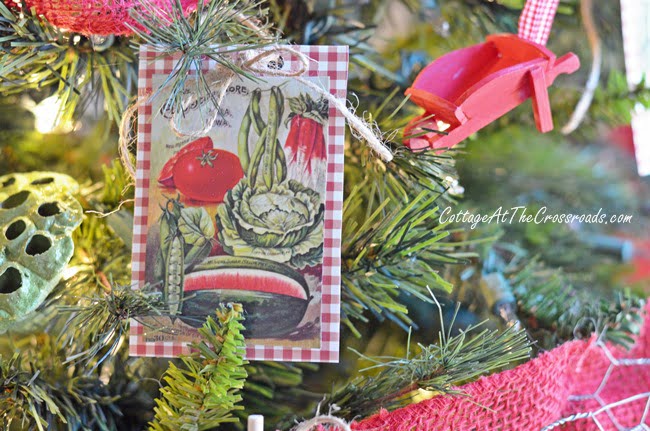 The tree is adorned with ornaments that I made with seed catalog and seed packet artwork from the late 1800s. And do you see the little red wheelbarrow? I found those in the dollhouse furniture section of Hobby Lobby.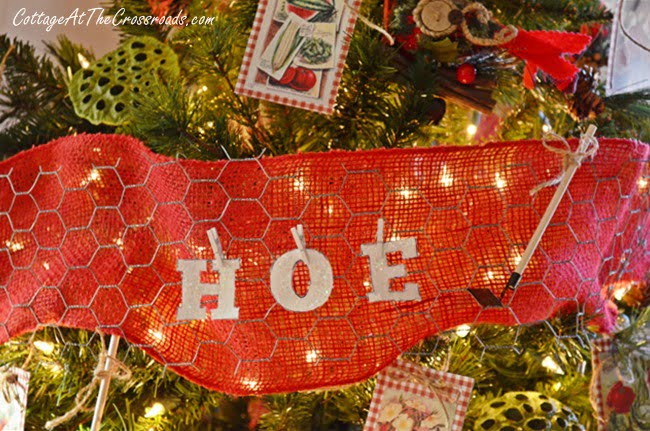 And there are some little tool ornaments on the tree such as this hoe.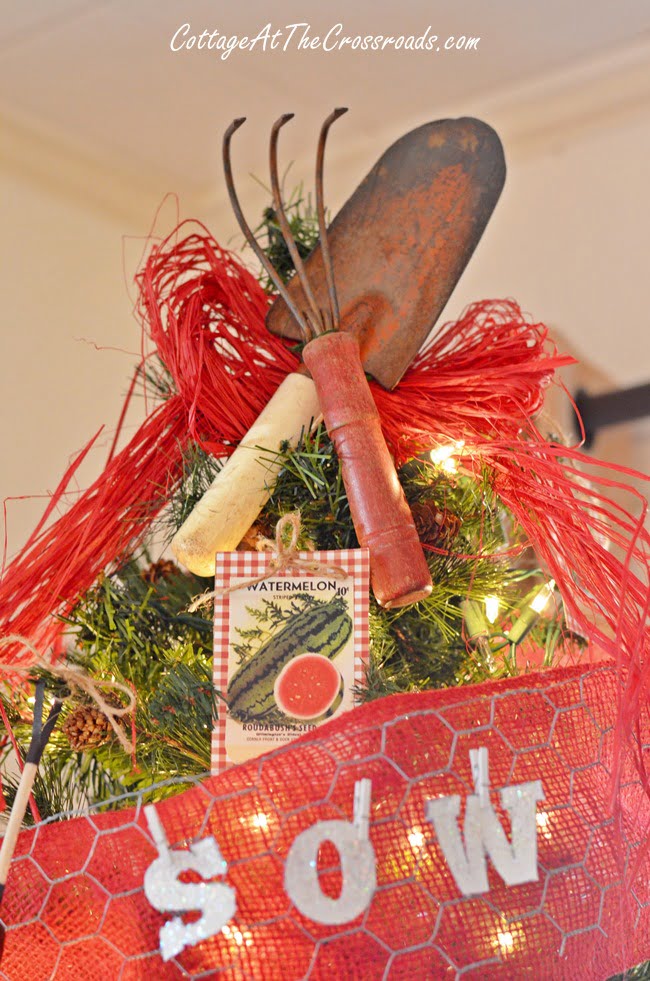 The tree topper was made from some vintage gardening tools that I already had.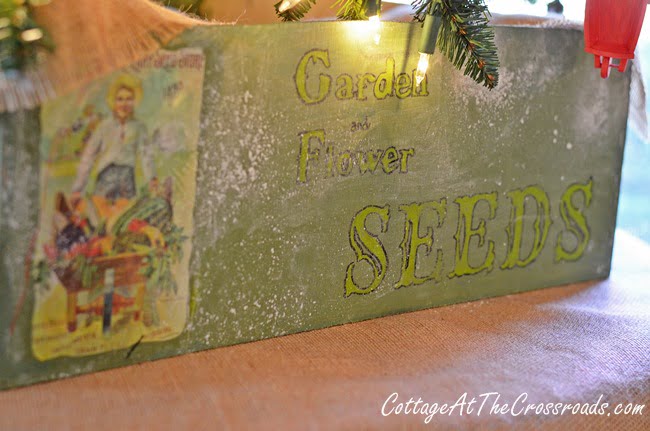 And to cover the tree stand, Leo made a box for me and I painted it to look like an old seed box.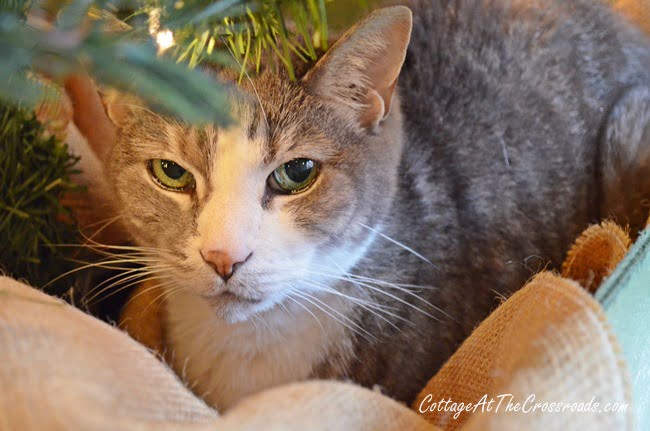 Rascal thinks that we put the box under the tree just for him!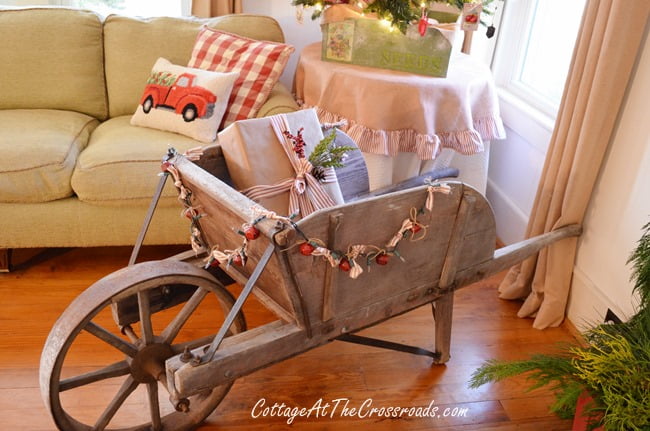 The wheelbarrow will hold the gifts this year.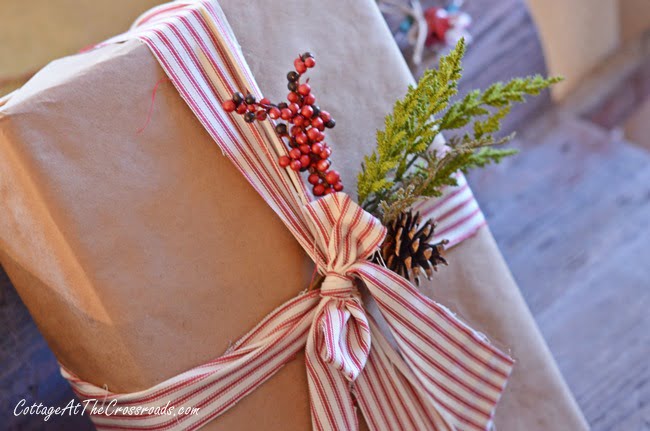 Leo didn't quite understand why I wrapped one gift in brown craft paper today!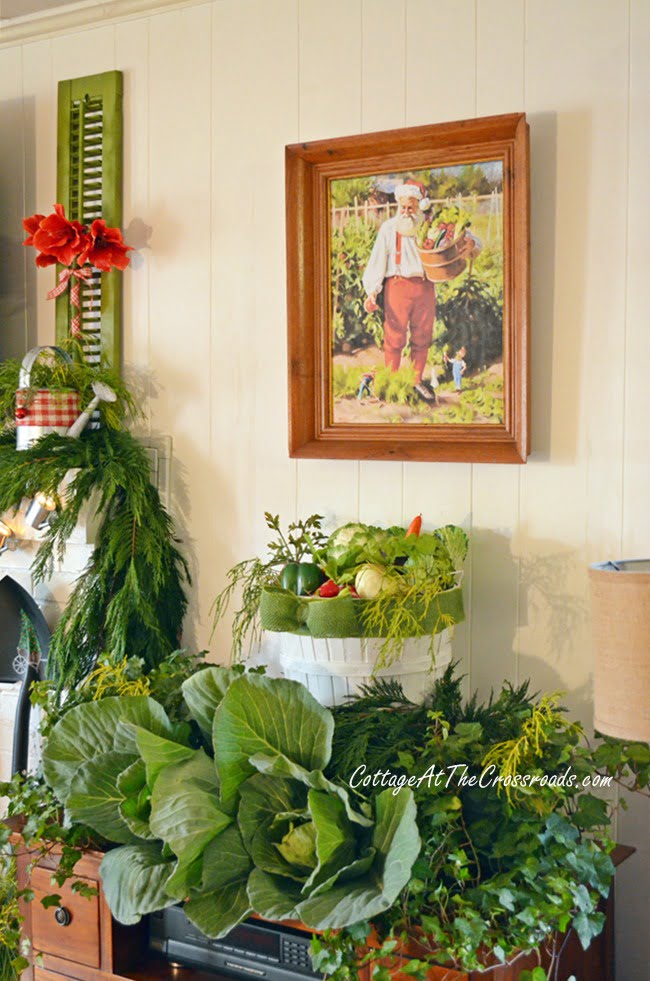 To the right of the fireplace is my new Santa print!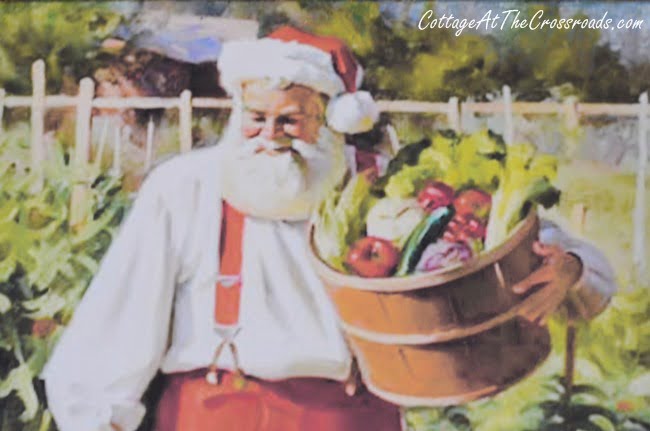 He's a gardening Santa!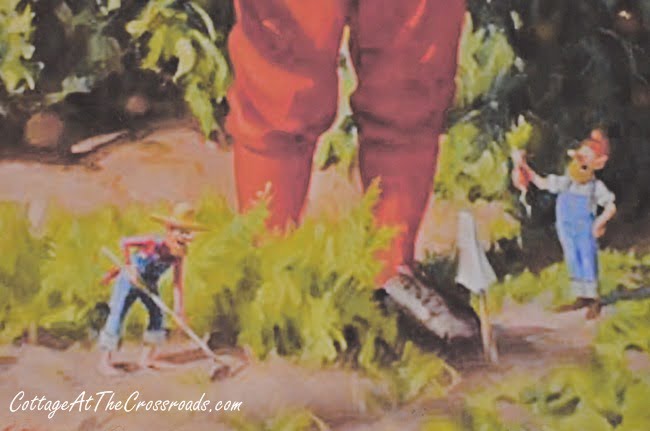 But it looks like his elves do all the real work!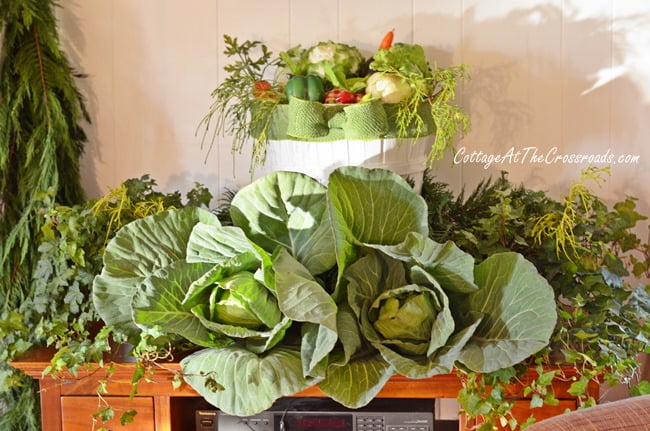 Underneath the print I created a display using a basket filled with veggies, ivy, and cabbages from our garden. I bet you've never thought about using cabbages as Christmas decorations, have you? Hmmm, I didn't think so, but aren't they beautiful?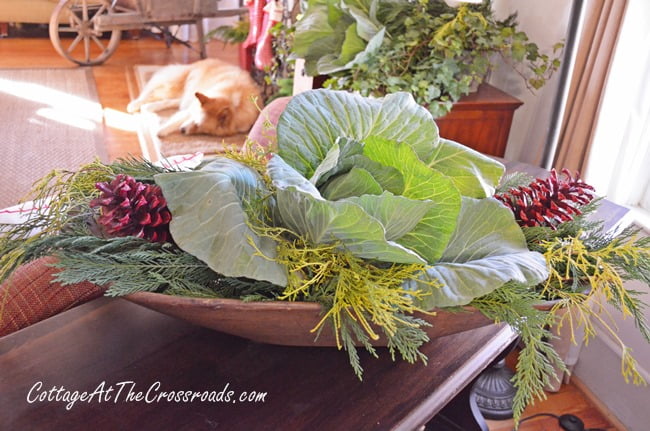 I thought they were so pretty that I put one in my old dough bowl along with some pine cones that I painted red. Yes, I guess you could say that gardening has become a bit of an obsession for us.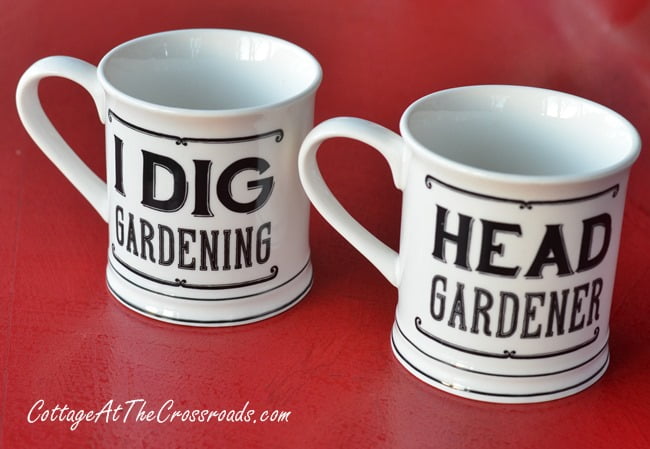 So much so that we are now drinking our coffee from our new gardening mugs! Can you guess who's the head gardener?
As soon as Christmas wraps up (haha), I'll pack everything up and start planning my garden, ordering seeds, and reviewing my past garden journal.