Yipee! It's spring, and we've already been working in our garden. So to celebrate, I created a spring garden tablescape filled with the colors and signs of spring.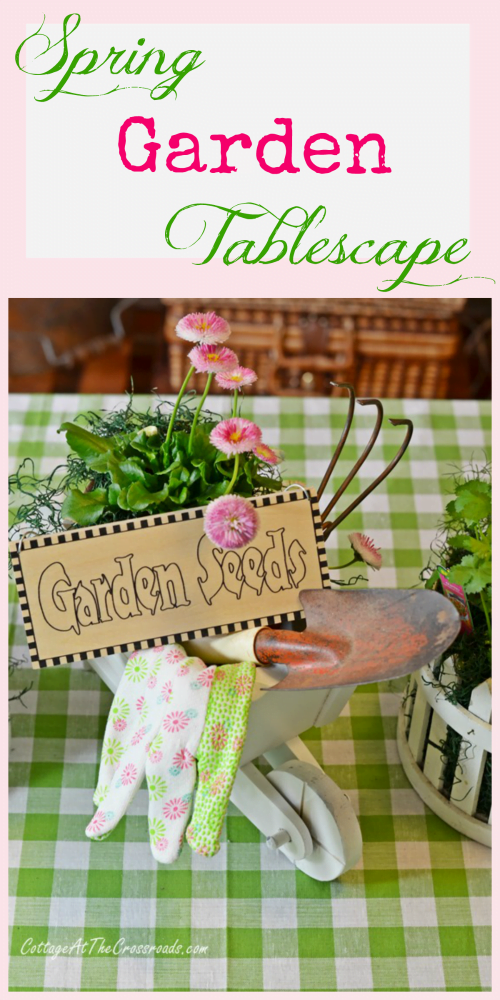 I started with this new spring green tablecloth that is the color of new growth on trees and shrubs outside.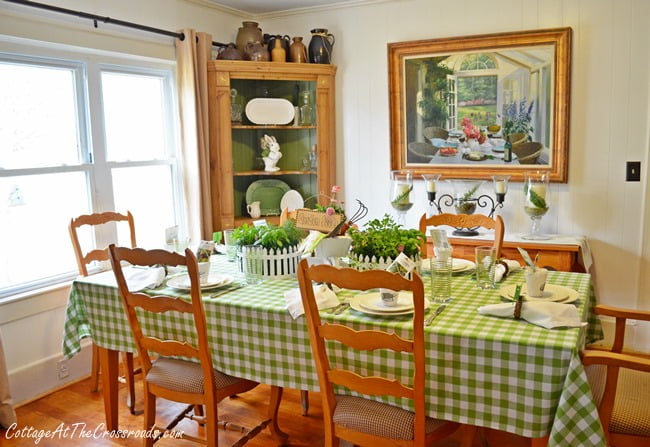 You know, that color we've been dreaming about seeing all winter long!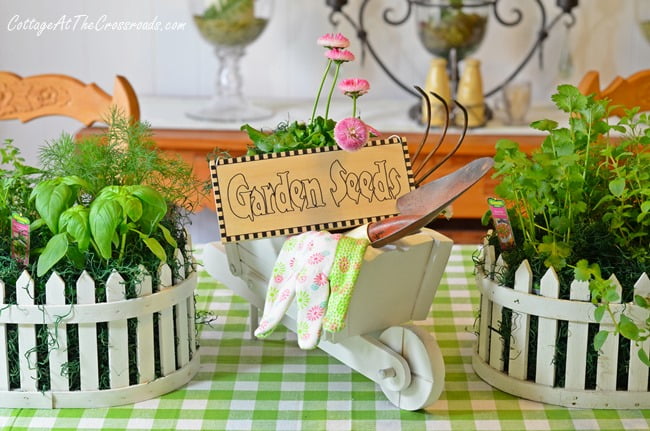 The centerpiece is a little wheelbarrow that I've had for several years. I loaded it up with some vintage gardening tools, new gloves, and some recently planted flowers.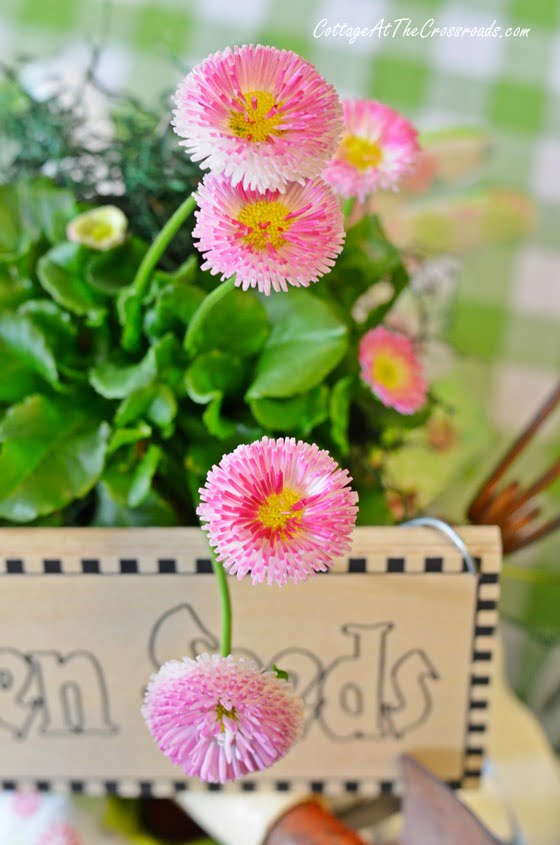 The flowers are little pink English daisies that you can find at garden centers right now.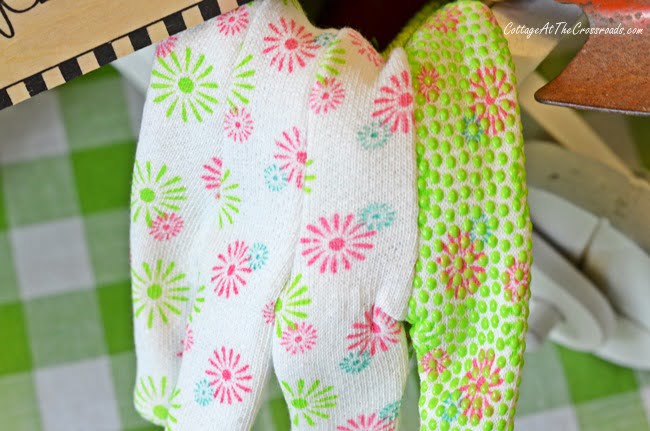 I didn't notice this until later, but the flower design on the gloves mimics the daisies!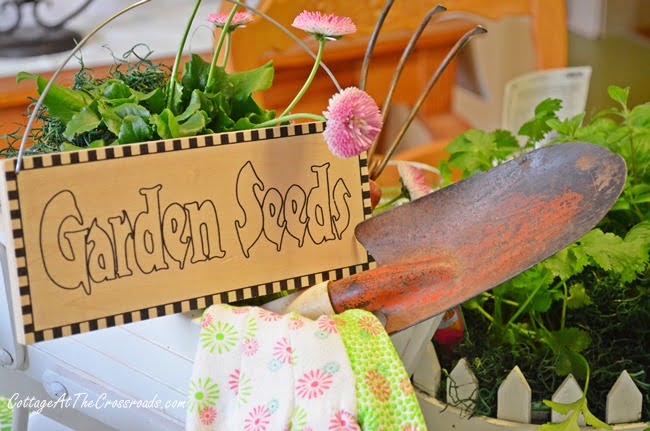 The Garden Seeds sign I picked up months ago from a bargain store. I tucked it into the wheelbarrow because I decided that if you are going to have a garden party, you need seeds!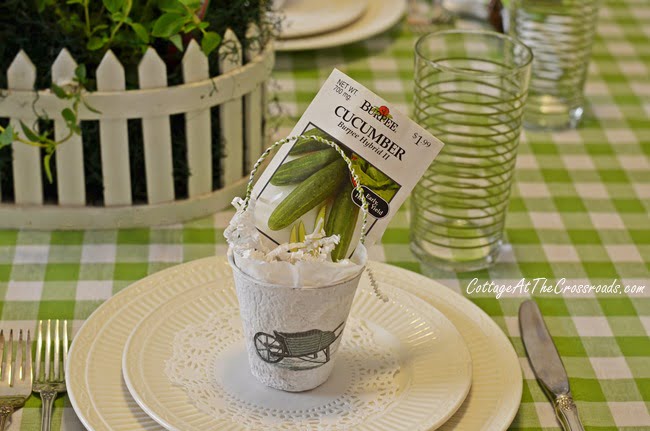 So I created some more decorated peat pot baskets and used a wheelbarrow image that I found on the Graphics Fairy. The baskets are holding seed packets as favors for the guests to get some things growing, too.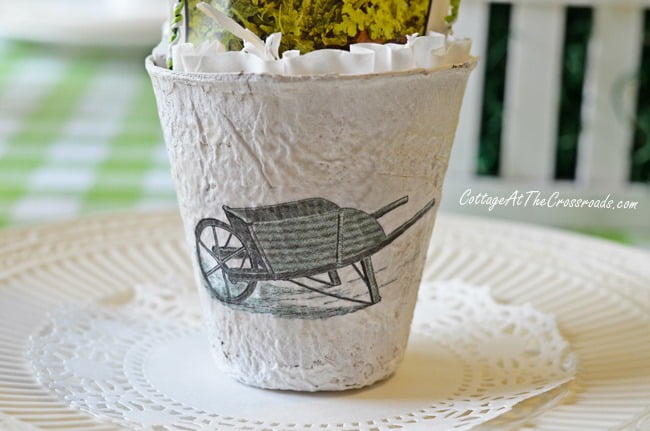 I have just fallen in love with these little baskets that you can create very inexpensively with peat pots. If you'd like to see the ones I made with bunnies on them, click over to my post a neutral bunny tablescape.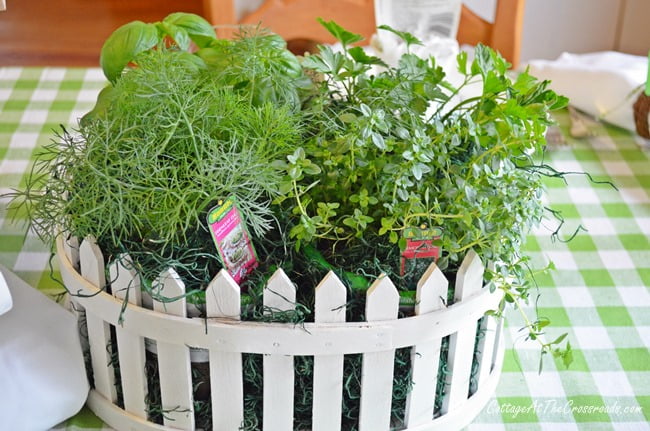 Along with the wheelbarrow, I used two of these picket fence planters and filled them with herbs. I found the planters last year at the auction on two different days. Luckily, they are exactly the same. The herbs will be going into our garden as soon as this last blast of cool weather passes on.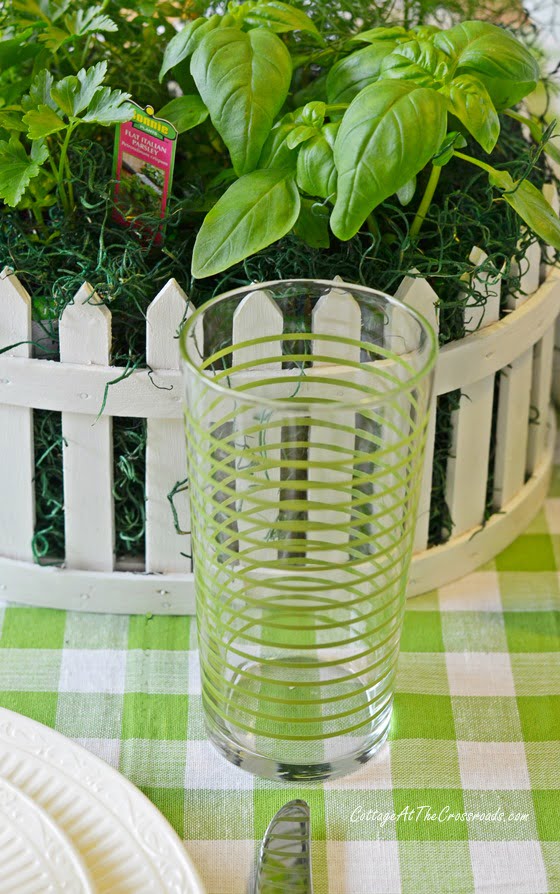 My sweet sister-in-law Jean picked up these green glasses last week when she spotted them at Carolina Pottery. She loves the color green as much as I do!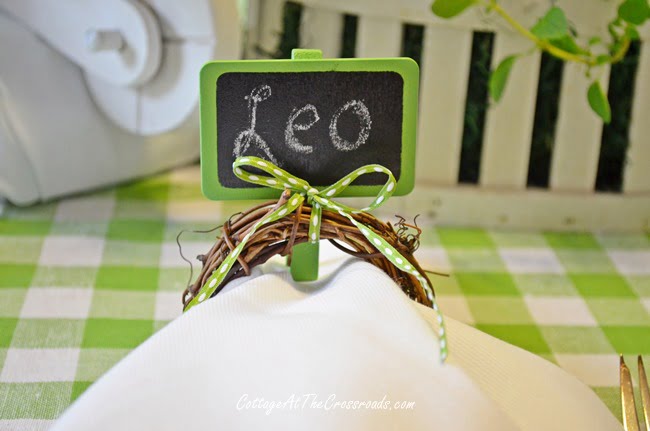 For napkin rings, I used some tiny grapevine wreaths and attached these little chalkboards that I found recently at Hobby Lobby. They just happened to be the right color of green!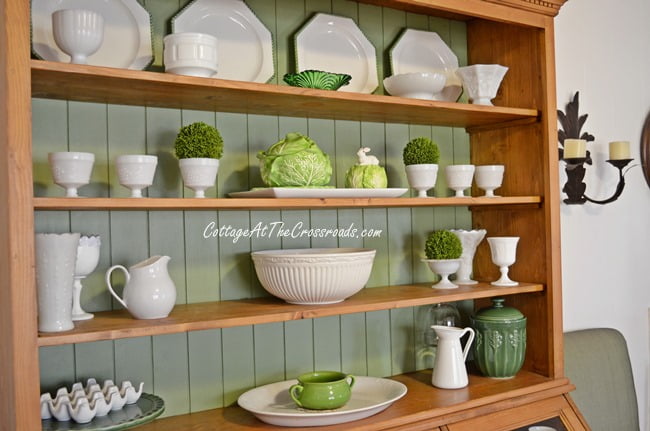 I've just started decorating the cupboard in the dining room, but you can see that it's going to have a green and white theme.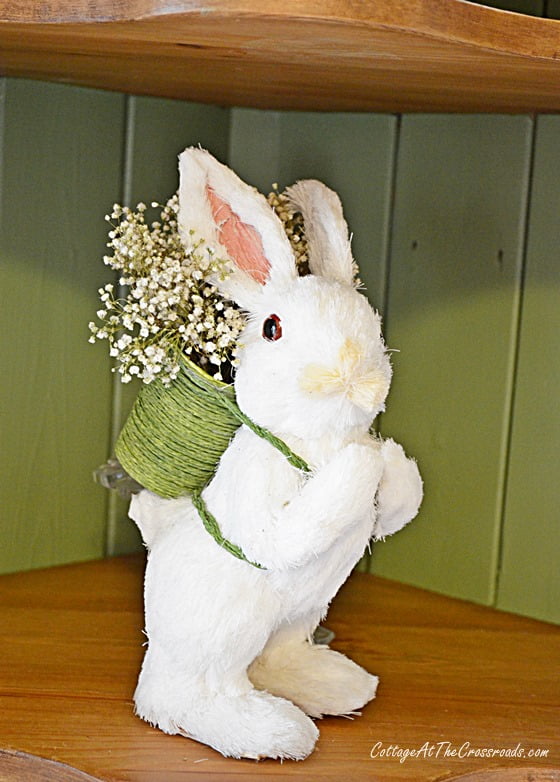 The same goes for the corner cabinet where this new bunny has landed. Have you noticed that I painted the back of the corner cabinet and the cupboard green? I did that before Christmas, and I'm so glad I did. Items placed against it really pop, don't ya think?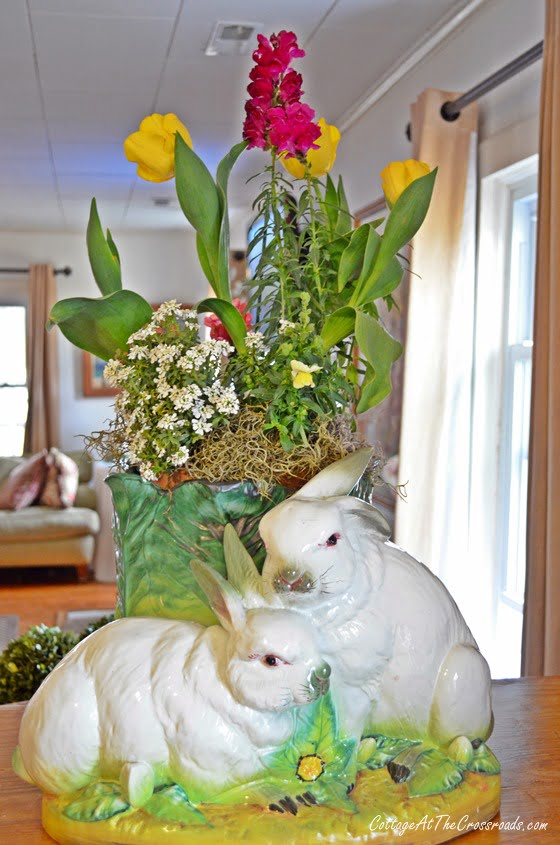 I had to bring my large bunny planters inside to protect them from the expected freeze that we're going to have tonight. One of the hazards of planting spring flowers too soon!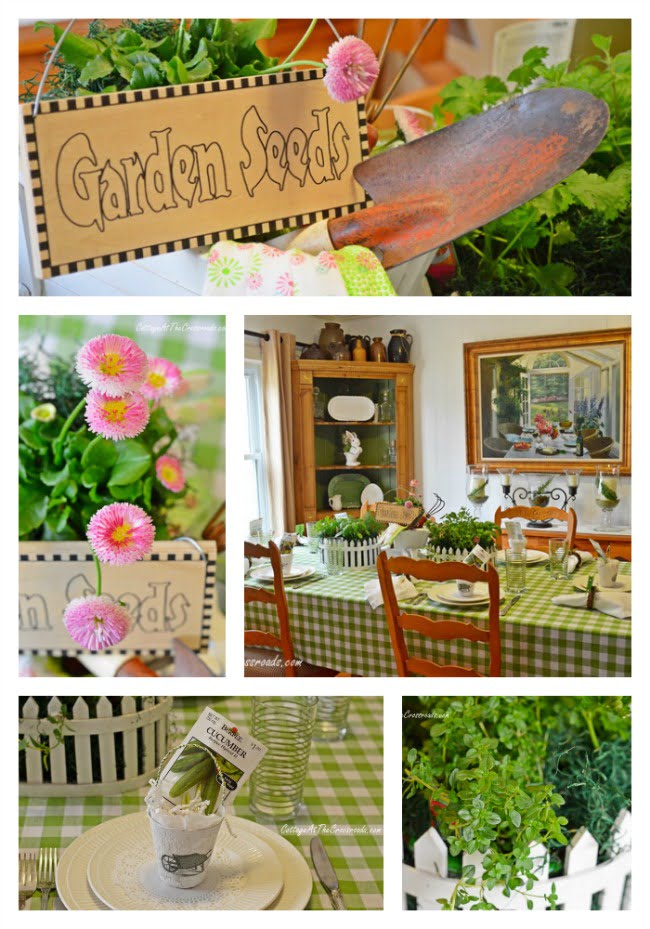 Nonetheless, I'm so happy to be decorating for spring, aren't you?