Spring has finally arrived here at the Crossroads! We've had a few absolutely glorious days recently, and I hope you've been able to enjoy some beautiful sunshine, too. When we have nice weather, we like to eat on our front porch. So I have a tablescape to share with your today, all done with bunnies and neutral colors.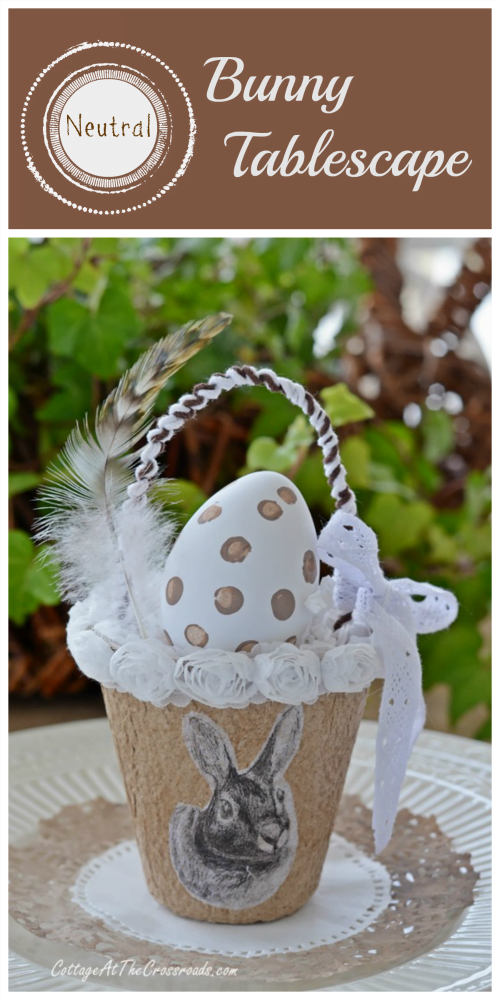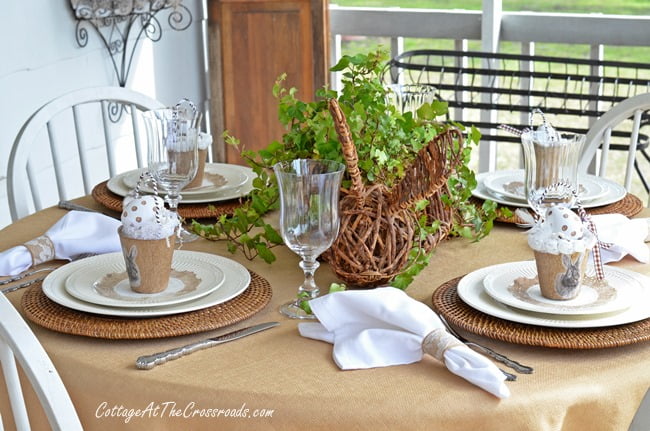 Normally when you think of spring and bunnies, you think about pastel colors. But pastels just don't work with the colors we use on our porch. So I used all neutrals on my table today, and I think it looks all fresh and springy. That's because there are bunnies involved! Lots of them!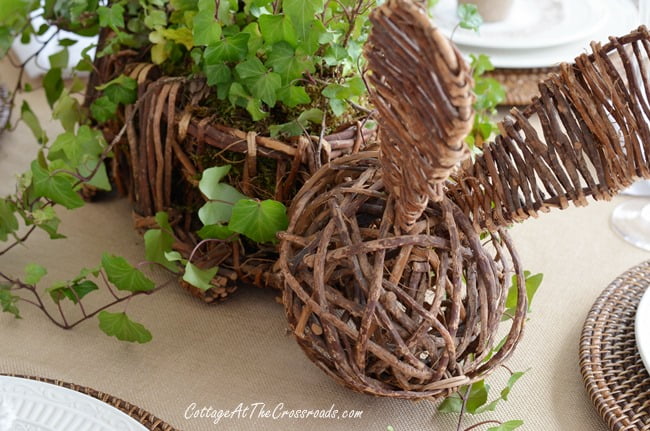 My centerpiece is this wicker bunny that I picked up at the auction that I attend. It's old and about to fall apart, but I planted it with some ivy that I've managed to keep alive this winter. So he's all good to go for another spring!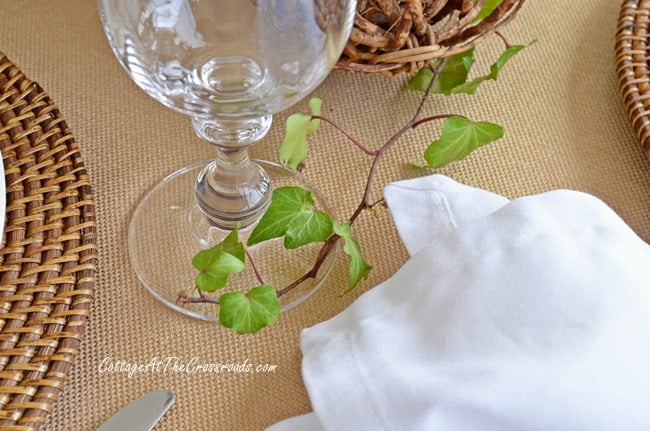 Leo teases me that I cannot keep ivy alive in the house. I guess it's because it dries out so quickly I forget to water it! LOL! But I love how pretty the green color is against the neutral tablecloth.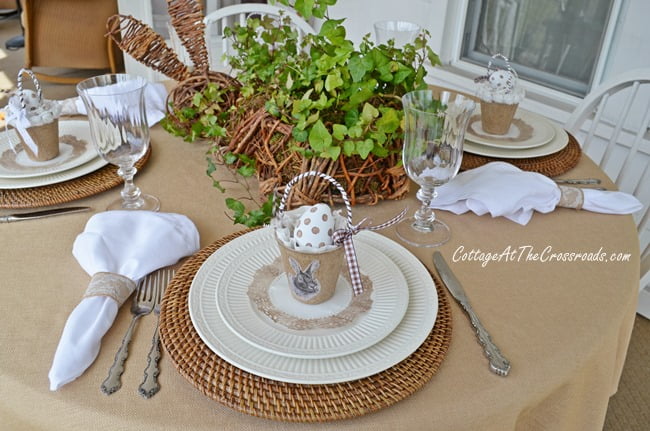 Since this is a casual setting, I've used my everyday Italian Countryside by Mikasa dishes that I've had for 17 years. But the chargers are new and are from World Market. The flatware is by Oneida.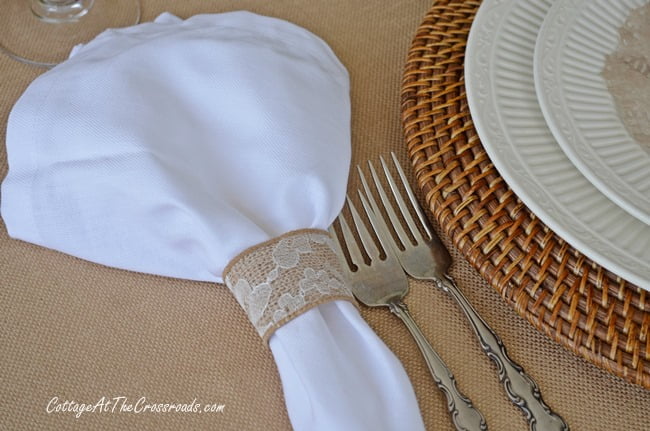 To make napkin rings, I used some lace covered burlap ribbon that you'll be seeing in more porch decorations soon.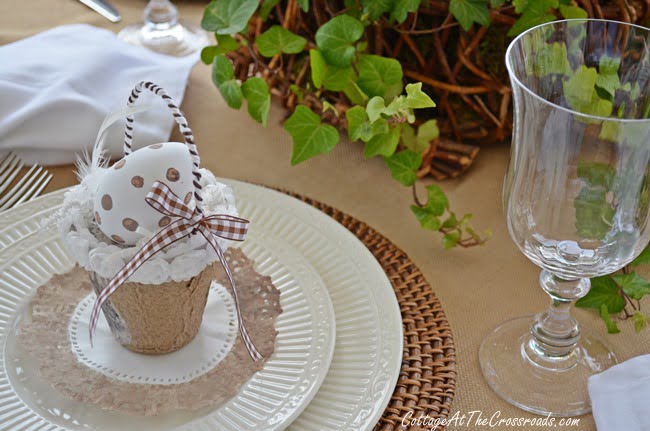 The glasses are by Mikasa also. The lacy looking doilies are actually paper doilies that I painted with some watered down acrylic paint. Another quick and easy (and inespensive) way to bring another neutral to the scheme.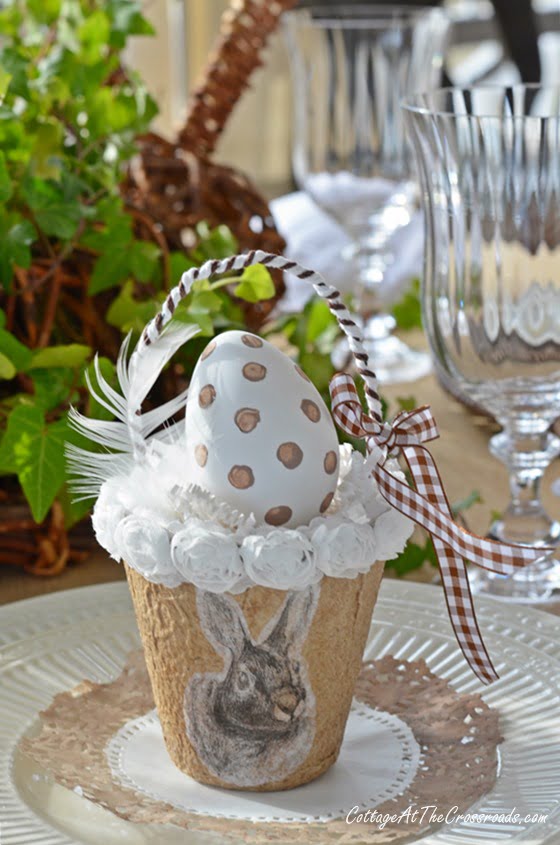 I love these little peat pot baskets that I've decorated with bunnies! I shared the tutorial HERE if you'd like to see how I made them.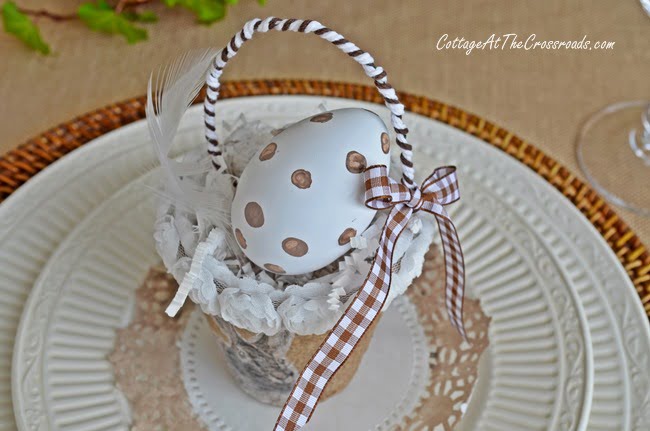 And since Easter will be here soon, I decorated these very realistic looking white eggs that I found at WalMart by dabbing a pencil eraser in some acrylic craft paint.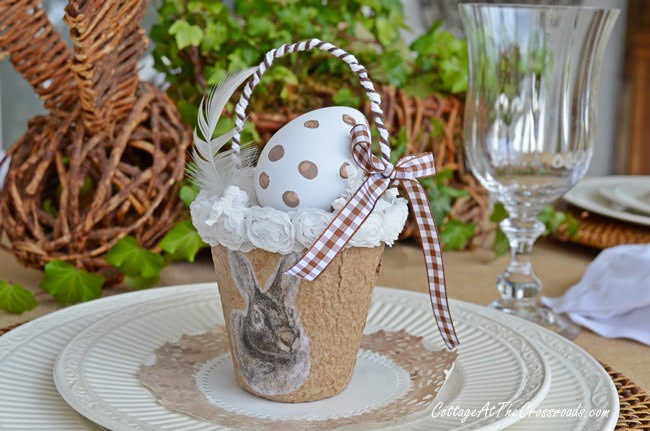 Yep, it's bunnies and more bunnies here at the Crossroads. What can I say? They are so darn cute, except when they get in our garden and nibble on our lettuce!