It's official! Fall has arrived and it can be seen and felt everywhere. So to say good-bye to summer and to welcome fall, I've put together a fall tablescape as part of our "Fall into Autumn" series.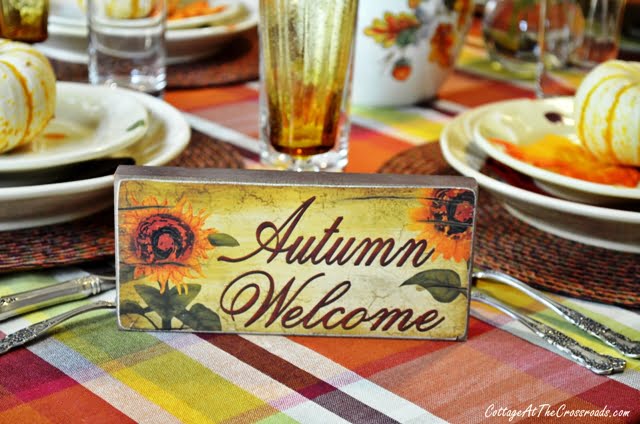 You can click here to see our FALL MANTELS and our FALL DOOR and Porch DISPLAYS if you missed any of those.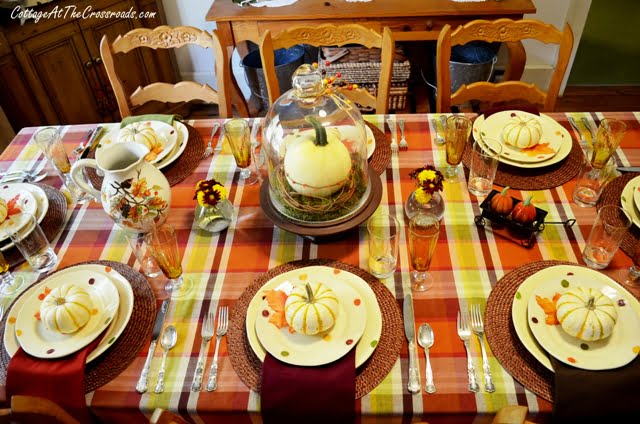 My inspiration for this tablescape was this plaid tablecloth that embraces all the beautiful colors of fall. I found it at Kohl's (on sale) about a month ago. There's just something about plaid that says fall to me. I guess it was all those plaid dresses I wore to school when I was young that did it.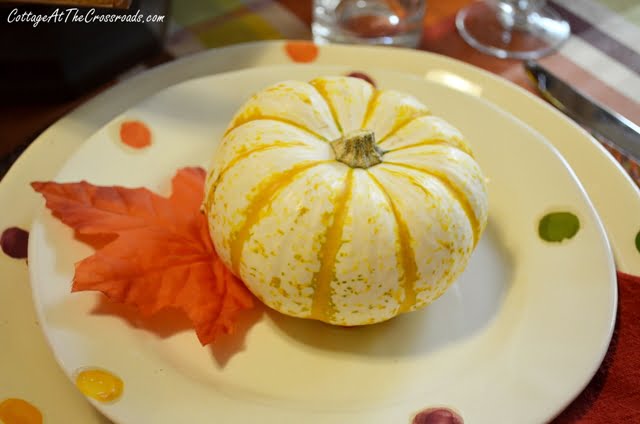 I knew it would go beautifully with my Vietri dishes that I started collecting about 10 years ago. My most recent score at the auction that I attend on Mondays was 4 dinner plates in this pattern. I paid $5 for all 4 plates! MAJOR SCORE!
I think fall is the easiest time of the year to create tablescapes because it's so easy to glean inspiration from things that are harvested in the fall such as these tiger stripe pumpkins. My resource for these cuties was Autumn Harvest Pumpkins, a family-owned company that will ship you these as well as decorative gourds, white pumpkins, and Indian corn in a matter of days.
Since our leaves in South Carolina are still green, I resorted to using colorful silk leaves at each place setting. It would be so easy to use a paint pen to turn them into place cards.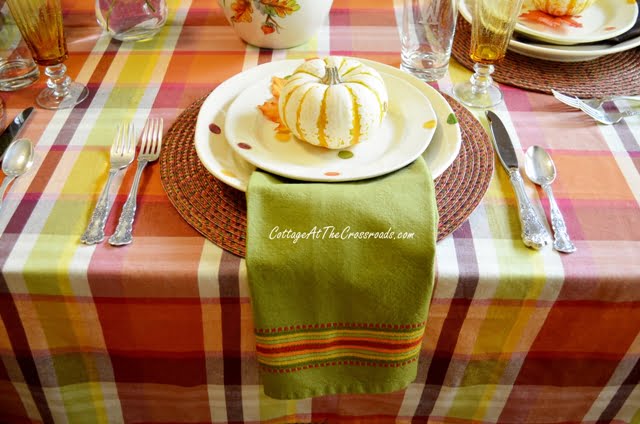 The napkins are actually dish towels that I already had that coordinate with all the colors. The round place mats were used in last year's fall tablescape.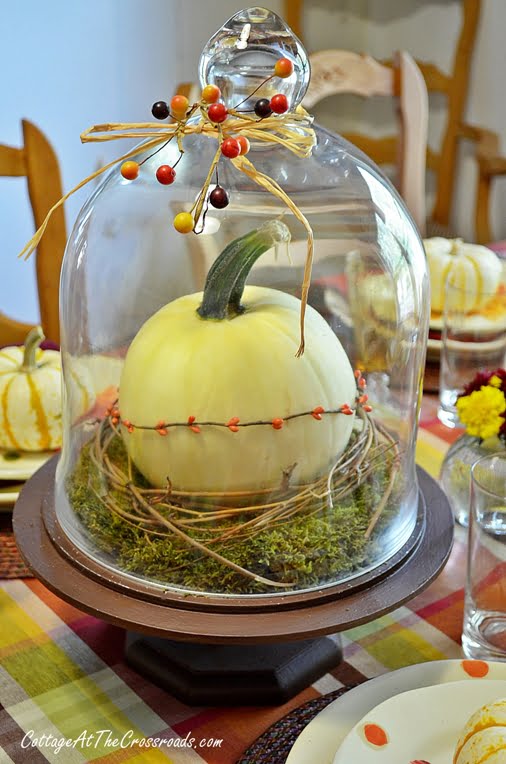 The white pumpkin in the centerpiece came out of our garden. We've harvested a few of them to use in decorating, but we still have some growing. To create a focal point and add height, I used this wooden pedestal that has been painted a variety of colors in the past year, gathered some moss, wrapped a little grapevine around it, put a faux garland around it for a little color, and topped it off with a cloche. Easy!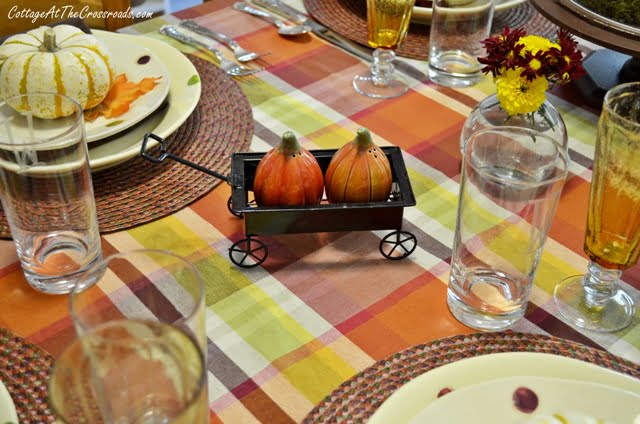 The salt and pepper shakers are new. As soon as I saw them in the Country Door catalog, I knew I had to have them! Kinda reminds me of that photo of Leo pulling our cart out of the garden loaded with white pumpkins!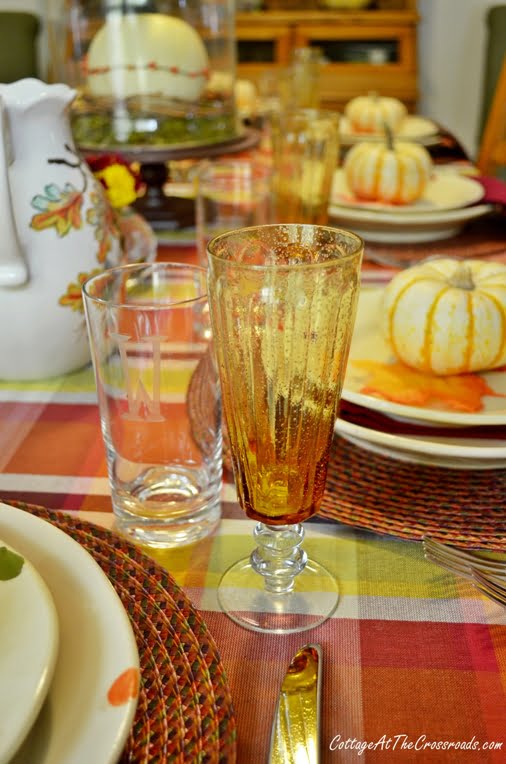 The amber glasses are new. I found them on sale at World Market, and I would use them to serve either a celebratory non-alcoholic sparkling cider or this sparkling apple cider sangria that I found online. The other glasses would be used to serve sweet tea which we have with almost all of our meals here in the South!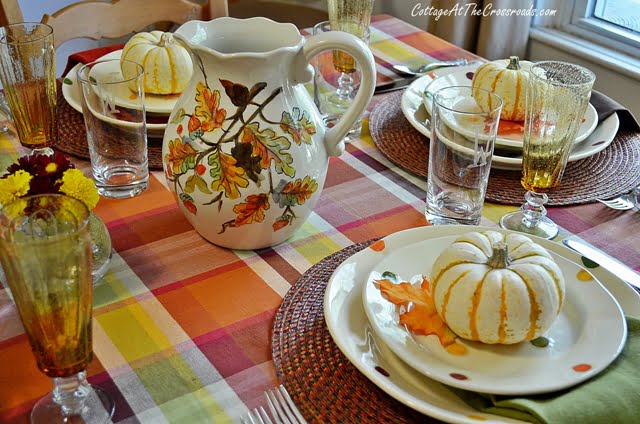 The sweet tea would be on the table in this autumn decorated pitcher.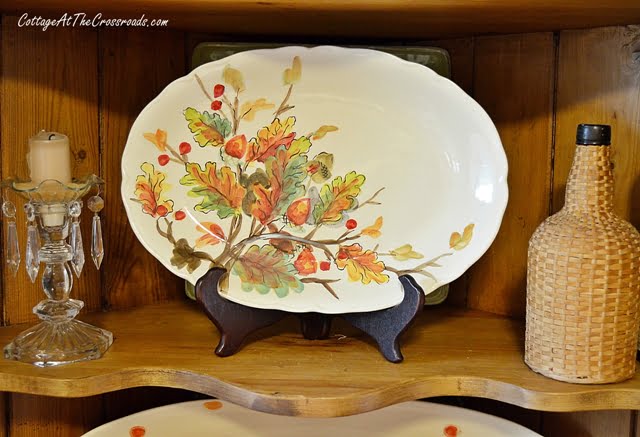 It's matching platter is displayed in the corner cabinet.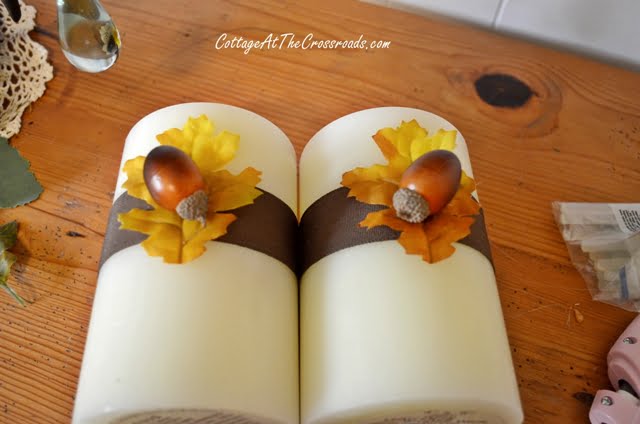 I didn't use candles on the table because the candle holders are on the sideboard. A quick way to dress up some candles for fall without spending any money is to wrap some ribbon around them and hot glue some leaves and acorns on them.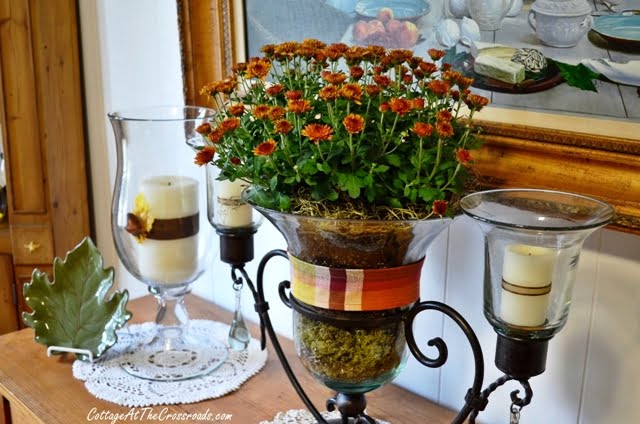 The smaller candles were also wrapped with ribbon, and I plopped a mum into the container. See that piece of fabric around the glass container? It came wrapped around the tablecloth and it does a good job of obscuring the soil!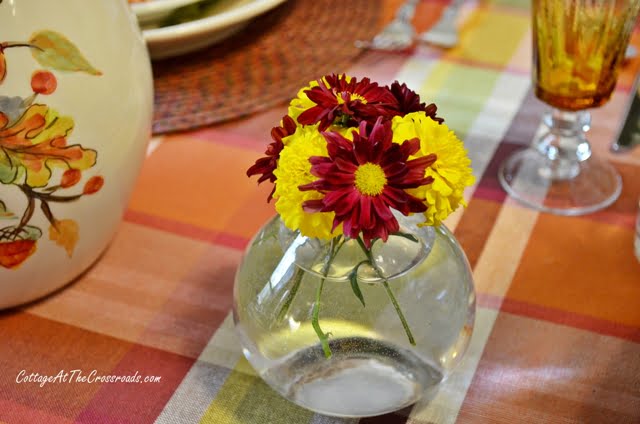 Two small simple flower arrangements are on the table holding more mums and marigolds from outside.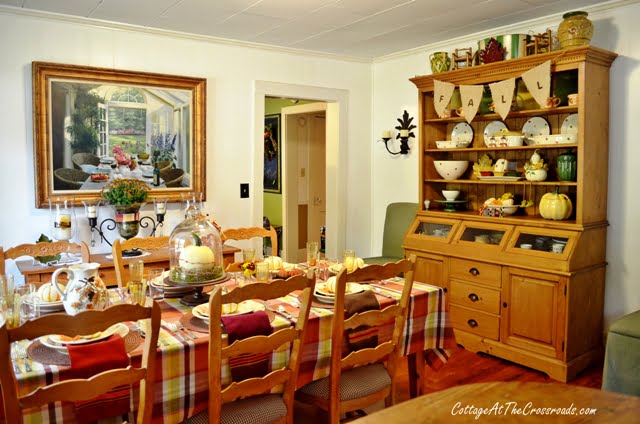 The cupboard has been decorated for fall as well.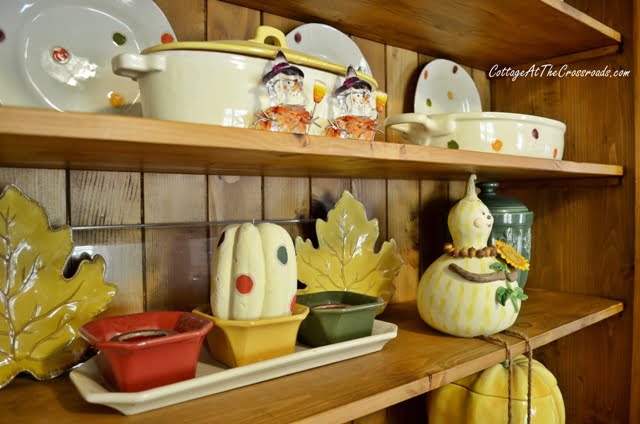 The gourd lady always makes her appearance at this time of year! She's one of my favorites.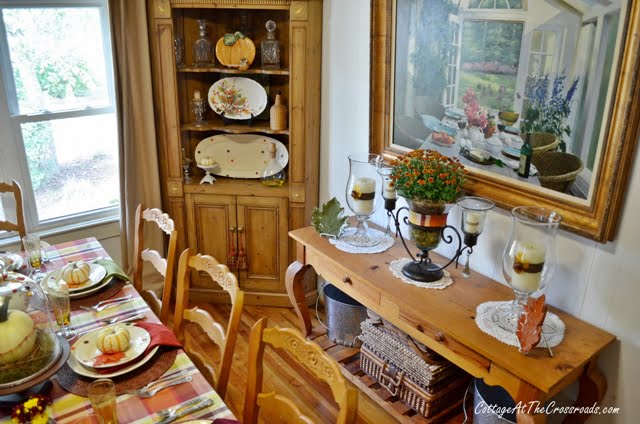 Here's an overhead shot giving you a better idea of where everything is located and decorated in the room.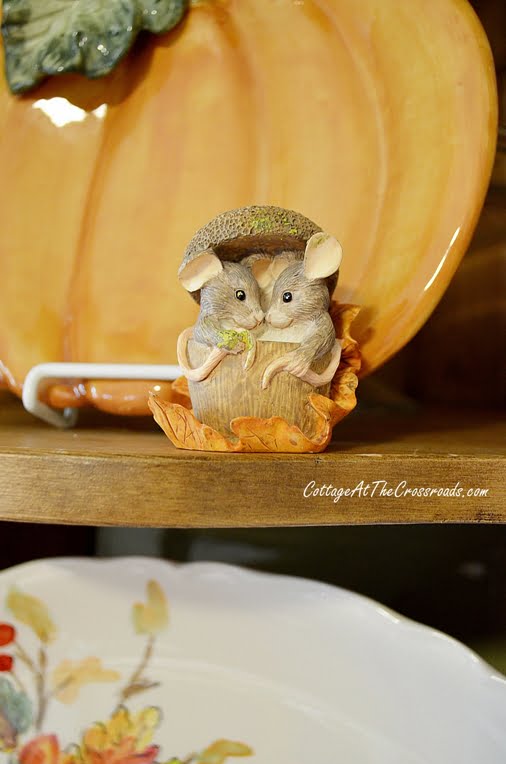 Fall is my favorite time of year to decorate because I love mixing old favorites with a few new things. The mice figurine I'd had for at least 20 years, and I never tire of seeing it each year.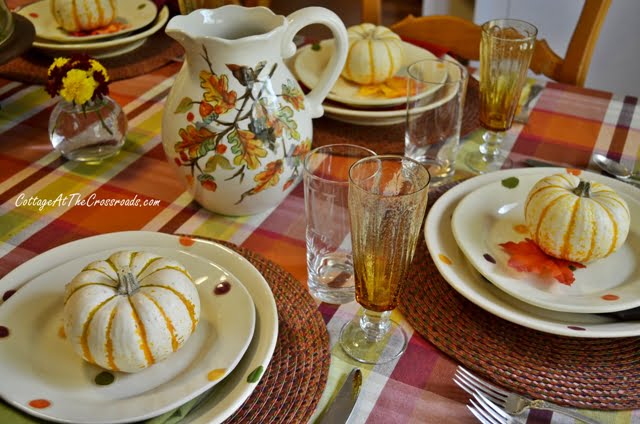 Thank you for visiting me today, and I hope that I've given you a little inspiration for welcoming autumn onto your table. For even more tablescaping ideas, click on the links below the graphic to visit Ann, Dawn, and Debbie.