Hello everyone and welcome to our fall porch! This is the second installment of our Fall into Autumn series, and today we're showing you how we have decorated our front porches for fall. The first thing you see is Rusty, our scarecrow. He's been hanging out in our garden for about a year now, but we thought we'd give him a new job of greeting our guests here at the cottage.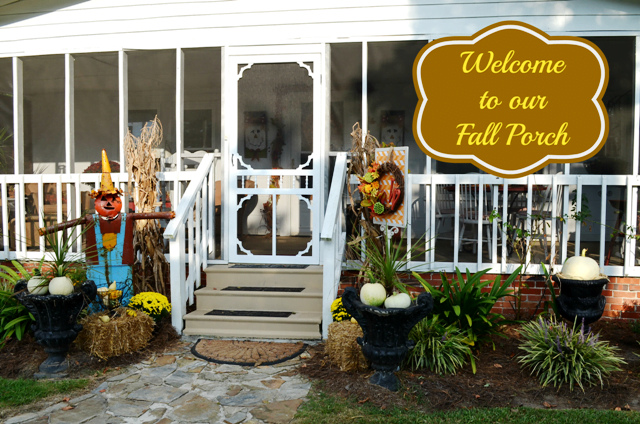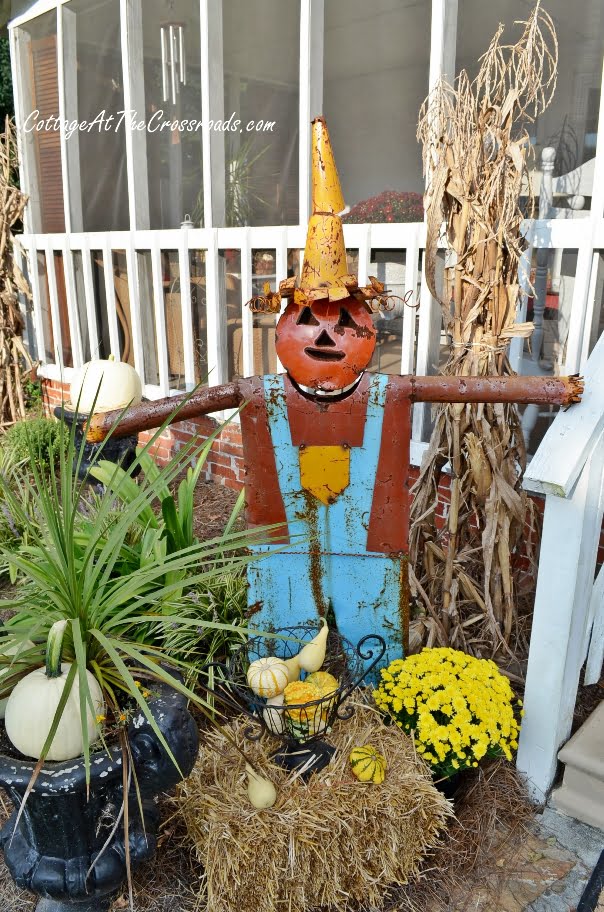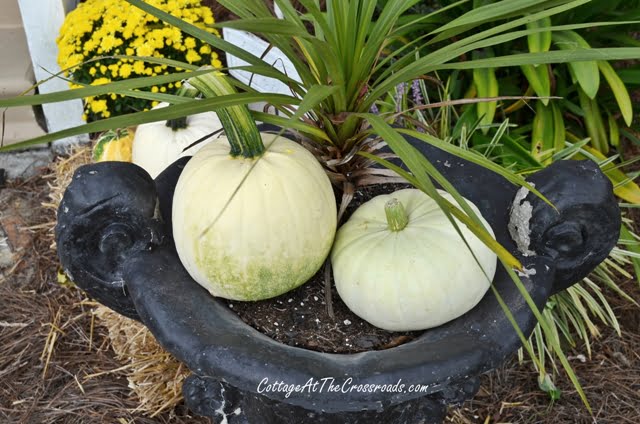 I'm sure you've spied our white pumpkins! Yes, we took some of them out of our garden to use in our fall decorating. We just couldn't help ourselves!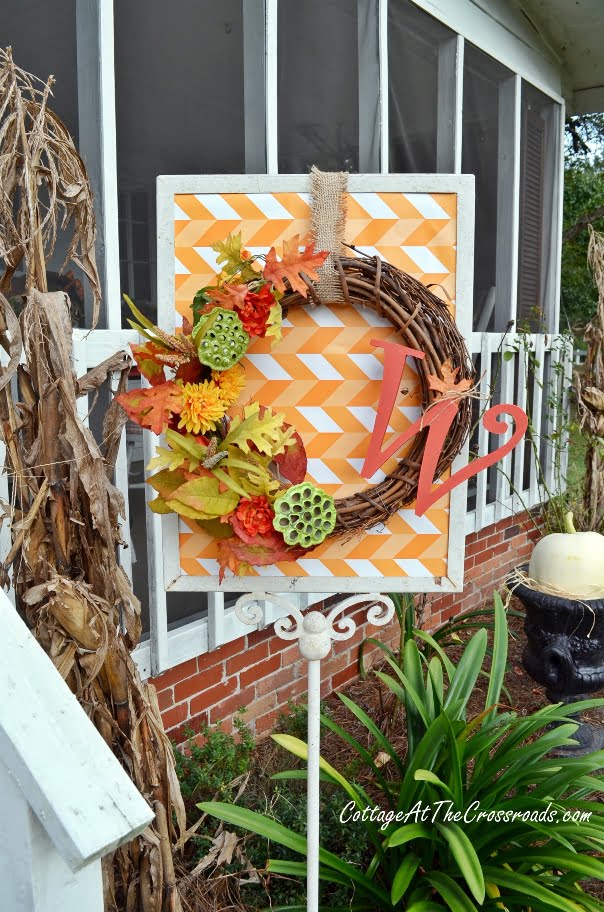 I found this sign holder at the auction that I attend weekly, and I put it to use as a wreath holder. You know, you can hang wreaths anywhere, not just on your front door! The colorful chevron paper is actually adhesive shelf paper that I found at our local Dollar General store, and the cornstalks came out of our garden. Well, don't just stand there, come on in!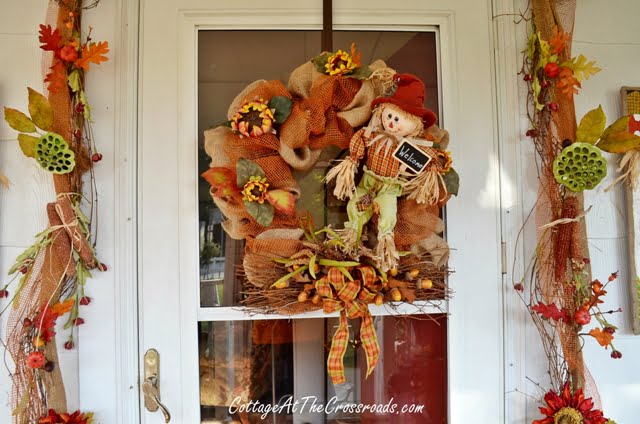 The first thing that you will see when you come onto the porch is another wreath with a scarecrow! I've had this little guy for at least 10 years or so. He's always been tucked into flowers, but now he's hopped up there into the wreath! The burlap wreath base was used as my Fourth of July wreath and the grapevine garland has been up since last Christmas! I just keep adding different elements to it for each season.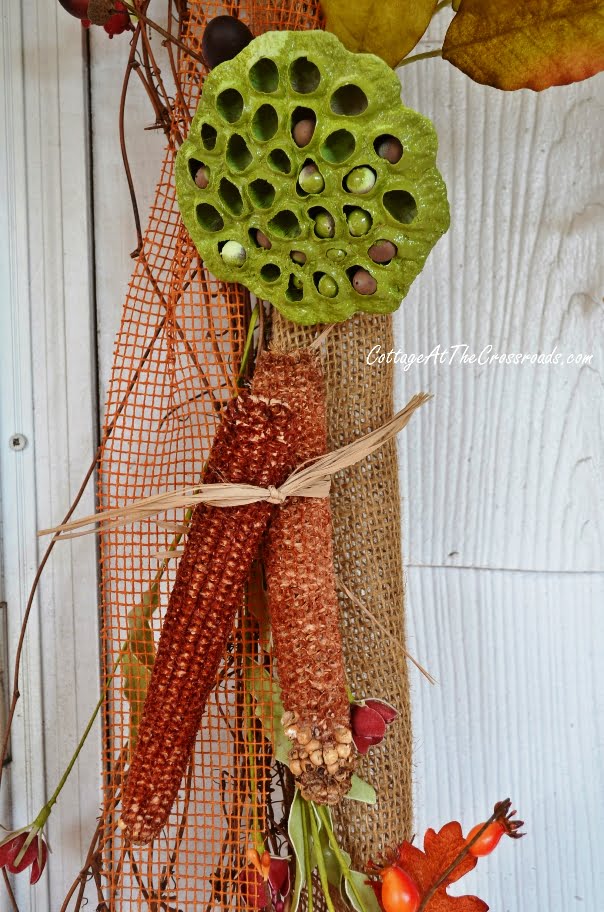 Don't you love the corn cobs?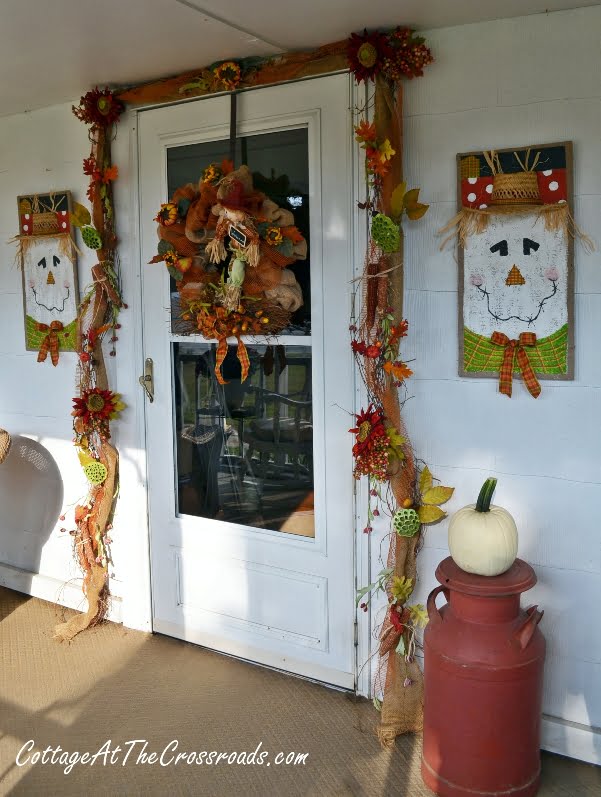 To fill the spaces beside the front door, I painted these two scarecrows. In the spring, there were bunnies here on our spring porch.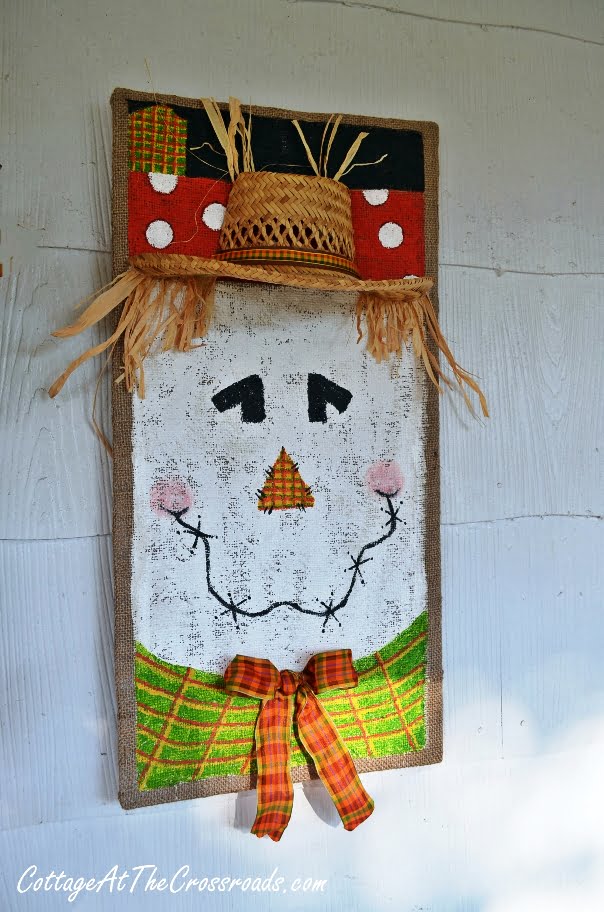 I plan to give you a full tutorial on how to paint these little guys soon. Trust me, I'm no artist, and if I can do this, so can you! I'm afraid that Leo lost one of his garden hats, though!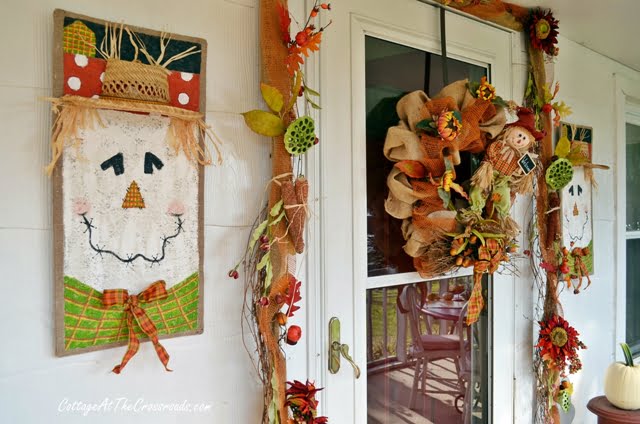 I've always had a thing for scarecrows! When I was teaching school, I planned a lot of lessons around scarecrows in the fall. Did you know that scarecrows have been used in gardens for thousands of years?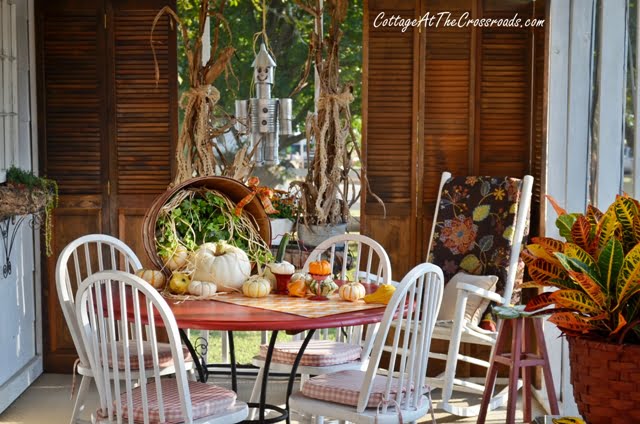 Oh, yes! You can't think about scarecrows without thinking about the Tin Man, can you? Look down to the end of the porch. Do you see him?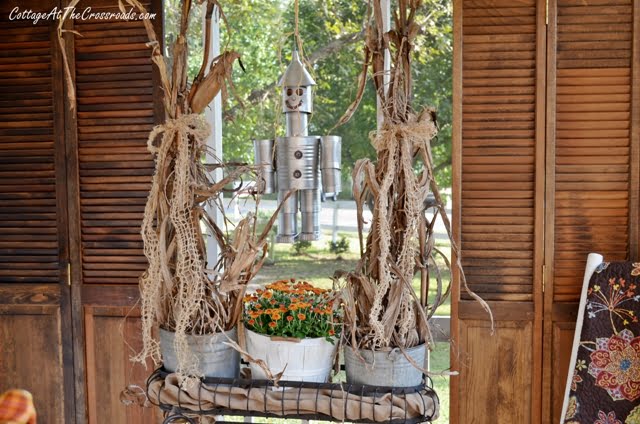 Well, seems like he found a heart and the scarecrows got some brains and they've come to reside at the Crossroads. (Psst! I can get you a Tin Man if you want your very own-just leave me a comment!)
You may have noticed that we took down our curtains on the porch. Just recently we put up these bi-fold doors that were destined for the trash dump. I really like how they make the porch feel more like a room.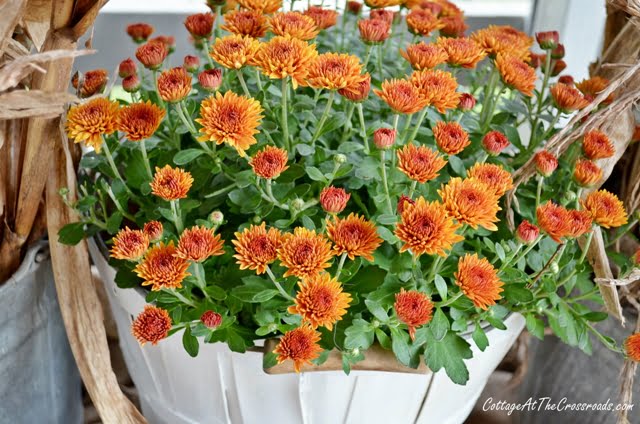 You know, I can't decorate for fall without using some mums, and I love the color of this one. It's tucked down into a painted apple basket, and the cornstalks were put into galvanized buckets.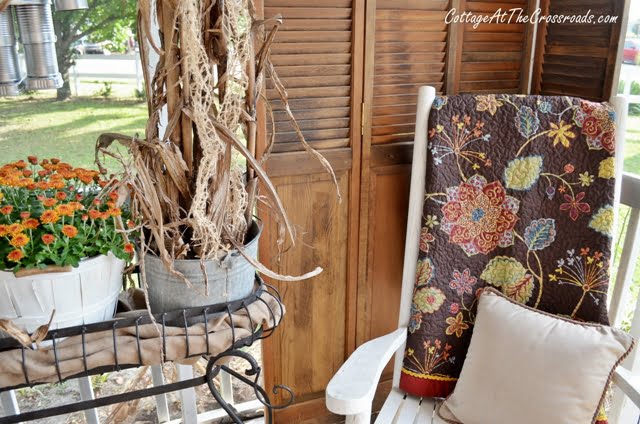 Adding a throw onto the back of a chair brings an instant fall feel to the porch. This one is available HERE.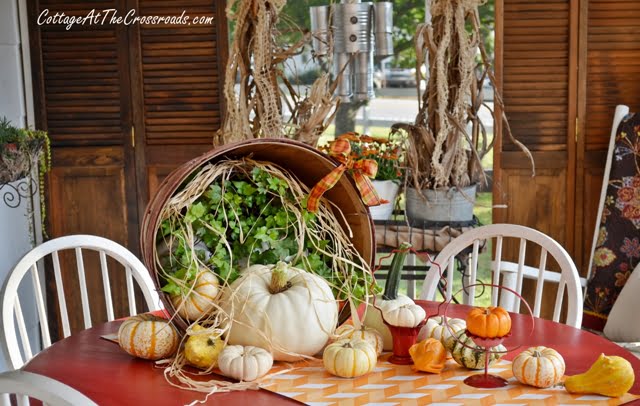 I made a little fall display on our table by using more of that shelf paper as a runner. So easy to display some colorful pumpkins and gourds by upturning a basket. But I have to show you my little pumpkin holders.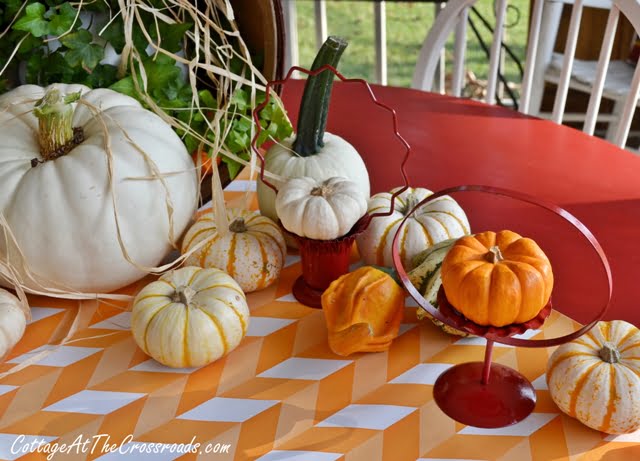 I'm not sure what was the original purpose of these 2 little containers, but they make perfect displays for mini-pumpkins!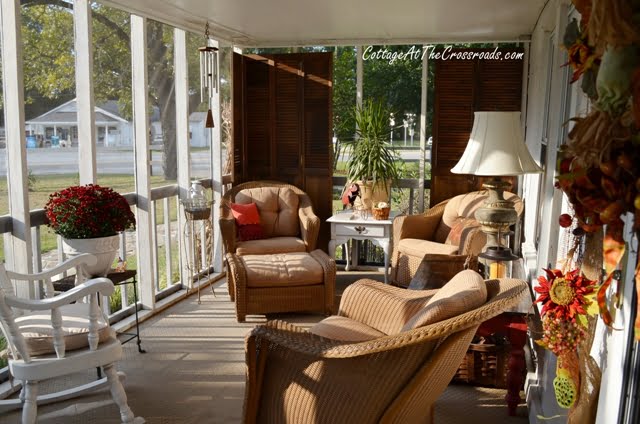 Here's the other end of the porch.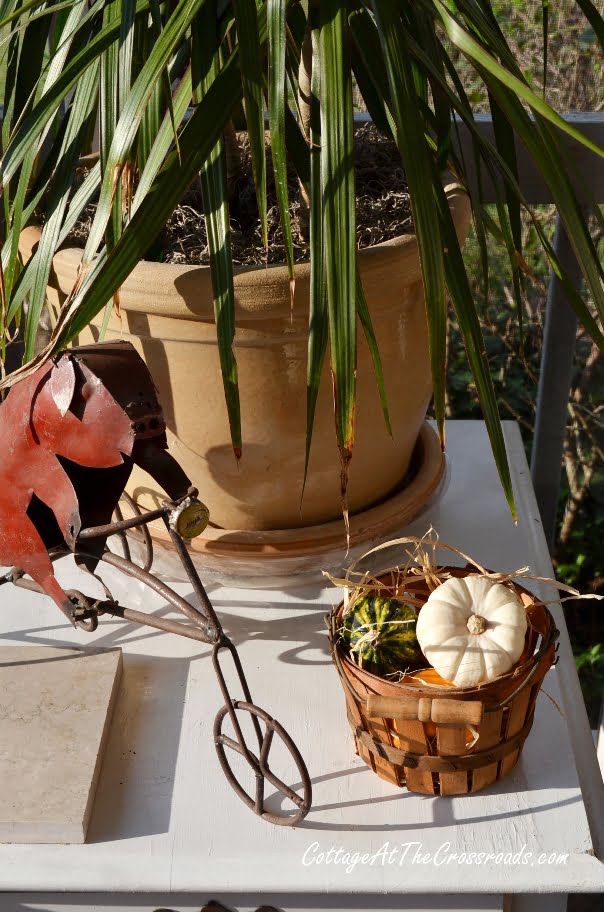 A small wooden basket holds a few minis and gourds.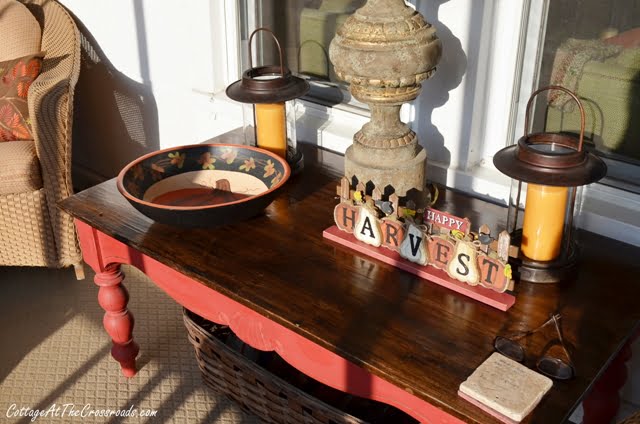 An old coffee table displays a few autumn decorations and those all-important readers!