Hello everyone! Today I created a fall tablescape using one of my favorite fall things-apples! I recently bought these Honey Crisp apples, and they are not only delicious to eat but they are beautiful, too. After looking at them for a day or so, I thought I'd feature them in a centerpiece for a tablescape.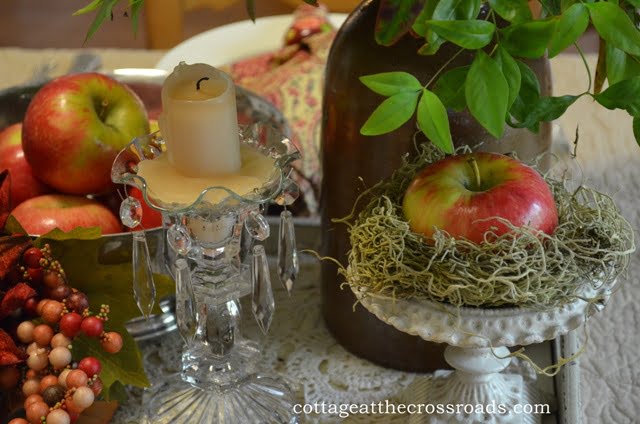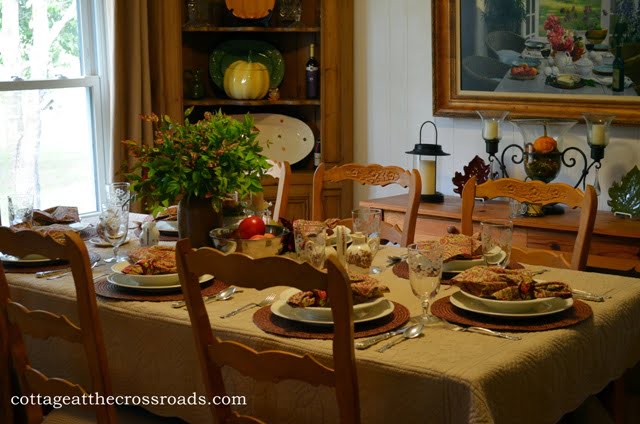 I started by using a quilt that I have had for a long time as a tablecloth.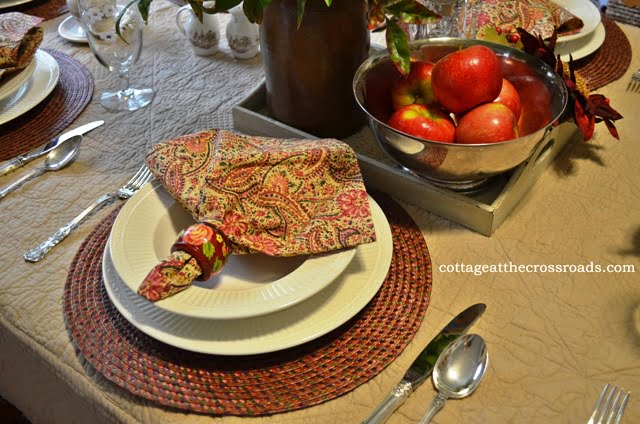 The color of the quilt coordinates with these round placemats and napkins that I had picked up at HomeGoods in August.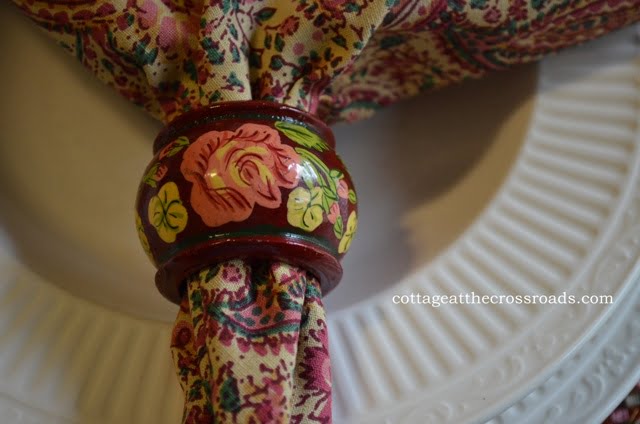 As I was pulling out my things, I found these April Cornell napkin rings that I bought in Charleston, SC about 12 years ago. Love the colors in them! I decided to use my everyday china which is Italian Countryside by Mikasa.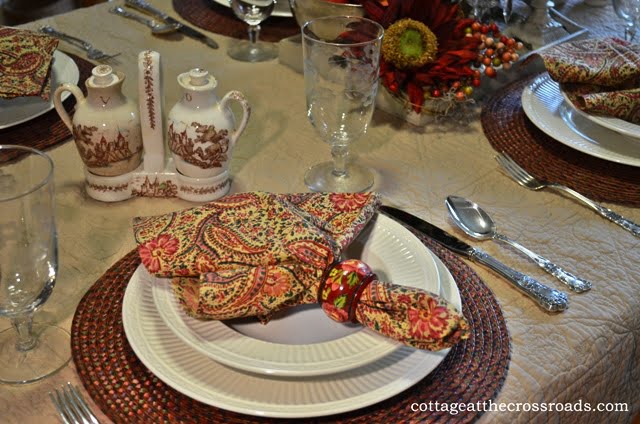 In the same drawer as the napkin rings was this oil and vinegar set that had belonged to my mother-in-law, Sarah Windham. After googling it, I found out it was made in Japan by Ucagco during the 1940s and 1950s. The pattern is called Royal Vista.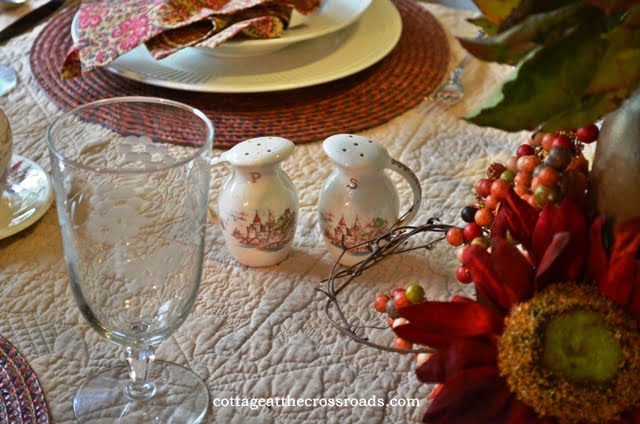 Along with the oil and vinegar cruets were some salt and pepper shakers.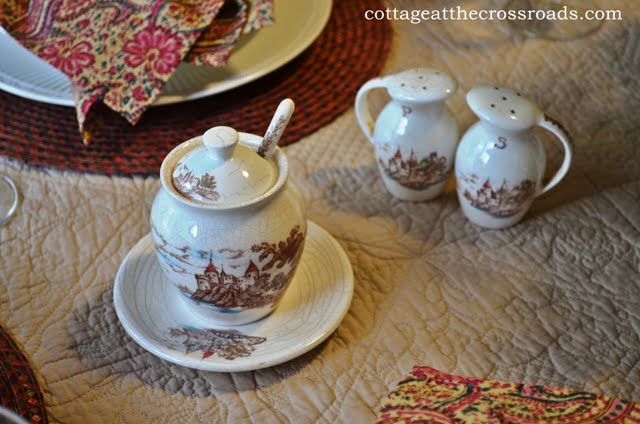 There was also a jam jar with a little spoon. I have read that the pattern is sometimes called Fairy Tale Castle, and I am smitten with it. I'm wondering where my mother-in-law got this set. I do know that my father-in-law was in the Navy and served in the Pacific during that time period. If anyone in the family knows anything about this china, please let me know.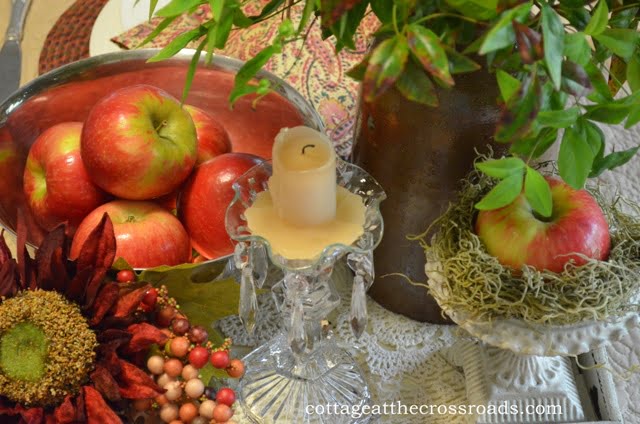 For the centerpiece for the table, I placed a doily in the bottom of a wooden tray. The doily is oval shaped, and I just received it yesterday. I happened to be one of the lucky winners of a fantastic giveaway by Deborah from Fairfield House. You can see all the other things that I won by clicking HERE. The white pedestal that the single apple is in came from Deborah, too.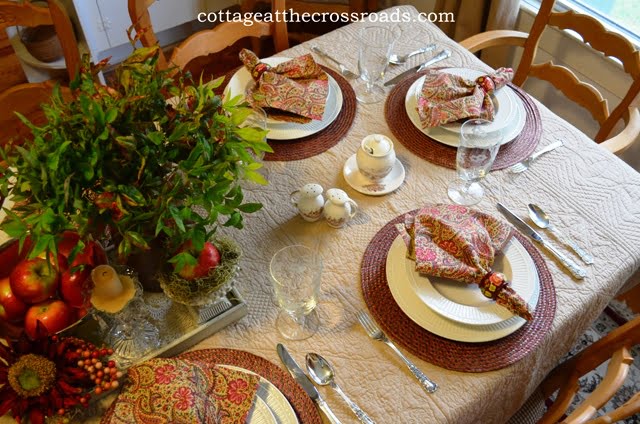 I know some of you are already enjoying some beautiful fall foliage, but here in South Carolina the leaves are still green. But I did find a little color in the yard for the centerpiece.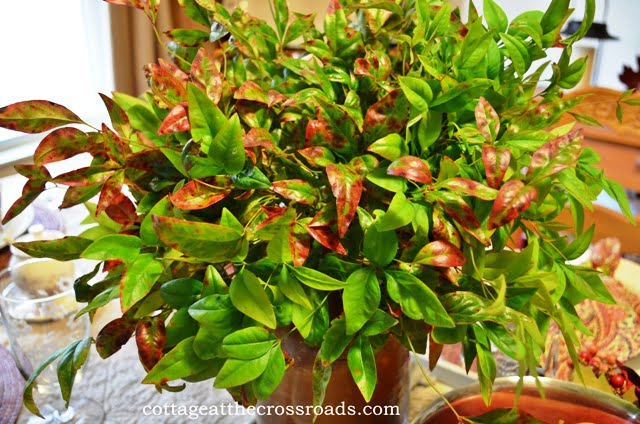 This is nandina which is beginning to turn color. It is really pretty in the fall.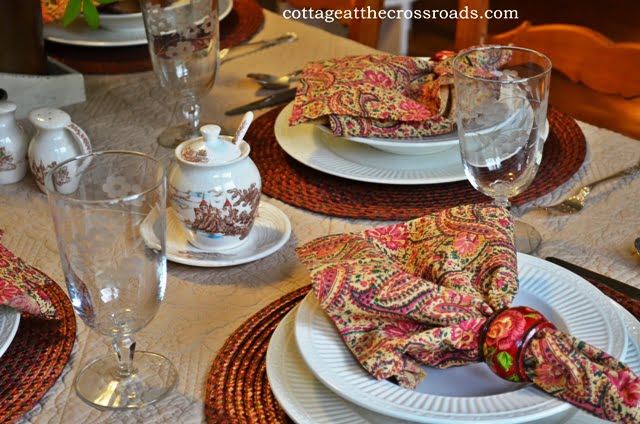 These goblets belong to my mother, and I have always loved the etched design on them.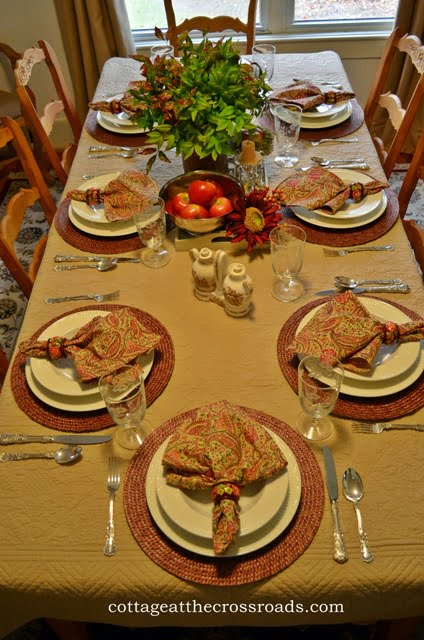 Our table is a harvest table and a long one at that. It seats 8 people, and there have been a few times that we've gotten 10 people around it. I love all the "harvest" colors on it today.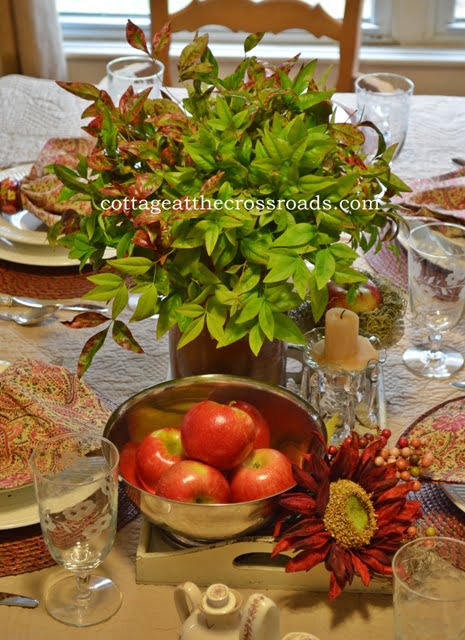 Autumn is a beautiful time of the year, wouldn't you agree?