Got an overload of tomatoes and wondering what to do with them? CAN 'EM! Canning tomatoes is a fantastic and cheap way to preserve tomatoes because you get to enjoy that great taste of summer all year long.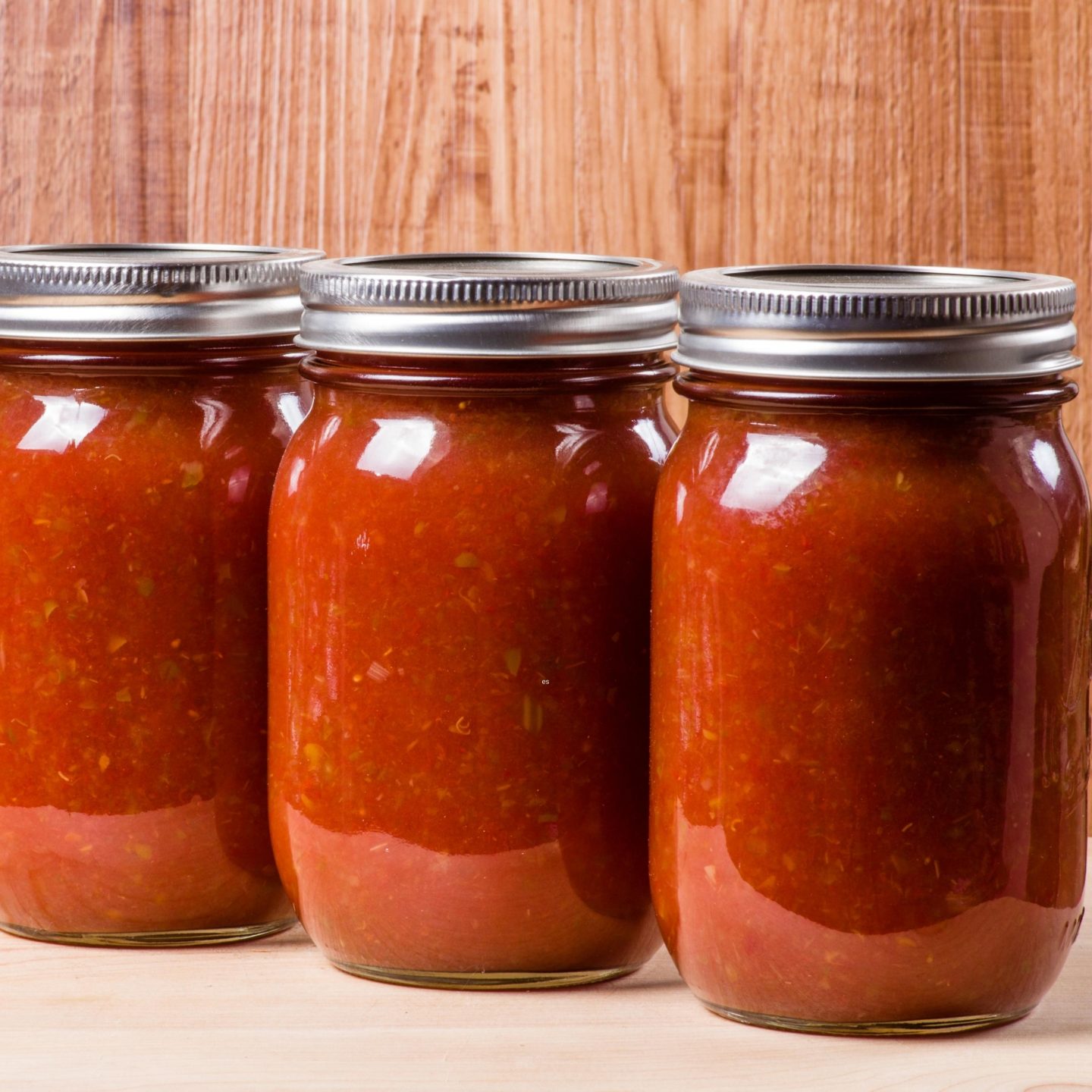 Plus, canning tomatoes is satisfying on so many levels. Having canning jars filled with goodness lined up on the pantry shelf to be admired by all brings a sense of accomplishment and fulfillment.
These delicious and easy tomato canning recipes can help you achieve just that! Turn those fresh, ripe tomatoes into jams, sauces, salsas and more!
And all you need along with tomatoes is a large pot, pint, or quart jars and a little bit of patience & care.
Some canning recipes may require a quick stint in the oven to intensify the tomato flavor, while others might call for a food processor or blender. That's pretty much it as far as equipment goes and, of course, a few extra canning lids and water bath or pressure canner. Check out the best places to find canning jars.
As for the canning process, no special skills are required. The water bath canning and pressure canning tutorials are very simple to follow; you'll wonder why you have never tried them before.
But before we get started, let's briefly go through...
Safe Canning
When a recipe calls for lemon juice, always use bottled lemon juice and not fresh lemon juice. The former has a consistent acidity level hence deemed safe for canning, while with fresh lemons, it varies from fruit to fruit.
Citric acid and vinegar (with 5% acidity) are other elements used to acidify canned tomatoes.
According to USDA recommendations, use:
2 tablespoons of bottled lemon juice per quart of tomatoes or 1 tablespoon for pints.
½ teaspoon of citric acid per quart jar or ¼ teaspoon per pint.
4 tablespoons of a 5 percent acidity vinegar per quart of tomatoes.
With that in mind, let's get canning!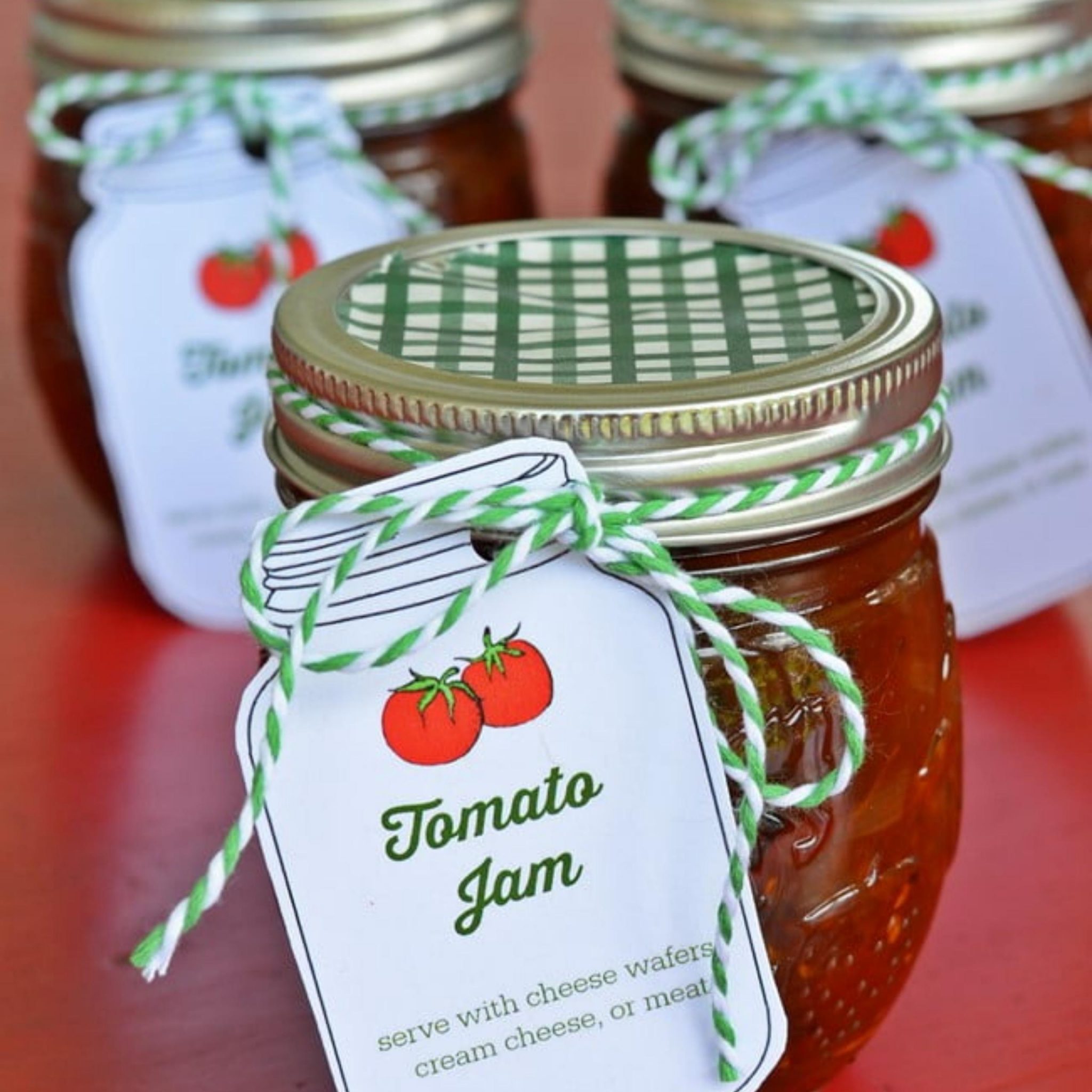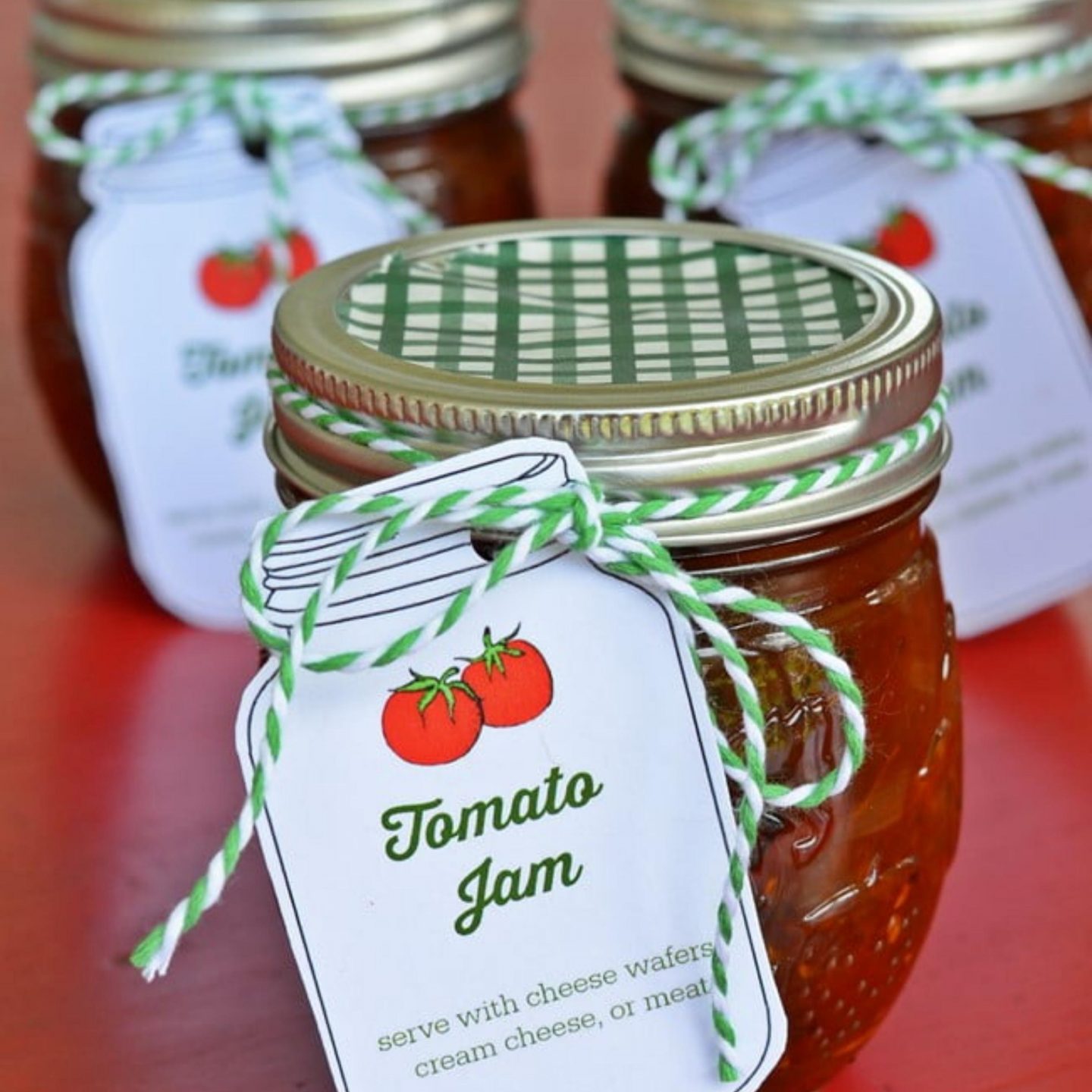 This sweet and savory homemade tomato jam is deliciously thick, chunky, and amazing on everything from burgers to grilled cheese sandwiches, deviled eggs, hot dogs, grilled meats, and more!
You can enjoy it all year long with our simple step-by-step canning process.
This recipe yields 3 jars, but if you have an abundance of tomatoes from your garden, you can make a big batch and bottle them in cute jars to gift family and friends.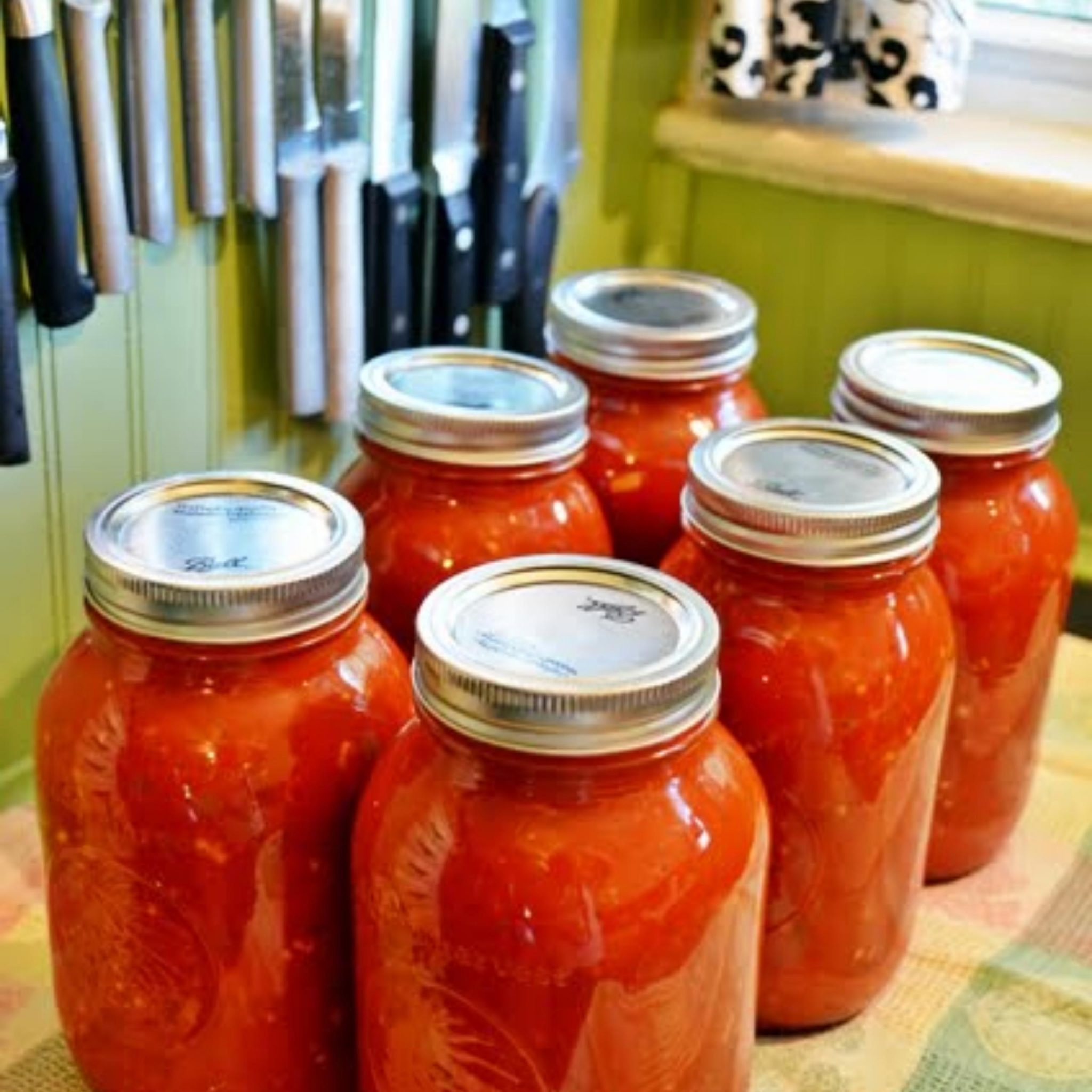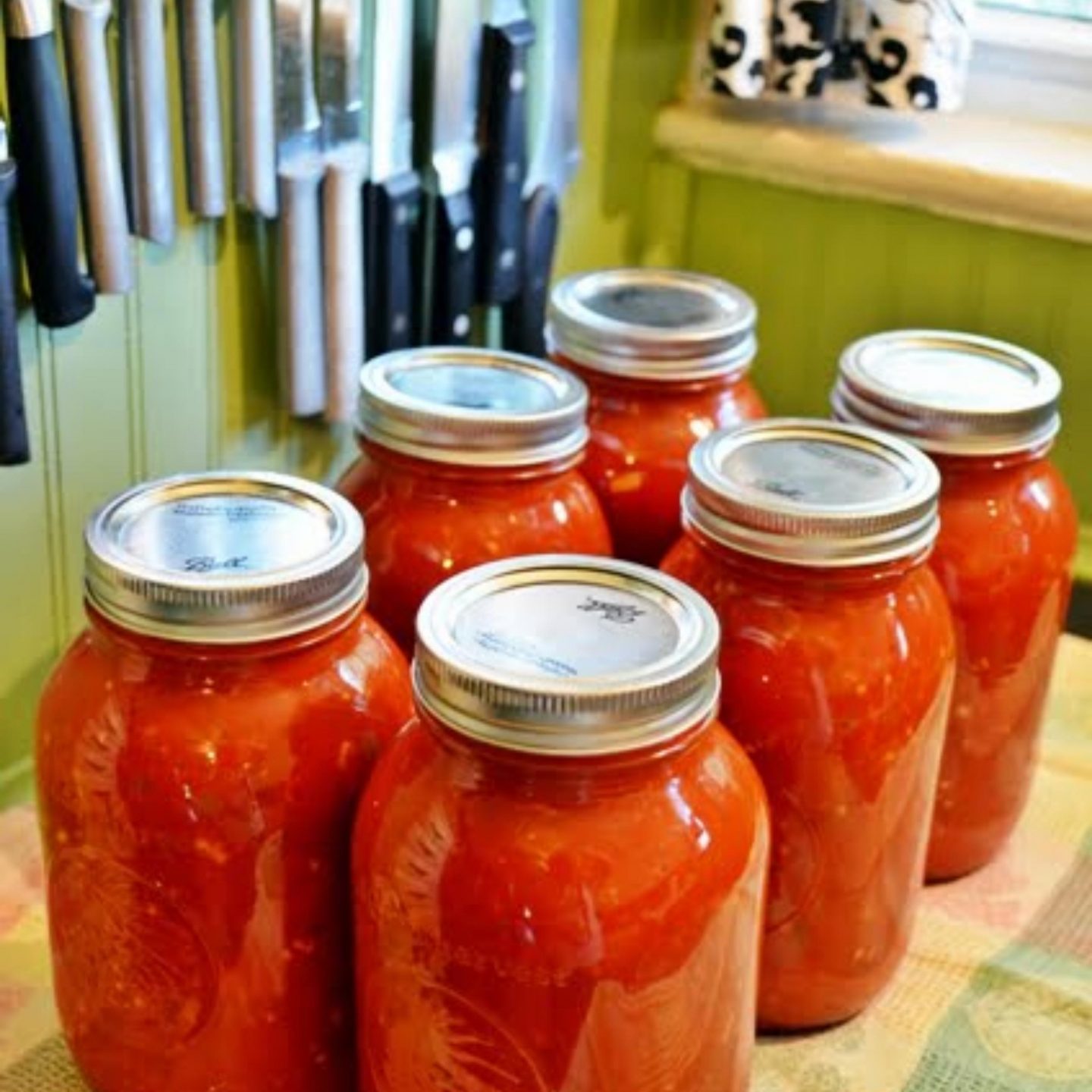 Your taste buds won't know what hit them once you taste this flavor-packed spaghetti sauce recipe.
Chunks of fresh tomatoes, onions and green peppers are cooked low and slow in a mixture of rosemary, basil, garlic, oregano, thyme, and Worcestershire sauce, giving this pasta sauce a deep, rich taste and flavor.
It's soo good; you'll never make it any other way! Spoon generously over spaghetti noodles and Italian recipes.
This is hands down the best tomato sauce recipe! It starts by roasting the tomatoes with garlic, dried thyme and olive oil to bring out their natural sweetness and bump up the flavor while adding a nice smoky char to the sauce.
It's then tossed with onions, white wine, basil, and lemon juice It slowly cooks down to an incredibly rich, robustly flavored, hearty sauce.
The key is to add basil at the very end of cooking instead of cooking with the other ingredients.
This homemade salsa recipe has just the right balance of spice and tanginess. The zing comes from the hot peppers and chili powder, while the apple cider vinegar brings the tang.
If you prefer your salsa mild, use fewer hot peppers and if you want to kick things up a notch, throw in some serrano chiles of habanero.
The addition of espresso powder adds an exciting new dimension of flavor and vibrancy to the sauce, but you can skip it if you want to - but we don't recommend it!
If you love dill pickles, you're to love going to love this delightfully refreshing and light pickled salad even more!
Made with tomatoes, pickling cucumber, dill, vinegar, sea salt, and sugar, this salad packs the perfect flavor balance of sweet, savory and tangy.
Best part? It remains nice and crisp, and goes well with just about anything you put on the grill.
There's nothing better than having a jar or two of tomato soup ready for when the temperatures drop or cravings strike.
This recipe is scrumptious and brimming with tons of flavor from the pan-roasted tomatoes, garlic, onions, celery, and bay leaves. It also works great with canned tomatoes. For the best results, use whole tomatoes or diced tomatoes.
Serve with cornbread or grilled cheese sandwich for dunking.
Don't let the unripe bounty from your garden go to waste; make this pickled green tomatoes recipe instead. It's crunchy slightly tart with bursts of vinegary-sweet- spicy flavor, adding a layer(s) of deliciousness to different dishes.
It's a fantastic side dish with grilled meats and makes any sandwich extra special.
Best of all, it only requires 6 ingredients and takes 30 minutes from start to finish. Tomato canning recipes don't get easier than this!
Everyone needs a simple homemade tomato juice recipe in their back pocket for the bloody Marys, sauces, soups, or as a super healthy refreshment.
All you need for this recipe is fresh tomatoes, salt and sugar to balance the flavor. But you add whatever seasoning you like.
If you like your tomato juice spicy, a splash of Tabasco hot sauce will do the trick.
Bursting with color and summer flavors, this roasted tomato peach salsa will be a hit with everyone at the table.
Diced tomatoes and peaches are combined with red onion, red pepper, habanero, garlic, and cilantro for sweet, spicy, refreshing goodness.
Spoon it on burrito and taco bowls or serve over grilled chicken, fish, or pork.
This is one of the best tomato-based sauces you'll ever taste. It tastes so much better than anything you can buy at the store - definitely keeper.
The best part is that it uses fundamental, flavorful ingredients and is super easy to make. It takes a bit of time, but the results as well worth the effort.
You can skip the canning and enjoy it with crostini or on your favorite pasta dish and freeze the remaining quart jars.
This homemade tomato ketchup recipe will rival your favorite brand. It uses fresh tomatoes and tomato paste as a base and is seasoned with cinnamon, onion powder, cloves, and all-spice.
After a few hours of cooking time (mostly hand-free) and about 10 minutes of water bath, you'll have a wonderfully rich, full of flavor sauce to last you through a few cooking projects.
If you only have tomato sauce and canned tomatoes on hand, you can use them but cook the sauce down a bit to get that thick, rich consistency.
Want to get the best out of your homegrown tomatoes? Make your canned pizza sauce!
The flavor is out-of-this-world good and is sure to make your pizza recipes taste so much better! Plus, the water bath canning is very straightforward. We don't think you'll be going back to store-bought stuff anytime soon.
The recipe makes about 7-8 pint jars, so you'll have enough to last you a few months. But we doubt it'll last that long because it's also terrific in Italian recipes.
This homemade tomato paste boasts a robust flavor with a deep-red color to boot, whether prepared in the oven, crockpot, or on the stovetop.
All you need for this recipe is paste tomatoes, salt, bay leaves, bottled lemon juice or citric acid, food mill or strainer, and water bath equipment. And patience, of course.
Store in a cool, dark place for up to a year. Refrigerate after opening - it'll keep in the fridge for up to a week.
Peeled tomatoes, celery, green pepper are simmered to stewed perfection then canned. The process is pretty simple.
All you have to do is fill the empty jars with the stewed tomatoes, add lemon juice, seal properly, then place in a water bath canner. That's basically it!
Use it as a base for stews, soups, pastas, or add to chili, shakshuka.
You don't have to wait for the next harvest to enjoy fried green tomatoes. With this simple canning recipe, you can easily grab a canning jar and whip up those delightful treats anytime you feel like it.
Plus, there's a whole lot you can do with these canned tomatoes and not just frying!
Take your pork chops, steak, wings and ribs to the next level with this chipotle barbecue sauce spiked with Jack Daniel's. It brings a unique flavor combo to the table that's sure to win your guests over.
The whiskey cooks off but adds a nice smokey flavor to the sauce. Hot peppers and chipotle chill pepper bring the heat, brown sugar the sweetness, and vinegar and dry mustard give it plenty of flavors.
Add some kick to your favorite dishes with this blend of diced tomatoes and green chilies.
The recipe uses an easy-to-follow boiling water bath, but if you'd like to take the easy way out, portion the cooked mixture in plastic freezer bags and freeze.
Tip: don't throw away the tomato skins; dehydrate and grind them into powder to sprinkle on pizza, sandwiches, or add in soups and stews.
Create a pickle your mama and grandma would be proud of with this easy recipe.
Soaked in salty, sweet, vinegary brine and infused with flavors of garlic, dill, mustard seed and chili flakes, these canned tomatoes are excellent on salads or as a garnish for a dirty martini or bloody Mary.
This home-style canned vegetable soup is full of fresh and wholesome ingredients. It's packed with tomatoes, potatoes, beans, and other crisp-tender vegetables - a handy addition to your pantry.
This recipe is a light meal on its own, but you can serve it alongside your favorite salad and toasted garlic bread.
With green tomatoes, bell peppers, cabbage and tongue-tingling hot peppers, this spicy, versatile relish has an addictive taste that we know you'll love.
You can use it as a dip or topping for burgers, hotdogs, or pulled pork sandwiches. It's also delicious paired with cream cheese spread as an appetizer.
Bursting with Mexican flavors, this condiment will transform your dishes into something spectacular.
This canning recipe is definitely a winner over store-bought versions. Make sure you make more than one batch so that you can gift your family, friends and even co-workers.
This apricot BBQ sauce is easy to whip up and hits all the right notes.
The apricots add a nice tang to the overall flavor profile. When combined with the warmth of smoked paprika, the sweetness of brown sugar and the spiciness of hot pepper flakes, you've got yourself a finger-licking-good BBQ sauce that you'll want to slather on almost everything.
This is a delicious way to use up your garden's bumper harvest.
A few drops of liquid smoke really take this zucchini salsa over the top. It's guaranteed to be a hit with family and friends.
This recipe makes 26 pints, so there's enough to share. Pair each canning jar with a packet of tortilla chips for a perfect holiday gift.
This is one of those canning tomatoes recipes that you need in your back pocket because these canned tomatoes are a hearty and wholesome addition to so many recipes.
They're delicious in main dish salads, on bruschetta, sandwiches, or crudité platter. You can also pair them with grilled meats or cheese.
Check out my top pick of grape tomato recipes and cherry tomato recipes for you to make delicious meals at home.