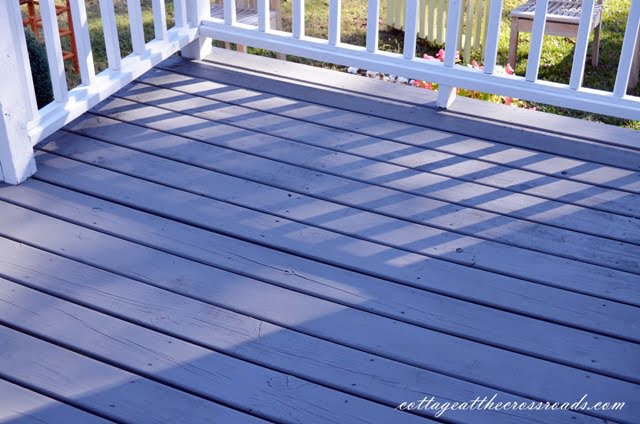 When Leo and I moved into the cottage at the Crossroads, we had a small deck built at the rear of the house and we have finally gotten around to staining it! The guys who built the deck advised us not to stain the pressure treated wood for 6 to 9 months, so we didn't. Well, staining the deck got put on the back burner and so 3 years later, we finally tackled this project.
This post may contain Amazon or other affiliate links. As an Amazon associate, I earn from qualifying purchases. If you purchase anything through any affiliate link, I may earn a small commission at no extra charge to you. All opinions are my own.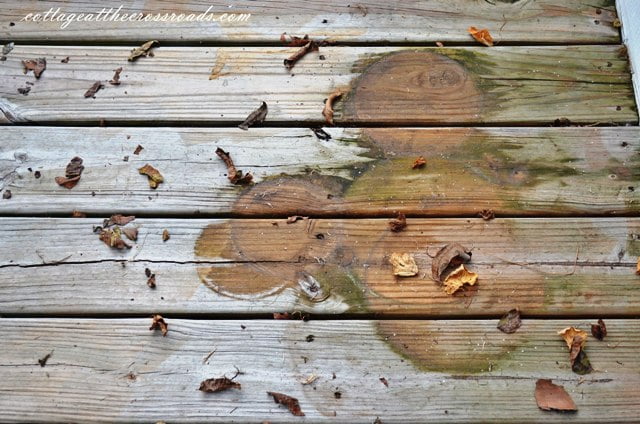 This is a little embarrassing, but this is what the deck looked like before we got started. It was dirty with some mildew stains where some flower pots had sat. The uneven color really bothered me every time I saw it, but staining a deck is not a project you want to do in the heat of the summer. We waited until this fall to start this project when we had some cooler weather with less humidity. And we worked on this project off and on during the month of October.
The first thing that Leo did was to use a pressure cleaner to wash the deck to remove the dirt and mildew. Then the next thing that we did was to paint the handrails and the spindles with 2 coats of white, outdoor latex paint.
The product we chose to stain our deck with was this. We went with a solid color stain in a charcoal gray color because I wanted even, all over color.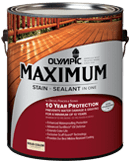 OLYMPIC® MAXIMUM®STAIN + SEALANT IN ONE

SOLID COLOR

FEATURES

Enhanced waterproofing protection
Advanced SunBlock® UV defense
Extends color life
Exclusive Scuff Guard® technology
Provides our best mildew resistant coating
100% acrylic latex formula
Self-priming
Backed by the Good Housekeeping Seal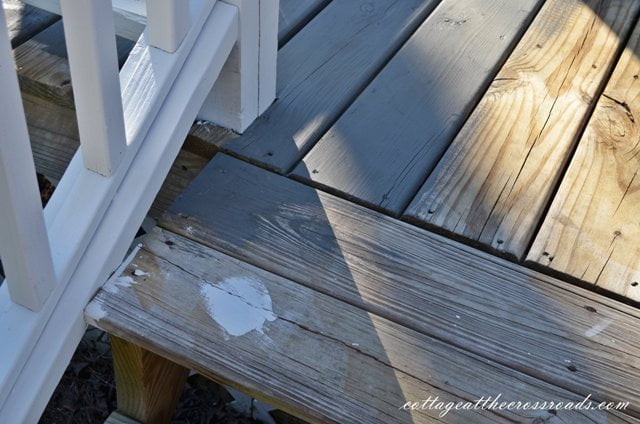 As you can see, we were a little messy with the white paint when we were painting the rails and spindles, so we were worried that we would have to remove the paint before we stained the deck. So we tested to see if the stain would cover the blobs of white paint and it did! Yay!
Now the next thing I want to say is that we are not experts on any of this. The only experience I have had in staining a deck is when I painted the floor of the covered porch in our previous home. And I put 6 coats of 3 different products on it in a matter of a few weeks until I had achieved the color and durability that I wanted. (Yes, I know, that was a bit obsessive, but it sure was pretty!)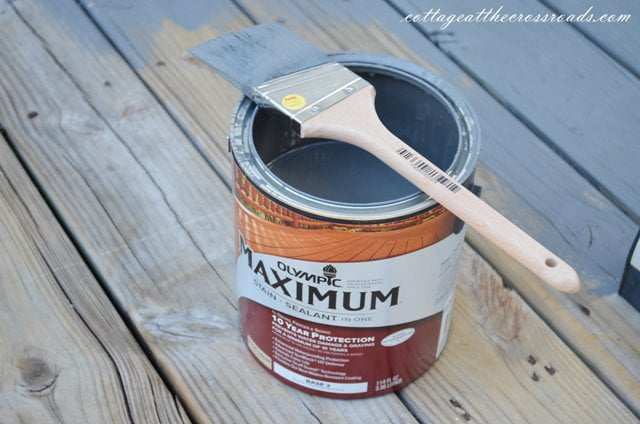 To apply this paint, I used my Purdy brush that I received in my swag bag when we attended the Southern Bloggers Conference recently. The stain can be sprayed or rolled on, but since our deck is small, I decided to brush it on. The directions on the can said to apply two thin coats.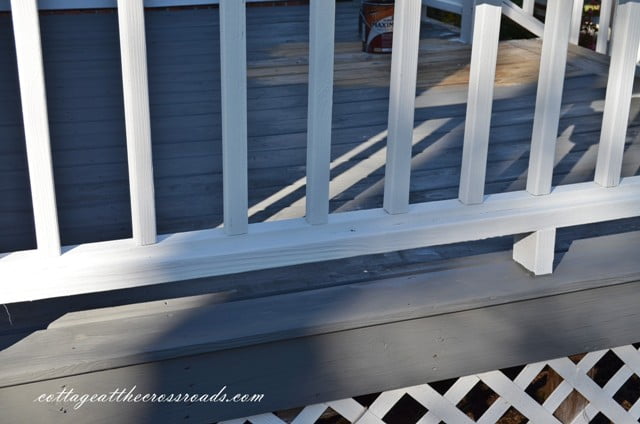 Here it is with the first coat of the stain. It was looking so much better, and I really liked the contrast of the painted rails with the dark, charcoal color of the stain.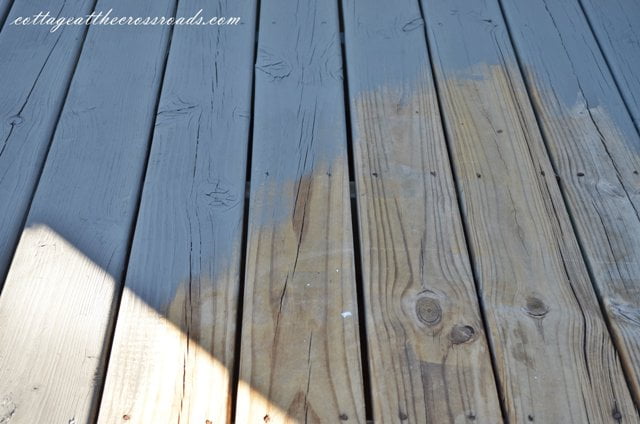 The first coat of stain did a great job of covering, but I'll have to say that the dry, unfinished wood did absorb a lot of the product. There are many different types of stain that you can use and choosing a solid color stain is an irreversible one because you will have to continue using a solid stain when it needs to be refreshed.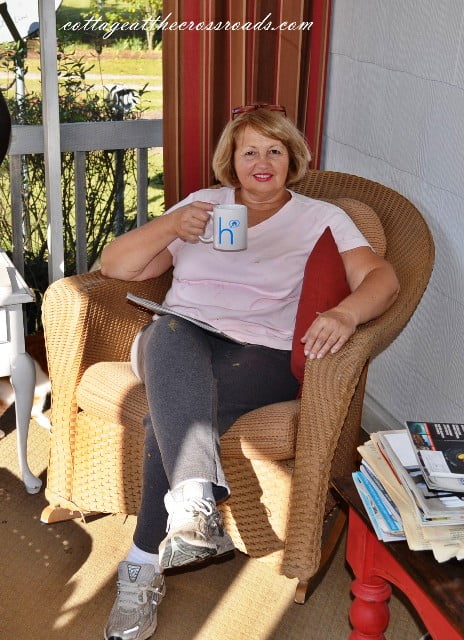 Here I am taking a break from the staining one day, having a cup of coffee in my favorite Hometalk mug.
We did allow the stain to totally dry between coats by waiting several days before applying the second coat.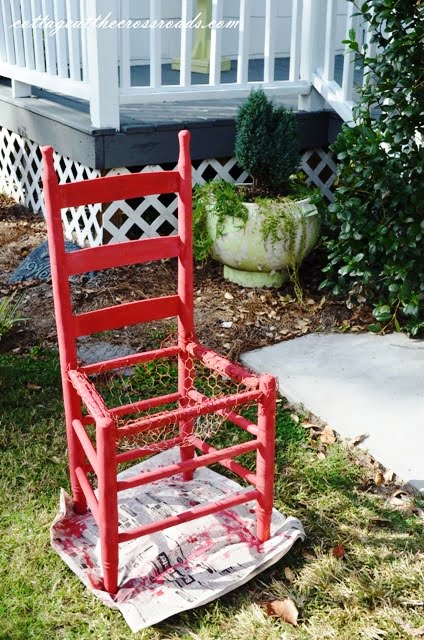 Since the deck was looking so much better, I decided to paint this chair. If you'd like, you can read the post about how we changed an old chair into a planter. Since I had received a sample of Miss Mustard Seed's milk paint in our swag bag at the conference, I decided to try this beautiful red shade called Tricycle.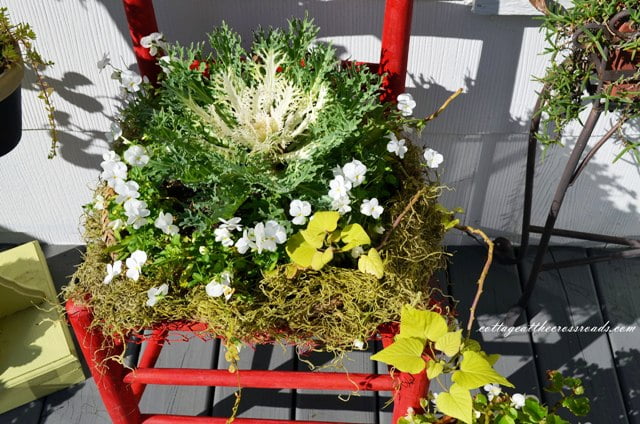 I planted some lacy kale and white violas in the basket this week. The sweet potato vine will not survive the frosts, but I left it in there for the next few weeks.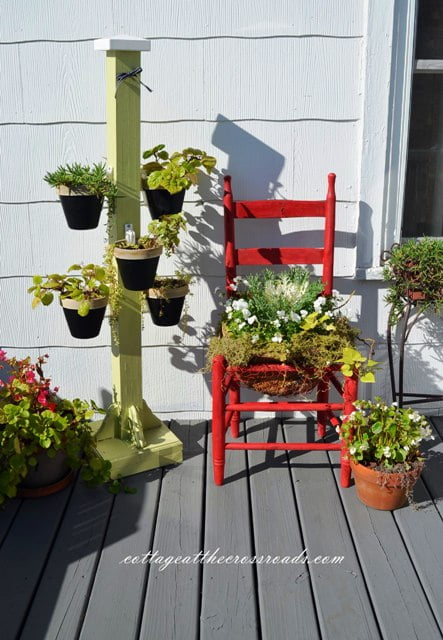 Here it is on the deck along with our pot holder stand and other flowers.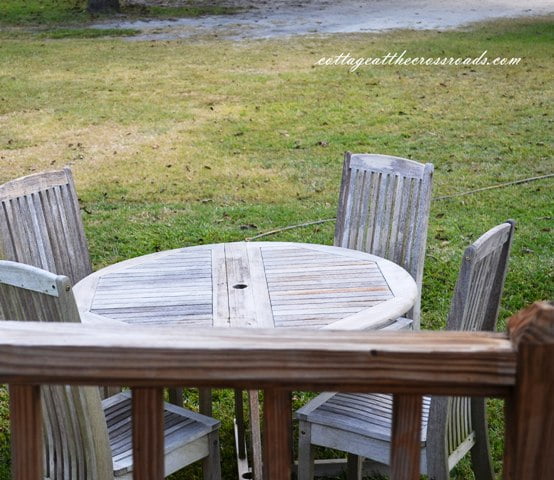 And our next project is going to be rejuvenating this teak table and chairs. Anyone had any experience with teak?
Writing this post about our deck made me sincerely grateful for all that we have, and I would like to urge everyone to help those who have been affected by Hurricane Sandy. I'll post upcoming initiatives by other bloggers on our Facebook page as soon as I get the details.
I'm joining:
Meet Me [email protected]You Are Talking Too Much!
Metamorphosis [email protected]Between Naps on the Porch