Hello everyone! I'm so excited to show you our front porch all decorated for summer. I'm calling it my "Summertime's Calling Me" porch and you'll see why in just a minute.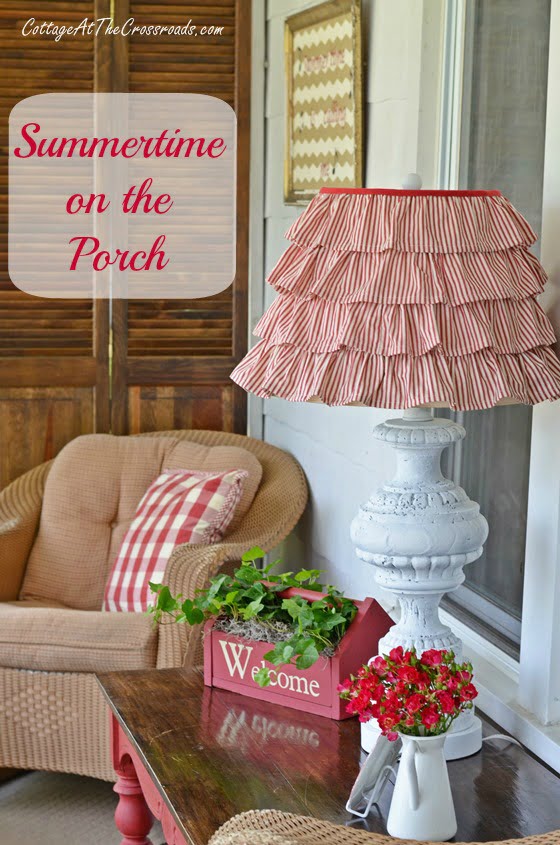 This week I'm joining some of my favorite bloggers for the Elements of Summer Tour.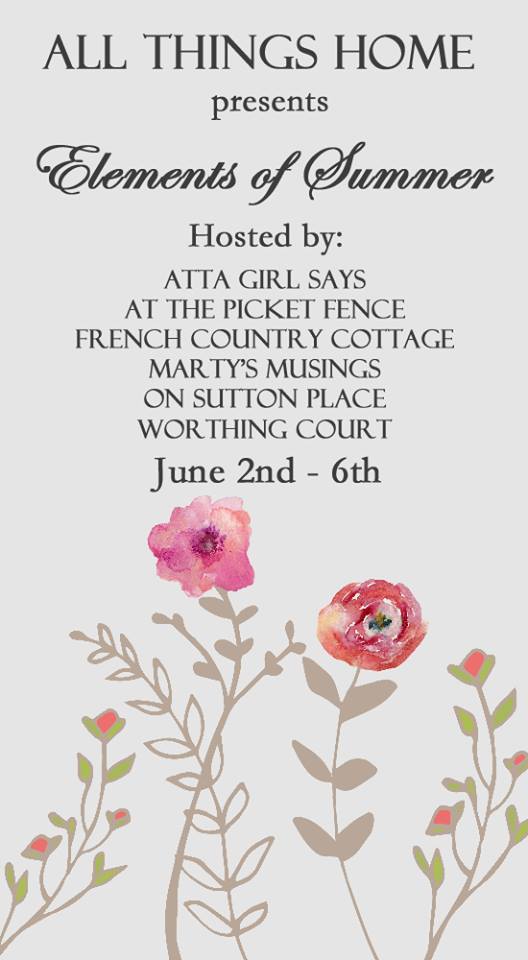 As part of the tour, I'm sharing our summer porch because it's finally SUMMERTIME!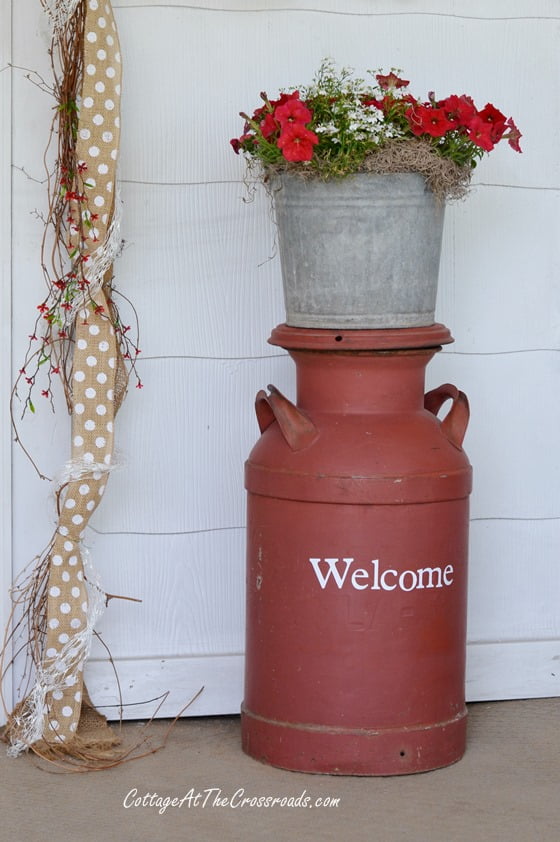 So if you're new here, a great big WELCOME to ya!
My husband and I live in a small, country cottage that's been in his family for a long time. It has a screened-in porch across the front of the house. During the summer, we live on our porch. It's the first place we head to in the morning to have our coffee. If company stops by, it's where we sit and visit together. And because there is a table on the porch, we enjoy the fresh tastes of summer out here, too. Have you ever noticed how much better everything is when eaten outdoors?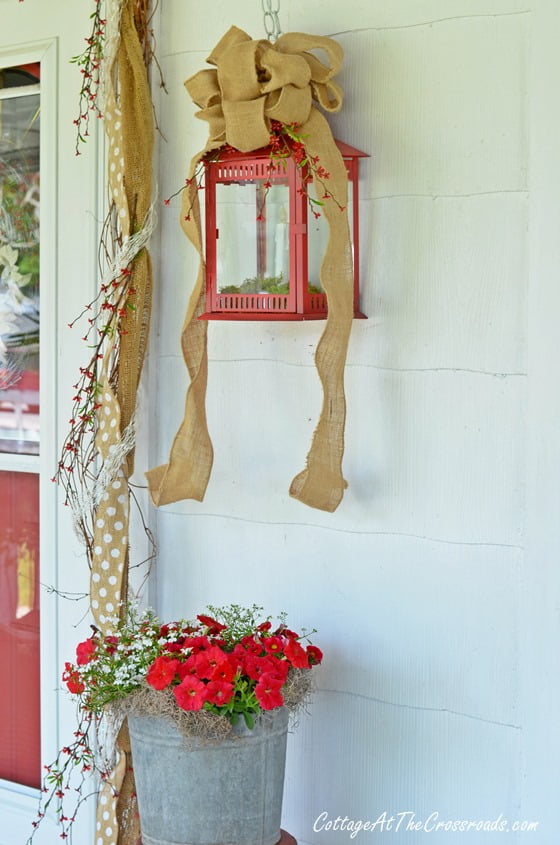 And I love to decorate the porch for the different seasons, and summer is no different. My goal is to make it a comfortable, casual gathering place for family and friends in a style that's suited to our country cottage.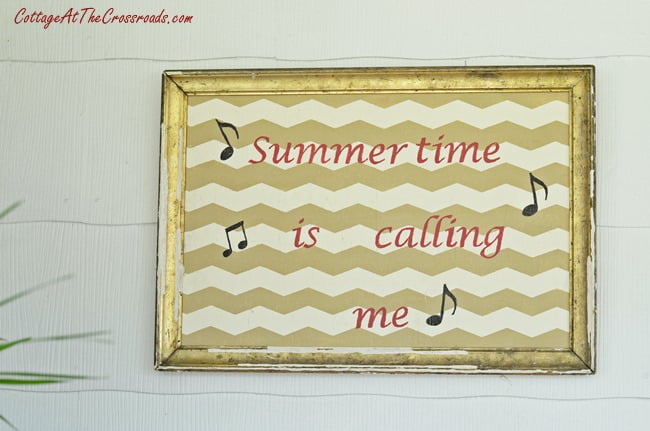 My inspiration for decorating the porch this summer was the song "Summertime's Calling Me," one of my all-time favorite beach songs. During winter, I can't wait to have the sand between my toes, can you? It's one of the songs that we play on our Crossroads radio station which we're usually listening to while we're on the porch. So I made this little sign to hang here in the corner.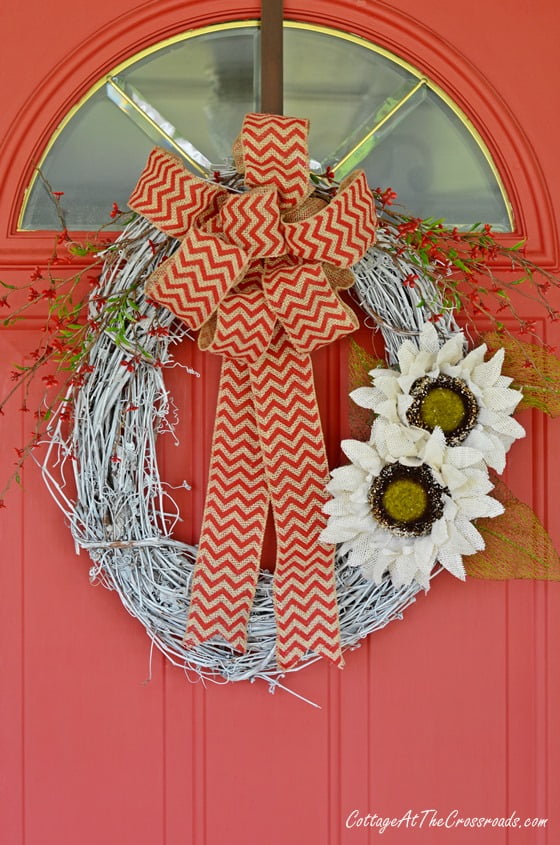 The front door is sporting a new summer wreath.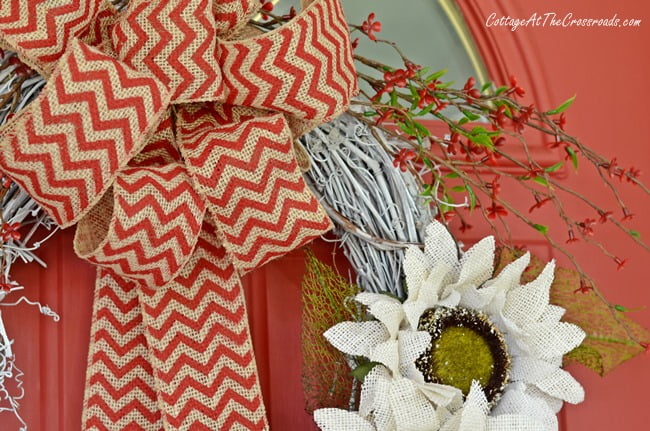 I just added a few new elements to the grapevine wreath that I used on our spring mantel.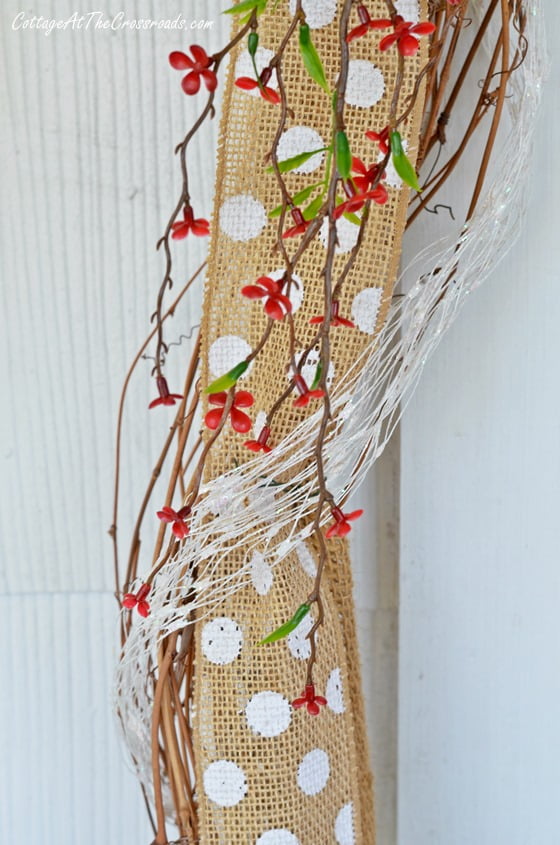 The grapevine garland that has been hanging around the front door for over a year and a half has been summerized with fresh new ribbon and little red flowers.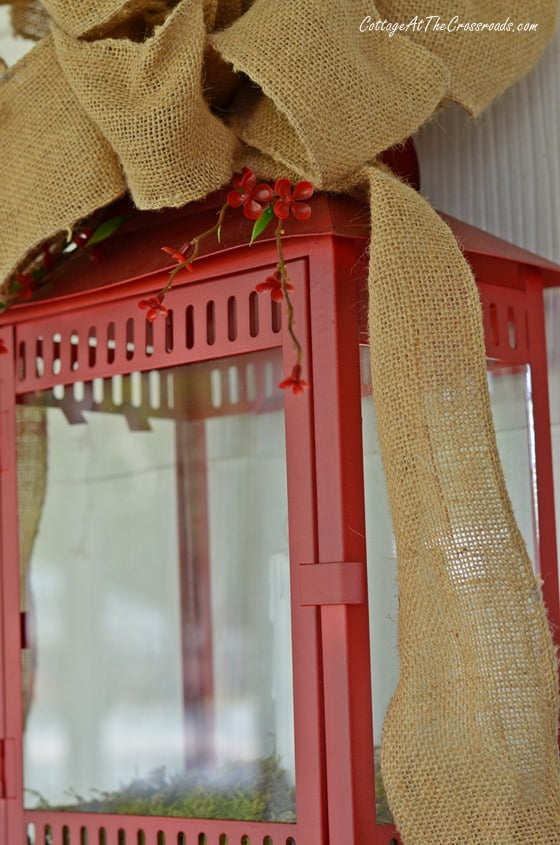 The red lanterns were used last Christmas and we loved them so much that we left them hanging. The large burlap bows have made several appearances on our mantel, but they found their way out on the porch.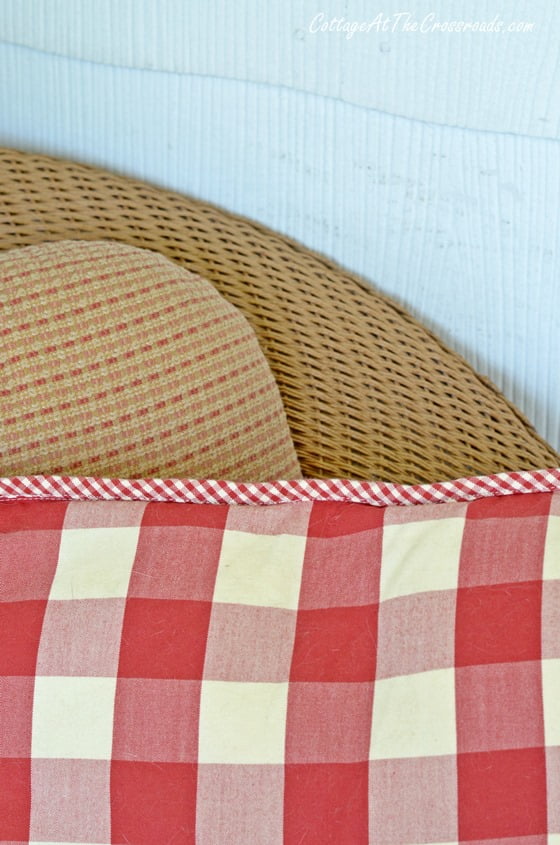 Some new additions to the porch are these red and white buffalo checked pillows that I picked up at the auction for $5 for 2 of them. They are not outdoor pillows, so I'll have to bring them inside when it rains.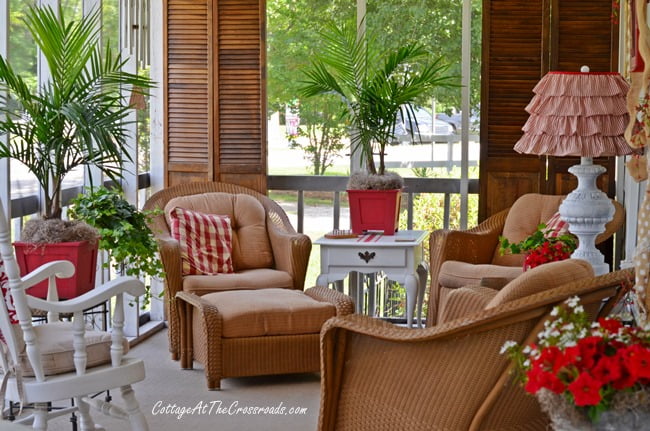 The red planters were used in decorating our Christmas mantel and I'm really loving them on the porch. But my favorite thing I've done on the porch was to paint the concrete lamp white (another auction find) and create a ruffled shade for it!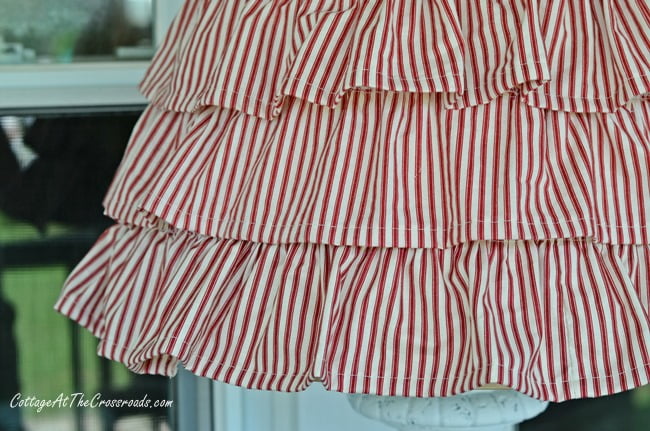 Sometimes a girl just has to have some ruffles, don't ya think? I'll give you a full tutorial on how to make one soon!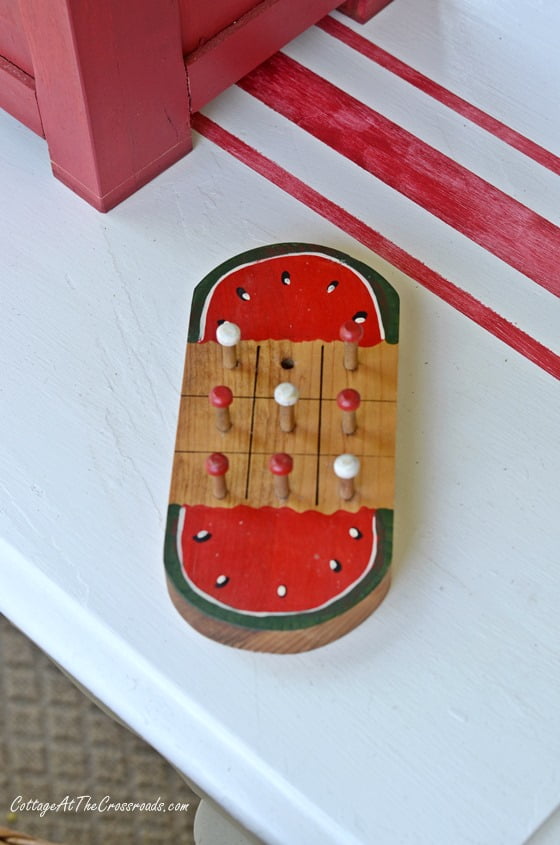 I added some grain sack stripes to this table recently and placed this tic tac toe wooden game piece here. Can't wait to show the grandgirls that old fashioned games can be fun, too!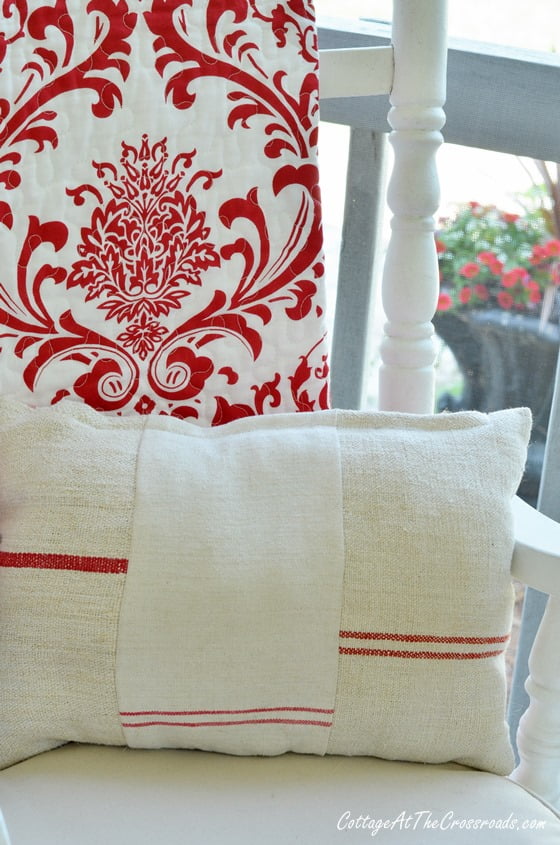 I don't think I've shown you this pillow that my friend Ann from Sutton Place Designs made for me. She pieced together 3 different vintage grain sacks to make this pillow which is so perfect for our country porch!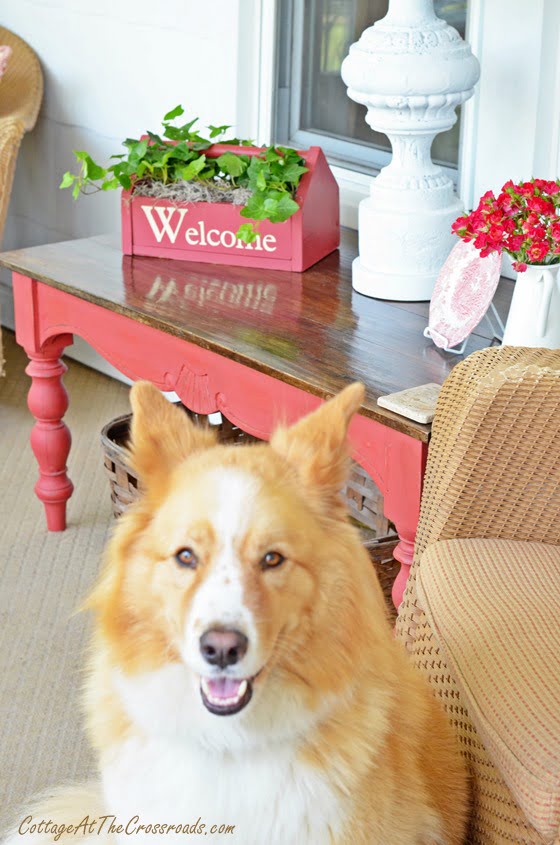 Lucy and our cats love the porch as much as we do.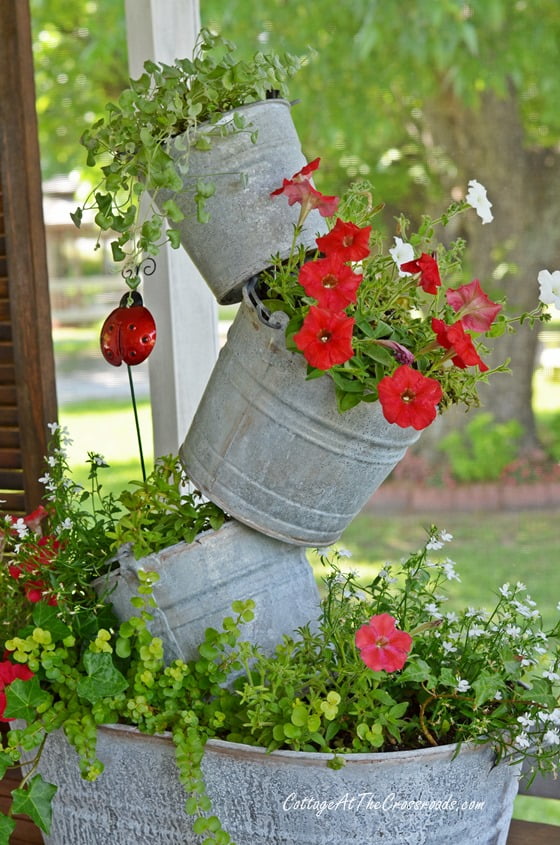 On the other end of our porch is the topsy turvy planter.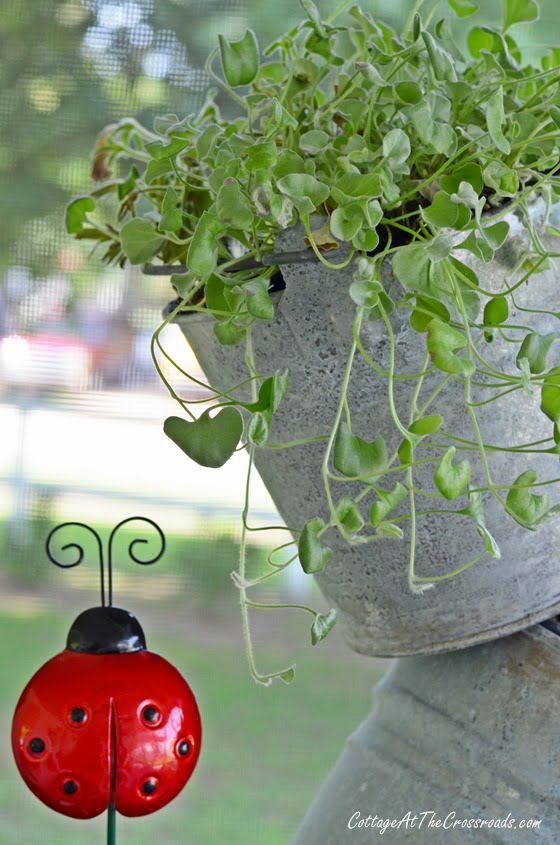 Its new ladybug floral pick makes me smile! I like to have lots of plants and flowers on the porch during the summer which is a way of bringing the garden inside. And if you've never visited our garden, you can click HERE.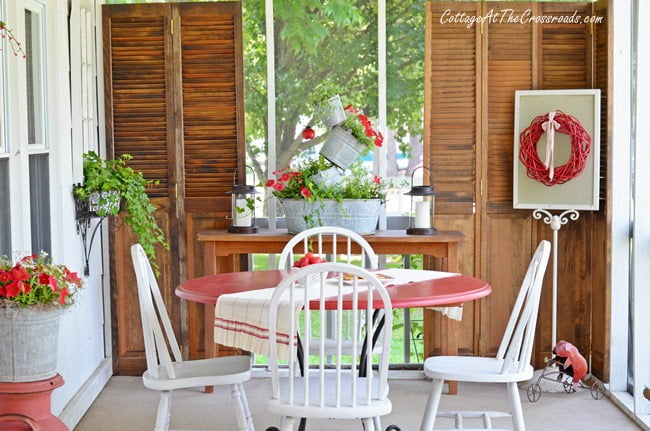 Since you've stopped by to sit a while on the porch with us, it wouldn't be hospitable if we didn't offer you a drink and a bite to eat.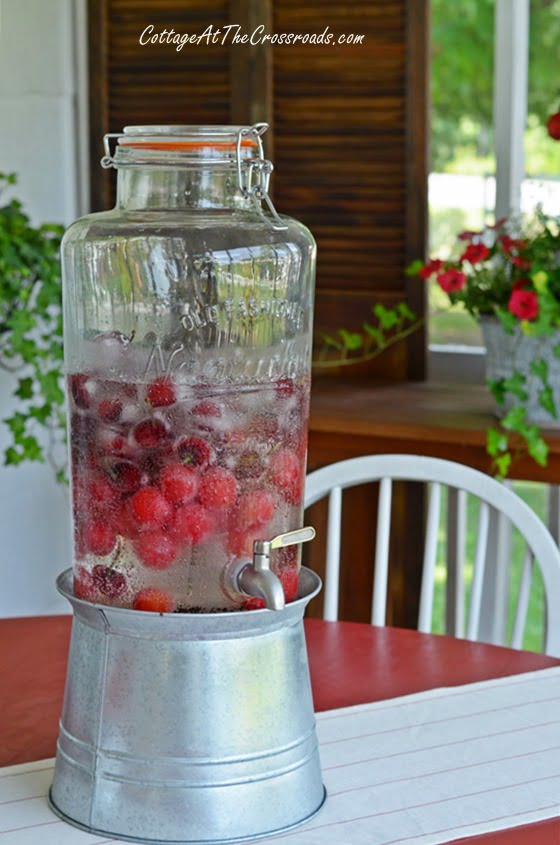 How about some sparkling cherry wine? I'll tell you how I made it soon!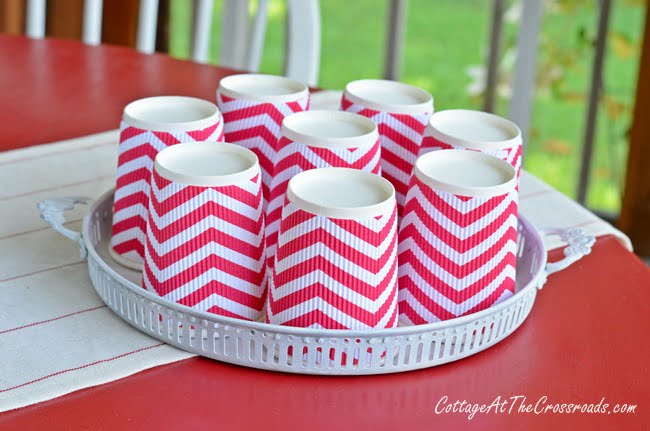 I'm serving it in these cute chevron cups that I found on sale. (Just couldn't resist!)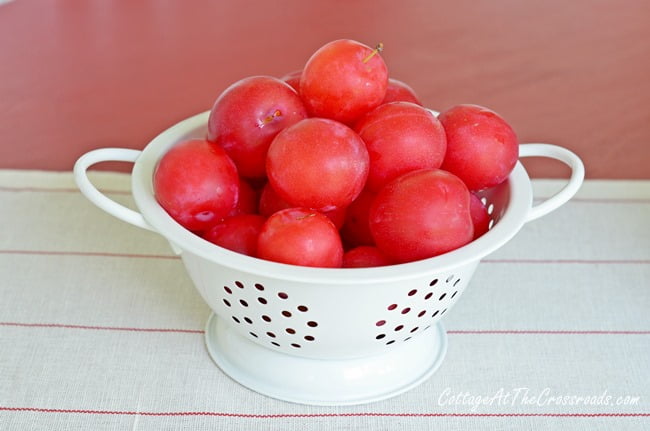 How about some of these delicious plums that our tree is bearing right now?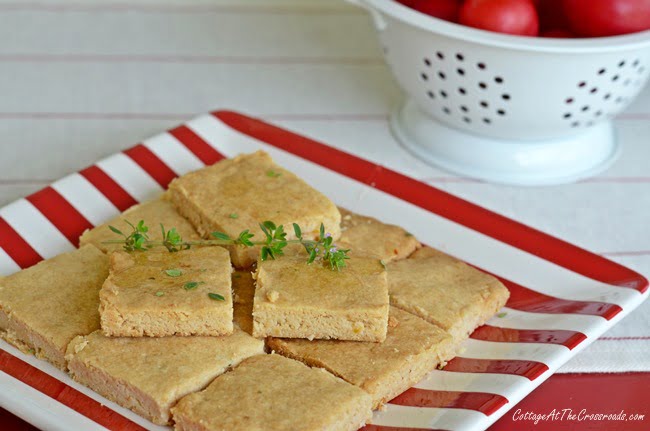 Or would you like one of these lemon thyme cookies that I whipped up this morning? So good with that wine that you're drinking!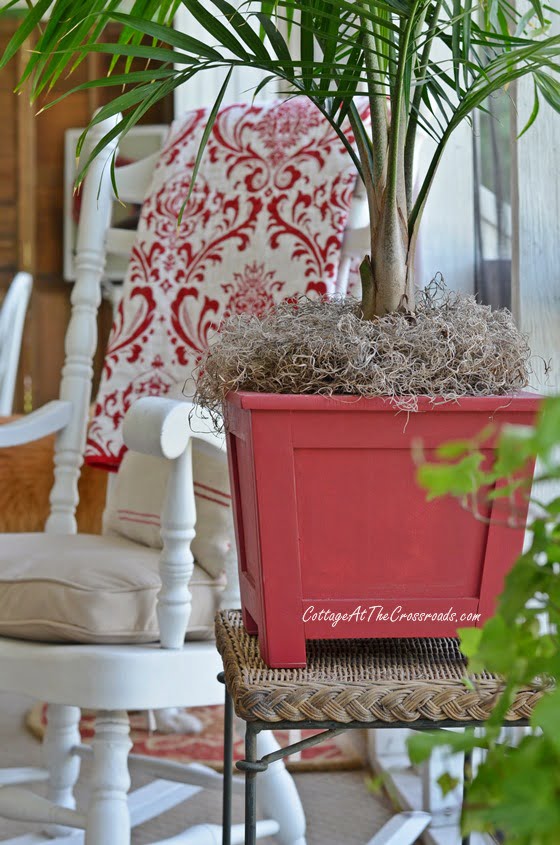 So glad you stopped by to visit today.If summertime's calling you, be sure to visit all my friends below for more summer inspiration.