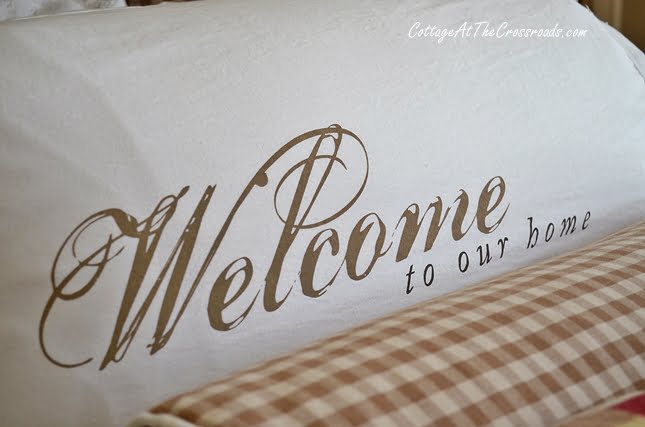 The decorating is all finished and our guest room is ready. The grandgirls and their father will be arriving tomorrow, and the rest of the family will be here Christmas Eve.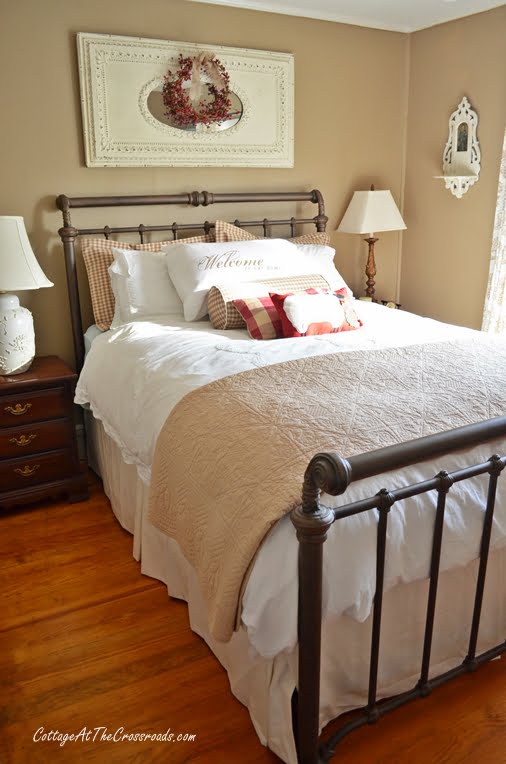 I haven't shown you the guest bedroom in a long time. That's because I've been gradually making some changes in this room over the past year.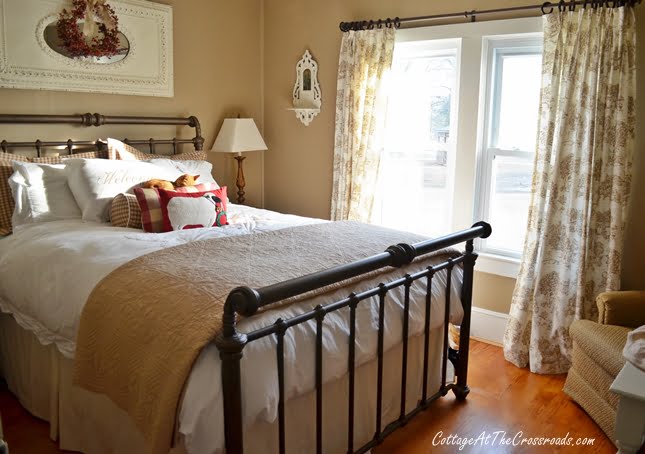 Previously, I had used a lot of blue in this room. But i decided to go more neutral with the bedding. The brown toile window treatments were made by my friend Brenda. She also made the linen bed skirt and the checked pillow shams and boudoir pillow. Do you spy a kitty on top of the pillows?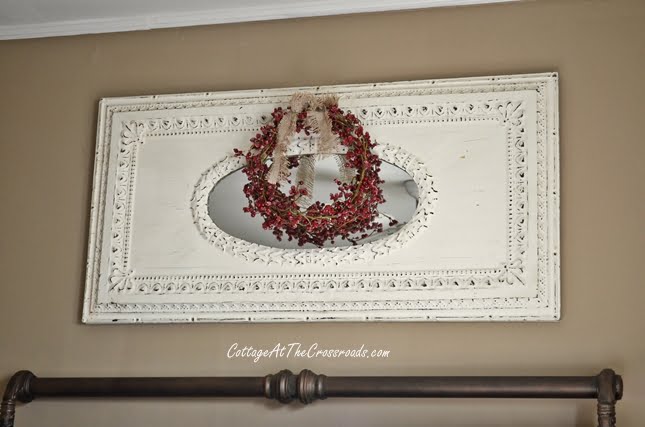 To add a little touch of Christmas to this room, I hung a little berry wreath on the metal mirror that's over the bed.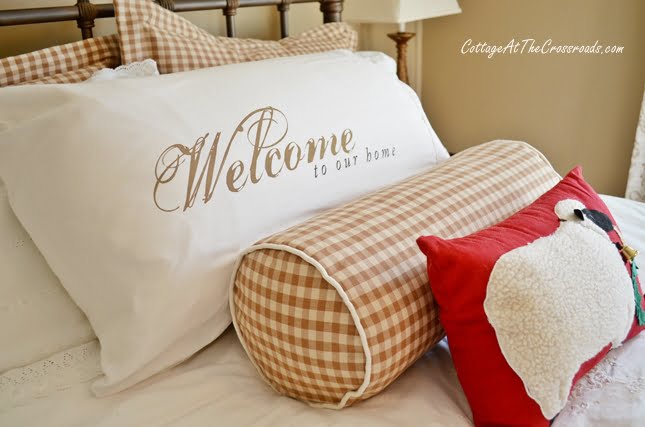 And I added this red pillow with the sheep on it.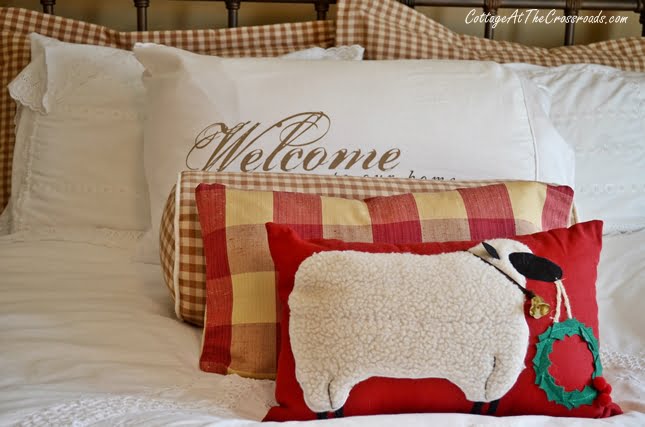 Here you can see it a little better. And I had the good fortune to win the red and cream buffalo checked pillow from the blog For the Love of a House recently. I have been following the renovation of Joan's beautiful farmhouse for several years. And if you have never visited the blog, prepare yourself to be amazed!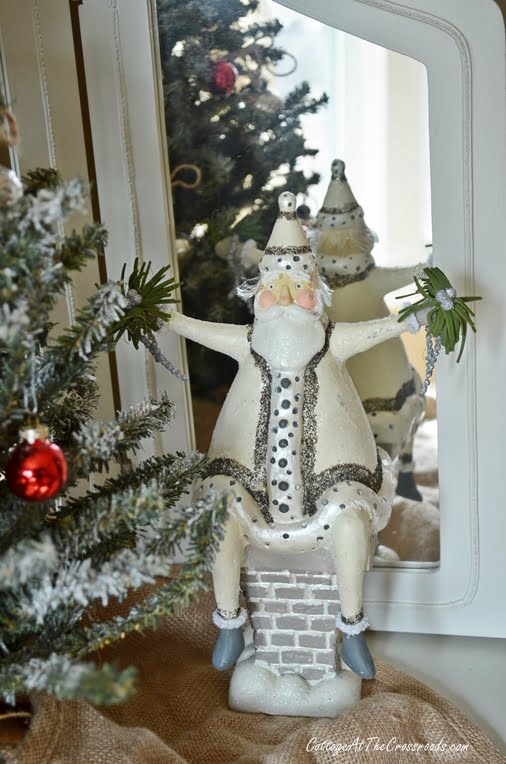 There 's a little Christmas tree in here as well as Santa!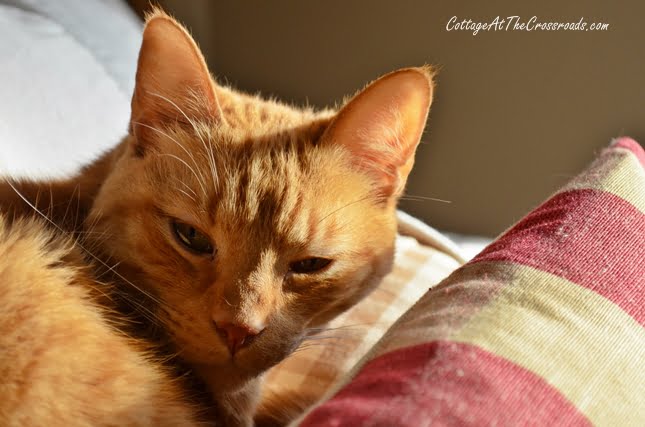 Henry has been counting sheep in here.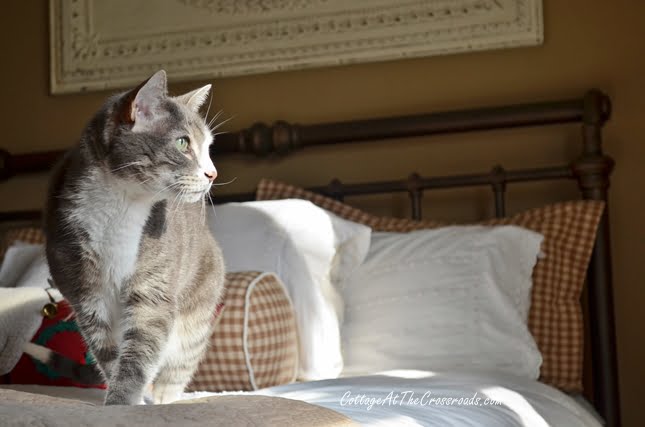 And Rascal like to snooze in here, too.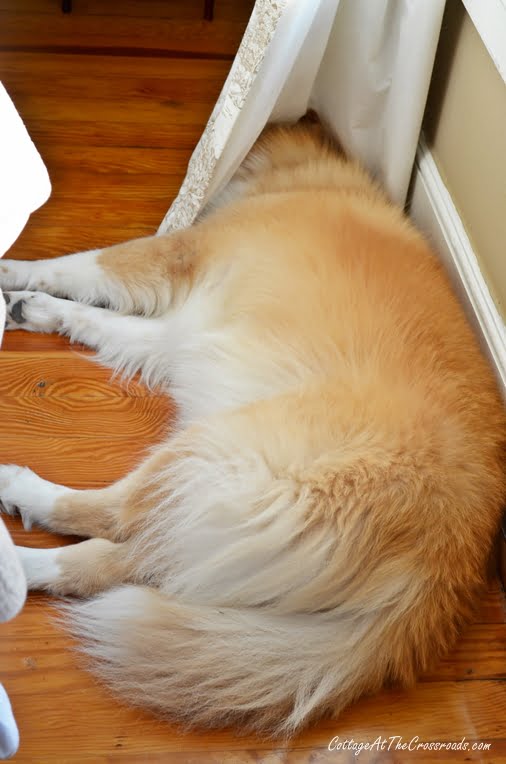 Even Lucy likes to nap in here as well! Over the next few months, I'll show you more of the guest room as I have a few pieces that I want to paint and put in here.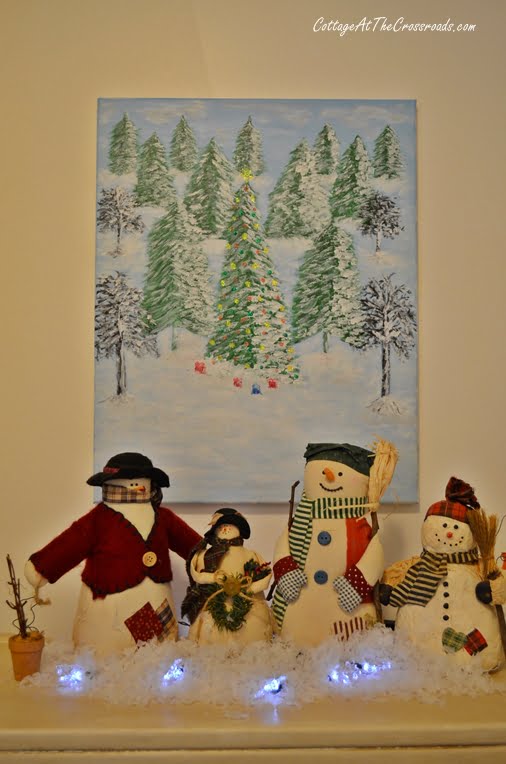 I'm sharing a few more photos of our decorations. In the hallway is a vintage snowman collection with a snowy painting by my friend Marti.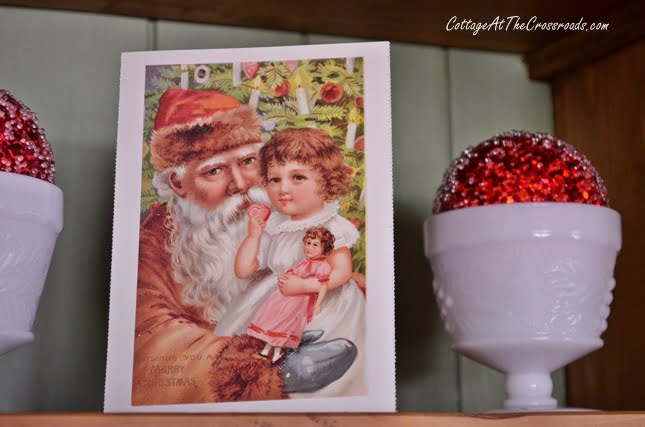 I put out these reproductions of vintage Santa postcards on our cupboard.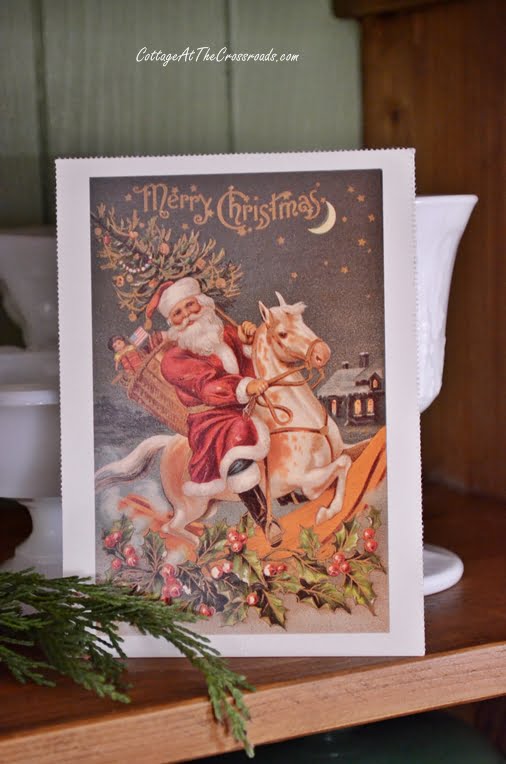 I have enjoyed them so much because the art work is just incredible.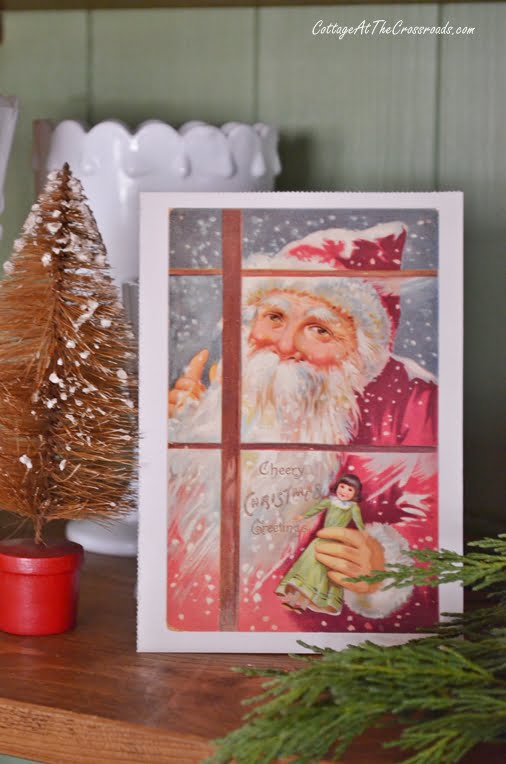 I kept thinking that I'd come up with a project using these cards, but I never did. Perhaps next year!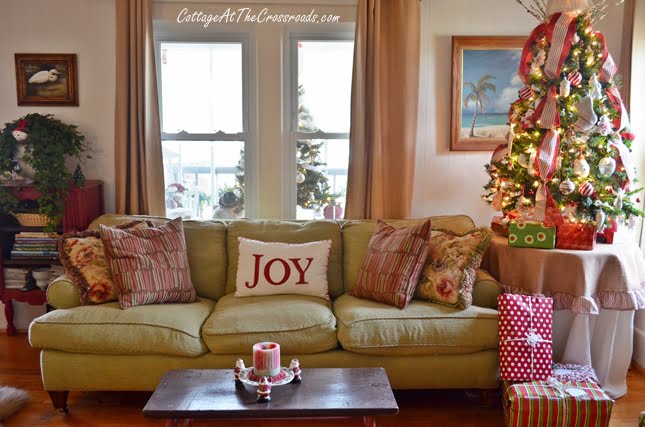 I will have to say that I've really enjoyed decorating with a lot of red this year. I used red burlap and red ticking to make the garland on the tabletop tree.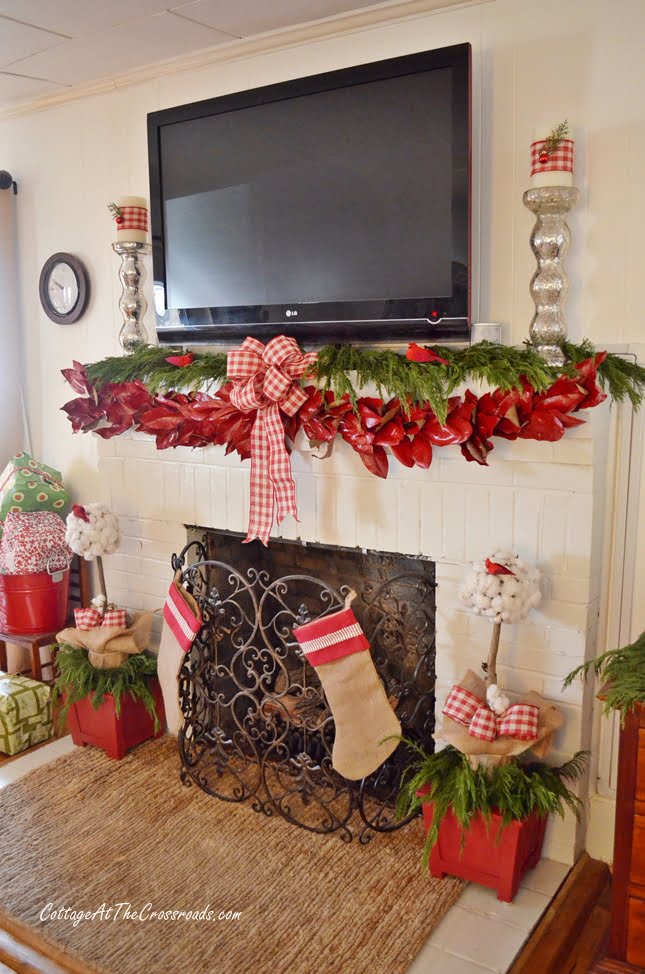 The spray painted magnolia leaves made such a striking garland on the fireplace. Since someone has asked, I used Valspar gloss spray paint in Ruby to paint them, and I followed Kristen's directions on how to create the garland HERE.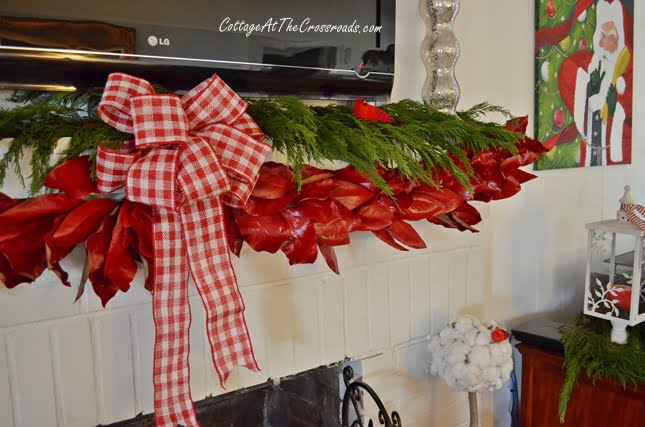 The leaves have gotten just a little crinkly from the heat of the gas logs. I think that's because I didn't paint the back of the leaves.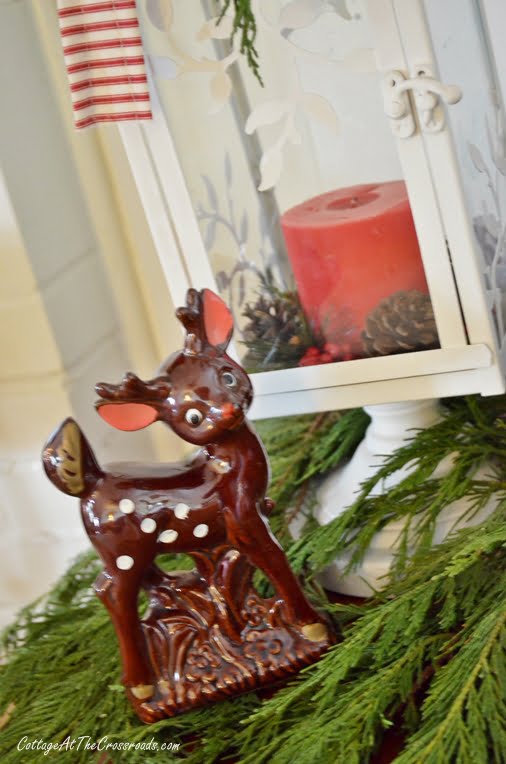 This little vintage reindeer was found at the auction this summer.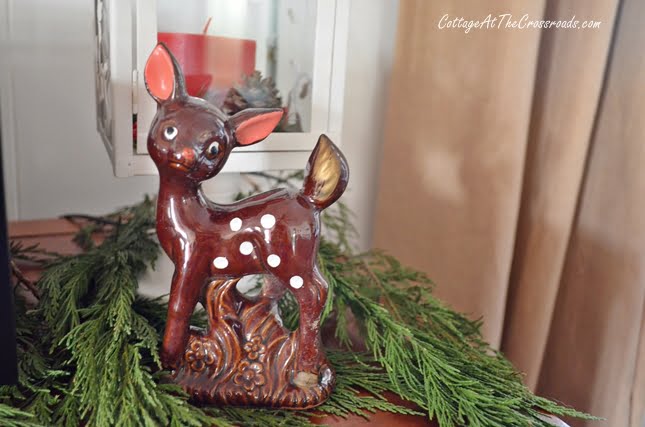 Along with its partner. I think they are so cute!
Well, I have enjoyed sharing more of our home with you and I won't be posting for a few days. I'm wishing you all the joys and wonders that this season can bring!
Merry Christmas !