Sharing some of our summer flowers and what's growing in our vegetable garden along with some sad news today.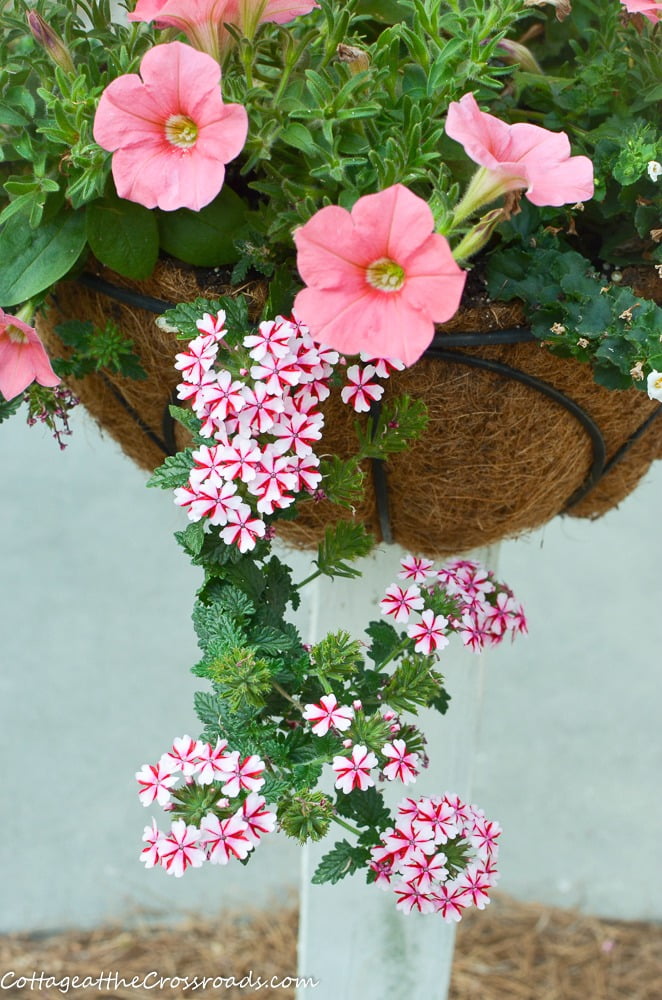 I had a reader to ask what we had growing this year so I thought I'd do a post showing the summer flowers and garden. In the baskets that are mounted on wooden posts in the yard, there is a mixture of some coral petunias, pink verbena, and white bacopa.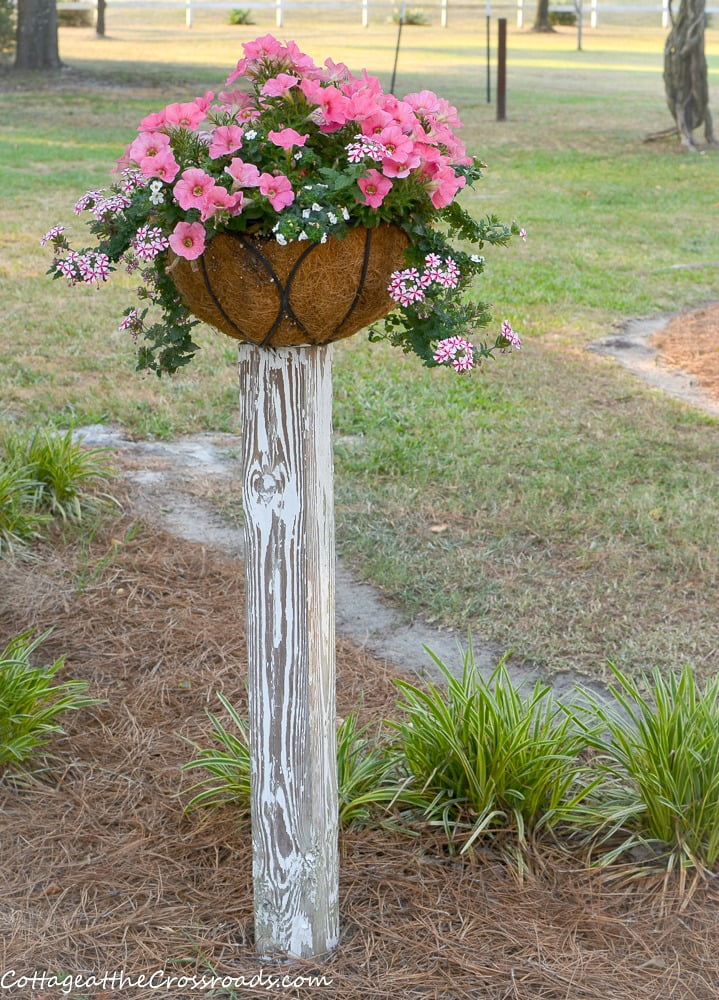 I have been smitten with the gorgeous color of the petunias ever since I potted up these baskets back in early May.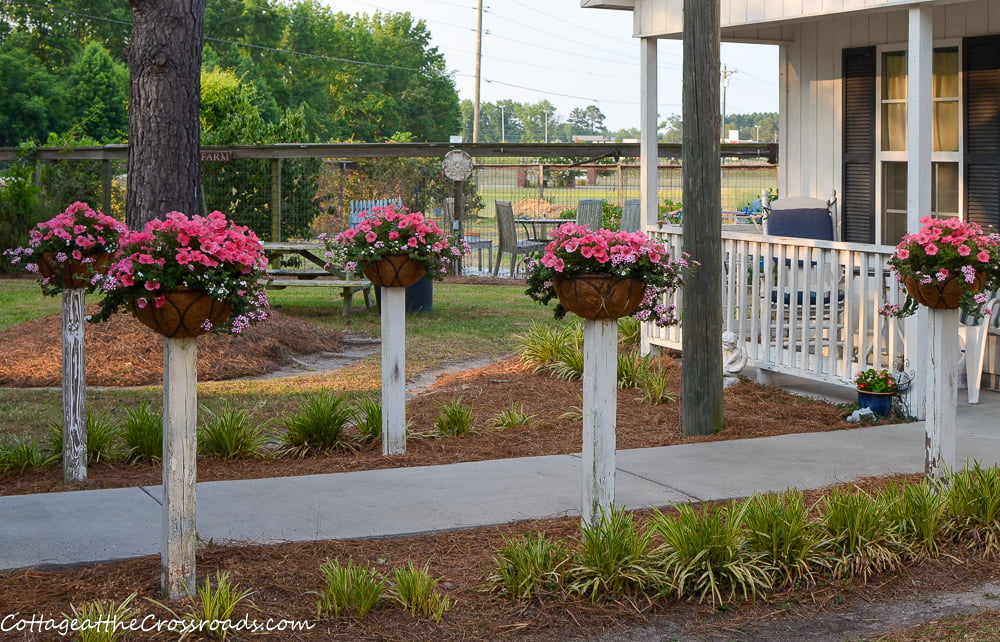 There are 5 of these baskets mounted on wooden posts in front of my mom's apartment in our backyard.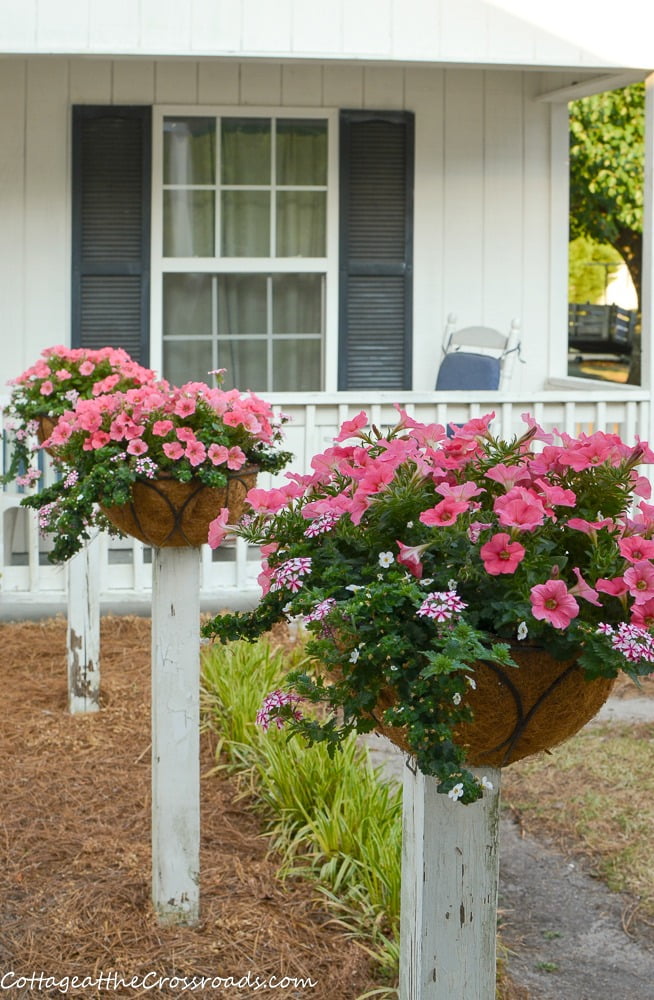 The petunias have been so pretty for several months but have required daily watering and deadheading to keep them looking their best.
The posts need painting but they, along with some other outdoor painting projects, will have to wait until it cools down this fall.
If you want to see how we mounted the baskets on posts originally, you can read about that here: HOW TO MOUNT FLOWER BASKETS ONTO WOODEN POSTS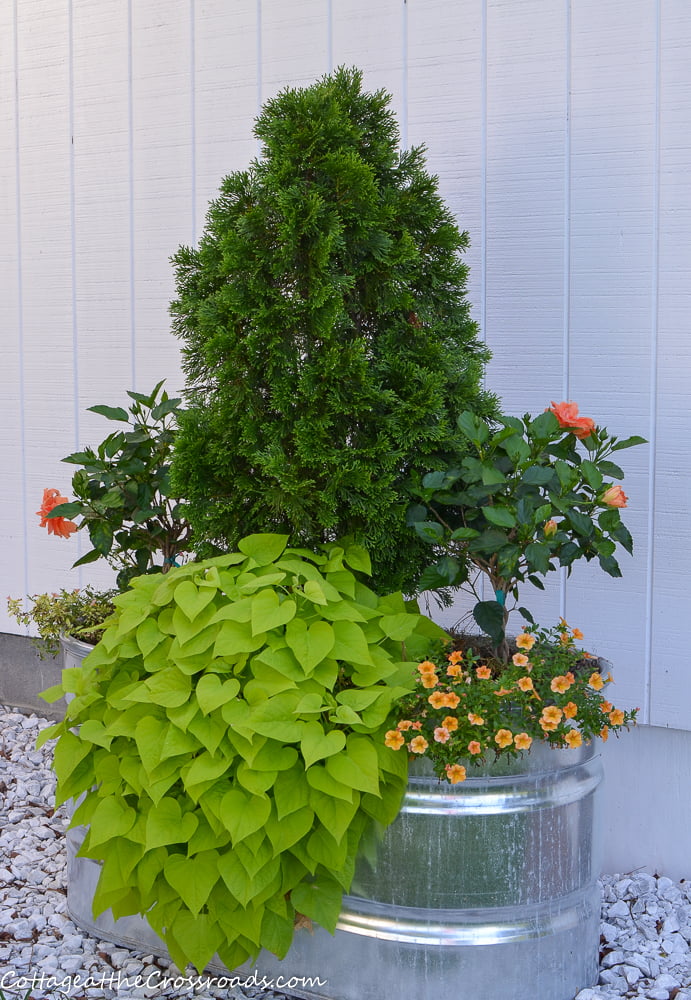 A new addition to the yard is this stock tank filled with a cedar tree, 2 double hibiscus plants, a sweet potato vine, and calibrachoa.
We bought it in early spring to go in this area beside the new laundry/mudroom.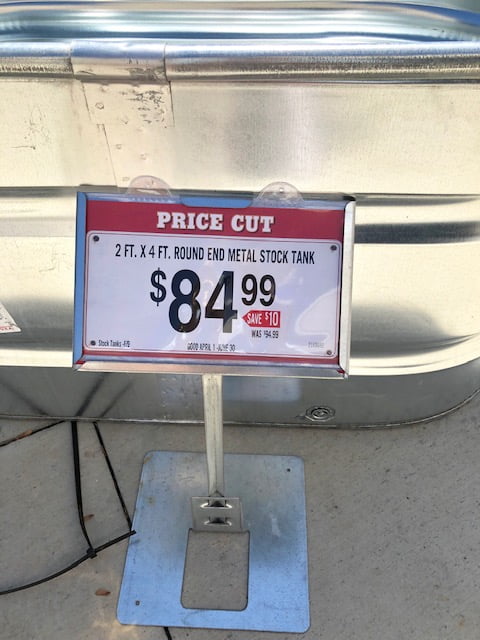 We happened to catch it on sale at Tractor Supply. The stock tank makes a great planter but the plants in it must be watered daily.
I started aging the bright shiny metal but didn't get around to a second treatment. I have plans for dressing up this stock tank when it gets cooler.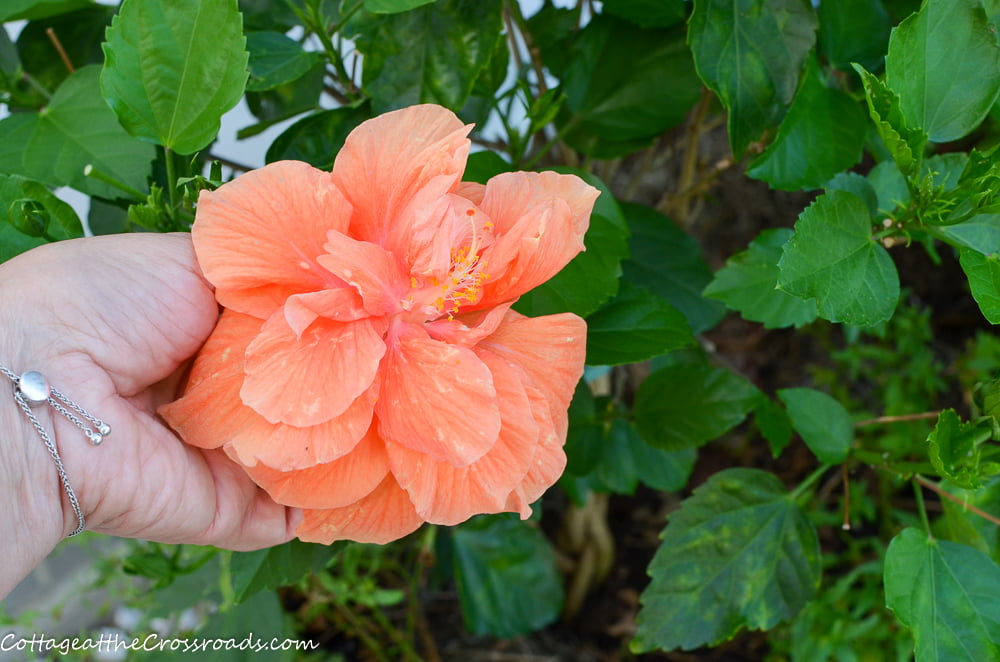 In the meantime, I'm enjoying the peach colored double hibiscus flowers in it.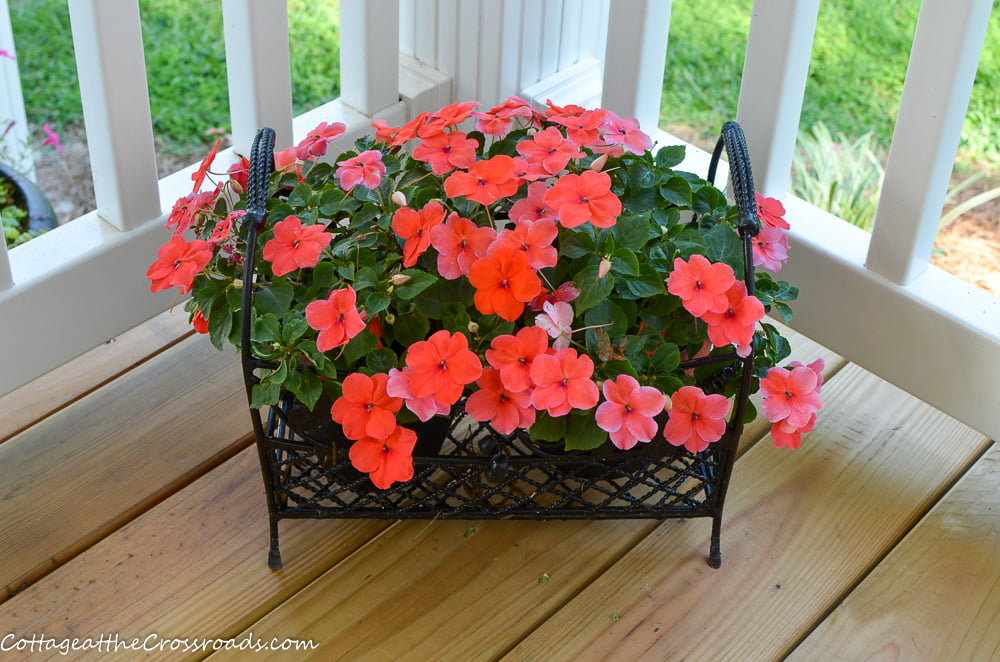 On our new shady covered deck, I have some peachy orange impatiens growing. Are you seeing a color theme here with the summer flowers?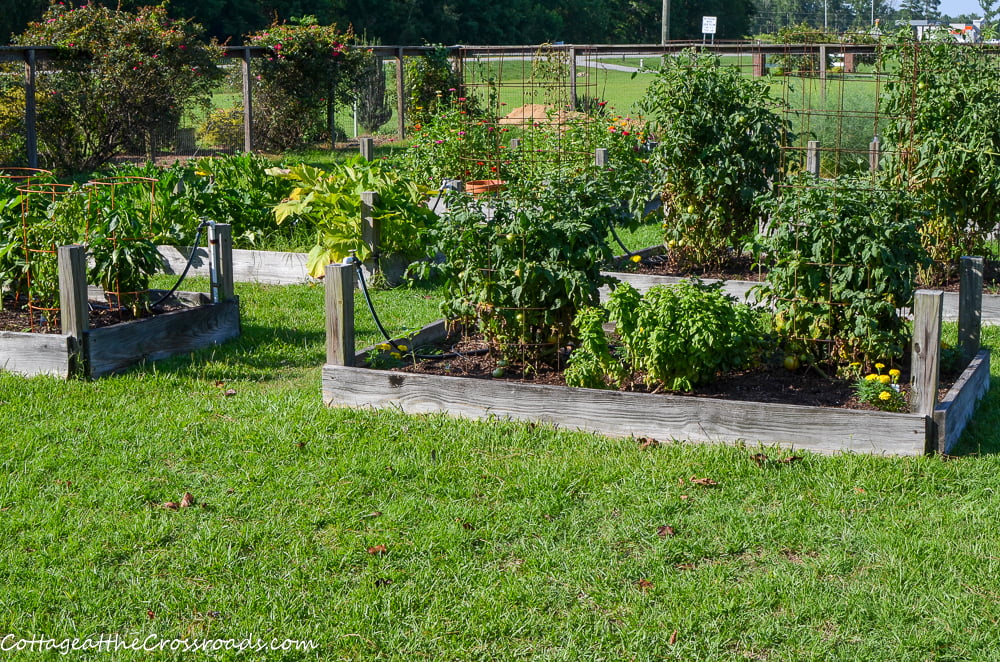 We scaled down our vegetable garden significantly this year. Instead of seventy tomato plants, we have only 8 this year, some of which we put in the raised beds.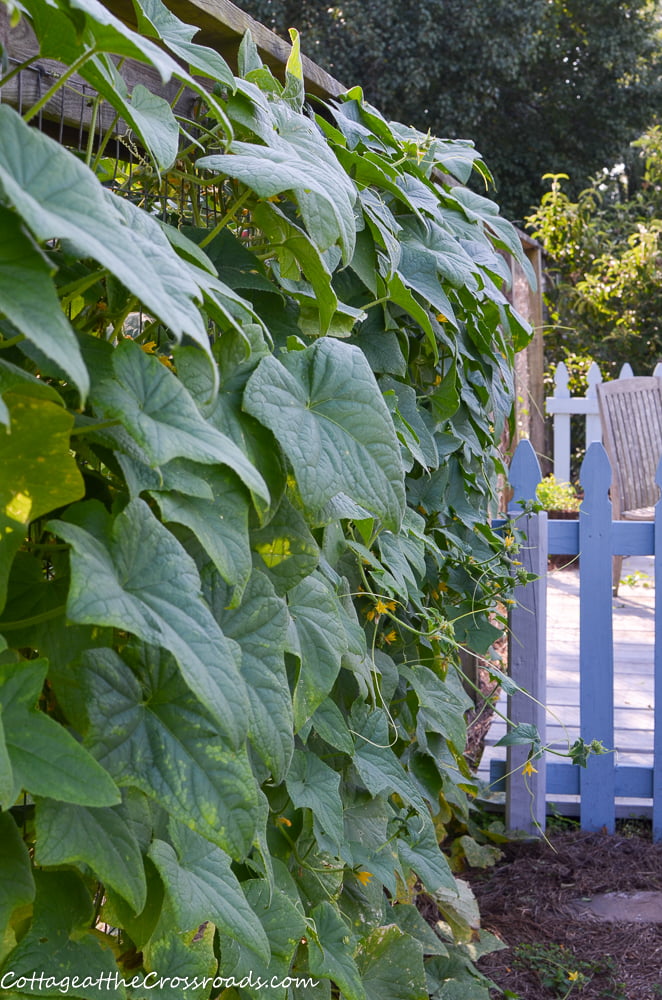 There are 6 cucumber vines growing on the garden fence. They almost look like Jack-in-the-Beanstalk vines, don't you think?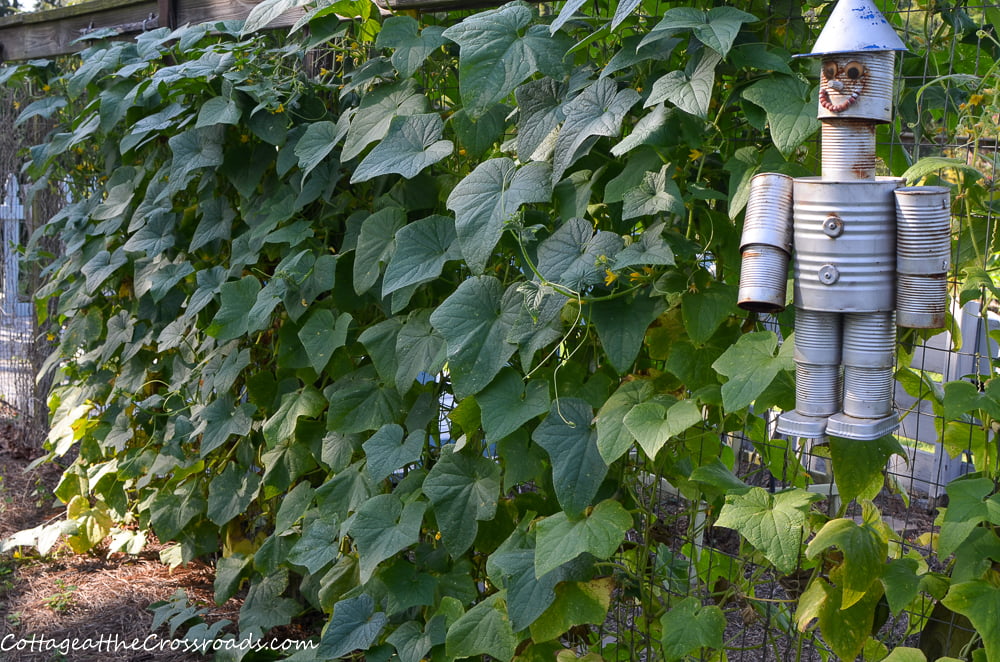 The vines have given us so many cucumbers that I have already put up 10 pints of sweet cucumber relish, 9 pints of traditional bread and butter pickles, and 7 pints of zesty bread and butter pickles.  
Whew! Not to mention that I've frozen 48 quarts of butter beans and peas purchased from the farmers' market.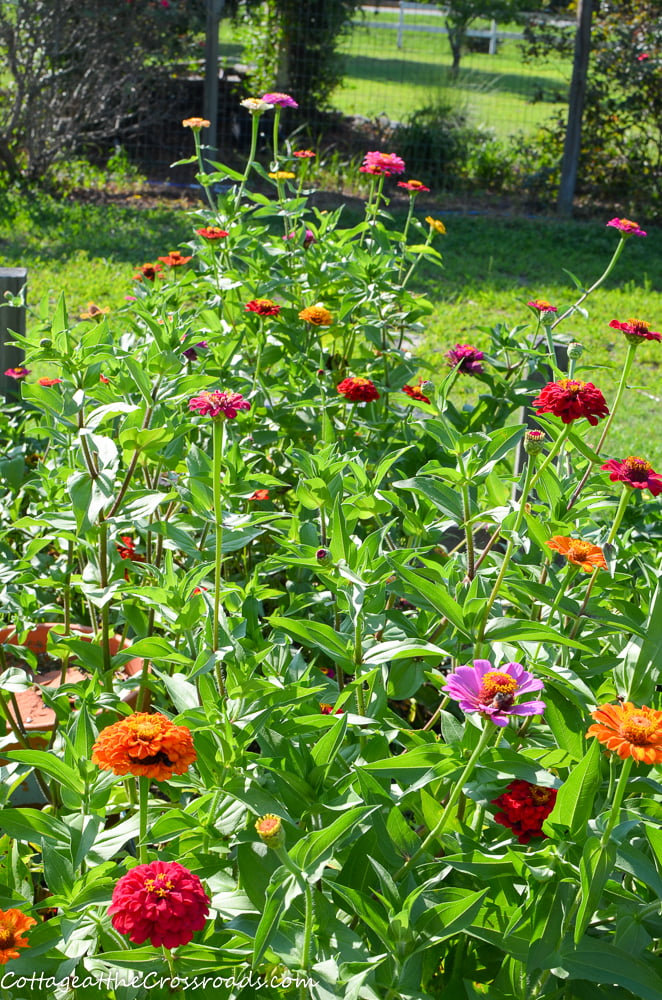 In the garden zinnias are growing in one of the raised beds. They are bee and butterfly magnets and bring me a lot of joy as well.
Now for the sad news.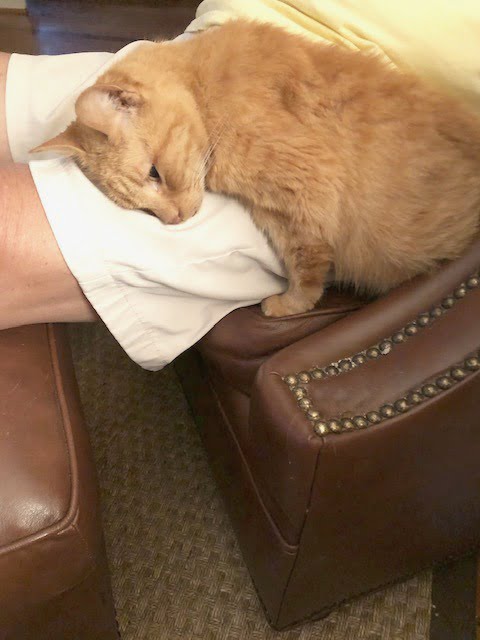 We lost our cat Henry last week. He was 19 years old, and we had been seeing him decline for several months. For the past few weeks, we held and comforted him as much as we could because we knew the end was near.
Our hearts are broken.