Hi everyone! You may have noticed these flower baskets that are mounted on top of wooden posts in some of our photos, but I don't think I've ever given any directions on how you can create these yourself.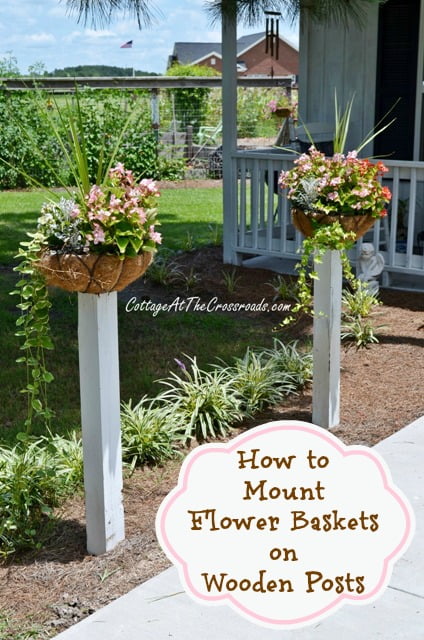 We put these baskets on wooden posts to line the sidewalk leading to my mother's apartment that is in our backyard.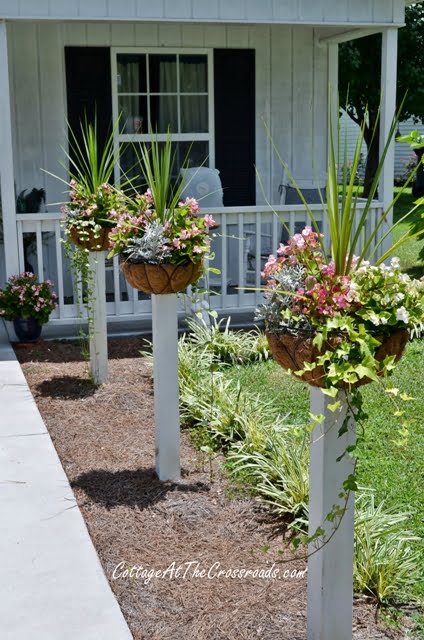 That was over 3 years ago before we started this blog so I don't have any pictures of us actually making these. But I'll do my best to tell you how we did them.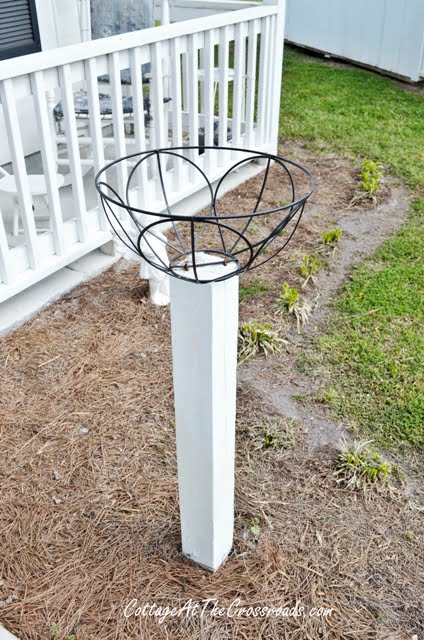 Leo started by purchasing 3 eight foot long treated wood 4x4s and then he cut them in half. Then he dug holes with post hole diggers about a foot deep. He added some Quikrete, water, and the posts and let the set overnight. Because he couldn't be entirely accurate about the height of each post when he was doing this, he waited until they were entirely set and cut them all off at the same height with the chain saw. Then he secured the metal flower baskets to the top of the posts with U-shaped nails (I don't know what to call those things but you can see them in the picture!)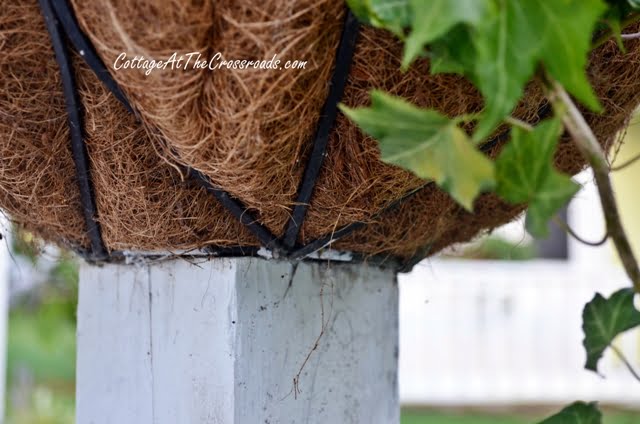 They have worked very well over the past 3 years because the metal baskets have not moved even in high winds.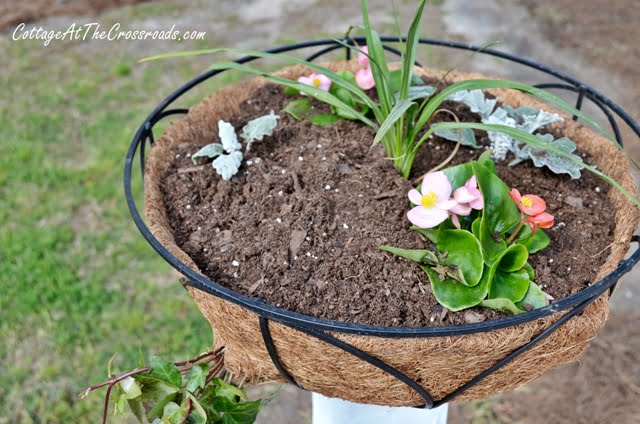 Each spring I replace the basket liners and put in new potting soil when I'm getting ready to plant some flowers. I've tried all sorts of different flowers and this year I've hit on a winning combination of plants that have looked good all summer. I placed a dracaena in middle of each basket and surrounded it with begonias and dusty miller.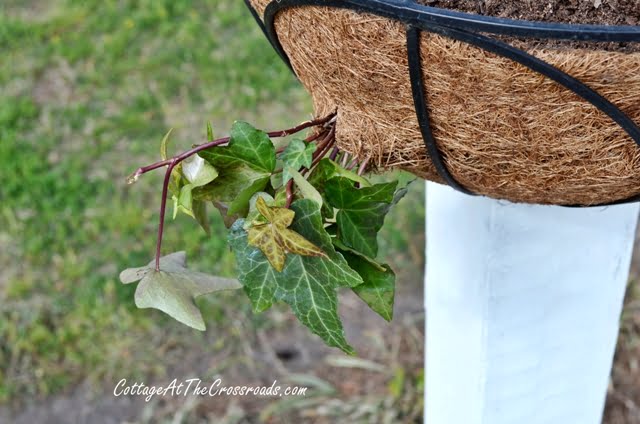 This year I tried something a little different. I cut a few holes in the basket liners and inserted some ivy and vinca.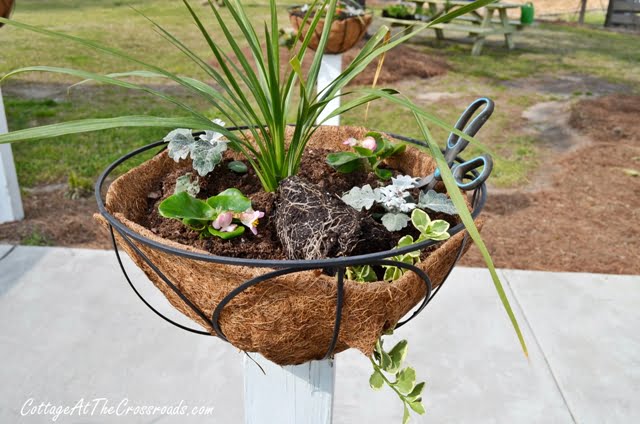 I just used my scissors to cut the holes. Here you can see where I laid the plant on its side to do this and pulled the top of the plant through the hole. Then I added more potting soil to cover the roots.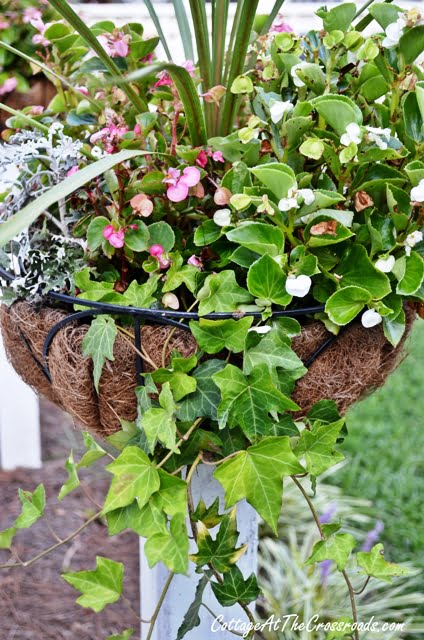 You can see how pretty the ivy looks spilling out of the side of the basket.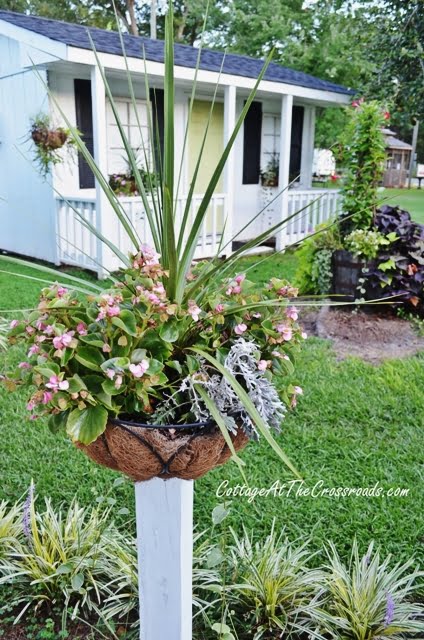 Everyone who comes to visit my mom comments on the baskets, and it gives my mother something pretty to look at when she's sitting on her front porch.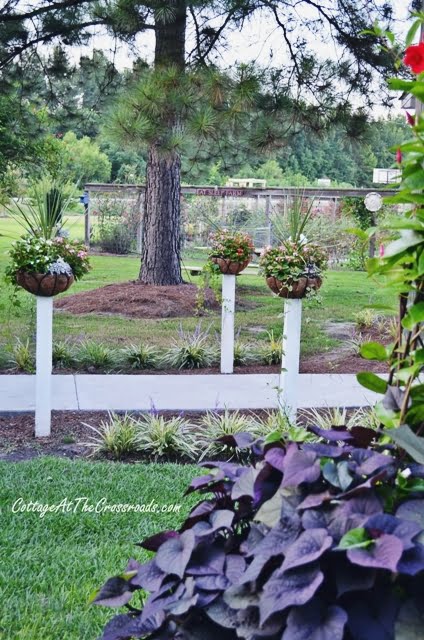 The only negative about doing something like this is that you do have to water the baskets every day in our heat. Luckily, we had a lot of rain this spring and summer and I got a break from watering!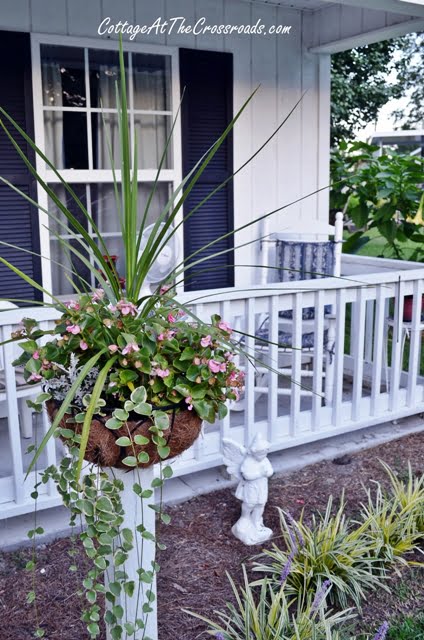 To keep the begonias from getting too "leggy" this summer, I pinched them off in July. I also trim the vinca to keep it off the soil at the bottom of the post. Vinca can become invasive and hard to control but it works just fine contained in the basket.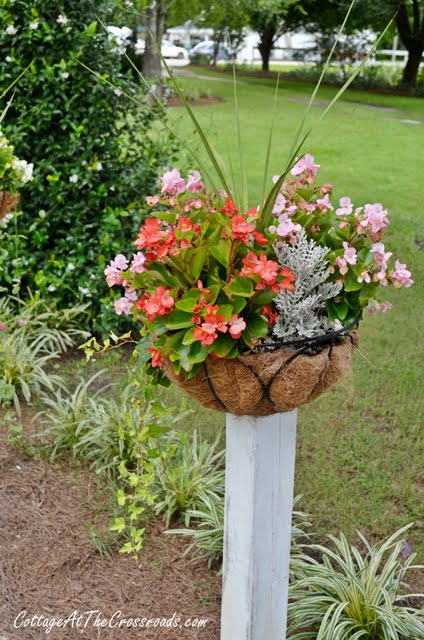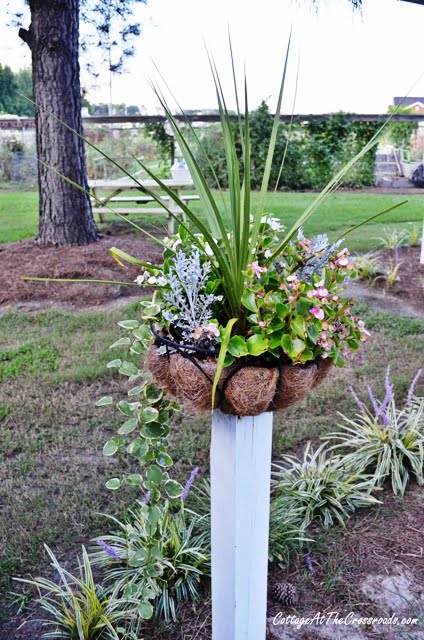 And I did fertilize the baskets in July to keep them blooming. This fall, I will pull out the begonias and dusty miller and replace them with pansies and violas which will bloom during the winter.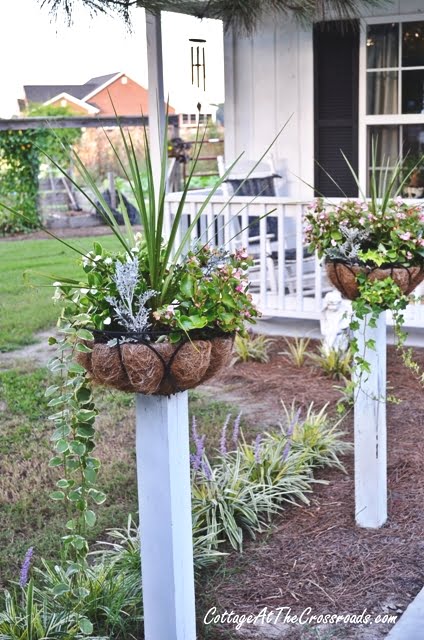 And I'm thinking about cutting more holes in the basket liner and adding more ivy. What do you think?