Mezoo Trailing Red, a plant that goes by many names such as Aptenia, Dorotheanthus, Heartleaf Ice Plant and many others, is a beautiful succulent and an outstanding performer.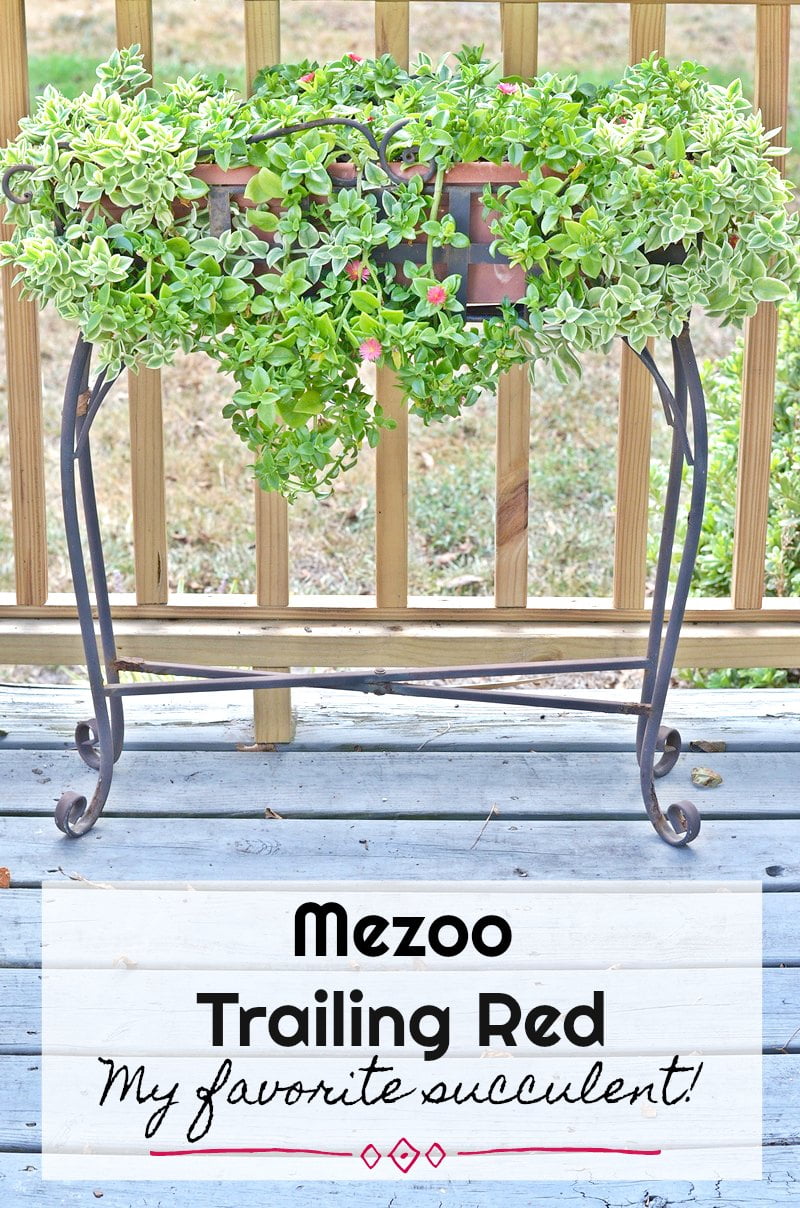 Hello friends! I hope that you enjoyed your Labor Day holiday. I always consider Labor Day to be the unofficial beginning of fall, but today I'm sharing a plant called Mezoo Trailing Red that has become my favorite succulent.
Now don't brush off this information because you've got your mind on fall. This plant that I'm telling you about can be grown indoors, too. If you have a sun room or even just a sunny window, you can grow Mezoo easily during the winter.
This plant goes by many names and comes in a variegated and non-variegated form.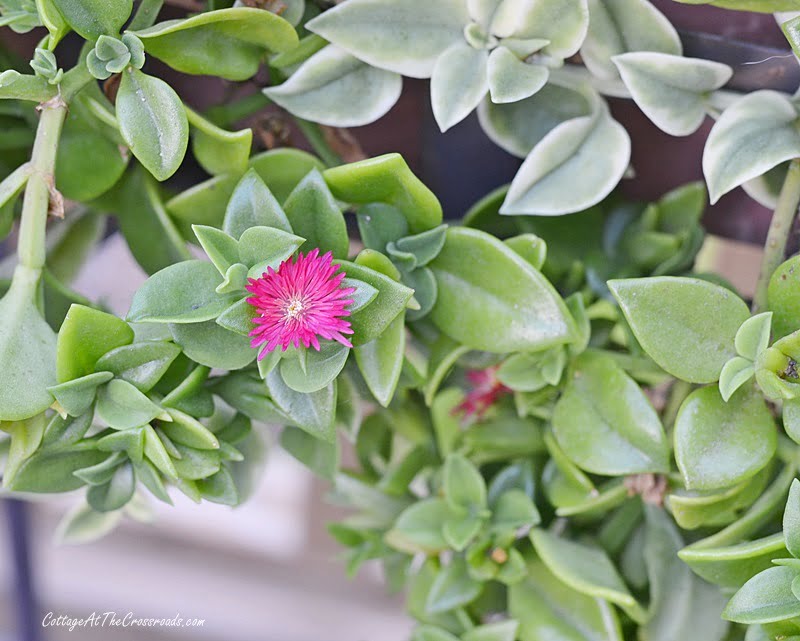 In the above photo, you can see silvery green leaves edged in cream as well as bright green solid leaves. I love both varieties equally.
One of the names that this plant goes by is Heart Leaf Ice Plant. The leaves are indeed shaped like a heart, and the stems are thick and rubbery.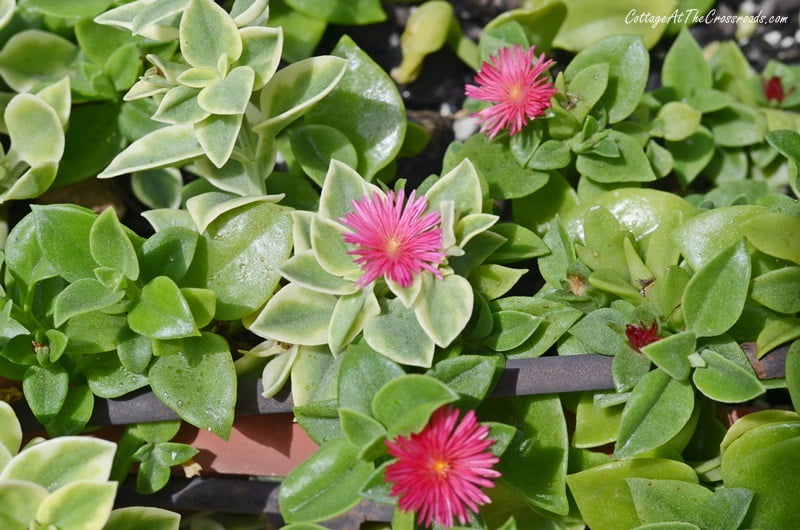 The dainty, dime-sized flowers are magenta colored and close up at night.
The botanical name of this plant is Aptenia cordifolia but in the garden industry, it is known as Dorotheanthus. Some of its common names are Baby Sun Rose, Dew plant, Red apple aptenia, Livingston daisy, and mezoo.
I first became acquainted with this plant last year when my sister-in-law and I were shopping at Forest Lake Garden Center. We both grew it last year and were impressed with its performance in our heat here in South Carolina.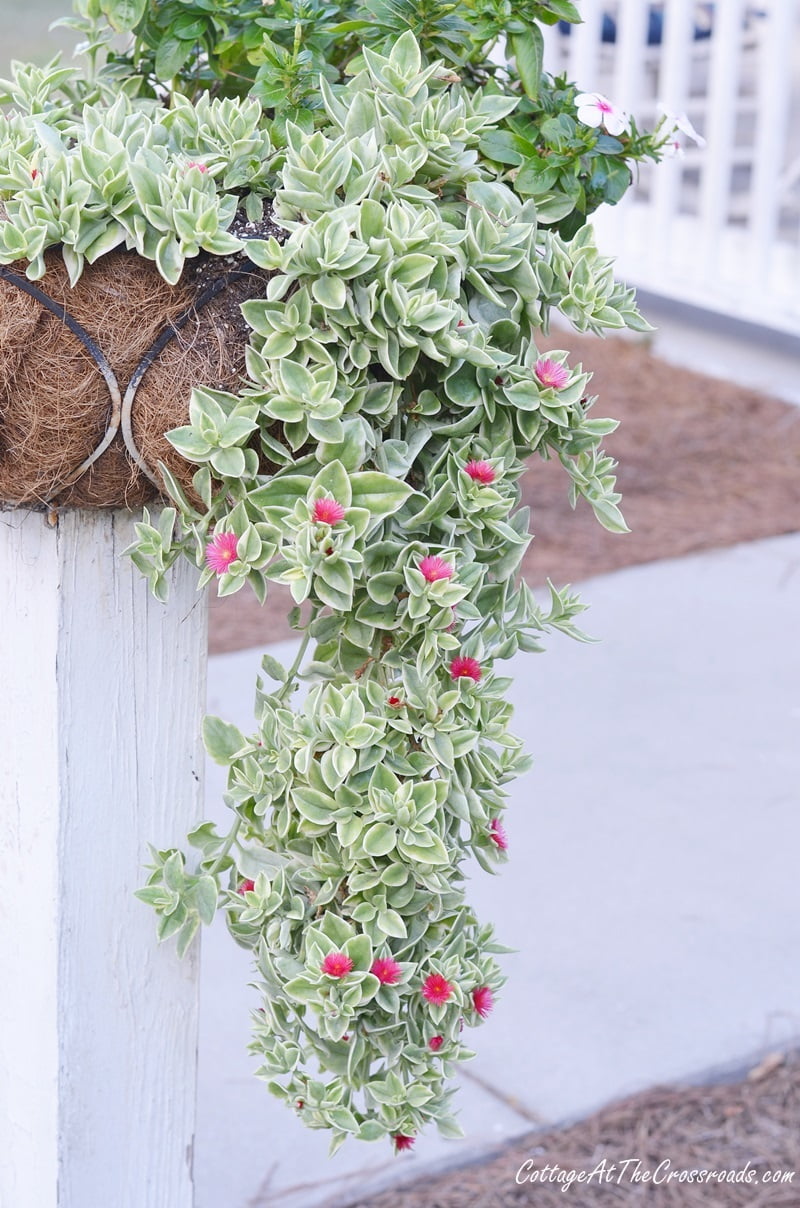 We both planted some again this year. You may remember seeing it in one of the flowers baskets on wooden posts earlier this year.
One of the things that I love most about this plant is its beautiful, trailing growth habit.
Not only is Mezoo Trailing Red is a perfect plant for window boxes, planters, and hanging baskets but it can be used as a ground cover because it sprawls and mounds. Just imagine how pretty it would look in a rock garden!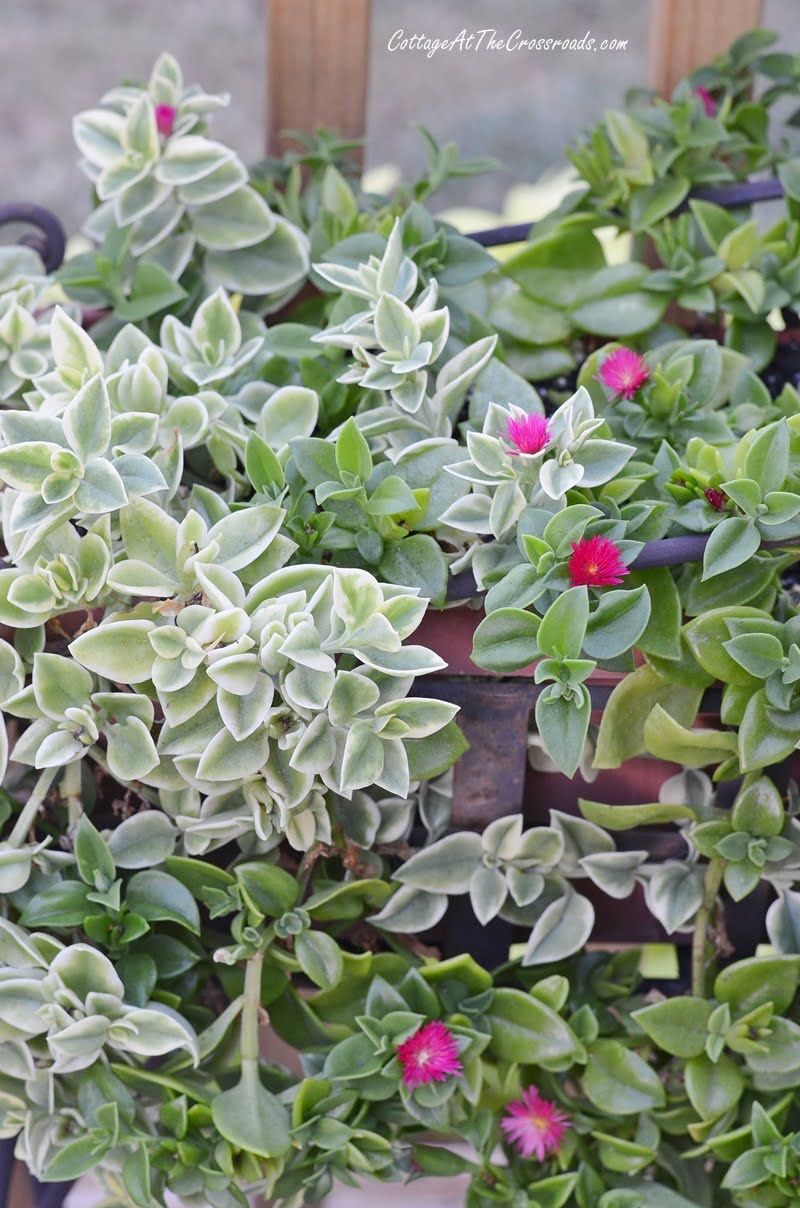 But what I have been most impressed about this plant is its heat, sun, and drought tolerance. It has been so hot and dry here in SC this summer, but as you can see from the photos, the Mezoo Trailing Red plants are still looking great.
Growing information about Mezoo Trailing Red
warm weather annual or a tender perennial
hardiness zones 9-11 but can be overwintered
thrives in full sun and partial shade
tolerates high heat
can be grown indoors in direct sunlight
safe for pets
needs well drained soil such as a cactus mix
water regularly but do not overwater; water only when soil feels dry
attracts bees, butterflies, and hummingbirds
do not overfertilize; may benefit from a light feeding occasionally
fast growing
spreads about 20-24 inches
height about 6 inches
very versatile; great plant for hanging baskets, window boxes, rock gardens, fairy gardens, mixed containers, strawberry pots, and as a ground cover
So in preparation for fall and winter, I am on a mission to save as many of these plants as possible.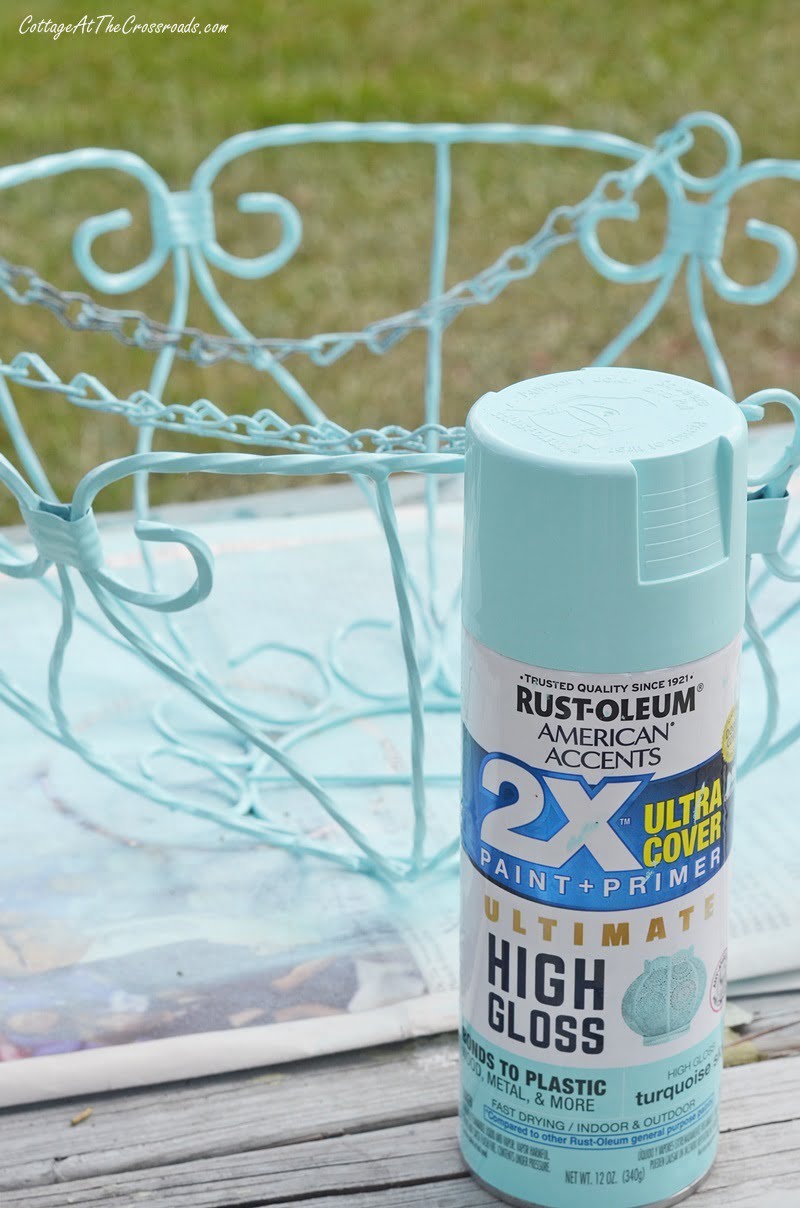 First, I spray painted an old, rusty hanging basket with this spray paint. I love the new, updated color which will go great on our front or back porch.
Next, I placed a new coir basket liner down inside and filled it with fresh potting soil. I already had 3 small plants that I purchased about a month ago so I planted those in the top.Then I took some cuttings from some of my other plants in order to propagate them.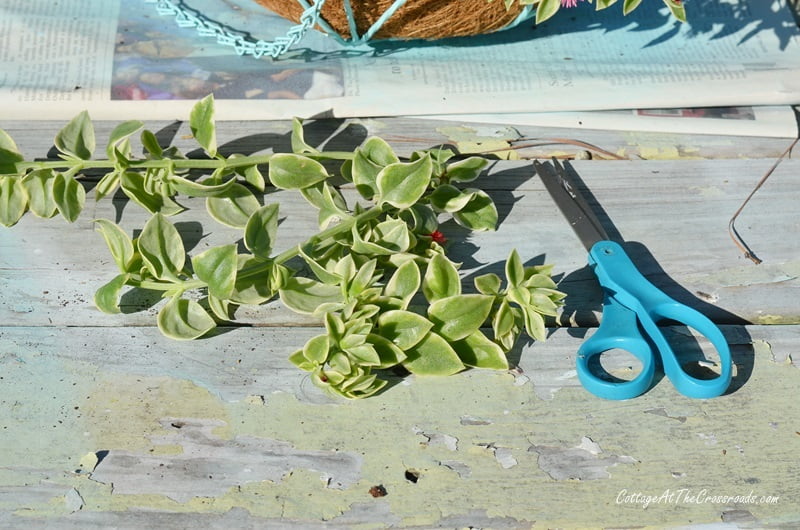 Propagation tips for Mezoo Trailing Red
It is very, very easy to propagate this plant. All you have to do is take some 5 inch cuttings, pull off the leaves on the lower end of the stem, and put the cuttings in damp, fresh soil. You don't even need any rooting hormone. How easy is that?
I know it works because I had already propagated some earlier this summer.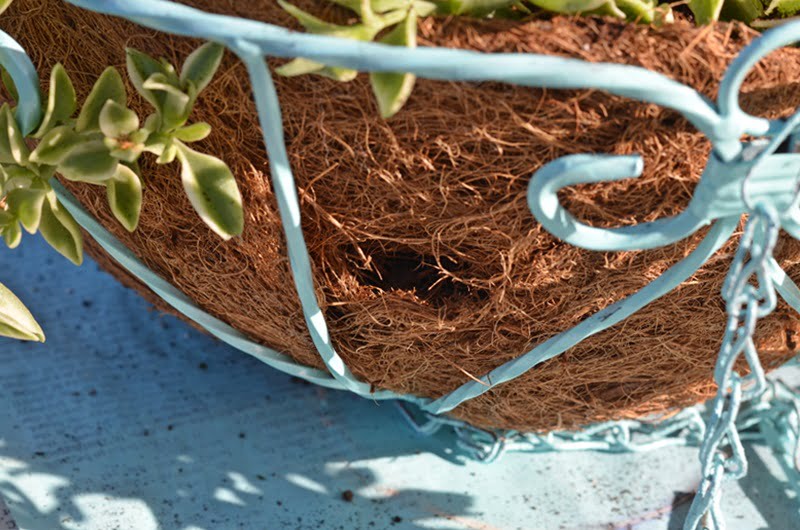 I created some holes in the side of the coir basket liner to insert some of the cuttings.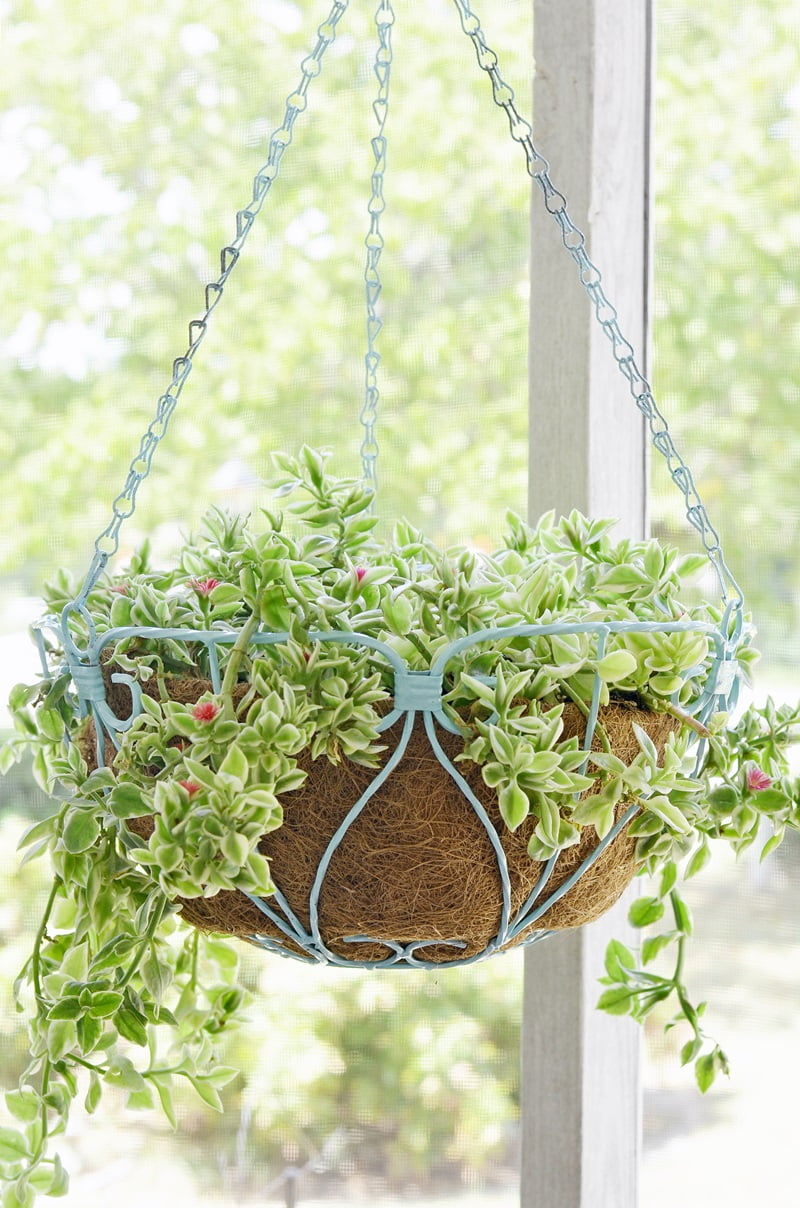 And now I have a beautiful hanging basket that will only continue to grow and fill in. When the night time temps drop below 50 degrees, I will keep it on our enclosed back porch where it will get plenty of sun during the winter.
I'm not sure how easy it will be for you to find this plant. I would ask about it at your local garden center. Either way I'd also check shop succulents as their inventory is constantly changing.
In the meantime, I'm getting our front porch ready for a Fall Ideas Tour that I'm on next week. And I'll be back tomorrow with a roundup of some awesome soup recipes.