I thought I'd bring a little spring into your life by sharing our Easter tablescape with you today. It's cold and rainy outside, but it's definitely springtime inside the cottage!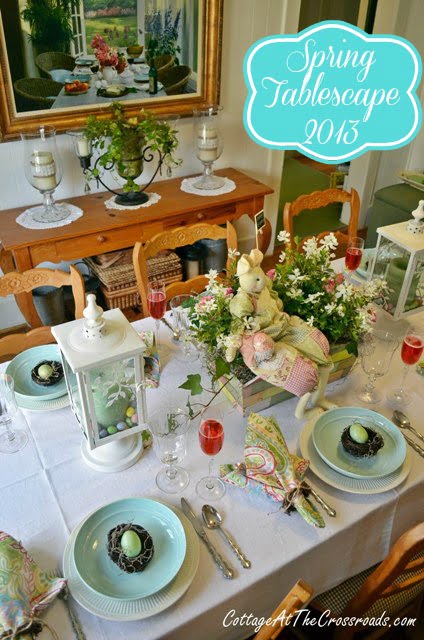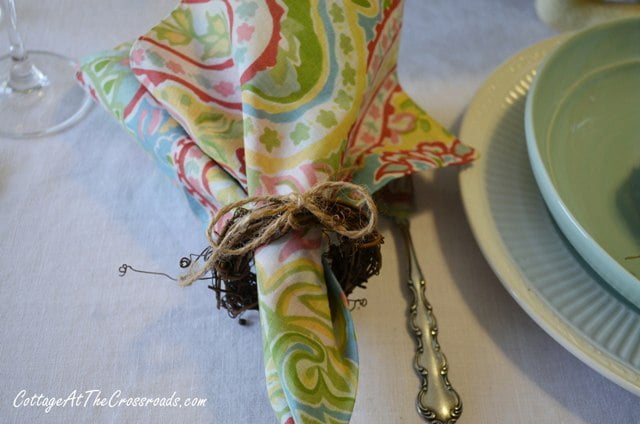 I have been slowing gathering some of the items I used in this spring tablescape over the past several months. It all started when I spotted these napkins in Belk's. It was snowing that day, but the colors in these napkins shouted spring to me and they were on sale! I've used these miniature grapevines as napkin rings in previous tablesettings. This time I just tied a little twine bow on them.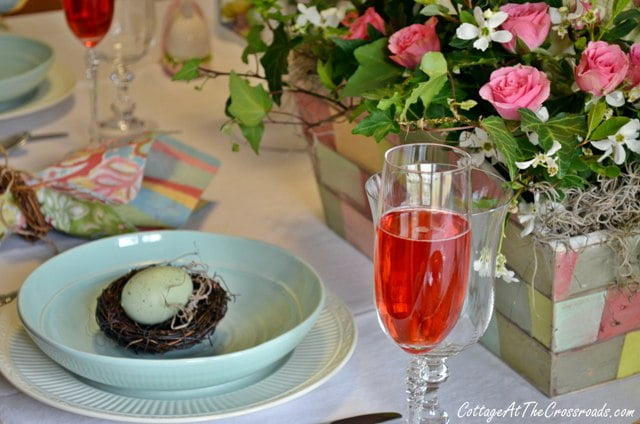 The napkins are reversible with a pretty stripe on the other side that you can see in this photo.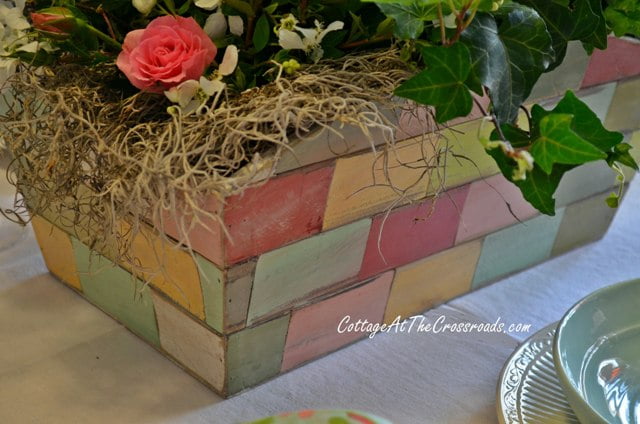 About a month ago, I saw this wooden basket in Tuesday Morning, and I knew it had all the same spring colors in the napkins. I couldn't get to the register fast enough! It looks like the rectangles are just painted on, but they aren't. Each rectangle is an individual painted piece of wood. I think it's made from shims because just recently, I've seen some other things online made from them.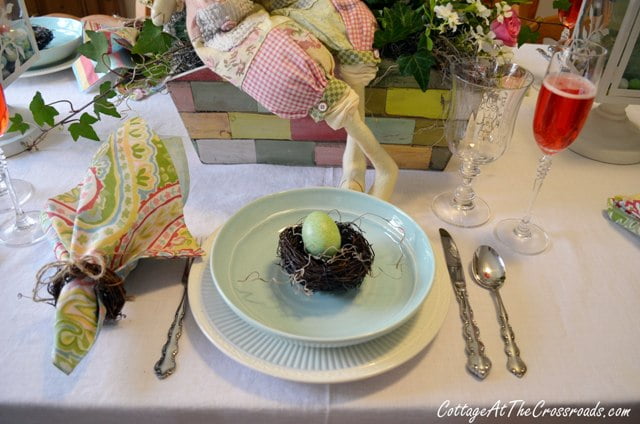 This white linen tablecloth was a thrifty score last fall, and you can read more about it in my post Cotton on our Thanksgiving Table. The white dishes are Italian Countryside by Mikasa, and we use them everyday. The goblets and champagne glasses are by Mikasa, too. I bought them years ago at the Mikasa outlet near Charleston, SC. The flatware is by Oneida but I do not know the pattern.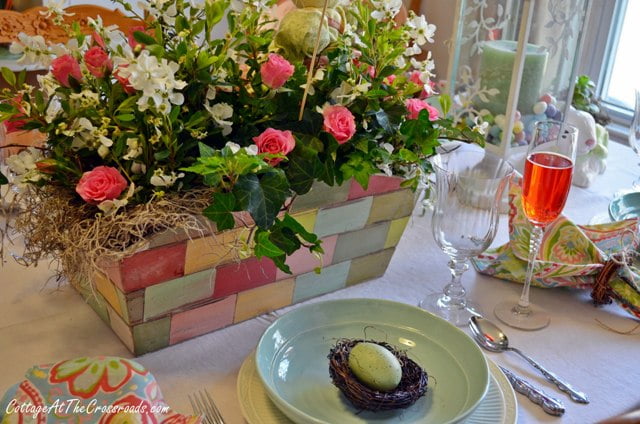 The aqua bowls are a recent purchase from HomeGoods. I had met some of my Bunko friends for lunch in Columbia, SC last week, and I promptly put them in my buggy. My sister-in-law gave me the nests in each bowl, and the faux eggs I've had for years.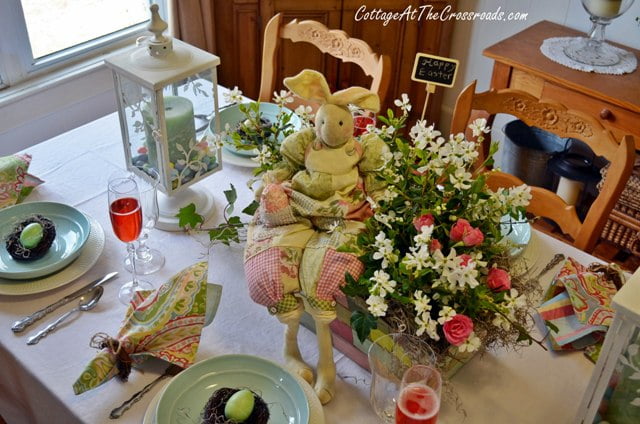 In creating the centerpiece, I decided that I would use this fabric bunny whose outfit is a perfect match to the napkins. This is the same bunny that one of my cats fell in love with last year. This year my cat will have nothing to do with this bunny. I guess that was SO last year!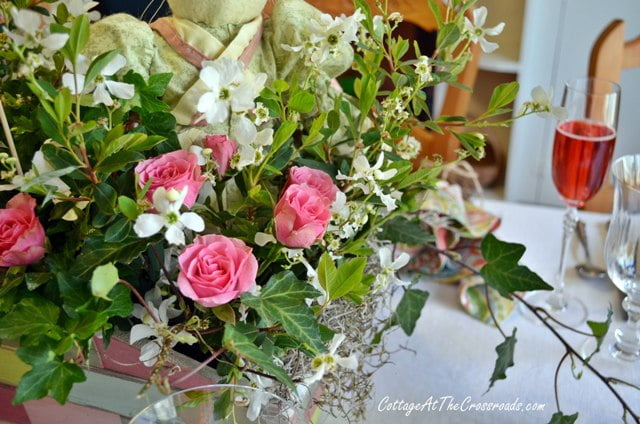 I picked up these pretty pink roses to tuck into the centerpiece since I don't have many blooming things in my garden yet.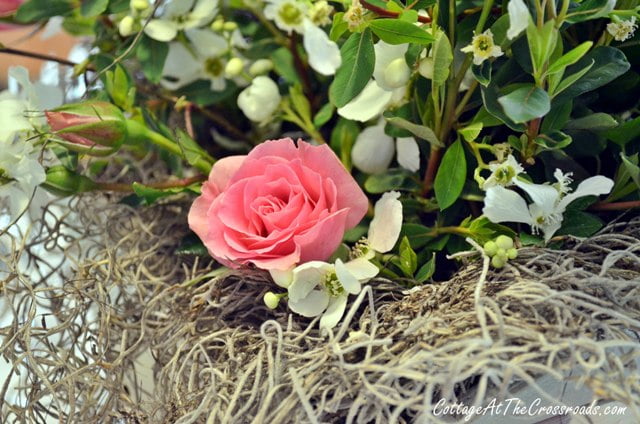 The roses are small, and there were several of them on 2 stems that I bought at Wal-Mart. I cut the white flowers from a shrub in our yard. I have no idea what it is, but the flowers have a wonderful fragrance. When we moved to the Crossroads, this bush was overgrown and straggly, and we nearly removed it. But pruning and fertilizer have worked wonders on it. Can anyone identify it?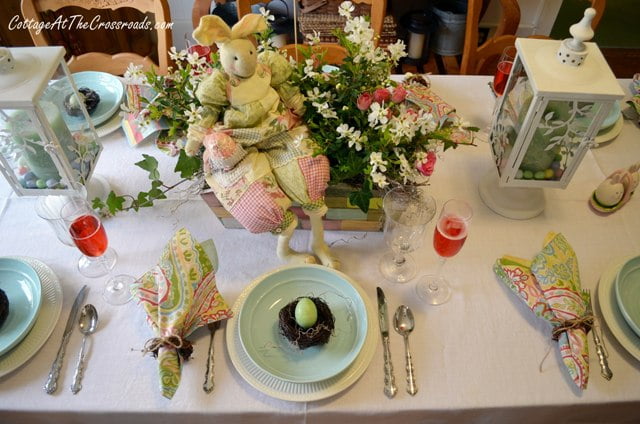 I wondered how long the white flowers would last, but they've been cut for 3 days now and they still look great!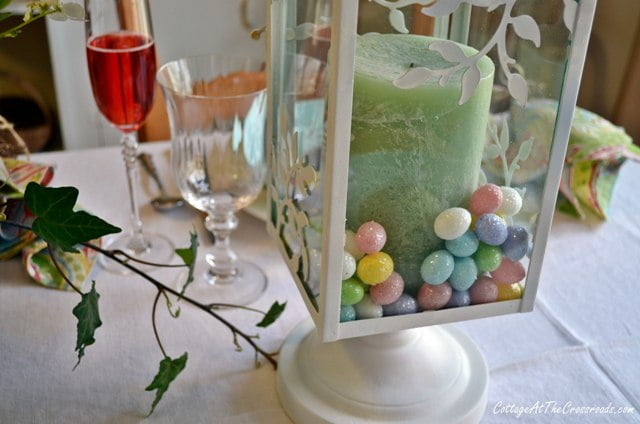 I used these white lanterns in our Valentine's Day Mantel, but with a quick change of a candle and some glitter eggs, they transformed into Easter magic!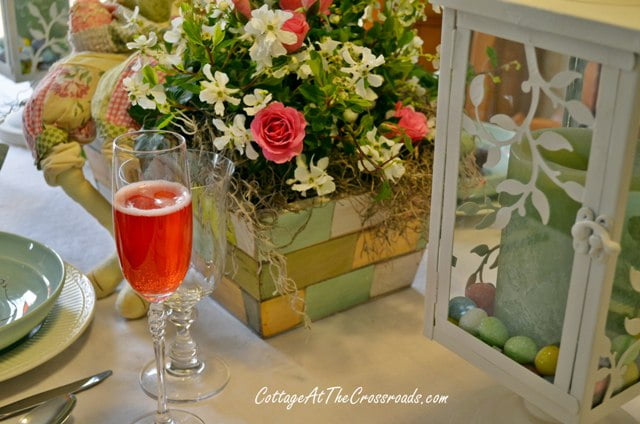 You're probably wondering what kind of bubbly drink I have on the table, aren't you? It is simply sparkling apple cider tinted with red food coloring. It is a very refreshing non-alcoholic drink that you can use to make a toast to spring!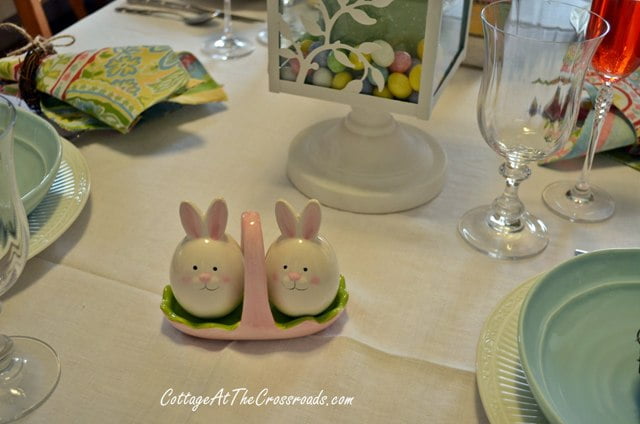 The bunny salt and pepper shakers complete my Easter tablescape, don't you think? I found them on sale at Hamrick's this week. ADORABLE!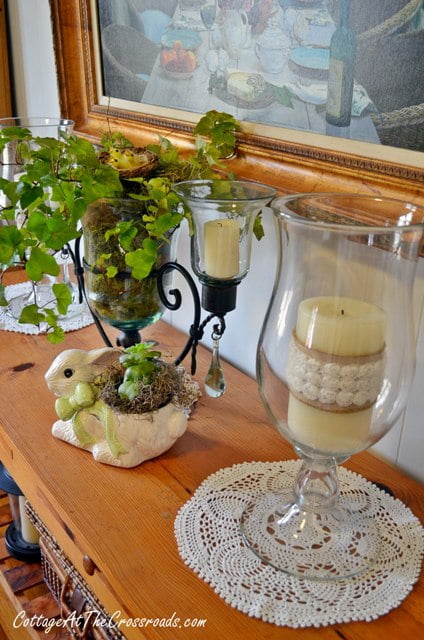 The sideboard got spring-i-fied with this little bunny planter. Can you see the little nest tucked into the ivy?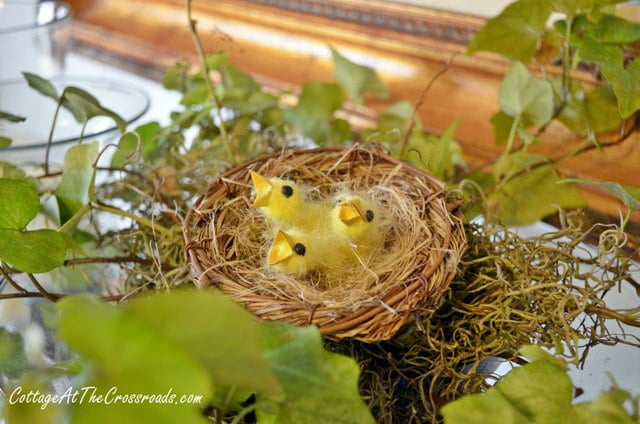 Don't those baby birds look real? I couldn't resist them when I spotted them at World Market!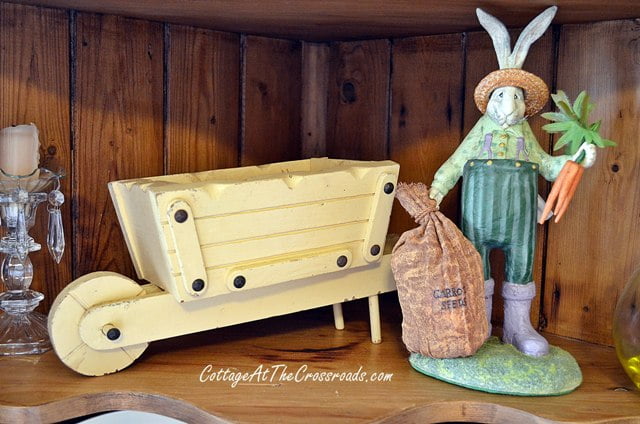 Farmer Bunny is hanging out in the corner cabinet along with a little wheelbarrow that I found at the auction.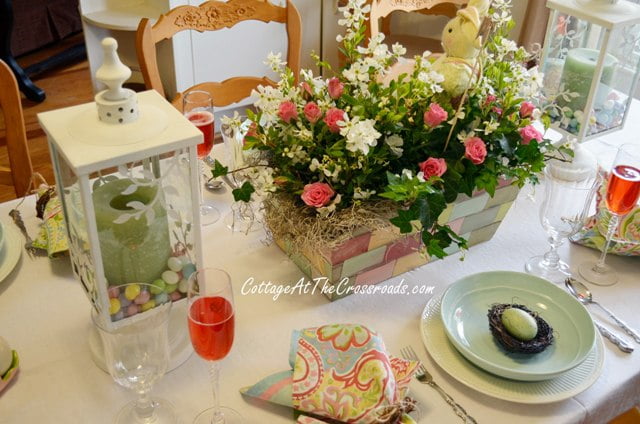 I hope you've enjoyed seeing our Easter tablescape. It should put a little spring in your step!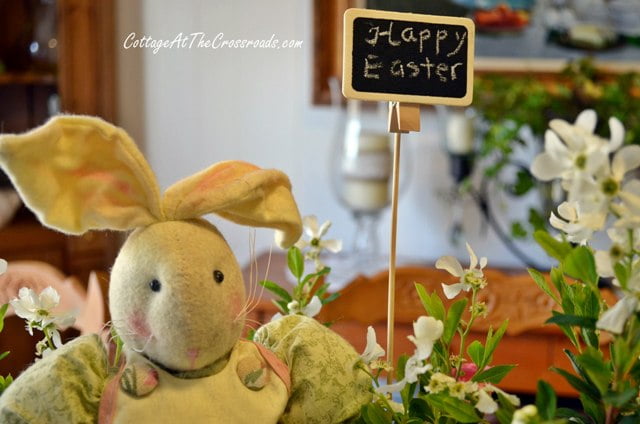 The bunny says it all, don't ya think?