I'm excited to tell you about a project I've been working on for a few weeks. It's our potting bench redo which now has a cute, flirty skirt! If you remember, we had this outdoor potting bench built a couple of years ago because I wanted a sink in the garden. Well, it has certainly been handy, but it had become a little unsightly because all the things that we store on the shelf were visible. So as part of our "prettying up the garden" plan, I decided that the bench needed a skirt.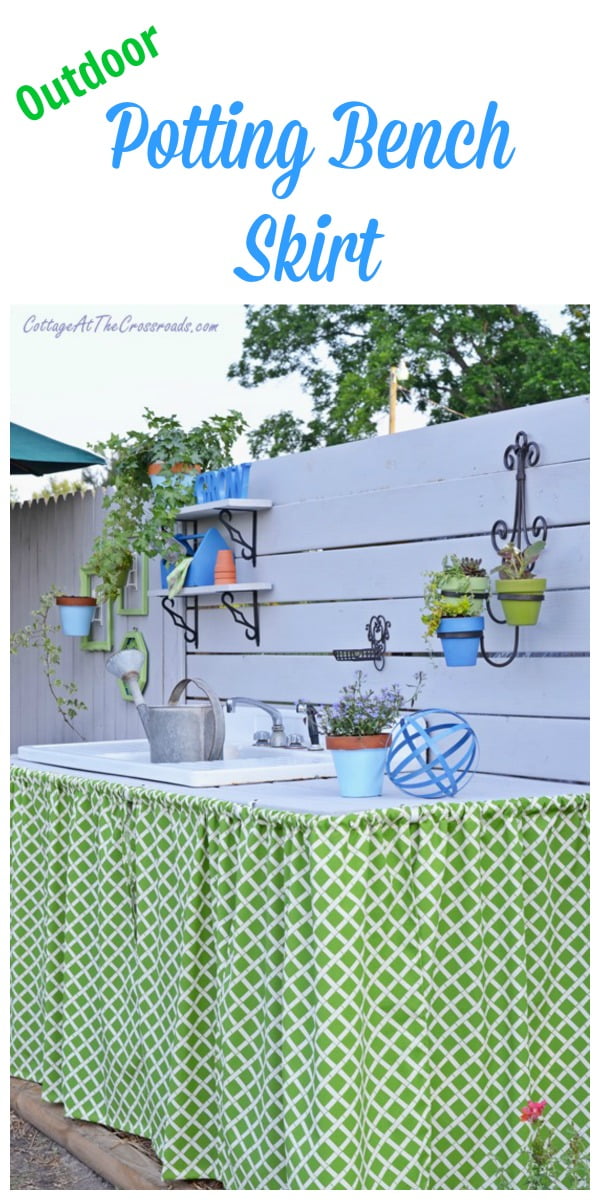 It was about the same time that I was contacted by the Online Fabric Store asking if I might have an outdoor fabric project. DID I? Why, yes, I knew exactly what I wanted to do. I was so lucky to be able to work with the Online Fabric Store and Premier Prints for this project because they provided the fabric! Isn't it pretty? If you aren't familiar with Premier Prints and their fabulous selection of fabrics, you need to check them out at Online Fabric Store. Many of the fabrics are on sale right now including this Premier Prints Outdoor Cadence Greenage fabric that I selected for my project.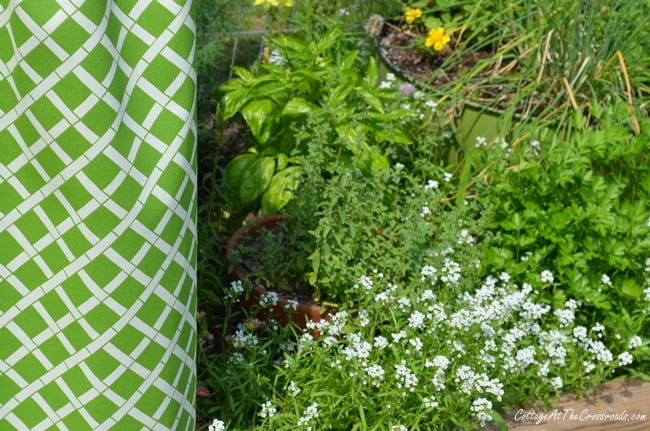 I chose this fabric because it's almost the same shade of green of most of the herbs in my little herb bed beside the bench.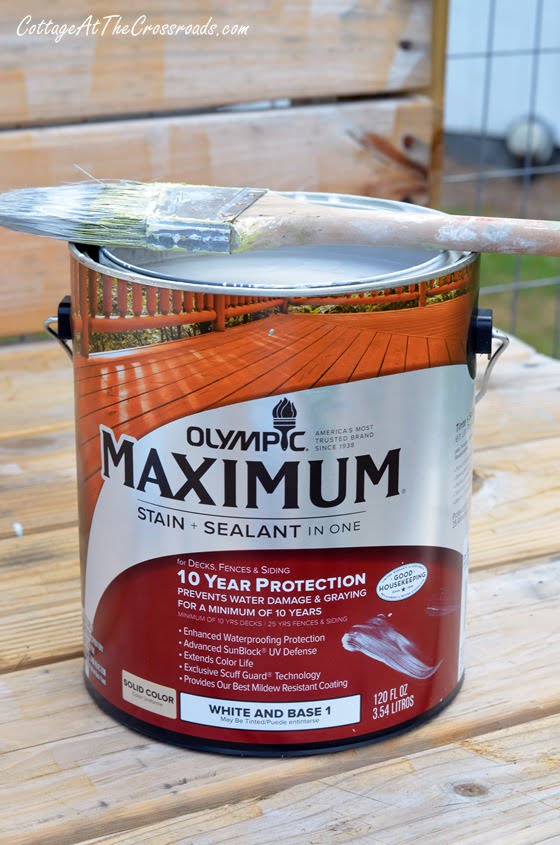 So before the fabric arrived. Leo pressure washed the bench but I wasn't liking it's uneven natural color. I picked out a solid stain in Cape Cod Gray and stained the bench. I was going for that silvery gray color that treated wood eventually weathers to, but I didn't want to wait years for that to happen.
After the fabric arrived, I delivered it to my friend Brenda and asked her to cut it into 6 panels with a little rod pocket and hem. (I don't have a sewing machine, but I have good friends! Hehe!)
Meanwhile I ordered some curtain rods from Ikea. They are powder coated steel rods that are inexpensive and have a corner connecting piece so that we could make it one continuous rod around the bench. (We installed these rods on our front porch last year and they do not have one bit of rust on them from being outside. )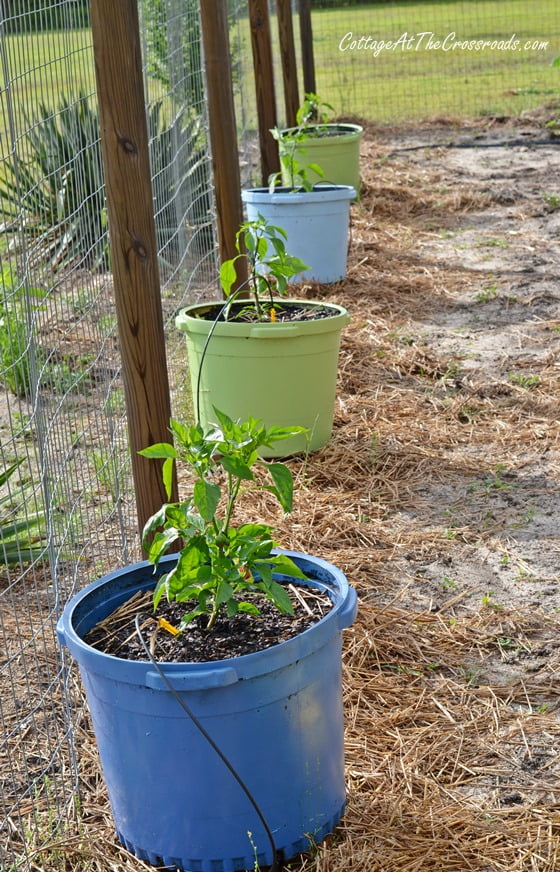 While waiting on the skirt to be made and the curtain rods to arrive, I got busy spray painting some pots and accessories to use on the bench. Earlier this spring, we had freshened up these painted plastic pots by repainting them in shades of blue and green so I had plenty of spray paint in these colors.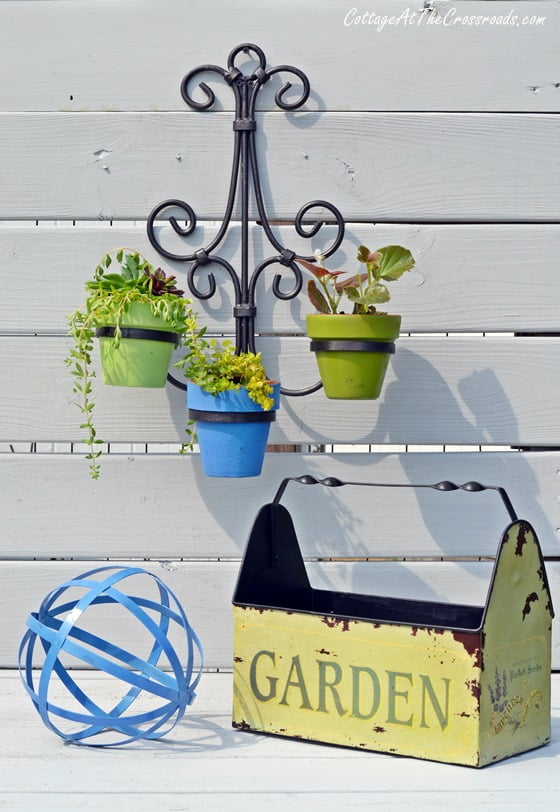 Here is a little blue orb and some small pots painted in those colors.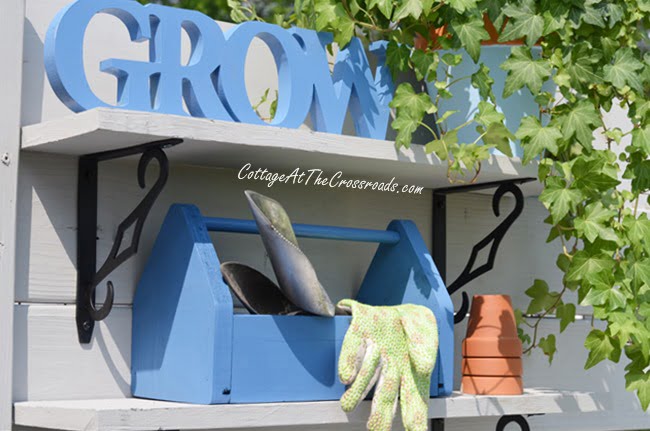 Leo added these two shelves so that I'd have a place to store my trowels and other tools decorative items.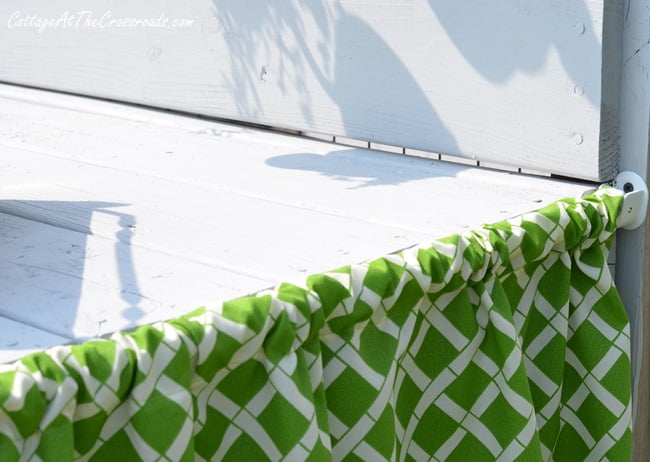 Here you can see how we placed the end brackets to hold the curtain rod when the skirt was ready.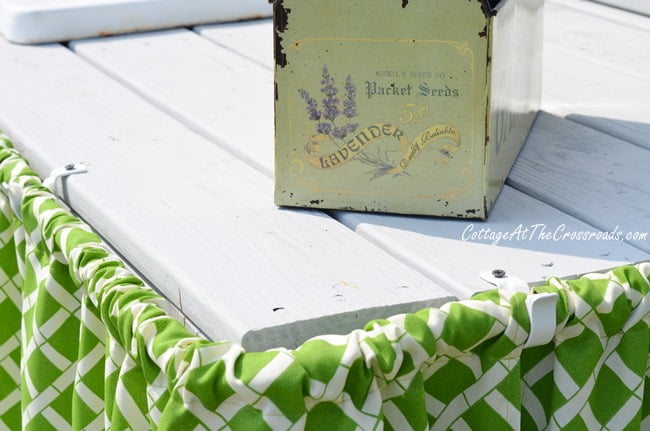 Other brackets hold the rod securely in place while a corner connecting piece bends around the corner.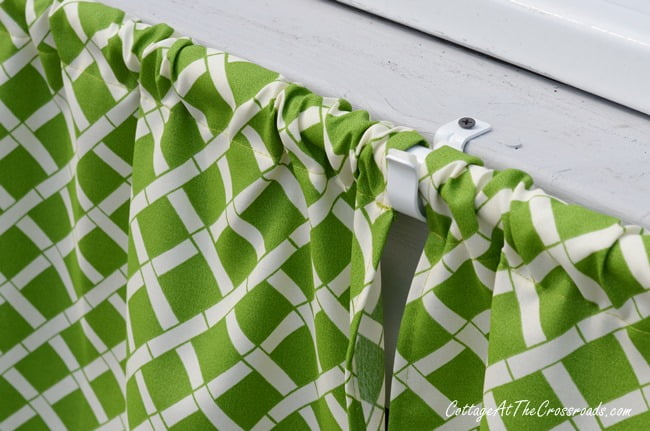 The panels meet at each place where there is a bracket.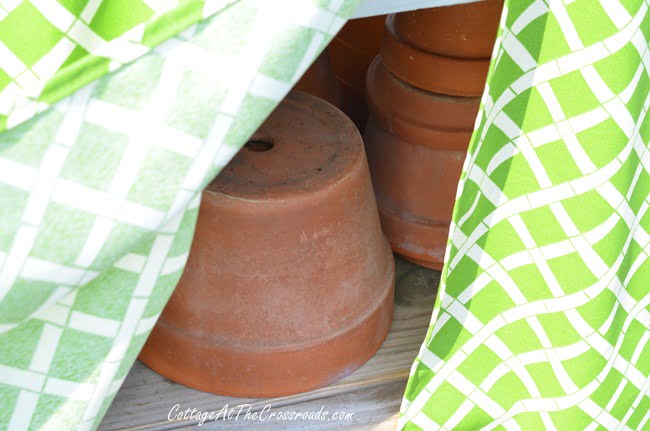 The openings allow for easy access to pots and supplies that are stored on the shelf underneath the bench.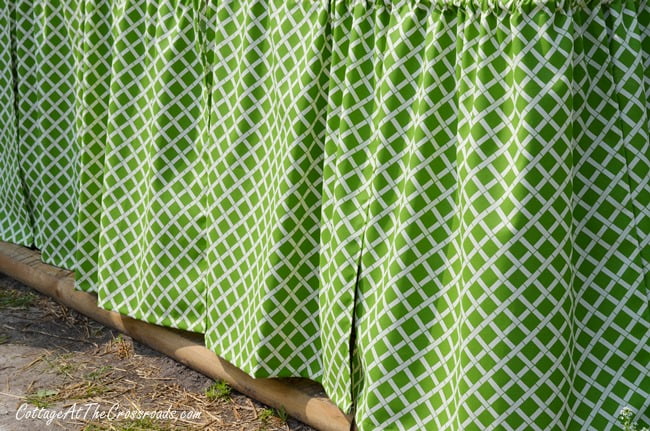 The skirt is not touching any soil. There are landscaping timbers all around the bottom along with landscaping fabric covered with straw. There is some soil in front of the sink, but we have sprigged some centipede grass in that area which should cover the soil soon.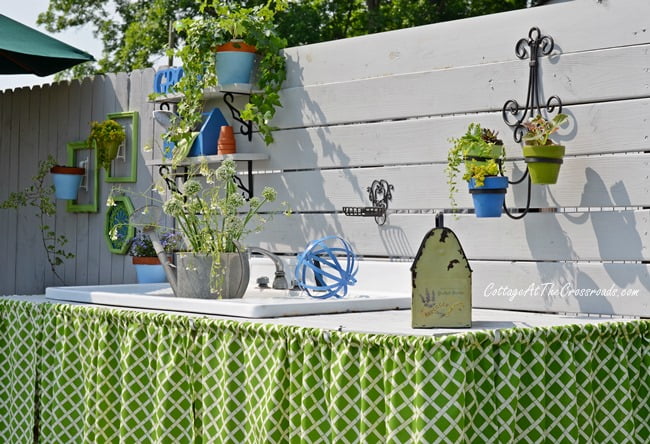 Isn't it pretty? You can see a few things that I've put on the wooden fence panels that we added to this corner a few months ago. And the vintage watering can got an impromptu floral arrangement of onion and arugula flowers growing in the garden.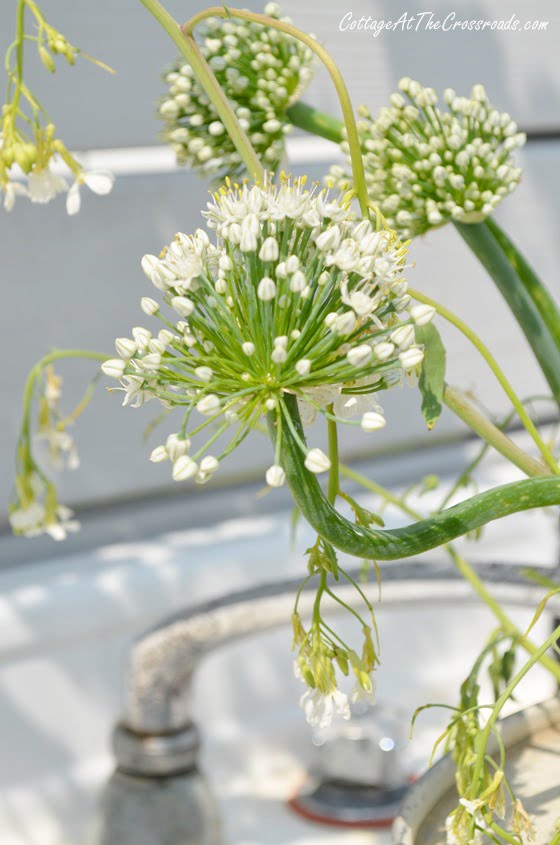 Have I mentioned how pretty I think the onion flowers are?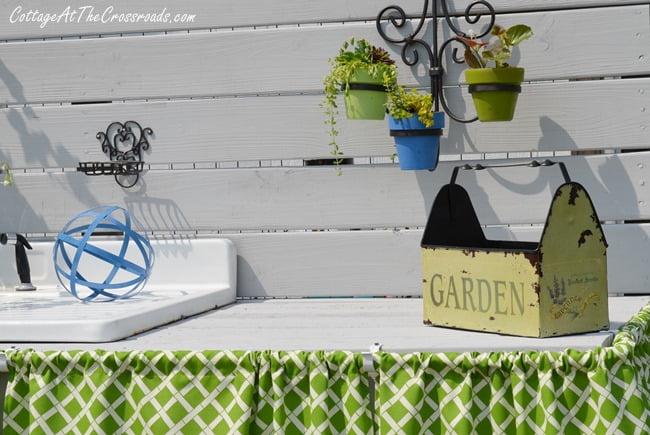 See the little tote that says "Garden?" We're going to start selling those in our shop soon.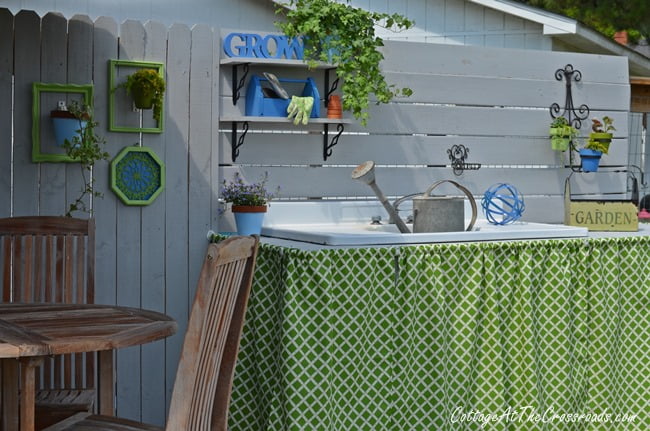 I have more plans for turning this corner into an outdoor eating area so that we can enjoy the garden fully. But right now, I'm just amazed at what the potting bench skirt has done for this area.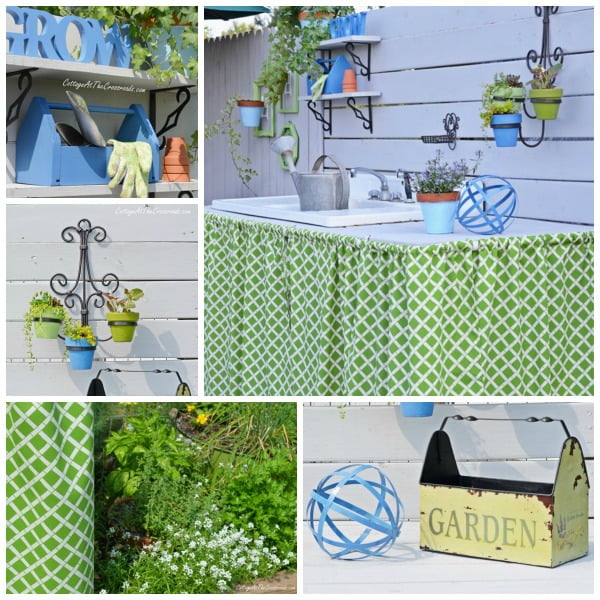 I'd like to thank the Online Fabric Store and Premier Fabrics for sending me this gorgeous fabric. (I had a little bit left over, so check back soon to see how I'm using a little more of it.)