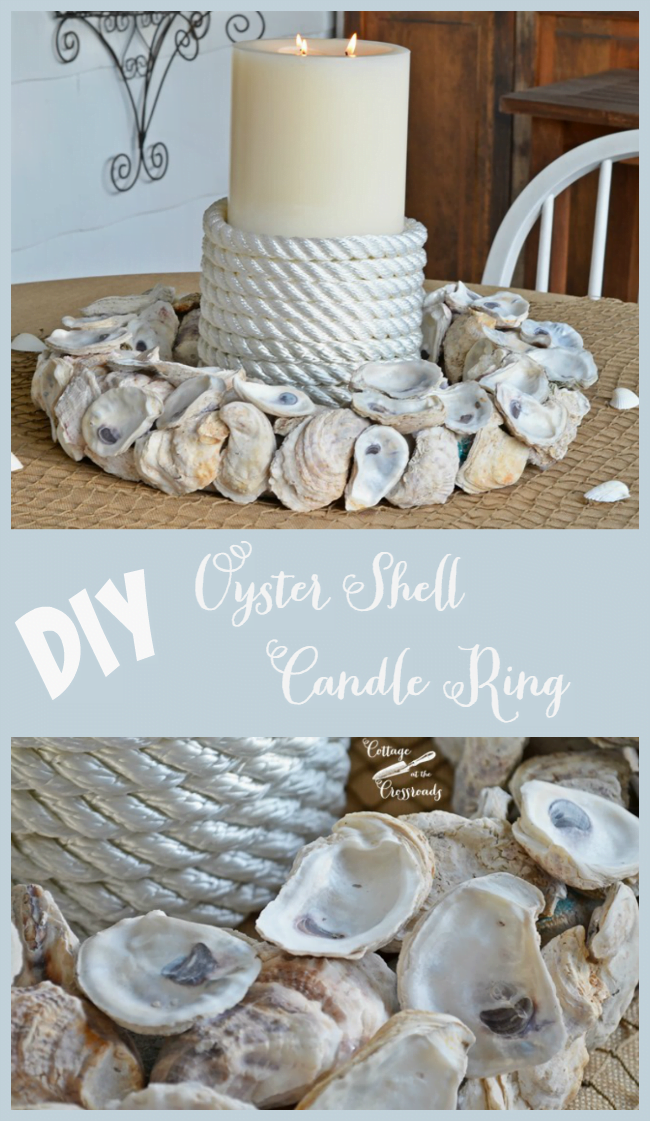 Hi there, everyone! Can you believe that it is almost Memorial Day weekend? The upcoming weekend always signals the start of summer for me. And when I think about summer, I always think about great times spent at the beach. Do you have some seashells that you have collected on beach trips? If so, you're in luck because a group of my blogging friends and I are sharing some seashell crafts this week as part of a 3 day tour of seashell crafts hosted by Kathy from Petticoat Junktion. Today I'm sharing how to make an oyster shell candle ring.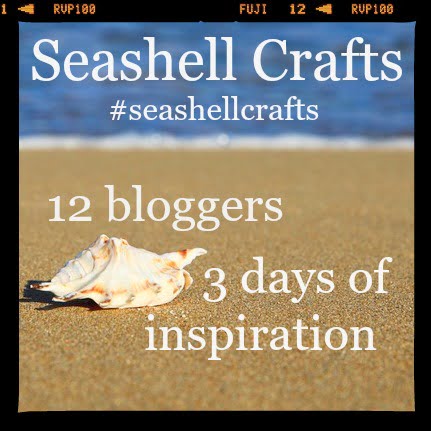 This post may contain Amazon or other affiliate links. As an Amazon associate, I earn from qualifying purchases. If you purchase anything through any affiliate link, I may earn a small commission at no extra charge to you. All opinions are my own.
For the summer, I love setting out a bowl of seashells or displaying them on our mantel.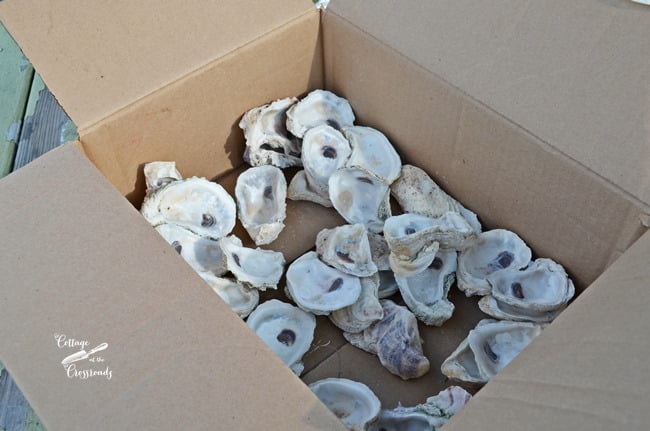 I remembered that I had a box of oyster shells left over from an Oyster Shell Mantel Display that I did a few years ago, but I realized that I didn't have nearly enough shells to make a candle ring. So I walked next door to where some shells had been thrown after an oyster roast and scooped them up. Since they had been there for a while, they were a little dirty, so I put them in a bucket with a small amount of bleach and enough water to cover them.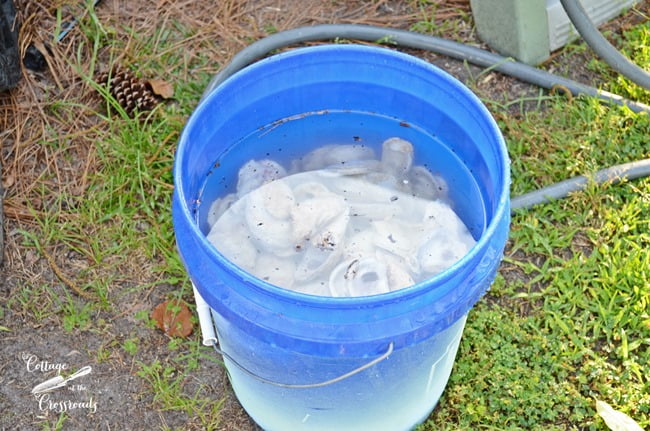 Now, if you bleach your shells, be careful not to add too much bleach to the water or it will eat off the pretty pearlescence! After the shells soaked for a while, I rinsed them off and set them out to dry.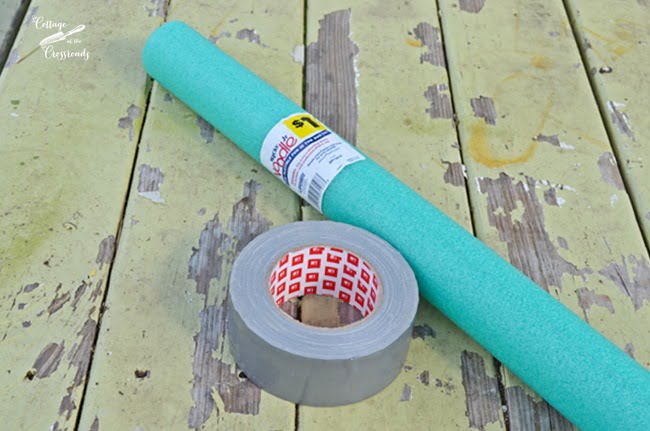 After the shells were dry, I got out a pool noodle and some duct tape. Do you remember when everyone was making wreaths with pool noodles a few years ago? Well, the noodle makes a great, inexpensive base for this candle ring.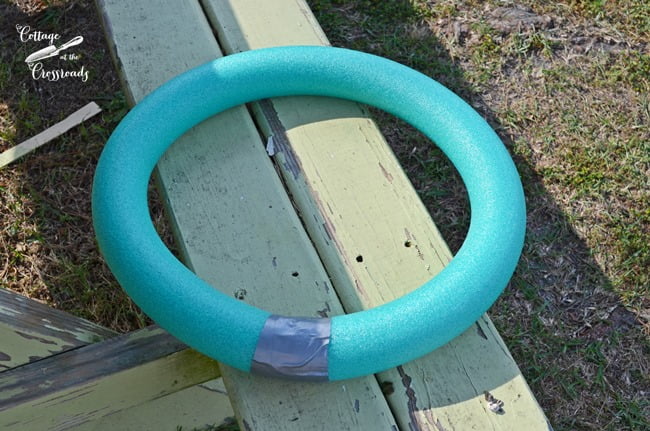 All you have to do is the connect the two ends with some duct tape. Be sure it's nice and secure by using several pieces of tape. The candle ring that I made is nice and large, but if you wanted to make a smaller one, all you would have to do is to cut off one of the ends of the noodle to get the circumference that you want for your ring.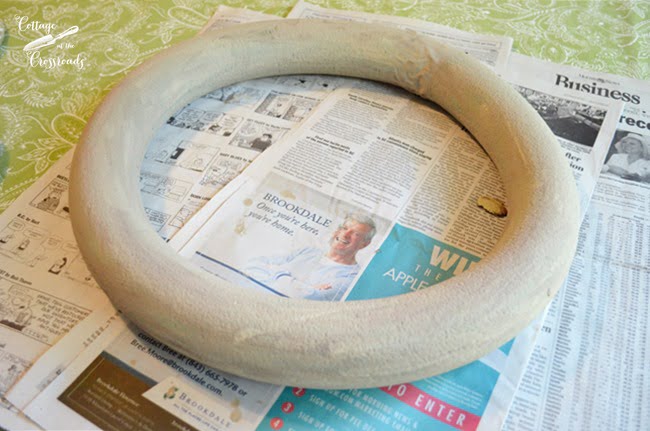 I decided to paint the noodle with a coat of some chalk paint that I had on hand just so you wouldn't see the green underneath my shells.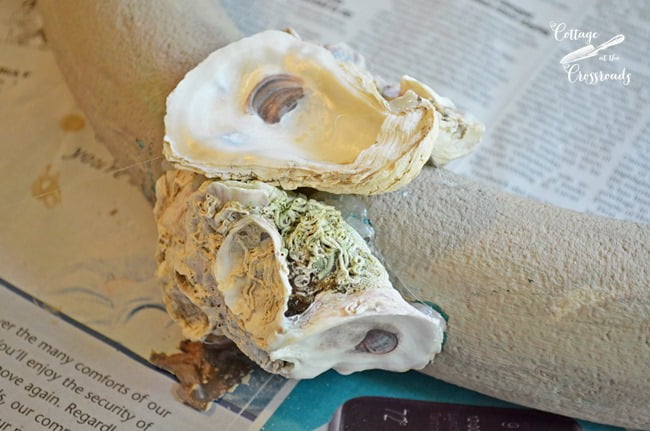 Out came the glue gun and I started attaching the shells around the wreath. I used about 75 shells on my large wreath which made it VERY heavy, but I was able to pick it up and move it without any trouble.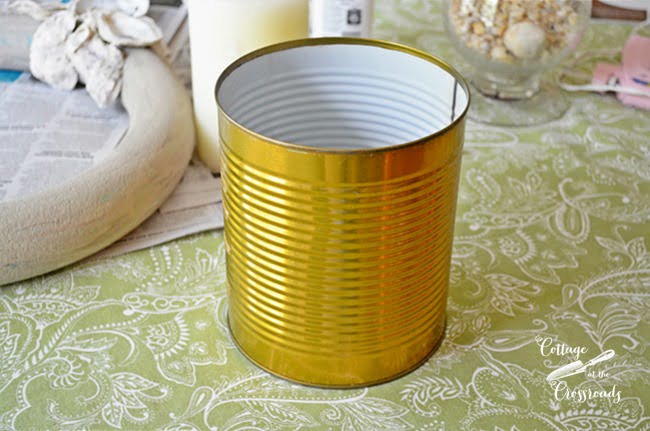 Since the ring was quite large, I decided that I needed a large base for the candle. I remembered that I had one of these large, aluminum cans.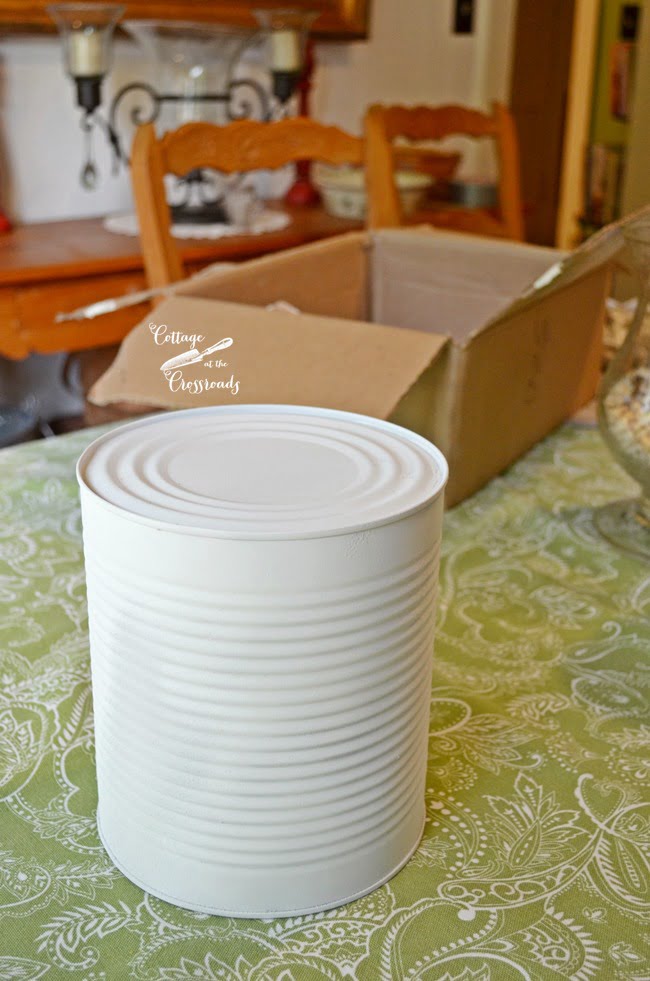 I spray painted it with flat white paint.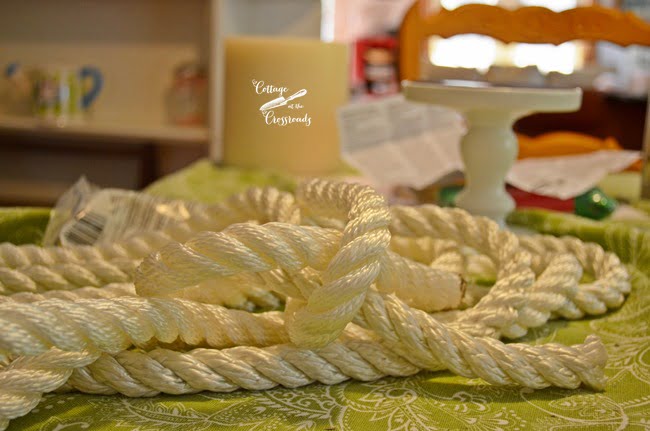 I also had this white nautical looking rope left over from another project that I decided to wrap around the can. The rope came from The Home Depot where they cut it into whatever length you need.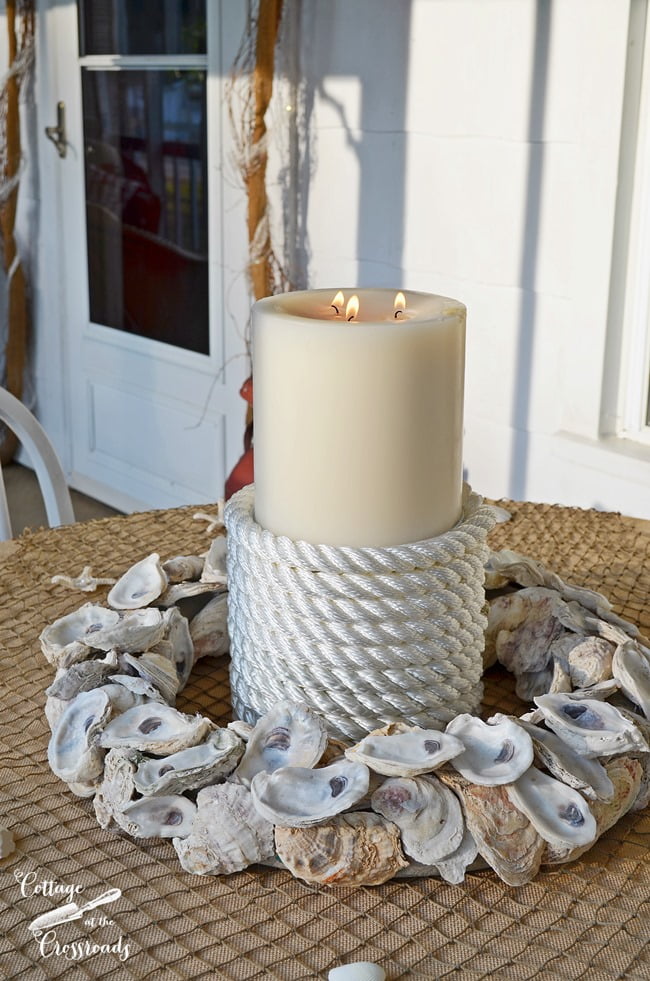 A candle with a 6 inch base sits perfectly on the top of the rope-covered can.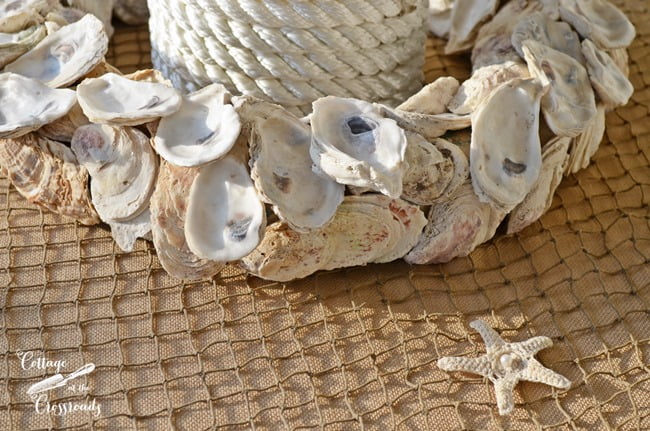 Underneath the base, I added the fishnet that I used on our sea inspired mantel display last year.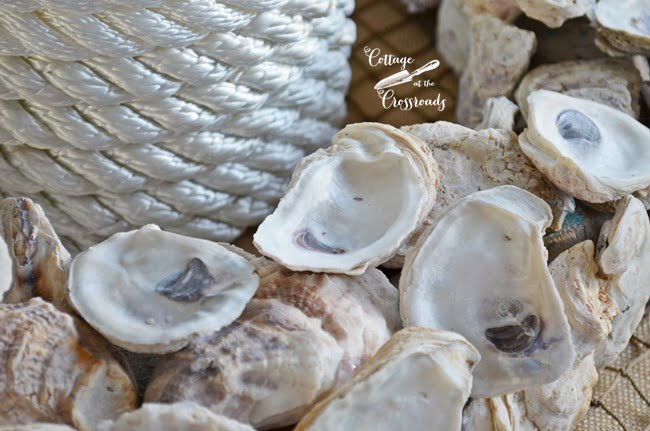 The shininess of the rope matches the pearly inside of the shells, don't you think?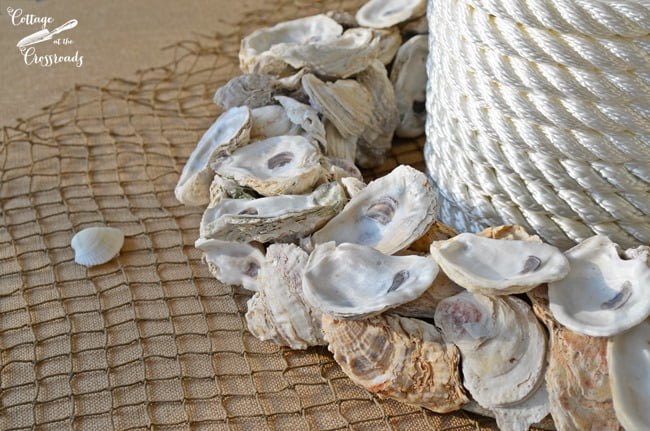 A perfect centerpiece for a summer party!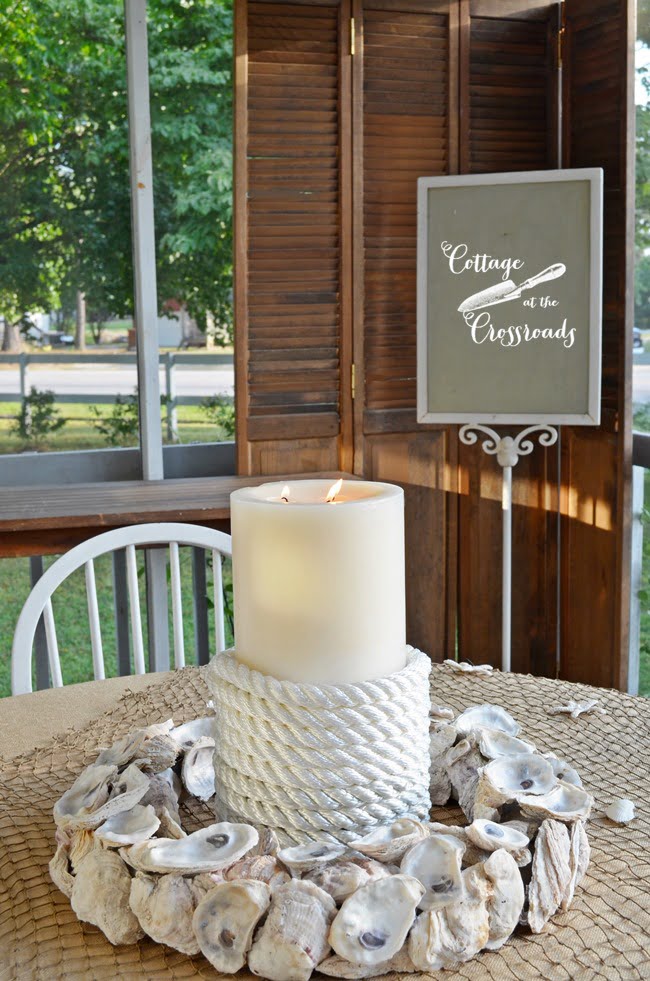 You can get more summer seashell inspiration by clicking on any of the links below.
Monday
H20 Bungalow
Yesterday On Tuesday
Tuesday
Artsy Chicks Rule
Cottage At The Crossroads
Confessions Of A Serial D0-it-Yourselfer
Wednesday
The Kim Six Fix
Our Southern Home