I have solved a decorating dilemma around our house. We have a flat screen TV mounted above our mantel, and it has always perplexed me how I could decorate around it.  Recently I came upon the solution, and it works like MAGIC!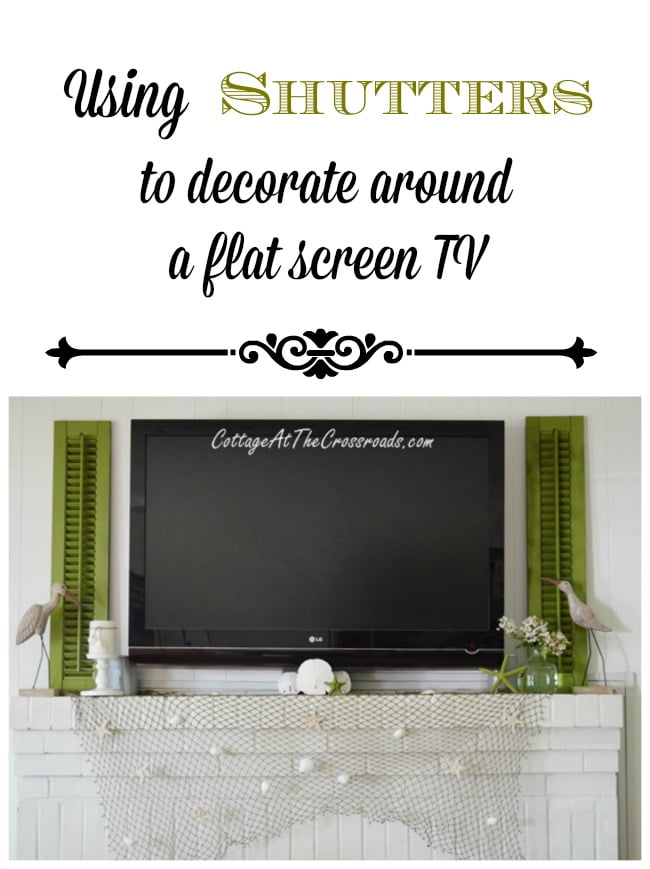 Just use some wooden shutters to frame that big, ole black box!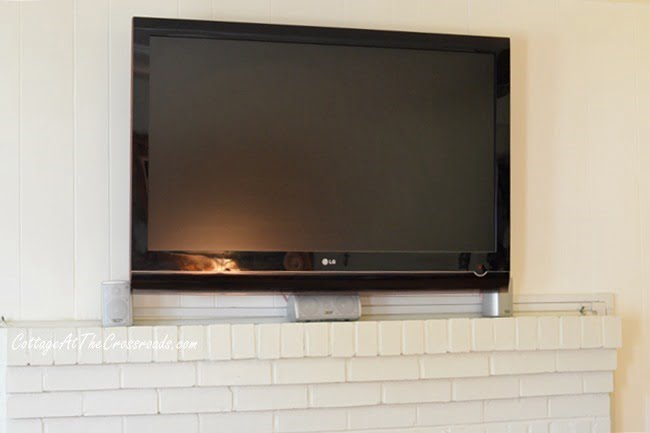 See the difference? Here's the mantel all cleaned off, ready to be decorated for mid-summer. I have to work around the little speakers on top of the mantel, and I'm usually pretty good at disguising them without interfering with the sound quality.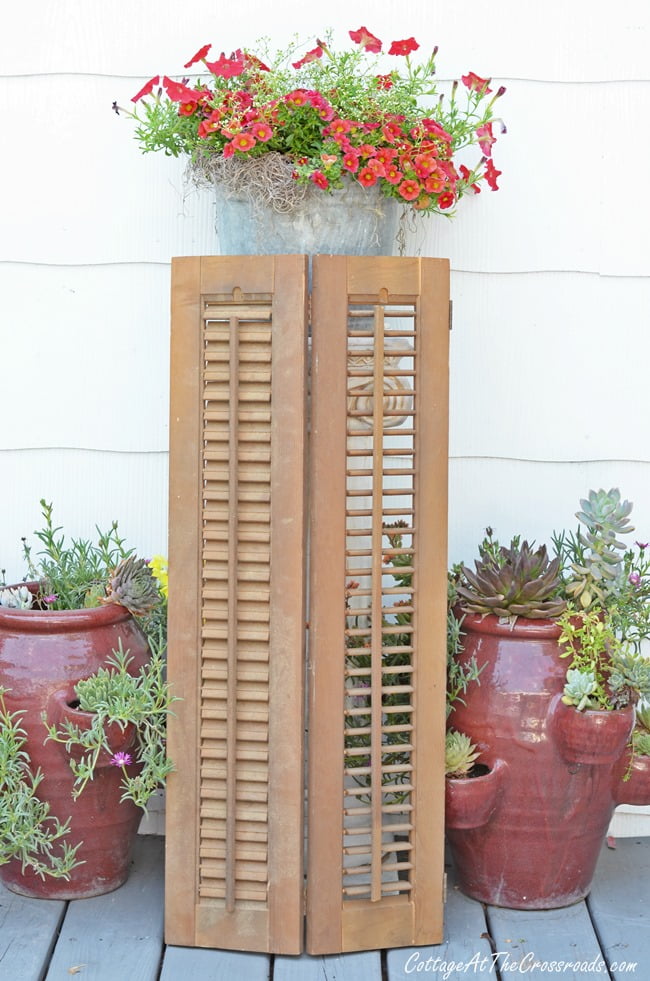 So about a month ago, I spotted a stack of old wooden shutters at the auction. I got these taller ones in addition to some shorter ones for $5. I bought them because I've been noticing other bloggers were using them in decorating, but I wasn't quite sure how I was going to use them yet. They were very dirty so they all got a good washing. I took this taller pair apart by unscrewing the hinges, and then I got the idea to put them on the mantel .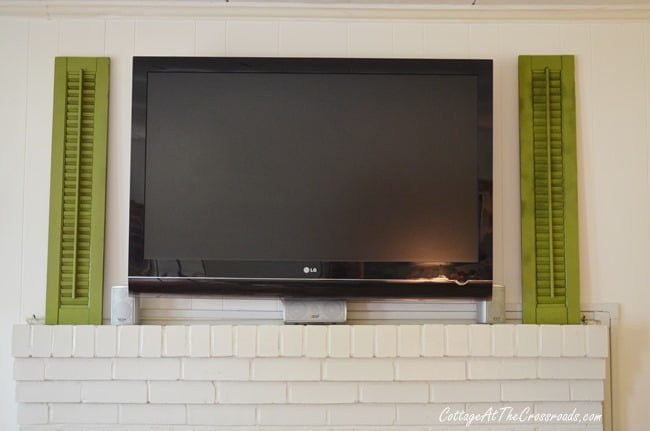 I happened to have some pretty green paint (Rust-Oleum's Ultra Cover spray paint.) The name of the shade is eden. Don't you just love that name? So they got painted and propped here on the mantel, and I could instantly see how the shutters framed the TV. I was loving the new look!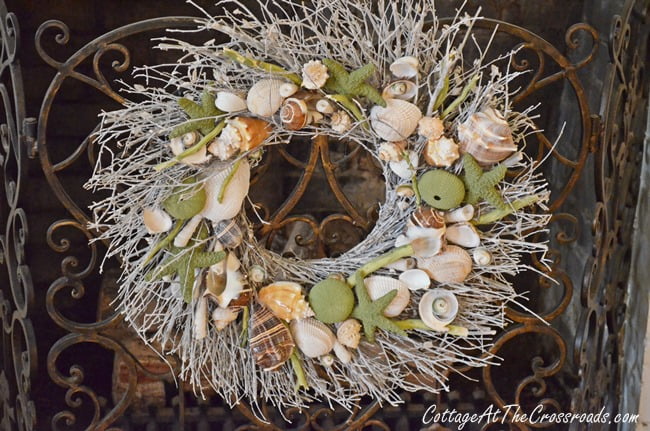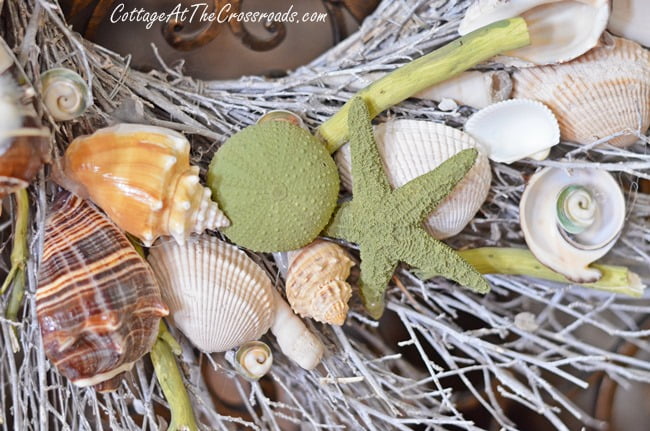 It was about the same time that I spotted this seashell wreath in Bed, Bath, and Beyond. And some of the shells were already painted green! I normally make all my own wreaths but when I saw this one, it quickly jumped into my buggy!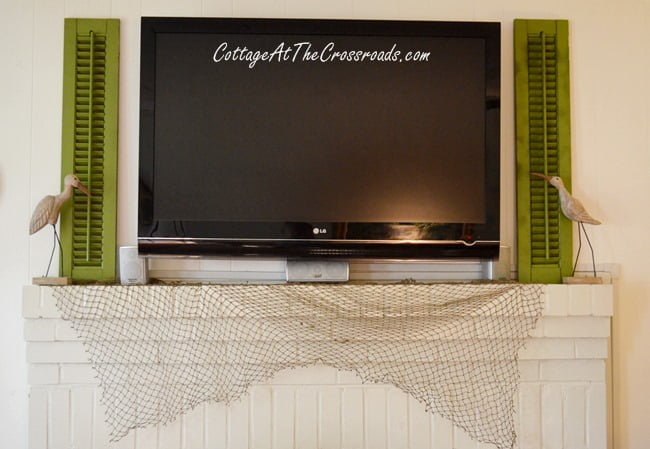 After my sister-in-law Jean saw my green shutters and my wreath, she came back over with these wooden shore birds from her stash. Perfect! To add to the beachy theme, I hung a fish net from the mantel.
I had ordered these crocheted starfish from Erika's Etsy shop KnellyBean earlier in the month, so I just hot-glued them to the fish net along with some other small shells.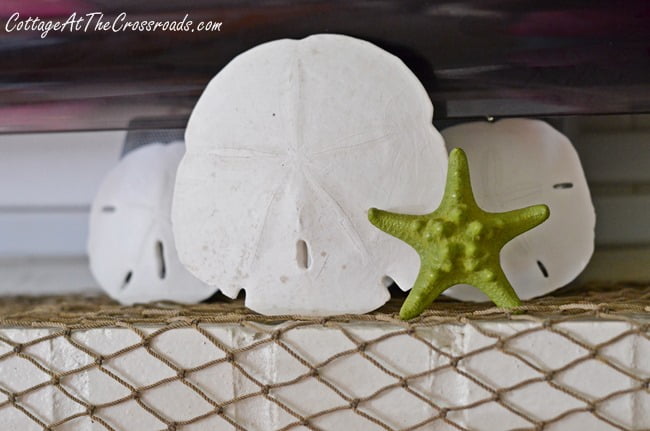 The middle speaker got camouflaged with these sand dollars and a starfish that I spray painted.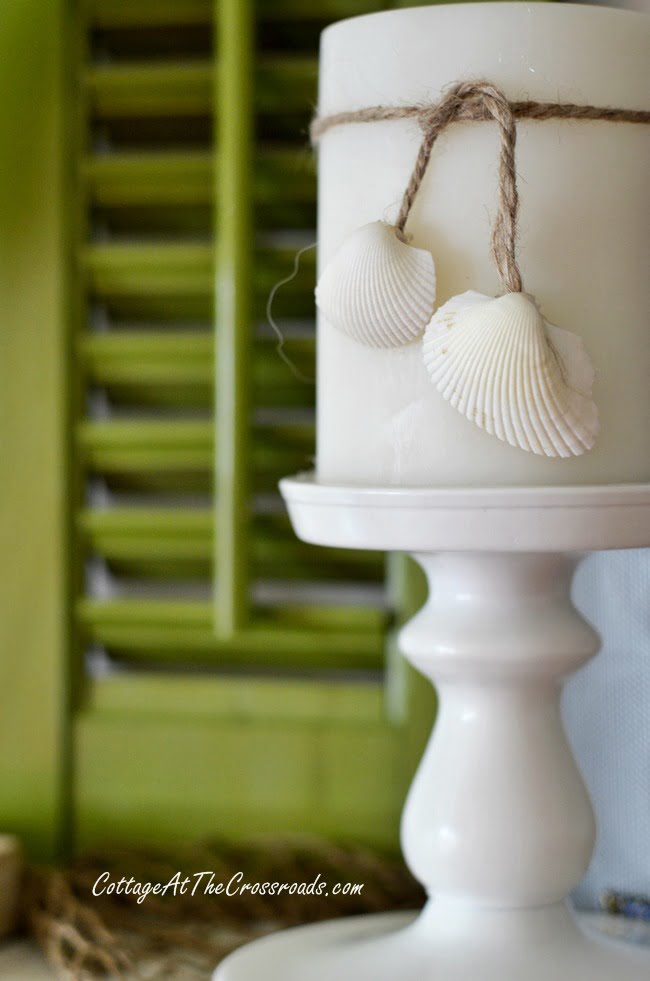 I embellished an ordinary candle with a little twine and some seashells for the left side of the mantel.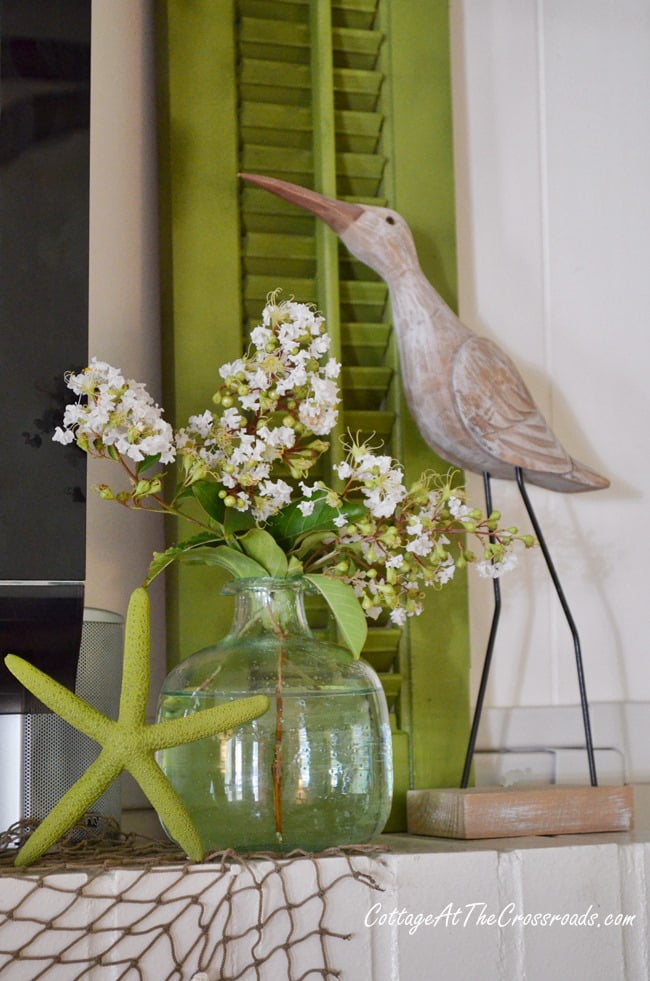 And on the right side I put another painted sea star along with some white crepe myrtle blossoms from the yard.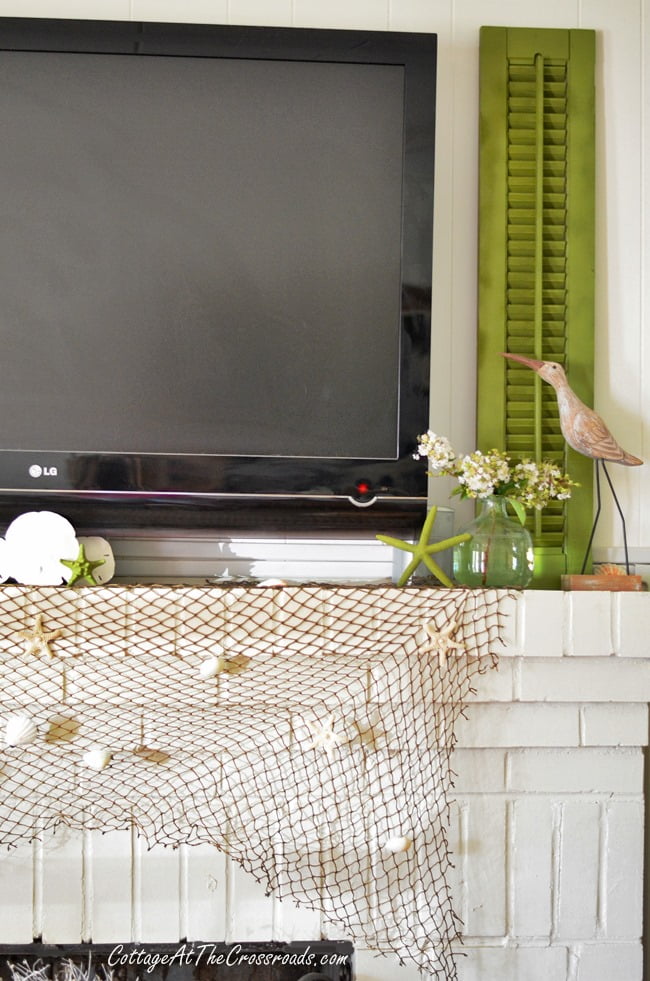 I just loved how my mid-summer mantel came together so easily, but it wouldn't be nearly as pretty without those green shutters. I have a feeling you're gonna see more of those shutters in the months to come!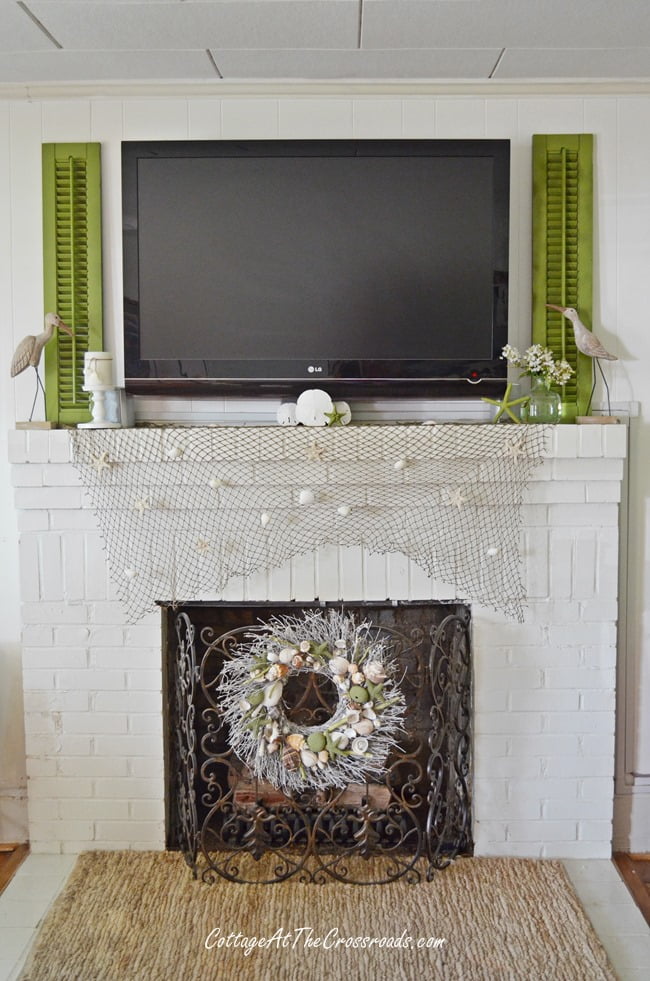 If you have the same decorating dilemma as I did, try some simple wooden shutters around your TV.
I think it makes all the difference in the world!