Hi everyone! I thought I'd show you the last of the additions we've made in the kitchen recently, and it's this handmade "Fried Green Tomatoes" sign.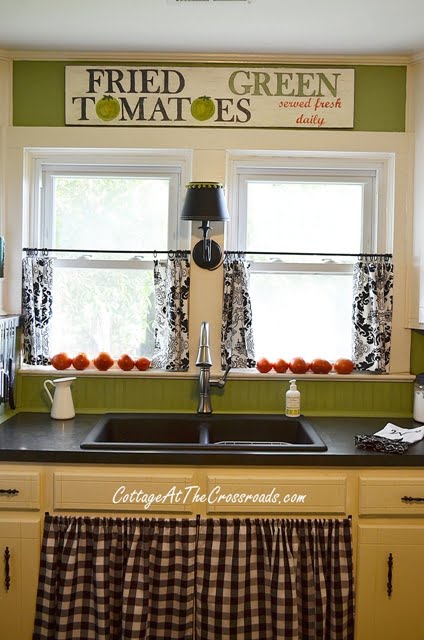 Here's a little closer look at it. I had been thinking for a while that this space above our windows was the perfect place for a sign. Normally, I have 3 antique plates hanging there that belonged to my late mother-in-law Sarah Windham. But for a little change, I moved them to the other side of the kitchen and created this wooden sign for this space. And since it's summer and we grow a lot of tomatoes, I decided that there couldn't be a more fitting phrase than this one. I'll even share my recipe for fried green tomatoes later this week!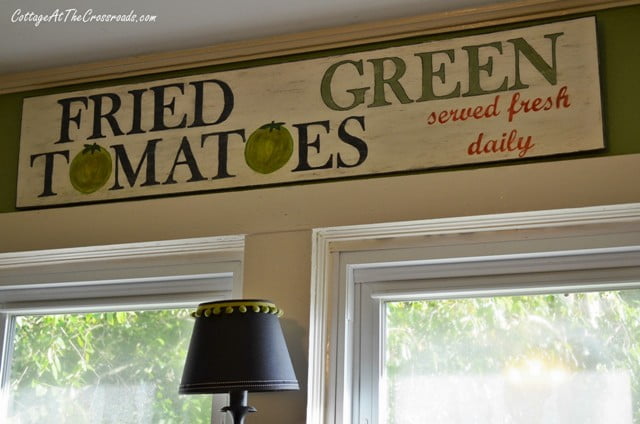 This is my first venture into making a hand-painted sign. I've read all sorts of tutorials on-line about how to do it, but I'll share the steps that I took in creating mine.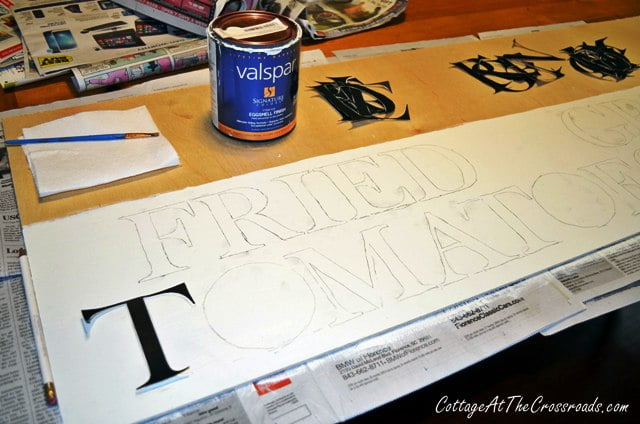 I was on the lookout for an old piece of wood to make my sign, but last week I just happened to find a thin piece of ¼ inch plywood in our storage building that was left over from another project. So I decided to use it. I measured out the size that I wanted it, and here I've started working on it before the piece of wood was cut. I painted the background with some white paint that I already had and printed the letters that I needed. The fonts I used were Baskerville Old Face and Script MT Bold. Next I cut out out the letters in order to use them as stencils.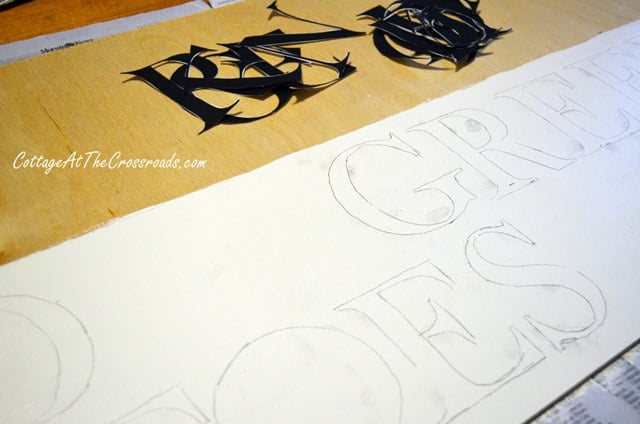 I pulled out my ruler to make sure I got the letters straight. You can see my guide marks on the sign.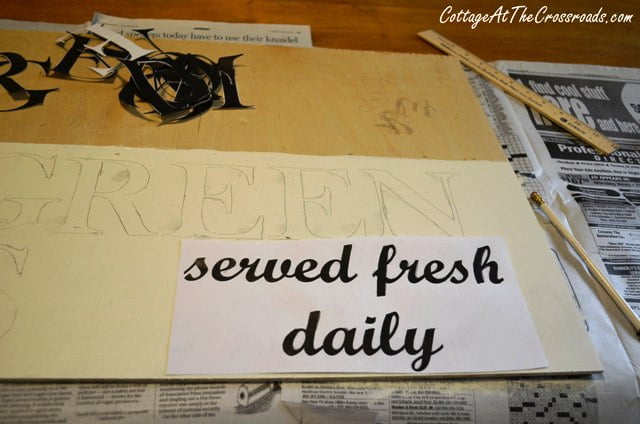 I used a different method to get this script phrase on the sign. First I printed the phrase, then I turned over the piece of paper and traced and filled in the letters with my pencil. After carefully positioning the phrase, I did the same thing on the front of the piece of paper to transfer the charcoal to the wood.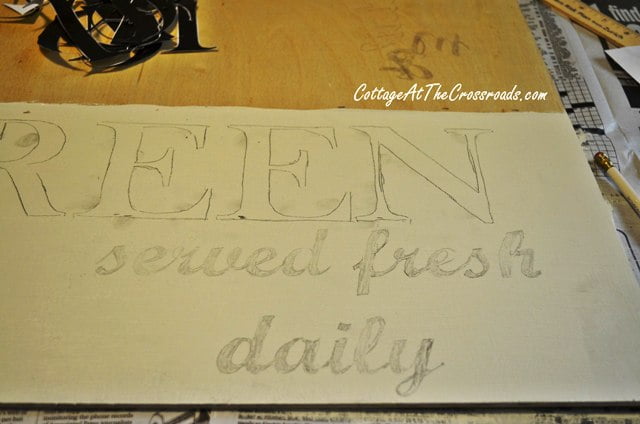 This procedure worked perfectly!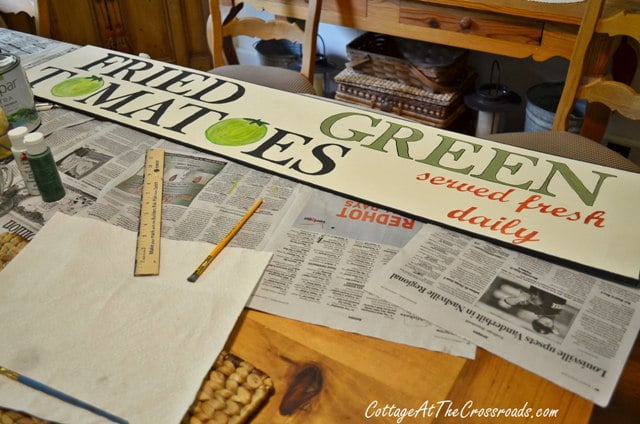 Leo's brother Jim cut the board for me, and I started painting the letters on the sign. I decided to turn the O's in the word tomatoes into green tomatoes! Couldn't help myself!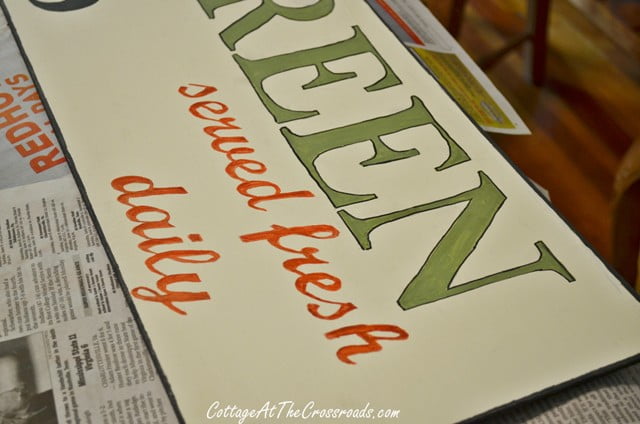 I outlined the letters in the word green with a Sharpie to make them stand out more. The hardest part in making this sign was painting the edges of the sign. Even though I used a ruler, I still found myself coming out of the line and having to fix my bloopers. In hindsight, I could have used painter's tape!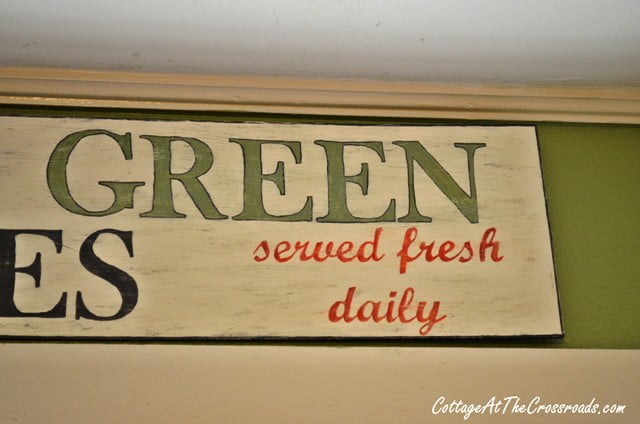 To antique the sign, I waxed it with Annie Sloan's clear and dark waxes and then sanded the letters until I achieved the look that I wanted.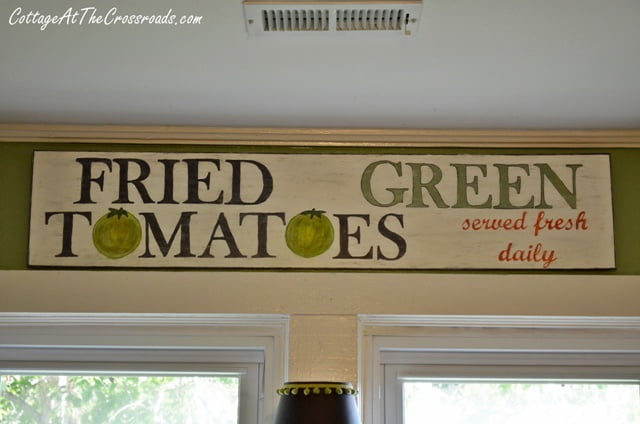 And here it is! It makes a real conversation piece when people walk into our kitchen!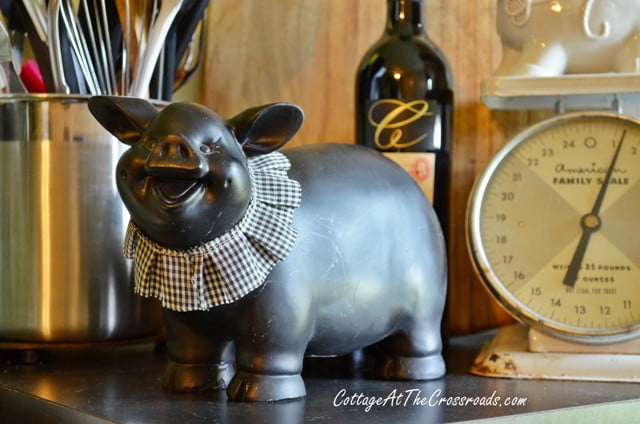 And I just have to show you "Pork Chop!" Iwas in Hobby Lobby last week and spotted this cute pig with its ruffled black and white collar in the clearance area. He's a little scratched up and imperfect, but isn't he just the cutest thing?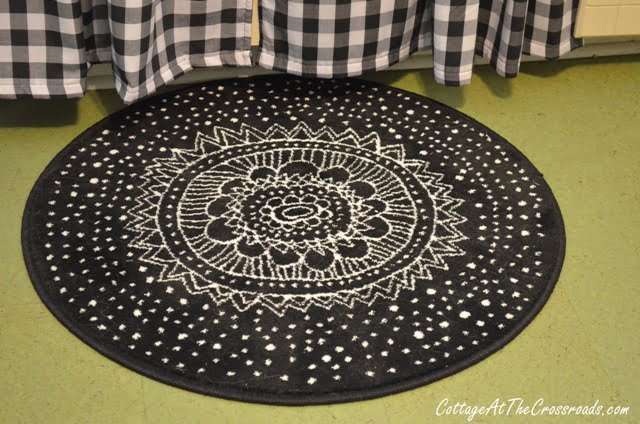 And I couldn't help myself when I spotted this rug at Ikea this past Saturday.
If you missed some of our other kitchen updates, you can see our new delta touch20 faucet that we installed recently, our new ruffled skirt stool cover, and the summer veggie chalkboard display by clicking on these links.
Well, all this talk about fried green tomatoes is making me hungry and I'll be back later to share how I make them!