I'm so excited to tell you about our new Delta kitchen faucet with Touch20 Technology! Most of you know that we live in a hundred year old house with a kitchen that doesn't have all the modern conveniences, but I'm happy to say that we've brought it into the 21st Century with this new faucet!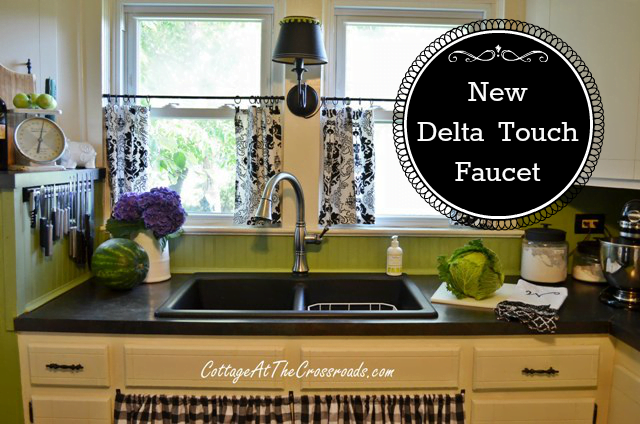 This all came about when I participated in a Traditional Home magazine survey about a month ago. The magazine (one of my favorites, by the way) was looking for some people who were interested in replacing their kitchen faucet. All you had to do was to submit a photo of your current faucet, tell why you wanted to replace it, and you could be selected to receive a free faucet compliments of the magazine, The Home Depot and Delta.
Did I want to replace my faucet, they asked??? Yes, indeed!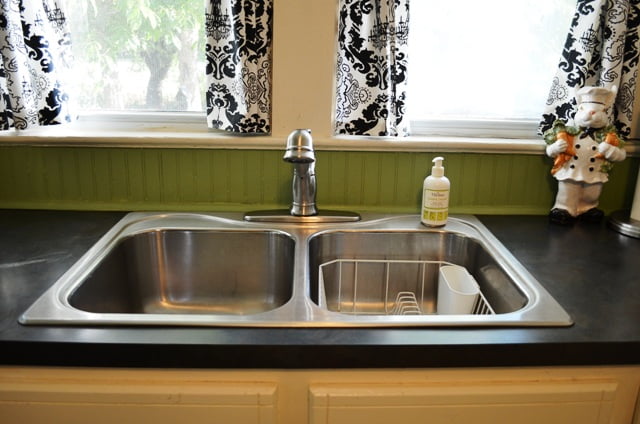 Here is a picture of our old faucet. From afar, it looks perfectly fine. We put it in four years ago when we first moved to the Crossroads. For some reason, we never had good water pressure at the sink. At one point we had a leak under the sink, so we had a handyman look at it.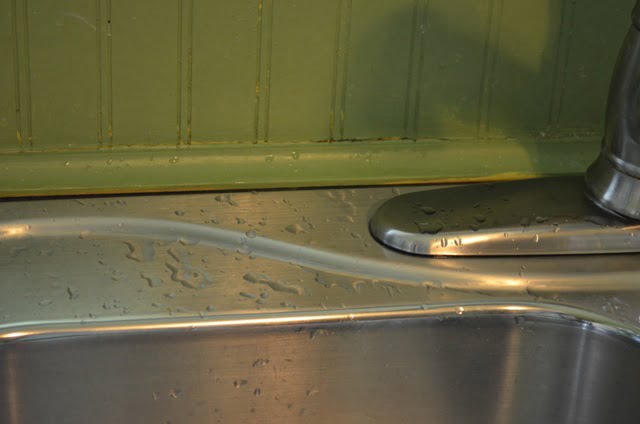 Whatever he did resulted in all this splashing of water.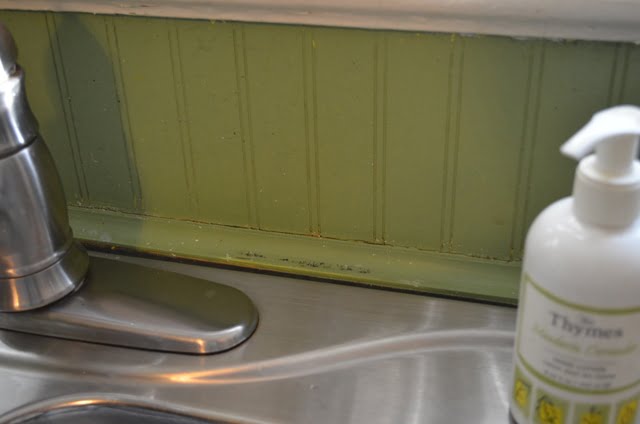 So much that it was damaging the beadboard backsplash behind the sink.
So when I received the email that we were selected to participate in this campaign, I was thrilled. I spent a lot of time on The Home Depot site looking at all the Delta kitchen faucets. (Thanks to the generosity of The Home Depot, I could order any faucet that I wanted!) Ever since I realized that they were available, I've been intrigued with faucets with the new touch technology. As with any new technology, you wonder if it really works, so I did plenty of research and read many reviews.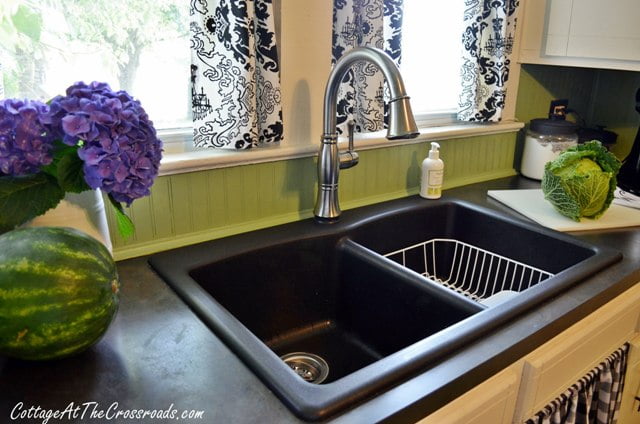 So I finally settled on the Delta Cassidy model #9197T-AR-DST because of its traditional styling and its high arc which should take care of the water splashing problem.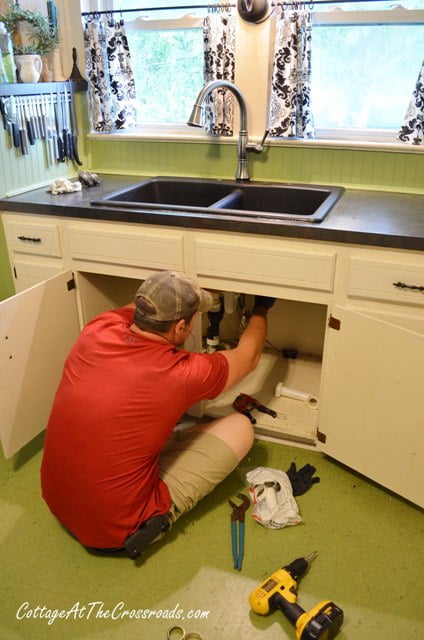 Now Leo and I are do-it-yourselfers for many of our projects, but we decided to have someone who had experience installing one of these touch faucets to put it in for us. This is Dustin Dowling from Philip Dowling Builders who did a great job installing the faucet and our new sink.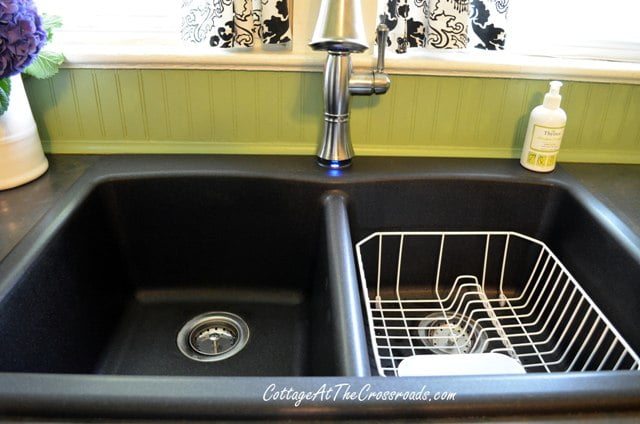 Since the faucet I selected required one hole, we purchased this new black granite composite sink since our other sink had 3 holes. I love this new sink because it's deeper, the middle section is lower, and it blends in better with our counter tops.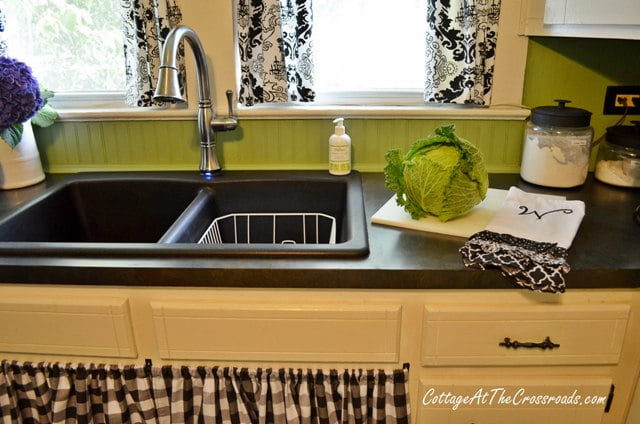 To say that we are satisfied with our new touch faucet would be a huge understatement! You can tap anywhere on the faucet with your hand, wrist, or forearm to turn it on or off. How many times have your hands been covered with something messy like flour and you've wished for something like this? Or what about cross contamination after handling meat products? This faucet is a cook's dream!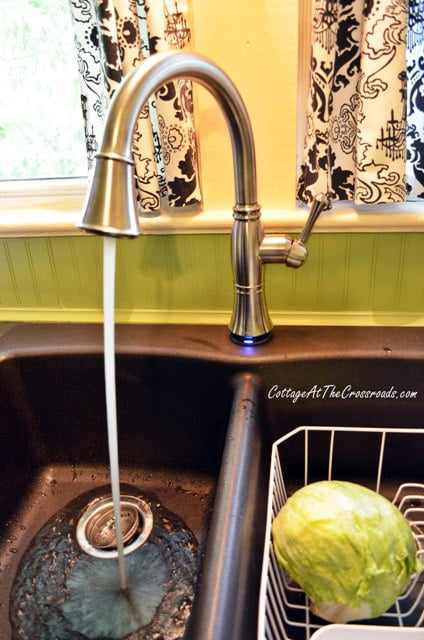 The blue light indicates that it's on, and it's powered by 6 AA batteries. According to my research, the batteries won't need to be replaced for a year or so. And remember our original problem with low water pressure? Well, the pressure is great now, just like it should be.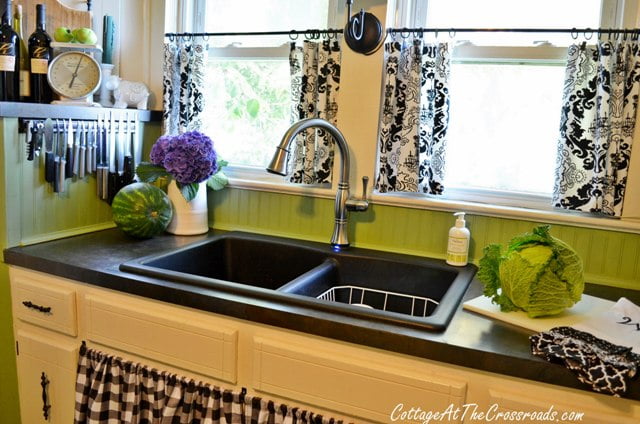 I'm in love with this faucet and someday we'll splurge and get one for the bathroom. So thanks to The Home Depot, Delta, and Traditional Home magazine for making this possible.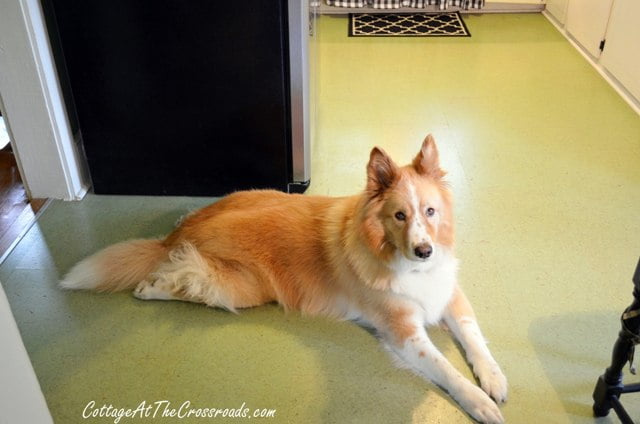 The new Delta kitchen faucet with Touch20 Technology is Lucy approved!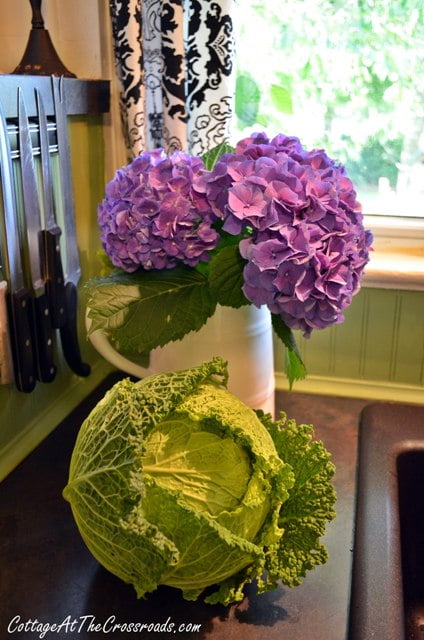 And as for my styling props, that cabbage head (which we grew by the way) ended up in a pot for dinner!