I was thinking that the house looked a little bare after taking down the Christmas decorations, so I decided to make some easy fabric hearts to add some color and to get ready for Valentine's Day.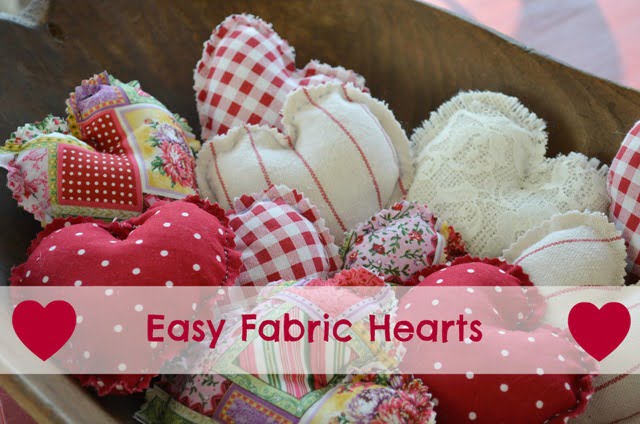 I tried to go with a winter theme by leaving out some of my decorated and painted pine cones, but it's awfully hard to get that winter feel when the temperatures have been almost 80 degrees for the past few days!
And since I was craving some color, I made a bunch of these easy to make fabric hearts!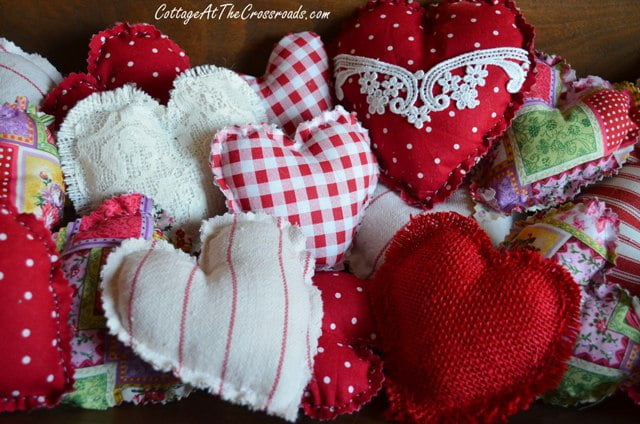 These hearts are easy to make because you don't need a sewing machine! Don't they put you in the mood for Valentine's Day?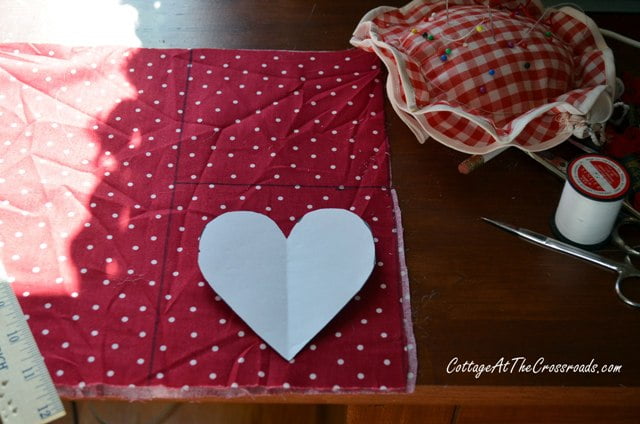 How to make easy fabric hearts
To make these hearts, you will need an assortment of fabrics. I used some red and white burlap that I had left over from some other projects, a tea towel, and a few new fabrics that I bought at Hobby Lobby.
Step 1
I cut out a heart from paper to use as a tracer. Then I marked and cut out some squares of fabric. I made my squares 5 ½ inches by 5 ½ inches. Don't forget to double your fabric because you need a front and back for your hearts!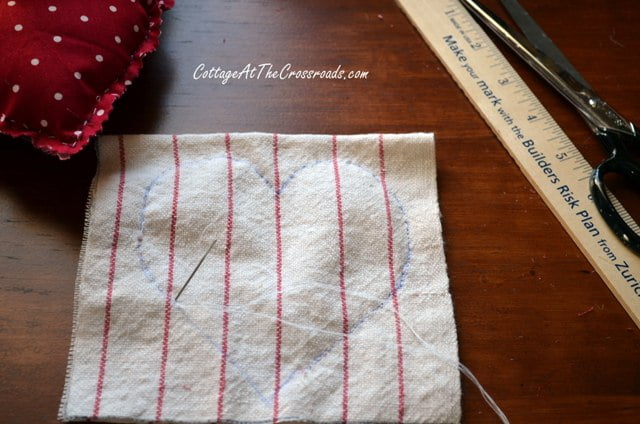 Step 2
Trace around the paper heart onto your fabric. I used a pen to lightly trace mine onto the fabric. Then I hand-stitched around the heart, leaving a hole so that I could stuff some polyfill into the heart.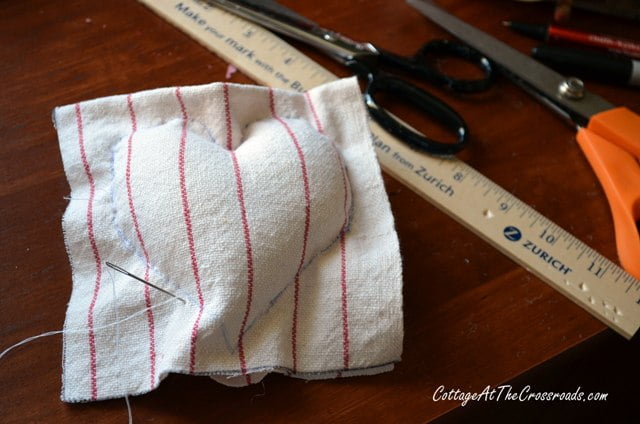 Step 3
After I stuffed it, I finished sewing up the heart.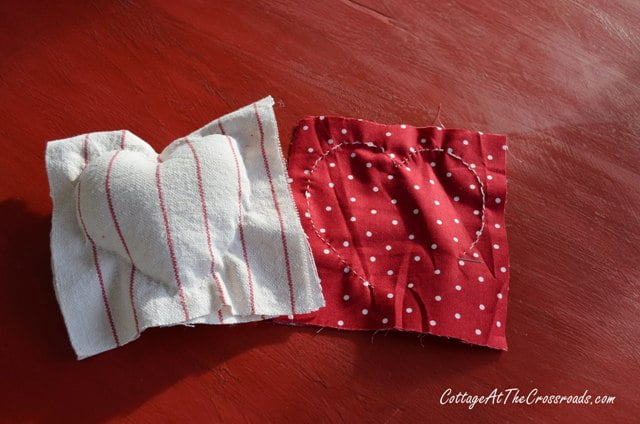 Step 4
You can see that process a little better in this photo! When I made some hearts from burlap, I used embroidery thread since it is much thicker, and I stuffed the red one with an old, fuzzy red sock!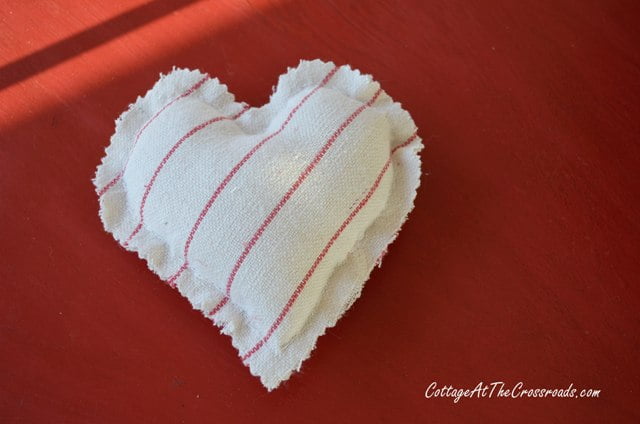 Step 5
To finish the heart, I cut around the edges with pinking shears.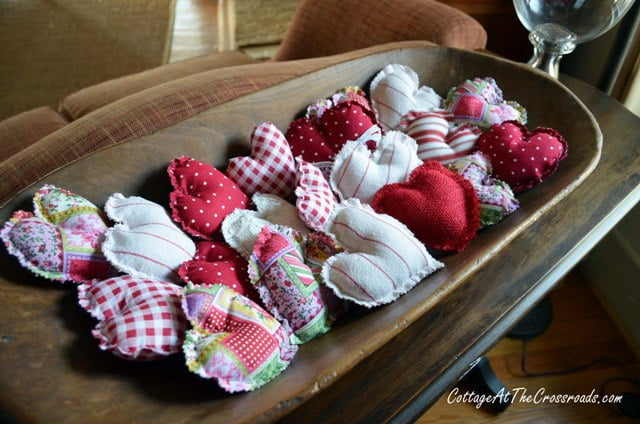 Step 6
Arrange the hearts as you wish. They look great in my dough bowl!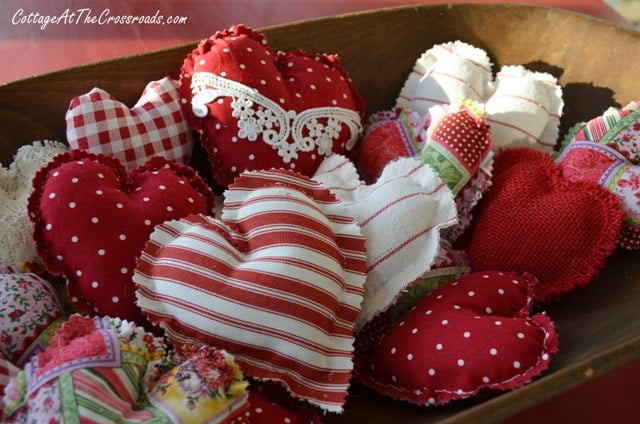 Optional
I embellished one of the hearts with a little lace, and I even started making some different sizes.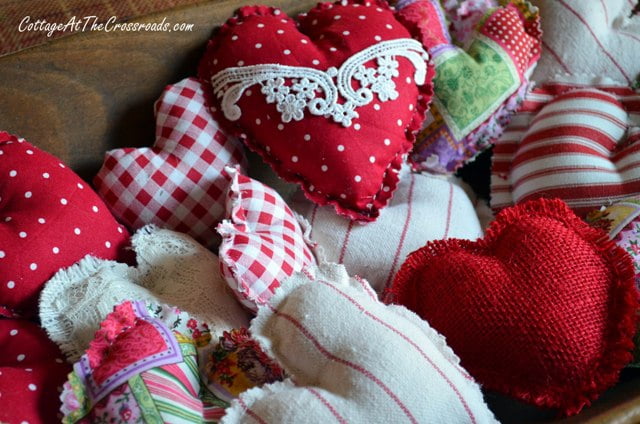 There was something very comforting about hand stitching these hearts, and I was thinking that this would be a great project to teach young ones how to sew.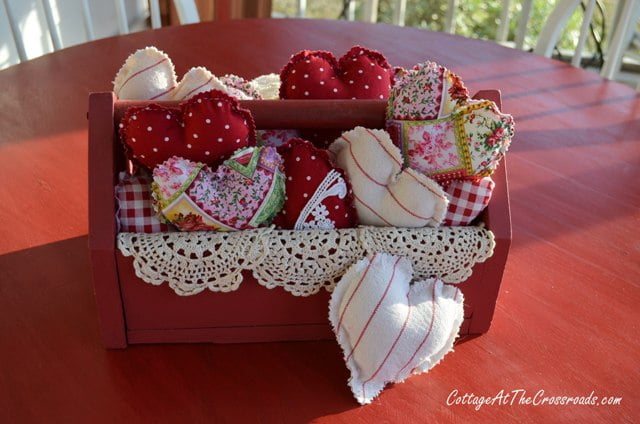 Of course, I had to see how they would look in my little red tool box hanging out on my red table on the front porch. So cute, so I'm off to the store tomorrow to buy a few buttons and other things to do some further embellishing. And I'm thinking that I'm going to make some more of these easy to make fabric hearts!