We had a wonderful Thanksgiving here at the Crossroads, and we hope you did, too! I found some time this weekend to decorate some PINE CONES.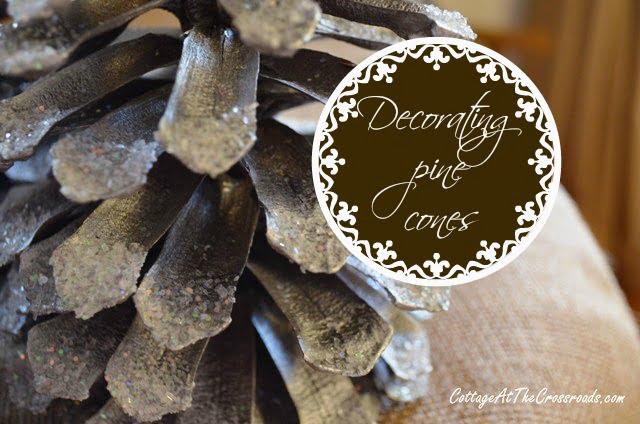 You see, I have decided that it's going to be a Pine Cone Christmas here at the cottage.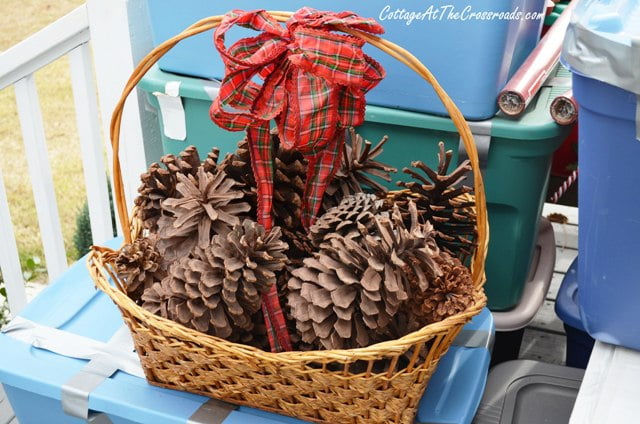 During November, Leo has been gathering some large pine cones from a neighbor's yard, but I didn't really have as many as I wanted. So last Monday I found this big basket of pine cones at the auction. I only paid $5 for the whole basket, and the pine cones in the basket were larger than the ones I had.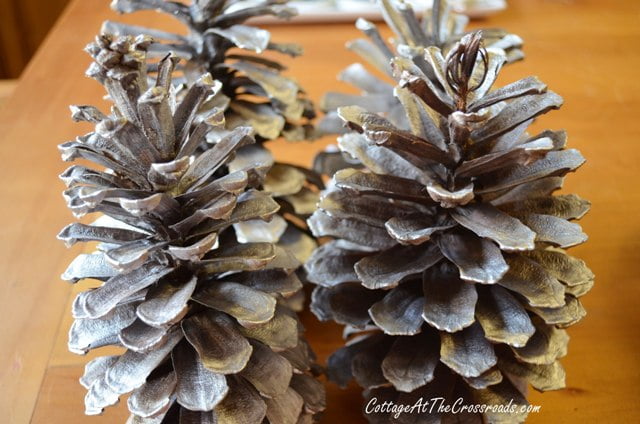 The first thing I did was spray paint the cones with bright, shiny silver paint. I gave them a light coating so that some of the natural color would show through. The result was a beautiful color and I left some of them this color.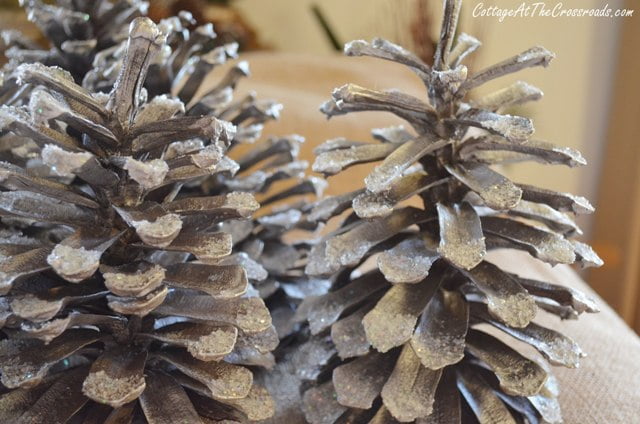 Some of them got glammed up by adding Epsom salt and a little glitter to the tips!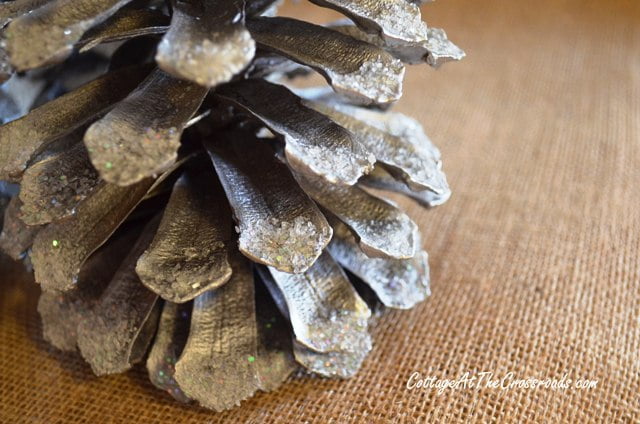 Oh wow! They turned out so pretty! It looks like they've been dusted with ice and snow!
I took one outside so that you could see the color a little better.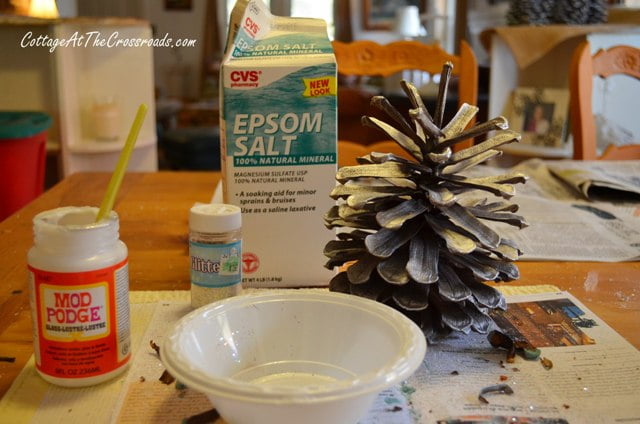 Here's what I used to decorate my pine cones. Epsom salt, white glitter, and a little watered-down Mod Podge.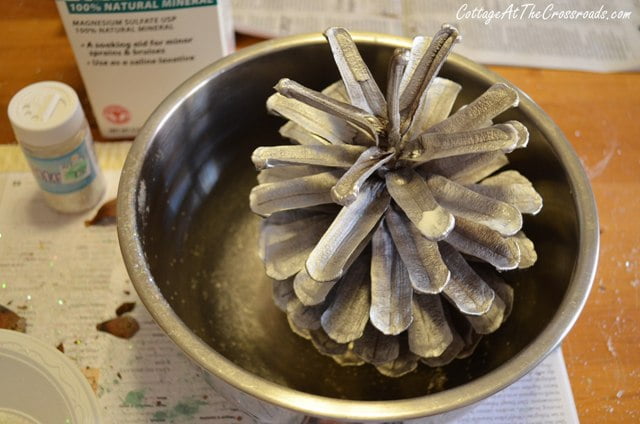 I just brushed some Mod Podge on the tips and put the cone in a bowl to apply the salt and the glitter. It still made a mess as you can see, but the clean-up was a small trade off for the results.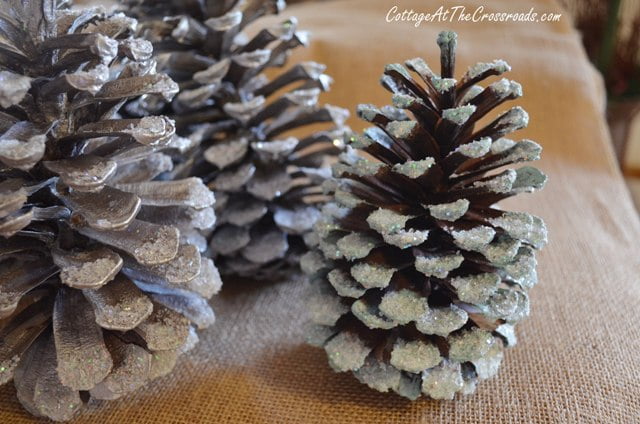 I painted the tips of several pine cones aqua, and you may be seeing those on a kitchen wreath soon. I made sure I painted and decorated the underside of the scales just in case I want to hang them upside down.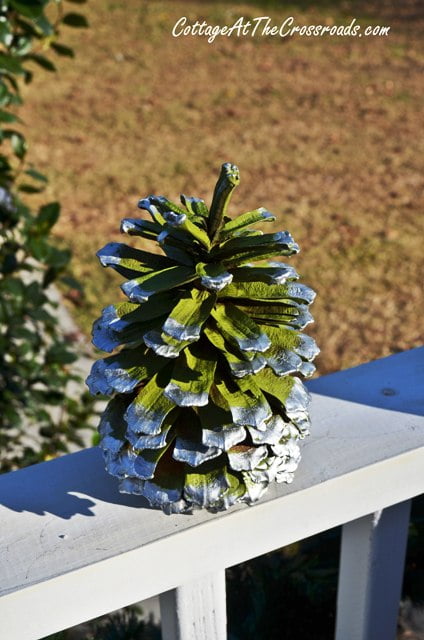 And since I'm going to be using a lot of green in my Christmas decorating, I spray painted a few cones green and brushed the tips with silver. Pretty,huh?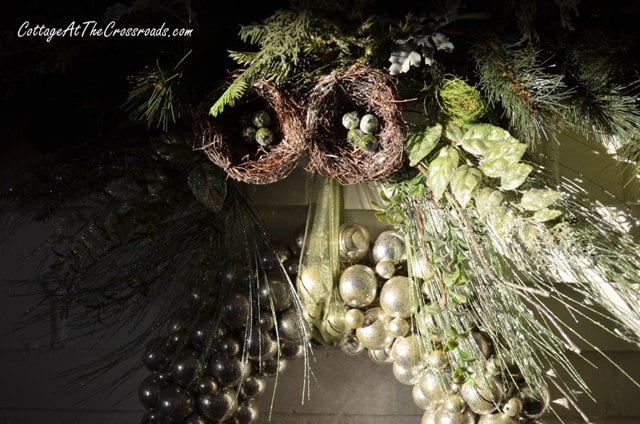 Yesterday I decorated the mantel and I thought I'd give you a sneak peak of it and one of our trees.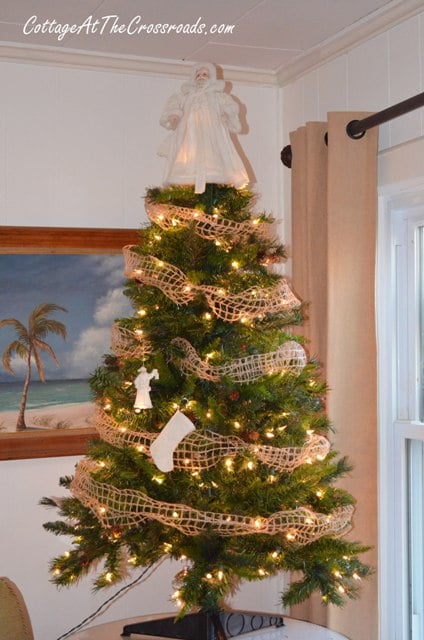 Yep, it's going to be a pine cone (and burlap) Christmas around the Crossroads!