Spring has officially arrived and I'm trying to get ready for Easter which is fast approaching. Yesterday I had a little fun putting together this Easter egg topiary and since I really like how it turned out, I'm planning to make another one today.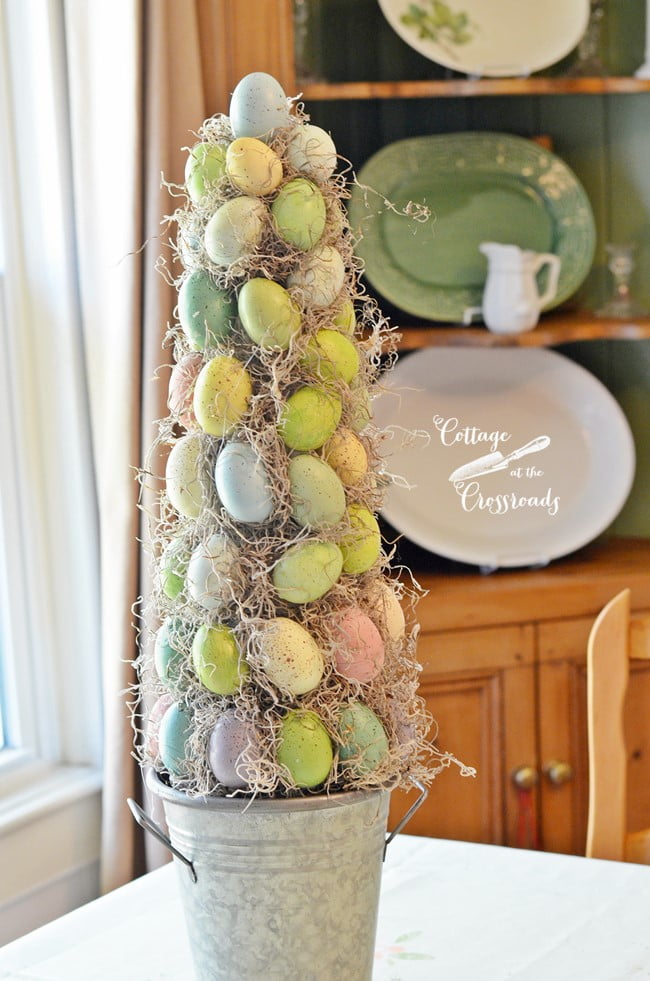 I have long admired these Easter egg topiary trees whenever I've seen them in stores, but they are a bit pricey. And since I had these galvanized containers that were sitting on the mantel, empty and begging for something tall to go in them, I decided to make some of my own.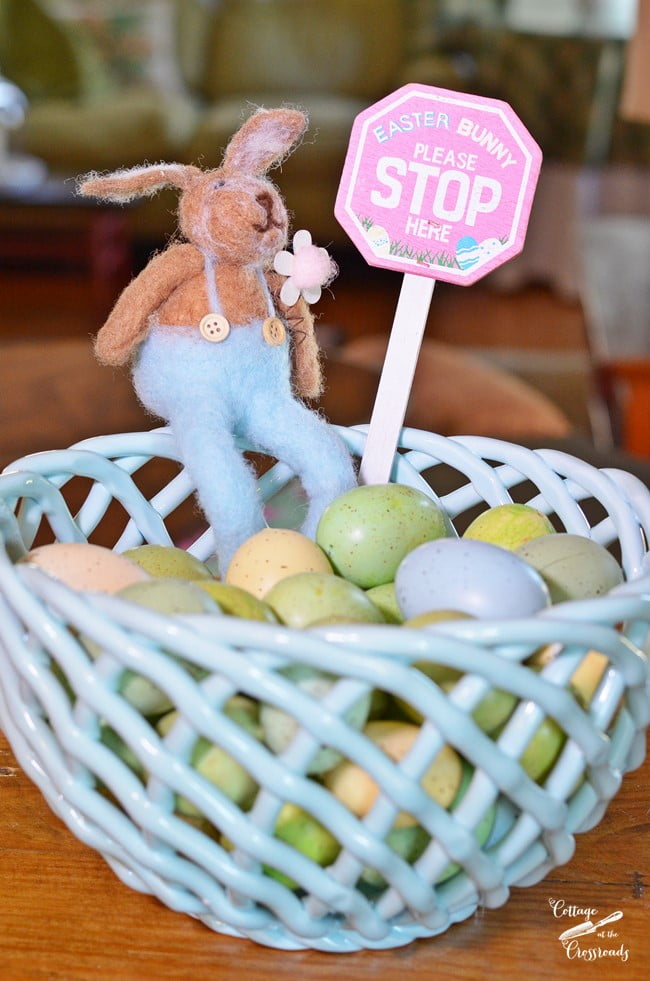 I thought I had plenty of pretty, pastel colored eggs that I could use on the tree. Here they are just sitting in a bowl with my new felted wool bunny that I found at one of my favorite stores, Southern Seasons, located in Mt. Pleasant, SC. But I quickly found out that I needed many more eggs to complete my topiary.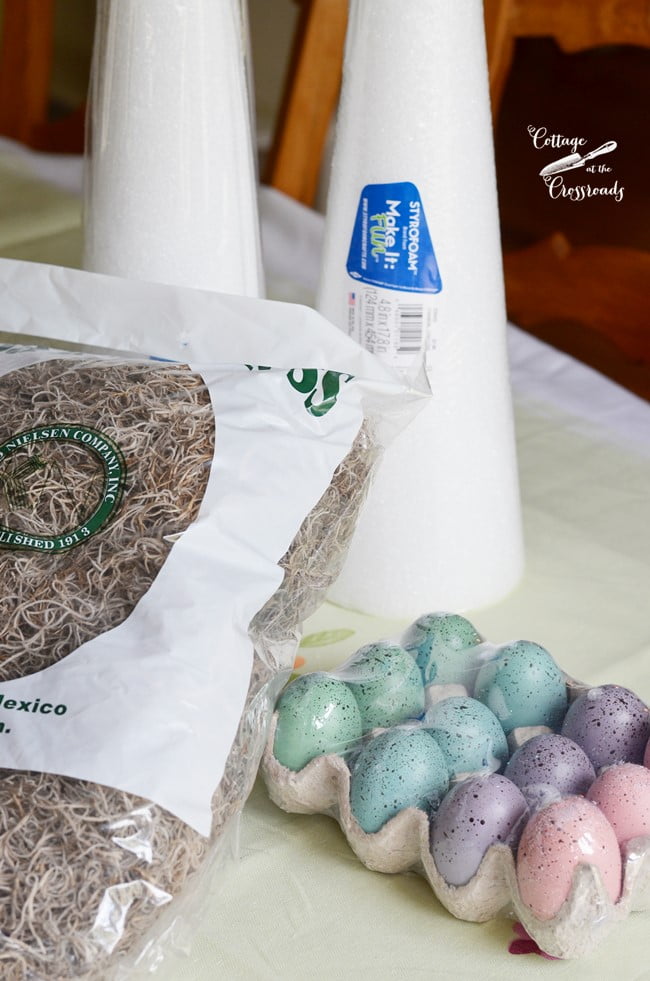 SUPPLIES NEEDED TO MAKE AN EASTER EGG TOPIARY
(Affiliate links have been included for your convenience.)
about 50 decorative, artificial eggs
glue gun (Amazon affiliate link)
lots of glue sticks
container for the tree (optional)
Most of the eggs that I already had were mostly blue and green, but I wanted to include some of the pretty pastel colored eggs that you see in the photo above. I found these at Big Lots but I did not discover that they were glued into the carton until I got them home! So don't make the same mistake that I did! The eggs that I would recommend using would be the white ones that come in a carton that are sold at WalMart. Of course, you would need to paint them but they would be much less expensive to use.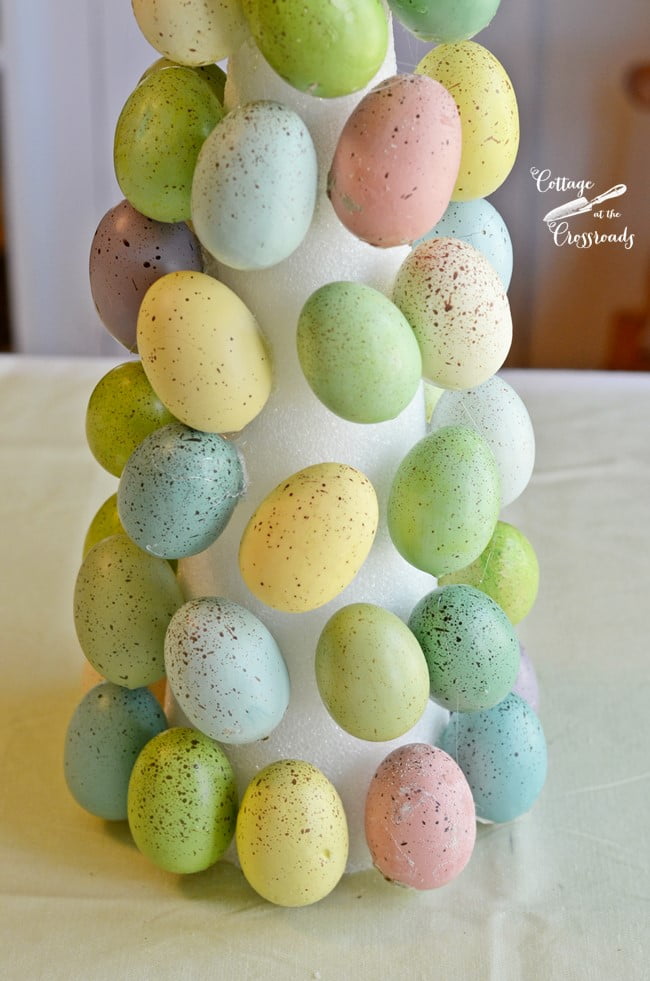 Once you get all of your supplies together, this project is a piece of cake. All you do is hot glue the eggs onto the foam cone. In the photo above, you can see that I started by putting the eggs straight up at the bottom and then I started angling the eggs left and right. I ended up putting 10 eggs on the bottom layer, 9 eggs on the next layer, then 8, 7,6,5,4, and then 1 on the top. (I didn't intentionally do that but it's just how it worked out!)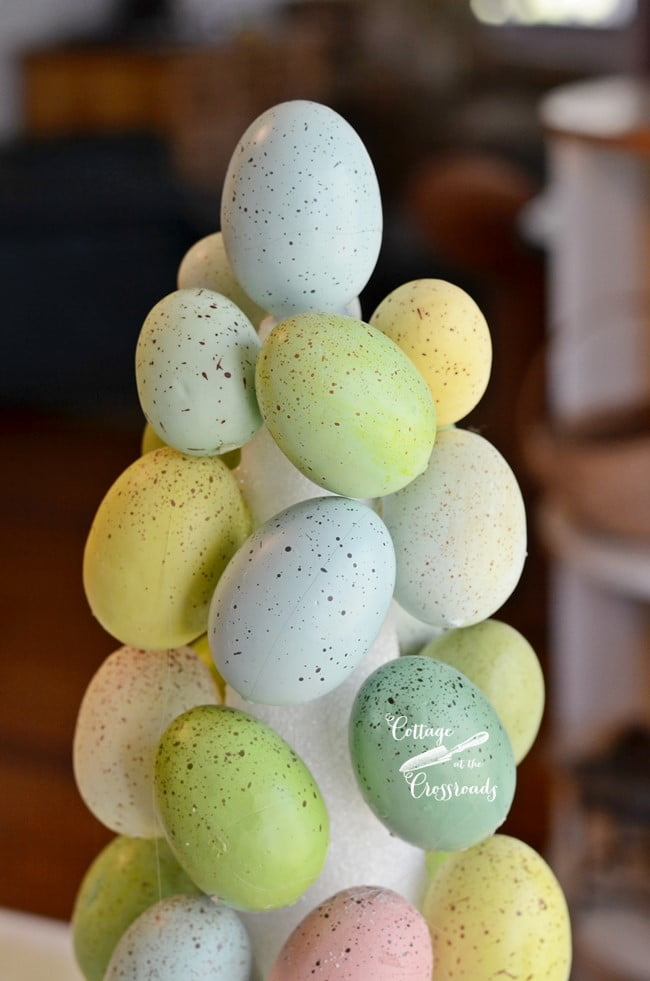 In this close-up photo, you can see about how much space I left between each egg.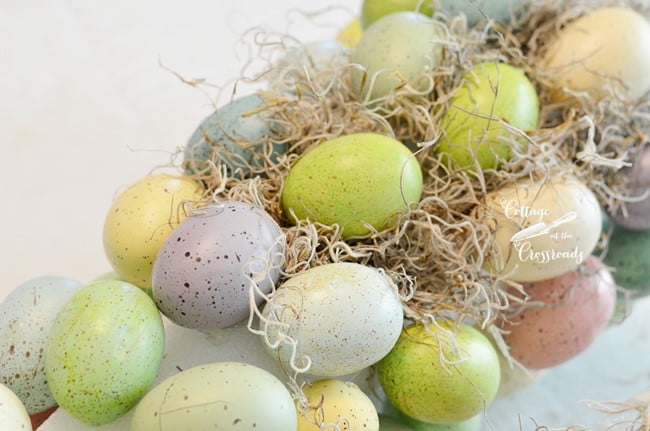 The next step is to add Spanish moss to hide the visible cone. The way I adhered the moss was to put a dab of hot glue on the cone and then pushed the moss onto it with a knife (to avoid burning my fingers!) The excess moss was wrapped around the eggs.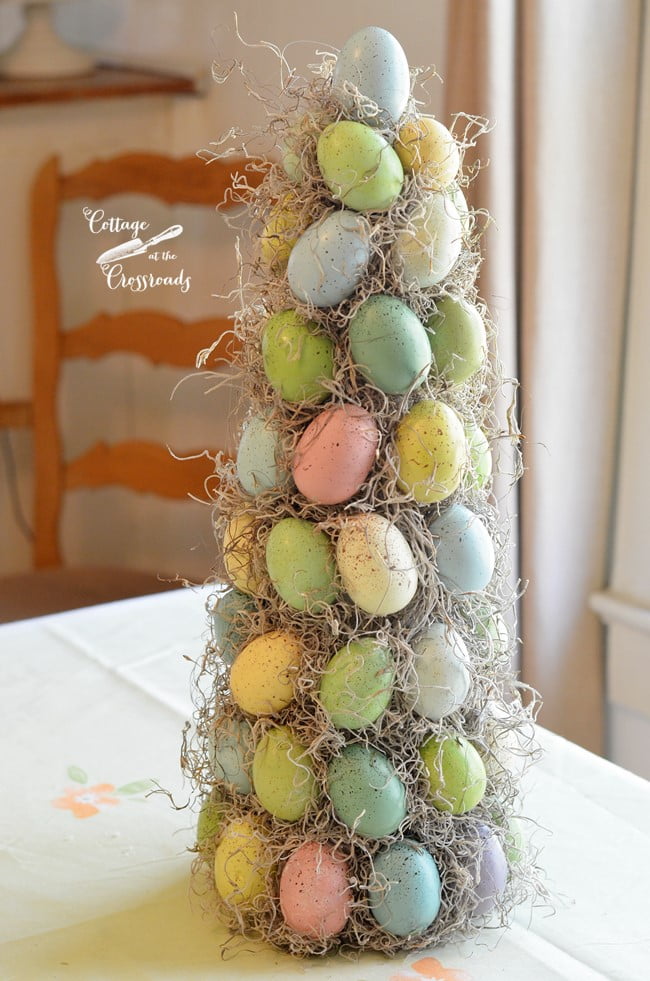 Such an easy DIY Easter decoration that could be a beautiful table centerpiece and if using it in that way, you wouldn't even have to put it in a container.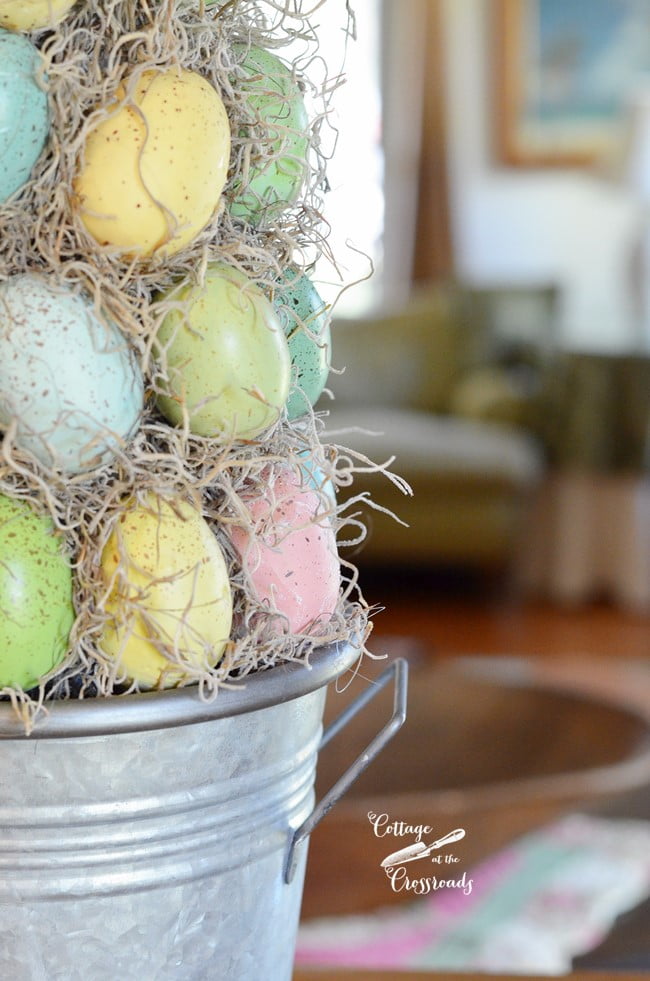 But since I already had these galvanized containers that I used on our CHRISTMAS MANTEL, I just set the tree on top and it fit perfectly. (The opening of each container is 7 ½ inches, in case you plan to put your Easter egg topiary in a container.)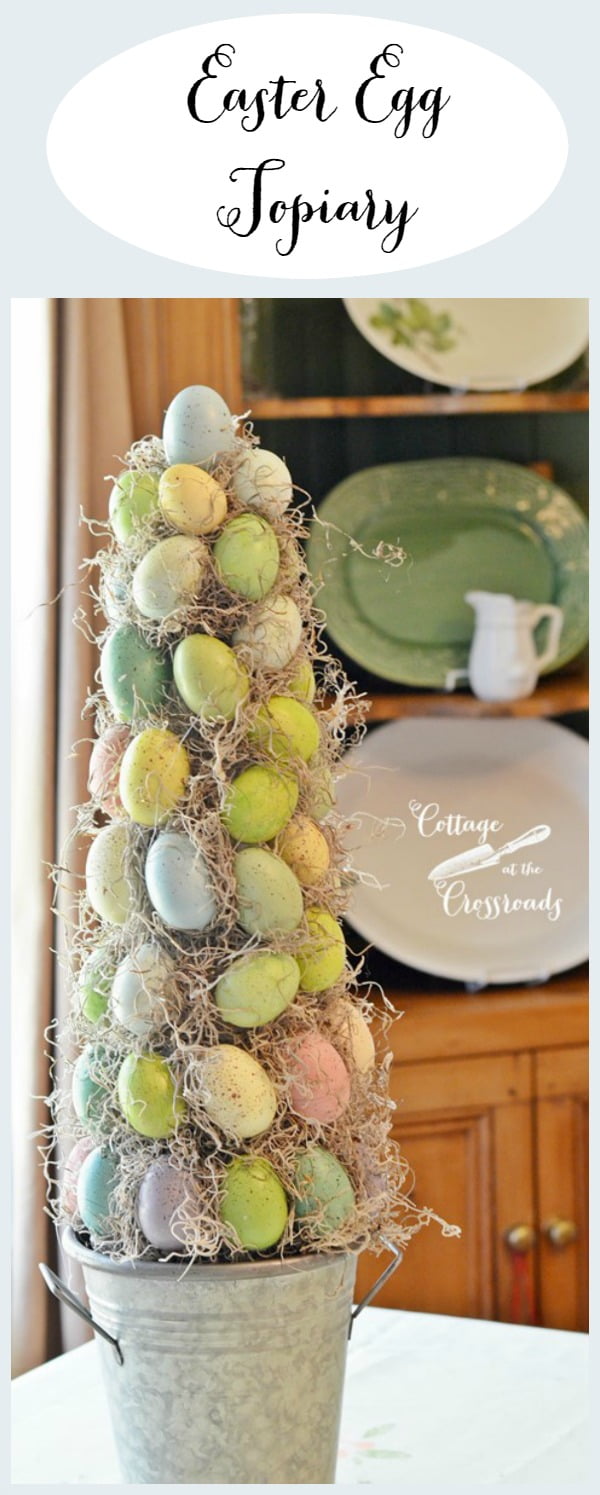 Now, I have to get busy today making another matching Easter egg topiary so I can finish decorating our mantel!
If you'd like to see some other topiaries that I've made, click on any of these photos below.