Since my last post, I've had a few people to ask how I made this strawberry topiary. I ran across the directions on the internet last year when I was looking for ideas for my table for the golf benefit. I had printed them and put them in a folder and pulled them out to use this year. It really is simple to do but you need to allow at least 2 weeks if you want to use real grass in the pot (which is what you really need to do!)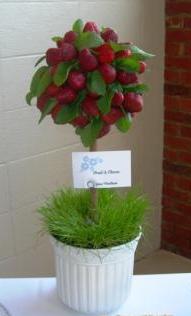 First, I purchased a topiary tree form from Hobby Lobby. You could probably make your own, but you may run the risk of having your topiary topple over so why chance it? I think the topiary tree form was $9.99 (without a 40% coupon.)
Next, I had to find a pot that was just the right size for the base of the form to fit into snuggly. I tried a lot of pots I had at home, but none were the right size. I went across the street to Jay's Trading Post and found the perfect pot.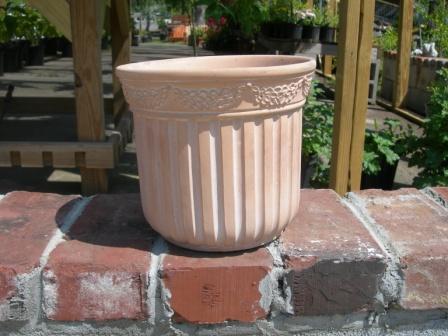 I loved the vertical lines on the pot and the detailing around the top. I think the pot was $6.00. (If you need this pot, I can get you one and ship it to you.)
Even though the pot was pretty the way it was (with a little whitewashed effect on it,) I decided to spray paint it white. I used a flat white.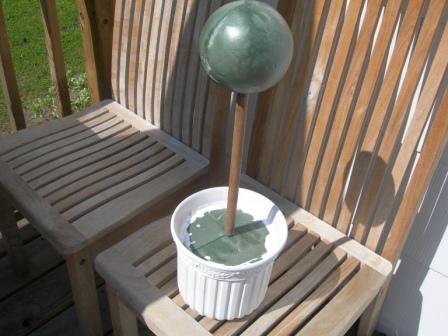 I put some soil into the pot and then put the base of the form on top of the soil, leaving about 3 inches at the top. Then I secured my topiary form with some white glue. You could use a hot glue gun.
I already had some rye grass that I had grown for another project that I simply transferred on top of the form in the pot. Since most of you are not going to have some grass already growing, then you will need to put some potting soil on top of the base and generously add some rye seed and water. (Don't forget to keep it in the sunshine!) Your seed should germinate in a week and start growing. Mine had grown so much that I had to give it a trim with scissors so that it had a nice uniform look. I also had to keep mine away from my cats because they thought that I had grown the grass just for them!
That's all you need to do until the day that you plan to add the strawberries. Stick a wooden toothpick into the top of the form.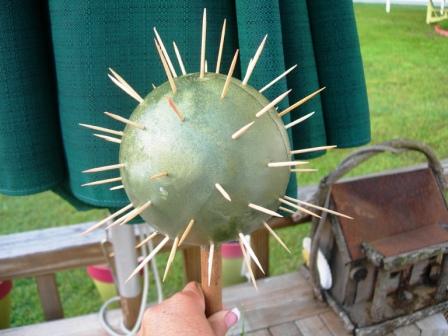 (This is how many toothpicks I added.)
Attach a strawberry to the toothpick-the pointed end of the strawberry should point out. Use strawberries that are about the same size. Continue to add toothpicks and strawberries, making sure the strawberries fit snuggly together. After the form is covered, use fresh mint leaves to fill in any gaps between the strawberries and to add green color to your topiary.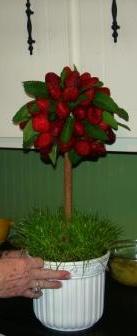 That's all there is to it. A really easy and simple way to celebrate springtime and fresh strawberries.