Hi there, everyone! I'm hoping that all of you had a wonderful Thanksgiving holiday. Did you get some decorating done over the weekend? I did so I'm sharing our peaceful Christmas mantel that I got finished this weekend.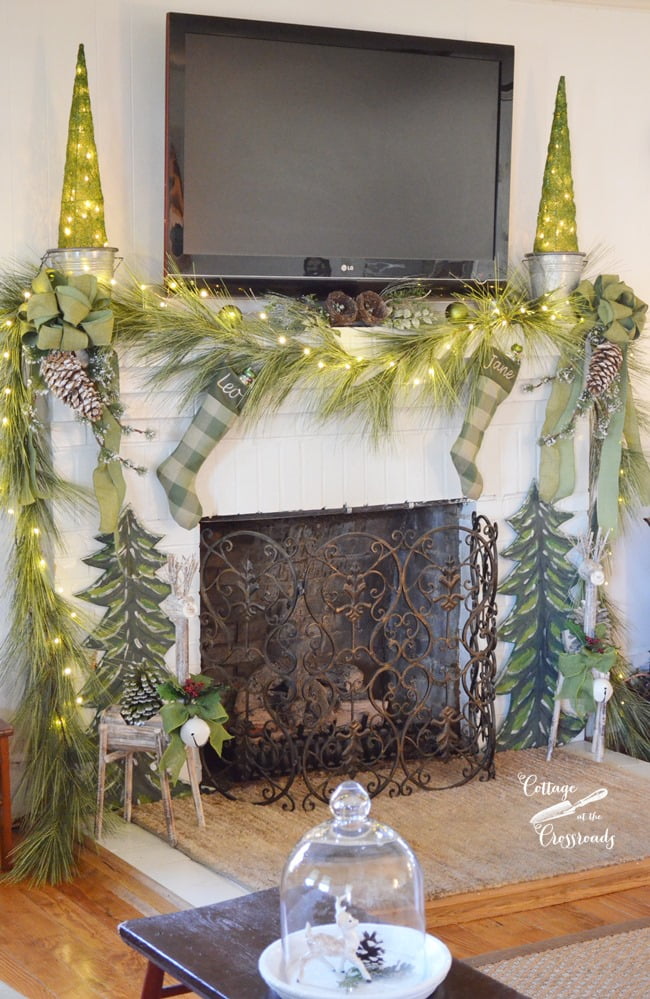 PEACE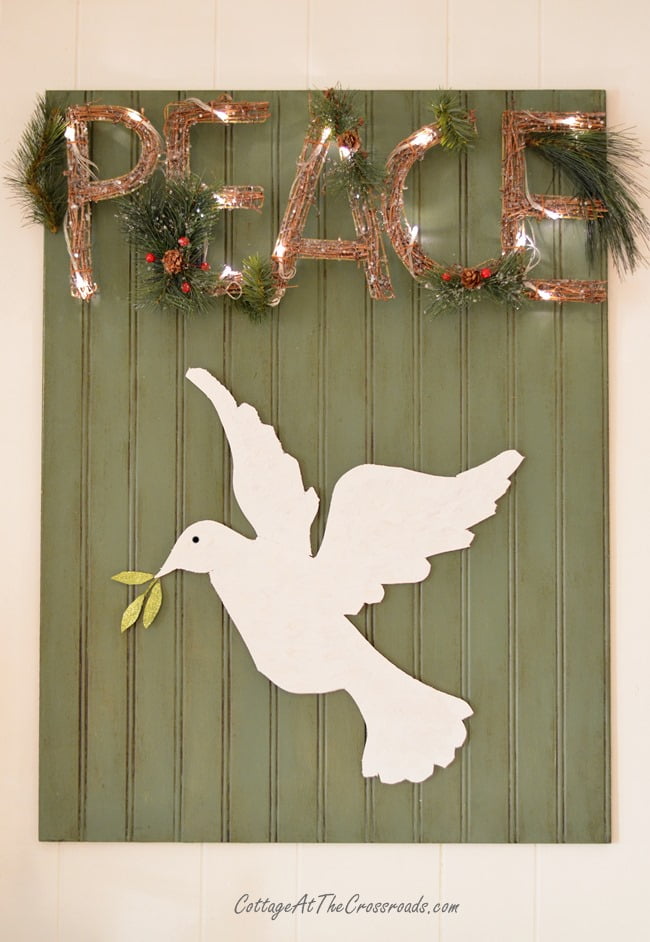 I'm calling it A Peaceful Christmas Mantel since I included this Peace sign and white dove as part of the display. It is an expression of how much we need more peace in our world. You know, 2015 has been filled with some horrible events that occurred in our state and in our nation. And there seems to be so much division and conflict in our nation and in our world that I just wish that we could find a peaceful resolution to our differences.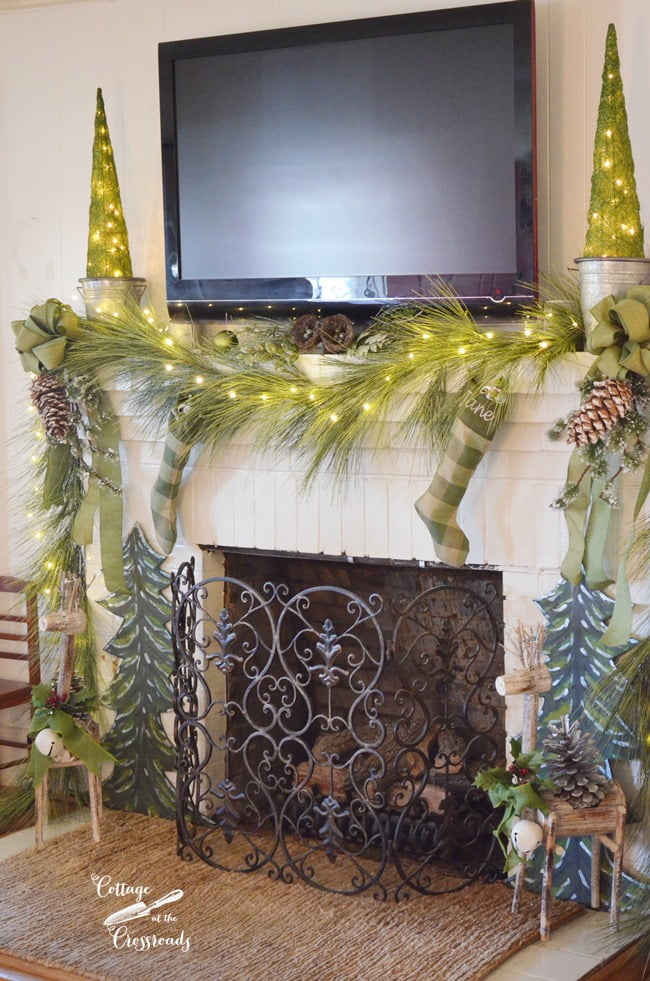 The whole mantel is composed of various shades of my favorite color green, the color of life, nature, renewal, and rebirth and the most common color in the natural world.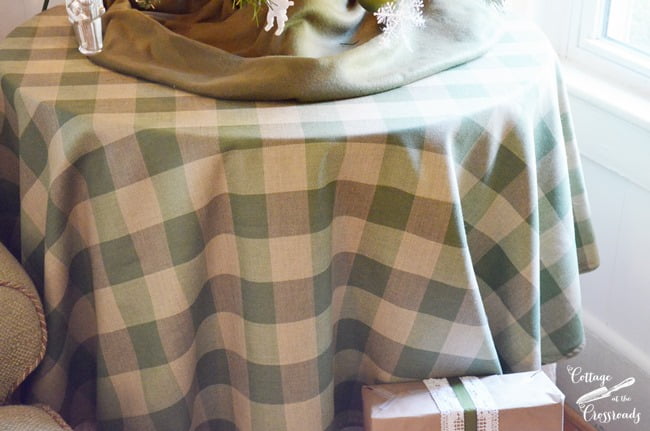 The whole color scheme was driven by this green buffalo checked piece of wool fabric that I happened upon this summer at an incredible price. At first I thought I would use it to recover the seats of the dining room chairs, but instead I decided to use it for Christmas. To me, Christmas decorating is so much easier if I decide on a color scheme early!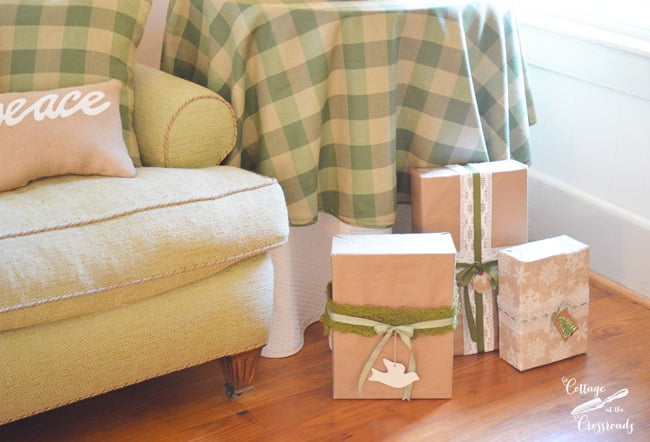 And the whole idea of bringing peace into the scheme was born when I ordered the clay tag doves made by my friend Ann from On Sutton Place. You can see one of them on a package in the photo above.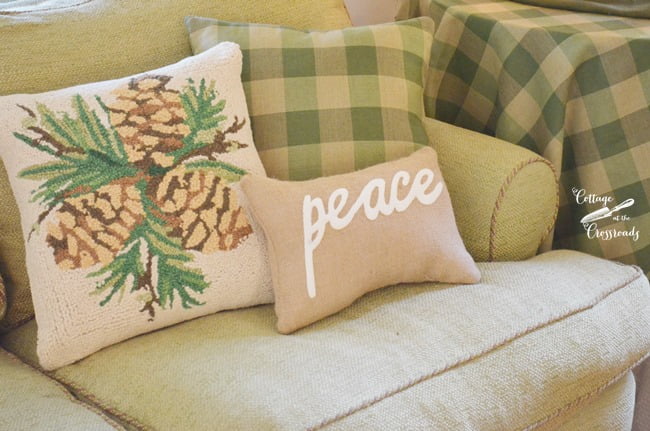 Well, as you can see, I had a table skirt and some pillows made out of the green checked fabric. And I just had to have a pillow that said, "Peace!"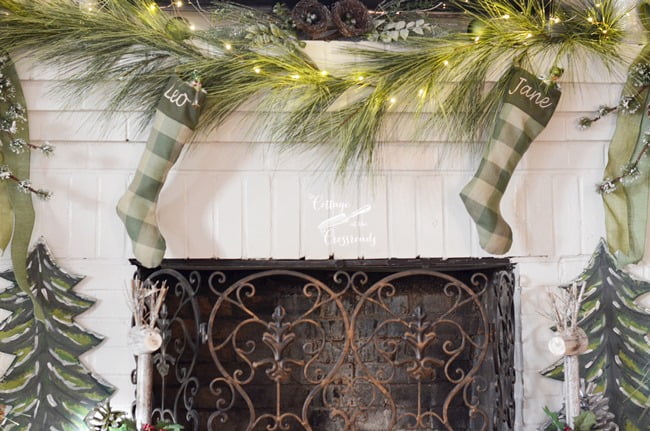 And, of course, stockings for the mantel!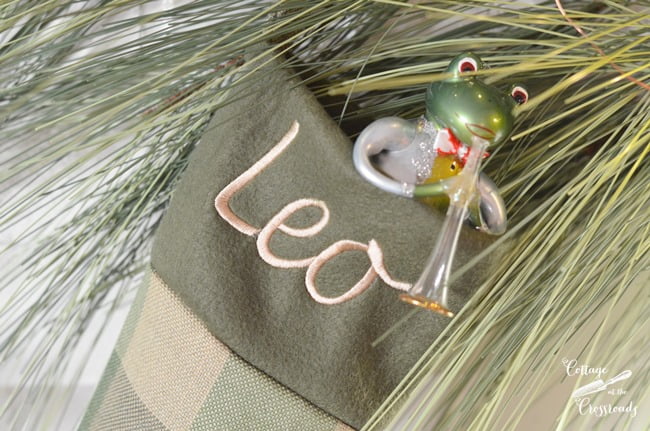 Each stocking contains a green frog ornament almost camouflaged by the pine garland.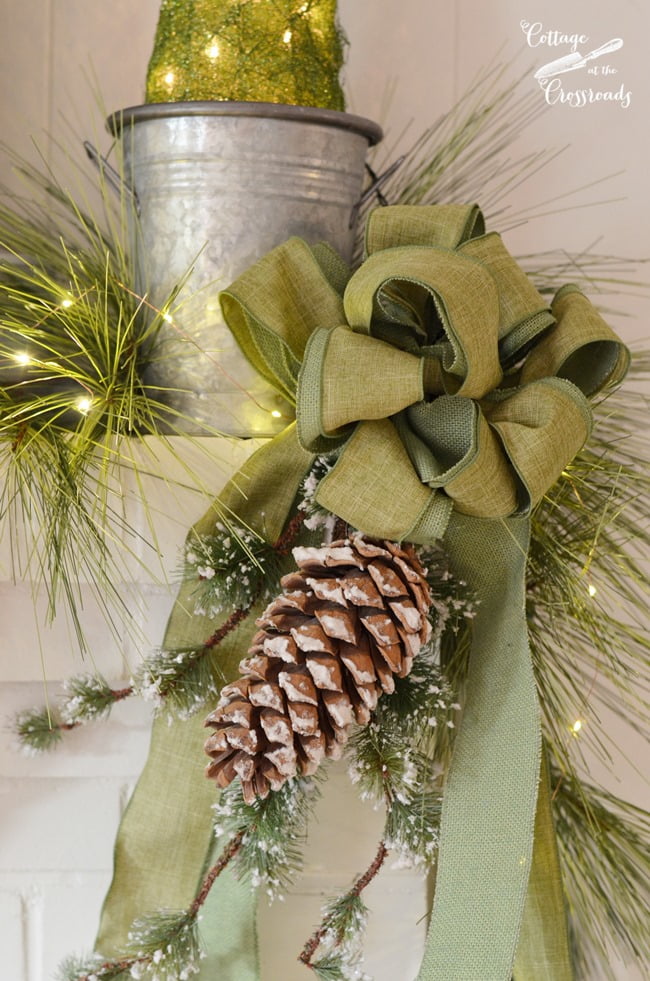 The pine garland is new this year. I always like to use fresh greens on the mantel, but quite frankly, by the time Christmas Eve rolls around, the greenery always looks a little dried out and that's when I like for it to look its best! So I decided to purchase some artificial garland this year, and when I saw this longleaf pine garland at Taylor's Garden Center, I had to splurge! It is so realistic looking that it actually fools people until they touch it! The bows were made from two shades of green ribbon and the large pine cone sprays were found at Hobby Lobby.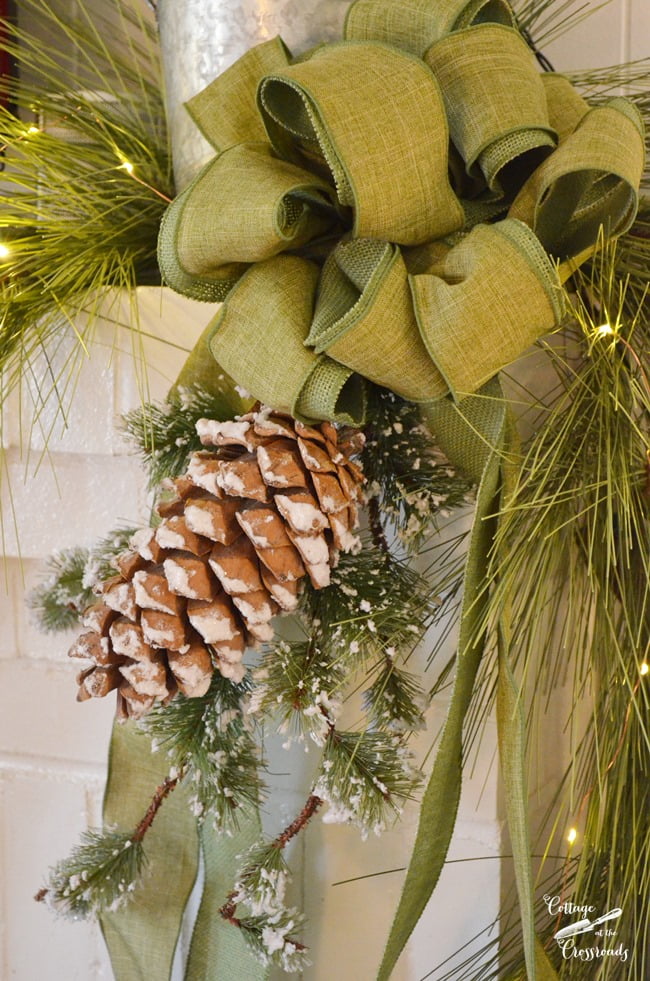 The pine garland isn't lighted but I tucked some fairy lights that I purchased from Amazon among the needles, and I just love them. For a very small amount of money, it's a great way to add lights to unlighted garland or a display. I love them so much that I'm going to order a few more, and the mantel just wouldn't be the same without them!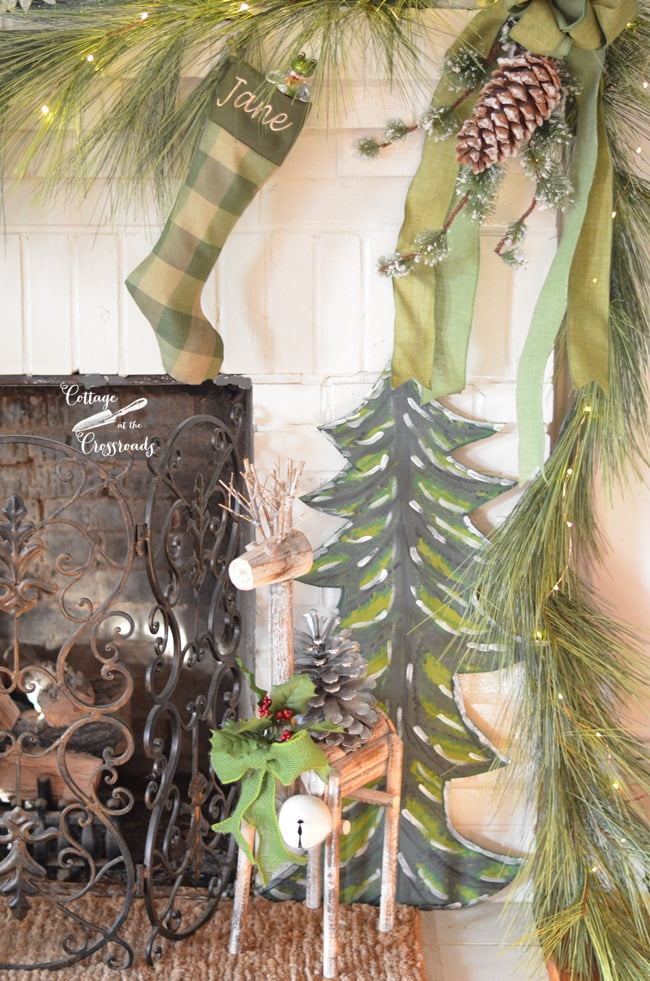 Leo and I made the wooden trees last year and used them to decorate for Christmas on the Front Porch. Leo trimmed them down a bit to make them fit in front of the fireplace.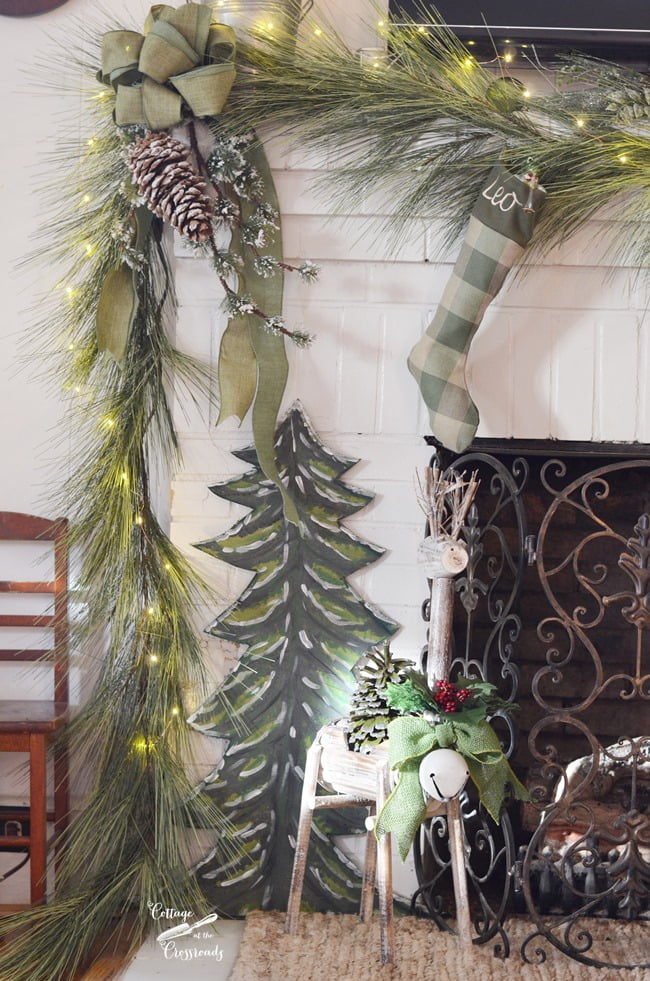 These rustic deer seemed to fit right into the verdant, natural theme. They've been used in a few different places since we got them a few years ago at Forest Lake Greenhouses. One way to keep Christmas decorating costs down is to move around the items that you have to get a whole new look.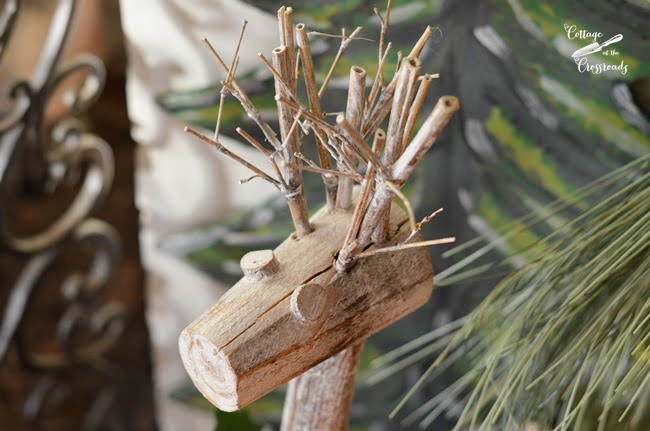 Love their spikey antlers!!!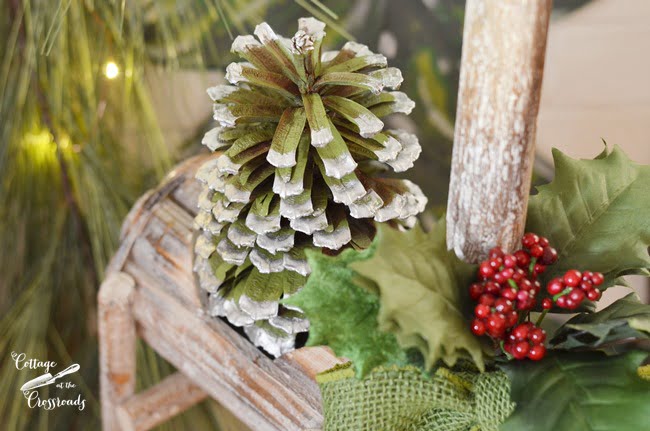 The deer have planters on their backs, and this painted pine cone from a few years back fits right in.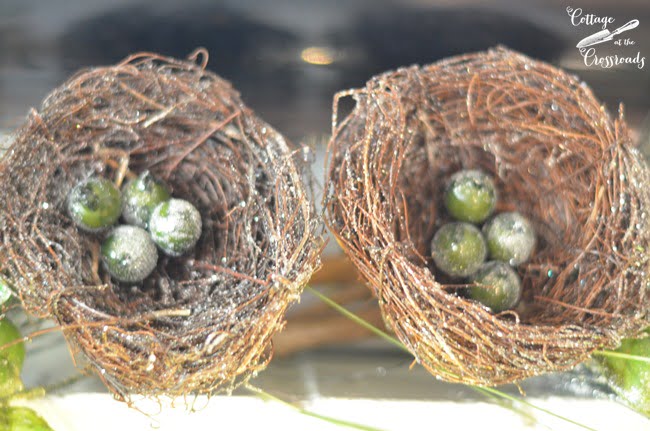 Underneath the TV is a speaker that I'm always decorating around, and these bird nests from a few years ago do a good job of hiding it. And the eggs are green! Reminds me just a bit of Green Eggs and Ham by Dr. Seuss!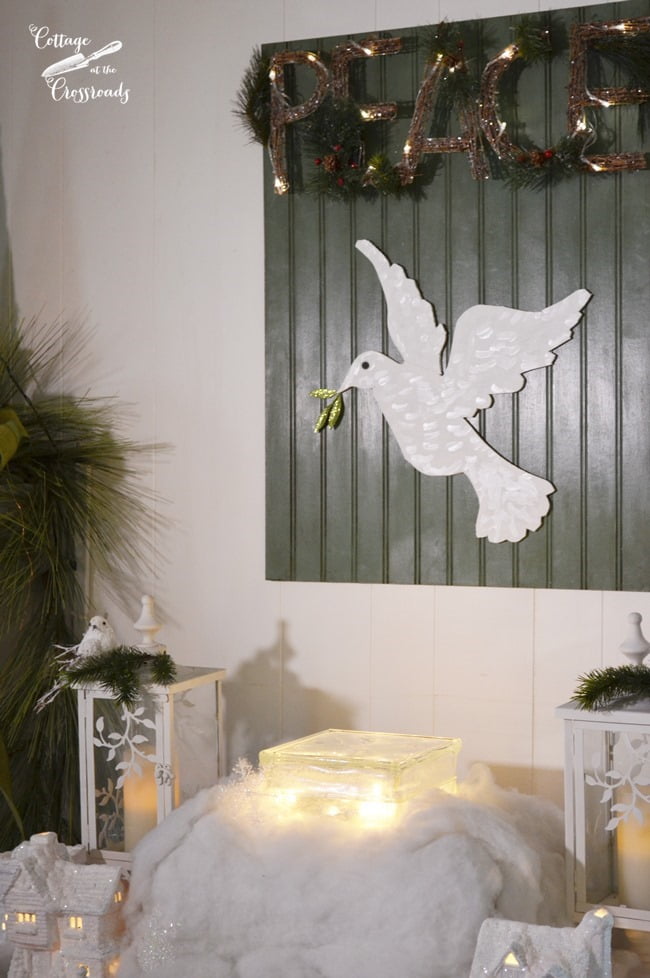 Underneath the wooden dove is a little snowy, peaceful village scene that I created which I will show you more of in another post. Have you ever wondered how the dove with the olive branch became a symbol of peace? Well, in ancient civilizations, olive trees were a valuable source of food and since it takes so long for them to bear fruit, they could only be cultivated successfully during long periods of peace. Therefore, they became a symbol of peace. And also in ancient cultures, doves, who mate for life, have been a symbol of devotion, fidelity, and family life for thousands of years. The symbolism continued in the Bible when Noah sent out a dove and it returned to the ark with an olive branch in its mouth representing hope for a new home and a new life for Noah and his family.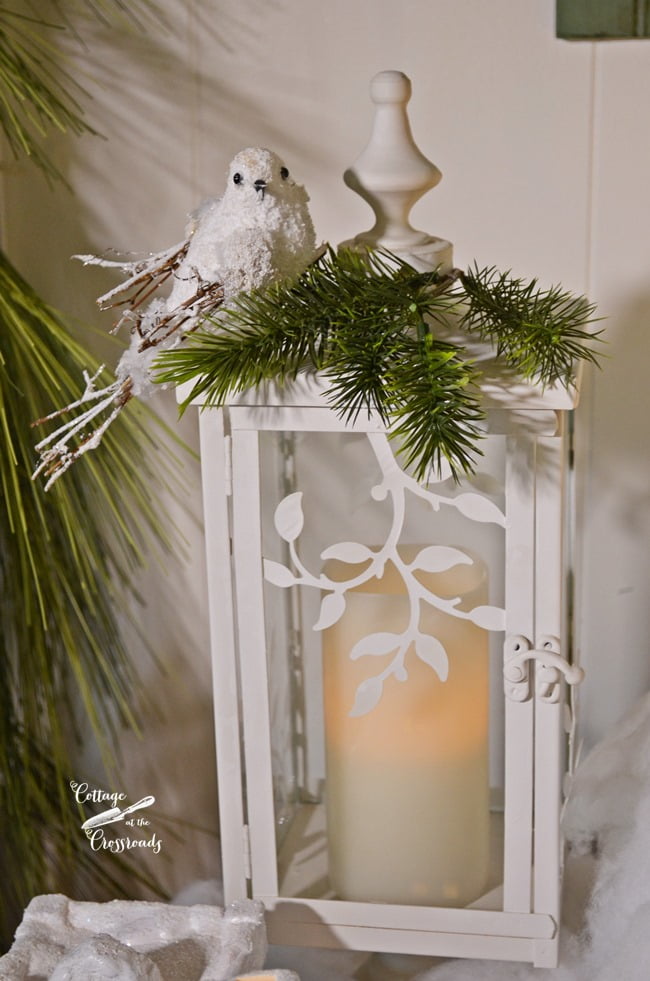 It is my Christmas wish that we find more ways to live in harmony on Earth.
And if you're a regular reader, we are always appreciative of your visits!
If you're looking for more Christmas ideas, then you are in luck!