Hello Friends! Yes, you read that right! I made these topiaries that I used in decorating our Valentine's Day mantel using toilet plungers!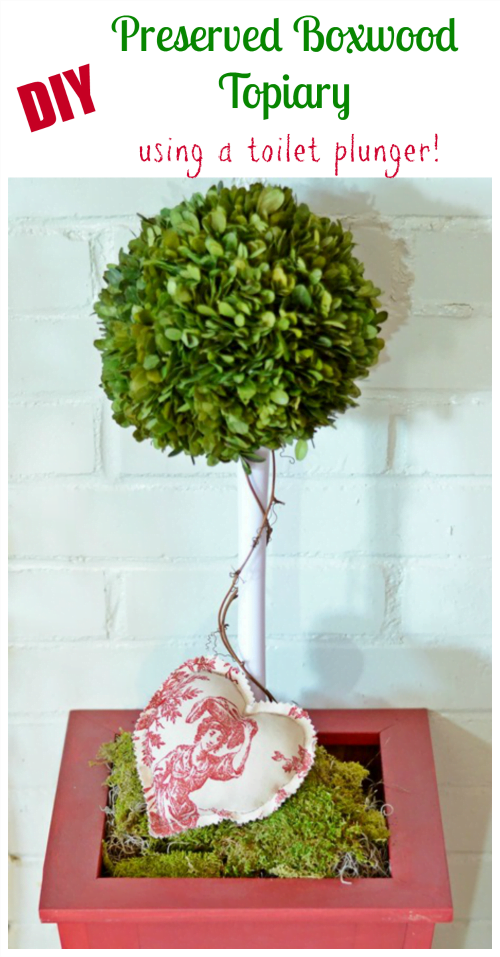 I have long been admiring preserved boxwood topiaries, but have you ever priced them? Ouch! But about a month ago, a friend of mine happened to mention that when she did some catering and decorating for events that she often made topiaries using toilet plungers! Of course I was intrigued and asked her how she did it. She explained that her husband put a little concrete into the pots that she put them in to stabilize them. But since this was my first attempt to do this, I didn't go that route.
I already had these red planters that I used in my Christmas decorating, but I needed some preserved boxwood balls to make this project. I scouted out some online sites, but they still cost more than I was willing to pay.
And it just so happened that I was in Tuesday Morning shortly after Christmas when I spied just what I needed and the price was reasonable. Each topiary ball was $14.99!
The next thing that I needed for my project was some plungers. I actually had trouble finding old-fashioned, wooden handled toilet plungers! All I could find were ones with plastic handles so I went with those .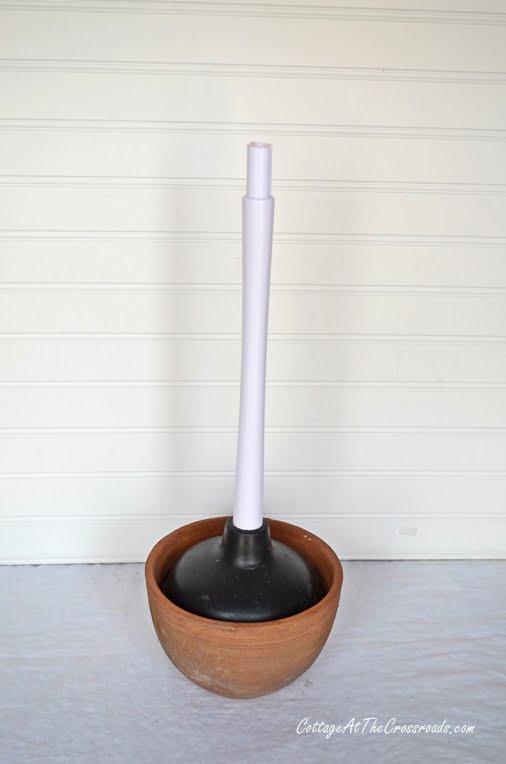 The next step was finding some containers that the rubber part of the plunger would fit down inside. Leo came to the rescue after he rummaged around our potting bench. This one fit perfectly and once I jammed the plunger down into the pot, it was nice and secure.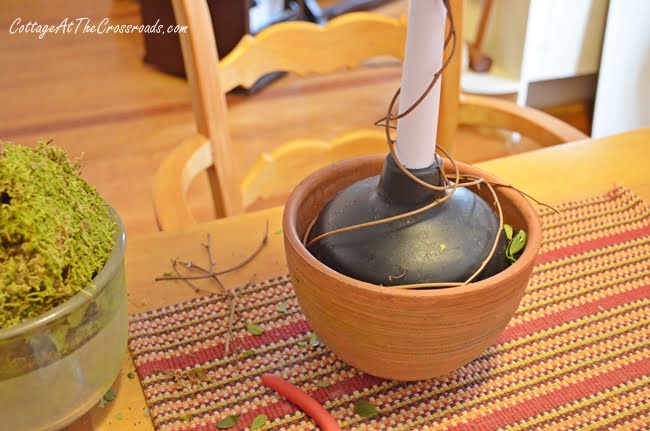 To camouflage the plastic handle, I wrapped some grapevine stems around it.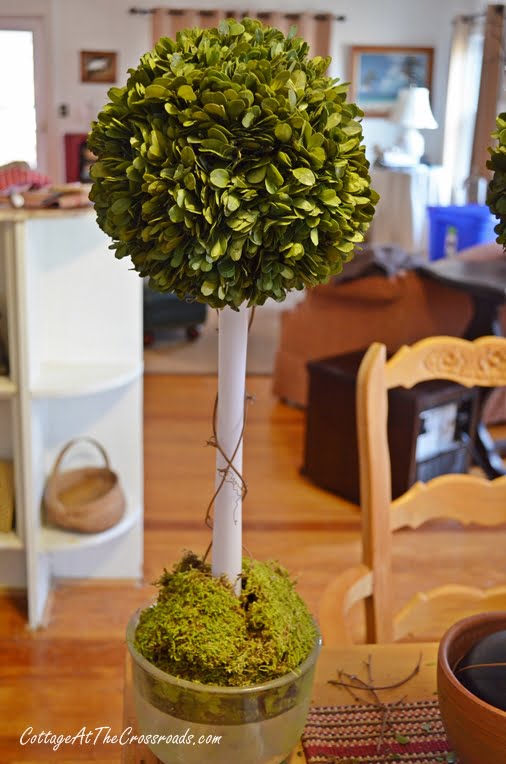 The other container I used was a glass bowl, and pieces of sheet moss that I already had were used to hide the base of the plunger.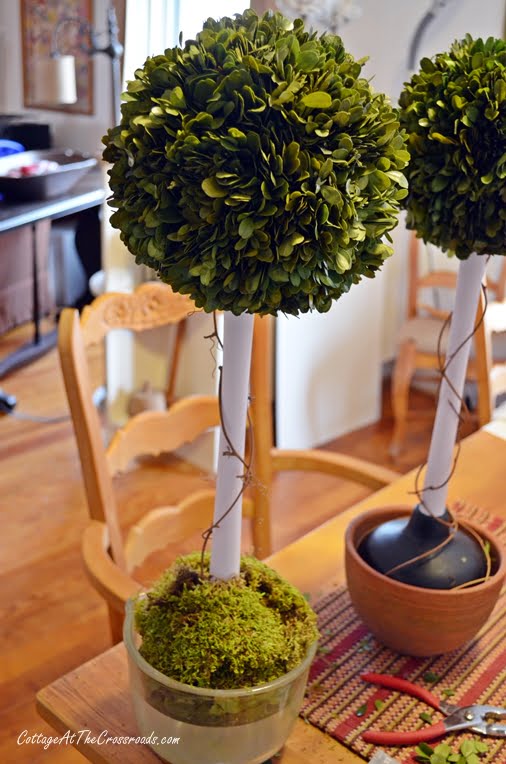 You're probably wondering how I got the balls of preserved boxwood onto the top of the plungers, right? Well, I don't have a photo of that step, but I just inserted a knife into each ball, twisted and turned it until I had a deep enough hole to insert the top of the handle. After making sure the handle fit into the ball, I added some E6000 glue on the top of the handle, added the ball, and held it for a while until I felt like it was holding securely. (You do want to make sure you have the ball on straight before you glue it!)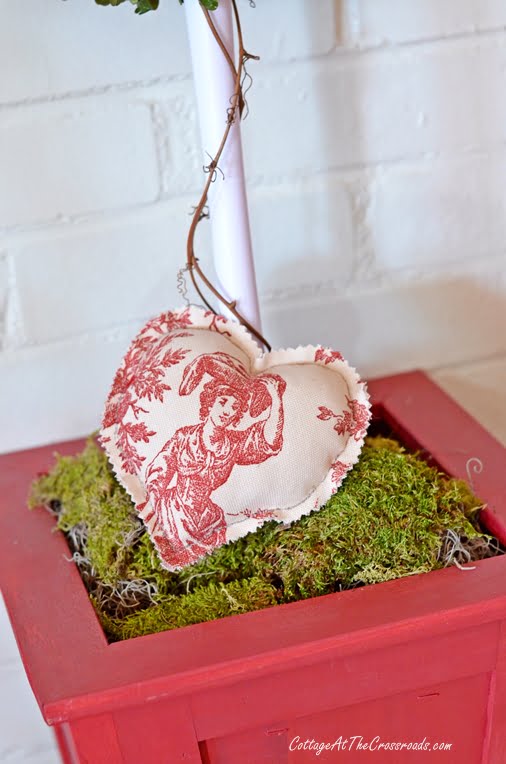 After a few hours passed, I was ready to place the topiaries into the wooden planters. I added more sheet moss to hide the containers and propped two of my fabric hearts since I was decorating for Valentine's Day.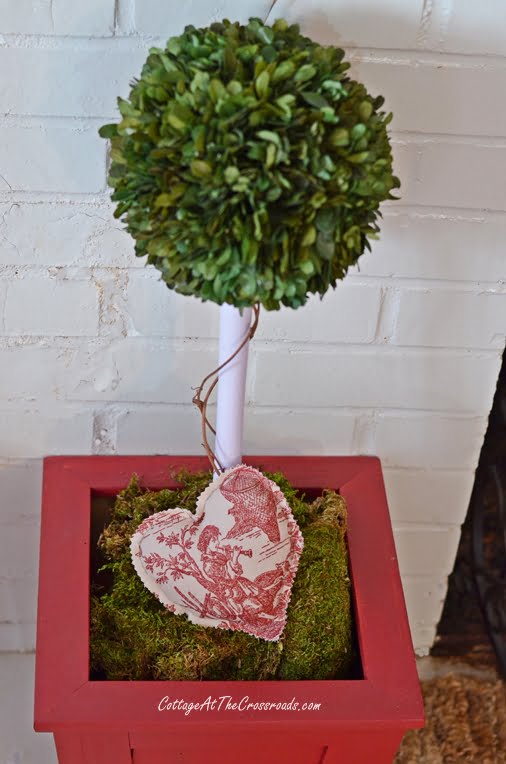 Ta-Da! You really wouldn't have known that the handle was plastic if I hadn't told you, would you? But I'm still going to be on the lookout for plungers with wooden handles because I may be making more of these.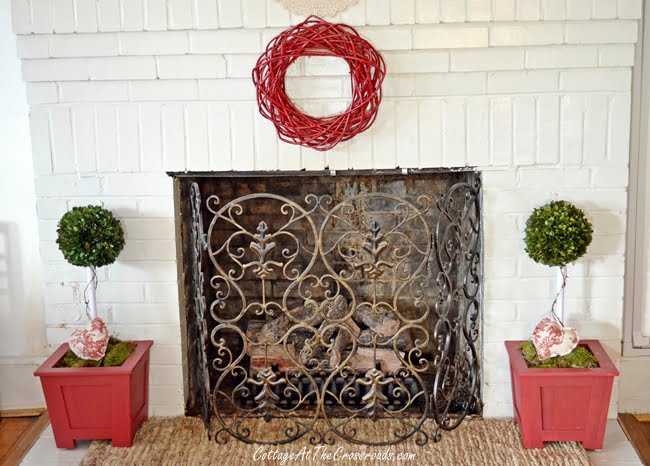 I think these topiaries are going to stay here for a while since I use red in this room. The hearts may get switched out with some shamrocks at some point.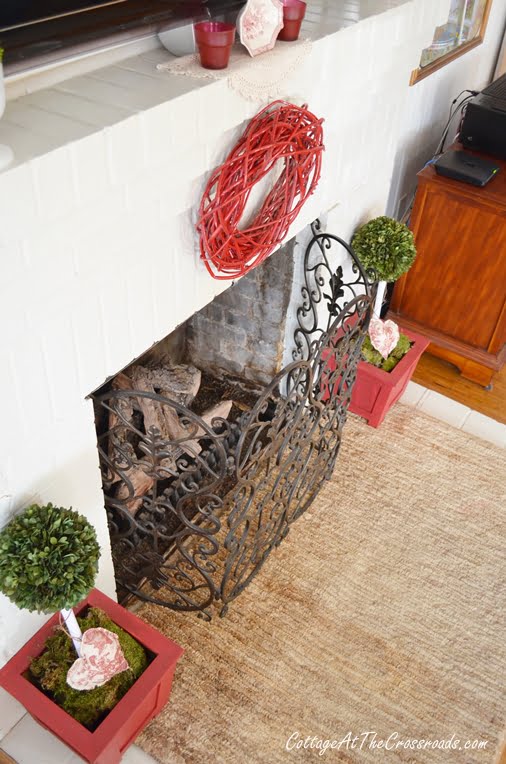 Here's an overhead shot. Can you tell that I really pleased with these DIY topiaries?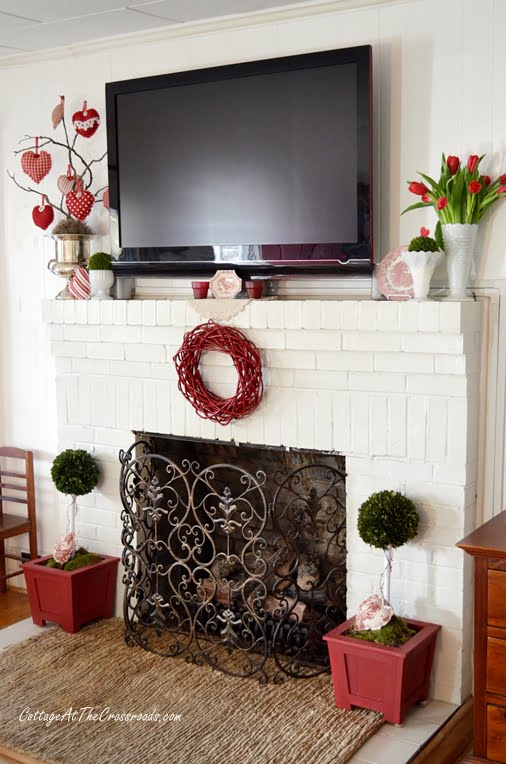 I want to thank my friend Anne Warr for her great idea! Just goes to prove that sometimes you have to "unclog your brain" instead of your drain!!!