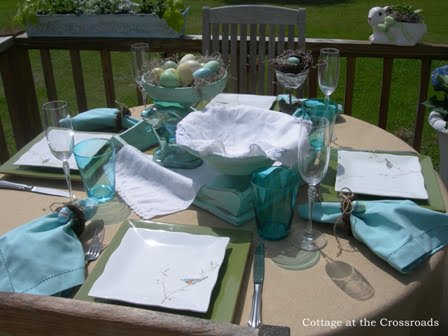 It was such a beautiful spring morning that I decided to set the table for brunch on the back deck.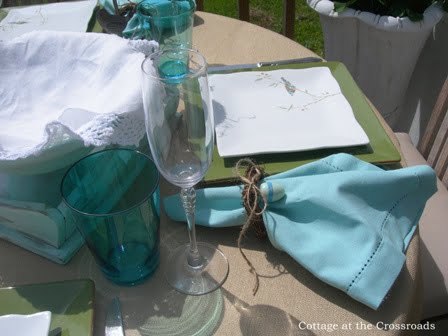 Knowing that I was going to use the colors blue and green, I started with a neutral tablecloth that I already had. The square green plates are by Vietri that I have had for quite some time, but the white salad plates with the birds on them are new. I found them at TJ Maxx, and they are perfect for springtime!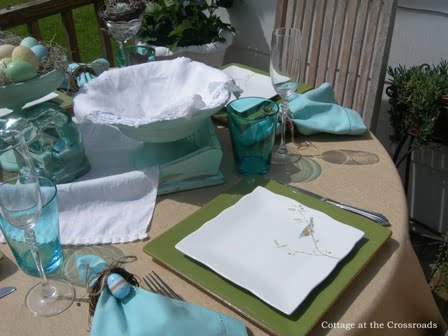 The napkins are aqua, and the napkins rings are little grapevine wreaths that I've used in other tablescapes. I attached some wooden eggs and twine to them.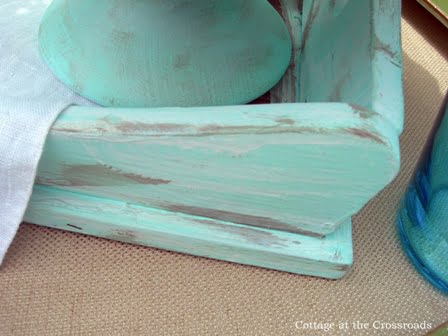 The centerpiece on the table is an old wooden tray that I  painted this week.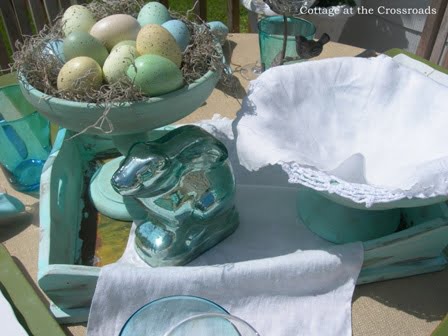 In the tray are two pedestal bowls; one which is holding eggs and the other I'm using as a bread basket. The blue mercury glass bunny was a recent find at TJ Maxx.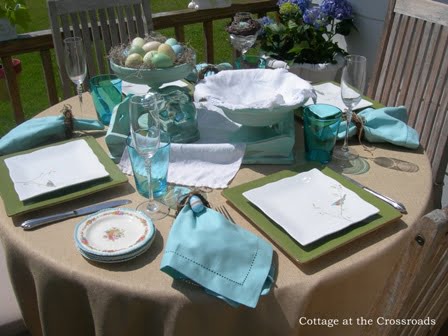 I'm using some vintage bread plates that I found at the auction a few months ago.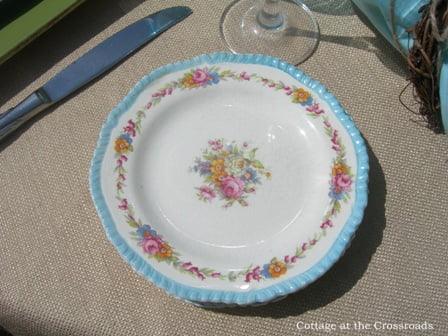 The maker's mark says they are "Woods Ivory Ware" and were made in England. I'm on the hunt for some more pieces.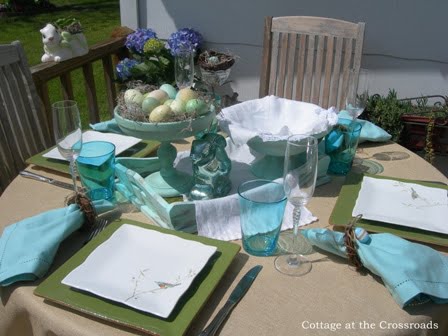 My sister-in-law found the tumblers for me last week at Ikea. Aren't they a gorgeous color? The champagne glasses are by Mikasa, and I've had them a long time.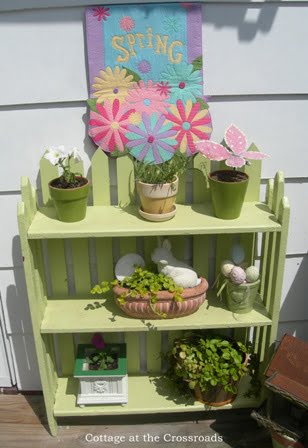 Our back deck is small, but I have a bookcase that I made into a plant stand last year.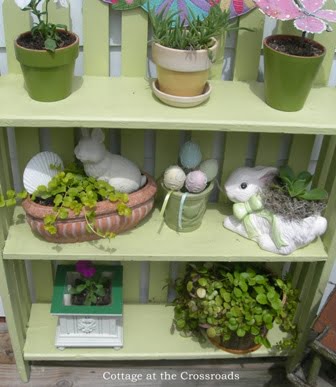 It's decorated for spring with some freshly planted flowers and plants.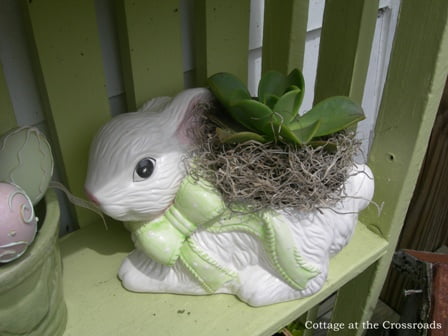 Isn't he a cutie?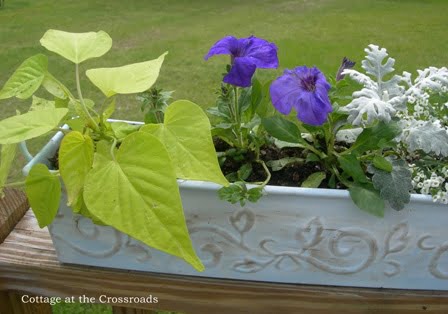 I repainted this metal planter this week. I used it in tablescapes here and here.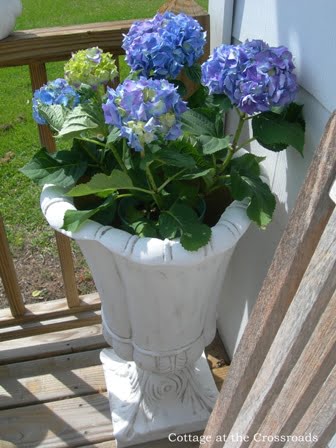 I also painted this urn this week. It was originally beige, but I wanted it to be white. I couldn't resist these gorgeous hydrangeas that I saw at Lowe's this weekend.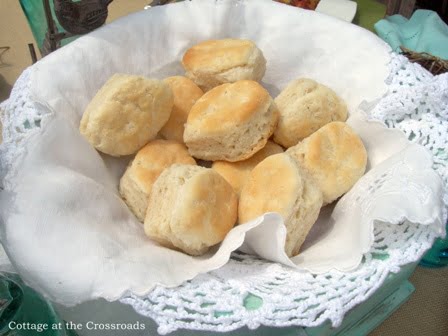 But what is brunch without FOOD?  These are little tea biscuits that I bought frozen, and they are delicious. They are Mary B's, and if you can find them, you won't regret it!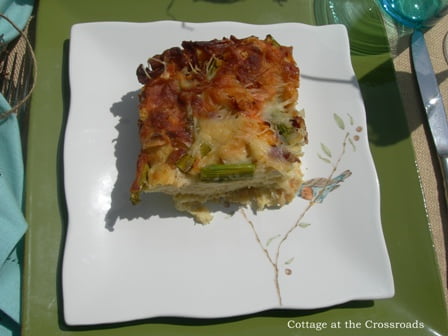 I followed a new recipe for a casserole and used some of our homegrown asparagus in it.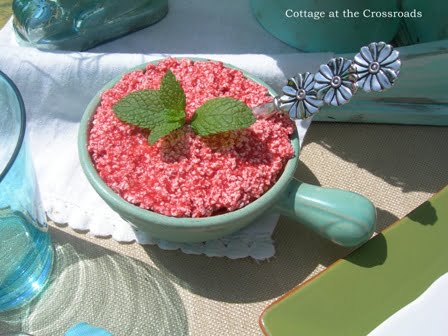 I made some strawberry butter to go with our biscuits. Oh, my, gosh! It was incredible. All I did was to soften 2 sticks of butter and put them in the food processor with some fresh strawberries.  I added some Splenda, but if you would like yours sweeter, you could add some confectioner's sugar.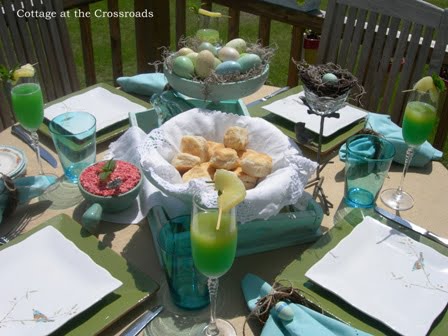 And since it's brunch, I made some Mimosa Moons. I mixed orange juice, champagne, and added some of this to the glasses along with some fresh mint.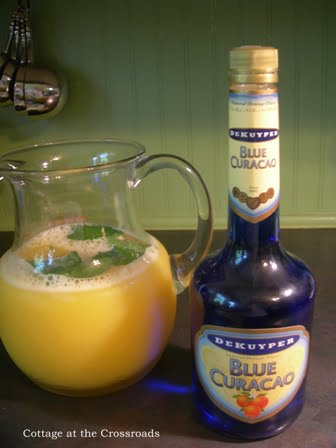 The  orange liqueur, which is tinted blue, settles to the bottom of the glass.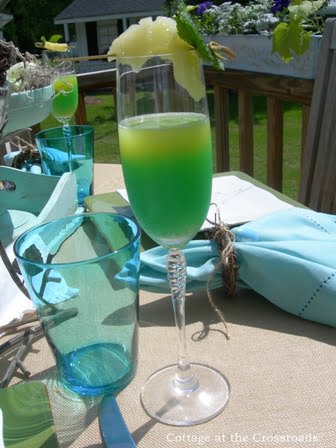 A little twist on standard mimosas.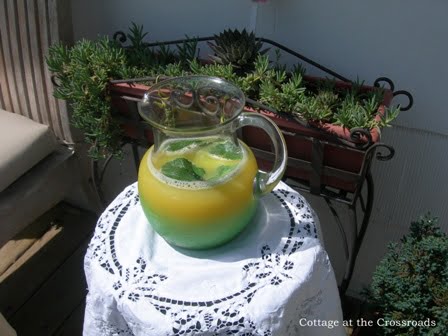 A barstool was pressed into service as a stand for the pitcher.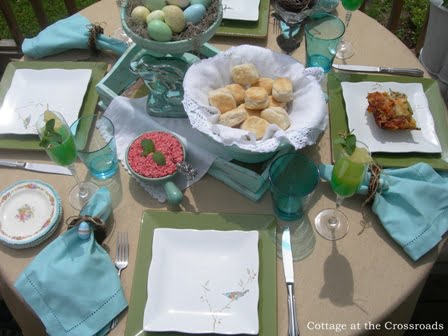 Have you even noticed how much better food tastes when you eat outside?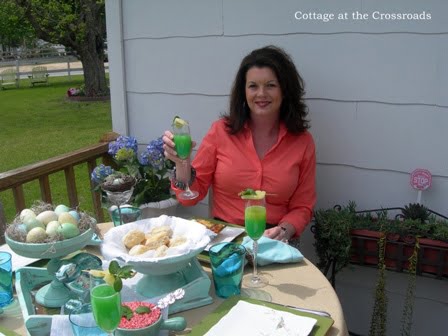 Christal, my sister-in-law Jean's daughter, is toasting spring!
Here's to you and yours from all of us here at the Cottage at the Crossroads.
I'm joining: